The Top Mobile Live Streaming Equipment for Every Budget in 2023
In the past, streaming live video required an intricate set up with an entire camera crew and a studio full of equipment. This was necessary for streaming in high quality to large audiences.
However, recent developments in both live streaming technology and smartphones have made it possible to broadcast on the go, sometimes even without needing any encoders.
In this post, we're going to talk about the mobile live streaming equipment and tools that you need for broadcasting happenings outside of the studio. We will start off by briefly discussing the value of mobile broadcasting before we break down the recommended mobile streaming equipment setup. Some things that we will cover include camera options, useful stabilizing streaming equipment, and portable lighting.
We will wrap things up by discussing two types of digital "equipment" that you'll need for a mobile broadcast.
Table of Contents
The Benefits of Mobile

Live Streaming

Recommended Mobile Streaming Equipment Setup

Reliable Camera
Audio Capture Equipment
Stabilizing Equipment
Portable Lighting Gear
Encoder
Extra Batteries

Digital "Equipment" for Mobile Live Streaming

Mobile Streaming App
Live Streaming Platform

Why Use Dacast for Mobile Live Streaming?
Final Thoughts
The Benefits of Mobile

Live Streaming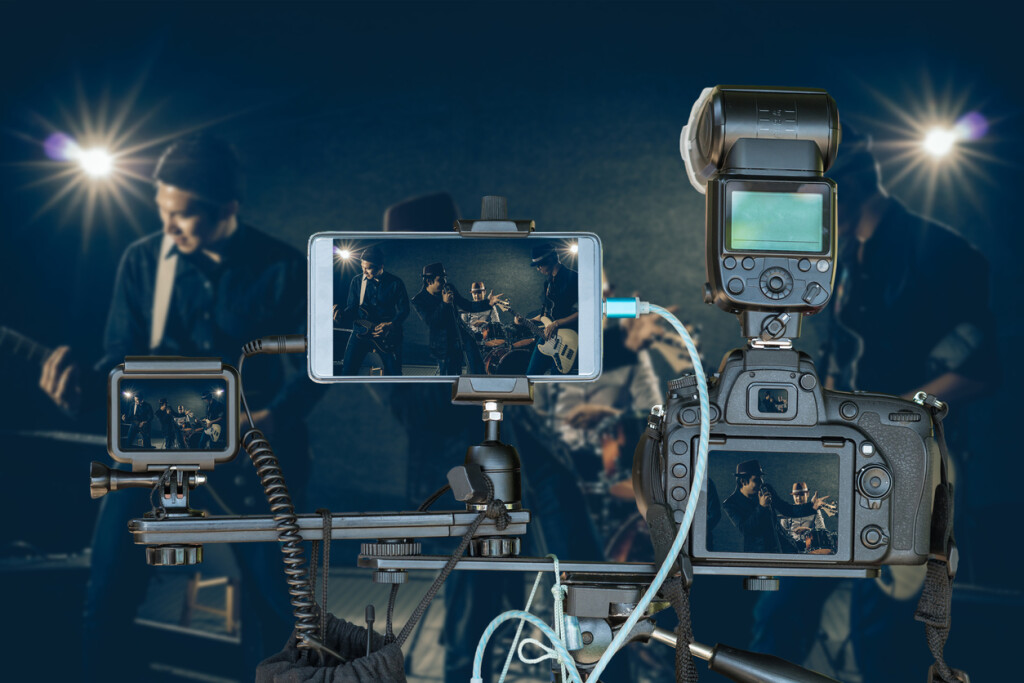 Mobile streaming gives broadcasters to cover events outside of the studio. Thanks to powerful technology and cameras that can be accessed directly on our smartphones, you can broadcast remotely and on the go without entirely sacrificing the quality of the final product.
Mobile broadcasting is particularly useful for outdoor streaming, sports broadcasting events, on-site news reporting, music festivals, virtual events, and independent content creation.
The ability to broadcast from a smartphone has made it possible for people to live stream with a limited budget.
Recommended Mobile Streaming Equipment Setup
Mobile live streaming requires a different setup than what you'd need for streaming from the studio.
We'd like to point out that it is possible to live stream with a smartphone alone, especially if it is one with a high-quality camera like one of the new iPhones, but there is a bit of equipment that you can invest in to improve the quality of your end result.
With that said, let's take a look at some of the best live streaming equipment options for the optimal mobile broadcasting setup.
1. Reliable Camera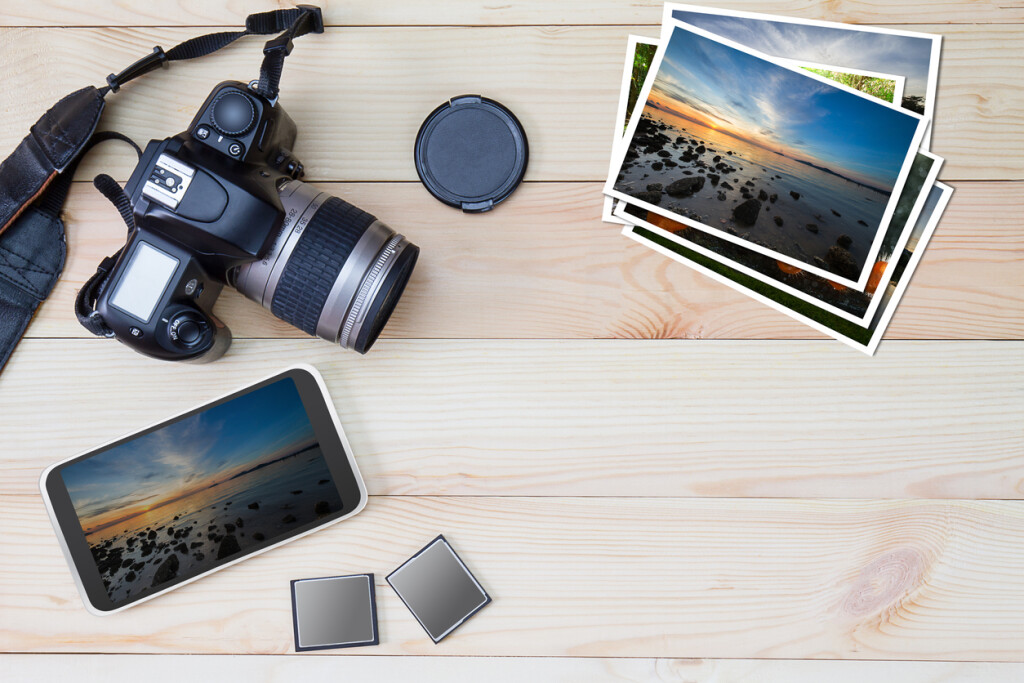 There have been tremendous updates in the quality of smartphone cameras over the past couple of years. These devices that once produced grainy, low-quality images are now capable of streaming in 4K, 1080p, and 720p. This means that iPhone and other new Android devices are completely capable of capturing a professional broadcast.
Although smartphone cameras are reliable, some broadcasters still prefer to use a video camera to stream. Aside from an iPhone or an iPad, some of the best cameras for live streaming on the go include:
Please feel free to check out our comparison of the top 4K cameras for a few more camera suggestions.
One thing that matters here is the speed of your data or internet connection. If your network's patchy, your live stream won't give the desired quality results that you'd expect from your equipment. So even if a camera is capable of streaming at 4K, the viewers won't see it because of poor data speeds.
2. Audio Capture Equipment
Using an external microphone as opposed to the one built-in on your mobile device will greatly improve the quality of your stream's audio. A simple handheld mic or one that clips onto your lapel will help to capture the subject's voice rather than all of the background noise.
You can get a lapel mic that plugs into the charging port of your iPhone for just under $30. It is easy to use and will give your stream a more professional touch.
Handheld microphones are a bit more expensive, but they are valuable for broadcasts that involve interviewing people.
Which route you go will depend on the purpose of your live stream.
The reason for using external audio equipment is that they'll provide better background noise cancellation compared to internal microphones. It'll enable you to deliver crisper audio during your live stream. 
Another reason for using them is that your smartphones would be used for shooting the video, meaning they'll likely be away from you. On the contrary, an external microphone can be clipped to your clothes and can transmit audio to your smartphone. This would enable better sound quality. 
3. Stabilizing Equipment
Holding a smartphone or camera in your hand can lead to some shakiness in the video. This ultimately leads to a less professional looking stream.
To avoid that, we recommend using a gimbal or tripod to stabilize your stream.
You can get a smartphone gimbal from BestBuy or any other tech store for about $40. These are ideal for broadcasters that are recording themselves as they walk or move about.
Tripods, on the other hand, are good for broadcasts that are more stationary, such as a newscast that has a reporter talking in front of a scene. You can get a reliable tripod in the $30-40 range.
4. Portable Lighting Gear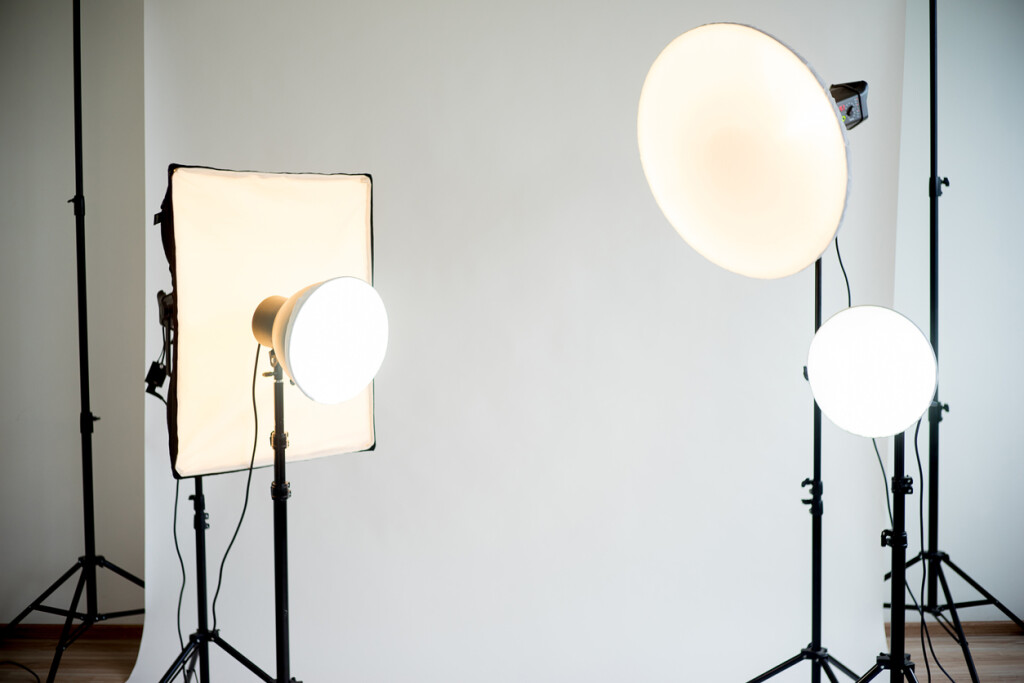 If you are live streaming at night or from a spot with poor lighting, some portable lighting gear can brighten up the situation and help you capture better quality footage.
If you are using a tripod, a simple ring light will do the trick. You can get a ring light tripod for $90 to $150. Most ring lights can be adjusted to use different colors and brightnesses, which gives you a bit more control over the lighting situation.
Streaming with a handheld gimbal requires a different video lighting setup. Since you're carrying this equipment around, you don't want anything too heavy. A clip-on light that lights up behind your "selfie" camera can be helpful if you're recording yourself talking. You can get a clip-on light for under $20.
If you can afford it, you could opt for powerful video lighting equipment complete with studio lights, which can help improve the video quality dramatically. 
5. Encoder
If you opt to use a portable camera rather than a smartphone or tablet, you will likely need an encoder. Live stream encoding software is a tool that converts the RAW video files captured by a camera into a digital video file that is capable of being streamed over the internet.
There are both hardware and software encoders. Hardware encoders are typically bulky and best suited for streaming in the studio, but some hardware encoders for live streaming can be worn and easily transported by a camera crew. Hardware encoders can cost thousands of dollars.
Software encoders, on the other hand, are much less bulky and much more affordable. However, these require a laptop or computer to run, so they aren't always the best choice for streaming on the go.
If you are recording with a mobile device as opposed to a camera, you may not need an encoder since they capture digital files rather than RAW video files. Furthermore, mobile live streaming apps generally take care of this process if there are any file compatibility issues. We will discuss this more shortly.
6. Extra Batteries
Extra batteries or a portable power bank is a must for you when you're streaming on the go since most of your mobile live streaming equipment is probably wireless. Losing charge on an important piece of equipment in the middle of a stream can be disastrous.
If you are streaming from your iPhone or another mobile device, that is the most important piece of equipment. Make sure that you have a portable battery and the appropriate cables. You can get one that is small enough to fit in your pocket for around $30.
For more power, you can get a larger portable power bank for around $100 to $200. Most hardware stores carry these, but they are a bit bulky.
Digital "Equipment" for Mobile Live Streaming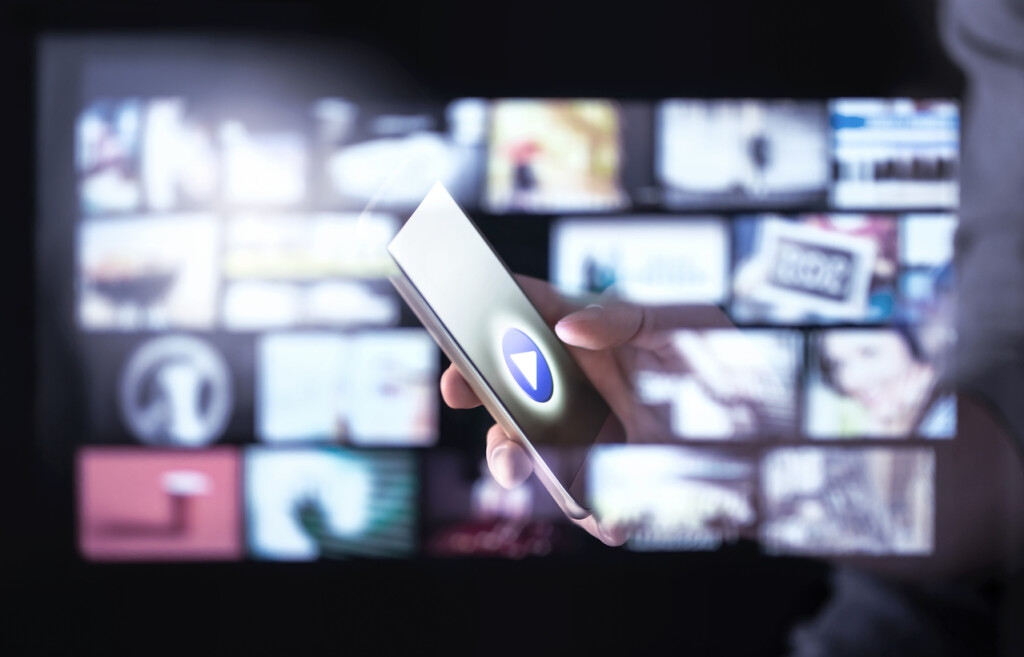 Now that we've covered the physical streaming equipment for mobile broadcasting, let's shift gears to take a look at two important digital tools.
Mobile Streaming App
A mobile streaming app is an app that you'll download on your smartphone or tablet that will transmit the video that it captures to your live video streaming software.
This sort of app can edit and mix your content in real-time. Some allow you to add text or graphic overlays for a more professional touch.
It is really important that you make sure that this app is compatible with your chosen live streaming platform. Dacast, for example, uses RTMP ingest, which means that your mobile broadcasting app must be RTMP-compatible to use the tools together.
Here are a couple of the top mobile live streaming apps available for download:
Larix Broadcaster
nanoStream
Wirecast Go
Airmix Solo
Broadcast Me
Please check out our RTMP live streaming app post for an in-depth comparison of these applications.
But if you're only looking to live stream to your personal audience, even social media platforms like Facebook and Instagram would suffice. You won't require enterprise-grade tech and equipment for it. 
Live Streaming Platform
As we mentioned, the mobile streaming app will connect to your live streaming platform as part of the process of streaming your broadcast.
A live streaming platform is a tool that professional broadcasters use to host, manage, and deliver their video streams. A good live streaming platform provides content delivery via a reliable CDN, supports video monetization, includes a comprehensive content management portal, and prioritizes security.
This type of platform allows you to stream directly to a video player on your website. Some live streaming platforms support simulcasting, which allows you to broadcast to Facebook, YouTube, and other platforms of your choice at the same time. Using the simulcasting approach helps you to tap into existing audiences or followings to maximize your audience.
Some examples of popular live streaming platforms include Dacast, Vimeo's Livestream, Brightcove, and Wowza. Check out our live streaming platform comparison for an in-depth review of the 16 best options on the market.
Why Use Dacast for Mobile Live Streaming?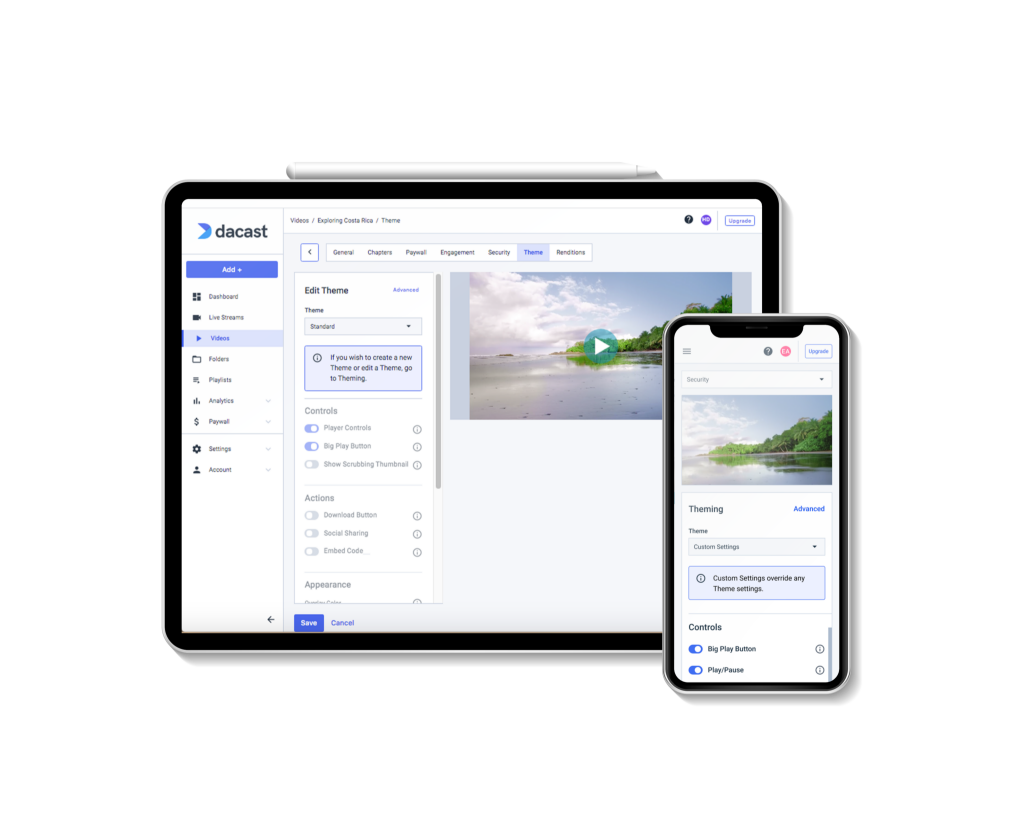 Dacast is a great live streaming platform, especially for mobile broadcasting. Our platform checks all of a professional broadcaster's boxes. Dacast is a unified streaming solution, so we support both live streaming and on-demand video hosting.
We also support devices that allow for mobile multi-bitrate streaming and three video monetization methods, including subscriptions (SVOD), pay-per-view (TVOD), and ad-insertion (AVOD). This is made possible by our secure video paywall that is built into the HTML5 video player. 
Dacast also takes pride in the platform's advanced security features, including AES encryption, password-protection, domain and IP restrictions, tokenized access, and more.
Furthermore, our platform uses RTMP ingest, which means that it is compatible with a lot of affordable software encoders and all of the mobile streaming apps that we mentioned above. Lastly, the live broadcasting software also has a mobile SDK integration and player API, making it possible to build and create apps for live streaming on the go.
FAQ
1. What is a camera encoder?
A camera encoder, in simple terms, is a device that converts the analog signals of the camera into digital signals that can be transmitted over your network and internet to a video receiver. There, a decoder decodes the digital signals so the video can be played. 
2. What is a camera encoder vs decoder?
Camera encoders and decoders are two devices that help with video transmission and playback. Encoders convert analog signals into digital ones so that they can be sent via the internet to the receivers. These signals are reconverted to analog signals by decoders for video playback. 
3. What does an IP encoder do?
An IP encoder typically encodes the video content so that it can be transmitted over an IP network through a server or a network switch. This is a critical step in helping you do mobile live streaming. 
4. What is the best video encoder to use?
The best video encoders that you can use for your mobile live streaming are:
Wirecast

OBS – Open Broadcaster Studio

VidBlaster X

LiveU Solo

Teradek

Niagara Video

vMix
5. What equipment do I need for streaming?
To start live streaming using your mobile devices, here is the equipment you need:
A powerful camera

Audio capture equipment (microphone)

Stabilizing equipment (tripod, gimbal)

Portable lighting 

Encoder

Additional batteries
Final Thoughts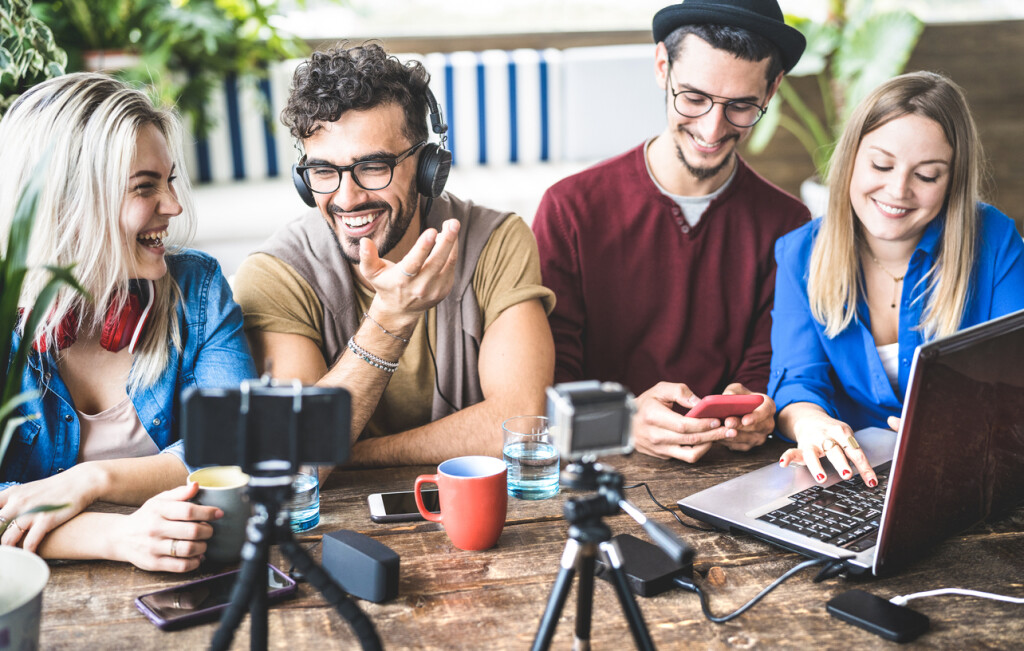 Choosing the right mobile live streaming equipment is key to producing a professional-grade live stream from your smartphone or tablet. Although you can get away with using the mobile device alone, the simple upgrades that we mentioned above will help take your broadcast to the next level.
In fact, Adorama offers a mobile streaming equipment kit that includes a gimbal, microphone, lighting tool, and everything else we mentioned above for around $200.
When it comes to the live video broadcasting software that supports mobile live streaming, we recommend pairing Dacast with any of the mobile live streaming apps we mentioned above.
Ready to give Dacast a try? Take advantage of our 14-day risk-free trial and test out all of our professional video hosting and live streaming tools.
All you have to do to get started is sign up for a Dacast account today. No credit card or binding contract necessary.
For more detailed resources on mobile live streaming, head over to the Knowledge base section of our support center, and type "mobile streaming" into the search bar. You'll find tons of articles that cover different topics surrounding broadcasting on the go.
For regular tips on live streaming from a community of experts, as well as exclusive offers, you're invited to join our LinkedIn group.