TikTok Live Streaming: How to Go Live on TikTok
Almost everyone has heard of TikTok, but not everyone knows what it is. It's one of the newer social media platforms, and it's being used by savvy creators, brands and businesses to market and connect through video. Using TikTok, they can live stream more videos in a highly palletable, bite-size format that many find addictive.
Table of Contents
What is TikTok?
TikTok Live Streaming: The Basics
Is TikTok Streaming Worth It?
Who Can Live Stream on TikTok?
How to Live Stream on TikTok 
Tips for Successful TikTok Live Streams
How Many Followers on TikTok to Go Live
How to See Who is Live on TikTok
Solutions for Advanced Streaming Needs
Final Thoughts
Today, most other platforms such as Netflix, YouTube, Facebook and others have been influenced by the success of TikTok. Its ability to start new trends and spread messages is unparallelled. For broadcasters, TikTok provides more options and opportunities. It's also simpler than some other platforms, providing them with live support features they can use during a TikTok stream.
In this article, we're going to cover the world of short videos on TikTok. We'll go over what brands, businesses and creators of all kinds need to know about live streaming, and how to live stream on TikTok specifically. We'll go over what TikTok is and how to benefit from going live on the platform. Finally, we'll detail some great tips you can implement for hosting successful live streams on TikTok.
November 2022 Update:
The Tik Tok desktop streaming software is called TikTok Live Studio which, when downloaded to your desktop, will allow users to log in with their TikTok account and stream directly to TikTok Live. The key benefit of TikTok is that creators will remain within their app instead of asking their audience to watch streams on Twitch or the YouTube live platform. It is yet to be discovered whether this feature is here to stay, as this test program is available only in a handful of Western markets for a few thousand users.
What is TikTok?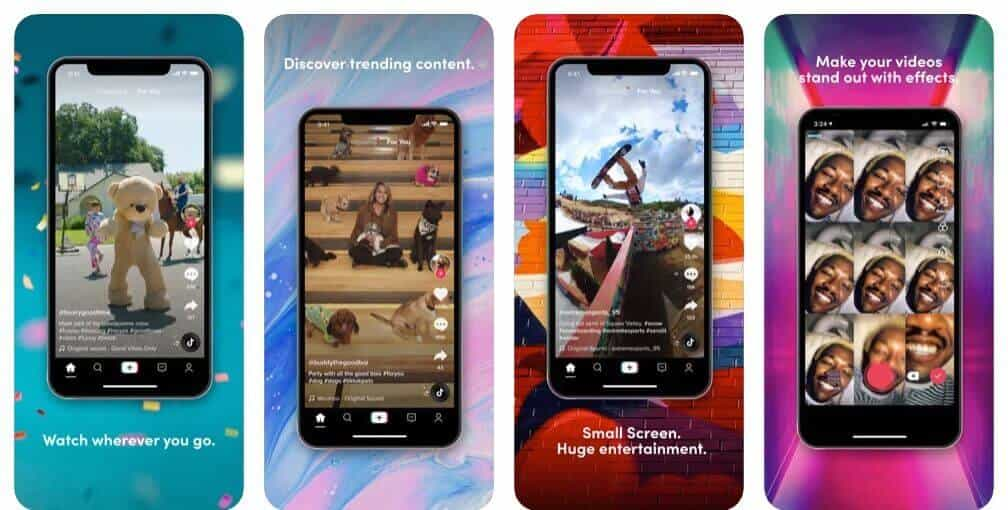 TikTok is a social media app that is designed for video sharing.
Originally, videos on this app were capped at 60 seconds, but recently, the app has evolved to allow videos up to 3 minutes in length.
This Chinese app was originally launched in 2016 by the developer ByteDance as "Douylin." The next year, ByteDance purchased Musical.ly. The Musical.ly technology's functionality is very similar to the TikTok app we have today.
In August 2018, Musical.ly merged with TikTok, and the company kept the name "TikTok." Within the next six months, the TikTok app crossed the 1 billion download threshold. Since then, TikTok's downloads have more than doubled.
During lockdowns at the start of the pandemic in early 2020, there was a large surge in the app's popularity. TikTok dances and trends inspired by the boredom of being stuck at home became a sign of the times.
Video is the only type of media that can be shared on the TikTok app, but users can pull sounds from other videos to create their content.
Like other social media platforms, such as geared towards professionals, TikTok has a unique culture regarding the type of content shared on the app and the formats in which it is shared. Different sounds go viral on TikTok and create trends. Users take the sounds to put their twist on the trend. Users can also "Stitch" or "Duet" videos to incorporate TikToks made by other users in their content.
In 2019, TikTok added support for live streaming.
TikTok Live Streaming: The Basics
TikTok's live streaming support allows creators to broadcast videos to their followers in real-time. Live streaming is more engaging than pre-recorded content since it gives viewers a more lifelike interaction with the creator.
Live streaming is not an automatic feature on TikTok, and users must meet specific criteria to access this feature.
Is TikTok Streaming Worth It?
With so many social media platforms out there, is it even worth including TikTok streaming on your list? As a business or video broadcaster, you want to maximize your content's exposure and revenue.
TikTok streaming might not be as old as some other platforms, but it's got an extensive user base and is gaining daily traction. Here are some statistics that might surprise you:
Who Can Live Stream on TikTok?
Users must be at least 16 years old and have 1000 followers to access live streaming capabilities on TikTok.
TikTok can revoke users' live streaming rights (either temporarily or permanently) if they violate community guidelines. We will talk more about abiding by these guidelines later in this post.
How to Live Stream on TikTok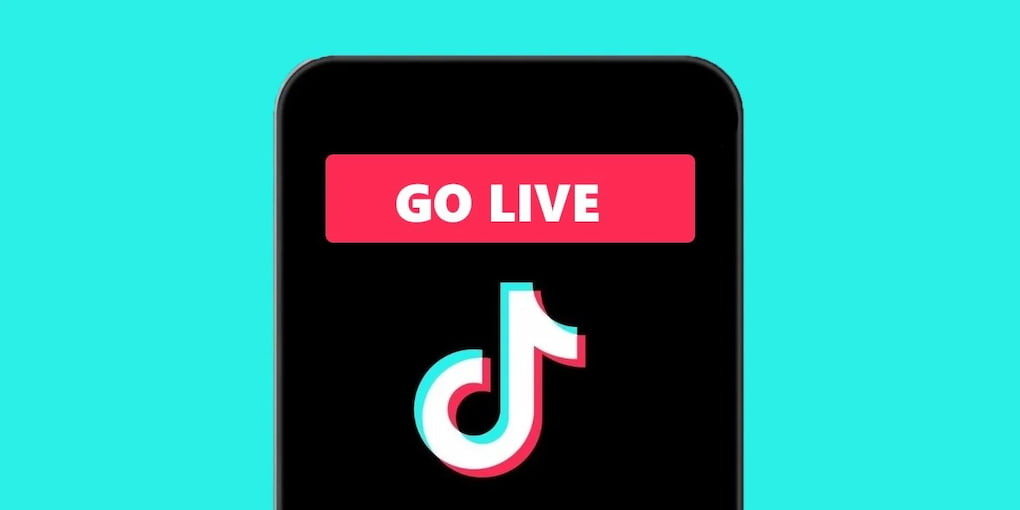 You can easily live stream on TikTok in just a few simple steps.
It's pretty straightforward if you meet the criteria for going live on TikTok.Here's a simple step-by-step breakdown of the process:
Log in to your TikTok app and click the Create button (the small button with a + in a box at the bottom of the screen).
Scroll to the right of the "Live" option.
Choose a cover image and a title for your stream.
 Apply any effects or filters you'd like, then click the red "GO LIVE" button.
That's it! You are now TikTok live streaming!
You can also add moderators to monitor the chat to avoid inappropriate or obnoxious chatter. If you're planning a live stream later, you can schedule it by clicking the calendar icon in your TikTok profile. You'll be prompted to add an event name, set a start time and duration, and write a description. Click "Create" to save the event.
Tips for Successful TikTok Live Streams
As we've covered, live streaming on TikTok is very straightforward if your account is eligible for live streaming. However, there are some things that creators can do to enhance their live-streaming experience and find greater success.
Let's review a few top tips and best practices for live streaming on TikTok.
Follow the Rules
TikTok has strict community guidelines. If you want to maintain good standing on the platform and keep your live-streaming privileges, it's important to follow all of the rules.
Community guidelines on TikTok prohibit content involving:
Violence, terrorism, and organized hate
Adult content (sexual or pornographic)
Hate speech
Slurs and derogatory language
Weapons
Criminal activity (drugs, fraud, gambling, etc.)
Violent and graphic content
Self-harm and suicide
Grooming and exploitation of minors
Misinformation, impersonation, and spam
Basically, it is important to keep it clean, especially since there are so many young users on the TikTok app.
Interact with Viewers
The informal nature of TikTok live streams often works in favor of creators. When done right, TikTok live streams can make viewers feel like they are on a video call with a friend. That helps make your audience feel more attached to your brand, which is a win-win.
However, to create that effect, you must create more personalized interactions. The chat features on TikTok live streams help you do just that. Encourage participation by asking questions and inviting your viewers to respond in the chat. Read different responses out loud and answer them directly.
Calling your viewers by their usernames and responding to their comments can help them feel seen and heard. That'll make them feel like they are part of a conversation rather than just a spectator.
Go Live Often
If you are trying to build a loyal audience, it is a good idea to go live often. You can create a schedule, so your supporters and followers know when to tune in. If you want to stick to a more sporadic schedule, give your followers a heads-up, so they have at least some notice.
Invite a Co-Host
One cool feature of TikTok's live streaming tool is adding a co-host to your live stream. Broadcasters can invite other TikTok users to join the stream as a presenter. Who you invite to co-host your stream with you depends on the nature of your brand.
For example, if you're a creator in the true-crime space, your audience might enjoy guest appearances from retired law enforcement personnel who can help you analyze current happenings. Other brands benefit from inviting celebrities or influencers onto the stream because that will help to attract new viewers.
Pay Attention to Stream Quality
Maintaining a pleasant user experience is key for a successful live stream, so ensuring that your streaming quality is good is a must. You can do a few things to produce a high-quality live stream
First and foremost, it is important to stream with a reliable internet connection. A weak internet connection could cause the video to be choppy or to fail midstream.
You also want to make sure that your audio is clear. Eliminate any background noises that are distracting or drown out your voice. Stay close enough to the microphone so your viewers can hear you.
Also, make sure the stream is visually appealing. Stream somewhere with adequate lighting. Use a tripod or prop up your phone in a way that captures you from a flattering angle. Try to get a shot that is straight on rather than tilted up or down.
Remember to Have Fun
As a social media platform, TikTok is full of fun and lighthearted content. It is a good idea to match that energy to meet the general TikTok audience's expectations.
Don't be afraid to have fun and crack some jokes. Your audience will feel it if you're at ease and having a good time.
If your brand typically takes a more serious approach and requires a more formal digital environment, a TikTok video strategy might not be the best route for you.
How Many Followers on TikTok to Go Live
TikTok Streaming is allowed for users that follow these criteria:
User must be at least 16 years of age, or above
The user should have a minimum of 1000 followers
To send and receive gifts, the user must be above 18 years of age.
So what to do if your following is below 1000? Some users report using a "hack" that has worked for them. Although not officially endorsed, users with less than 1000 followers can request access to TikTok live by messaging through the "report a problem" and "send us your feedback tool."
How to See Who is Live on TikTok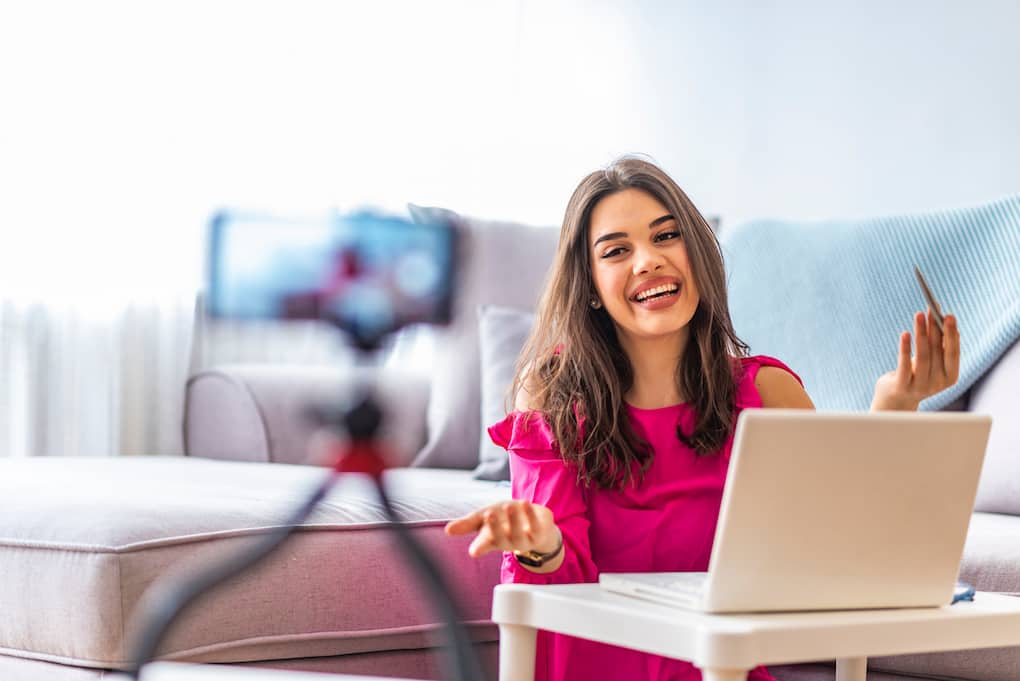 There are a few things you can do to ensure success in your TikTok live streaming endeavors.
As a creator, it's important to keep the user experience in mind. With that, it's important you can let your audience know how they can find your live streams on TikTok, especially if you're bringing supporters over from other live-streaming platforms.
There are a couple of different ways that viewers can see who is live on TikTok.
The first option is to tap the "LIVE" button in the top left corner of your screen. You can scroll through live streams or click "Explore" on the right side to see some more lives currently running.
Users can also scroll through their "Following" or "For You" pages, and suggested live streams will appear among the other suggested videos. Sometimes, live stream notifications pop up in the users' inboxes.
Solutions for Advanced Streaming Needs
If your target audience is on TikTok and you're looking for a more casual way to connect with them, this social media streaming app will come in handy.
However, if you're hoping to live stream virtual events, such as conferences, sporting events, lectures, fitness classes, or the like, you're going to need support from a professional streaming solution.
A professional streaming solution allows broadcasters and businesses to create an on-brand experience for their viewers with influential white-label video players that can be customized and embedded anywhere. Many online video platforms also offer video monetization, enhanced security, and more.
The bottom line is that a professional steaming solution puts more control in the hands of broadcasters and allows them to achieve more with their online video content.
Final Thoughts
TikTok has been a force to be reckoned with in recent years. Its influence is as far reaching as changing the way other social media platforms operate. It's made short-form videos more relevant than ever and has helped users with small audiences extend their reach beyond their wildest imaginings.
While TikTok is a good foundation for live-streaming, professional brands, businesses and broadcasters need a more advanced solution.
Dacast is a excellent, professionalal-grade option for those who need the best streaming support. Dacast's unified streaming solution is equipped with all the features broadcasters need to seamlessly stream the highest quality videos content. The platform boasts a white-label video player, HLS streaming, cloud transcoding, reliable CDN partnerships and much more. With Dacast, you'll reach wider audiences than you ever thought possible.
Try Dacast and test drive all its features free for 14 days. It's risk-free and no credit card is required.
TikTok has been a significant force in media-sharing over the past couple of years. It has helped to make short-form videos relevant again and helped many users with small followings to go viral and extend their reach.
While TikTok's app is an excellent live-streaming setup for some brands and creators, professional broadcasters need the support of a more advanced solution.
Dacast is an excellent option for those who need more professional streaming support. Our unified streaming solution is equipped with all the features broadcasters need to stream high-quality video content, including a white-label video player, HLS streaming, cloud transcoding, reliable CDN partnerships, and more.
You can try our platform risk-free for 14 days. Sign up today to get started. No credit card is required.
For regular live streaming tips  and exclusive offers, we invite you to join our LinkedIn group.
Emily Krings
Emily is a strategic content writer and story teller. She specializes in helping businesses create blog content that connects with their audience.