Streaming Server Hosting Guide for Live Video Streams and VOD
If you stream videos of any kind, you want the process to be as streamlined and effective as possible. Whether for individual or business purposes, hosting online video content is a demanding process. Therefore, having the right streaming software ensures your performance is up to the task and your viewers get the best experience.
Using professional streaming server software on a dedicated platform keeps your content delivery network running smoothly. And the best live streaming platform will provide you with an array of powerful tools to manage, upload and share your online video. Furthermore, arming yourself with the right platform will help you grow and scale your audience.
In this article, we're going to talk about what streaming server hosting is and what to look for in a streaming software hosting platform. From there, we'll compare six of the top media streaming server software services.
What is Streaming Server Hosting?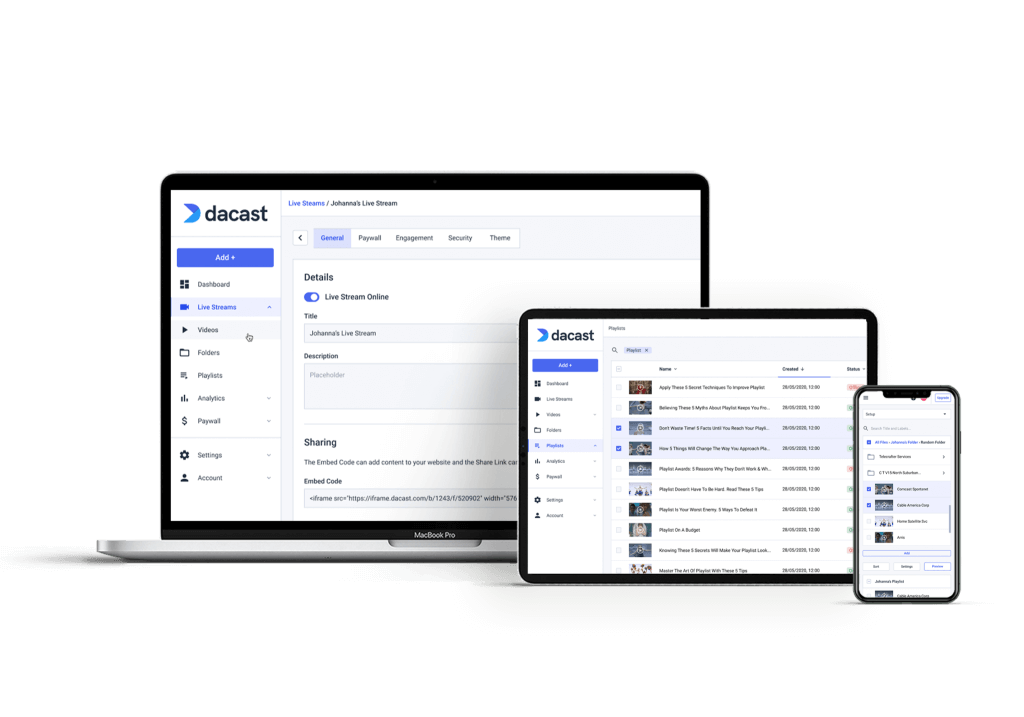 Streaming server hosting provides video content on the web to users via any internet-connected device.
Streaming server hosting is the technology that broadcasters use to host and deliver their online streams.
Let's start by defining a couple of terms.  A "server" is a computer designed to deliver content over the internet. In fact, every website that you visit is delivered by a server.  Which "serves" the website to your computer, phone, or other devices
Streaming, however, refers to playing video or audio online.  Hosting refers to renting server usage from a company that specializes in storing and delivering online content.
Together, video streaming server hosting is a software as a service  (SaaS) that allows users to upload, host, organize, and deliver live and video on demand (VOD) content over the internet.
Thanks to professional video platforms with built-in servers, this is all possible without having to buy and configure a video hosting server of your own.  Instead, everything you need is already in one place.
Any of the options we explain in detail below bring together all the tools needed for hosting video online, whether you want to live stream, offer VOD content, or a mix of both. Using a professional platform, you don't have to build your own live video streaming dedicated server.
What is the Purpose of Streaming Server Hosting?
The purpose of using streaming server hosting is to simplify your streaming experience.
Video hosting solutions on a SaaS platform that have a built-in video streaming server make storing, managing, and delivering your video content easy. The top streaming platforms offer user-friendly, customizable experiences.
Additionally, using a platform with streaming server hosting generally gives broadcasters access to powerful content delivery networks (CDNs). For example, Dacast gives users access to top-tier CDNs like Akamai and Limelight.
Accessing these CDNs can be difficult and expensive without using a streaming solution
Who Uses Streaming Server Hosting?
Streaming server hosting is meant for broadcasting at the professional level. This could include businesses, schools, and organizations that use online video content for sales, marketing, or day-to-day operations.
Some other examples of organizations that would use streaming server hosting include businesses that specialize in media distribution, like television networks, radio stations, and OTT streaming platforms
Independent content creators, "YouTubers," and "vloggers" can typically get by with the B2C alternatives, like Twitch, YouTube, and Dailymotion because they don't need the same professional-level tools and customizations that a streaming server hosting service offers.
What to Look for in Streaming Server Hosting Services
When it comes to choosing the streaming server hosting service that makes the most sense for your business, you'll want to make sure the video streaming platform includes access to the features you need to reach your broadcasting goals.
Here are a few of the most valuable features for professional broadcasting:
It's easy to fall for the service with the most features, but what really matters is that your chosen platform has the specific features your need at the price point that works for you.
The 6 Best Streaming Server Hosting Providers
Now that we have a clear definition of VOD server stream hosting and what sort of features to look for, let's examine some of the best streaming server hosting providers available for broadcasters today.
1. Dacast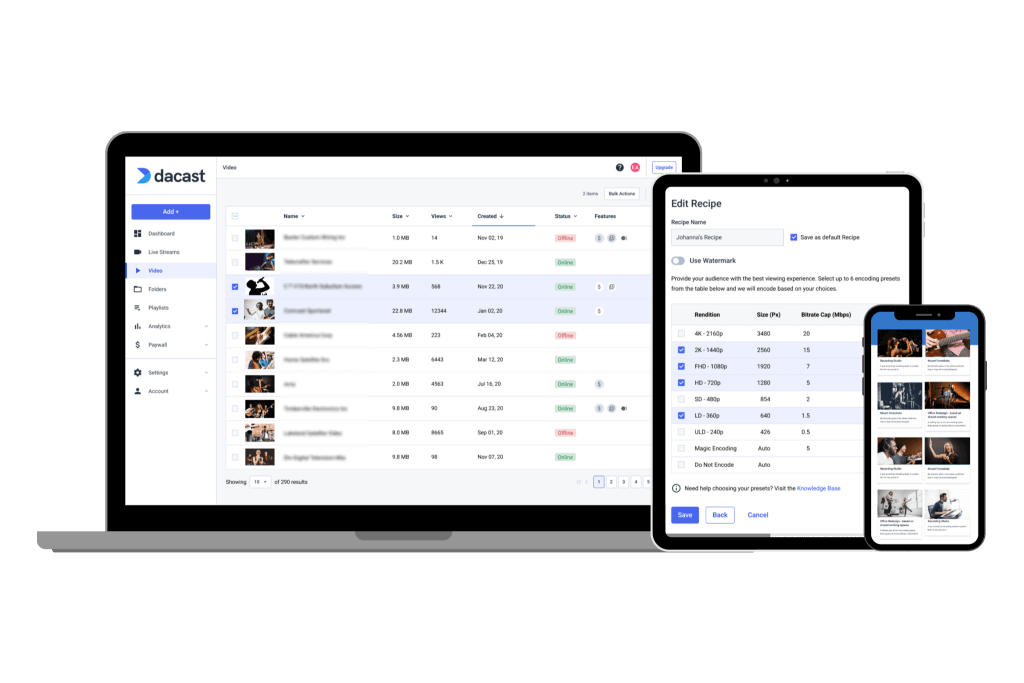 Dacast is an end-to-end online video platform founded in 2008 that allows businesses to broadcast and host video content.
Dacast is a streaming server hosting platform that supports VOD hosting and live streaming. This unified streaming solution offers advanced broadcasting tools such as video monetization, robust security options, and native in-China video delivery
Our platform includes various tools for marketing, including analytics tracking, and calls-to-action.
Basic Functionality:
Dacast's live streaming solutions include support for 24/7 linear streaming, video monetization for live streaming, live video analytics, and more. API management tools and a simple management dashboard provide multiple options for launching multiple channels and embedding live streams on your website.
Key Features:
Pros:
Cons:
Requires a bit of a learning curve
Upload Guidelines and Specs:
Minimum dimension: none (but 240p is the recommended minimum)
Maximum dimension: 1080p or 4K (depends on the user's hardware and internet)
Aspect ratio: no restrictions (but 16:9 is the default)
Max file size: none
Max video length: none
Total file storage: 10-1000GB (depends on plan)
Compatible video formats: MP4 (preferred), MOV, M4V, M2V, AVI, MPG, FLV, WMV, MKV, WEBM, OGV, MXF, ASF, VOB, MT
Pricing:
Dacast offers a variety of pricing plans for broadcasters with different budgets, including:
Starter Plan: $39/month (includes 1.2 TB of bandwidth & 50 GB of storage)
Event Plan: $63/month (includes 6 TB of bandwidth upfront and 50 GB of storage)
Scale Plan: $188/month (includes 24 TB of bandwidth per year and 1 TB of storage)
Custom plan: Contact us for custom pricing plans
Please check out our bandwidth calculator to find the right plan for you.
2. Wistia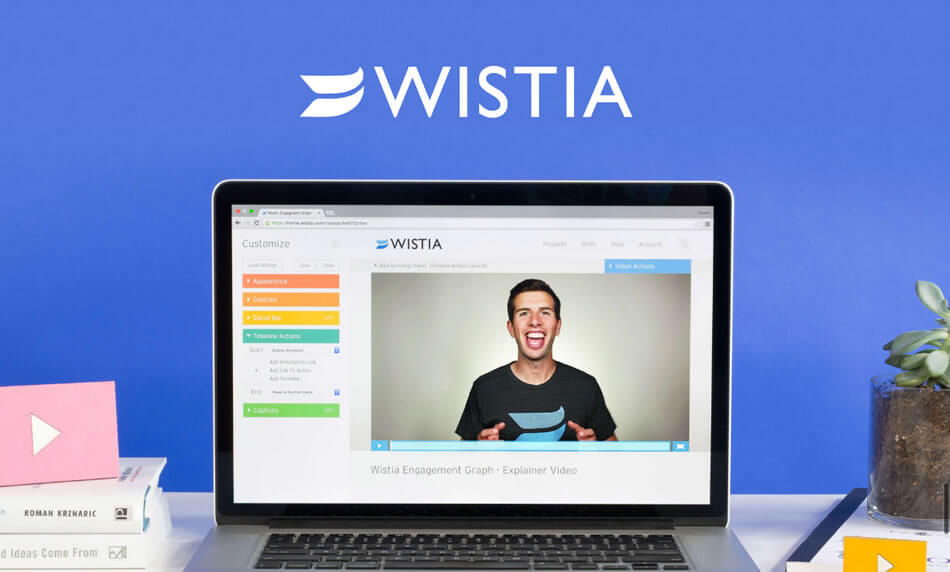 Wistia is a video software company founded in 2006 that provides video-hosting services for businesses.
Wistia is a video streaming server hosting platform that is focused on VOD for marketing. This professional streaming solution supports a customizable white label.
Professional plans for Wistia start at $99 per month. There are some limitations on videos that can be embedded with the plan. Each additional upload is 25¢ per month.
Basic Functionality:
Wistia's services focus heavily on video marketing, as well as including A/B testing and email notifications to channel subscribers.
Key Features:
Video CRM
Custom video player
Viewing without ads
Organization features
"Up Next" feature
Marketing tools
Powerful analytics
SEO tools
Pros:
Ad-free streaming
Great customer support
Some customization with branding
Reports and analytics
Marketing features
Video SEO tools
Cons:
Limitations on customization
Upload Guidelines and Specs:
Minimum dimensions: None
Maximum dimensions: Maximum of 4K (3840 x 2160)
Supported aspect ratios: Any
Maximum file size: 8 GB
Maximum video length: 2 hours
Total file storage: Up to 10 videos with the pro plan ($99 per month), $0.25 per month for every extra video
Accepted video formats: MP4 (recommended format), .MOV, .AVI, .WMV, .FLV, .MKV, 3GPP
Pricing:
Wistia has a couple of different pricing plans for streaming server hosting. These include:
Plus: $19/month billed annually
Pro plan: $79/month billed annually
Advanced: $319/month billed annually
Advanced: Contact for custom pricing
Please contact Wistia directly for pricing information on custom-priced Advanced plans.
3. Wowza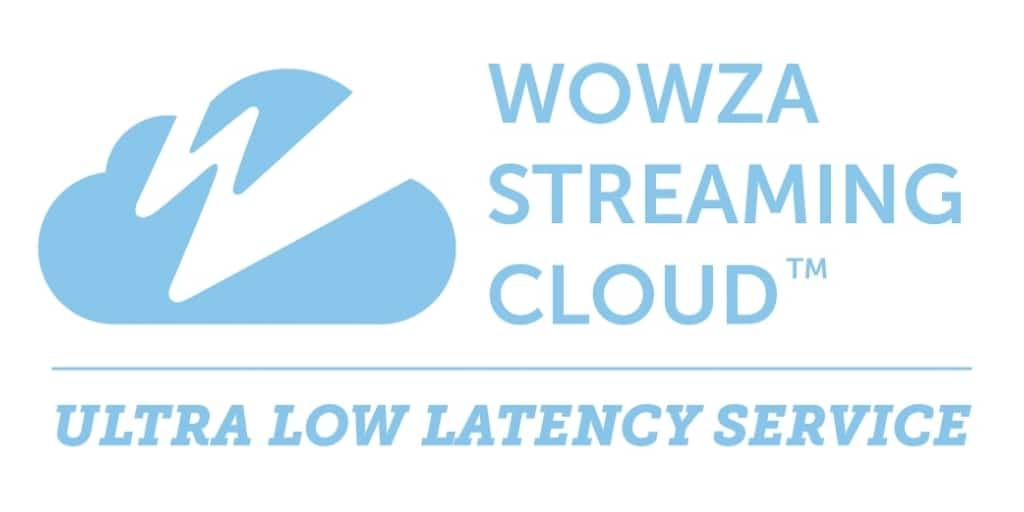 Wowza Streaming Cloud is a great choice for live streaming server hosting.
Wowza Streaming Cloud is feature-rich and provides a customizable video streaming server engine for broadcasters of all sorts. It was founded in 2005 by David Stubenvoll and Charlie Good. Wowza is a bootstrap start-up, with live and on-demand live streaming capabilities.
Wowza offers two main products: Wowza Streaming Engine and Wowza Streaming Cloud.
Wowza Streaming Engine is a stand-alone streaming server. This product is widely used in the industry for self-hosted streaming.
The second is the Wowza Streaming Cloud offering. This streaming solution includes a variety of features aimed at providing low-latency video content access to global audiences.
Basic Functionality:
Wowza Streaming Engine is a video server for self-hosted streaming, whereas Wowza Streaming Cloud is a full-service streaming solution.
Key Features:
Built-in streaming server
Ingest streams from any encoder
Create live, linear, or on-demand streaming applications
Stream live events, video conferencing, audio streaming, 24/7 streaming, and more
Host-you-own streaming server product
Mobile-compatible video player
RESTful API available
Pros:
Customer support (*note that phone support and fast responses cost extra)
Extensive Flexible and Modular Architecture
Management, Monitoring, and Integrations
Multi-Level Content Security
Performance Monitoring
Mobile Screen Support
Robust security
Video Streaming
Video Looping
China video delivery
Cons:
No Multistreaming
No Session Recording
No Event Scheduling
No Video Monetization Tools
No Multiple Camera Feeds
Upload Guidelines and Specs:
Minimum dimension: 240p (320 x 240)
Maximum dimension: 4K (3840 x 2160)
Aspect ratio: 16:9, 4:3
Max file size: Not available
Max video length: Not available
Total file storage: 250 GB (depends on the plan)
Accepted video formats: MP4, FLV, MP3, SMIL, AMLST, ID3, NGRP
Pricing:
Both Wowza Streaming Cloud and Wowza Streaming Engine have their own pricing plans.
Wowza Streaming Cloud offers three distinct pricing plans and services. Within Live Event Pricing, monthly plans include:
Pay as you go: $29/month; three month minimum with additional fees for usage
Basic: $99/month and includes 20 hours of live streaming and 1,000 viewing hours based on a video resolution of 720p
One Month Event: $149 one-time purchase and includes 20 hours of live streaming and 1,000 viewing hours also at 720p
Plus: $499/month and includes 150 hours of live streaming and 7,000 viewing hours based on a video resolution of 720p
All of these Live Event plans include full brand control, multi-bitrate streaming, and HD and UHD streaming.
Wowza Streaming Engine has its own pricing plan packages. These professional-grade streaming plans are billed annually and include:
Basic: $175/month + $195/month for each additional instance
One Month Event: $295/month + $295/month for each additional instance
Enterprise: Please contact Wowza directly for access to their custom-tailored high volume enterprise solutions
4. Vidyard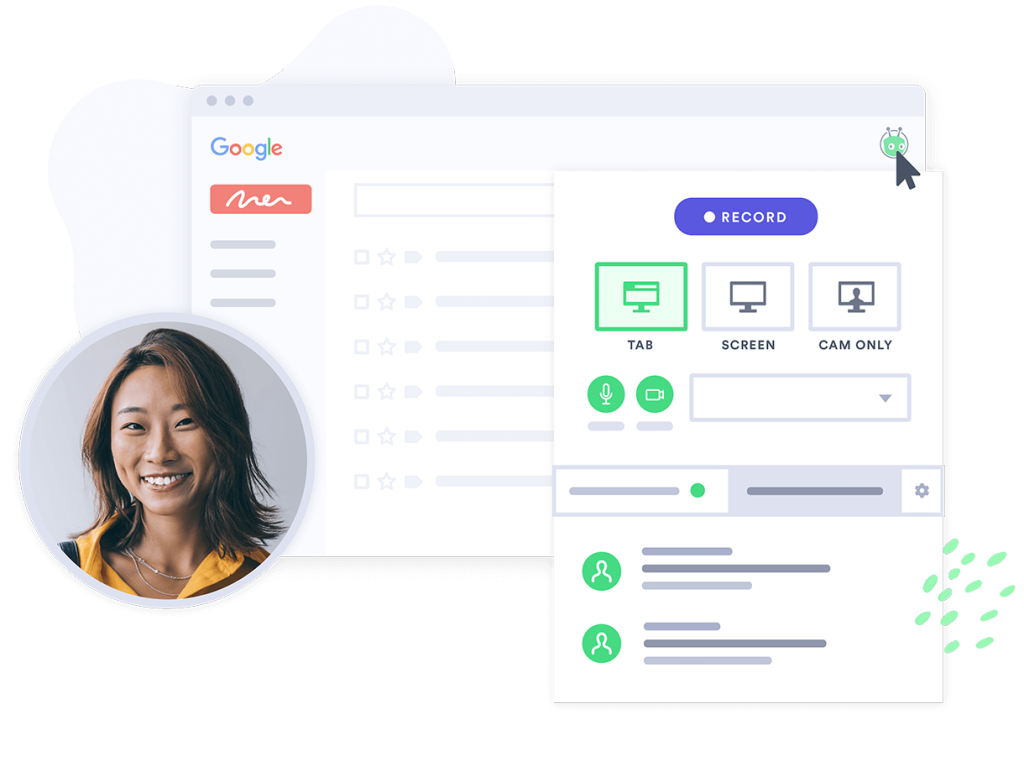 Vidyard is a video hosting company founded in 2010 that creates software aimed at sales and marketing teams.
Next, let's take a look at Vidyard, a marketing-focused streaming solution. This is another streaming server hosting platform that supports both live hosting and VOD hosting
In addition to marketing, Brightcove is also a good tool to use in sales and corporate communications. The platform supports features such as A/B testing for thumbnails, custom calls-to-action, and white-label service. Other key features include video analytics, video sharing, and video optimization.
Basic Functionality:
Vidyard is a great streaming tool for marketing and communication. It focuses on reaching your target audience and generating leads.
Key Features:
Built-in marketing tools (SEO, emails, personalization, analytics)
Interactive viewing
Lead capture
Video organization and channels
High-grade security
Pros:
Insightful analytics
Great technical support
Fully loaded with professional broadcasting features
Large user community
Cons:
Complex backend editing portal
Mixed user reviews
Upload Guidelines and Specs:
Minimum dimension:  360p (480 x 360)
Maximum dimension:  4k (3840 x 2160)
Aspect ratio: 16:9, 4:3
Max file size:5GB to 16GB (depends on the plan)
Max video length: 1 hour (live stream)
Total file storage: Not available
Compatible video formats: WEBM, MP4, MKV, MOV
Pricing:
Vidyard has pricing plans for both individuals and teams. These plans include:
Free Forever: Free
Pro Package: $15/month
Teams Package: $300/month
Business Package: $1250/month
Vidyard also offers custom-priced Enterprise plans for broadcasters with advanced streaming needs.
5. Brightcove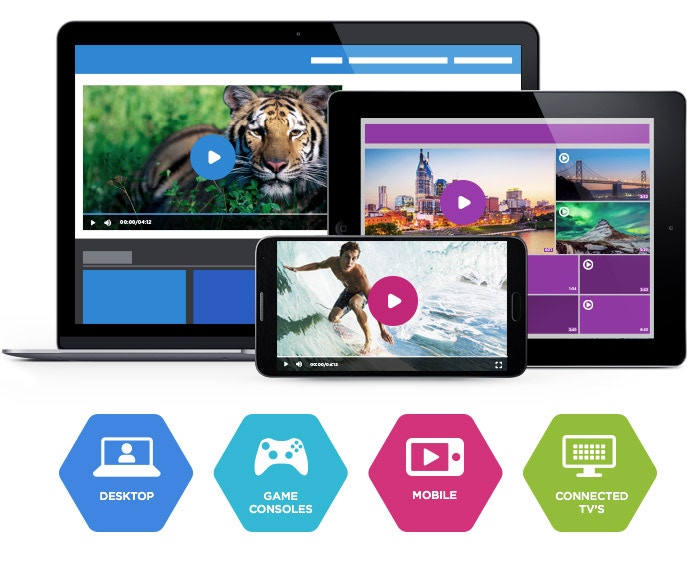 Brightcove is an online video hosting platform with a streaming server solution.
Brightcove is a major online video company focused on the Enterprise market. In particular, this streaming hosting service focuses on three market segments: video monetization, marketing, and enterprise communications.
It's a fully-loaded platform, with live hosting and VOD server support, monetization tools, and analytics. Brightcove's pricing information is not published online, but past users have shared that plans start around $500/month. This high price point makes Brightcove a provider on the higher end of live streaming pricing
Basic Functionality:
Brightcove offers a platform with cloud video streaming server solutions for three primary uses: marketing, communications, and monetization.
Key Features:
Global content delivery
Multi-bitrate and adaptive streaming
Basic tech support
Limited API access
Limited security features
OTT streaming
Cloud transcoding
Best for clients with large budgets
Pros:
Insightful reports and analytics
Individualized video portals
Powerful CRM integrations
Cons:
Reportedly high price points
Limited monetization features
Live streaming is a secondary solution
Limited privacy and security features
Upload Guidelines and Specs:
Minimum dimension: Determined by user
Maximum dimension: Determined by user
Aspect ratio: No restrictions (since Brightcove uses a responsive player)
Max file size: No limits on files size
Max video length: No published limits
Total file storage: Varies by plan
Compatible video formats: MP4, MOV, FLV, AVI, WMV, MKV, 3GPP
Pricing:
Brightcove does not publish pricing information on its website, but it does provide a breakdown of three pricing plans. These include:
Starter: includes 50 to 200 videos, up to 100,000 plays, and 2-5 users
Professional: unlimited videos, 100,000+ plays, and no overages plays, with +10 users
Enterprise: unlimited videos, 100,000+ plays, and no overages plays, with 10+ users, unlimited upload, and analytics-only users
Brightcove also offers custom-priced plans for their Enterprise Video Suite packages. Interested broadcasters can contact their sales department directly for a quote or free trial.
6. IBM Cloud Video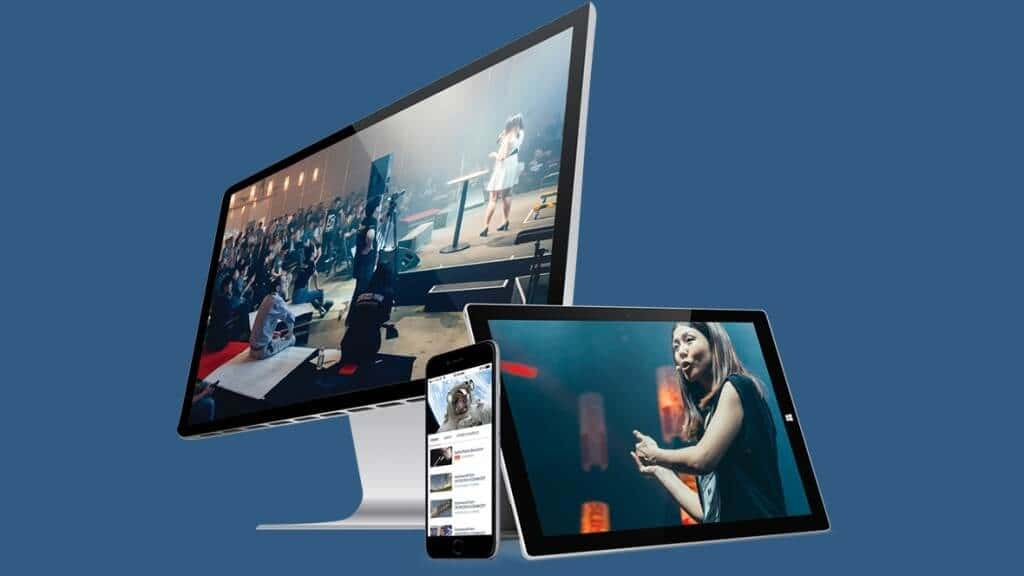 IBM cloud video is a live video streaming company founded in 2007.
Another one of the top streaming hosting services in the online video market is IBM Cloud Video. IBM Cloud video is a large video platform that supports live and on-demand video streaming within a wide range of use cases.
Some of the most notable features of this streaming server hosting provider include video embedding, tech support, video customization, password protection, and a range of engagement tools.
Basic Functionality:
The basic functionality of IBM is live streaming. However, this live streaming solution also hosts video on-demand files from previous live streams.
Key Features:
Powerful analytics
Viewer engagement tools
Auto-archiving
Reliable CDN
Tools for monetization
Pros:
Tools for enterprise streaming
Reliable customer support
Hong Kong video delivery
Cons:
HD streaming comes with an added fee
Minimal closed captioning support
Upload Guidelines and Specs:
Minimum dimension: 480p (480 x 270)
Maximum dimension:  4K (3840 x 2160)
Aspect ratio: No published aspect ratio
Max file size: 4 GB
Max video length: No published limits
Total file storage: 1TB – 5TB (depends on plan)
Compatible video formats: MKV, MP4, MOV, FLV, AVI, WMV, MPEG2, H264, H263, MPEG4, VP6, VP8, THEORA, WMV, MP3, AAC-LC, NELLYMOSER, PCM, SPEEX, VORBIS, WMA
Pricing:
IBM Cloud Video's plans range from $99 to $999/month and include:
Silver – $99/month
Gold – $499/month
Platinum – $999/month
Custom – Please contact IBM Cloud video for custom plan pricing.
Bonus: Akamai for Self-Hosting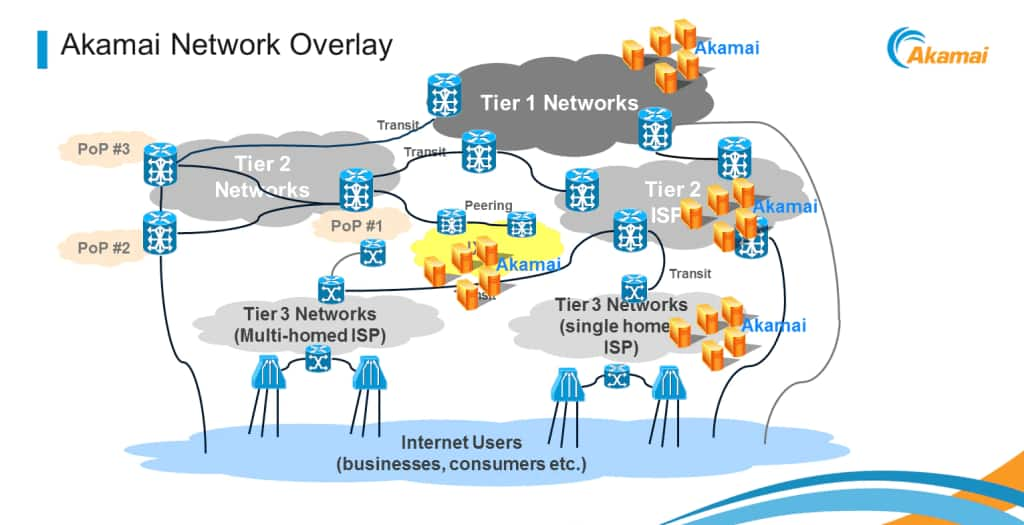 Self-hosting is an approach that some advanced broadcasters take quite a bit of technical know-how. Source: Akamai.com
The self-hosted model is an alternative to hosting your video content with an online video platform. Using self-hosting for online video streaming setups can be technologically complex, so it requires the support of experienced individuals with the appropriate technical know-how.
Akamai is a great option for broadcasters that are looking for a streaming server to support their self-hosted setup. This CDN provider is one of the oldest collections of video streaming servers in the world. It's also the largest network, with more than 240,000 servers located in more than 130 countries.
Broadcasters can access Akamai through a variety of online video platforms, including Dacast, or they can purchase contracts to access Akamai directly.
Basic Functionality:
Akamai is a video streaming and VOD server that is built to support self-hosted streaming setups. It is used specifically to help deliver video content.
Key Features:
Case Management
Certificate Provisioning System
China video streaming
User interfaces for content control
CP Codes and Reporting Groups Tool
Diagnostic tools
Firewall Rules Notification
Identity and Access Management
Log Delivery
Property Manager API
Sandbox Environment
Pros of Self Hosting:
Gives broadcasters more control over their streams
Broadcaster owns all rights
More customizable experience
Cons of Self Hosting:
More expensive
Very complex
Requires support of an experienced professional
Can be technologically taxing
Pricing:
Akamai custom builds plans to best suit each user's needs, so all plans are custom-priced.
How to Choose the Best Streaming Server Hosting Service
I know what you're thinking. Now that we've taken a look at a few of the top platforms for streaming server hosting, you can see that many of these software options are similar in terms of features. This can make comparing online video platforms difficult
Although there are dozens of different features to consider, it is important to enter the decision-making process with a list of features that are non-negotiables in terms of your streaming goals.
We believe that Dacast is a great streaming server hosting option for broadcasters with all different needs since we have solutions for enterprise streaming. Here's why:
Versatility: Dacast includes both live streaming and VOD server services, which makes it more versatile than some competing platforms that only include professional video hosting.
High-End Features: The platform comes equipped with a wide range of features including unlimited concurrent viewers, mobile streaming, player customization, multiple monetization methods, and more.
24/7 Tech Support: Round-the-clock technical support is a must, especially if you're live streaming and you run into any issues whatsoever. Dacast is one of the few OVPs that offer 24/7 support.
China Delivery: Dacast supports China video playback, which is essential for businesses and agencies doing work on the Chinese mainland. This feature is not standard on most OVPs.
Final Thoughts
Streaming video content is crucial for many modern businesses. Video streaming is increasingly ubuitous across a variety of sectors. This includes education, gobernment, nonprofits and more. And for any business to be successful with video streaming, having the right live streaming server and video streaming software platform is paramount.
Depending on your needs, it can be challenging to identify the perfect online video platformfor your own video streaming server. Thankfully, as we've reviewed in this article, there are some fantastic, professional-grade video streaming platforms that'll bolster your chances of success.
Dacast is one such platform. Dacast's video streaming solution is feature rich. With Dacast, you have complete control for smooth streaming of your video content.
Test drive Dacast's online video platform in a matter of minutes without 14-day free trial.
Whatever your goals, we hope this article has updated you on streaming server hosting. And if you have further questions or thoughts, feel free to leave us a comment below. We'll get back to you.
Finally, are you looking for more live streaming tips, industry networking opportunities, and exclusive offers? If so, you can also join our LinkedIn group regardless of your other goals. Thanks for reading. Happy broadcasting.