How to Build a Video Subscription Platform and Website in 8 Steps [2023 Update]
OTT video subscription websites, such as Netflix, Hulu, and HBO Max, are very popular among consumers. This is especially true since many households are cutting the cord on cable and online streaming is more popular than ever.
Creating this type of video platform can successfully generate revenue for broadcasters in many different industries, including entertainment, education, sports, fitness, and more.
In this post, we're going to discuss how to make a video subscription website with the support of a video subscription platform. We will go through the step-by-step process for setting up your website before we compare ten of the best subscription video platforms and integrations.
Table of Contents:
What is an OTT Video Subscription Platform?
How to Make a Video Subscription Website
Top Video Subscription Platforms for Monetization

FAQ

Conclusion
What is an OTT Video Subscription Platform?
An OTT video website is a site where viewers can go to stream online video content. In order to access the content, viewers must pay a subscription fee. Typically, this fee comes with unlimited access to a specific body of content.
Some popular video subscription websites include Netflix, Hulu, ESPN+, Disney+, and the like. There are also independent platforms that stream specific sports, educational material, or other on-demand video content.
During the pandemic, video subscription sites became popular among independent educators in the fitness and business realms.
How to Make a Video Subscription Website
Creating and selling your own video-based educational content is easier than ever before. In the sections that follow, we'll teach you how to do so in 8 simple steps.
With the support of modern streaming technology, creating and selling your video content is easier than ever before. Let's take a look at the eight steps you can follow to get your video subscription site online and generate revenue.
1. Produce Your Video Content
The first step is to produce your content. You'll want to pre-record and edit your footage to make it presentable for your viewers.
If you have good equipment, good lighting, and good delivery, you're well on your way to effective content that can drive your subscription video platform.
Producing high-quality video content is a complex topic in and of itself. Luckily, we've covered aspects of it, such as the basics of good lighting and how to choose the best equipment, in previous posts, so we urge you to check out those dedicated guides.
As an alternative or supplement to this step, you can acquire licensing to stream content from other creators. This will help you diversify your platform if it makes sense for your audience.
2. Upload to an OVP 
Once you've recorded your video, the next step is to upload it. Most Online Video Platforms (OVPs) make this process easy with bulk uploading support. This simplifies the process of uploading tens or hundreds of videos at once.
Once you've uploaded your content, you'll need to organize it. Luckily, many powerful OVPS include a built-in video Content Management System (CMS). This typically consists of categories, tags, and playlists that let you easily organize your content.
At this stage, you can also bundle content into "packages." That way, your viewers can purchase packages with a single price for multiple videos.
You'll also brand your video player within your OVP. Using a white-label OVP allows you to customize all the branding associated with your video player. Typically, you can customize colors and also use your own logo.
3. Transcode for Adaptive Delivery
Once you've got everything situated in your OVP, it's time to transcode your video.
Transcoding creates multiple renditions of the same video file. That way, when users stream your video content, our adaptive video player will detect their internet speed and automatically deliver them the best video for their situation. This process is essential for delivering the best-quality content to viewers.
Many online video platforms have built-in transcoding tools which make this step quite simple.
4. Add Closed Captions, Chapter Markers, and Other Extras
Now, it's time to add closed captions and chapter markers to your videos. CEA-608 and 708 closed captions expand your audience to viewers who are deaf, hard of hearing, and language learners. For broadcasters from publicly-funded organizations, closed captions may also be a legal requirement.
Adding closed captions to a video file is easy using a modern OVP. Just upload the file, and you're ready to go.
You can also use chapter markers to subdivide longer videos up into shorter, digestible segments. This is particularly valuable in education content. The video player bar will visually mark these segments, which makes it easy for viewers to navigate around the video.
Other extras that you can add at this stage include in-player polls, popover text, et cetera.
5. Embed Videos on Your Website or Create a Custom Portal
The next step involves putting those videos onto your website, or whatever custom portal you choose to create.
Embedding videos on your website is easy. In fact, it is as simple as copying and pasting a basic code. If you are willing and able to get a little more complex, you could also use a video platform API to create a custom mobile app or a dynamically populated, automatically generated set of playlists on your custom video portal website.
Another option for presenting and monetizing your video content is by using an online video platform through a custom video portal. Dacast, for example, offers an Expo gallery feature.
With Expo video portals, broadcasters can build a gallery right on the Dacast platform. These galleries are totally white-label and customizable. Users can curate an unlimited number of galleries with different playlists of videos.
The best part? You can easily monetize your galleries with subscriptions and other monetization methods. 
6. Enable Security Features 
Before you publish your valuable videos, you want to make sure to protect them from piracy and theft. That means enabling various security features. This could include, for example, domain restrictions. This feature puts a limit on which websites your video can be embedded. Another example of a key security feature is AES encryption, which uses cryptography to secure your videos against interception and hacking.
For a full list of security features, check out our guide to online video security where we discuss a range of other security tools in that piece.
7. Monetize via Subscription Paywall
Setting up a monetization system on your video subscription website is the next step, and it is certainly one of the most important. Generating revenue from your videos is fairly easy with the support of a video subscription platform or paywall integration.
With a video paywall, you can configure the price of the subscription and the recurrence period (weekly, monthly, etc.). On Dacast, you can also apply group pricing and promo codes.
8. Publish and Promote
Now it's time to make your videos public and begin promotion. You can promote your site through influencer marketing, paid aid campaigns, organic content marketing, and more. It is important to do what makes the most sense for your audience.
Many broadcasters offer free trials to their video subscription site to give viewers a sense of the platform and to get them hooked.
Top Video Subscription Platforms for Monetization
As we discussed, a video subscription platform is an important part of bringing your OTT streaming site to life. Let's compare ten of the top video subscription platforms for monetizing your OTT video content.
1. Dacast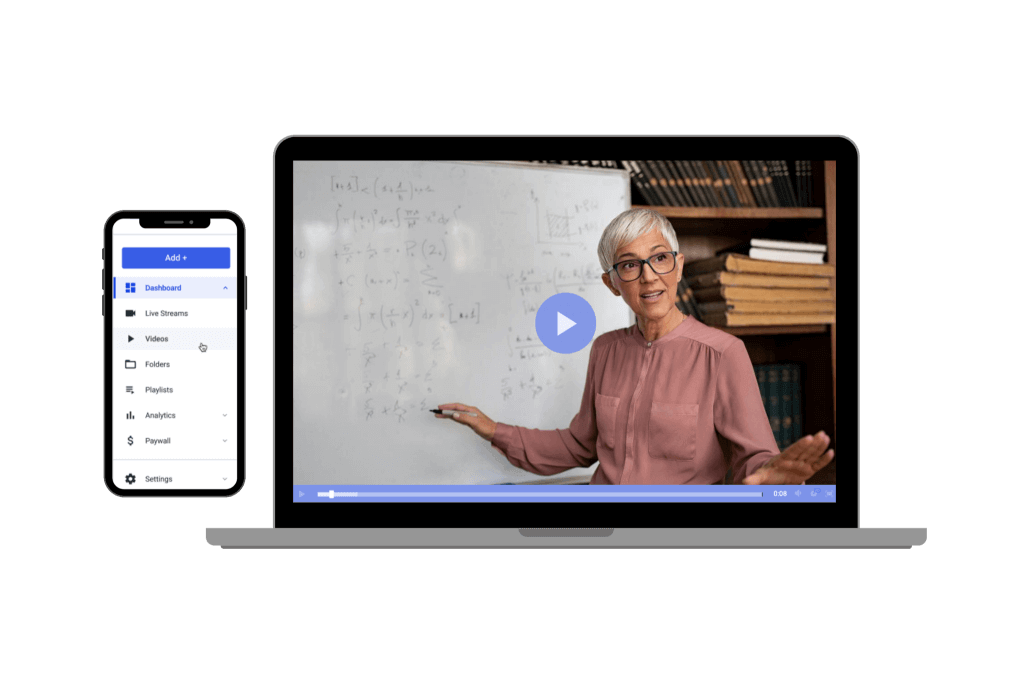 Dacast is a live and on-demand streaming platform that supports subscription-based and other revenue generation models. Our platform delivers streams via top-tier CDN services, such as Akamai and Limelight for reliable content delivery.
User paywalls integrated directly into Dacast's white-label video player. Our subscription management system offers weekly, monthly, quarterly, and biannual renewal options, and our paywall solution accepts over 135 different currencies and is translated into more than ten different languages.
Customer support is available around the clock, and our team offers professional support services for live events, hosted pages, and software development projects.
One notable feature of Dacast is the Expo video galleries. This tool allows users to build video streaming sites directly on the Dacast platform without having to design a separate site. These video portals can be monetized with
Key Features:
Pricing:
Pricing plans on Dacast start at just $39/month for the Starter plan and include:
Starter Plan: $39/month (includes

2.4 TB of bandwidth per year & 500 GB of storage

)
Event Plan: $63/month (includes 6 TB of bandwidth upfront and 250 GB of storage)
Scale Plan:

$165/month

(includes 24 TB of bandwidth per year and

2000 GB

of storage)
Custom plan: Contact us for custom pricing plans
2. Brightcove OTT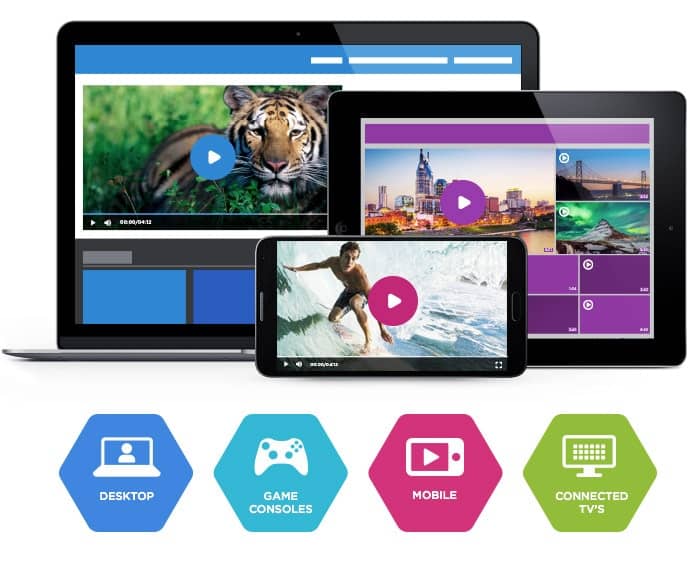 Brightcove is a high-end video streaming service dedicated to broadcasting at an advanced level. Brightcove's OTT solution is equipped with all of the tools broadcasters need to create a video subscription website.
This platform has built-in subscription tools, so you can host and monetize your video library all in one place. Brightcove is geared towards enterprise use, so it is best suited for users with large budgets and advanced streaming needs.
Key Features:
OTT streaming

Subscription monetization

Ad cue points

Meta-data driven ads

API and SDK access for customization

Video analytics

Secure streaming
Pricing
:
Brightcove's pricing is only available upon request. Plans are typically custom-priced and are reported to start at around $500/month (as per user reviews).
3. Uscreen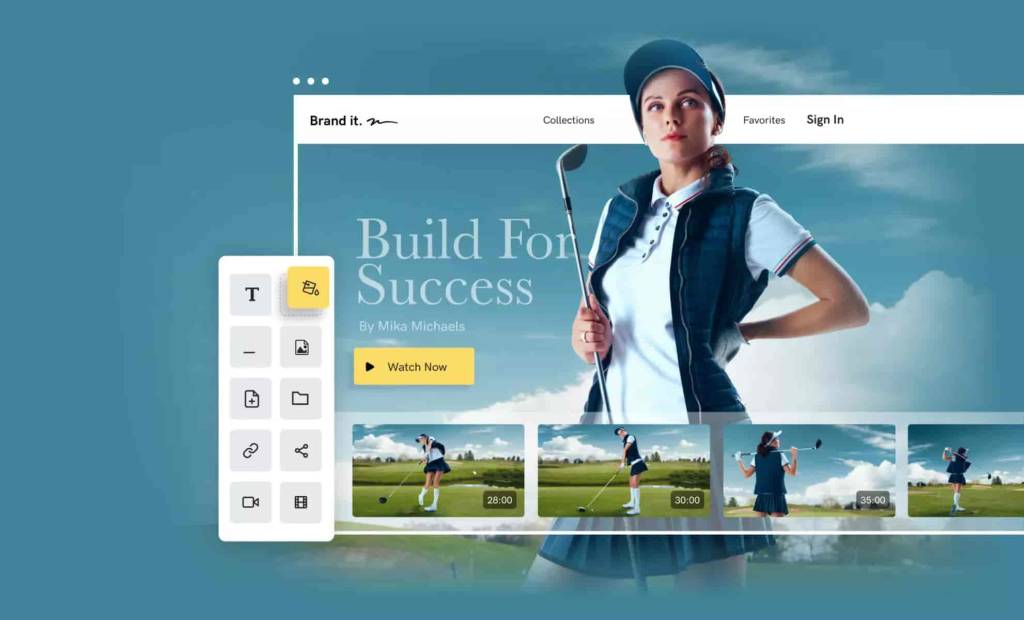 It is a VOD hosting platform that supports video monetization at an advanced level. This platform is equipped with tools to monetize content via subscriptions, rentals, pay-per-view, and one-time sales.
The wide range of monetization options paired with the overall functionality of this solution make it an ideal video subscription platform.
Key Features:
OTT streaming
Tools for marketing
Powerful video analytics
Community-building features
Fee-based video monetization
High-level privacy and security
Pricing:
Uscreen has three different pricing plans for broadcasting, including:
Growth: $199/mo + $1.99/paid member

Pro: $599/mo + $0.99/paid member

Plus: Customizable plans for enterprise users with greater needs
4. Vplayed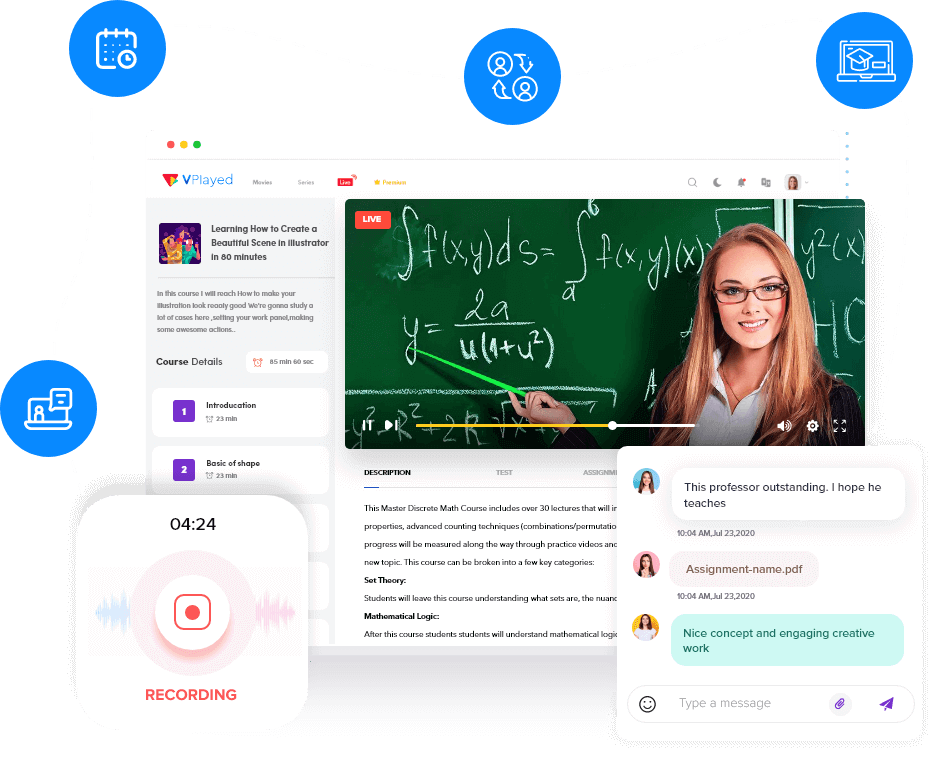 Vplayed is an online video platform from Contus that is geared towards OTT streaming. Vplayed supports all major types of video monetization, including subscriptions, PPV, and advertisements.
This platform is well-suited to create video subscription websites that give a true online TV streaming experience. In fact, the platform seems to have been created with this functionality in mind.
One cool monetization feature from Vplayed is the "Catch Up TV" option that allows viewers to pay a reduced rate to binge their favorite shows to catch up on recent episodes.
Key Features:
OTT streaming

All-device, white-label HTML5 video player

Live streaming and VOD

Support for video monetization 

DRM for advanced security

Communication integrations

100% customizable experience
Pricing
:
Vplayed does not publish prices on its site. Please contact their sales team for custom pricing.
5. Cleeng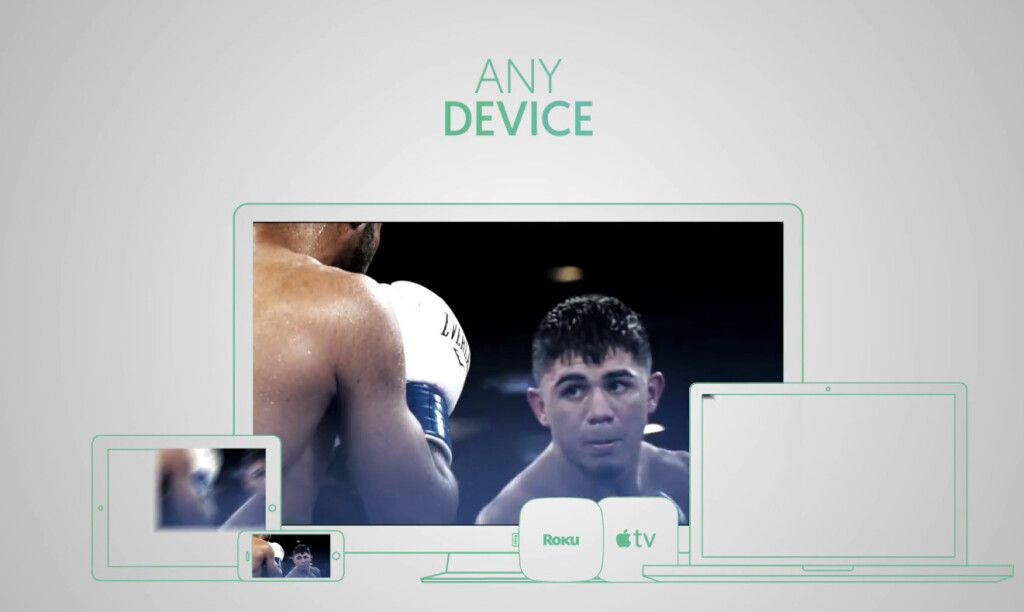 Cleeng is a subscription management platform with many flexible features. Their paywall options are available for pay-per-view live streaming and video-on-demand subscriptions. Cleeng's solution includes multi-language support, authentication tools for content integrity, and fraud prevention.
Cleeng is different than the other video subscription platforms that we have discussed so far since it is purely dedicated to video monetization. It can be integrated with video hosting platforms, but it is not a video hosting platform itself.
Key Features:
Subscriber retention management 

Solutions for different use-cases

API access

Powerful analytics

Checkout optimization

Easy to integrate
Pricing
:
Cleeng's pricing plans are split into a couple of different categories. Here's how they are broken down: 
Launchers
Payment & Checkout Optimization: $0.29 + 2.9% per transaction

Professional Customer Care Staffing: $0.34/month Managed User
Scale-Up
Payment & Checkout Optimization: Starting at $0.26 + 2.6% per transaction

Professional Customer Care Staffing: Starting at $0.20/month per Managed User

Smart & Predictive Churn Analytics: Custom-priced plans only
6. InPlayer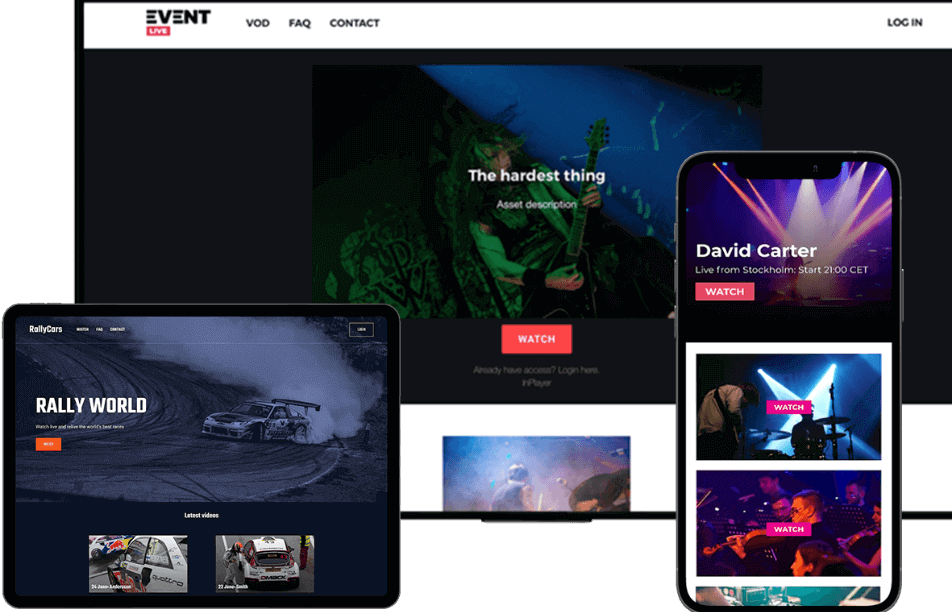 InPlayer is another powerful video subscription platform and paywall solution that is similar to Cleeng. It supports both pay-per-view and subscription-based video monetization.
The InPlayer solution includes a wide range of professional features for secure video monetization such as geoblocking, multiple currency options, and custom features like paying with social media outreach (a "tweet", "like", etc.). 
Key Features:
PPV and subscriptions monetization 

Alternative payment methods

"Plug and Play" paywall

Streaming analytics

Customer support

Secure monetization
Pricing
:
InPlayer does not have its current pricing information published on its site.
7. Lightcast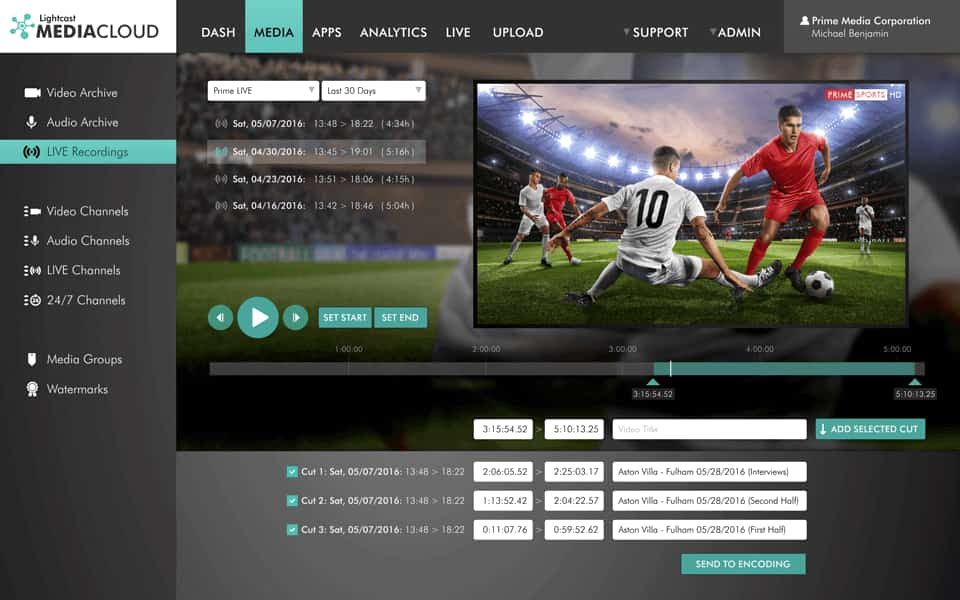 Lightcast is an OTT and video hosting service that also helps broadcasters develop mobile and custom smart TV applications.
This platform supports all major monetization options, but their paywall tools are add-ons for most pricing plans.  
Key Features:
OTT streaming

Mulitple monetization options

White-label streaming

Cloud media services 

Smart TV streaming app building tools
Pricing
:
Prospective users must submit an inquiry for a custom quote.
8. Muvi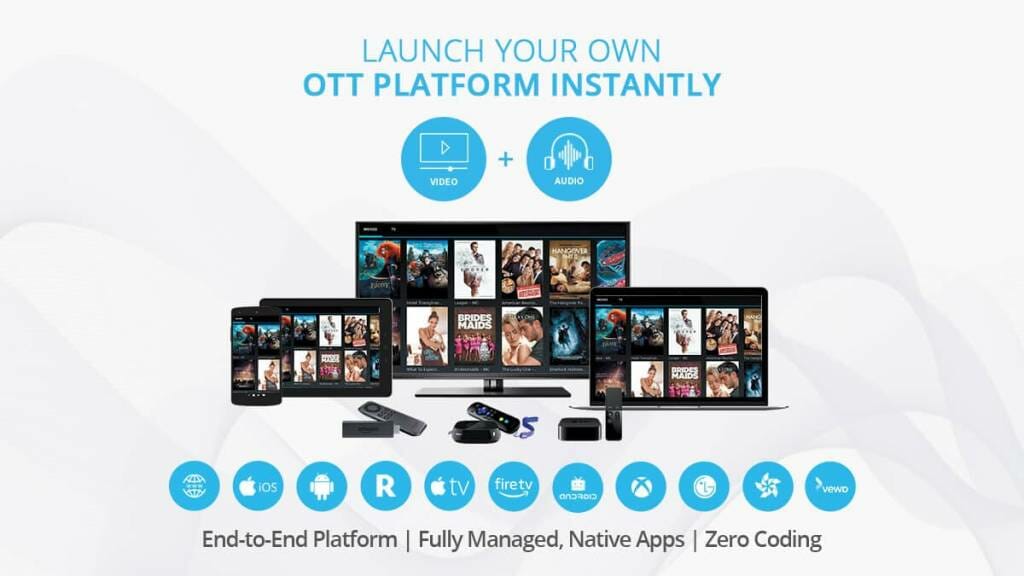 Muvi is a solution that supports both live streaming and VOD and includes a native video player and select monetization tools.
Muvi's paywall implementation works with all major advertising, PPV, and subscription models but is less secure than some other platforms that we've mentioned. For example, there are no geographic and referrer restrictions and limited password protection.
Key Features:
OTT streaming

Multiple monetization methods

Multiple currency options 

Discoverability via SEO and metadata

White-label streaming
Pricing
:
Muvi prices its plans at the following five levels:
Standard plan: $399/month (+ $299/month per app +

infra fees

), allows 2000 concurrent viewers, 1TB each of bandwidth and storage, and API access.

Professional plan: at $1,499 per month (+ $499/month per app +

infra fees

) increases limits further and adds premium support.

Enterprise plan: $3,900 per month (+ $499/month per app +

infra fees

) adds a dedicated server with auto-scaling.

Ultimate plan: This is a custom solution and includes everything in the Enterprise plan plus premium services and project management.
9. Kaltura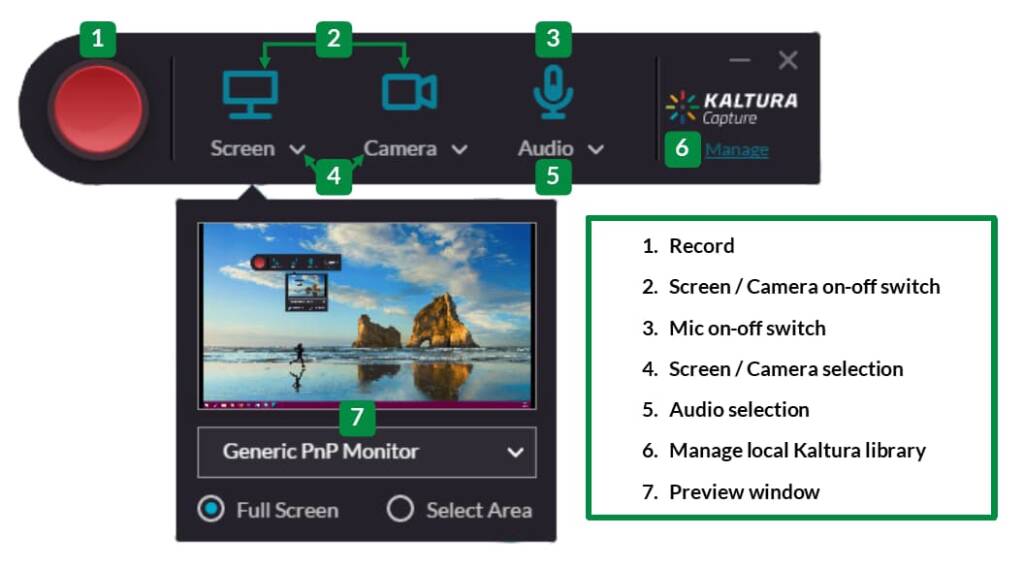 Looking for a more customizable video platform with subscription-based monetization? Kaltura may be the option for you.
Kaltura is an open-source online video platform that is completely customizable thanks to a large collection of plugins and integrations. Its extensibility makes Kaltura a great option for creating a video subscription site. All types of video monetization work on this platform.
It is important to note that the customizable nature of this platform comes with a hefty price tag.
Key Features:
Multiple monetization methods

Open-source platform 

Totally customizable

Large collections of integrations

Reliable content delivery

API access
Pricing:
Kaltura's pricing plans are customizable. Users can purchase credits to spend on access to features and bandwidth.
10. Vimeo OTT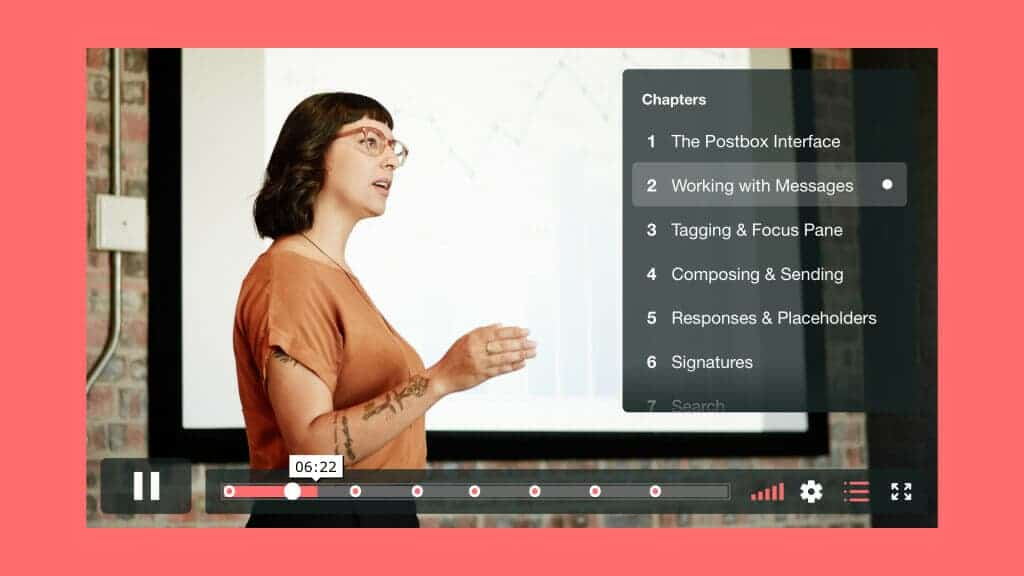 Back in 2017, Vimeo acquired Livestream. This acquisition helped push Vimeo's prosumer offerings into a more professional space.
Vimeo now offers premium plans with access to advanced streaming features under the Livestream name. Vimeo OTT is a Livestream offering that is geared towards broadcasters who are interested in creating video streaming sites.
Vimeo OTT supports monetization through subscriptions.
Key Features:
OTT streaming

Subscription-based monetization

Secure streaming

Engagement tools

Streaming analytics

Simulcasting to

YouTube
Pricing:
Vimeo OTT is priced in the two following tiers:
Advanced Pricing: $108/seat per month

Enterprise Pricing: Contact sales
These OTT-specific packages come with a full Vimeo relationship, which means they include all the basics for starting your web-based OTT channel, as well as growing your OTT business online.
FAQ
1. What is the most popular video platform?
YouTube is commonly regarded as one of the most popular video platforms globally. It boasts over 2 billion logged-in monthly users, and serves as a repository of user-generated content, including vlogs, music videos, tutorials, entertainment, and much more.
It's a go-to platform for both content creators and viewers, offering a vast and diverse range of videos. YouTube's popularity stems from its ease of use, extensive content library, powerful recommendation algorithms, and its ability to cater to a wide variety of interests.
2. What is an example of a video streaming platform?
One prominent example of a video streaming website is Netflix. Netflix is one of the best online video platforms that offers a vast library of movies, TV shows, documentaries, and original content to its subscribers.
Users pay a monthly subscription fee to access the content, which can be streamed on various devices, including smartphones, tablets, smart TVs, and computers.
However, Netflix differs from other video platforms like Vimeo OTT that empower individual content creators and organizations to host, monetize, and distribute their own content.
3. What is streaming and how does it work?
Streaming is a method of transmitting multimedia content over the internet in a continuous, real-time flow. Content creators encode their videos or music into digital formats, which are hosted on specialized servers.
When a user selects a piece of content to consume, their device sends a request to the server, which initiates a streaming protocol. This protocol sends small chunks of data to the user's device, which are buffered and played back in real-time.
Unlike traditional downloads, streaming doesn't require users to download the entire file. All they need is a steady internet connection and a device to stream the content on.
4. What video platform is free?
YouTube is one of the best free streaming video platforms. It offers an extensive library of content, including user-generated videos, music clips, educational tutorials, vlogs, and more.
While YouTube provides a free experience, it also offers premium subscription options that offer an ad-free experience and additional features such as offline viewing and access to exclusive YouTube Originals.
Some other free online video platforms include Vimeo, Dailymotion, Twitch, and Metacafe.
5. How do I see my subscriptions?
To see your subscriptions on various online platforms and services, including video streaming platforms and social media websites, you typically need to follow these general steps:
1. Log In to Your Account: Make sure you are logged in to your account on the platform or website where you have subscriptions.
2. Navigate to the Subscription Section: On YouTube, for instance, click on the "Subscriptions" tab on the homepage or your YouTube channel page to see the latest videos from channels you've subscribed to.
Conclusion
With the rise of OTT streaming, many broadcasters are setting up video subscription sites of their own. This way, they can supply the growing demand while generating revenue on their content.
Are you ready to make a video subscription site of your own? If so, we invite you to try Dacast's streaming solution. We offer subscription-based monetization, white-label streaming, video privacy and security, and much more.
Try our online video platform risk-free for 14 days with our free trial. Sign up today to start streaming in minutes. No credit card required.
If you need extra support in setting up your online video subscription site, we also offer a range of professional services for businesses that need more assistance in getting started. We urge you to explore these options.
We're here to answer your questions 24/7, and our LinkedIn group  is getting very popular.
Thanks for reading and, as always, best of luck with your video broadcasts!