Currently, Dacast's video monetization tools and paywall support twenty-one currencies for viewer payments. If you do not see the currency you would like to use for your stream, no worry, as we can add additional currencies for you. To do so, contact us, and we will help set you up. 
Note that we could help you have up to +135 currencies available from the Stripe currencies list.
List of Currencies Supported by Dacast
For now, here is a list of the currencies supported by the Dacast video monetization platform:
US Dollar (USD)

Euro (EUR)

Indian Rupee (INR)

Poland Zloty (PLN)

Pound Sterling (GBP)

Danish Krone (DKK)

Australian Dollar (AUD)

Mexican Peso (MXN)

Canadian Dollar (CAD)

Russian Ruble (RUB)

Brazilian Real (BRL)

New Zealand Dollar (NZD)

Israeli New Shekel (ILS)

South African Rand (ZAR)

Ghanian Cedi (GHS)

Nigerian Naira (NGN)

Kenyan Shilling (KES)

United Arab Emirates Dirham (AED)

Jamaican Dollar (JMD)

Zambian Kwacha (ZMW)

Singapore dollar (SGD)
Where do I Find the Currencies?
To create prices and select the currency you want, you will have two options: 
For a specific piece of content: live stream, video, or playlist.

For multiple pieces of video content. 
1 – Specific piece of content
To create prices in different currencies to apply to a specific piece of content (live stream, video, or playlist), go to the "Paywall" tab of your content, and under "Prices" click "New Price". 
2 – Multiple pieces of content 
To create prices in different currencies to apply to multiple pieces of video content, go to "Paywall" then "Preset" and click on "Create Price Preset". 
After completing the previous steps, you will see the following window where you can add your different prices and currencies: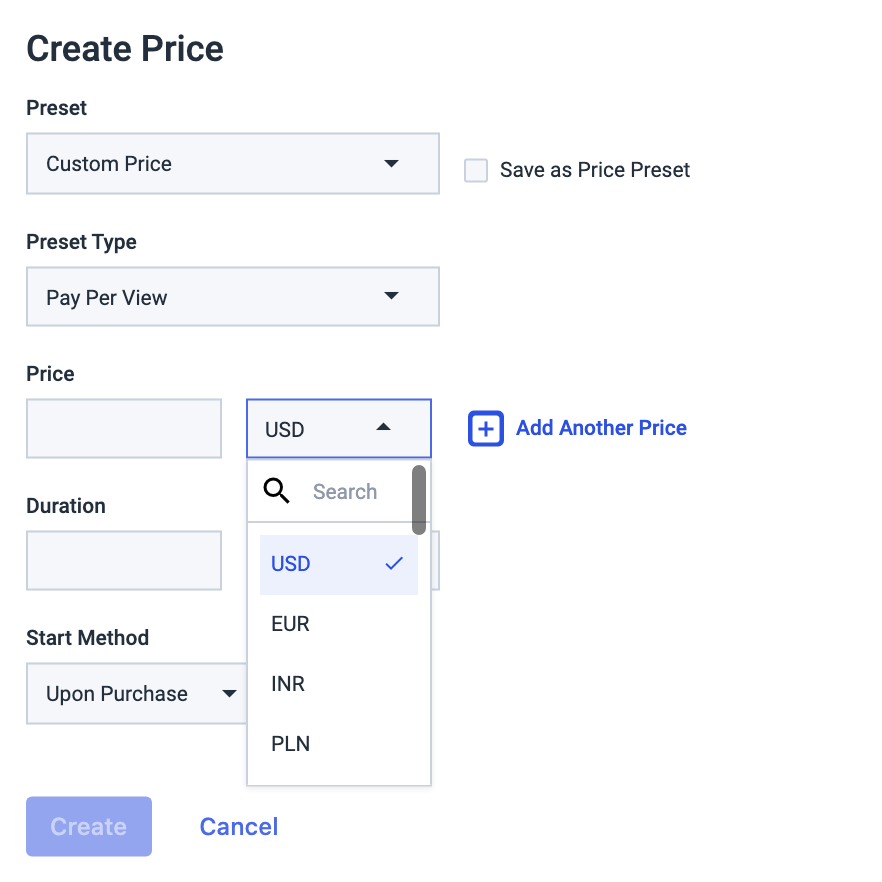 What if My Viewers Request a Refund?
Your viewers will be refunded in the currency of their initial purchase.
How Many Prices Per Video Content Can I Set Up?
You can create an infinite number of prices per content.
Types of Monetization Available with Dacast
As a refresher, there are three methods of monetization offered by Dacast: SVOD, TVOD, and AVOD.
SVOD is a subscription-based method that allows viewers to have unlimited access to a video library for as long as their subscription lasts. Subscriptions are typically weekly, monthly, or quarterly.
TVOD is most commonly known as pay-per-view. As the name suggests, viewers pay for what they want to watch.
AVOD refers to ad-based monetization. You have the option to serve ads on your content. Ads are funded by your advertisers, so rather than paying out of pocket, your viewers pay for the content with a minute or so of their time.
Any questions or need help/access to this feature? Please contact us.
Not yet a Dacast user, and interested in trying Dacast risk-free for 14 days? Sign up today to get started.
Additional Resources