Last Updated On February 15, 2019
This will guide you through setting up your security preferences for all of your content.
1. Login to your DaCast account at my.dacast.com
2. Click on the VIDEO SECURITY icon under PREFERENCES on the left side of the New Back Office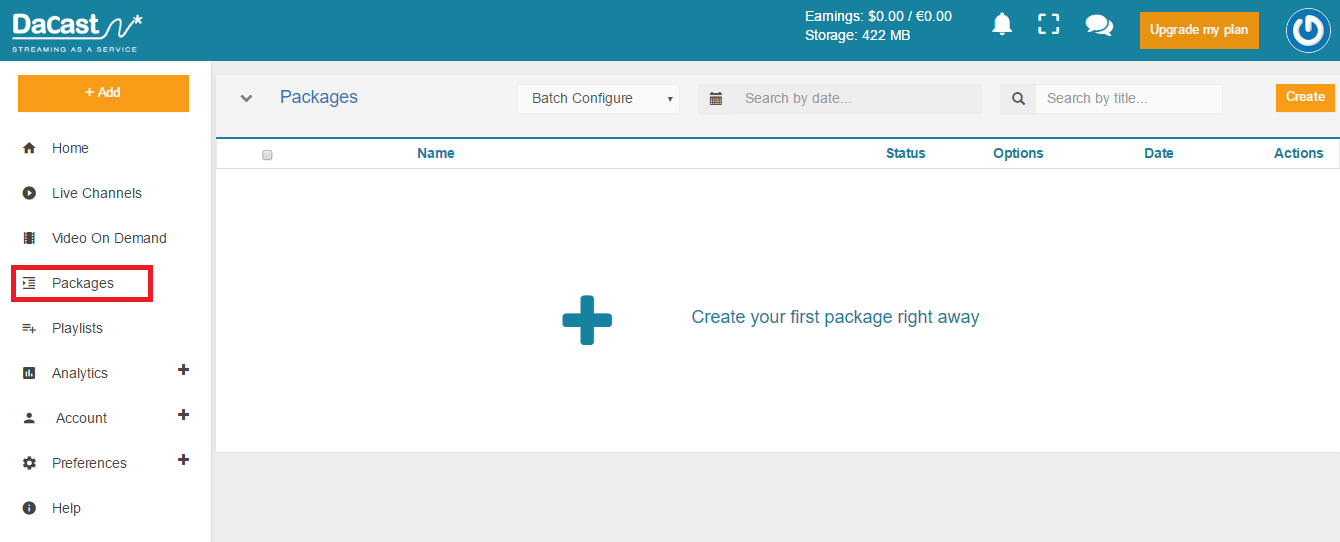 3. Iframe Security: Please note that by default, iframe security is ON.
You can turn it OFF and deactivate this security feature whenever you decide.
4. Country Restriction: DaCast uses MaxMind, relying on their GeoIP2 databases and web services, to provide geographic restrictions to your content. This is the most accurate geolocation tool, using the IP of the viewer to detect their country of origin. Thus, DaCast can ensure your content is only viewed by viewers in countries you have approved.
You can create a new group of approved countries by clicking on the orange + button: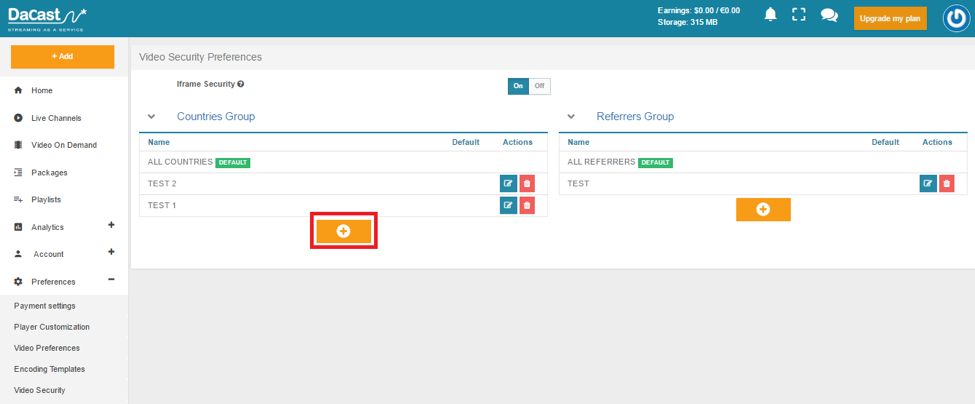 The following pop-up window will come up: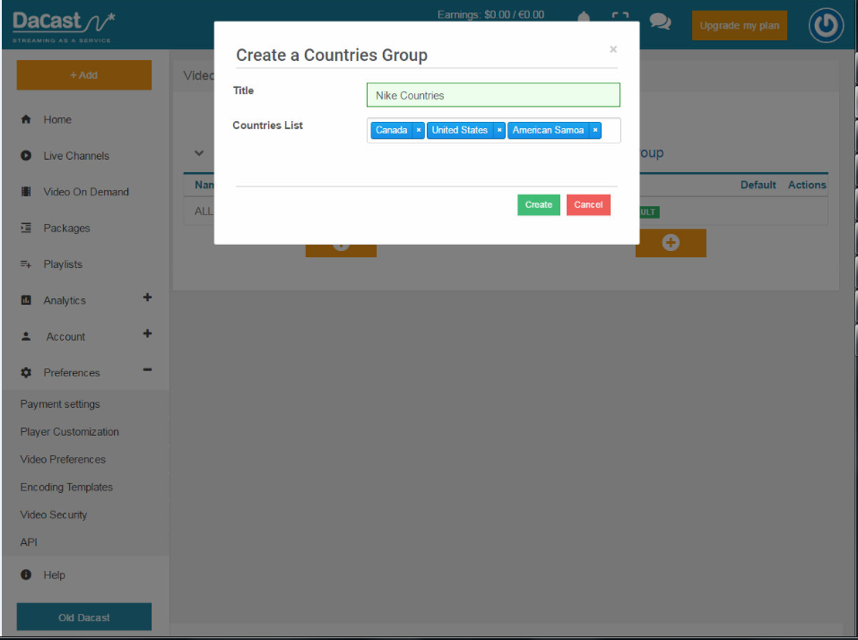 You can enter a title for your "Countries Group" and select countries within the countries list.
Click CREATE once you've finished adding all the countries you wish to.
You can set one of your "Countries Group" as a default group by clicking on the green checkmark as shown below: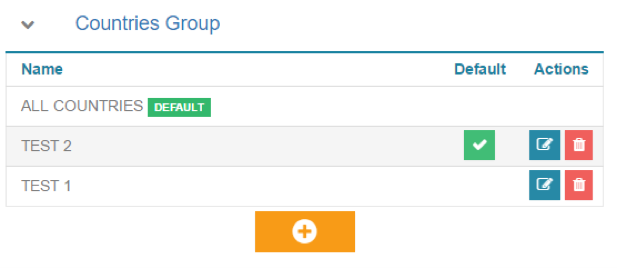 Under the ACTIONS column, you have the ability to edit or delete your "Countries Groups."
5. Referrer Restriction
You can restrict access to your content by choosing where your streams can be embedded.
To do so, you can create a "Referrer Group" by clicking on the orange + button: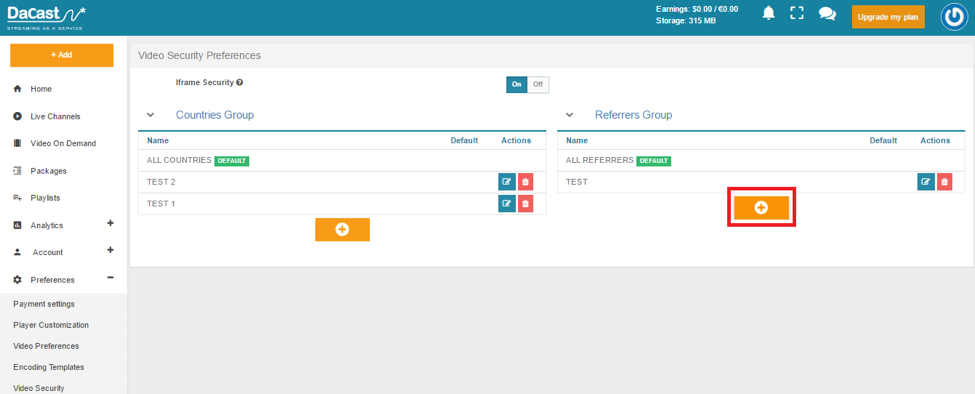 The following pop-up window will come up: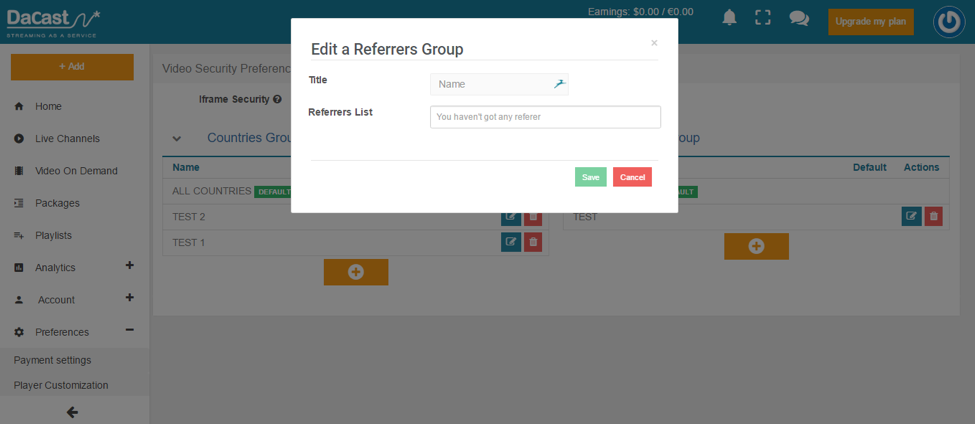 You can name your Group and complete your Referrers List by manually adding URLs.
Please note that a URL should look similar to this: www.dacast.com, or www.dacast.com/viewer if you want it to be more specific.
Please click SAVE once your info has been entered.
You can set one of your "Referrers Group" as a default group by clicking on the green checkmark as shown below: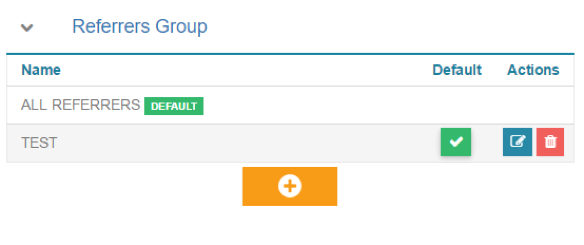 Under the ACTIONS column, you have the ability to edit or delete your "Referrers Groups."
Please note that these settings will apply to all of your content. You can set up individual security preferences under PUBLISH SETTINGS when editing your VOD or Live Channel as shown below:

Please note that when applying a referrer restriction to your content, the iframe code is disabled: