Comparison of The 15 Best Secure Video Hosting Platforms in 2023
A survey of marketers conducted by the Content Marketing Institute found that a massive 71% of B2B organizations use video as a documented part of their content marketing strategy. Further, 57% of them use webinars and online events for marketing regularly. 
Why? Because they know the potential of video. Video is one of the most powerful marketing tools you possess. 
Data from Google shows that 55% of online shoppers used online videos while shopping in a store. This means that video actively turns prospects into customers. But to reap these benefits by using video as part of your business marketing strategy, you need to go beyond the free video hosting site such as YouTube.
Instead, protecting your videos and the revenue you draw from them relies on finding the right video hosting software. You need software that works just right for you and helps propel you to new heights, helping you meet your loftiest business goals. 
We're going to discuss why secure video hosting is vital for business today. We'll also look at the most important features of secure video hosting. Further, we'll be comparing the top 15 best secure video hosting platforms for professionals.
Table of Contents
Why Secure Video Hosting is Important for Business

The Limitations of Free Video Hosting

7 Key Features for Secure Video Hosting 

15

Best Secure Video Hosting Platforms for Business

Final Thoughts
Why Secure Video Hosting is Important for Business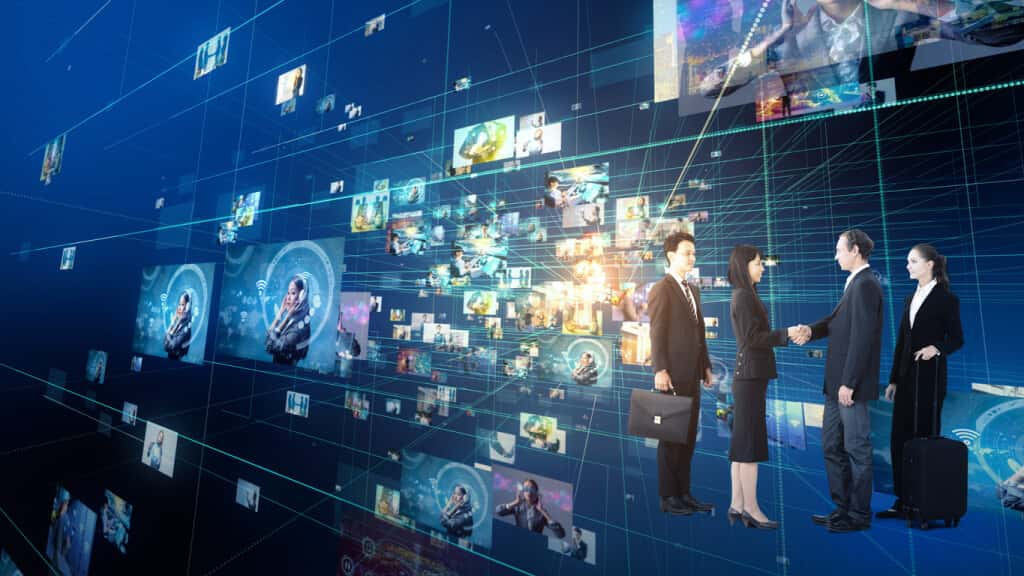 Whether you use video content to draw in new customers, offer added value to those who already shop with you, or educate your employees, you need a way to protect your videos from being stolen. This will give you more control over your brand and help keep the revenue stream from those videos steady.
Many broadcasters aim to create a streamlined experience for their viewers while keeping their videos free of buffering issues, incorrect file formats, and display difficulties.
To offer this experience and simultaneously protect your videos, you need a secure video hosting platform that allows you to retain ownership of your content and that also gives you more control over how that content is distributed.
The advanced tools and features that come with most professional video hosting platforms like Dacast provide extra layers of security and control so you can manage how and where your content is distributed, how you make money from it, and who can access your videos.
The Limitations of Free Video Hosting
Many companies turn to free video hosting platforms to host their content because of their prevalence and the fact that usage is free. However, many businesses soon learn that's not an ideal setup.
Here are a few of the most notable limitations of free video hosting.
File Format Issues 
Different web browsers accept different video file formats, and not all file formats are used by all free video platforms. This can create a problem for viewers using a browser that's not supported by a specific platform, leading to frustration. 
Professional online video hosting platforms utilize a variety of video file formats, often converting those files into other formats automatically to give all viewers access.
Storage Space and File Size Limits
Some free video-sharing websites limit the amount of storage space you get with your subscription or place limits on the size of individual files.  This can severely limit what you're able to do with your video content, making you pick and choose which files get uploaded and backed up on the platform.
If you stream live content, many free video hosting platforms limit how long you can live stream. If you want to engage in longer live streams, a private video hosting service is the best way to achieve that goal.
No Control Over Monetization
When utilizing a free video hosting site, you're locked into the monetization method supported by the platform. If this model doesn't work for how you do business, you either have to adapt or miss out on that money.
Using a professional, secure video streaming and hosting platform allows you to choose the best method for you so you can turn your videos into dollars more efficiently.
You can use different monetization methods based on the professional platform you choose to work with. Common video monetization methods include pay-per-view, subscription access, and advertising.
No White-Label Streaming
Using someone else's free video-sharing platform means you're required to use their branding, advertising the platform while you're trying to advertise your product or service with your video.
Many paid platforms allow you to white-label their video players, replacing the developer's branding with your own to create a seamless, professional experience for your viewers.
Distracting Environment
With a free video hosting platform, recommendations are often shown next to your content. These recommendations are often for similar content your competitors are running on their platform. A viewer can easily watch your video, click on a recommendation, and go down a rabbit hole that pulls them away from your content and message. 
When you work with a paid platform, you control the video environment. There are no third-party content suggestions taking viewers away from your content and message. In fact, many paid platforms offer the ability for you to create playlists or use a "watch-next" feature to keep viewers engaged with your content for longer periods.
Lack of Support
No platform is perfect, and issues with uploading and managing content arise from time to time. Many free video sharing platforms lack robust customer service, leaving you to figure out the problems on your own.
When you pay for a professional platform, customer service is built into your contract, giving you access to knowledgeable support professionals to answer your questions.
7 Key Features for Secure Video Hosting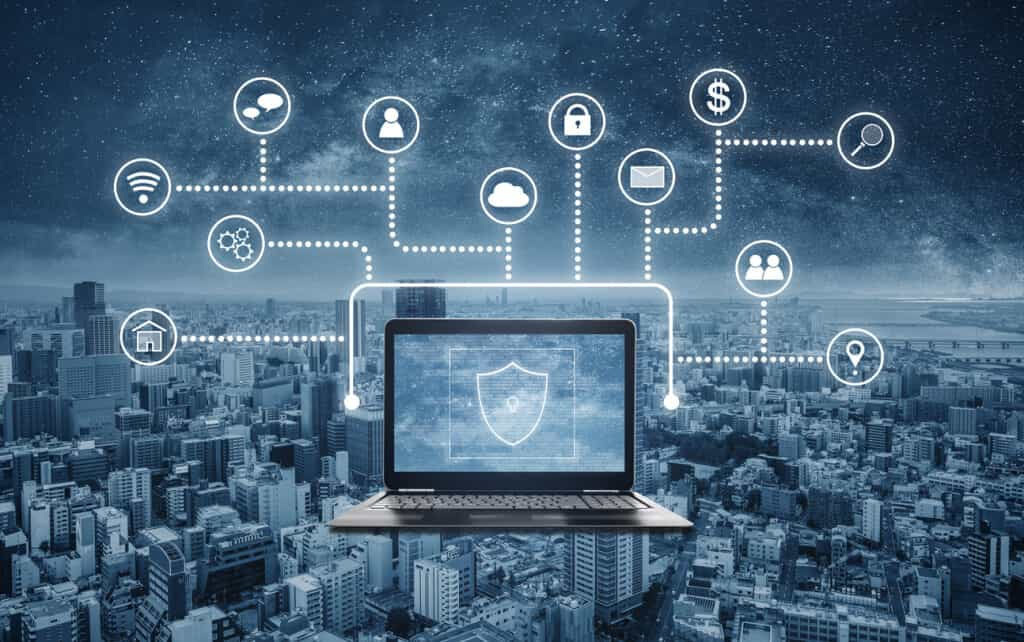 Not all secure video hosting sites are created equally. Some are easier for beginners to use, walking them through the process, while others are better geared toward those with a deeper knowledge of all the features and functions of a professional platform. 
Your video content is a commodity to your business, and you don't want to risk just anyone getting access to it.
With that said, let's review some specific features that are valuable for secure video hosting.
1. Privacy and Security Tools
With advanced security and privacy features that come with private video hosting sites, you can protect your videos during the entire process from upload to viewing, ensuring that only those who should have access to your content are the ones who can see it.
Features such as password-protected video hosting and domain restrictions allow you to control who should and shouldn't be able to view your videos and gives you the opportunity to block downloads. Secure uploading tools protect your hard work as you send them into the platform, preventing you from losing data.
2. AES Encryption
AES encryption adds a strong layer of security password protection to any professional video hosting solution. AES stands for "Advanced Encryption Standard." AES video encryption can be extremely valuable to anyone who needs to keep a video private.
This form of video encryption prevents "Man-in-the-Middle" (MITM) style hacking attacks. In this type of attack, someone intercepts network traffic maliciously. AES encryption secures each stream using a special key. Unless the viewer has this special key, they cannot watch the video.
AES video encryption allows you to halt these types of attacks completely. Anyone snooping on your streams will be stymied by AES encryption. This provides protection against piracy, data theft, intellectual property appropriation, and more. The process is transparent to the users and easy to implement. With most pro-grade hosting platforms, there's no learning curve, and turning on AES encryption is as simple as checking a box.
3. Video CMS
Organizing and storing your video content so viewers can easily find it is key to an easy-to-use platform. That's where a video content management system (CMS) comes into play.
Being able to organize and store your video content so viewers can easily find it is key to an easy-to-use platform. That's where a video content management system (CMS) comes into play.
The right video CMS will offer a variety of features to make secure video hosting easier. Some of the top video CMS tools and functionalities include:
Batch editing or deleting of videos

Support for adding a custom thumbnail

Ability to group videos together, such as in a playlist

Bulk uploading

Ability to embed a video anywhere

Capability to replace a video without changing the URL or updating embed codes
If you plan on growing or scaling your operation, you want a video CMS that can grow with you. Some video content hosting sites aren't optimized for large libraries of content, making their operation clunky and frustrating as you add more video, and possibly causing you to delete files to accommodate limits.
4. Video Transcoding and Encoding
Ensuring your video content is correctly compressed to stream is essential to distribute your content. You also want to ensure that it is in a file format that is playable by various browsers and devices.
If you live stream your videos, such as for event coverage or podcasts, you need a platform that can convert the RAW video files captured by your camera into digital files suitable for live streaming over the internet.
With the right cloud-based online video hosting platform, you can configure your encoder settings before you begin streaming your content, providing your viewers with a hassle-free streaming experience.
Automatic transcoding is valuable because they take care of a highly technical process without much manual configuration. If you're unfamiliar with certain aspects of video streaming, this feature makes it easier to provide a great experience to your viewers without having to learn all about the encoding process.
5. Live Stream Recording
Turning your live-streamed events into recorded videos that can be played whenever viewers want is a key component of a solid video content strategy. Being able to record your live stream, right in your secure video hosting platform, makes the whole process much easier.
With live stream recording, you simply click a button and your content is recorded as you live to stream it.
While this process uses up some of your bandwidth and your transcoding credits on most platforms, this is usually only equivalent to a viewer watching your live stream and is negligible in the long term.
6. Direct S3 Upload
For years, the standard in secure video uploading has been FTP or file transfer protocol. And while this method works well for moving files around, it also brings with it a variety of drawbacks that newer methods such as S3 upload overcome. With direct S3 uploading capability, you get all the ease of using an FTP server, but with added benefits such as:
Unlimited storage

Low latency

Faster network transfer speeds

Multiple backups of data

Increased security
This allows you to move large amounts of data quickly and securely, and at less cost and frustration to you.
7. Mobile Video Hosting
According to Cisco's Annual Internet Report for 2018-2023, an estimated 82 percent of all online traffic will come from streaming video, 15 times higher than it was in 2017. Of that, a large portion will come from users streaming video on mobile devices both on the go and at home. 
To ensure that your content is compatible with mobile devices, your video hosting site should provide an all-device video player. This type of player works on all browsers, playing the file type and size best suited to individual users' devices and internet connection strength.
15 Best Secure Video Hosting Platforms for Business
The bottom line is that serious broadcasters must reach beyond free video hosting platforms to find the most secure hosting solutions. Free video file sharing software is simply not designed to offer you secure, customization options that fit your needs.
 If you're interested in encrypted video sharing or password-protected video hosting, it's time to upgrade to one of the most secure video hosting platforms. Let's review the top 15 video hosting platforms on the market and what they can do to bring your work to the next level.
1. Dacast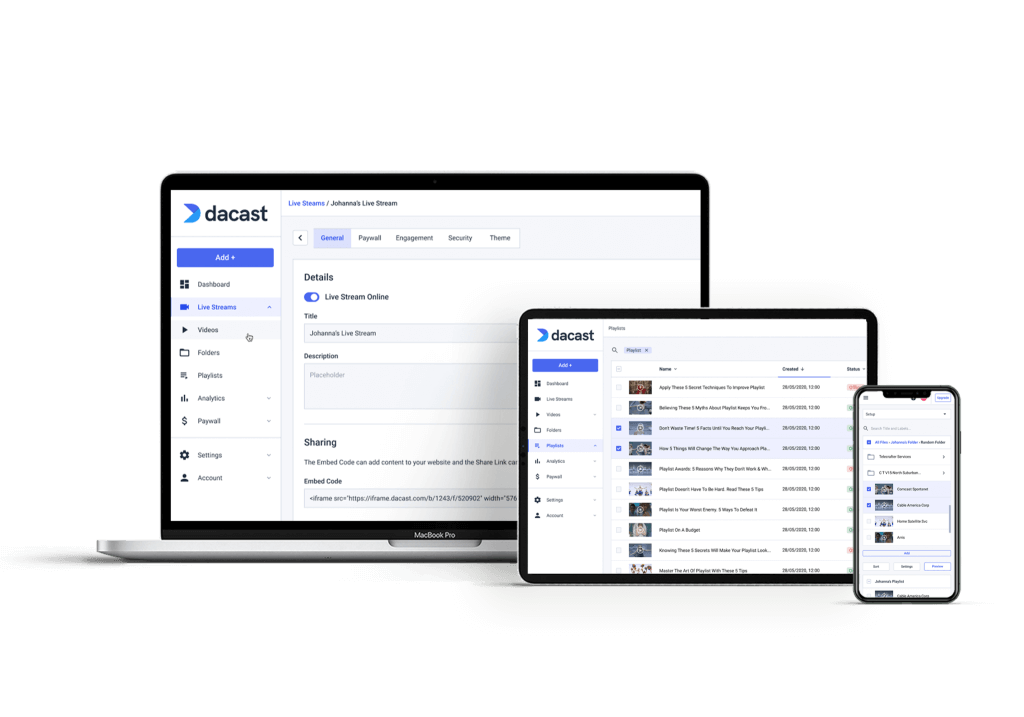 Dacast is a secure video platform that provides users with a variety of professional features at competitive prices. Video delivery uses a top-tier CDN and is designed for business professionals and enterprise users. Designed for all levels of experience, it can take some time to really dig in and understand all the features available.
Basic Functionality
If you're looking for advanced security, monetization, and distribution tools, Dacast is a great choice.
Key Features
Content control and advanced security options

White-label capabilities

Real-time analytics

Video API access on the scale plan 

Player API access for easy integration and custom app creation

Multiple video monetization options to customize

Reliable delivery via CDN

Muti-bitrate and adaptive streaming
Pros
Some big benefits come with working with Dacast as your video hosting platform. 
Plans for all budgets:

Dacast offers low-cost plans for small businesses just getting started with video content and enterprise plans for big enterprises. 

24/7 customer support:

Your video content is always online, and Dacast is always there to support you, with 24/7 customer support on all plans. 

Unlimited viewers and live channels:

You never know when your content will explode. With unlimited viewers and live channels, you don't have to worry about having your content get too popular too fast. 

Live streaming and VOD:

Dacast offers live streaming and VOD support on all pricing plans. Small and big businesses alike can share live and on-demand content. 

Live stream recording:

With live stream recording, you can record your live streams and turn that content into video-on-demand content, allowing you to get the most mileage possible out of your content.

Mobile device support:

Dacast offers mobile device support. You can use the Dacast platform as a user on your mobile device, managing your content on the go. Dacast's video players also work on all video devices. 

Custom video player:

Customize how your video content looks, with Dacast's customizable HTML5 video player, with embed options, making it easy to share your content on multiple platforms. 
Dacast is a secure video platform that offers the tools businesses of all sizes need for live streaming and hosting video-on-demand content.
Cons
Professional features may require some time to learn
Technical Specifications
Recommended dimensions: 240p is the recommended minimum, with 1080p or 4K maximum
Supported aspect ratios: No restrictions (but 16:9 is the default)
Maximum file size:

Unlimited, though larger file sizes can impact the viewer experience

Maximum video length: none
Total file storage:

10 to 1,000 GB depending on the plan

Accepted video formats:

MP4 (preferred), .MOV, M4V, M2V, .AVI, MPG, .FLV, .WMV, .MKV, WebM, OGV, MXF, ASF, VOB, MTS
Best Use Cases
Dacast is great for:
Live event streaming

VOD on-demand hosting

Streaming video for education

Enterprise video platform

Marketing video Hosting
Pricing
Dacast offers multiple pricing plans geared toward all business budgets. Here is an overview:
Starter Plan: $39/month (includes 2,400 GB of bandwidth & 500 GB of storage)
Event Plan: $63/month (includes 6 TB of bandwidth upfront and 250 GB of storage)
Scale Plan: $188/month (includes 24 TB of bandwidth per year and 2 TB of storage)
Dacast also offers a 14-day free trial. You can try it today with no commitment. You can sign-up today to try it out with no commitment. No credit card required.
2. Brightcove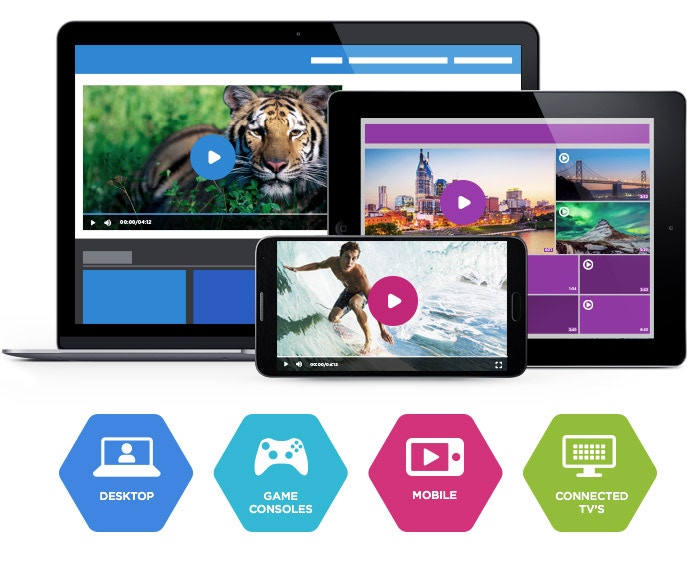 Brightcove has been in the video hosting industry since 2004 and was designed for both video monetization and marketing. They boast thousands of users in more than 70 countries worldwide. This secure video sharing platform is great for those looking for top-of-the-line video technology paired with capabilities to integrate with their favorite marketing, communications, or advertising software.
Basic Functionality
Brightcove is designed to smoothly integrate with marketing and advertising campaigns and offers video cloud and video player capabilities.
Key Features
Live event and 24/7 streaming

Video monetizing and advertising customization

TV Everywhere (TVE) streaming services

Over-the-Top (OTT) streaming services

Multiple useful app integrations for enhanced customization
Pros
You should be aware of a few big benefits of working with Brightcove as you look for the right secure video hosting platform. 
Editing tools:

Sometimes, you need to fix your content before sharing it. Brightcove offers video editing tools so that you can fix your video content before releasing it. 

Easy-to-use interface:

The platform is designed to be easy to use, making it simple for new users to start uploading and sharing content. 

Configurable permissions:

If you have a big team helping with your video content, you will want to give access to your video hosting platform to everyone involved in the content creation process. Brightcove makes it easy to configure permissions for users. 

Customizable privacy and security settings:

It is essential to keep your content secure, and Brightcove makes it easy with its customizable privacy and security settings.
Cons
Limited reporting capability

Pay extra for 24/7 support

Sophisticated tools mean the platform can be difficult to learn
Pricing
Brightcove offers several pricing plan levels. These include the following:
Starter:

includes 50 to 200 videos, up to 100,000 plays, and 2-5 users

Professional:

unlimited videos, 100,000+ plays, and no overages plays, with +10 users

Enterprise:

unlimited videos, 100,000+ plays, and no overages plays, with 10+ users, unlimited upload, and analytics-only users
Brightcove doesn't publish its pricing plans for Video Cloud live streaming services online. For a customized quote, you need to contact them directly to discuss your specific business needs.
Technical Specifications
Recommended dimensions:

Determined by user

Supported aspect ratios:

Determined by user

Maximum file size:

Unlimited

Maximum video length:

Unknown (No limits are published)

Total file storage:

Depends on the plan 

Accepted video formats:

MP4, .MOV, .AVI, .WMV, .FLV, .MKV, 3GPP
Best Use Cases
Live streaming sports

Streaming video for sales

Live event streaming

Enterprise video hosting

Marketing video hosting
3. IBM Cloud Video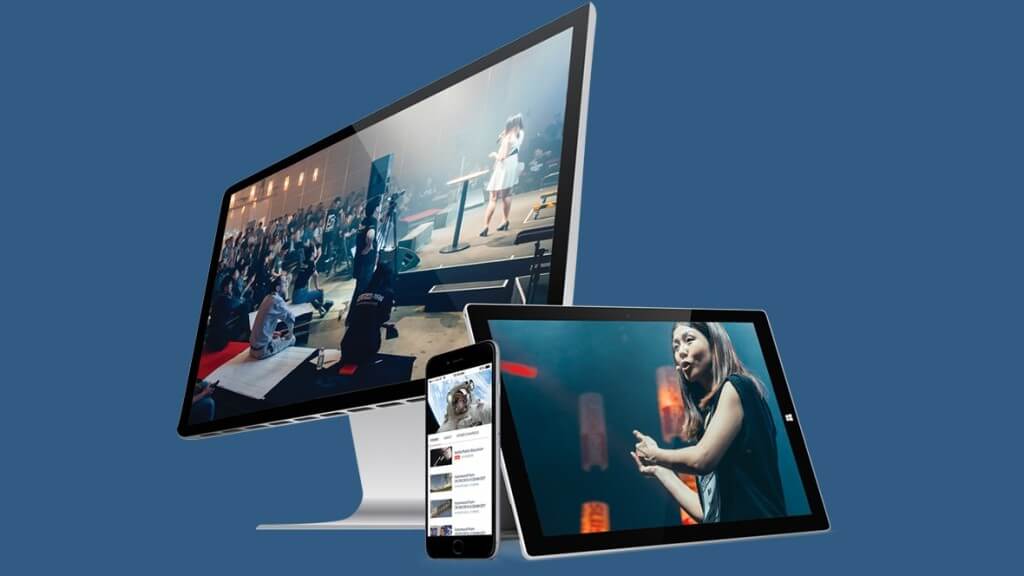 Company Background
IBM Cloud Video, previously known as UStream, is one of the most well-known services in the secure video hosting space. It's widely considered to be highly reliable, but that reliability and notoriety come at a higher price than many other similarly outfitted platforms.
Basic Functionality
IBM Cloud Video provides live streaming and video-on-demand services.
Key Features
Reliable platform

Exceptional customer support

Delivers video using an internal VOD server
Pros
IBM Cloud Video offers many benefits to you as a video hosting platform. 
Reliable:

IBM Cloud has its own global network of content delivery networks (CDN), which allows it to provide reliable delivery of your content around the globe. 

Stellar customer support:

IBM Cloud Video has a robust support team that helps not just with selling video plans but also offers technical support as well. 

Great for large businesses:

IBM Cloud offers plans geared towards large companies and has the support and tools that large organizations need. 

Features for professional broadcasters:

IBM Cloud offers a range of features for professional broadcasters, such as professional one-on-one support, AI-powered captions, and secure video sharing.
Cons
No customizable monetization tools

Does not use a CDN

API access is only available on expensive custom-priced plans
Pricing
IBM pricing plans range from $99 to $999 per month and includes the following:
Silver:

 $99/month

Gold:

 $499/month

Platinum:

 $999/month

Custom:

 

Please contact IBM Cloud video for custom plan pricing.
Best Use Cases
Live event streaming

Marketing video hosting

Enterprise video hosting

Streaming video for sales
4. Kaltura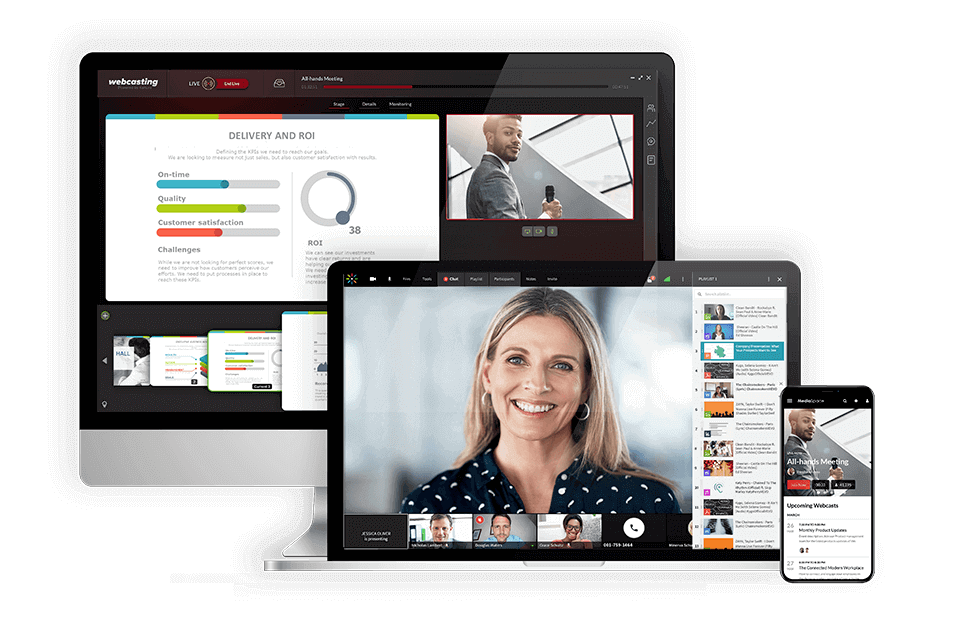 Company Background
Kaltura is a secure video hosting service based in Israel that offers both live video and VOD streaming. Its suite of specialized services makes the platform suitable for educational institutions.
Basic Functionality
Used by organizations across the world, Kaltura capably handles online and in-person training, such as webinars. 
Key Features
Security features include password protection, encryption, and watermarking

Cloud TV service

Closed captioning available for accessibility

Monetization options include advertising, subscriptions, and one-time transactions

Video looping available
Pros
Multiple video monetization options

Allows bulk video uploading

Easily accessible for viewers

Password-protected video hosting
Cons
No China delivery

Uploading and processing of video is slow

Can be difficult for beginners

Users must provide their own CDN, increasing cost and complexity
Pricing
Pricing is based on individual usage of both bandwidth and features. They provide annual plans as well as pay-as-you-go pricing, with annual plans beginning at $5,400.
Best Use Cases
Marketing video hosting

Streaming video for sales

Live event streaming

Enterprise video hosting

Streaming videos for education
5. Wistia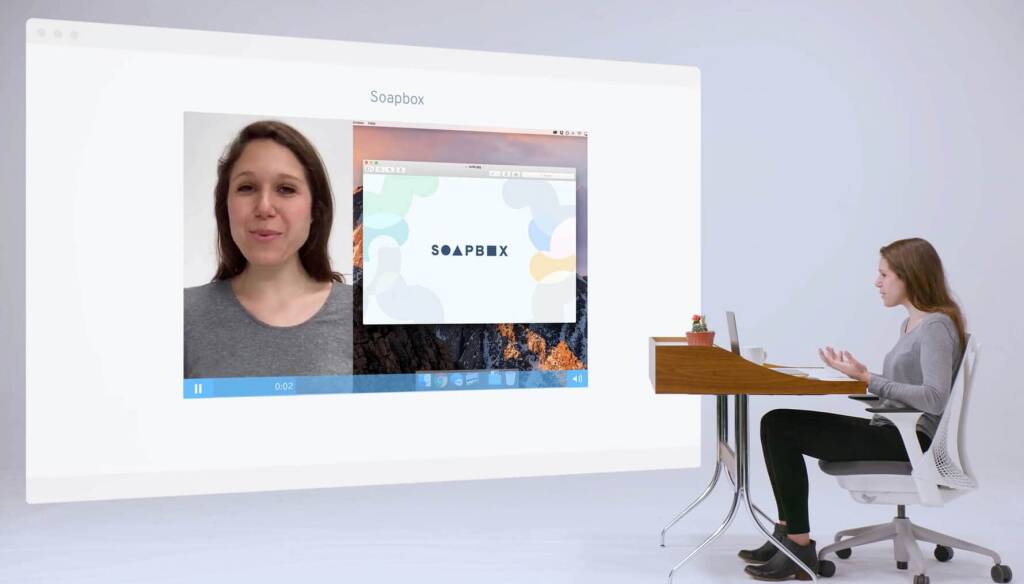 Company Background
Wistia offers secure video hosting for "TV-quality" streaming, making it the ideal option for advanced broadcasters. It comes equipped with custom players that allow users to add their own logos and branding. The platform also provides CTAs, annotation links, and email features that make it suitable for use in video marketing.
Basic Functionality
Wistia is best suited for the creation, management, and streaming of marketing video content.
Key Features
Custom video player

Ad-free experience

Video analytics and SEO features

Interactive video tools

CRM integrations for easy use by marketing and sales teams
Pros
Custom branding

Built-in analytics

Automated video SEO

Great customer service

No ads on user videos
Cons
Customization can be clunky
Pricing
Wistia pricing plans have 3 tiers and include:
Plus: $24/month

Pro: 99/month

Advanced: $399/month

Premium: Custom – contact Wisita directly to discuss custom plans for you
Best Use Cases
Live event streaming

Enterprise video hosting

Streaming video for sales

Marketing video hosting
6. Vidyard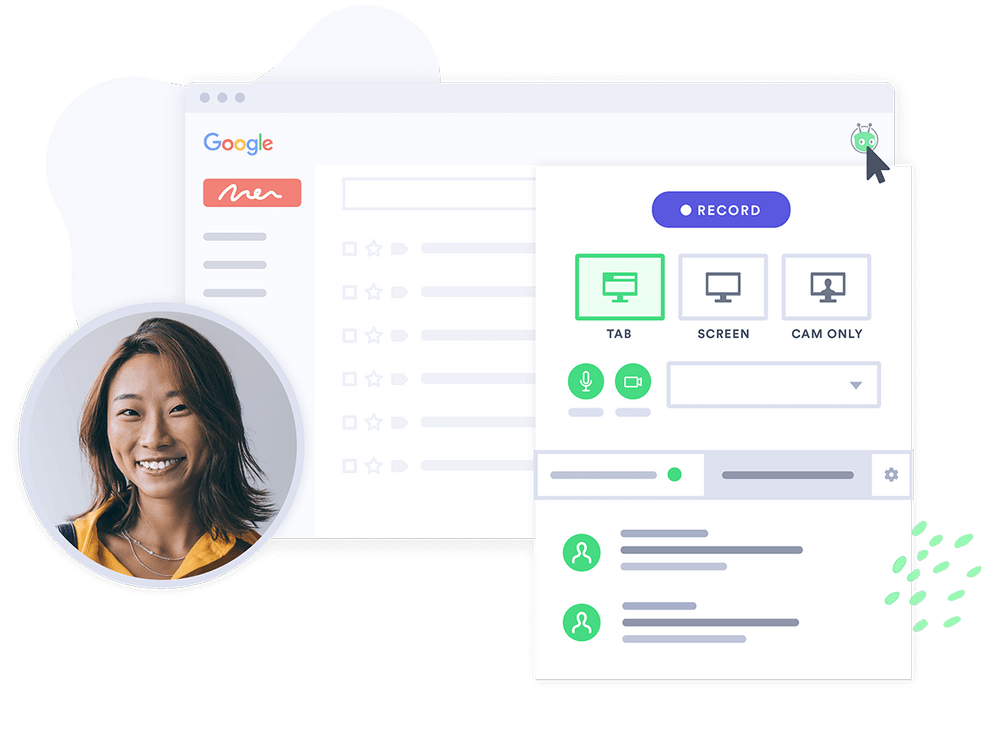 Company Background
Vidyard is a secure video platform aimed at marketing, sales, and corporate communications teams. They aim to support businesses in distributing their content professionally, allowing them to take advantage of everything the digital world has to offer businesses.
Basic Functionality
Vidyard aims to help marketing, sales, and corporate communications teams turn viewers into customers with secure video hosting.
Key Features
Encrypted video sharing

Video analytics and built-in SEO tools

Interactive playback experiences

Custom video-sharing pages

Video personalization and creation
Pros
In-depth analytics and data reports

Exceptional customer service

A broad range of features

Active user community
Cons
The backend is not user-friendly

Mixed user experience reviews
Pricing
Vidyard's pricing depends on how you plan to use the platform, either for marketing, sales, or corporate communications. Vidyard pricing plans come in four tiers, split into two categories: Individual and Teams.
The plans are priced as follows:
Individual 

Free – $0/month

Pro – $19/month

Business: Talk to sales to discuss a custom business plan
Teams

Teams – $300/month

Business – $1250/month
Corporate Communications packages are all priced individually for the organization.
Best Use Cases
Streaming video for sales

Enterprise video hosting

Marketing video hosting
7. JW Player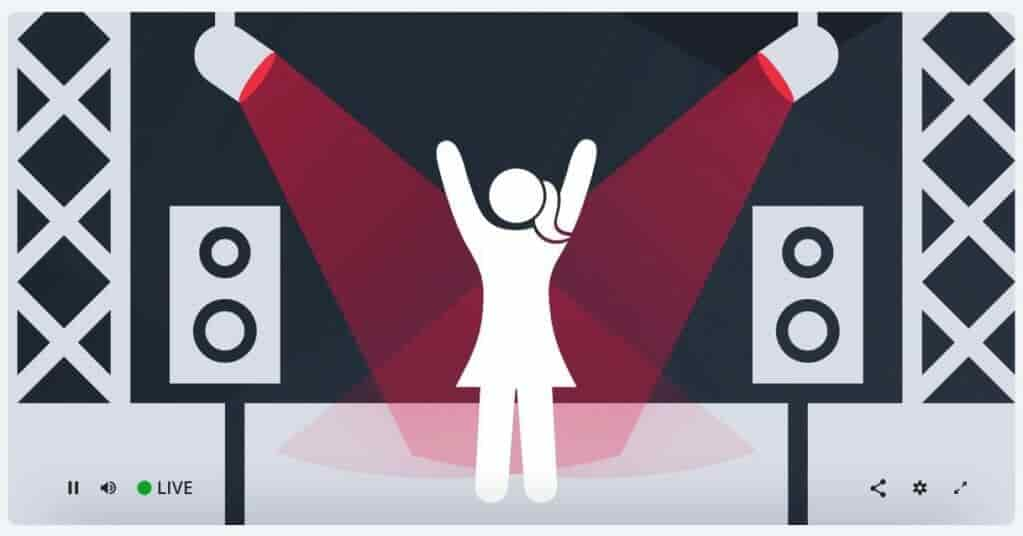 Company Background
JW Player is a secure video-sharing platform that has historic beginnings. It originally shared some of its code with the initial YouTube video player but has since evolved to a platform that includes VOD hosting and live streaming at affordable prices.
JW Player has prices for broadcasters with a wide range of budgets. However, it's important to note that the lower-tier plan comes with limited features and is best suited to those on a very strict budget who don't mind limited capability.
Basic Functionality
JW Player offers lower price points and superior customer service, but it provides limited features and services.
Key Features
Informative analytics

Video distribution management

Tokenized access and DRM support

Ad optimization

Designed for organizations of all sizes
Pros
Advertising monetization integrations

Video is auto-converted for different devices

Easy-to-use user interface

Excellent customer service and sales support

Very affordable plan pricing

Secure video hosting
Cons
No live streaming via API

No closed captioning or screen sharing

Live events limited to 5 hours

No support for subscriptions or pay-per-view monetization
Pricing
With JW Player, live streaming support begins at a free trial level. There are 3 pricing plan tiers:
30-day free trial subscription, which includes full API and SDK access, and a non-commercial license, with 25 GB hosting bandwidth and 75 GB streaming.

Custom pricing plan which

includes an HTML5 Video Player and video gallery, with 150 GB hosting bandwidth and 500 GB streaming (50,000 plays) per month billed annually.

Enterprise plans are available with custom pricing

for high-volume storage and streaming. Enterprise plans support live streaming, while lower-tier plans only support VOD. 
Best Use Cases
Streaming video for sales

Marketing video hosting

Enterprise video hosting
8. Vimeo Livestream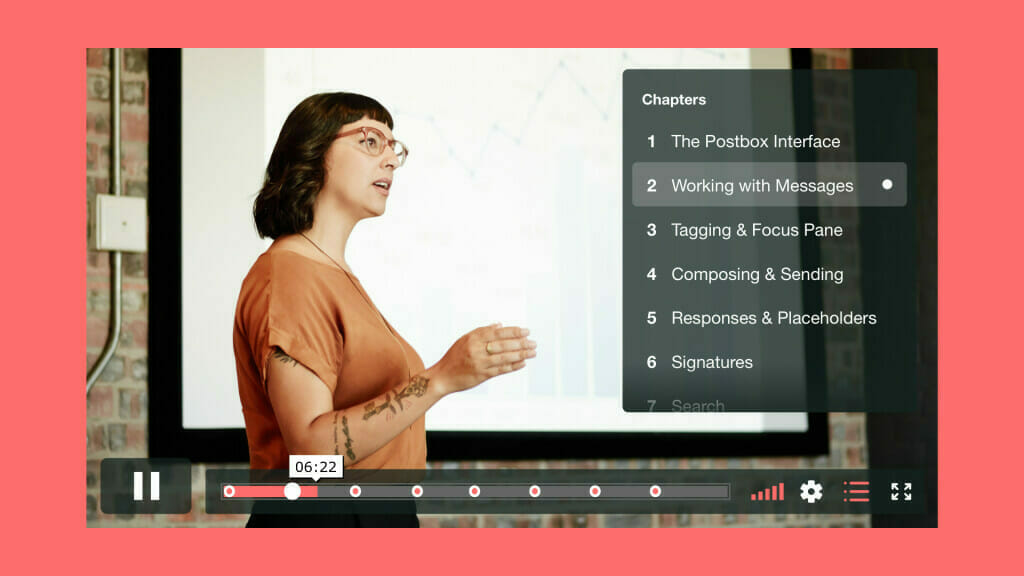 Company Background
Purchased by Vimeo in 2017, Livestream is great for professionals looking for an all-in-one platform for business. Livestream offers several packages for secure video hosting.
Basic Functionality
Livestream is suited for professionals searching for a platform that allows them to stream, manage, and monitor their video content. It offers marketing, video management analytics, and live streaming capabilities.
Key Features
Excellent security features

Audience interaction tools

Additional marketing capabilities
Pros
Secure video hosting

Works with YouTube

Easy for both users and viewers to use

Exceptional security features

Detailed video analytics
Cons
Limited CDN capabilities

No China delivery

Frequent streaming pauses for software updates
Pricing
Vimeo Livestream offers three main pricing plans, including:
1) Vimeo Premium:
Premium pricing: $75/month

Their

Advanced

plan includes both live streaming and VOD support. This plan is the best option for professional broadcasting on this platform.

Free trial available, which comes as an advanced plan with upward of 240 video creations and uploads included.
2) Vimeo Enterprise:
Enterprise Pricing:

 

Please contact Vimeo for custom pricing information

The Enterprise plan includes white-label service, monetization, and video API access. It also includes branding control and added security features.
3) Vimeo OTT:
Starter Pricing:

 $1/subscriber per month

Growth Pricing:

 starting at $500/month

This OTT-specific pricing package comes with the Vimeo.com relationship. These plans include all the basics for starting your web-based OTT channel, as well as growing your OTT business online.
Best Use Cases
Live event streaming

Marketing video hosting
9. Panopto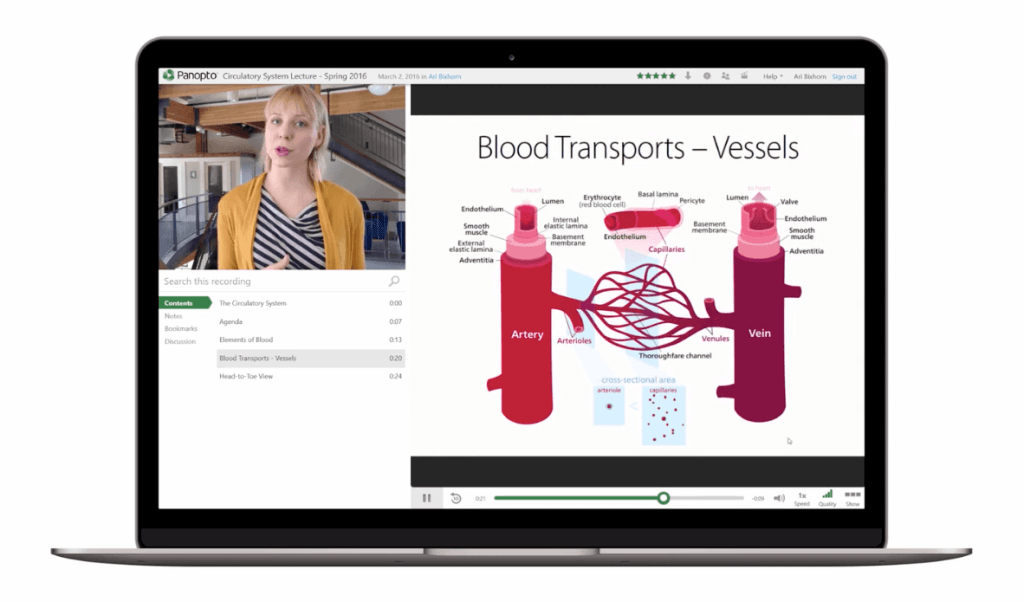 Company Background
Panopto is a secure video platform that focuses on businesses and universities. This platform is equipped with tools for streaming, sharing, recording, and managing video content.
Basic Functionality
The platform's main focus is on internal use for online education, providing tools to create a private "Youtube" just for your organization's use and integrating with Learning Management Systems.
Key Features
Mobile-ready solutions for online learning needs

Centralized video streams, playlists, and playback

Access control and security features

White-label streaming capability

Lecture-capture and video-search software

Integrates with Learning Management Systems and APIs

Password-protected video hosting
Pros
Supports audio and video content

Document indexing offered

Customizable branding

Full-text search capability
Cons
No customizable templates or image editors

No SEO management
Pricing
Panopto has three different pricing packages for secure video hosting, including:
Basic: Free

Pro: $14.99/month

Enterprise: Please contact Panopto for custom pricing.
After establishing a contract with Panopto, users have access to unlimited streaming and storage.
Best Use Cases
Live event streaming

Streaming video for education
10. SproutVideo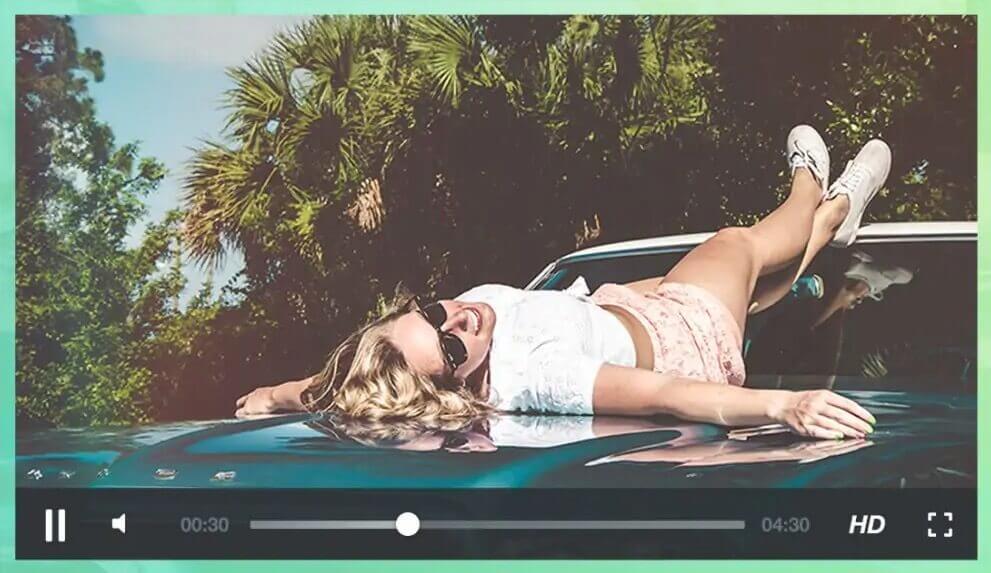 Company Background
SproutVideo is another great option for secure video hosting. This platform offers a variety of plan ranges for all budgets and needs, providing live and on-demand video hosting.
Basic Functionality
SproutVideo is suited for broadcasters who want a unified platform offering both live and VOD streaming.
Key Features
Live chat support for all plans

API access

Customizable privacy and security features
Pros
A broad range of customization options

Plans suited to every budget and business need

Detailed analytics reports

Password-protected video hosting
Cons
Inadequate video SEO tools

Slow playback caching leads to buffering

Limited storage availability
Pricing
SproutVideo has four different pricing plans at different budgetary levels.
Seed: $10.99/month
Sprout: $35/month
Tree: $75/month
Forrest: $295/month
Best Use Cases
Live video streaming

Enterprise video streaming

On-demand video hosting
11. Wowza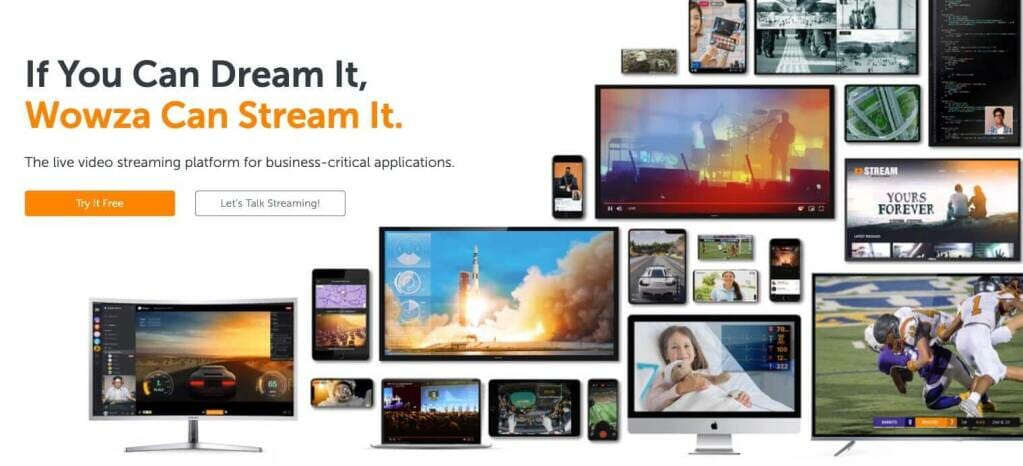 Company Background
Wowza, which was founded in 2005 to simplify video delivery, is a secure streaming platform with both live and on-demand streaming. The platform focuses on greater flexibility and accessibility across all viewing devices.
Wowza offers its Wowza Streaming Engine for self-hosted video workflows in addition to the Wowza Streaming Cloud, which is a comprehensive streaming solution.
Basic Functionality
Wowza allows broadcasters to build highly customized streaming workflows using third-party integrations, APIs, and other advanced features.
Key Features
Hos

t-your-own streaming server

Built-in transcoding

Live streaming and on-demand video hosting

White-label video player for an on-brand viewer experience 

Mobile video streaming with HTML5 video player

API access available for customization and integrations

Customer support
Pros
APIs are available

Live stream recording

Cloud management

portal

Streaming up to 4K

Wide range of security options

Secure video hosting
Cons
No simulcasting tools

Lack of video monetization and audience analytics tools
Pricing
Wowza has several pricing options that are split into 2 main tiers: Streaming Cloud and Streaming Engine.
The Wowza Streaming Cloud offers four distinct pricing plans and services. These monthly plans include:
Pay as you go

:

$25/month

; three-month minimum with additional fees for usage

One Month of streaming

: $149 one-time purchase; includes 15 hours of live streaming and 500 viewing hours

also at 720p

Annual

: $1,560/year; includes 300 hours of live streaming and 10,000 viewing hours

based on video resolution of 720p

Enterprise:

Plans built for your needs. Contact Wowza to discuss a plan for you.
All of these Live Event plans reflect the rate when paid monthly and include full brand control, multi-bitrate streaming, and HD and UHD streaming.
The Wowza Streaming Engine has its own pricing plans. These professional-grade streaming plans are billed annually and include:
Basic: $175/month + $195/month for each additional instance and $125/month for each additional prepaid instance
One Month Event: $295/month + $295month for each additional instance
Enterprise: Please contact Wowza directly for access to their custom-tailored high-volume enterprise solutions
Best Use Case
Live event streaming

Building custom streaming apps

Self-managed streaming with the Wowza Streaming Engine
12. Vimeo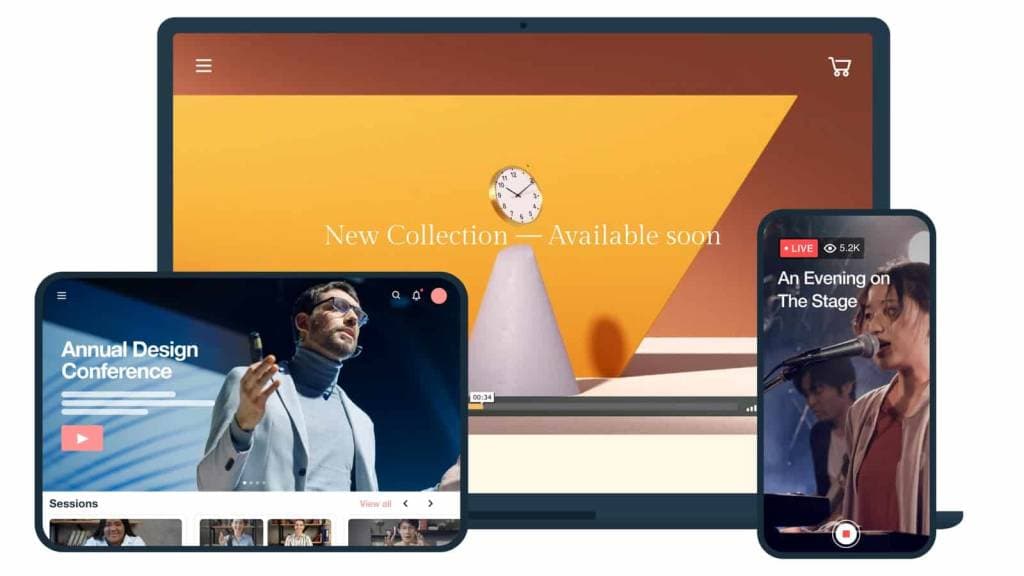 Company Background
Vimeo is a secure video platform that provides on-demand streaming geared toward artists and the creative market. Vimeo also owns Livestream, which we discussed earlier, but the streaming plans under the Vimeo name are significantly more basic than those from Livestream.
Basic Functionality
This inclusive streaming video hosting service offers live streaming services, collaboration tools, marketing, monetization, and more.
Key Features
Analytics reporting

Collaboration tools for teams

Live streaming and on-demand capability

Monetization options
Pros
Unlimited events and viewers

Ad-free viewing

Basic privacy options

Pay-per-view option for monetization

Easy-to-use platform

Secure video hosting
Cons
Extra fees to monetize videos

Connection issues to an internal server can cause distribution problems

No China delivery

Less traffic than other competing sites
Pricing:
Vimeo offers basic video hosting plans that are suitable for content creators and startups. These include:
Basic: 30-day free trial

Plus: $7/month; 5GB/week or 250GB every year; Single user; Brand customization and privacy tools

Pro: $20/month; 20GB/week or 1TB every year; 3 users; collaboration tools and video showcase sites

Premium: $75/month; Unlimited live streaming with 7TB of storage; unlimited viewers

Enterprise: Custom-priced, custom-built plans for advanced streaming needs
All plans are billed annually. The Plus plan can be billed monthly at an increased rate of $12/month.
Best Use Cases
VOD hosting and sharing

"Prosumer" video hosting

Video hosting for independent creators
13. Cincopa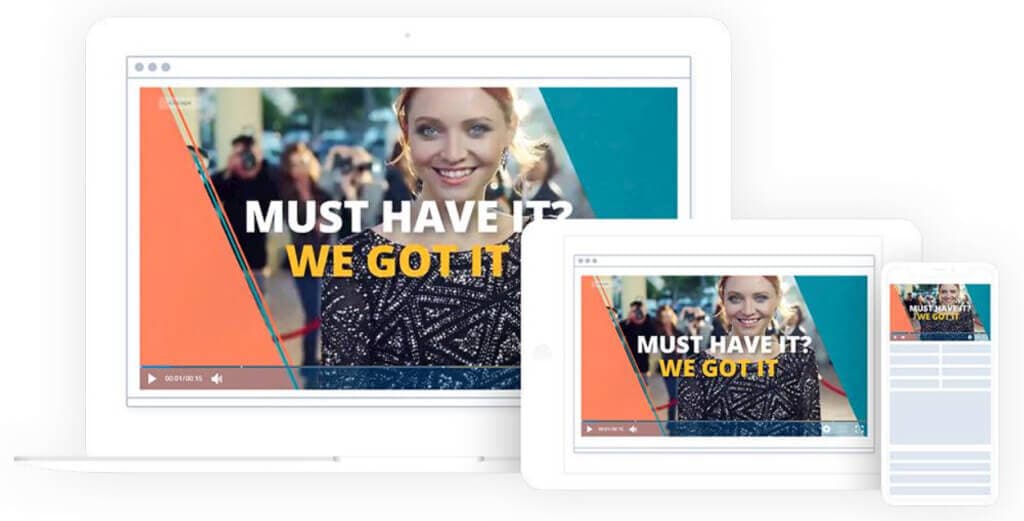 Company Background
Looking for a secure video platform that supports multimedia hosting? Cincopa might be an option for you.
This platform is capable of storing and hosting live and on-demand video streaming, as well as photos, audio-only files, and more. Cincopa has a wide range of plans, so it is a reliable option for businesses of all sizes.
Basic Functionality
Cincopa's functionality is slightly different than the other secure video platforms that we've discussed in this comparison. In addition to VOD and live streams, users can host audio files, photos, and other types of media on Cincopa.
Key Features
Multimedia management

Secure video hosting

Many integrations options

Mobile-friendly streaming

Accessibility support

ABR streaming

Powerful content delivery
Pros:
Large collection of valuable streaming tools

Support high-quality streaming

Flexible functionality

Easy to use
Cons:
Limited organization tools

Some complaints about the user interface

Limited documentation and support

The platform can be buggy
Pricing:
Cincopa offers four different pricing plans, including:
Plus: $25/month; includes marketing tools (CTAs, email integrations, etc.)

Corporate: $99/month; advanced broadcasting tools

Agency/Enterprise: $350/month; advanced broadcasting tools with more flexibility
Please check out Cincopa's pricing page for a further breakdown of storage and capabilities that come with each plan.
Technical Specifications
Minimum dimension: 144p

Maximum dimension: 4K

Aspect ratio: 4:3, 16:9

Max file size: 1, 2, 20GB (depending on the plan)

Max video length: not available

Total file storage: 5 videos, 40 videos, unlimited videos (depending on the plan)

Compatible video formats: AVI, MOV, WMV, MP4, M4A, F4A,  F4B, F4V, F4P, M2TS, MTS, VOB, MKV, RMVB, M1V, QT, DIV, DIVX, DV, 3GP, 3GPP, 3G2, MPG, MPEG, MPE, FLV
Best Use Cases
Education streaming

Multimedia hosting

VOD hosting

Live streaming
14. StreamShark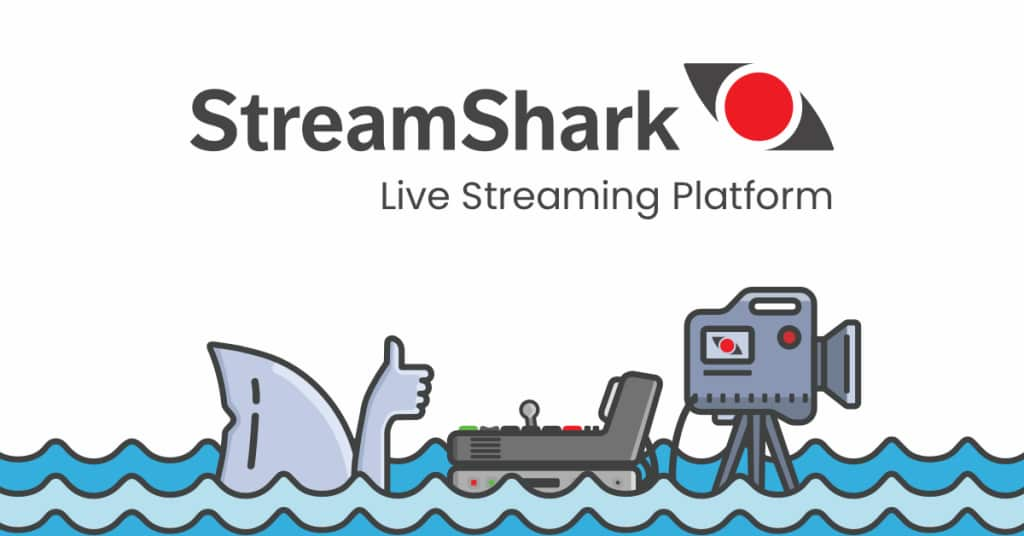 StreamShark is an online video platform that specializes in private video hosting services.
Key Features: 
Tools for event management 

High-quality video streaming

HLS streaming and ingest

Powerful CDN for reliable content delivery
Brand customization 

Privacy and security tools

Video monetizations
Pros:
Mobile-friendly

Encoding support

High-quality video delivery 

Large storage capacity 
Cons
Limited tech support

No playlists

Limitations on reporting and analytics
Pricing
StreamShark offers a variety of streaming plans:
Standard: $199/month and includes 500 GB of VOD storage an additional overage of $0.10 per GB

Team: $499/month and includes 2,000 GB of storage, and lowers per GB overage prices to $0.09

Business: $999/month and includes 5,000 GB of storage, and reduces the overage to $0.08 per GB

Enterprise: Contact StreamShark for their custom

enterprise solutions

and plans
Best Use Cases:
Global content delivery

Live streaming 

Business video hosting
15. Muvi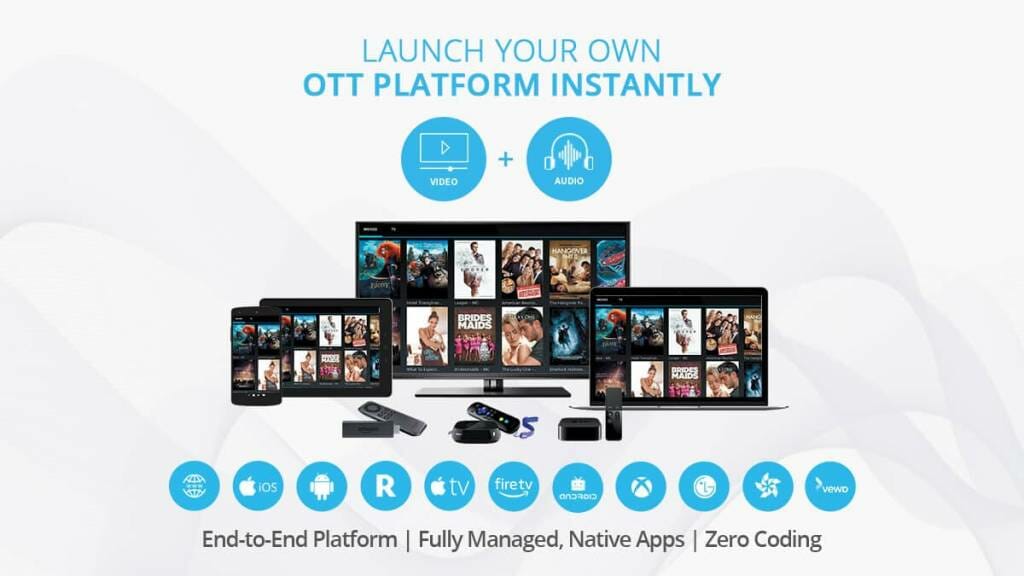 Company Background
Muvi is an OTT streaming platform that offers secure video hosting. This platform is geared towards advanced broadcasters, such as media companies, that are looking to launch their own OTT streaming service.
Basic Functionality
Muvi is designed to help advanced broadcasters launch secure OTT streaming platforms. 
Key Features
All-device OTT streaming

Various monetization options

Support for video and audio streaming

24/7 tech support
Customizable video player

Powerful reporting and analytics

Support for

video Monetization

 

DRM for secure streaming
Pros
Reliable content delivery

Live and VOD hosting powered by OTT

Audio and video streaming

Powerful video CMS

Transcoding tools

Password-protected video hosting
Cons
Not suited for beginners

Some difficulties with integrations 

Complex user interface

Does not support China delivery
Pricing:
Muvi offers five different pricing plans, including:
Standard plan: $399/month (+ $299/month per app +

infra fees

), allows 2000 concurrent viewers, 1TB each of bandwidth and storage, and API support.

Professional plan: at $1,499 per month (+ $499/month per app +

infra fees)

increases limits further and adds premium support.

Enterprise plan: $3,900 per month (+ $499/month per app +

infra fees

) adds a dedicated server with auto-scaling.

Ultimate plan: $8,900/month (+ $499/month per app +

infra fees

) doubles the bandwidth and storage of the enterprise plan and adds your own CDN and unlimited API calls.

Black plan: this is a custom solution and includes everything in the Ultimate plan plus premium services and project management. Contact Muvi for pricing.
Best Use Cases:
OTT streaming

Secure video hosting

Advanced broadcasting

Live streaming
Final Thoughts
Using online video content as part of your business plan requires more robust, customizable tools than the free platforms available on the market. With the right secure video hosting platform, you have access to all the tools you need to protect and monetize your content.
With so many options to choose from, finding the perfect secure video platform might feel overwhelming. We recommend taking advantage of free trials to get a better feel for each platform's layouts and features.
Not sure where to start? Try Dacast risk-free for 14 days. Access all of our secure video hosting features to see how our platform could fit into your streaming setup. Sign up today to start your free trial.
Thanks for reading, and let us know your questions and feedback in the comment section below. We love to hear from our readers, and we'll get back to you as soon as we can. For more regular tips on live streaming, as well as exclusive offers, you can join our LinkedIn group.