The video streaming industry is growing rapidly. As a broadcaster, you want the ability to keep your viewers focused on your content. 
With white-label video platforms, you can nix third-party branding and advertisements that often come with free video hosting platforms, and put the focus on your brand. This simple upgrade will increase the professionalism of your content.
Today, we'll walk you through the hows and whys of white-label streaming services for your business or organization. Our goals are to equip you with the knowledge, tools, and confidence that you need to choose the white-label VOD and live streaming platform that works best for you.
Table of Contents
What is a White-Label Video Platform?

Top White-Label VOD Platforms

Benefits of Using a White-Label Video Player

How to Customize Your HTML5 Video Player

Video Player Monetization

Video Player Customizations for Accessibility 

Conclusion
What is a White-Label Video Platform?
In the business world, a white-label product is manufactured by one company and sold to other companies to be repackaged and sold with their one branding.
In the streaming world, in particular, white-label video streaming means broadcasting your content without districting logos or links that lead back to the provider's page. 
A white-label video platform is an online video platform that is equipped with a white-label video player and the tools to customize it to make it your own. This type of platform gives you the power to deliver distraction-free video content. Gone are the days of third-party restrictions that interfere with your content and viewers' experience. 
White-label players are nothing new. JW Player, for example, has been serving this need for over a decade to those tech-savvy enough to implement them. However, the integration of white-label players into video platforms like Dacast is still fairly new in the streaming world.
With newer integrations with easy-to-navigate video platforms, white-label streaming services no longer requires a technical background to get started. This means that more broadcasters than ever can benefit from white-label players in order to promote their unique online video content.
Top White-Label VOD Platforms
There are several VOD platforms on the market that professional broadcasters in entertainment, media, business, and other industries use to share their content with their audiences.
A few of the top white-label streaming platforms include:
These professional white-label streaming services give broadcasters the ability to customize the branding on the video player itself.
Benefits of Using a White-Label Video Player
The list of benefits that come with a white-label streaming service is miles long. White-label video streaming platforms don't just provide clean and professional video players to broadcasters. They typically offer additional flexibility for branding, video monetization, organization, and more. 
In particular, white-label video streaming means you can incorporate your own logo in your video content. This feature helps to foster greater recognition of your brand and product to your viewers. 
Additionally, white-label streaming services support the aesthetic and functional customization of your content and page. Some examples of cosmetic customizations include colors and fonts.
The Dacast service prioritizes white-label functions and features. The grounding idea is that broadcasters maintain ownership of their own content throughout the streaming process. This ownership is true both from a legal perspective and from the perspective of your viewers.
Unlike free providers like YouTube, Dacast does not claim ownership of your content. Likewise, Dacast does not void any of your rights as a broadcaster. 
Our video player is free of Dacast logos and provides ad-free streaming. Instead, you have full branding control of your content with a fully customizable and embeddable HTML5 video player.
The Rise of White-Label Video Conferencing
Since the world has begun to rely more and more on telecommunication and remote work, the need for white-label video conferences has grown.
Some video platforms offer real-time latency or video conferencing integrations that allow professionals to host video conferences on reliable servers without any third-party branding. 
This allows businesses and organizations to access the benefits of an online video platform, such as advanced security, high-quality streaming, and more.
Monetization tools would also come into play when this style of video conferencing is used for small workshops, webinars, and conferences that require participation and engagement from all participants. 
How to Customize Your HTML5 Video Player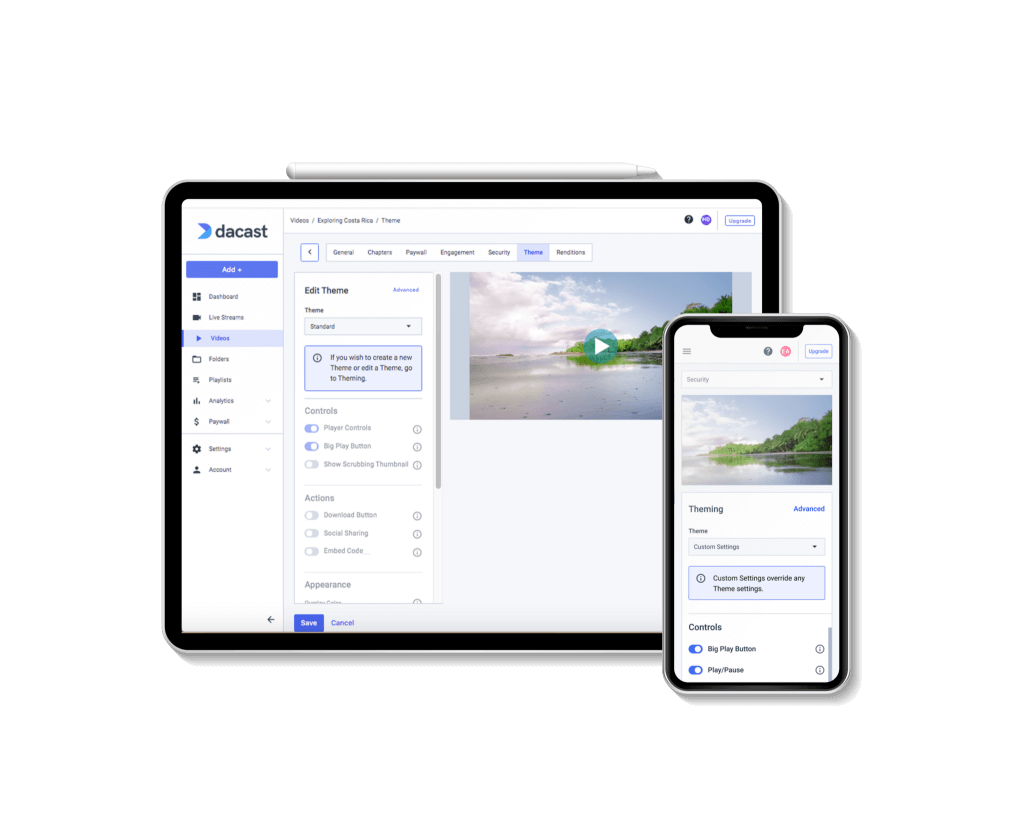 The exact process for customizing your video player will vary from video platform to video platform. Generally, this process involves the configuration of an array of preset features and settings to choose from in addition to access to player API. 
API access gives you the ability to customize your player beyond the standard settings. That means that if there isn't a setting that helps you customize an aspect of the video player, you can program it manually.
Customizing your video player with API takes a little bit more technical know-how than it does to simply change preset settings. We recommend hiring a skilled programmer if you don't have experience with it yourself.
The customization of your video player can definitely 
On the Dacast platform, in particular, broadcasters can create and add custom themes to your media player and easily alter it to match the look and feel of your existing website. 
You can also save themes to your account, which makes it quick and easy to have many channels with the same look and feel. This means that your viewers are guaranteed a more consistent experience when accessing your content.
Video Player Monetization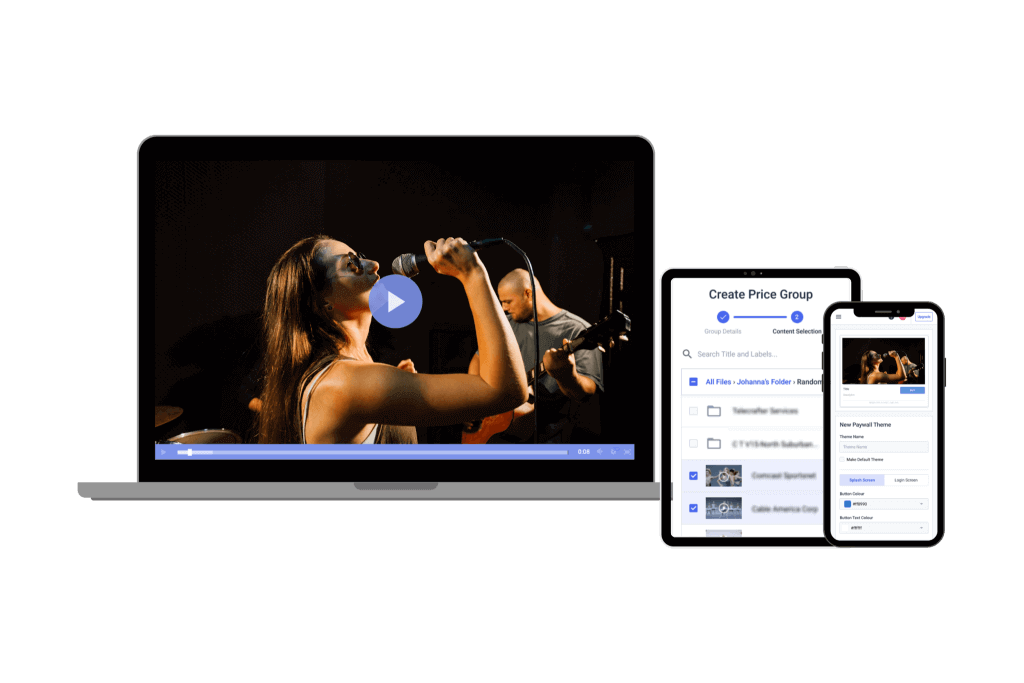 The Dacast platform includes white-label video monetization with an integrated paywall. With the built-in paywall, you can handle payments right in the player and your viewers can easily pay for video content before they access it. This integration allows you to control rates, offer promo codes, and provide longer time windows for fast and easy access to your content.
Please note that due to legal obligations, the video paywall feature may not always be completely white-labeled. Some regulations require the company that powers the paywall to be named. This should not pose any issues, but you can contact Dacast support directly for further questions about this aspect of white-label video streaming. 
If the transaction involves a credit card, the email receipts will also have to reference Dacast. This is because the company also appears on the credit card statement. 
For PayPal users, there will similarly be a reference to their service and site. For broadcasters requiring no mention of Dacast at all, we offer the ability to turn off credit card payments and select only PayPal if possible.
Customizable Paywall on Dacast
Beyond the white-label video player, Dacast's paywall for pay-per-view and subscription monetization can be customized to represent your brand. 
Changes to your paywall should be done with the audience in mind. You can add pricing in different currencies so that the paywall automatically populates with the appropriate pricing based on viewers' location.
Video Player Customizations for Accessibility 
Many online video platforms offer advanced customizations of their white-label video players and paywalls to enhances the accessibility of their content. This is generally done with foreign and differently-abled viewers in mind.
Closed captioning and subtitles are a major value add on any white-label video player. This is a common courtesy for viewers who are hard of hearing, deaf or need any other language support. 
Automatic translations of subtitles and other text on and around the video player make content more easily accessible to audiences in countries with different native languages. On the same token, video paywalls that automatically convert to viewers' local currency make video monetization 
Conclusion
With the help of a white-label streaming platform, you can customize your video player with your branding, preferred color scheme, paywalls, and more. The content is already yours, so the video player should be, too.
White-label streaming services are essential for professional broadcasting. It is the only way to own your content and publish it on a platform with no trace of a third-party host.
Dacast offers white-label video streaming on all of our plans, including the Starter plan that costs just $39 per month. In other words, you never have to pay extra to reap the benefits of our white-label services. 
Ready to choose a streaming service with white-label capabilities? You can try out Dacast and all of our professional broadcasting features risk-free for 30 days. Explore our white-label video player, monetization tools, customization services, and more.
All you have to do to get started is create a Dacast account today. No credit card required.
We'd love to help you get set up today!
For regular tips on live streaming and exclusive offers, we invite you to join our LinkedIn group. Questions, comments, or feedback about this article or other topics you'd like us to cover? We love to hear from our readers, so let us know what you think in the comment section below.
As always, thanks for reading, and good luck with your broadcasts.