Yes, you may use local video ads with Dacast's monetization tools as long as you have your own ad network. 
In case you're not familiar, an ad network is a third party platform or business that connects companies that want to run ads with content creators that want to monetize their sites with ads.
Essentially, ad networks connect content creators to companies that have the same target audience. For example, if your videos are about food, a pizzeria may want to purchase ads on your content.
With an ad network, this process is streamlined so, as a content creator, you just have to enable ads in the Dacast monetization settings.
To integrate your local ad within the Dacast platform, you'll have to copy and paste the URL of your ad under the engagement tab, which can be found in either of the two following places, depending on your needs. This first place is under the "Engagement" tab of the "Settings" section. Paste the URL here if you want to apply ads to all of your content: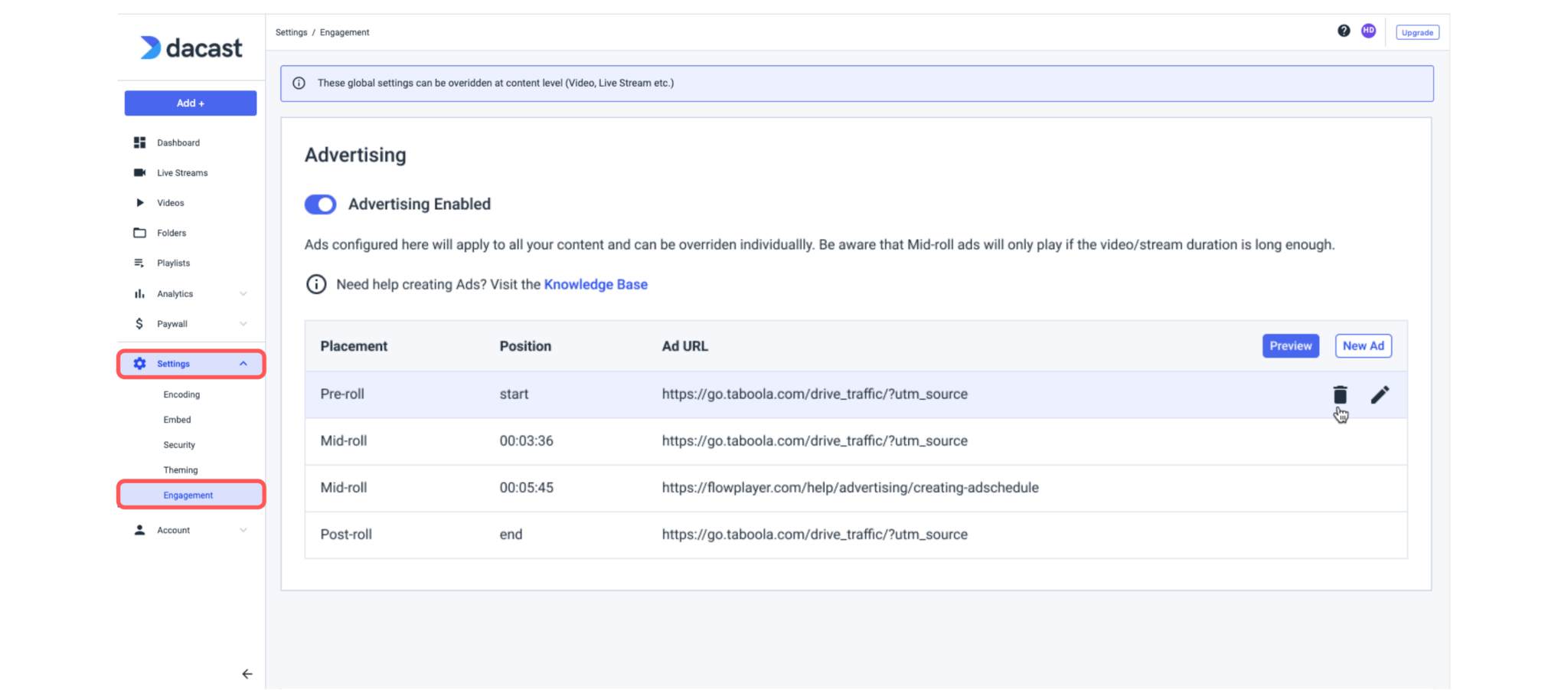 The second option is under the "Engagement" tab of a specific "Video" or " Live Stream" channel. Use this option if you want to apply ads to the specific video content:
The process to add a New Ad is pretty straight forward, you will have to: 
STEP 1: Click New Ad
STEP 2: Enter the Ad URL.
STEP 3: Select the placement of the ad (you will be choosing between three options) as shown below:

STEP 4: Click Save.
Please refer to our Ad Integration Tutorial if you want to learn more about the whole process to integrate your ad network and manage ad insertion.
Other Types of Monetization Available with Dacast
In addition to ad-based monetization, Dacast offers two other video monetization methods: SVOD and TVOD.
SVOD is a subscription-based method that allows viewers to have unlimited access to a video library for as long as their subscription lasts. Subscriptions are typically weekly, monthly or quarterly.
TVOD is most commonly known as pay-per-view. As the name suggests, viewers pay for what they want to watch.
Which option you choose will depend on the nature of both your content and target audience.
If you have any questions about this feature, please contact us any time,
Not yet a Dacast user, and interested in trying Dacast risk-free for 14 days? Sign up today to get started.
Additional Resources