Managing Different Currencies in the Dacast Paywall
The Dacast paywall manages different currencies to enhance the inclusivity of the platform.
Here is how Dacasts monetization tools manage different currencies:
STEP 1: Your viewers pay the pay-per-view or subscription price for your video content in whatever currency pricing you set up in your Dacast account. All the transactions are available under Paywall > Transactions.
STEP 2: Dacast collects the money and converts automatically and directly the transaction amount from the selected currency into the paywall balance currency chosen for the broadcast.
STEP 3: Dacast takes its commission fee (9.9%, plus $0.40 on each viewer purchase.)
STEP 4: Dacast pays you back the net revenue in USD, EUR, or GBP (based on your initial paywall set up) when you request your payment.
To show you how this works in action, were going to give you a little walkthrough of transactions in the Dacast dashboard.
Once youre in the Dacast dashboard, please go to the Paywall section. Click on it and choose Transactions. Here you will see all transactions on your account.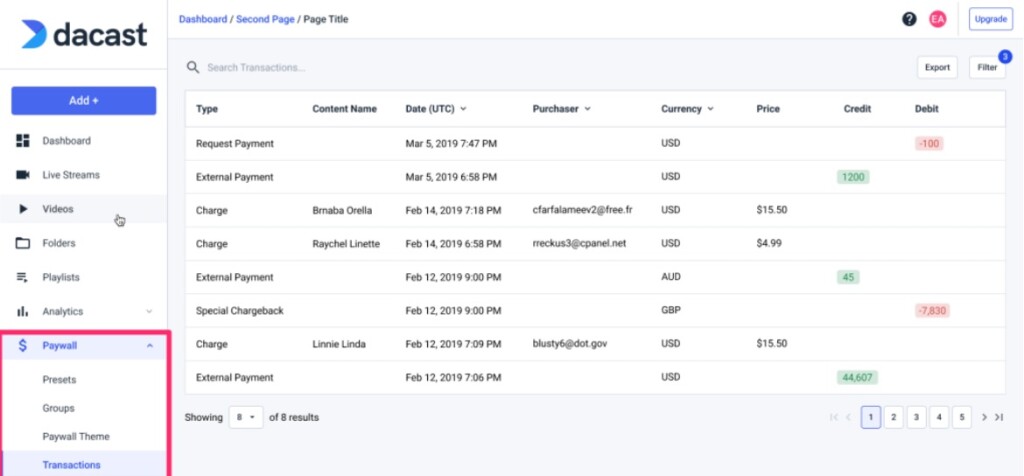 You will see:
Currency

Price (the amount the viewer paid)

Credit (this part is converted to USD if the viewer purchased in different currency)

Debit (the debited amount or the commission Dacast collects from the purchase)
If you want to request a withdrawal of your earnings, simply click on Withdrawals: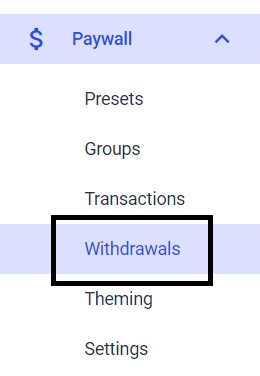 Here you will see where you can add your preferred withdrawal method if its your first time doing so. At this point, you can also make a new withdrawal request.


For withdrawal methods, you can use the following:
Bank Account (US & International)

Check

PayPal
There is some information that you should gather once you decide which withdrawal method you are going to use.
For bank accounts, please gather:
Account number

Routing number

Account holders full name and address

Bank name and address
For check details, please gather:
For PayPal details, please gather:
The email address associated with your PayPal account
Once you have filled in all of the information, simply click Withdrawal Request.
Please note, for first-time payment request withdrawals, the first payment request will take a minimum of 30-35 days to process. Subsequent withdrawal requests will take less time.
The processing delay, minimum withdrawal request, and fee for each withdrawal method are as follows:
PayPal funds transfer

Delay: 10 business days minimum (after the first payment has been made)

Minimum: 1000 USD

Fee:

US: Free

International: 5 USD

Check

Delay: 10 business days minimum (after the first payment has been made)

Minimum:

100 USD

Fee:

$10
Money transfer to a US bank account

Delay: 10 business days minimum (after the first payment has been made)

Minimum:

100 USD

Fee: Free
Money transfer to an international bank account

Delay: 10-15 business days minimum (after the first payment has been made)

Minimum:

250 USD

Fee:

10 USD
The reason for the 5-day minimum delay is because it is dependent on our assessment of refund and dispute risk from viewers who purchased the content.
If there is any refund and dispute activity, there may be a longer delay. So, therefore, as a word of advice, we always recommend that broadcasters leave at least 10-20% of the balance to minimize any payment delay.
Types of Monetization Available with Dacast
As a reminder, there are three methods of monetization offered by Dacast: Subscription, Pay-per-view, and Ad-based monetization.
Subscription-based

: allows viewers to have unlimited access to a video library for as long as their subscription lasts. Subscriptions are typically weekly, monthly, or quarterly.

Pay-per-view

: as the name suggests, viewers pay for what they want to watch.

Ad-based monetization

: serve ads on your content. Ads are funded by your advertisers, so rather than paying out of pocket, your viewers pay for the content with a minute or so of their time.
If you have any questions about video monetization or need help with this Dacast feature, feel free to contact us directly.
Not yet a Dacast user, and interested in trying Dacast risk-free for 14 days? Sign up today to get started.
Additional Resources:
Category: Video Monetization