The 10 Best Zoom Live Streaming Alternatives – What You Need to Know [2022 Update]
With the sudden surge of working from home and online schooling, Zoom has found its time to shine.
This video communication platform has been life-saving for many businesses and schools over the past year. However, several users have experienced some hiccups in security, leaving people searching for a more robust and reliable Zoom alternative.
In this post, we're going to cover everything you need to know about Zoom, its most popular video conference solutions, pros and cons, how to live stream on Zoom, and Zoom alternatives.
Please note that this Zoom alternatives post discusses a technology that is always evolving. Since this post was originally published, Dacast has rolled out a steady stream integration that supports live streaming a Zoom meeting via our platform. This post reflects the most accurate information as of June 2022.
Table of Contents
What is Zoom?

Web Video Conferencing Streaming at a Glance

Zoom Meeting vs. Webinar Features

Zoom Pros and Cons

Recent Zoom Security Threats

Secure Zoom Alternatives

Video Conferencing with Zoom vs. Live Streaming

Dacast vs. Zoom

Why Dacast?

How to Live Stream a Zoom Meeting with a Video Platform

The 10 Best Zoom Live Streaming Alternatives

Conclusion
What is Zoom?
Zoom is a professional video communication software that is comparable to Skype. It is most commonly associated with its conference call capabilities that work perfectly for remote team collaboration.
This web conferencing platform integrates with an array of tools, such as Google Drive, Salesforce, Facebook, and more, which makes it a useful tool for business owners. Integrations truly enhance the Zoom experience. The platform has a built-in app store that allows users to integrate hundreds of apps with just a few clicks.
Zoom offers four solutions, including Meetings and Chats, Rooms and Workspaces, Phone Systems, and Video Webinar.
Since Zoom is a conferencing tool rather than a broadcasting tool, it has a cap on the number of people who can tune in at a time.
Is Zoom Free?
Zoom has a free version that comes with a few basic video conferencing features, but the more advanced plans start at around $15/month.
For professional webinar hosting and video conferencing, expect to pay.
Is Zoom Free to Download?
The Zoom app is free to download. In fact, your attendees don't have to pay a penny. As the host, your package covers its use.
Free and basic plans can host up to 100 participants, and the most advanced plan can host up to 1000 participants. The host pays for the plan, not the people attending the call with the host.
Is Zoom Better than Facetime?
Although Facetime has finally added group calling capabilities, it is far from a professional video conference service.
Other than a few funny filters, Facetime is nothing more than a simple video chatting tool. Therefore, if you're looking to host video conferences, Zoom is the way to go. Zoom is a professional meeting platform. 
Do I Need to Install Zoom to Join a Meeting?
You do not need to install Zoom to join a meeting, but having the app is helpful since Zoom is not supported on all browsers.
If you are concerned about using prepaid data or your internet is slow, you can tune into a Zoom call with your cell phone. Zoom invites come with multiple numbers to call, so choose the one that best suits you and dial-in.
When you dial into a Zoom call, you will only be able to access the audio portion of the call. You will not be able to see presenters, shared screens, or chats.
We recommend downloading the Zoom app for the best experience.
How Does Zoom Work?
Zoom uses peer-to-peer (P2P) technology to power its video conference calls. The specific technology that Zoom uses is called WebRTC.
WebRTC is an open-source technology that works alongside the platforms of Zoom and other peer-to-peer conferencing tools to bring a steady video stream and chat to life.
Unfortunately, relying on WebTRC brings some limitations. WebTRC relies on the broadband of each participant to keep the video chat running smoothly. Issues begin when there are more than just a couple of participants on a call. 
Does Zoom Provide Steady Streaming?
At the beginning of the pandemic, there were several situations where Zoom servers were absolutely inundated which caused lagging video and choppy audio which became distracting and frustrating for many users. This was due to the mass increase in the use of the app; this has been larger fixed, although high usage can impact the quality of video conferences.
Steady streaming is another major benefit of Dacast. Dacast partners with top-tier CDNs, like Akamai and Limelight, to ensure that streams are delivered without interruption. You can live stream a Zoom meeting using Dacast software, increasing the reliability of your stream. 
At this point, Zoom uses a combination of internal servers and powerful CDNs to facilitate video conferencing. Of course, these servers can still get overwhelmed, but when it is working properly, Zoom provides a steady stream.
Web Video Conferencing Streaming at a Glance
Peer-to-peer streaming, which is also commonly known as "web video conferencing," has become very important since the start of 2020.
Here's a snapshot of how this industry has grown as a result of the COVID-19 pandemic:
The pandemic created a major push towards peer-to-peer streaming, but it is likely here to stay. Businesses can now appreciate the value of web conferencing tools more than ever as it allows them to break down barriers and propel their business forward.
Zoom Meeting vs. Webinar 
Zoom offers four unique solutions, but there are two solutions that are more popular than the others: Zoom Meetings and Zoom Webinars. 
As their names imply, Zoom Live Meetings is used for hosting small internal meetings and Zoom Webinars are used to host webinars.
These two solutions serve different purposes, so they have unique features.
Zoom Webinar Features
The Zoom Live Webinar solution comes with an array of useful features. They are geared towards making hosting easy and giving viewers a top-notch experience.
Here's what it includes:
Up to 1000 live participants

Recording tools

On-demand access to past broadcasts

Wide range of reporting and analytics

Attendee polls

Live broadcasting

Live streaming to

Youtube

Host controls

Event assistance

Customer support

Monetization

Brand customization
What sets Zoom Live apart from similar platforms is that it provides you with the tools to put on professional live virtual events while offering the support you need to make it happen.
Zoom Meeting Features
The Zoom Meeting features are a little more basic, but this is to be expected since this solution serves a different purpose.
Here's what you get with Zoom Meetings and Chats:
Up to 100 life participants

Collaboration tools (screen sharing, annotation, chat tool)

Live streaming to Youtube

Basic security features

Attendee waiting rooms

Group chats with a 10-year archive

Email and calendar integrations

Meeting recording capabilities 

Participants can tune in by app or by phone

Virtual backgrounds

File sharing in chat

Integrates with professional collaboration tools
This spread of features is perfect for hosting remote team meetings.
Zoom Pros and Cons
Much like most platforms, Zoom comes with a few pros and cons. These are important to consider as you choose a tool for hosting your meetings and webinars.
Please keep in mind that the importance of certain features is determined by your business's individual needs.
Pros
Free plans available 

Screen share options

Call recording

High-quality video and audio

Easy-to-use

Admin controls

Group chat capabilities

Useful

testing features
Cons
Capped at 100 participants for Free and Basic Versions

The recent exposure to security threats

Internet speed limitations (slow internet and a broadband connection can worsen the user experience

No white-label options

Limited privacy settings
Recent Zoom Security Issues
Due to their lack of privacy and security features, Zoom has recently had some minor security issues that have raised eyebrows among broadcasters. In addition to hiccups involving unwelcome participants joining private calls, users have brought up concerns with the platform's privacy policy.
Since Zoom steady stream calls are usually accessed by links, anybody who has a call's link can join in. Unfortunately, students have begun sharing private links to their virtual learning conferences on social media. Strangers have been getting onto conference calls with these young people and behaving inappropriately. 
Students, parents, and teachers have been frustrated with the abrupt switch to online schooling, and these shenanigans have made things more difficult for all parties involved.
While stopping the issue from its source would be ideal, it is difficult to control the behavior of children outside of the classroom, especially when it's difficult to identify who is sharing the links. Due to restrictions on Zoom's security and privacy settings, it is difficult to block this from happening.
This "security issue" is not necessarily an inherent flaw of Zoom, but it is something that needs to be worked around when it comes to distance learning. Many organizations have begun to seek Zoom alternatives.
Secure Zoom Alternatives
In light of the recent issues with the platform's security, many businesses and organizations are seeking secure Zoom steady stream alternatives. 
A professional streaming solution is a great alternative to Zoom. Investing in a live streaming platform—as opposed to a live meeting application—comes with tons of perks. Live streaming tools are usually more secure and give you more control over your content. There are many Zoom alternatives on the market today. 
Video Conferencing with Zoom vs. Live Streaming
As we mentioned, Zoom has many different solutions and functionalities. Though it has many uses, it has recently been used to facilitate remote meetings and online learning. Although Zoom's video conferencing is one way to carry out online event streaming, it is not the only way. 
Live streaming comes with an array of benefits that makes it superior to video conferencing in some situations.
Live streaming is often more one-ended rather than interactive. People may be able to interact in a chatbox, but they can't join in on the steady stream which is a possibility for video conferences. Chats are more easily controlled than a person who starts speaking to your audience out of turn during a video conference. 
Video conferencing is great for meetings where people are invited to chime in, but for classes and instructional sessions, live streaming is a more viable option. With recent advancements, Zoom has created an option for live streaming meetings or webinars using a custom service that would integrate with the Zoom platform. This is an exciting advancement as Dacast has a solution for streaming a Zoom meeting via our live streaming platform.
If you believe that a secure live stream would be more beneficial for your broadcast, you can use an online video platform with live streaming capabilities as an alternative to Zoom.
Dacast is a great Zoom alternative if live streaming is the route you want to take.
Dacast vs. Zoom
Dacast is a video hosting platform that provides a secure alternative to Zoom.
Here's a quick comparison of two:
Dacast

Zoom

Basic Functionality

Online Video Platform to host and broadcast video

Host video calls and webinars

Key Features

Affordable packages, powerful integrations, live streaming, and VOD

Easy-to-use, works great for team meetings, flexible dial-in options for participants 

Pros

Top-notch security

Free plans

Cons

Subscription required, broadcasting but not web conferencing

Security issues, internet speed limitations

Pricing

Starting at

$39/month

Paid plans starting at

$14.99/month

Best Use Case

Live streaming events, virtual events conferences, corporate live streams, video on demand

Conference calls with small teams
Why Dacast?
Security is a priority for Dacast, which gives it a leg above some free or basic tools. Broadcasters can rest assured that their hosted content and live streams are safe from the wrong viewers. 
This is made possible with different privacy tools, including password protection, tokenized video delivery, and geographic and domain restrictions.
Password protection is pretty self-explanatory. Viewers need a password to access the stream.
Tokenized video delivery is a bit more powerful. It allows broadcasters to set qualifications for viewers, and viewers must meet those qualifications to enter the stream.
Geographic and domain restrictions allow broadcasters to add physical restrictions to where the stream can be accessed. This allows you to block viewers in certain countries and regions.
The domain restrictions require viewers to click the stream's link from a specific landing page or domain. This helps to minimize the issue of being invaded by people who got their hands on a link that they weren't supposed to.
Steady streaming is another major benefit of Dacast. Since Dacast partners with top-tier CDNs, like Akamai and Limelight, to ensure uninterrupted video delivery.
How to Live Stream a Zoom Meeting with Dacast
With our Zoom integration, you can now live stream a Zoom meeting via the Dacast Online Video Platform. Here are the steps to get started:
Step 1: Create Your Dacast Live Stream
Step 2: Enable the "Live on Custom Live Streaming Service" Option on your Zoom Account
Step 3: Set Up Your Zoom Custom Live Streaming Meeting
Step 4: Start Streaming
Please note that this tutorial requires you to have a Zoom Pro, Business, Education, or Enterprise account to access the "Custom Live Streaming Service" Zoom feature.
We strongly recommend that you test the stream before the beginning of the meeting to minimize any issues so that you can enjoy a seamless streaming experience.
For the full detailed tutorial, head on over to this Zoom Live Streaming with Dacast link.
The 10 Best Zoom Live Streaming Alternatives
Depending on whether you opt for a live stream or a simple video conference, there are several other Zoom competitors for video collaboration.
Here are a few of the leading Zoom live streaming alternatives.
1. Skype
Although it has been around since 2003, about a decade ago, Skype emerged as one of the first social video chat tools. In 2011, it was acquired by Microsoft and slowly became a more professional platform.
Skype offers free video calling, but they also offer subscriptions and pay-as-you-go plans. The paid plans are mostly geared towards towards users who use Skype Phones to call landlines.
Skype is a bit tricky to navigate unless you use the mobile app. They have had some security breaches in recent years. While it's an option for video conferencing, it is not the best way to go. Skype is a free zoom alternative, but not the best option.
2. Vimeo Live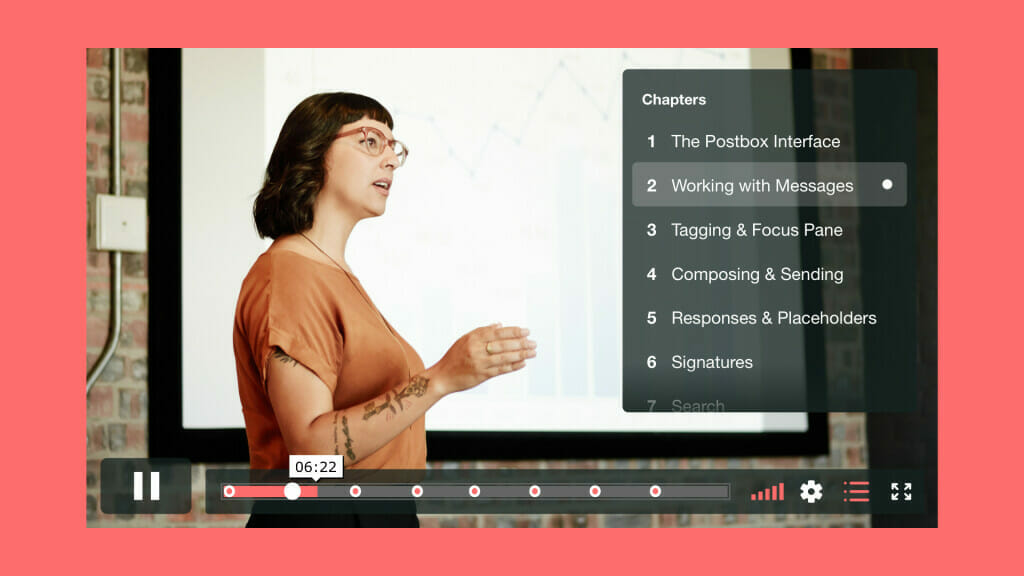 If you decide to go the route of live streaming a meeting or informational session instead of conducting mass virtual conferencing, Vimeo Live is another option.
Vimeo Live is a live streaming service that is designed for both enterprises and content creators.
One of the perks of Vimeo Live is its powerful analytics tool. If you are broadcasting a video and are expecting all of your team members to tune in, you can check the analytics to make sure everybody opened up the stream. It is a good alternative to Zoom when conducting a meeting where video interaction isn't necessary.
3. Google Duo
Google Duo has been another star in the video conferencing world since COVID-19 has forced us to stay at home. This free video conferencing tool is available for Google users. It is known for its easy-to-use platform and top-of-the-line security encryption.
The only downside to Google Duo is that it caps calls at 12 users, making it impossible to host a remote company-wide meeting if you have a larger team. Google Duo is a zoom meeting alternative if you have a small team or need to host small meetings with less than 12 people.
4. GoToMeeting
GoToMeeting is a video conferencing tool for enterprises that offers both hardware and software to make your meetings either entirely or semi-virtual.
They have specific solutions for both virtual meetings and webinars. They also have training services.
With their professional plan for $14/month, you can host meetings with up to 150 participants. With their Business plan for $19/month, you can host meetings with up to 250 participants.
5. Zoho
Zoho is a meeting and broadcasting tool that has sparked some chatter in recent months.
Since Zoho is browser-based rather than app-based, users don't have to download anything to join a call.
With Zoho, you get what you pay for. There are four basic plans that allow different numbers of participants, ranging from $15/month for 25 participants to $63/month for 250 participants.
Features, such as adding additional hosts and recording capabilities, are available for an additional price. If you are looking for an alternative to Zoom that doesn't require downloading anything, Zoho is a good option.
6. Cisco Webex Meetings
Webex is a program from Cisco that supports Web conferencing and team collaboration. It is a great Zoom alternative for businesses that need an internal meeting and communication system.
The top features of Webex are calling, messaging, and meeting. It is used by many major corporations around the world.
In addition to a free plan that is designed to give users a taste of the platform, Webex comes in two paid plans: Meet and Call. Meet costs $15/month, and Call costs $17/month. Custom-priced plans are also available for enterprises with larger needs. This is one of the better zoom alternatives for large corporations who want a secure meeting system.
7. Adobe Connect
Adobe is a major technology empire that offers a variety of software and solutions for creators and businesses. One of their offerings, Adobe Connect, can serve as a reliable Zoom streaming alternative. It is designed to better connect with an audience and improve engagement.
Adobe Connect is a secure platform that supports an array of features that make it easy to customize the appearance of your webinar. You can incorporate interactive elements on the screen, which is a great professional touch. Adobe Connect also supports breakout rooms to give your team or participants the ability to interact in a more hands-on way.
There are three pricing plans for Adobe Connect: Meeting, Webinar, and Education. The Meeting plan is $50/month, the Webinar plan is $130/month, and Education is $370/month. If you are already familiar with and use Adobe products for your business, this could be one of the best zoom alternatives for your business. 
8. LiveWebinar
LiveWebinar is another great Zoom streaming alternative for companies that are looking to host webinars. Some notable features of LiveWebinar include screen sharing, cloud storage, and collaboration tools for engagement.
This platform also supports multi-destination streaming, so you can broadcast your webinar to YouTube, Facebook, and more. This is great for expanding your reach.
In addition to their custom-priced enterprise plans for large-scale streaming, LiveWebinar offers three pricing plans. The first is a very basic free plan that is suitable for hosting small meetings with up to five people. The Pro plan supports up to 100 attendees, and it costs $11.99/month. The Business plan provides access to more advanced features and it supports streaming for up to 500 attendees at once.
LiveWebinar is a free zoom alternative for small meetings with under five people. It is a good paid zoom alternative for larger meetings at an affordable price.
9. BlueJeans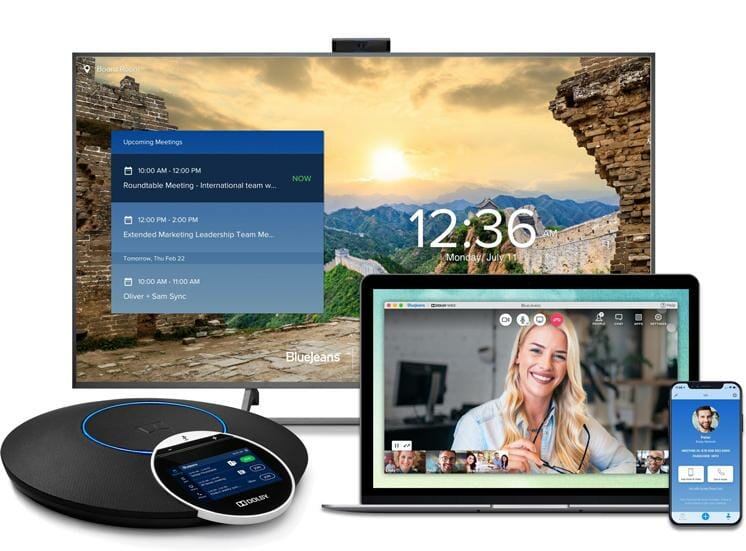 BlueJeans is a professional conferencing tool that has been around for quite some time. The platform was launched back in 2009, and it is used for P2P communication and live streaming.
It is equipped with tools for hosting virtual events, meetings, and webinars. Some special features include breakout rooms and specialized solutions for telehealth.
Pricing for Meeting plans ranges from $9.99 to $16.99/month, Streaming plans start at $83/month, and Gateway rooms start at $99/month for each room. Each type of plan is also available at a custom rate for enterprise use and large-scale streaming. BlueJeans is an online meeting app like Zoom, with more customization options. 
10. Vidthere
Vidthere is a great alternative for businesses that are looking to put on webinars. It is equipped with the standard live streaming platform tools, and it is 100% browser-based. It also supports live meeting recording, which is great if you want to keep a copy of the call for your archives.
VidThere offers three different pricing plans. The first is the "Meeting" plan which is free to use. Webinars Lite is the platform's lowest-tier paid plan, and it includes access to some more professional features and goes for $15/month. Webinar Pro plans, which are designed for large-scale webinars and live events cost $25/month.  
Vidthere is a meeting platform like Zoom for businesses looking to host webinars. 
Conclusion
Zoom is an excellent solution for a variety of meetings and other live events, but it has several limitations. Zoom's lacking privacy settings has pushed users to find a secure alternative for video conferencing software.
There are several free Zoom alternatives, but many come with similar limitations. Online video platforms with live streaming capabilities offer a new solution to some current problems.
Use professional platforms, such as Dacast, to broadcast a lesson, webinar, or other live events instead of using limited features on video conferencing tools.
Live streaming with Dacast is simple and effective. Try the platform for yourself with our 14-day risk-free trial.
Subscribe
Stay up to date with our latest features and product releases