Last Updated On April 17, 2019
What is a player theme?
DaCast HTML5 video player is a white label player. It means there is no DaCast branding on it.
On top of that, a player theme allows you to brand the player at your own colors.
You can create as many player themes at you want and use different player themes for different video. You can also have your own custom player theme set up as your default player theme for all your video content hosted in your DaCast account.
What can you do with a player theme?
With the player theme you have the possibility to:
Choose the colors of the layout
Add your own logo
Add social share buttons
How to create my own player theme?
1/ Go in "PLAYER CUSTOMIZATION" under "PREFERENCES"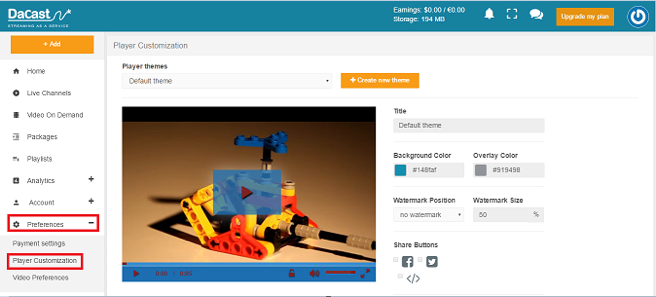 2/ Then, you can click on the "CREATE A NEW THEME" button.
The following window will pop-up so you can name your new player theme: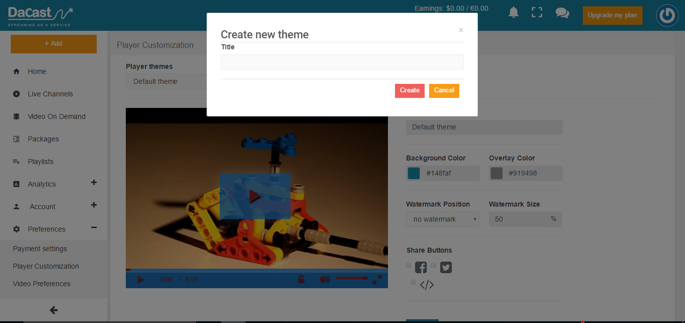 After that, you can manage all the settings:
– background color
– overlay color
– watermark
– share buttons (please note that social share buttons are not included in the default theme)
– New! Customized error message :
Choose the layout of the offline message on the player
Write a tailored error message
Change the font of the error message
Change the color of the error message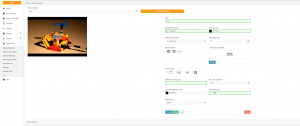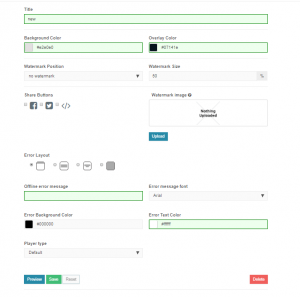 You can try many different settings.

3/Make sure to click SAVE whenever you make a change in your player theme.
4/ Then click on PREVIEW to see what your player theme looks like.