Simulcast Streaming: How to Use Multistreaming to Broadcast from Multiple Locations
If you're a broadcaster, you know that live streaming video on your own website or app comes with distinct advantages. Live streaming this way gives you the control and flexibility you need. You can incorporate your own branding, monetize your videos and you keep ownership over your content. However, the downfall is that you stream your live video from only one source.
To reach a wider audience, live streams should be broadcast simultaneously from multiple channels. A free live streaming platform can help you here. But, while their popularity can bring you new viewers, they come with limitations. For instance, you may lose a degree of control over your own content.
In this article, we're going to cover everything you need to know about simulcast streaming for live online video broadcasting from multiple locations. We'll detail what it is, how simulcasting works and the benefits of simulcasting. Furthermore, we'll guide you by overing three of the best methods for running a successful simulcast. We'll cover the pros, cons and provide powerful tips for each method.
What is Simulcast Streaming?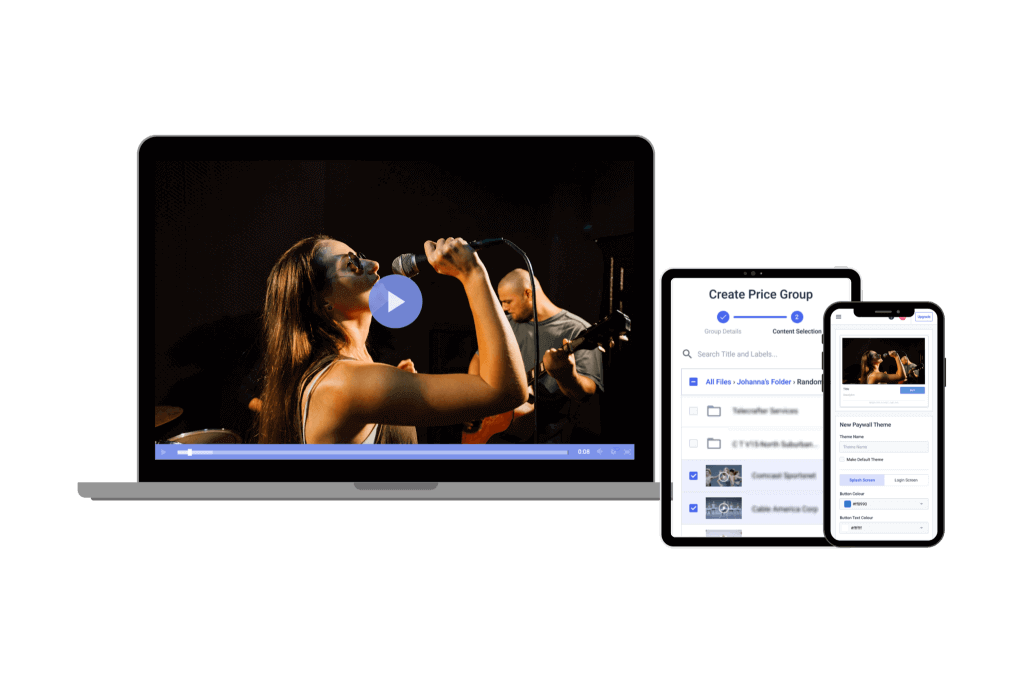 Simulcast is a word derived from the term "simultaneous broadcast."
What is simulcasting? The term simulcast is a shorthand term for "simultaneous broadcast." It describes simultaneously broadcasting a video via multiple delivery channels.
The term simulcast originally comes from the world of radio. In radio, this is typically done through broadcast syndication.
In the context of live online video, simulcast streaming refers to streaming live on multiple distribution platforms at once. For example, you may want to simulcast on your own website, YouTube, Facebook, Twitter, LinkedIn, Twitch, TikTok, and other popular social sites.
Simulcast streaming is about sharing the same content in multiple locations to increase access and viewership to the content.
This is all possible thanks to a few useful pieces of streaming software.
Simulcast streaming is much easier with online streaming than it is with more traditional media distribution methods because there are many public outlets that you can stream to. With radio or television, on the other hand, syndication requires coordination with several private entities.
Why Simulcast Stream?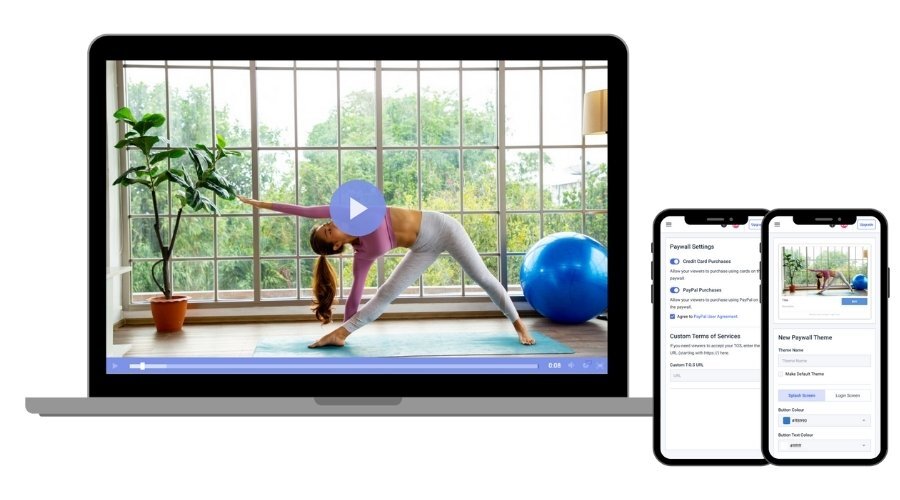 The goal of simulcast streaming is to maximize your audience.
The biggest benefit of simulcast streaming is that it allows you to maximize your reach and expand your audience. It also allows you to maintain the many advantages of live streaming on your website, while reaping the benefits of streaming on the more limited platforms, as well.
Research shows that viewers like watching videos on social media. People watch live streaming videos an average of 16 hours of online streaming video per week, which is an increase of 52% over the last two years.
Viewers tend to engage and interact longer on social media live streams than on-demand video content. In fact, 82% of viewers say they prefer seeing a live stream over a brand's social posts. Video content on social media produces 1,200% more shares than text and images combined.
If you want your audience to interact and view your content, live streaming to multiple locations is one of the best ways to achieve that goal.
However, streaming on social media alone forces broadcasters to forgo the benefits of streaming on their website, so simulcasting provides the best of both worlds.
With simulcasting, you can control your content and reach a wider audience.
Multistream vs. Simulcast Streaming: Is There a Difference?
Before we move into the three methods for simulcast streaming, it's important to clarify some different language and verbiage used to describe this type of technology. As you've researched this subject and some of the tools to support simulcasting, you've likely seen terms like "multistream," "multicast," or "multistreaming" come up.
Multistreaming is short for "multi-destination streaming." Multistream and multicast are also used to abbreviate that term. This function is identical to simulcasting.
Simulcast streaming and multistreaming platform technology both mean to stream the same feed to multiple destinations or platforms in real-time.
Multi-location live streaming and simulcast streaming are just different terms used to describe the same process.
3 Ways Setup Simulcast Streams
If you were wondering, "How do I live stream from multiple locations?" there are three ways to set up simulcast streams. You can integrate Switchboard Live, use share codes, or use an encoder.
Let's break down the different methods used to stream from multiple locations.
1. Switchboard Live for Seamless Simulcast Streaming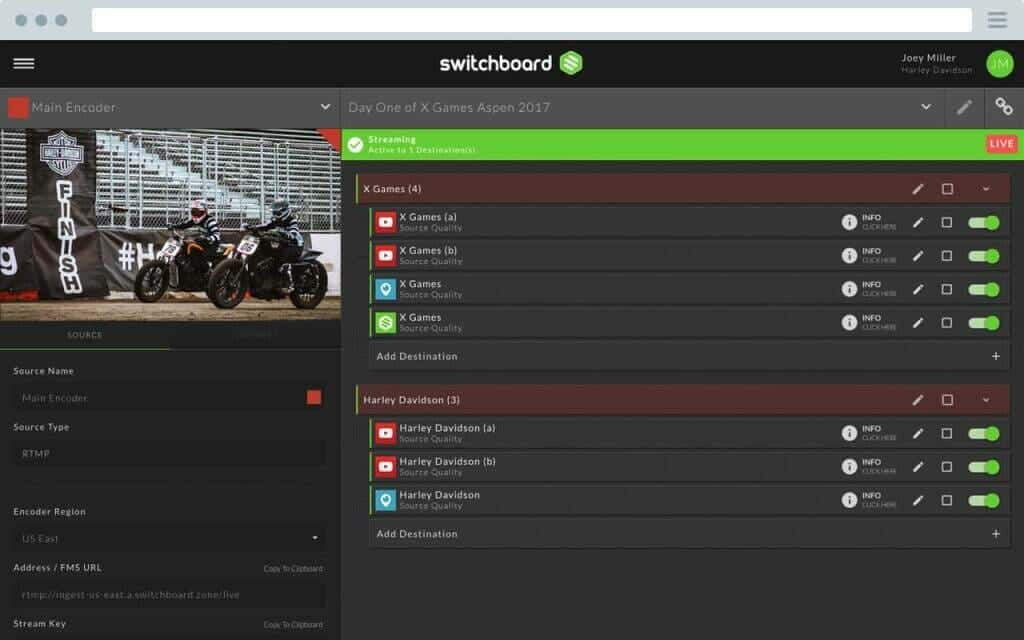 Switchboard is one of the most valuable tools for broadcasters who want to simulcast.
The first option for setting up simulcast streaming is to use a dedicated multistreaming software like Switchboard Live.
Switchboard Live is a multistreaming service that allows you to effortlessly stream your live video across multiple platforms
Switchboard Live has many advantages. First, it's fast. Just connect all your accounts, and stream directly to Switchboard to automatically syndicate the stream across multiple platforms
One of the perks of using this method over other methods is that Switchboard can override technical limitations imposed by Facebook Live. Since so many businesses use Facebook to connect with their followers, this is a platform that you definitely want to stream on.
If you want to start simulcast streaming with Switchboard Live, the simplest way is to use a professional online video platform that integrates with this service, such as Dacast.
Dacast integrates with Switchboard Live, which means that you can easily live stream from multiple locations with Dacast.
There are other platforms similar to Switchboard Live that offer multistreaming support. You can compare these options in our simulcasting platform review.
2. Multistreaming Using Share Codes
The simplest way to simulcast is to use a live stream share code. This option is quick and easy if you are broadcasting with a professional online video platform like Dacast
While it allows you to simulcast, a share code isn't true multi-platform streaming. Instead, it's based on sharing a simple link on Facebook, Twitter, or other social platforms. A thumbnail will display, and when the user clicks or taps, the video content opens in a new tab.
A share code allows you to share your video stream on multiple platforms.
However, this method does have some significant advantages with video monetization and password protection. This is especially valuable since neither Facebook nor YouTube offers very powerful monetization tools.
By using a share code, you bypass some of these monetization issues. For example, you can use your own paywall for pay-per-view streaming or subscriptions. Alternatively, you could implement advertising monetization.
The share code method from a platform like Dacast has some other benefits as well. For example, Facebook live streams are limited to a 4-hour duration per stream. The Dacast share code bypasses this issue, allowing 24/7 linear live streaming
3. Simulcast Streaming at the Encoder Level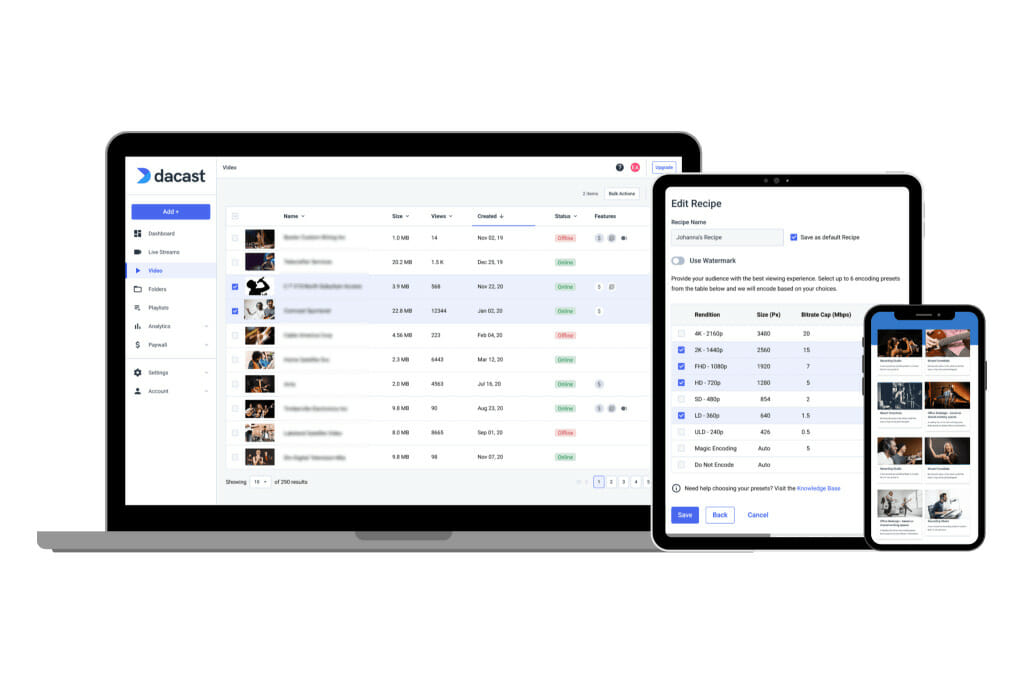 Using an encoder for simulcasting is the most technical option.
There is one additional simulcast streaming option to discuss: at the encoder level.
This is a more technical solution, but it is the option that works best for many different types of users. You can use this same method to stream to Dacast and Twitch, YouTube, LinkedIn Live, and other platforms.
So how does this method work? Essentially, it involves setting up multiple stream destinations in your encoder settings. This is very easy when you're using a software encoder like Wirecast, VidBlasterX, or vMix
However, there are two main drawbacks to this method. First, it requires more upload bandwidth, since you're sending out multiple copies of the same stream. Secondly, this method does not allow multi-destination streaming if you're streaming to Facebook as the primary destination.
Facebook does not currently allow streamers to broadcast to multiple platforms simultaneously unless Facebook is a secondary destination. The best way to bypass this limitation is to use Switchboard Live, as described in option #1 above.
Simulcast Streaming on Dacast
You can use any of the three methods that we discussed above to simulcast on Dacast. Let's take a moment to break down how simulcast streaming works in the context of our online video platform.
Multicast using your Dacast account
You can set up Simulcast stream on your Dacast account from your livestream channels to multiple destinations simultaneously.
To access Simulcast, you will need to create a new live stream channel or update the streaming parameter in the encoder if you have an existing account.
You may refer to this article on how you set it up:
Simulcasting: How to Stream to Multiple Sites – Dacast, Facebook & More
Share Code
The easiest multistreaming method is to use our built-in share code since it just requires a simple copy and paste. This functionality is included as part of our platform, so you can use it at no extra cost.
The Dacast online video player makes it easy to share your live streams and VODs to social networks via a share code. To use this method, simply visit the "publish settings" for your live stream. Once you're in, look for the Facebook share code on this page.
Copy this code. Next, go to your Facebook page or wall. Once you paste this code, the title and a splash screen of your video content will appear.
From there, you can add any text you want. Then click "Post," and users will be able to click the play button. This will launch the live stream or video in a new tab.
The advantage of using a share code is that you will be directing viewers from multiple locations to your own website.
Encoders or Dedicated Software
As we discussed, share codes are the easiest way to simulcast your stream, but it isn't true simulcasting since it doesn't embed the video player directly into the additional destinations.
Dacast is equipped with RTMP ingest which makes it easy to connect nearly all of the most popular encoders and dedicated simulcasting services
Of these two options, dedicated simulcasting tools are the most straightforward and efficient. They are designed for simulcasting, so naturally, they are the most effective.
setup process for each encoding software looks a little different, but you can reference our general encoder setup guide for help connecting tools of this nature.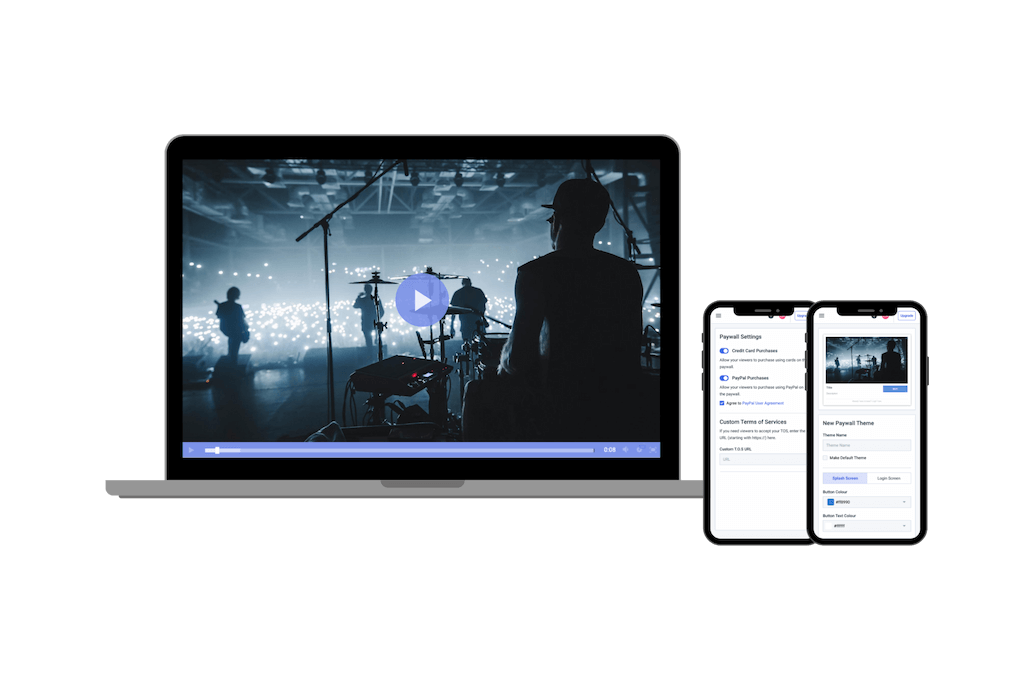 Start simulcasting today to reach a broader audience.
Final Thoughts
Live streaming can provide a wealth of benefits for broadcasters. In one study, a huge 47% of live streaming viewers are watching more live video than they did the year previously. Simulcasting is a fantastic method to ensure your live video streams reach as many viewers as possible.
By using a professional live streaming platform such as Dacast, you maximise your reach. Furthermore, a service such as Dacast that integrates with Switchboard Live means you can easily stream from multiple locations.
Looking for a powerful, flexible and complete streaming solution? If so, Dacast is for you. Our streaming platform includes paywall, video advertising tools, analytics, advanced security features and more straight out of the box.
Try Dacast free today with our unbeatable 14-day full free trial. It's the risk-free way to test out our platform. And if you have specific requirements, reach out to our support team. They'll assist you in achieving the best set up for your needs.
For regular updates and tips, join our LinkedIn group.