What are the advantages of Browser-based Streaming? 
Browser-based streaming is an easy and convenient way to connect to your viewers because it does not require you to download additional apps or use plug-ins to encode your video for streaming.  Whether you are on the go or simply want to stream with just your phone, all you need to do is login to your account, click the "Go Live" button in the Live Streams section, click start, and you're streaming within seconds! 
Which Dacast Plans have Browser-based Streaming? 
All Dacast accounts, including the 14-day free trial accounts, have the browser-based streaming feature enabled. 
Follow the steps below to start your stream:
Log into your account and click Live Streams.  

2. Once the page pulls up, create your livestream channel by simply clicking the "Create Live Stream" button on the upper right side. 

3. Add a title for your stream and select your country's region.  Click "Create" afterwards.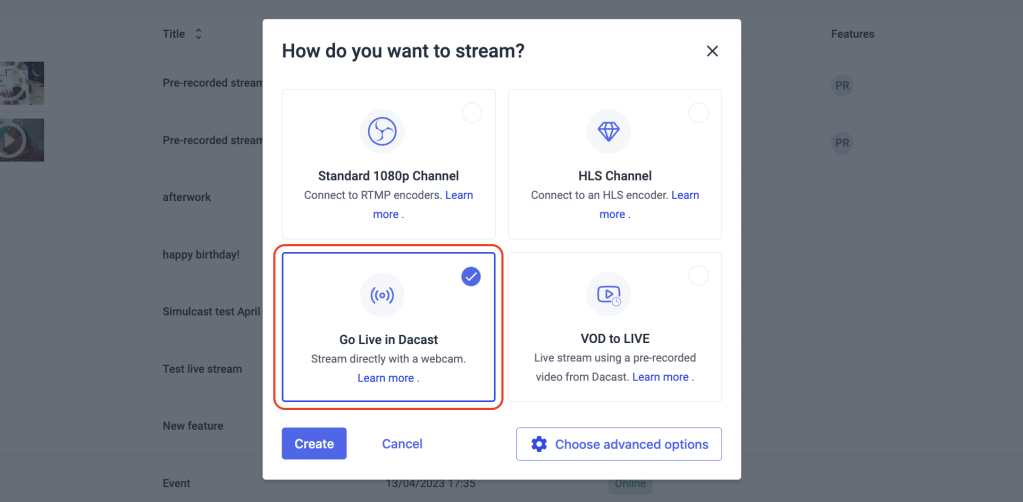 4.
In the live streaming portal you have the option to connect your built in audio and camera devices. Click on settings and then which audio you and camera you want to connect.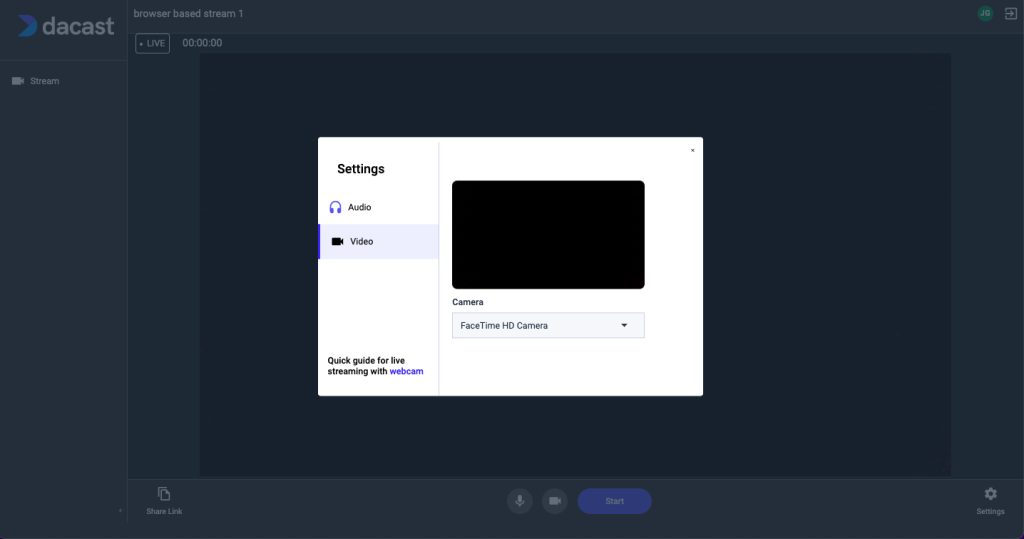 5.
After you have selected your audio and camera click the "Start" button to begin your stream.  If you would like to record your stream click "Yes" to record.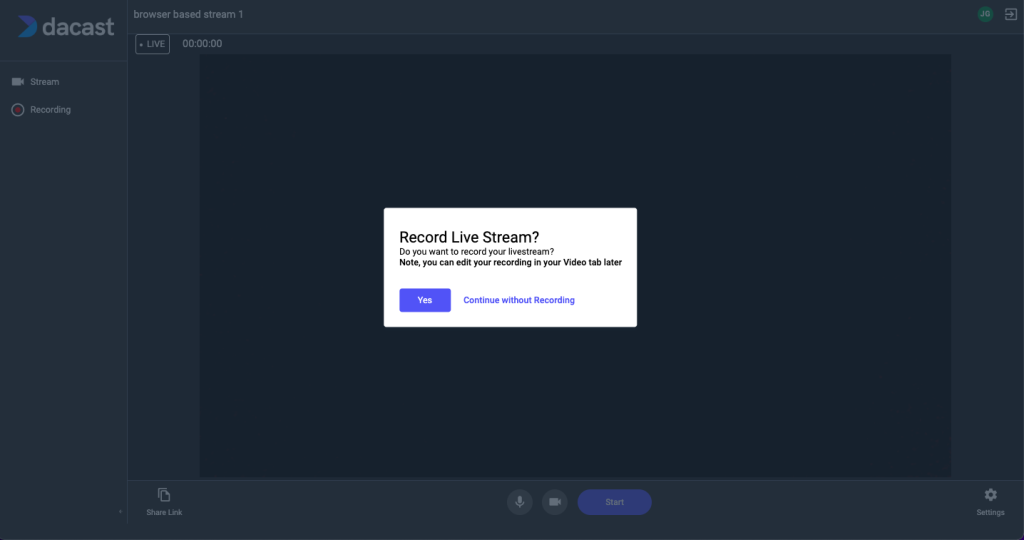 6. Your stream is live if there is a red dot next to the Live button.  If you did not select "Record Live Stream" but would like to later, simply click the "Record button on the left panel and select "Yes."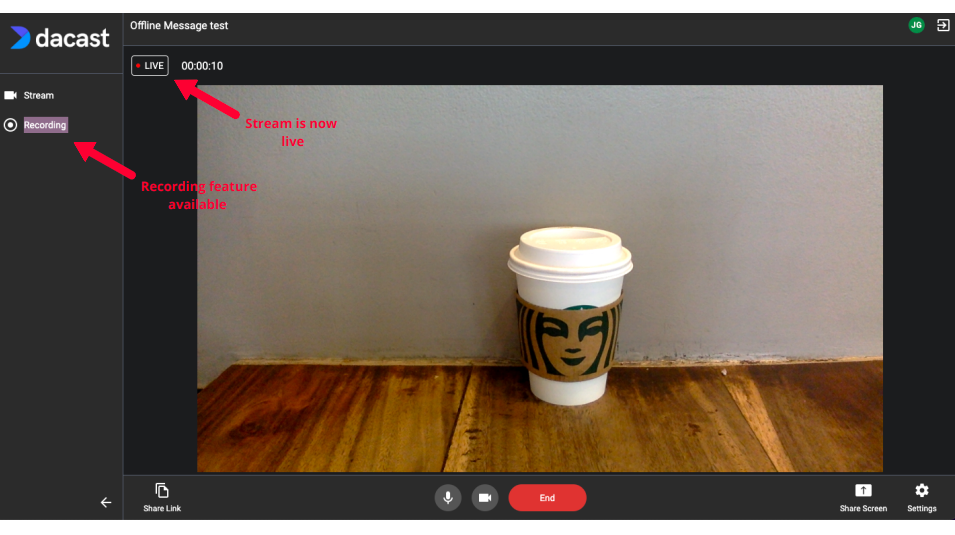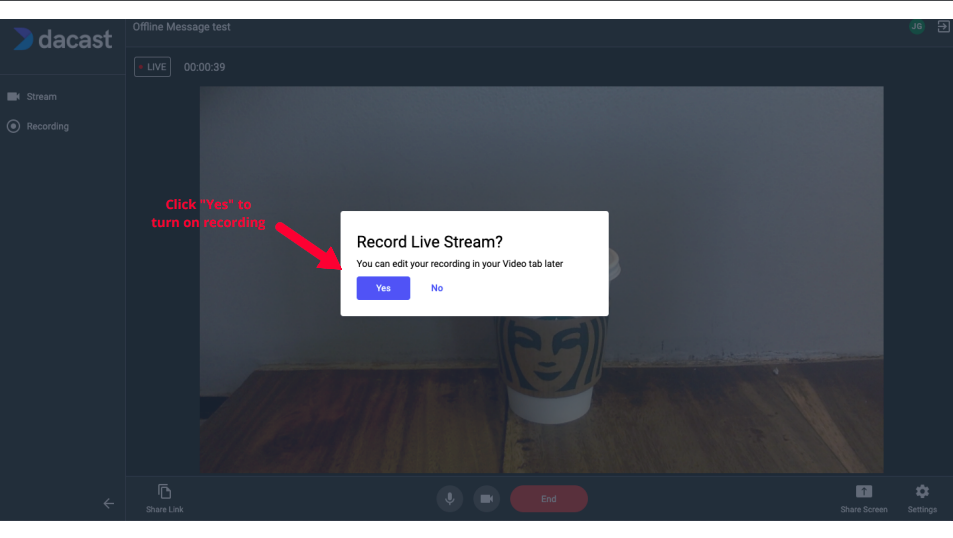 7.
To share your screen with your audience, click the "Share link" icon on the bottom left and select "Allow."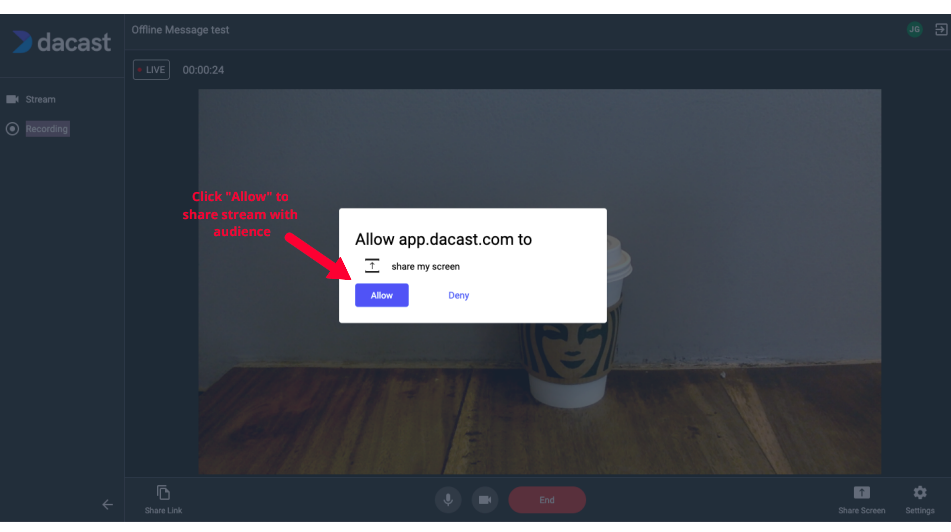 Click on the window that you would like to share or the "Entire Screen" option.  After selecting, click "Share" to start sharing your screen with your audience.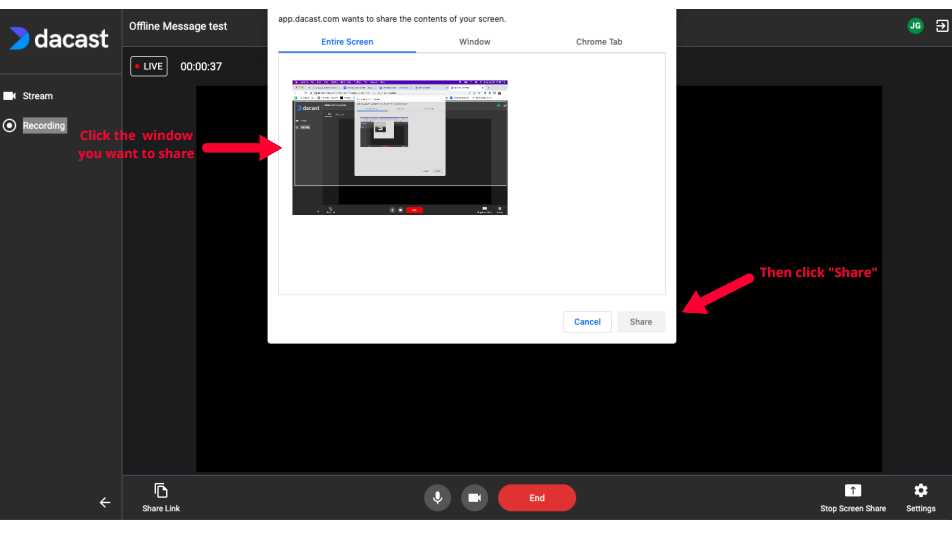 9.
This is what your audience will be viewing.  To stop presenting your screen click "Stop Sharing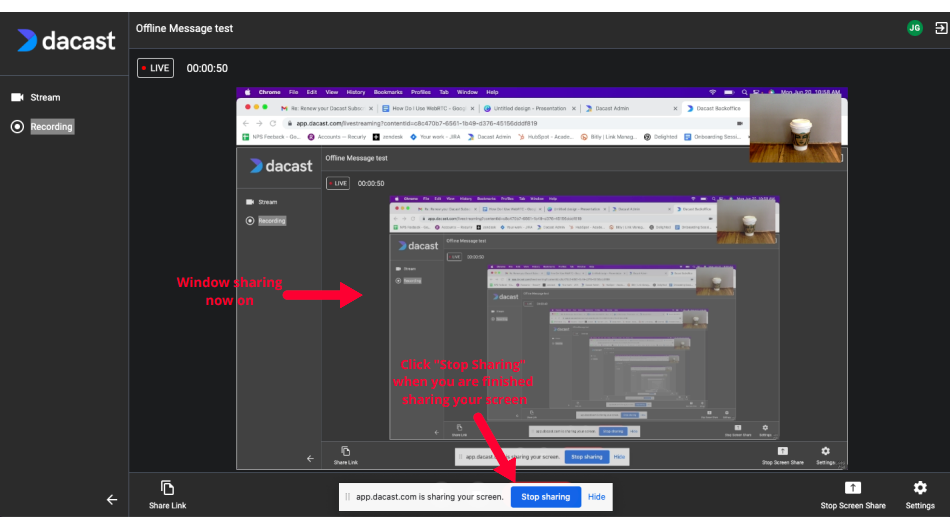 10.
If you need to make any changes to your audio or camera you can do so by going to settings.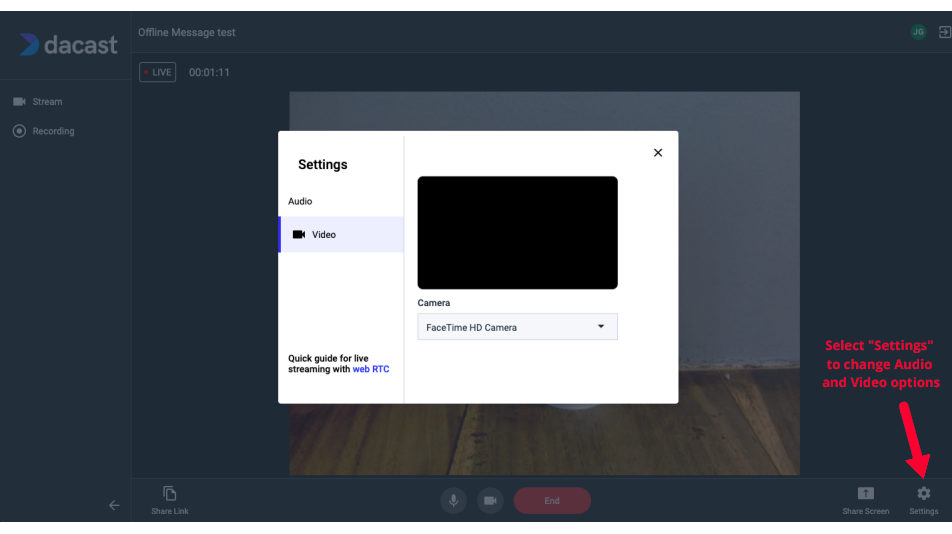 11.
To stop streaming, click "End" and "Stop Streaming." 
If you would like to start a new stream on the same channel click "Stream Again."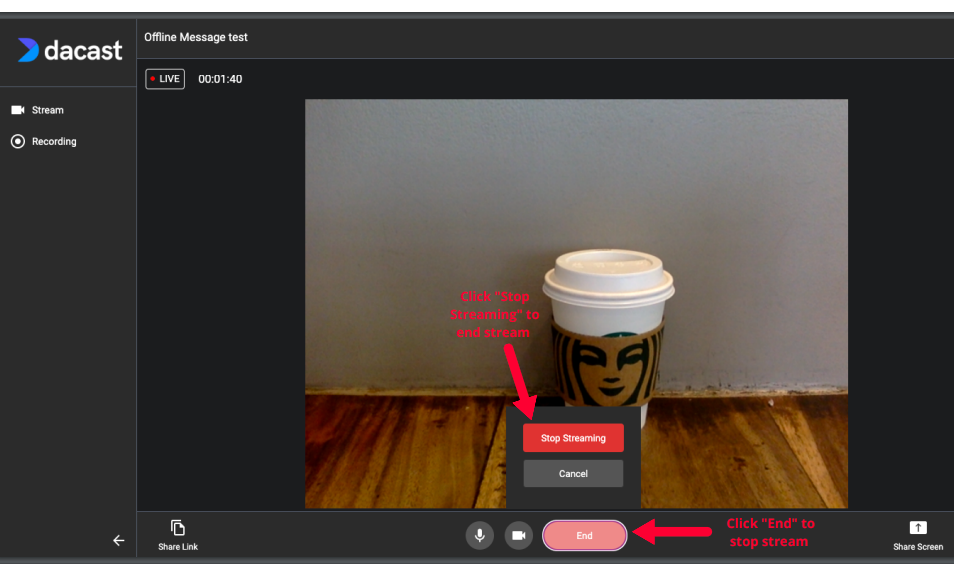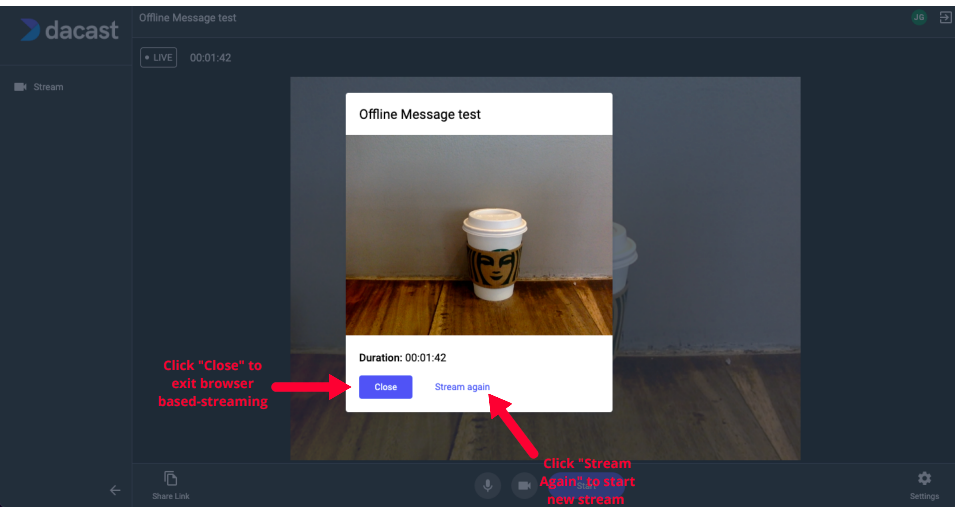 Any questions or need help/access to this feature? Please contact us. 
Not yet a Dacast user, and interested in trying Dacast risk-free for 14 days? Sign up today to get started.