Churches and houses of worship bring people together through the meeting of religion and community. It's a place where people can find salvation during hard times. Historically, tradition and word-of-mouth have been the way churches have expanded their reach. Today, modern technologies have created new options for getting church services out to those who need them and cannot attend a service in person. Church live streaming services have brought brand new potential to all houses of worship and other religious services. 
As the world moves to social isolation and governments are asking people to social distance themselves, one of the biggest hits will be churches around the world. As COVID-19 continues to spread, people cannot gather in large groups during this time of need, resulting in no church services. 
But, it's possible still to have sermons and gathering through live broadcast software for churches. Church live streaming platforms let pastors broadcast their sermons remotely to people around the world without anyone leaving the safety of their own home. In this article, we'll share how churches can use church streaming services and how to live stream church service online.
Please keep in mind that streaming platforms for churches and their pricing change regularly. This post reflects the most accurate information as of January 2021. 
What we'll share in this article: 
Live Streaming Solution for Churches

Benefits of Streaming Platforms

How to Live Stream A Church Service

Comparison of the Top 7 Church Live Streaming Services in 2021

Final Thoughts
Live Streaming Solution for Churches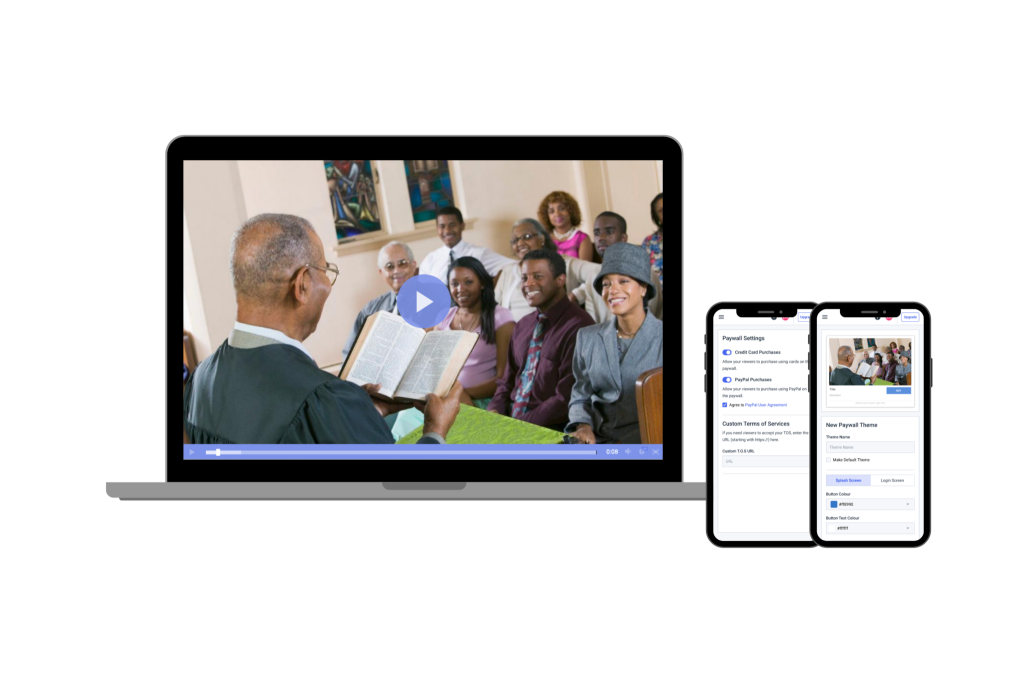 We're reviewing and ranking seven popular streaming services that ministers and pastors can utilize to stream Sunday services. We're basing our comparison of live streaming for churches on the features of each online streaming platform. 
It's a Solution, Not a Service.
It's important to note that these platforms are not platforms where you can view live streams of church services. These platforms are hosting platforms for those looking for ways to stream their church's service to their congregation remotely. Churches are currently facing the problem of not being able to have an in-person sermon. These platforms are the solution to that problem. This guide to solutions and platforms available will allow congregations to live stream their church services around the world during this time of need and after too.
Benefits of Streaming Platforms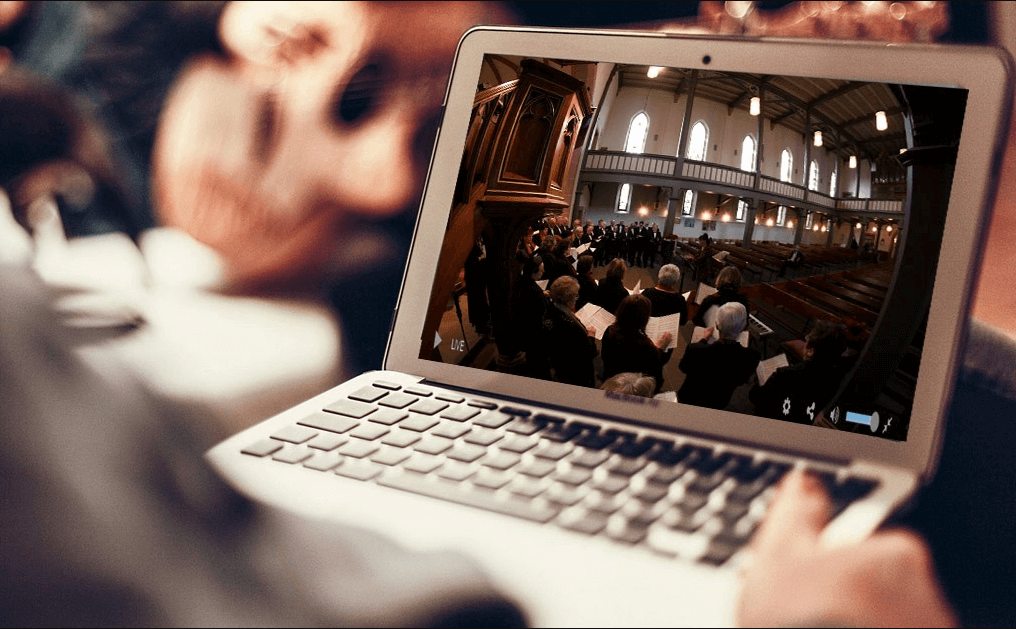 Broadcasting a religious service offers many benefits for churches like yours. When you stream and broadcast a church service with a streaming platform, you have the ability to: 
Reach members during emergency pandemics like COVID-19, which we're currently experiencing.

Allow members who are sick or injured, too old to make it in person, or have a disability that makes it difficult to travel to watch your service.

Live streams help members who are traveling and want to continue to participate in their own faith community.

Extend your reach beyond your local community and help people to connect with one another.

Create a live stream of your sermon or

broadcast a private event

for members of your congregation who cannot attend.

Record your live streams

and make them available as video on demand. This is also a great way to lock in the experience of each event forever. It allows people who missed the live event to watch it later on their own time.

Live stream your church's Christmas programs virtually, giving the congregation the opportunity to attend from home. They are broadcasting their traditional programs to make them available to anyone on the internet.
How to Live Stream A Church Service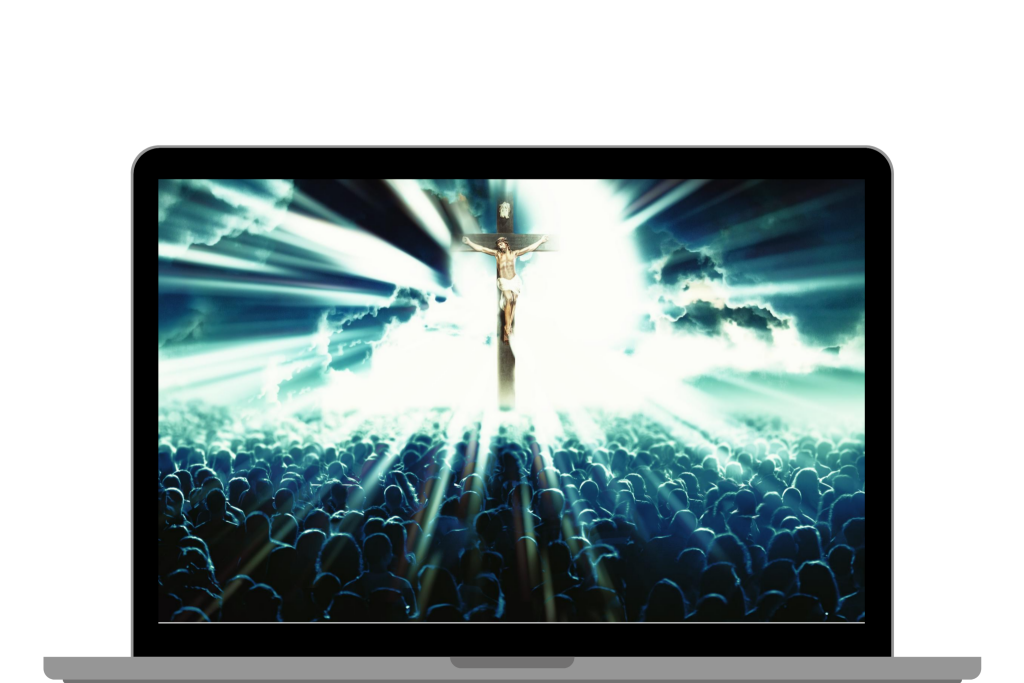 We've created this step-by-step how-to guide on the live streaming of church services. While it may seem overwhelming to figure out how to get your Sunday service online quickly, we're here to help you. Please follow this how to live stream your church service to set everything up correctly. 
Start with a road map of where you are now and where you want to be. Take note if you already have video equipment available and what type of new equipment you'd like to invest in.

Consider where you want to stream your sermon. This will determine the platform you end up using to live stream the church service.

Use a video encoder. An

encoder

takes your video signal and compressing it into a stream of data that can be sent over the internet. These are essential additions to live broadcast software for churches that you can use for encoding, but for the best quality, use

dedicated encoding hardware.

Ensure that your internet connection is fast enough to stream. You can get a dedicated internet connection for your stream. 

Work on your lighting. When you work on your lighting within the church, your live stream will have a better quality picture for those watching.

Choose a camera based on workflow requirements. Set up your camera with the view you want people tuning in to see. 

Use a separate mix for your audio live stream by using an Aux mix output. Then you can mix it remotely for a better audio feed.

Ensure you have the licenses that allow you to stream the copyrighted music that you're streaming. 

Pick the live streaming platform that's right for your church.

Create your account, set up your stream, practice streaming it, and then hit go on Sunday morning. 
Here is a series of videos dedicated to live streaming your church services.
Comparison of the Top 7 Church Streaming Services in 2021
With that information, it's time to compare the best qualified live streaming platforms churches should consider to stream sermons online. First up, we'll take a look at our own online video platform.
1. Dacast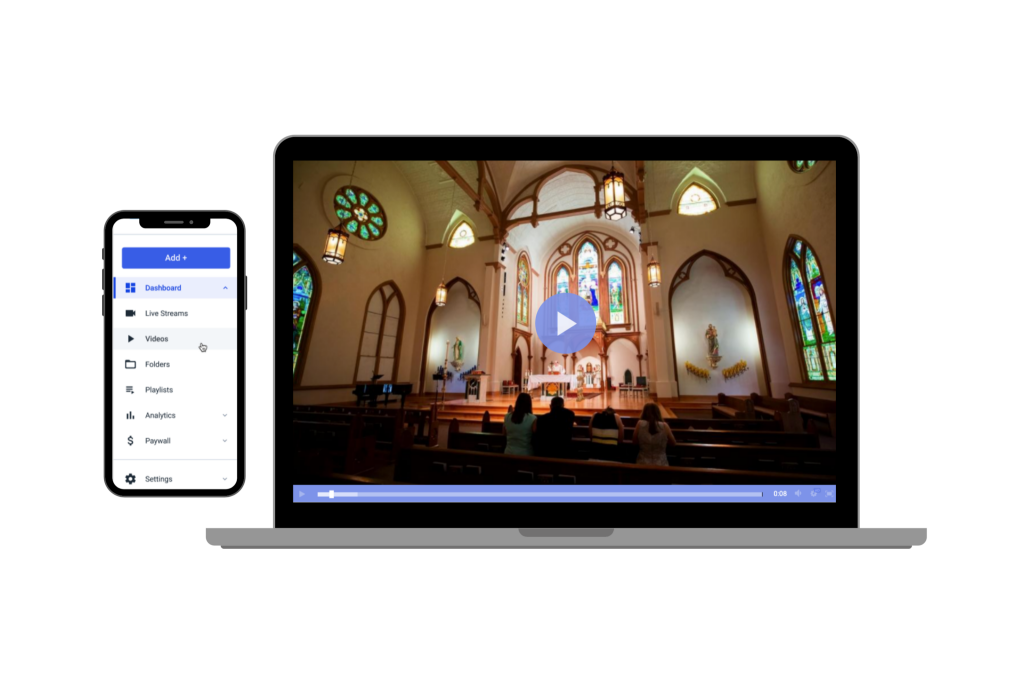 Price Range:

Starter Plan: $39/month (includes 1,000 GB of bandwidth & 50 GB of storage)
Event Plan: $63/month (includes 6 TB of bandwidth upfront and 50 GB of storage)
Scale Plan: $188/month (includes 24 TB of bandwidth per year and 1 TB of storage)
For more details, please visit our pricing page.
Features: All plans include
Results:
Set at a competitive price point, the Dacast streaming platform offers a feature-rich and comprehensive solution for small to larger congregations. Smaller churches with smaller bandwidth needs may prefer the Starter Plan ($39/month). It includes the same great features as larger churches on the Event or Scale Plans. Also, note that not all online video platforms (OVPs) offer such a starting plan at lower rates.
Additionally, Dacast makes it easy to learn, test, set up, and start streaming, which is helpful for the first-time house of worship broadcasters. Our OVP offers full video API access and monetization tools with secure video upload capabilities as well. With these features, you can charge viewers through pay-per-view streaming or subscription-based payments to raise money or to cover special event costs.
All Dacast plans include content delivery with top-tier CDNs. With the reliability of a content delivery network, your viewers can watch your stream from all over the world by connecting a server closest to them. Our CDN partners power some of the largest companies, including Airbnb and Charles Schwab. These top-tier CDNs automatically switch servers when one server becomes congested with traffic, meaning that viewer surges won't compromise your video quality.
Want to access all of our features and see how our live video solution can help you reach your Church's streaming needs? Try Dacast risk-free for 30 days with our free trial. 
2. Streamingchurch.tv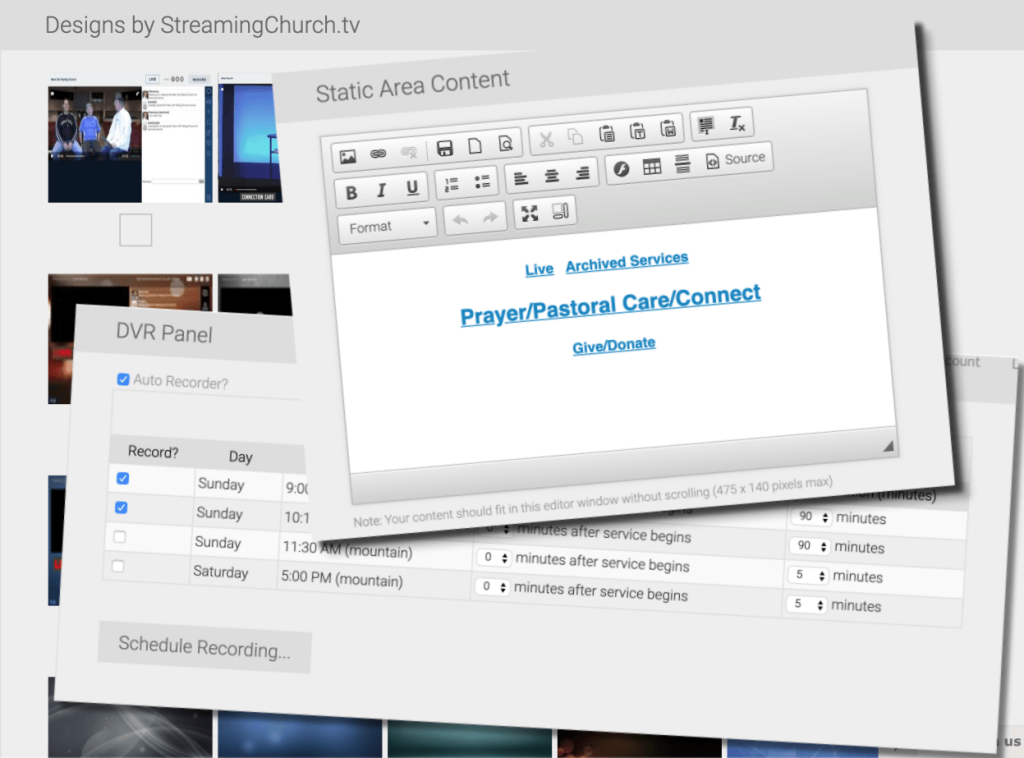 Price Range: 
Basic Unlimited Plan: $79/month
Premium Unlimited Plan: $127/month
Platinum Unlimited Plan: $179/month
After accessing the one-month free trial, all plans include a one time $79 activation fee and unlimited bandwidth (except for 24/7 broadcast ministries).
Features:
Live streaming of your event
Ad-free
Facebook and Twitter compatible
Mobile device and Roku compatible
Moderated Chat
Map of who's attending
Integrated sermon notes
Note that Video-on-demand (VOD), Ultra HD streaming, adaptive bitrate, and simulated live service features are available only on the Premium plan.
Results:
Streamingchurch promotes many "church-specific" features, including sermon notes and a map of church attendees simulating a live service. The Map feature shows everyone in attendance and also groups them into a moderated chat, where individuals can discuss aspects of the live stream church service sermon. The Integrated Sermon Notes let you follow along as the sermon takes place, ensuring you don't miss a moment.
Streamingchurch.tv does offer both live and VOD streaming (only for premium plans). In addition, this OVP offers embedding options to stream live video. One significant drawback for some congregations is that Streamingchurch.tv does not stream content over a CDN. This can lead to poor video quality when there is a large congregation of viewers watching your broadcast.
3. BoxCast SundayStreams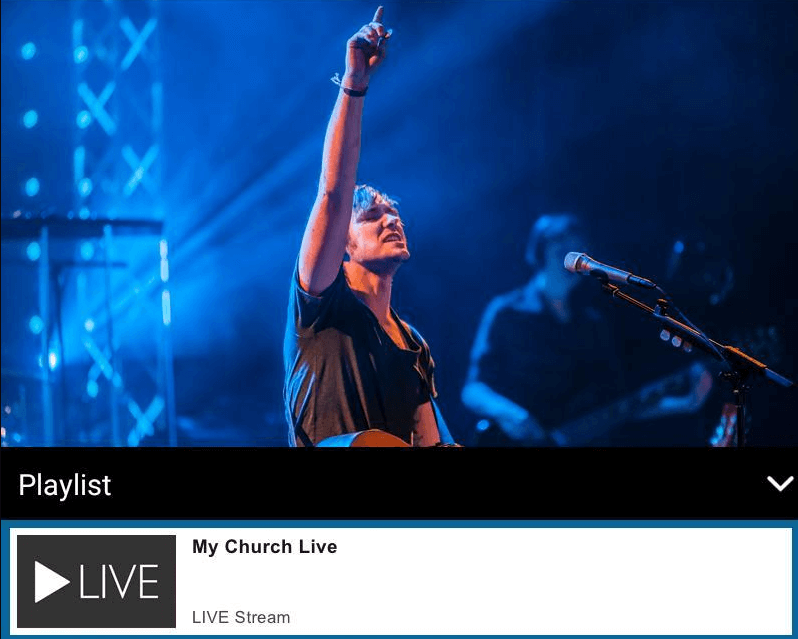 Price:
Since SundayStreams is now a part of BoxCast, they have adopted Boxcast's pricing plans:
Essential Plan: $99/month
Growth Plan: $149/month
Experience Plan: $199/month
Premium Plan: $999/month
Features:
Ad-free
Embed on your website
Phone and email support
Facebook and Twitter compatible
Broadcast 24/7
Mobile compatibility and customizable phone apps
Analytics dashboards
Results:
SundayStreams is another option among live streaming solutions devoted to churches and sermons. Recently acquired by Boxcast, their set of features includes the most basic features offered by an online video platform, such as a fully adaptive player and Google Analytics integration to access real-time analytics.
Sunday Streams has a good reputation for responding within 24 hours of a customer reaching out for support via email. However, if you want the guarantee of 24/7 customer support, you'll want to consider other live streaming platforms for live streaming of church services. This option does offer a 90-day money-back guarantee, which you can learn more about here.
The greatest strength of Sunday Streams is its simplicity and ability to reach novice broadcasters.
4. ChristianWorldMedia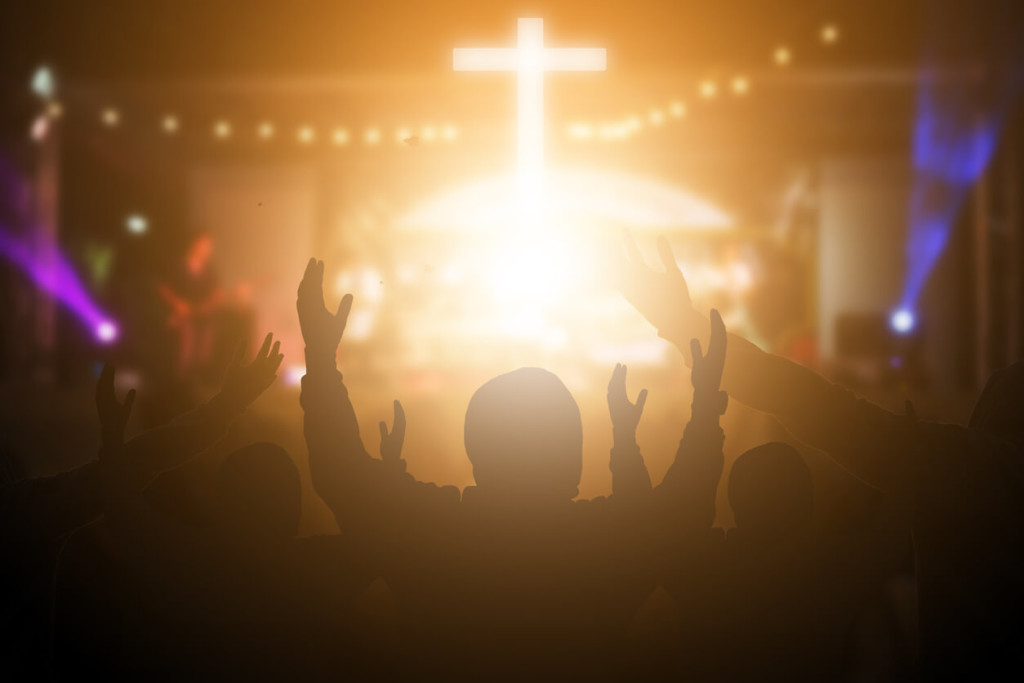 Price Range:
Basic plan: $35/month for 50 simultaneous viewers per live event and 2 restreaming channels
Basic+ plan: $59/month for 200 simultaneous viewers per live event and 3 restreaming channels
Pro plan: $89/month for 500 simultaneous viewers per live event and 4 restreaming channels
Features:
The $35/month basic plan includes:

24/7 streaming
50 simultaneous viewers per live event
2 restreaming channels
Roku compatible
Online Bible integration
Social media integration

With the $59/month basic+ plan you will also get access to:

200 simultaneous viewers per live event
3 restreaming channels
Compatible with Roku
Live site/online campus webpage
50GB of storage
Email support

For the $89/month pro plan (includes all previous features plus):

100 GB of storage
Social Media direct sharing
Live Recording
Phone support
Unlimited archiving
Adaptive live transcoding
Results:
ChristianWorldMedia offers relatively affordable pricing and a lot of flexibility, making it a good option to consider for smaller churches and congregations. With three different pricing options, even small religious communities can afford live streaming of church services with this platform. The online Bible integration feature can be very useful as well.
However, you'll need to verify before committing to this option that low viewer and video quality limits won't be an issue for your live stream church service.
5. TruthCasting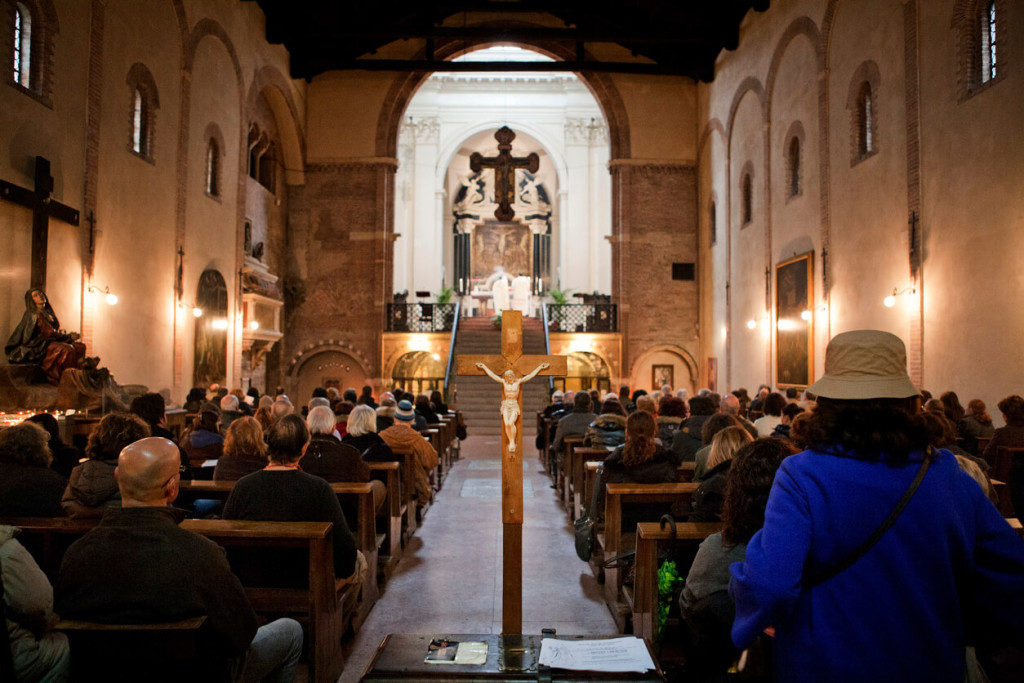 Price Range:
TruthCasting has a very simple all-inclusive pricing plan for $39.95 per month, which includes:
Unlimited storage
Unlimited viewers
Phone and email support
Unlimited streaming
The only caveat is that the plan covers churches with less than 2,000 members. There is an option to add Facebook Live or YouTube Live for $10 per month.
Features:
Ad-free
Unlimited bandwidth and storage
Embed code to stream live video on your website
Phone support
Live recording
Compatible with all platforms, including iPhones and iPads
Results:
In terms of live streaming solutions for churches, TruthCasting offers many features for live streaming all of your church-related events. As shown above, the pricing stems from how many members you have on-site, rather than the features you need. No matter how many members, as long as you do not exceed your number limit, you have access to all of TruthCasting's available features.
However, this OVP does offer good quality support. In addition, they host their services with Amazon's Web Services. If you have questions about their CDN, check out our live streaming CDN comparison.
6. MyChurchWebsite.com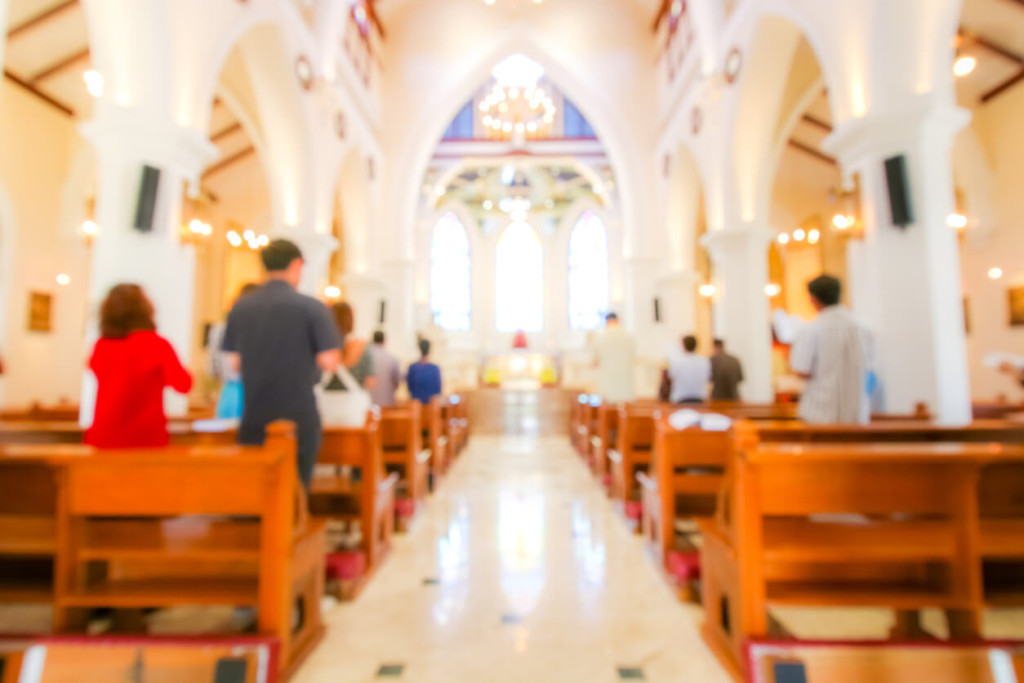 Price Range:
Live Video Streaming: $30/month with no viewer limits, billed annually
Mobile Church App: + $49/month billed annually
Features:
Ad-free
Mobile compatibility
Social network integration
Live Recording
Analytics
Results:
In reality, MyChurchWebsite is a high-end website design company for churches. In addition, this platform offers live streaming for churches. For example, one of their specialties is offering a full website design & setup based on whatever your needs may be. This is available for a one-time cost of $3,500.
Like Streamingchurch.tv, MyChurchWebsite does not offer any partnership with a top-tier CDN. It also doesn't offer 24/7 support. These are important factors to consider, as you'll have no ability to reach out for support outside of business hours in the case of buffering or other issues.
7. Vimeo Live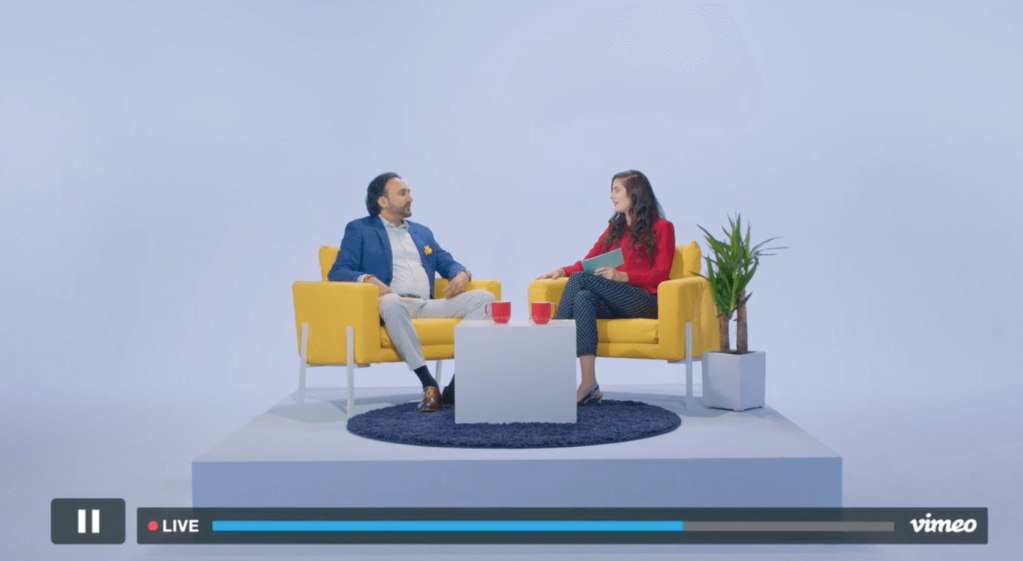 Price Range:
Vimeo offers basic video streaming pricing plans that are suitable for congregations of all sizes. Plans include:
Basic plan: 30-day free trial
Plus plan: $7 / month billed annually; 5 GB per week; 250 GB yearly; single user
Pro plan: $20 / month billed annually; 20 GB per week; 1 TB yearly; 3 users
Business plan: $50 / month billed annually; no weekly limits; 5 TB yearly; 10 users
Premium plan: $75 / month billed annually; unlimited live streaming 5 TB yearly; unlimited viewers
Features:
Plus:

Player customization

Privacy controls

Social distribution

Pro plan ads:

Video creation

Review and approval

Private team projects

Customizable Showcase sites

Business plan ads:

Video creation with custom branding

Player calls-to-action

Lead generation

Engagement graphs

Google Analytics

Premium plan ads:

Unlimited live events

Live stream to multiple destinations

Live Q&A, graphics, and polls

Audience chat
Results: 
As you may know, Vimeo is another live streaming solution available to churches and other places of worship. Vimeo targets those with larger budgets, offering high-end features and customization options for churches that are willing and able to pay. The price point and limited plan options, however, don't make it ideal for most churches.
First of all, after Vimeo acquired Livestream in 2017, the platform eliminated its Basic Plan offering. If you want to embed your live stream church service onto your own website, you need to consider the Premium plan.
Vimeo does offer streaming over a CDN, which is important for large-scale broadcasts streaming around the world. A global CDN can provide quality live streaming for churches to large audiences viewing the broadcast simultaneously.
Final thoughts

There are a lot of great options for live streaming for churches. The 7 platforms we've discussed are the ones to consider using for live streaming of your church service. Consider membership costs, equipment needed, technical support available to determine which platform offers a solution to your problem.
In addition, pay close attention to the live streaming CDN when making your OVP decision. A good quality CDN (like Akamai) helps to ensure the best live stream church service. We know from experience that 24/7 customer support is essential. In particular, this is key for live events during the weekend like your Sunday service and after business hours.
Finally, we recommend taking advantage of the free trials offered by most live streaming solutions! These are great options to help figure out which platform is right for your church. If you'd like to give Dacast a try, you can start now with our 30-day free trial (no credit card required). Among other benefits to the Dacast platform, we offer high-end features (e.g. video hosting) at affordable rates.  Whatever your goals, we're here to help you find the right plan for your church's needs and budget. Just click the button below to start streaming live with Dacast!
For regular tips on live streaming, you're also invited to join our LinkedIn group.