Comparing The 10 Best Video CDN Providers for Live Streaming [2022 Update]
The world is currently undergoing a major digital change. This change is focused on a lot of businesses working remotely, canceling in-person events, and searching for ways to keep in touch with employees and clients through technology.
With this shift, video content delivery networks (CDNs) are ramping up business to ensure full accessibility for new customers and viewers alike.
Over the past decade, young millennials (ages 14-25) began watching more videos on digital devices than on television. In recent years, the growth of the online video trend for 2022 has only accelerated. In fact, we're living in a key moment in the evolution of media and entertainment history.
Today, research shows overwhelmingly that digital video now represents the single most important media format today. This has since grown again following the movement to close company locations during the COVID-19 crisis. The transition to online video content has not slowed down. 
In this post, we're going to look into all things related to video CDNs. We will provide a comparison of 10 video streaming CDN providers in 2021 for mobile-compatible, HTML5 live video streaming. We will also take a look at four online video platforms with built-in content delivery networks or powerful CDN partners.
This post has been revised to reflect the most up to date information regarding the top CDN providers as of June 2022
Table of Contents:
What is HTML5 Live Video Streaming?

What is a Video Content Delivery Network (CDN)?

How Do Video CDNs Work?

Why Use a Video Streaming CDN?

Content Delivery Networks and Video Hosting

What to Look for in a Video CDN 

Comparison of the 10 Top CDN Video Streaming Platforms

Final Thoughts
What is HTML5 Live Video Streaming?
In the past, most live video streaming reached viewers via the Flash video player. Originally developed by Macromedia and later acquired by Adobe, the Flash player soon became a ubiquitous part of the internet. Anyone who used the internet in the 1990s or early 2000s is probably familiar with the Flash player. 
This all changed with the launch of the first iPhone, however. Steve Jobs famously refused to include Flash support due to security and battery-life problems. Instead, Apple created an alternative called HLS — HTTP Live Streaming.
HLS is supported on iOS, Android, Mac, Windows, Linux, and almost every other modern platform. It also doesn't require a plugin but instead uses built-in HTML5 browser functionality. The HTML5 video player is now by far the preferred method for video playback.
Many major professional video hosting platforms, like Dacast, use an HTML5 player that can be embedded on any website. Professional platforms typically make these video players white-label and fully customizable so that you can add your own company's branding, colors, and more. 
In order to deliver your video, you can utilize the latest cutting-edge live streaming software technology and long-established standards. HLS delivery and RTMP ingest is currently the most optimal combination for low latency, security, and compatibility.
In 2019, over 79% of all global consumer web traffic comes from video, most likely from HTML5. That figure continues to grow in 2021. Given this trend, HTML5 and mobile-compatible live streaming are absolutely essential for businesses.
What is a Video Content Delivery Network (CDN)?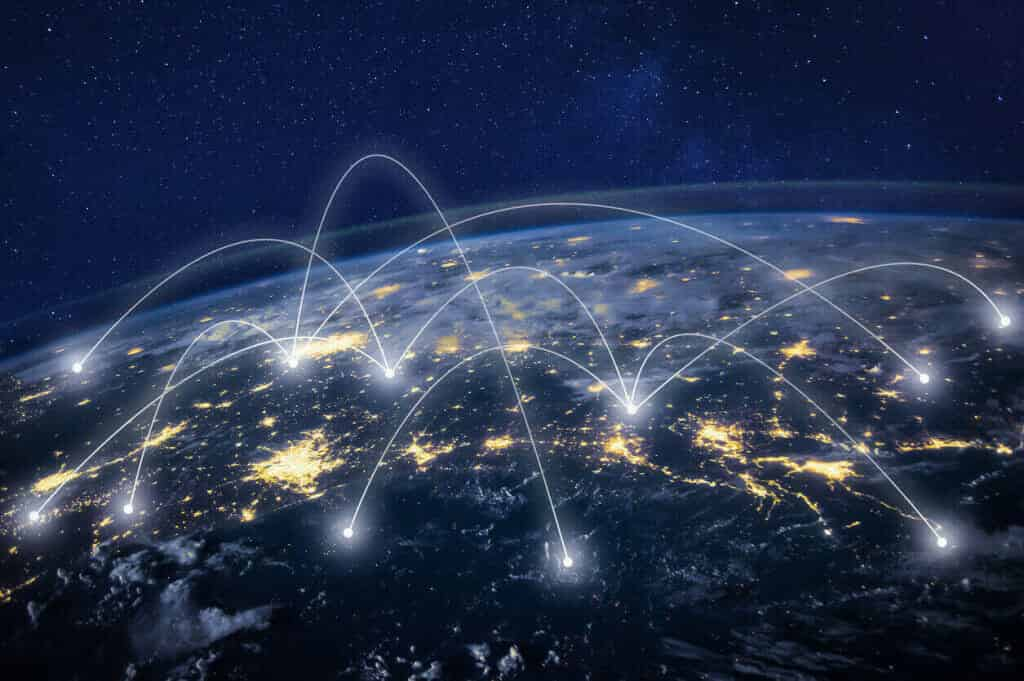 A content delivery network (CDN) exists to deliver content via the internet. This content can come in the form of text, images, video, and much more. The use of a CDN happens most often when a business is trying to distribute large files. Video CDNs are necessary for the transmission of video files. 
Even a short, relatively low-resolution video requires much more storage space (at rest) and bandwidth (in transit) than other types of data. CDN providers exist to help you cope with this. Videos use a lot of data, and video CDN helps ensure that you are able to transmit that data.
As more and more businesses move to remote work and stay in touch with their customer base via the internet, a reliable CDN provider is essential. A video CDN can be compared to a series of cell phone towers that ping one another for optimal signals. A video CDN is a method for transmitting your videos over long distances. 
How Do Video CDNs Work?
The internet isn't immediate. While it may seem like it is, it does take a certain amount of time for content to reach your computer or mobile device. You need a video CDN for your video content.
A CDN is made up of a network of servers located in various locations around the world. This network exists to "cache" content. Caching is the process of copying data and storing it in multiple different locations. CDN streaming makes the video watching experience better for all of your users. 
This provides two benefits. First, it allows users in different geographic locations to be routed to the server closest to them, which reduces data transit time. Therefore, using a video CDN increases speed and reduces buffering.
Additionally, video CDN providers create redundancy. Instead of all visitors being routed to one or a small number of servers, the load can be spread among many different servers. This helps ensure that your content never goes down. 
A high-quality CDN can revolutionize and streamline the process. Using a CDN helps your business use a widely distributed network of live streaming servers for your content. When a viewer requests content from a CDN, they are routed to the closest server. This happens through the use of a viewer's IP address. Distance between the server and the users adds potential latency (lag time) to the internet connection.
Why Use a Video Streaming CDN?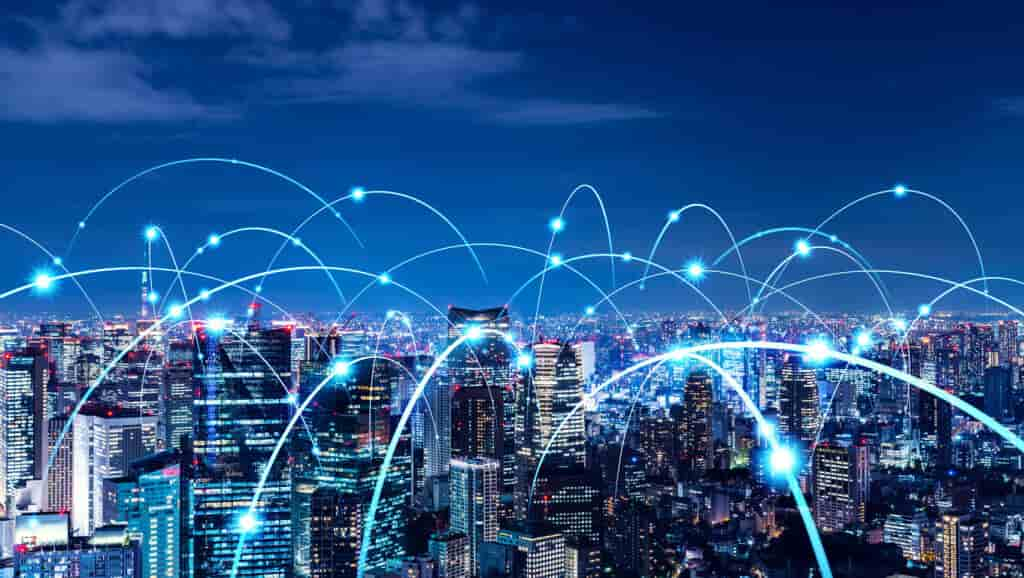 By connecting to servers around the world, CDNs are able to create a shorter route for a video stream to make it from the platform to a viewer's computer or mobile phone. Using this large network of servers lets scalability become possible should viewership increase. Here are some other benefits to using a CDN provider:
Speed – Content delivery networks deliver content at low latency. While a local network is lagging, a CDN is in the passing lane, bypassing the local network and speeding to get to the viewer on time.
Quality – High-quality video, with minimal lag time. Exactly what the viewer wants.
Security – Businesses are full of confidential information. CDNs provide an extra layer of security because of that. Using a CDN will prevent security attacks that occur when a site or resource is flooded by attempts to breach it.
The best CDNs offer you consistent speeds, high-quality video delivery, and security. 
Content Delivery Networks and Video Hosting
When you visit a website and watch a video on the internet, a server is involved. Your computer sends a signal to a server requesting content, which in turn gets delivered to you. A CDN is made out of hundreds if not thousands of these servers located around the world.
The better the content delivery network you use, the higher-quality the video will be for your users as we've mentioned. There will be less lag when loading a video and it will feel seamless for a viewer. A video delivery network will help increase the quality of your video platform.
The same goes for video hosting platforms. While you can host videos online for free on YouTube, as a business, you'll want a more professional private video platform. The dedicated online video streaming service you choose will provide a network of computer servers that will store your video on their disks. It also provides a robust network connection so that your viewers can access the videos quickly and easily without any network lag.
As you can tell, CDNs and video hosting are related. And, as a business, you need the best options to begin your remote video strategy. You need to know the best CDN for video streaming. 
What to Look for in a Video CDN Provider
Before we dive into our platform comparison, we wanted to share a tip with you to consider when deciding on which platform to pick. Some of these platforms will only provide a content delivery network. The other platforms are Online Video Platforms (OVPs). 
When you choose a dedicated video CDNs, you should make sure it has a large, reliable network that has servers everywhere that you're trying to reach. You should pay close attention to bandwidth when choosing the best video CDN for your needs. 
An OVP is a solution that is focused specifically on hosting video, and many support live streaming as well. These streaming platforms tend to be smaller than all-purpose CDNs but deliver excellent functionality. They can have more affordable pricing as you'll read in the comparison.
An OVP allows you to do many additional things:
When deciding on what exactly you're looking for, consider a video platform that partners with CDN providers for content delivery. These will likely provide the highest quality videos for your users and the biggest bang for your buck in terms of additional features for the price.
Top 10 Video CDN Providers
Here is a comparison of the 10 best CDN for video hosting and live streaming below. We'll discuss each company's history, what features they offer, and their CDN pricing comparison. That way, you can choose the best CDN for your needs.
1. Akamai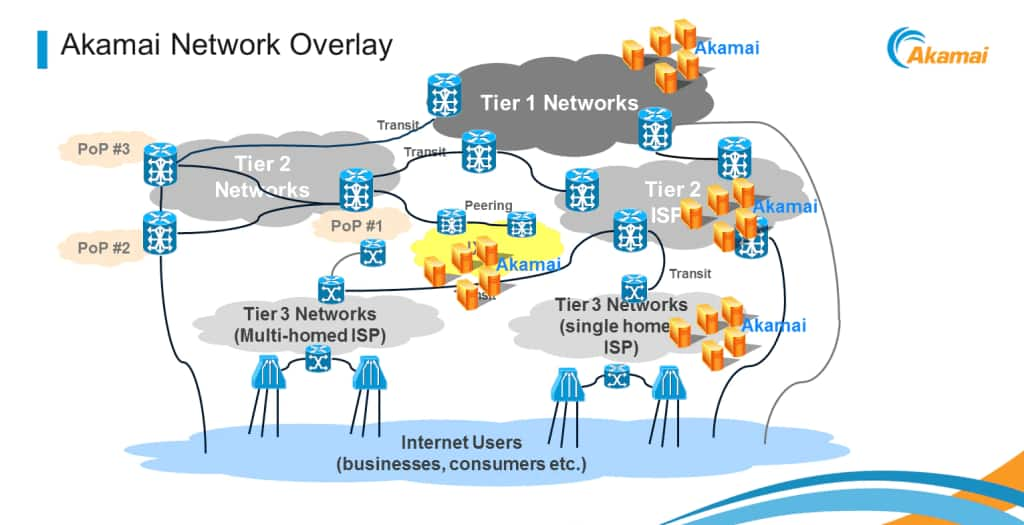 The first of the CDN providers we'll examine here is Akamai. Akamai is one of the oldest CDNs in the world. It's also the largest network, with more than 240,000 servers located in more than 130 countries.
Akamai is one of the few video CDNs that we partner with here at Dacast.
Basic Functionality:
The Akamai platform supports live streaming and on-demand video hosting. They provide a number of other features including analytics, video security, privacy settings, HTML5 video delivery, and support for a wide range of codecs and protocols.
Key Features:
Akamai CLI

Case Management

Certificate Provisioning System

China CDN Manager

Content Control Interfaces

CP Codes and Reporting Groups Tool

Diagnostic Tools

Firewall Rules Notification

Identity and Access Management

Log Delivery

Property Manager API

Sandbox Environment
Pricing:
Akamai does not have prices listed on its website. However, users can request a free trial to get started.
If you need a live streaming CDN network, Akamai is one of the most solid choices on the market.
2. Fastly
Fastly offers a cloud-based content delivery solution Fastly offers several products for video streaming, including security, load balancing, and image optimization.
Basic Functionality:
Fastly is a global, cloud-based video CDN geared towards business video streaming. This platform has a focus on content delivery optimization.
Key Features:
Lightning-fast delivery

Real-time analytics

API access for a custom content delivery experience

Unique computing code

Fast loading video

Cache-control and purging
Pricing:
Fastly prices their services based on the region where you're streaming to. For example, streaming to North America is $0.12/GB for the first 10 TB, $0.08/GB for the next 10 TB, and $0.0075 per 10,000 requests. 
Please check out the Fastly pricing page for a complete list of bandwidth and request costs for other regions. If you need a global video streaming CDN, Fastly is a good choice.
3. Cloudflare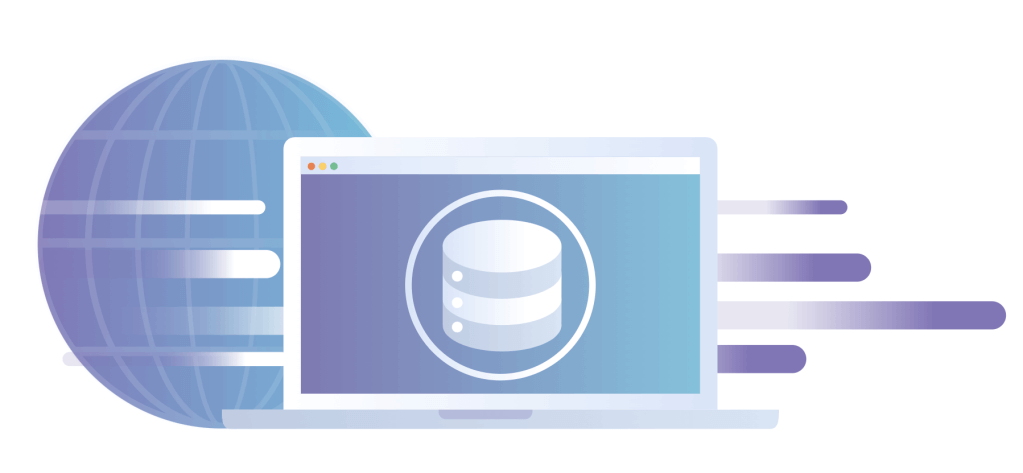 Next, let's take a look at Cloudflare. Cloudflare is a growing CDN with widely distributed PoPs (Points of Presence) worldwide. PoP is an artificial demarcation point or interface point between communicating entities.
Basic Functionality:
Their video hosting offering incorporates some great features, including cloud encoding and customizable HTML5 video players. They also support API access.
Key Features:
Globally Load Balanced CDN

Static Content Caching

Instant Full Cache Purge

Min Cache TTL Expiry

Custom Cache Keys

Argo Smart Routing

China Network

Accelerated Mobile Links (AMP)

Async JavaScript Loading with Rocket Loader

Mobile Optimization

CNAME Setup

Key-value Storage with Workers
Pricing:
Cloudflare has simple, transparent pricing plans. Their packages have 4 tiers:
Free plan: available for personal websites, but it doesn't support video hosting.
Pro plan: $20/month
Business plan: $200/month per domain
Enterprise plans: customized pricing for each user
4. KeyCDN
KeyCDN is a content delivery network that delivers content to 6 continents and over 93,000 deployment zones. This service offers content delivery for video and streaming in addition to delivery and storage of other media, including website data, photos, and more.
Basic Functionality:
KeyCDN is a secure, global content delivery network for broadcasters and other users with digital assets.
Key Features:
Global delivery

Optimized server hardware

Easy development with API access

Reliable security

Smooth playback
Pricing:
Like Fastly, KeyCDN prices per region. Here's how the prices break down:
North America and Europe: first 10 TB are $0.04/GB, next 40 TB are $0.03/GB, next 50 TB are $0.02/GB, over 100 TB are $0.01/GB
Asia and Oceania: first 10 TB are $0.09/GB, next 40 TB are $0.06GB, next 50 TB are $0.04/GB, over 100 TB are $0.02/GB
South America and South Africa: first 10 TB are $0.11/GB, next 40 TB are $0.08/GB, next 50 TB are $0.06/GB, over 100 TB are $0.04/GB
Custom plans are available for users who plan to use over 150 TB/month.
KeyCDN is a reliable global CDN provider that you can use for smooth live streaming CDN needs.
5. CloudFront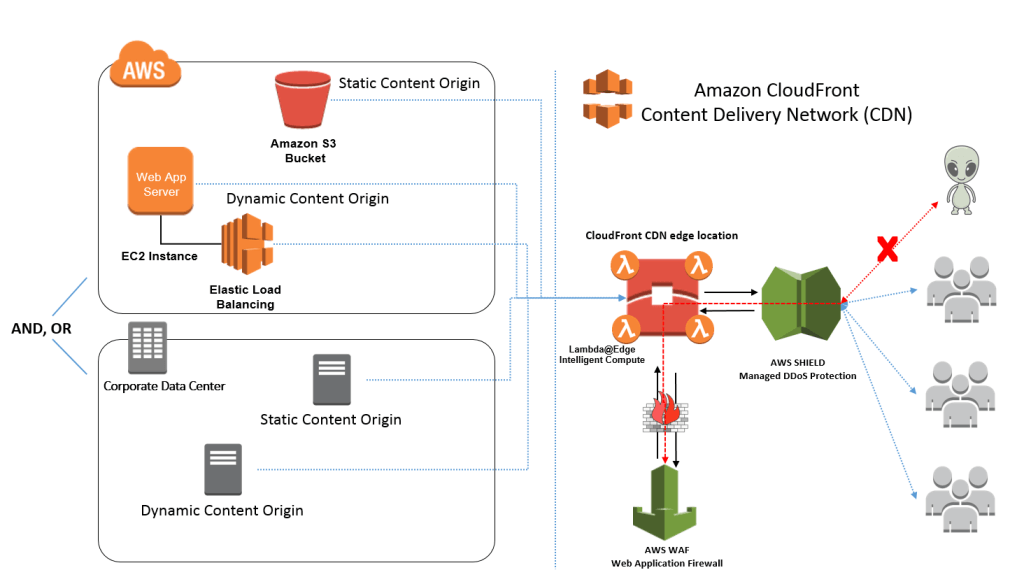 CloudFront is the CDN offering from Amazon's Web Services division. The platform also has a relatively large server network. The United States and Canada, Europe, Asia, and South America all have good coverage. However, they do not yet have coverage in Africa.
Basic Functionality:
Their service is popular and widely used for hosting large downloads and web files. It also supports video streaming, both live and on-demand. CloudFront's system is pretty basic, but you can build on your own features using external tools and using the API.
Key Features:
Global Edge Network

Security Protection against Network and Application Layer Attacks

Availability

Edge Computing

Real-time Metrics and Logging

DevOps Friendly 

Full-featured APIs and DevOps Tools

Cost-Effective – Pay-as-you-go publicly available pricing 

Free data Transfer between AWS cloud services and Amazon CloudFront for origin fetches
Pricing:
CloudFront pricing is on-demand and based on geographic region, bandwidth usage, and the features you need. CloudFront offers 3 tiers:
Free trial plan for 12 months, which allows 50 GB of transfer-out data and 2,000,000 HTTP(s) requests per month.
On-demand pricing tier based on data transfer out (internet/origin) and HTTP/HTTPS requests
Discounted pricing tier for customers who are willing to make certain minimum traffic commits (typically 10 TB/month or higher)
If you want to start with a free CDN video provider, CloudFront has you covered. 
6. StackPath
StackPath is an edge computing service and content delivery service. This company's powerful CDN delivers videos and other media to viewers around the world.
This company uses a cloud component in addition to standard CDN servers. Stack Path collaborates with a number of other powerful carriers to give users the best results possible.
Basic Functionality:
StackPath is a content delivery network that uses edge technology to deliver video content to viewers in 35 markets across the globe.
Key Features:
Top-notch security

Reliable delivery

Fast delivery

Reaches 35 high population markets

Business-worthy delivery

SSL certificate management

Instantaneous analytics

Serverless scripting 
Pricing:
There are three pricing plans for edge content delivery from Stack Path. Here's what you can choose from:
Edge Delivery 20 – $20/month

CDN: 1TB Bandwidth per month

WAF: 5M Requests & 5 Rules per month 

DNS:  2M DNS Requests per month

Monitoring: 1 Service

Edge Delivery 200 – $200/month

CDN: 10TB Bandwidth per month

WAF: 10M Requests & 10 Rules per month 

DNS: 5M DNS Requests per month 

Monitoring: 5 Services

Edge Delivery 2000 – $2000/month

CDN: 100TB Bandwidth per month 

WAF: 50M Requests & 20 Rules per month 

DNS: 10M DNS Requests per month 

Monitoring: 10 Services
If you have big video needs, Stock Path has really large plans for large enterprises that need a reliable video CDN provider. 
7. Leaseweb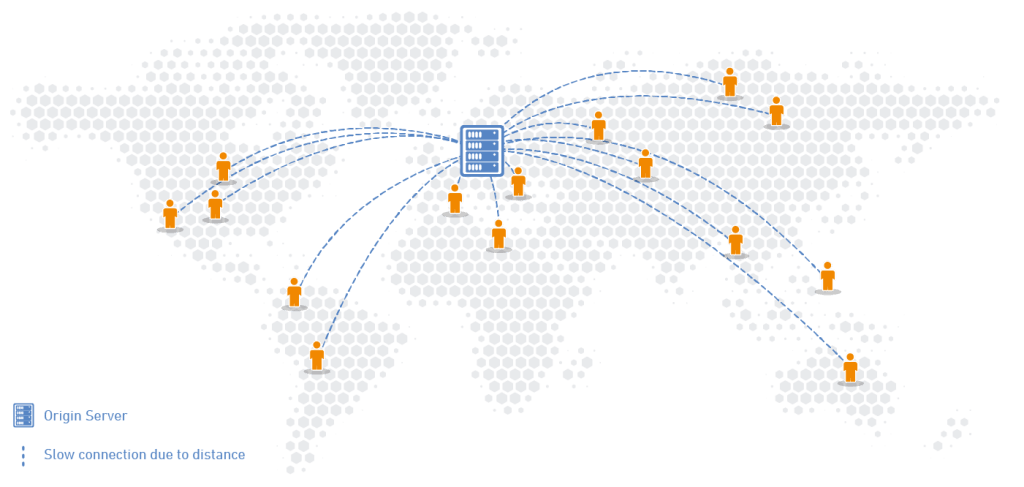 Leaseweb offers a wide variety of digital services, including content delivery. The platform offers access to both private CDNs and multi-CDNs.
Leaseweb was founded over two decades ago, making it a longtime player in the content delivery game.
Basic Functionality:
The Leaseweb CDN is pretty standard in terms of video CDN functionality. It delivers video content to viewers around the world. 
Key Features:
Reliable security 

Global delivery

43 PoPs and 29 internet exchanges

API access

Option for private delivery through your own servers
Pricing:
Leaseweb does not publish pricing information.
8. CDN77
CDN77 is a content delivery company that offers access to a video CDN and advanced cybersecurity services. This company is trusted by major video creation and distribution companies like TedX, Udemy, and Eleven Sports.
The reason that this CDN is so popular is that it is reliable, secure, and scalable, all of which are desirable characteristics to broadcasters.
Basic Functionality:
CDN77 offers support for both security and video content delivery.
Key Features:
Redundant delivery

Tools for secure delivery

Smooth delivery

Scalability

CDN management
Pricing:
In addition to custom-priced, high-volume plans, CDN has some standard pricing options available. These plans include:
6 TB of monthly traffic for $199 ($0.045/GB for overages)

25 TB of monthly traffic for $385 ($0.039/GB for overages)

50 TB of monthly traffic for $580 ($0.029/GB for overages)

100 TB of monthly traffic for $990 ($0.019/GB for overages)

150 TB of monthly traffic for $1,390 ($0.016/GB for overages)
Leaseweb CDN has been around for decades and provides reliable global video CDN services. 
9. Microsoft Azure CDN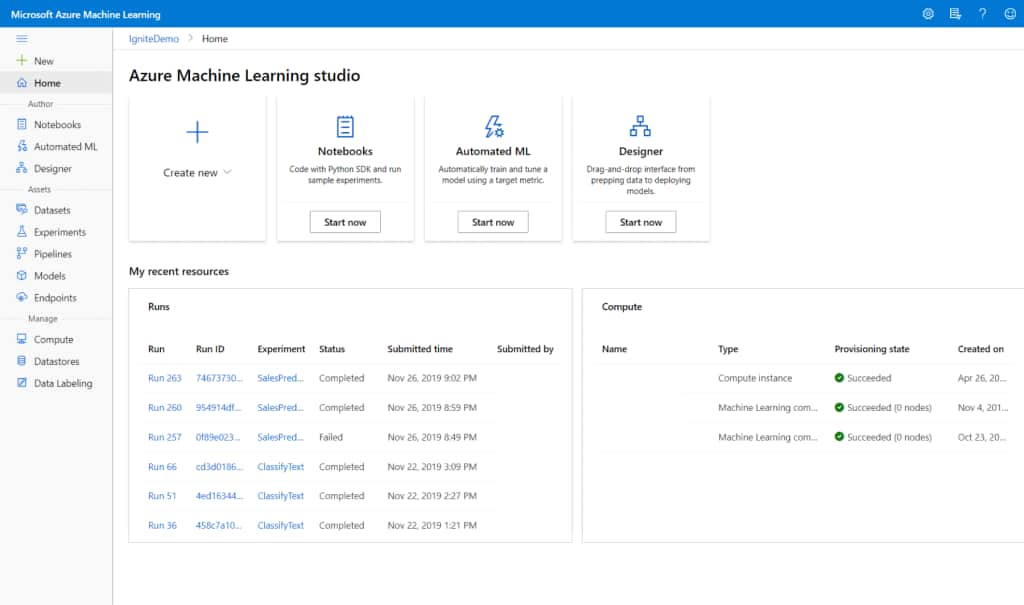 Hailing from the Microsoft technology powerhouse, Microsoft Azure is a global content delivery network that broadcasters rely on for fast delivery. This CDN is easy to configure and it uses a pay-as-you-go pricing structure, so you don't have to worry about being locked into a long-term agreement. 
Microsoft Azure brings together the support of other top-tier content delivery networks, including some that we've mentioned on this list.
Basic Functionality:
Microsoft Azure is a CDN that delivers video among other types of media.
Key Features:
Reliable security

Scalable, global coverage

Bandwidth analytics

Several options for integrations

Capable of handling high capacity delivery
Pricing:
Microsoft Azure uses a complex pricing structure based on zones and usage. We recommend checking out their pricing page to learn more about costs based on your unique broadcasting needs.
10. Sucuri
Sucuri is another great CDN provider. This platform offers software for content delivery and security. Sucuri has advanced firewalls that keep your content out of the wrong hands.
This content delivery network uses PoPs around the world to deliver high-quality content both near and far.
Basic Functionality:
Securi offers state-of-the-art firewalls and global content delivery.
Key Features:
Website security

Website firewalls

Global content deliveries

Adequately spaced PoPs

Support by ticket
Pricing:
Securi has four pricing plans with different scan frequencies. Content delivery is included with each plan. Here's how they are laid out.
Basic

: $199.99/year; security scans every 12 hours

Pro

: $299.99/year; security scans every 6 hours

Business

: $499.99/year; security scans every 30 minutes
Broadcasters can also opt for custom plans. These plans come with unlimited customer support and can be used for multiple sites.
Top 4 Online Video Platforms with Integrated CDNs
Now, let's shift gears and review a few of the top online video platforms with integrated video content delivery networks. When you need a video content delivery network and a video CDN network, it can be great to work with a service provider that can give you both at the same time. 
1. Dacast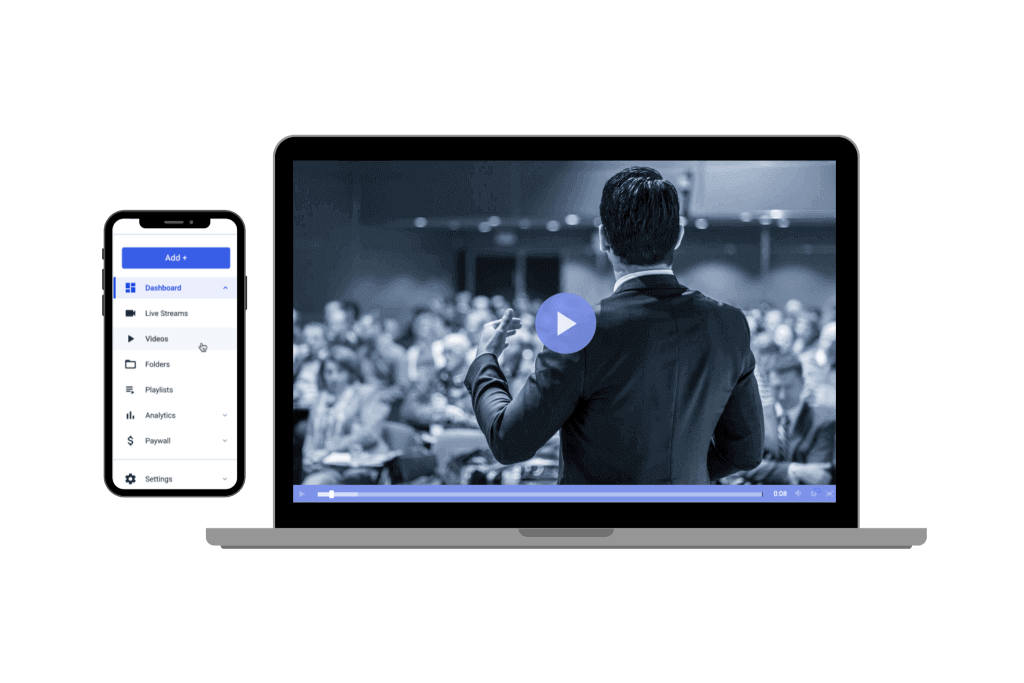 To kick off this review of CDN providers and OVPs, we will start by examining our own video hosting and streaming platform.
Basic Functionality:
All video content hosted on Dacast is delivered via top-tier CDNs from Akamai and Limelight. Our streaming solution includes various security features, offers 24/7 customer support, and an easy-to-use online video platform. All of this is available through every plan level. Dacast also uses an HTML5 video player to provide you with better performance, and which you can customize to your own needs.
Key Features:
New!
Pros:
Cons:
Takes a little bit of time to learn all of the features
Upload Guidelines and Specs:
Minimum dimension: None (but 240p is the recommended minimum)
Maximum dimension: 1080p or 4K (depends on the user's hardware and internet)
Video aspect ratio: No restrictions (but 16:9 is the default)
Max file size: None
Max video length: None
Total file storage: 10-1000GB (depends on plan)
Compatible video formats: MP4 (preferred), MOV, M4V, M2V, AVI, MPG, FLV, WMV, MKV, WEBM, OGV, MXF, ASF, VOB, MTS
Pricing:
Live streaming with Dacast comes at four levels. The video streaming pricing plans include:
Starter plan: ideal for newcomers with 1,000 TB of bandwidth and 50 GB of storage per month, at just $39 per month billed annually.
Scale plan:

–

includes 24 TB of bandwidth per year, with 1 TB of storage for $188 per month billed annually. These Scale pricing plans add phone support, monetization paywall, an M3U8 online player

for live channels, ad insertion, white-label Cnames, and

video API

access.

Event Plan:

–

For organizations who'd rather not sign a contract, and want to purchase bandwidth separately to live stream an event

. It offers 6 TB of bandwidth upfront, 50 GB of storage, and costs just $63 per month (or $750/year). Additional data and storage can be added as needed.

Custom Plan:

–

If your enterprise business has high-volume streaming needs, you can contact Dacast

for a custom plan tailored to your needs.
Read more here about live streaming pricing plans in more detail.
If you need a video hosting platform where you can customize the video player to fit your needs, with an integrated CDN video hosting service, Dacast is the way to go. Dacast also offers multi-CDN feature, which is the type of CDN you need for live video streaming. 
2. IBM Cloud Video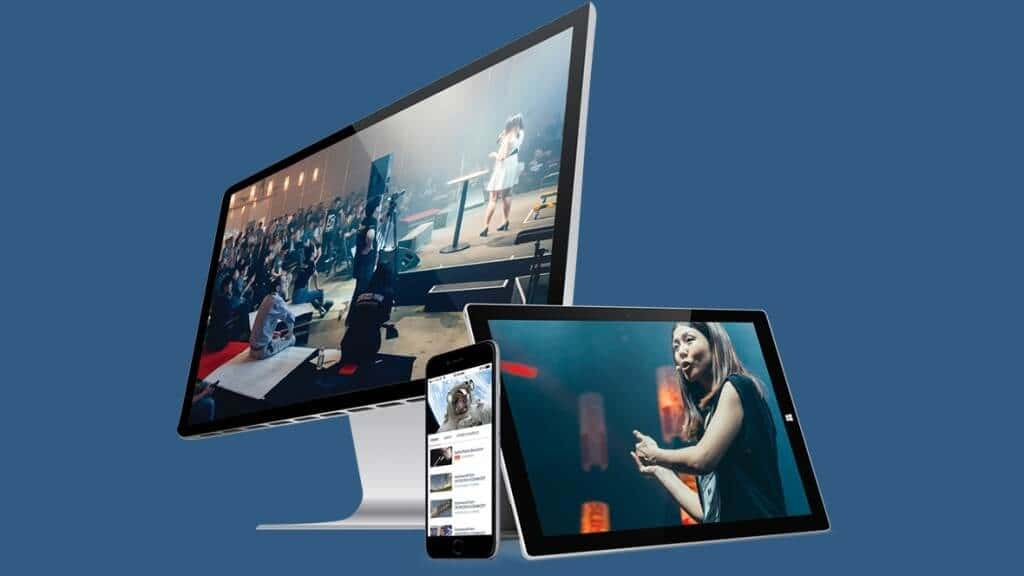 IBM Cloud Video came about after the acquisition of Ustream by IBM several years ago. Today, the IBM Cloud Video service offers a range of services, including video hosting and live streaming via "Streaming Manager."
Basic Functionality:
Key features of the IBM Cloud Video platform include custom branding on higher-priced plans, password-protected hosting, and an HTML5 video player. The service also includes HD broadcasting up to 720p resolution with full 1080 supported only on Enterprise plans.
Key Features:
4K streaming
Support for mobile streaming
Uses IBM internal CDN to distribute content
Reliable video distribution and workflow
OTT video management
Enterprise video streaming
Pros:
Hong Kong (China) video hosting
Monetization capabilities
Access to an enterprise-grade content delivery network
Cons:
API only available with high-end plans
White-label video player customization is only available with high-end plans
Upload Guidelines and Specs:
Minimum dimension: 480p (480 x 270)
Maximum dimension:  4K (3840 x 2160)
Aspect ratio: No published aspect ratio
Max file size: 4 GB
Max video length: No published limits
Total file storage: 1TB – 5TB (depends on plan)
Compatible video formats: MKV, MP4, MOV, FLV, AVI, WMV, MPEG2, H264, H263, MPEG4, VP6, VP8, THEORA, WMV, MP3, AAC-LC, NELLYMOSER, PCM, SPEEX, VORBIS, WMA
Pricing:
IBM pricing plans range from $99 to $999 per month and include the following:
Silver: $99/month
Gold: $499/month
Platinum: $999/month
Custom: Please contact IBM Cloud video for custom plan pricing.
When it comes to a reliable video hosting and CDN provider, IBM Cloud has been in the game for a long time. They can provide you with access to reliable video streaming CDNs. 
3. Vimeo Livestream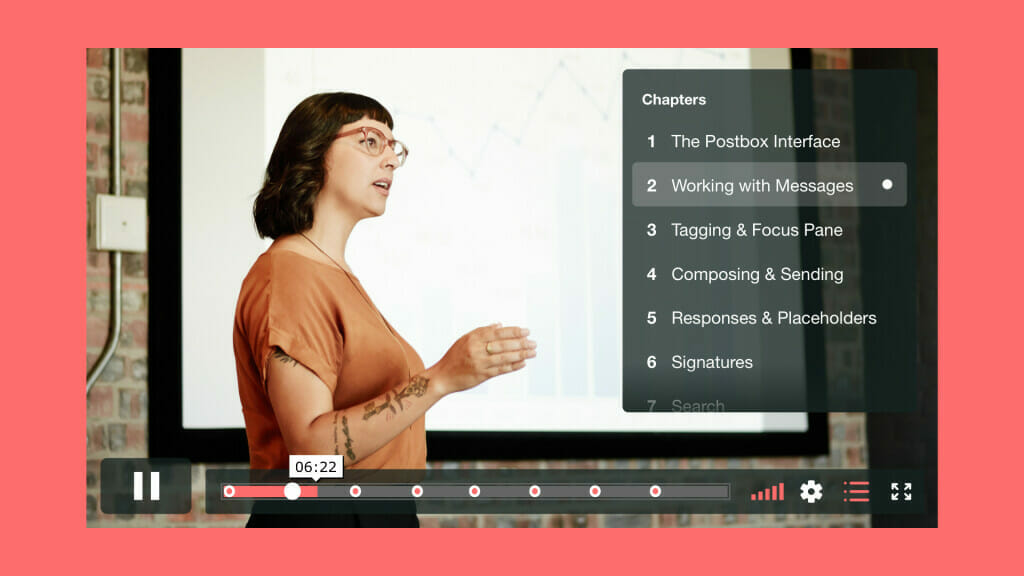 Founded in 2004 by a group of filmmakers, Vimeo is the next service we'll look at here. Vimeo acquired streaming platform Livestream in 2017, and today it provides live streaming and video hosting service.
Features of the Vimeo platform include a number of hardware and software integrations. The platform also offers an HTML5 video player, integrated chat, and no charge for bandwidth or storage.
Basic Functionality:
Like IBM Cloud Video, Vimeo has always been one of the more expensive video hosting services on the market. One element of this shift is the Vimeo OTT solution, which markets itself as an all-in-one streaming solution for live broadcasting and video hosting. As a streaming service, Vimeo OTT offers uploading from any device, player customization, and video analytics. Overall, Vimeo OTT targets larger-scale businesses with substantial budgets.
Key Features:
Full-HD quality
All-device video player
Adaptive bitrate streaming
Privacy tools
Embed to any website
White-label service
Live audience chat
Monetization tools
Pros:
Large storage capacity
High-quality videos and streams
Upload from anywhere
Video privacy and security
Cons:
Upload Guidelines and Specs:
Recommended dimension: 720p (1280 x 720)
Aspect ratio: 16:9, 4:3
Max file size: 3GB
Max video length: Information not available
Total file storage: Information not available
Compatible video formats: MP4 (recommended)
Pricing:
Vimeo Livestream offers three main pricing plans, including:
Vimeo Premium:
Premium pricing:

 $75/month

Their Premium plan includes both live streaming and VOD services. This plan is the way to go for professional broadcasting.
Vimeo Enterprise:
Enterprise Pricing:

 

Please contact Vimeo for custom pricing information

The Enterprise plan includes white-label service, monetization, and video APIs. It also includes branding control and added security features.
Vimeo OTT:
Starter Pricing:

 $1/subscriber per month

Growth Pricing:

 starting at $500/month

The OTT-specific pricing packages come with the Vimeo.com relationship. These plans include all the basics for starting your web-based OTT channel, as well as growing your OTT business solutions online.
For more details, check out our comprehensive guide to Vimeo Livestream pricing. If live streaming is your focus, Vimeo is a CDN video hosting platform to work with. 
4. Wowza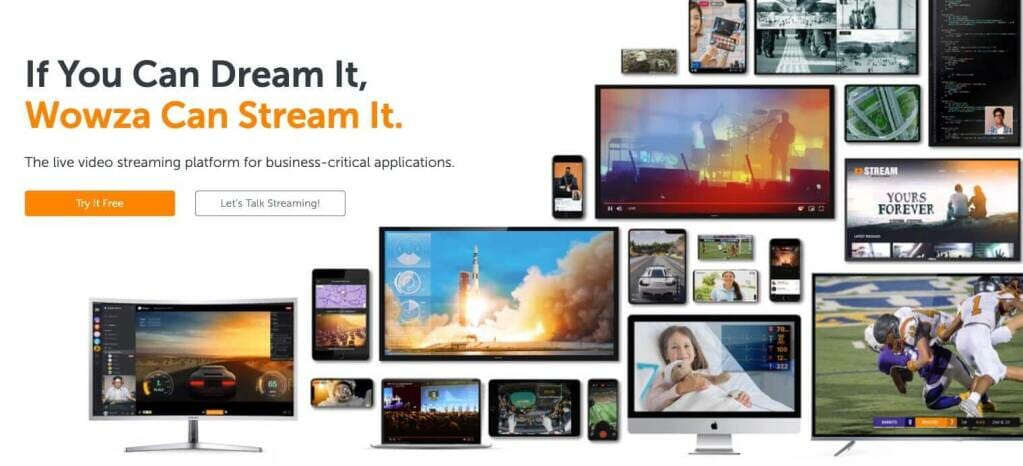 Next up in our review of CDN providers, let's take a look at Wowza Media Systems. Wowza is an online video platform that provides products and services widely used in the streaming video industry. This includes Wowza Streaming Cloud, their video hosting, and their streaming platform. Streaming Cloud is the service we will be looking at here.
Basic Functionality:
Wowza offers its Wowza Streaming Engine for self-hosted video workflows in addition to the Wowza Streaming Cloud, which is a comprehensive streaming solution.
Wowza allows broadcasters to build highly customized streaming workflows using third-party integrations, APIs, and other advanced features.
Key Features:
Cloud transcoding
Live streaming and VOD hosting
White-label video player for advanced customization
HTML5 video player for all-device video streaming
API access
Top-notch customer support
Pros:
APIs are available
Live stream recording
Cloud management portal
4K streaming
Wide range of security options
Cons:
Upload Guidelines and Specs:
Minimum dimension: 240p (320 x 240)
Maximum dimension: 4K (3840 x 2160)
Aspect ratio: 16:9, 4:3
Max file size: Not available
Max video length: Not available
Total file storage: 250 GB (depends on the plan)
Compatible video formats: MP4, FLV, MP3, SMIL, AMLST, ID3, NGRP
Pricing
Wowza recently overhauled its pricing plans and added several options. These are split into 2 main tiers: Streaming Cloud and Streaming Engine.
The Wowza Streaming Cloud offers 3 distinct pricing plans and services. Live Event Pricing, monthly plans include:
Pay As You Go:

$29/month, with a 3-month minimum; flexible streaming with low startup costs

Basic

: $99/month; includes 20 hours of live streaming and 1000 viewing hours based on video resolution of 720p

One Month Event

: $149 one-time purchase; includes 20 hours of live streaming and 1000 viewing hours also at 720p

Plus

: $499/month; includes 150 hours of live streaming and 7000 viewing hours based on video resolution of 720p
All of these Live Event plans include full brand control, multi-bitrate streaming, and HD and UHD streaming.
The Wowza Streaming Engine has its own pricing plans. These professional-grade streaming plans are billed annually and include:
Basic:

$175/month + $195/month

for each additional instance and $125/month for each additional prepaid instance
One Month Event:

$295/month + $295month

for each additional instance and $95/month for each additional prepaid instance
Enterprise: Please contact Wowza directly for access to their custom-tailored high volume enterprise solutions
Final Thoughts
With the information we've provided about the top CDNs on the market, you can make an informed decision about which to choose to deliver your video content. We have covered some of what we consider the best CDNs above.
Be critical of what you need out of a service platform, the budget you're working with, and pick a video streaming solution that offers help to their customers. If you're just beginning video streaming at your business, there will be hiccups down the road. Being able to speak to support services will allow those hiccups to go away quickly.
Interested in testing out a powerful live streaming solution today? We recommend taking advantage of the Dacast free trial. With 14-days of free access (no credit card required), you can test out nearly every Dacast feature. Just click the button below to sign up and give it a try today:
Any questions, comments, or ideas? Let us know below. We love to hear from our readers, and we will get back to you. If you're looking for more content, For regular tips on live streaming and exclusive offers, feel free to join our LinkedIn group.
Please note that this post was originally written by Max Wilbert. It was revised in 2021 by Emily Krings to include the most up-to-date information. Emily is a strategic content writer and storyteller. She specializes in helping businesses create blog content that connects with their audience.
Subscribe Now
Stay up-to-date with the latest features and product releases. Cool tips, expert advice and more.