Dacast Low Latency: What is the Live Streaming Latency on Dacast?
Low Latency Streaming
Dacasts new platform makes low latency streaming standards at every plan level. This means t o get low latency streaming set up, you simply need to select standard ( HTML5) or compatible (direct M3U8 format if this is available with your plan) as your stream type. You also cannot turn on the 30 Minute Rewind option.
What is Dacast's Live Streaming Latency?
Both of these choices will give you access to a channel with about 12 to 15-second latency, which is considered low latency by industry standards. The actual latency you experience might be longer if your internet upload speed is slow or your encoder is using too much of your computers resources.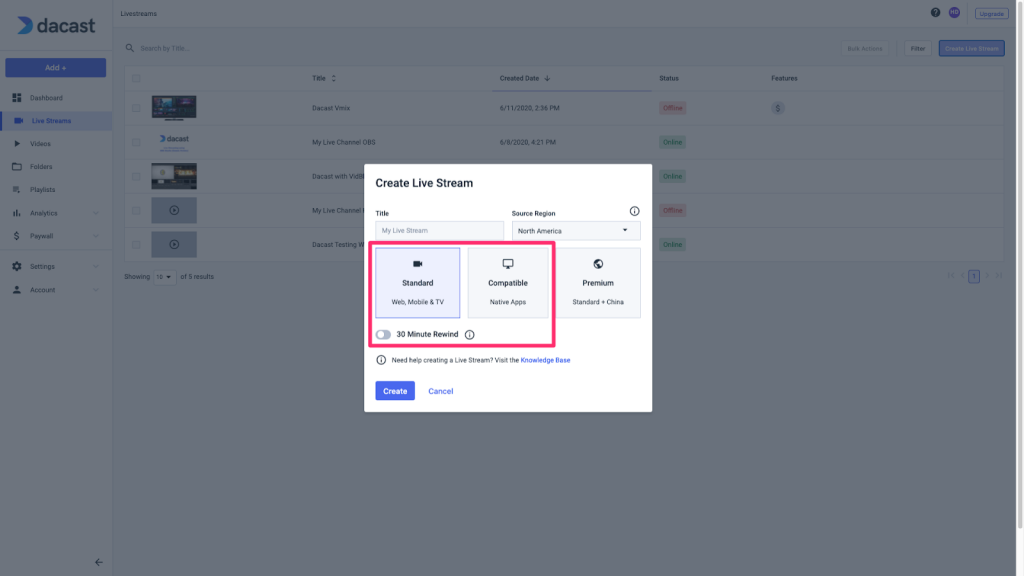 Please note that enabling the 30 Minute Rewind setting will increase the latency to roughly 40 seconds.
For any questions regarding low latency streaming with Dacast, please visit our support website. You can find detailed tutorials on all Dacast features, email support, and 24/7 chat support.
Any questions or need help/access to this feature? Please contact us.
Not yet a Dacast user, and interested in trying Dacast risk-free for 14 days? Sign up today to get started.
Additional Resources
Category: Live Streaming