Cloud Transcoding: What It Is and Why It's Important [2022 Update]
Online video streaming quality plays a massive role in the viewer experience. Video quality is so essential that OTT broadcasters risk revenue losses of up to 25% when their streaming quality is compromised.      
Transcoding and encoding are two essential processes that help broadcasters maintain high-quality streams. Cloud transcoding, in particular, is a newer technology that streamlines this process for broadcasters.
In this post, we will compare encoding and transcoding before we look specifically at cloud transcoding. We will discuss what cloud video transcoding is and why it is relevant in the live streaming arena.
We will wrap things up by discussing how to set up video transcoding and required encoding settings on Dacast.
Table of Contents:
The Confusing Array of Modern File Formats

Encoding vs. Transcoding: The Basics

What is Cloud Transcoding?

3 Reasons to Use Cloud Transcoding

How to Set Up Cloud Transcoding

How to Transcode Video on Dacast

Encoding on Dacast: Required Settings

Conclusion  
The Confusing Array of Modern File Formats
Before diving into all things encoding and transcoding, it is essential to recognize these processes' importance.
Modern video cameras record files in a confusing array of formats. These include H.264, DV and HDC, AVCHD (a variant of H.264), MPEG-2, ProRes, and various RAW formats (BlackMagic, Red Raw, ProRes Raw, etc.). Those are just the tip of the iceberg. 
More options may sound better, but here's the problem: hardly any of these formats will play for viewers on internet browsers because they're not designed for streaming. 
The solution? You've got to convert the files into streamable formats, where encoding and transcoding come into play.
Encoding vs. Transcoding: The Basics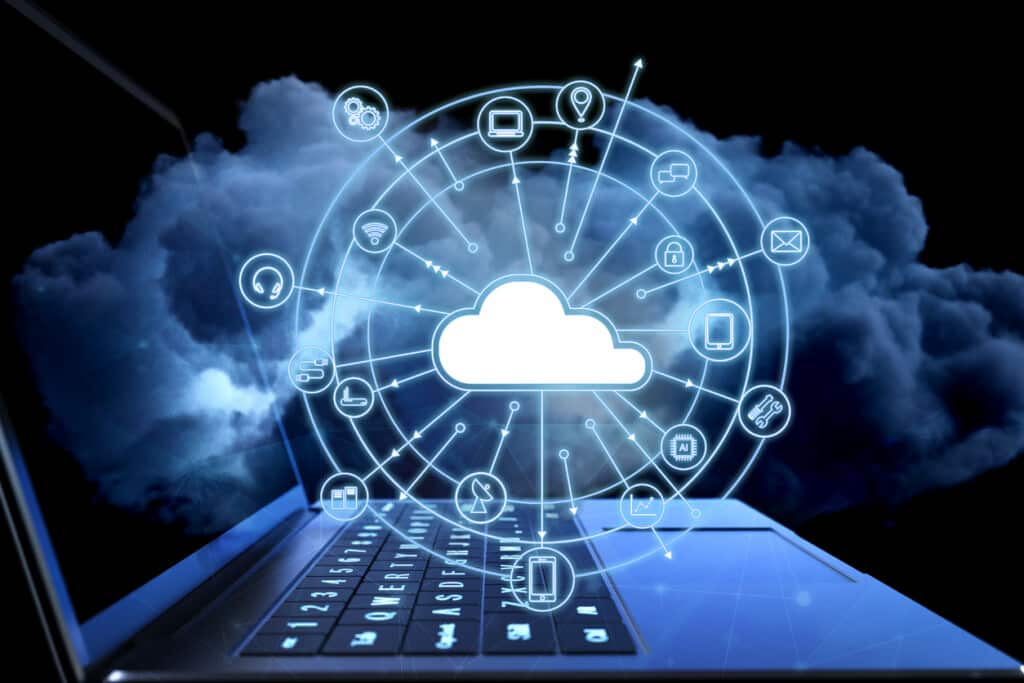 Encoding vs. transcoding is two very similar processes. They both have to do with transforming video files to make them streamable. The terms are often wrongly used interchangeably but are not the same.
Video encoding is defined as: 
"In video editing and production, video encoding is the process of preparing the video for output, [whereby] the digital video is encoded to meet proper formats and specifications for recording and playback through video encoder software."
Simply put, video encoding converts the non-streamable files from the camera (that we mentioned above) into a digital format that can be streamed over the internet.
Transcoding, however, refers to creating copies of video files in different sizes. These compressed files are called "renditions." The idea behind creating multiple renditions is that different internet speeds can handle different-sized files. 
A large video needs faster internet speeds than a smaller one. If your internet is slow and you try to stream a large video file, the quality will not be excellent. Skipping, buffering, and lagging will make it difficult to watch. Streaming a smaller video file will avoid these quality issues.
What is Cloud Transcoding?
For the purposes of streaming video online, we define cloud transcoding as:
Cloud transcoding is the process of creating several "renditions" of the same video in the cloud. Each rendition is transcoded to different sizes, allowing you to offer your video in other qualities. These renditions are used for multi-bitrate streaming in an adaptive bitrate player.
Although transcoding generally refers to creating renditions of a video file of different sizes, "cloud transcoding" is an umbrella term that describes when both encoding and transcoding processes happen in the "Cloud" rather than with the help of a piece of equipment.
Cloud transcoding allows broadcasters to offer video content in different qualities and multi-bitrates. The cloud transcoding / adaptive bitrate player duo will automatically select the appropriate rendition for each of your viewers based on the strength of their internet.
The advantage of using an HTML5 online video player with built-in cloud transcoding is that you don't have to rely on an external device or software to carry out encoding or transcoding. It streamlines the entire process.
3 Reasons to Use Cloud Video Transcoding
Cloud transcoding has become very important given the complications of video formats today. Here are three ways that cloud transcoding can improve your online broadcasting experience.
1. Ensure All-Device Compatibility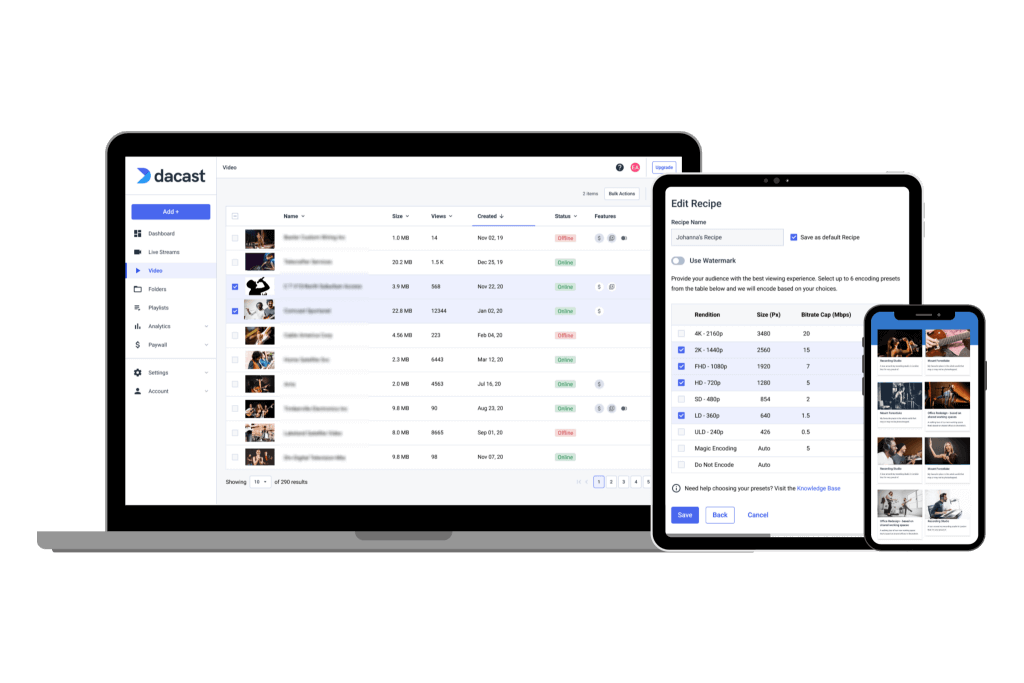 As mentioned above, many existing formats aren't compatible with streaming video content. Today, the gold standard for online video is H.264-encoded files in an MP4 container with AAC audio. H.264 remains the dominant codec, and 96.96% of browsers support it. Nothing else comes close.
Cloud transcoding can take almost any standard file format and automatically transcode it into H.264, with AAC audio, in an MP4 container. It does so automatically, with no technical knowledge required on your part. 
After cloud video transcoding, these uploaded files can be played on any device, including smart TVs, smartphones, laptops, desktops, tablets, game consoles, etc. In short, all-device compatibility ensures that playback is perfect on each type of screen.
2. Enable Adaptive Playback
Generally speaking, you choose the highest quality possible when you record a video. This results in a large digital file. However, this presents a problem for users with slow internet connections. Their internet speeds may not be fast enough to playback that video file in real time.
The solution is adaptive video playback. Adaptive playback means your online video platform keeps multiple copies of each video file. 
Users with fast internet connections will receive a high-quality copy of the video. Likewise, those with slow internet connections will get a lower-quality copy. Overall, adaptive playback results in "very little buffering, fast start time, and a good experience for both high-end and low-end connections." It's ideal for situations when network conditions fluctuate, such as when someone watches a video in a moving vehicle.
Adaptive playback depends on cloud transcoding to automatically create multiple "renditions," or quality levels, for each video file. Again, you can automate this process with cloud transcoding to save time and effort.
3. Cloud Video Transcoding Better Allocates Resources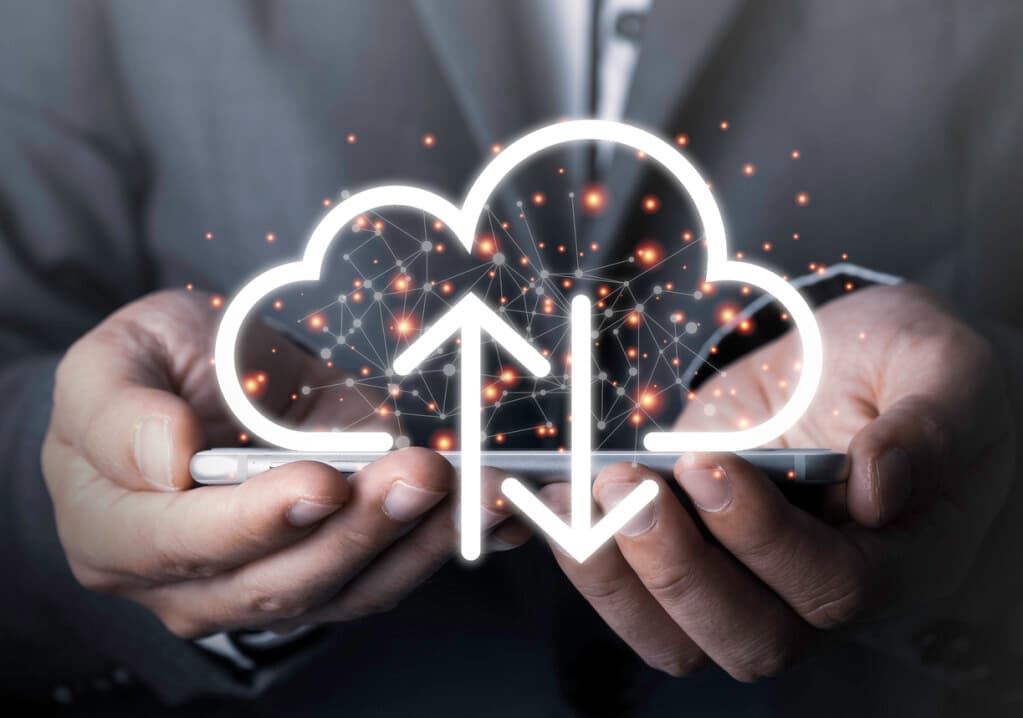 It's possible to transcode all your videos on computers in your offices or facilities. However, this method can incur unwanted costs. Another significant benefit of cloud transcoding is avoiding the expenses associated with transcoding in-house.
According to Streaming Media, cloud transcoding reduces costs due to "purchasing and renewing hardware/software. It also eliminates the operating expenditures associated with running such a platform—not just ongoing support, but electricity, floor space, and human technician support."
There's another factor at play that amplifies these savings: that's the issue of peak load. You should expect to meet maximum processing requirements at peak times with an in-house transcoding system. For example, you may try transcoding 4K, HDR, and HFR digital video files. Anyone who has done this before knows it challenges even the most powerful hardware.
Now, what happens when you have to transcode six videos simultaneously? Or a dozen? Two dozen? What happens when you have to do all of this on a tight deadline?
In serious environments, you may need to scale your transcoding capacity rapidly to meet peak demands. This is challenging when each expansion requires sourcing and buying new equipment, setting up streaming software, connecting it to the network, etc.
Cloud transcoding, in contrast, uses massive data centers and is scalable to any possible peak load. This allows you to keep costs reasonable, even if your peak processing requirements are high.
How to Set Up Cloud Transcoding
With that context in mind, let's cover how to set up cloud transcoding. 
First, it is possible to set up third-party contracts with outside encoding software vendors. However, there's also a much more straightforward approach. You can use an online video platform with cloud transcoding support, such as Dacast. These professional streaming platforms make it easy to upload your videos, transcode them, and deliver them all on the same platform.
To make cloud transcoding easy, Dacast offers a special feature called " ingest recipes." This tool allows you to create presets for standard transcoding settings. You can configure these settings to match the camera(s) you use most often. Then, you can apply these transcoding settings to any video upload with a single click. 
As a result, broadcasters can quickly and easily create multiple renditions of the same video with a single click.
How to Transcode Video on Dacast
Dacast makes transcoding very easy. It's as simple as configuring a few settings and initiating the process. 
Here's how it works:
Upload files to Dacast

Determine which videos must be transcoded in the "Video on Demand" section of your Dacast portal

Choose a video and go to the "Multi-bitrate" settings tab

Indicate the bitrates for the renditions that you'd like to create
Please note that Dacast's cloud transcoding tools do not encode live video feeds. This requires the support of an external RTMP encoder, but do not fret. There are free tools for this, like OBS Studio.
Dacast also includes a variety of other features that are useful for businesses. These features include monetization tools, analytics, API access for customization, SDKs for development work, and more. 
Encoding on Dacast: Required Settings
Dacast requires specific encoder setting configurations to ensure that the platform works appropriately and produces the highest quality of content.
Here are a few settings we require broadcasters to use when streaming with our video platform.
Required Live Encoder Settings
The following settings are required for live streaming with Dacast, regardless of your selected resolution and video bitrate:
| | |
| --- | --- |
| VIDEO CODEC | H.264 |
| FRAME RATE | 30 or 60 fps |
| KEYFRAME INTERVAL | 3 secs  |
| SCANNING | Progressive |
| RATE CONTROL | Constant (CBR) |
| AUDIO CODEC | AAC-LC |
| AUDIO BITRATE | 128 kbps |
| AUDIO CHANNELS | 2 (Stereo) |
| AUDIO SAMPLE RATE | 48 kHz (48,000 Hz) |
Resolution & Bitrate Settings
Here are the different video resolution and bitrate setting combinations for streaming in different qualities. You can choose from the ultra-low definition, low definition, standard definition, high definition, and full high definition.
| | | | | | |
| --- | --- | --- | --- | --- | --- |
|   | ULD | LD | SD | HD | FHD |
| Name | Ultra-Low Definition | Low Definition | Standard Definition | High Definition | Full High Definition |
| Video Bitrate (kbps) | 350 | 350 – 800 | 800 – 1200 | 1200 – 1900 | 1900 – 4500 |
| Resolution Width (px) | 426 | 640 | 854 | 1280 | 1920 |
| Resolution Height (px) | 240 | 360 | 480 | 720 | 1080 |
| H.264 Profile | High | High | High | High | High |
Please check out our dedicated Knowledgebase article for more information on Dacast's preferred and required encoder settings.
Conclusion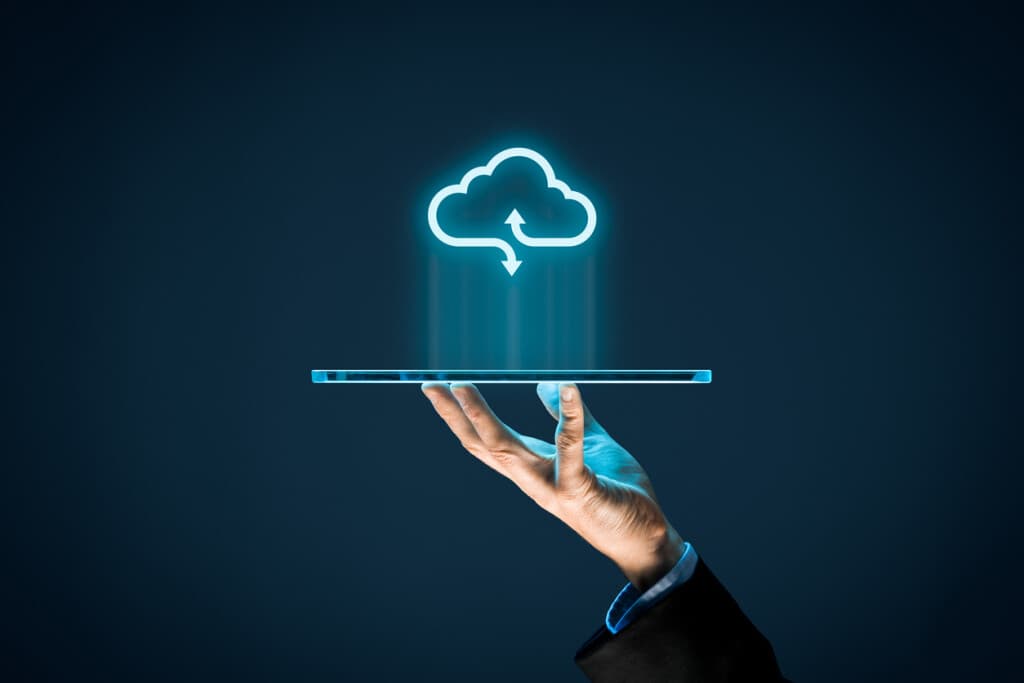 Cloud transcoding paired with adaptive bitrate streaming is the recipe for success for broadcasters who prioritize their viewers' experience.
In this article, we've covered everything you need to know about cloud live video transcoding. As we mentioned, cloud transcoding is an essential topic for broadcasters to understand and implement. In particular, transcoding can help boost your viewership and keep viewers happy by reducing buffering and improving the quality of the experience.
Contact our support team directly to discuss your specific needs if you're in the market for a video platform. We're here to help and can walk you through any technical questions you may have. 
Our live streaming and professional video hosting services can help you get up and running if you need additional assistance. 
We also invite you to test our professional features with a 14-day free trial of Dacast. All you have to do to get started is sign up today. No credit card is required.
Thanks for reading, and let us know your questions and feedback in the comment section below. We love hearing from our readers, and we'll get back to you as soon as possible.
You can join our LinkedIn group for more regular tips on live streaming and exclusive offers.