How can I broadcast live video on the internet? The process of live streaming has become easier than ever before. This post will walk you through why live streaming is growing so rapidly. Here's a hint: companies that use video grow revenue 49 percent faster than those that don't.
Then we'll get into the main topic of this blog: how to get started with live streaming solutions today. We'll also talk briefly about equipment and settings for live broadcasting.
Why Live Streaming is Gaining Popularity
Live streaming is growing fast. One report showed that "Live video grew by 93%, with an average viewing time of 26.4 minutes per session." That's a significant amount of time, and it's reflected in the success businesses are finding with live video. Small and Medium Businesses (SMBs) can greatly benefit from live streaming. Animoto's Social Video Forecast suggests that 76.5% of marketers and small business owners are getting results with video marketing.
There are plenty of statistics to demonstrate the success of live video. For example, fifty-five percent of enterprises are now using live video for their company or division-wide broadcasts. Relatedly, the video streaming market is predicted to be worth $30.6 billion in total by 2022.
Overview: How Can I Broadcast Live Video on the Internet
Live streaming requires 4 main elements:
A camera, and audio recording equipment
An "encoder" designed to broadcast video over the internet, and if necessary for mixing and production
An internet connection
An online video platform that supports live streaming
You probably have used a video camera before. But other elements here a more obscure. Let's look at each of these in turn to introduce you to the essential tools for live streaming.
1. Camera and Audio Equipment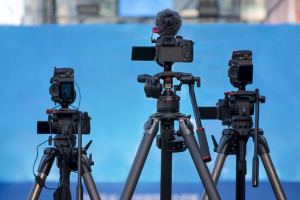 A video camera is obviously essential for live video. There are thousands of different live streaming cameras available. Many of them have a built-in microphone that's decent quality as well. However, for best audio quality, you'll want to use an external microphone of some sort. This will also allow you to adapt to the circumstances at hand by, for example, using a lavalier mic for interviews, or using a directional mic to cut out background noise.
We don't have the space in this article to go over the details of audio and video equipment for streaming. However, we have covered this topic in detail in the past. Check out our guide to live streaming equipment for more information.
2. Encoding (and Mixing) for Live Streaming
Next, let's take a look at encoders. An encoder is a tool that prepares your video stream for broadcasting and delivers it via a live broadcast protocol. Broadly, there are two types of encoders: hardware (like the Teradek VidiU pictured here) and software.
Software encoders are apps that run on a computer or other device. These apps include mixing and production tools for doing things such as splicing together multiple video feeds and adding lower thirds and other embellishments. Encoding hardware, on the other hand, may be more mobile and doesn't require a full-fledged computer (laptop or desktop) to run on, making it often a better choice for broadcasting from a remote location. Rack-mounted hardware encoders are also preferred for broadcast studio use.
Some of the better encoding software programs include Wirecast, vMix, and VidBlasterX. As with cameras, you can find encoding software in a wide price range, from free to quite expensive. The best choice depends on what kind of broadcast you want to put together, how many sources of video feed you are using, and how much fancy video footwork you want to include.
3. Internet Connection for Live Streaming
No matter what type of encoder you use, a good internet connection is essential. To broadcast live video, you need an internet connection that's reliable and that has enough upload speed to do the job. You can calculate your necessary upload speed using the formula we describe here. In general, you should have an upload speed twice as fast as necessary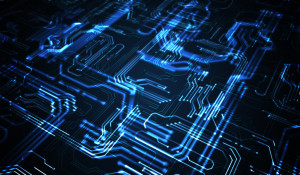 As long as your wireless connection gives you reliable upload speed, you should be fine. If you're wondering about the exact speeds,  here's one example. We recommend an upload speed of roughly 20 Mbps for reliable full-HD live streaming at 10 Mbps. If you're doing multi-bitrate streaming, you'll want a bit more.
When broadcasting from a remote location where your usual Internet link isn't available, one of the best options is to use a smart phone with a mobile hot spot. Or if you need higher bandwidth, you can use a cellular bonding solution.
4. Broadcasting Live via an Online Video Platform
The internet connection is valuable because it delivers your live video to an online video platform, or OVP. An OVP is a video service that hosts your video, delivers it to viewers, and makes it easy to embed a live stream on your website.
For businesses, the best option is to use a white-label professional video service such as Dacast. Dacast supports both live streaming solutions and video on demand. It's a "white-label service" because the service's logo or identifier doesn't appear to your viewers. You can easily add your own logo. Compared to social video platforms, Dacast offers plenty of advantages. These include:
Video monetization tools
Security tools
Analytics
Video API and SDKs for mobile apps and custom integrations
SEO benefits accrue to your website
No distracting "recommended videos"
You retain all content rights
Conclusion: How to Broadcast Live Video with Success

These four elements represent the foundational basics for live streaming.  You need a camera or other source of video feed, a good Internet connection, an encoder or encoding software, and a streaming platform.
Everything else about live streaming involves the art rather than the science. Whole books can be (and have been) written about using video cameras and video graphics software to produce high-quality video. Likewise, there are a wealth of resources available about organizing and directing a live performance for broadcast.
So this is just the beginning. But as with anything else, mastering the essentials is a good place to start.
Do you need an online video platform for hosting and live stream delivery? You should check out the Dacast platform! Dacast includes CDN-delivered live streaming and VOD hosting, video monetization, analytics, and more—all at affordable prices. Plus, we offer a 30-day free trial, with no credit card required. You can set up an account and start streaming live in a matter of minutes! Click this button to sign up for the free trial and start streaming with Dacast today!
If you have special concerns about outdoor live streaming, feel free to contact our team directly to discuss your needs. We're here to help, and would love to walk you through any problems or concerns!
For more regular tips on live streaming, as well as exclusive offers, you can join our 
LinkedIn group
. Thanks for reading, and best of luck with your live streaming endeavors.