How to Broadcast Live Video Online – Top Tips for 2022
The popularity of live video broadcasting has been steadily increasing because online video broadcasting is one of the best ways to capture your audience's attention.
According to HubSpot, video is the number one form of media used in content marketing strategies, overtaking blog posts and infographics. Since video is on the rise and essentially the future of business, you may be wondering how to broadcast video on the internet.
Well, you are in luck! In this article, we'll walk you through the ins and outs of online video broadcasting. We'll discuss why this type of media distribution is so popular among businesses and other professional organizations before getting into the step-by-step process for broadcasting video content for your own streaming needs. We will make sure you understand how to broadcast live video over the internet. 
To wrap things up, we will discuss five of the top video broadcasting platforms for professionals.
Table of Contents
Why Live Streaming is Gaining Popularity

Live Streaming Trends and Statistics

How Does Live Broadcasting Work

How to Broadcast Live Video Online

Online Video Broadcasting Platform Comparison

Final

Thoughts
Now that you know what we're about to cover, let's start with a deep dive into why live broadcasting has become such a fixture.
Why Live Streaming is Gaining Popularity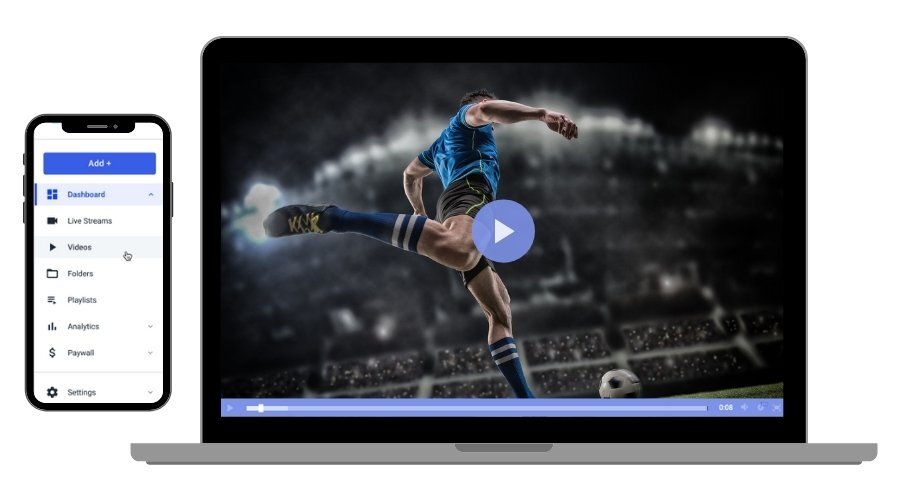 Online video broadcasting is the distribution of video and/or audio content to an audience over the internet. Live streaming is when an online video is broadcast over the internet in real-time.
Live video broadcasting is growing fast. One study found that "live video grew by 93%, with an average viewing time of 26.4 minutes per session." That's a significant amount of time, and it's reflected in the success that businesses are finding with live video.
Small and medium businesses (SMBs), in particular, can greatly benefit from live streaming.  Companies that use video grow revenue 49% faster than those that don't. Over 55% of enterprises are now using live video for their company or division-wide broadcasts. Relatedly, experts predict that the video streaming market is expected to reach a value of $102.09 billion by 2023.
In 2021, we saw continuous growth of online broadcasting as the COVID-19 pandemic. In 2022, with lockdowns and restrictions loosening up, businesses and organizations have continued to embrace the connectivity that live video broadcasting provides in order to interact with employees, clients, and new leads.
Live Streaming Trends and Statistics
The stats show that live broadcasting on the internet is powerful and here to stay. 
How Does Live Broadcasting Work?
Streaming live video can be useful for many things, such as sports games, a church service, or a product launch. Live streaming these sorts of events allows people to participate no matter where they are located.
Most online broadcasts are powered by over-the-Top (OTT) streaming technology. Currently, more than 64 million U.S. households are using OTT streaming services in addition to or in place of traditional video distribution methods, such as satellite or cable. Video broadcasting has become commonplace in U.S. households. 
Worldwide OTT revenue was roughly $68 billion in 2018. That was a 33% jump compared to 2017. Experts predict that the number will rise to $210 billion by 2026.
How to Broadcast Live Video Online
Hosting online video broadcasts requires a bit of preparation. The streaming setup process looks a little different for each broadcaster since it depends on your unique goals and needs.
Let's take a look at some of the general steps for preparing a professional streaming setup. These general steps will allow you to learn how to broadcast live video.
1. Create a Plan
Every successful broadcast starts with a solid plan. Before you start building your streaming setup, take some time to determine what you'd like to accomplish with your video broadcast. Make a list of your specific goals and what features you'll need to reach these goals.
Figure out who you want to reach with your streams and why you want to reach them. It is also valuable to get an estimate of how many people will view your streams because it will help determine how much bandwidth you'll need.
Knowing what you want to share, and who you want to reach with your content, will help you choose the best broadcast live stream set-up. 
2. Invest in Camera and Audio Equipment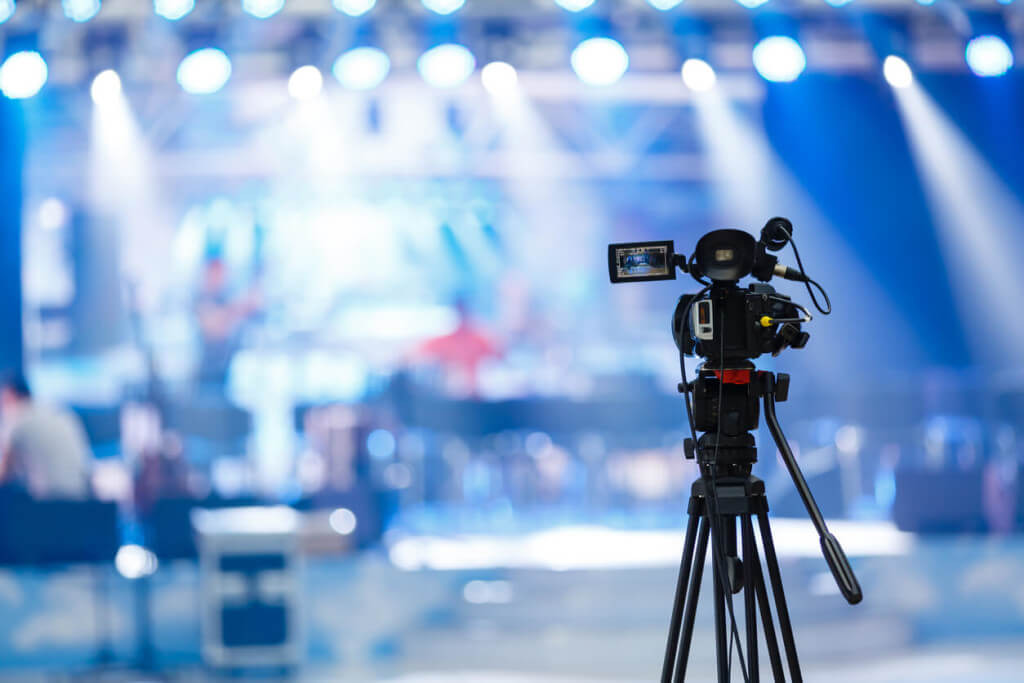 Broadcasting requires different types of equipment.
The first piece of equipment your business will need for broadcasting video is a camera for live streaming. There are thousands of different live streaming cameras available, but don't feel overwhelmed by the options. Like most products, live streaming video cameras come with trade-offs.
Entry-level video cameras tend to be cheaper and lightweight. The video quality can be good, but only if lighting conditions are ideal. They lack manual controls and include only basic connectivity.
These cameras range from $300 to $800, including smartphone cameras, action cameras, and entry-level camcorders

Our top pick: Panasonic HC-VX981K, $797.99
Professional video cameras include pro-connectors like XLR and SDI. They tend to have large, high-resolution sensors that provide excellent image quality, even in poor lighting conditions. Build-quality is higher, with manual controls, making them more durable. Some professional cameras will even allow the use of interchangeable lenses.
These cameras range from $1,500 to $25,000+ and include professional camcorders, EFT cameras, and cinema cameras

Our top pick: Panasonic AG-CX350, $3,695
Once you have your video camera, audio is the next important piece of equipment for video broadcast.
Many cameras include a built-in microphone of decent quality as well. However, for high-quality audio, you can purchase an external microphone. This will also allow you to adapt to the circumstances at hand. There are three basic tiers of audio live streaming equipment:
Low-Medium Quality: The built-in microphone on entry-level and prosumer cameras.
Medium-High Quality: USB and 3.5mm microphones, or built-in microphones on professional live video cameras.
Professional Quality: XLR microphones.
You can use a lavalier microphone for interviews, or a directional mic to cut out background noise.
A basic $16 wired 3.5mm lavalier mic can greatly improve your audio quality over the built-in microphones on entry-level video cameras or phones. You can also upgrade to a high-end 3.5mm microphone to deliver greater quality.
If you want to maximize audio quality to the highest level, consider XLR microphones. This is the professional standard for quality and durability, and it's been that way for decades.
To broadcast on the internet, you need to invest in a camera and microphone. 
3. Choose an Encoder
A video encoder is a tool that prepares your video stream for broadcasting by converting it from a RAW file to a digital one. This makes it possible for the video to be transmitted from the origin to the viewer over the internet.
There are two main types of encoders: hardware encoders and software encoders.
Hardware encoders are dedicated processors that use a designed algorithm to encode video and data into streamable content. These encoders come in smaller, portable boxes or larger permanent fixtures. They support a wide range of sources, but most often HDMI and SDI.
Hardware encoders are usually built to last and can support 24/7 video streaming without crashing, ideal for advanced streaming use cases. There are also some specialty hardware encoders on the market that use battery power and cellular data connections to stream live video from remote locations.
Live stream encoding software programs, on the other hand, run on a computing device, like a laptop or desktop computer. They need to be paired with a capture card or other means of connecting your cameras to your computer to capture video. These software packages also integrate mixing and production tools.
Software encoders appeal to beginner and intermediate broadcasters because of their low cost and customization features. However, software encoders do lack the overall latency speed that hardware encoders offer, which is something to consider when deciding on the right encoder for your live stream.
As with cameras, you can find encoding software in a wide price range, from free to professional-grade expensive. The best choice depends on what kind of broadcast you want to put together, how many video feed sources you are using, and how much fancy video footwork you want to include.
4. Secure a Reliable Internet Connection 
No matter what your streaming goals might be, a strong internet connection is essential. You'll need a reliable internet connection with a sufficient upload speed. In general, you want your upload speed to be twice as fast as the bitrate that you are streaming in.
We recommend an upload speed of roughly 20 Mbps for reliable full-HD live streaming at 10 Mbps. If you're doing multi-bitrate streaming, however, you'll want a higher upload speed.
A tethered internet connection is preferred in most streaming setups, but WiFi or cellular data can suffice. The best option for remote streaming is using a smartphone with a mobile hot-spot. If you need higher bandwidth, you can use a cellular bonding solution.
5. Chose an Online Video Platform
An online video platform (OVP) is software t hat hosts your video, delivers it to viewers, and makes it easy to embed live videos on your website. It gives you the ability to broadcast live video to an audience and then save that stream in case others wish to find and watch it one day.
For businesses, there are many options available. The best option is a professional white-label video solution, such as Dacast. Dacast supports both live video and VOD streaming content. It's a "white-label service" because the service's logo or identifier doesn't appear to your viewers. You can easily add your logo to create an on-brand viewing experience. An online video platform is essential for a professional video broadcasting process. 
6. Configure Your Setup and Start Streaming
Once you've prepared all of the individual components for your streaming setup, it is time to get them all working together. You have to connect your sources to your online video player, configure your encoder settings, and embed your video player.
When your streaming setup is complete, it is time to start your stream. On most platforms, this is as simple as clicking "Start Streaming."
Those are the basic steps you need to follow in order to know how to broadcast online.
Online Video Broadcasting Platform Comparison
In our comparison of the top streaming platforms for online broadcasting, we'll review the following:
Overview and company history
Basic functionality
Key features
Detailed features
Pros/cons
Pricing
Best use case
Best business use case
These are the features that are going to impact your video broadcast the most, and thus are the ones that we focus on in our comparison of the best streaming platforms for broadcasting online.
1. Dacast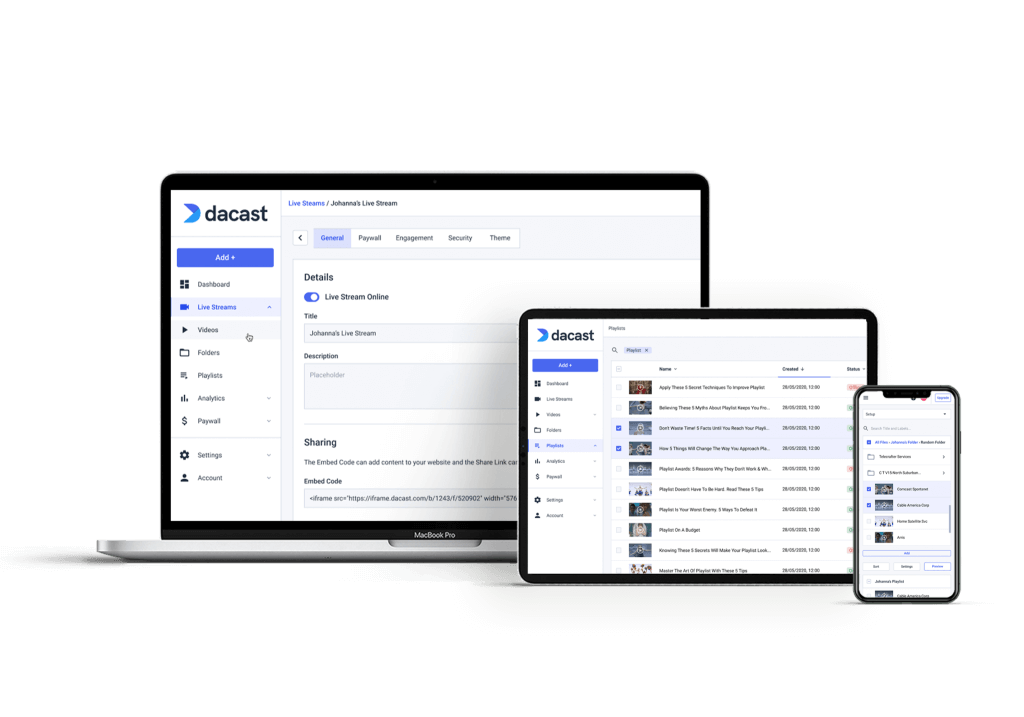 Dacast is a streaming and video hosting platform that is great for online broadcasting. Dacast is a full-featured, white-label streaming solution, featuring a professional unified platform for both live streaming and video on demand (VOD) content.
Dacast provides comprehensive live video broadcasting and online video hosting services. Businesses can embed videos on their own websites while maintaining 100% control of their content. Among other features, Dacast offers an integrated paywall, password protection, referrer restriction, and an analytics dashboard.
Key Features:
Dacast distinguishes itself by offering high-end features with competitive pricing plans. These include ad-free broadcasting, white-label streaming on all plans, and top-tier CDN delivery. 24/7 phone support is also available for Event and Scale plans.
Additionally, the Dacast online video platform stands out from other OVPs with its ease of use and accessibility. Even new broadcasters can create a new live channel and start a new live stream in just a few minutes.
Detailed Features:
New!
Pros:
Cons
:
Requires a bit of a learning curve
Upload Guidelines and Specs:
Minimum dimension: none (but 240p is the recommended minimum)

Maximum dimension: 1080p or 4K (depends on the user's hardware and internet)

Aspect ratio: no restrictions (but 16:9 is the default)

Max file size: none

Max video length: none

Total file storage: 10-1000GB (depends on plan)

Compatible video formats: MP4 (preferred), MOV, M4V, M2V, AVI, MPG, FLV, WMV, MKV, WEBM, OGV, MXF, ASF, VOB, MT
Pricing:
Monthly service with Dacast comes at three pricing plan levels. The plan packages are as follows:
Broadcasters can contact Dacast directly to learn more about custom-priced high-volume plans.
Best Use Case:
Dacast is best suited for professional broadcasters looking for a unified streaming platform, with advanced hosting capabilities, and 24/7 customer support.
Dacast is ideal for:
2. Brightcove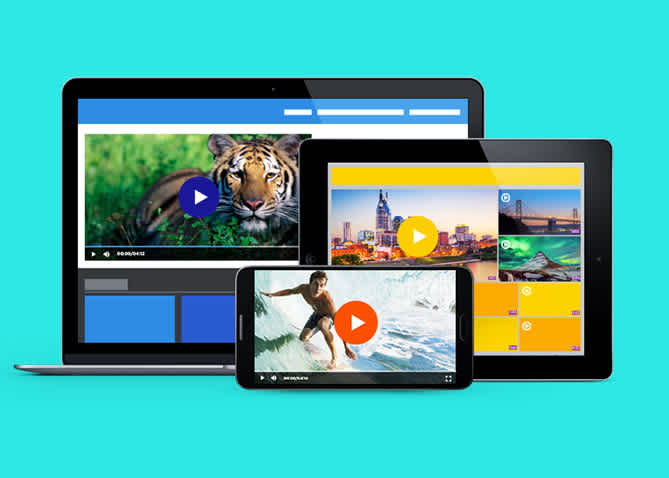 Brightcove is an online video platform that targets large businesses and was founded in 2004 by Jeremy Allaire and Bob Mason. 
Brightcove divides its product offerings into several distinct categories. These include Video Player, OTT Flow, Video Marketing Suite, and several others. Among other offerings, Brightcove's streaming and hosting platform is called Video Cloud. This platform includes an all-screen player and supports monetization.
Key Features: 
Brightcove's technology claims to defeat ad-blockers and succeed in inserting video ads into content streams. While it's not clear if this method can defeat the latest generation of ad-blockers, it's still valuable for businesses following that model of content monetization. 
Additionally, their marketing tools are valuable and functional, which makes this platform a great option for enterprises.
Detailed Features:
Monetization & advertising

HTML5 all-device video player

Video analytics

Social publishing tools

Token-based REST APIs

24/7 customer support
Pros:
Video library management

HTML5 video

Video analytics

Live event streaming

Monetization options
Cons:
Not very user-friendly

Support isn't great

No built-in naming conventions

You have to pay for 24/7 support

No China delivery
Upload Guidelines and Specs:
Minimum dimension: Determined by user

Maximum dimension: Determined by user 

Aspect ratio: No restrictions (since Brightcove uses a responsive player)

Max file size: No limits on files size

Max video length: No published limits

Total file storage: Varies by plan

Compatible video formats: MP4, MOV, FLV, AVI, WMV, MKV, 3GPP
Pricing:
Since Brightcove mainly targets enterprise-level clients, they offer several custom-priced streaming plans at high price points.
The three pricing tiers include:
Starter: includes 50 to 200 videos, up to 100,000 plays, and 2-5 users

Professional: unlimited videos, 100,000+ plays, and no overages plays, with +10 users

Enterprise: unlimited videos, 100,000+ plays, and no overages plays, with 10+ users, unlimited upload, and analytics-only users
Interested broadcasters can contact their sales department to receive a quote or sign up for a 30-day free trial.
Best Use Case:
Brightcove would be best for professional broadcasters who have enterprise-level live streaming needs. This platform primarily targets publishers, broadcasters, marketers, enterprises, retail, and the sporting industry.
3. Kaltura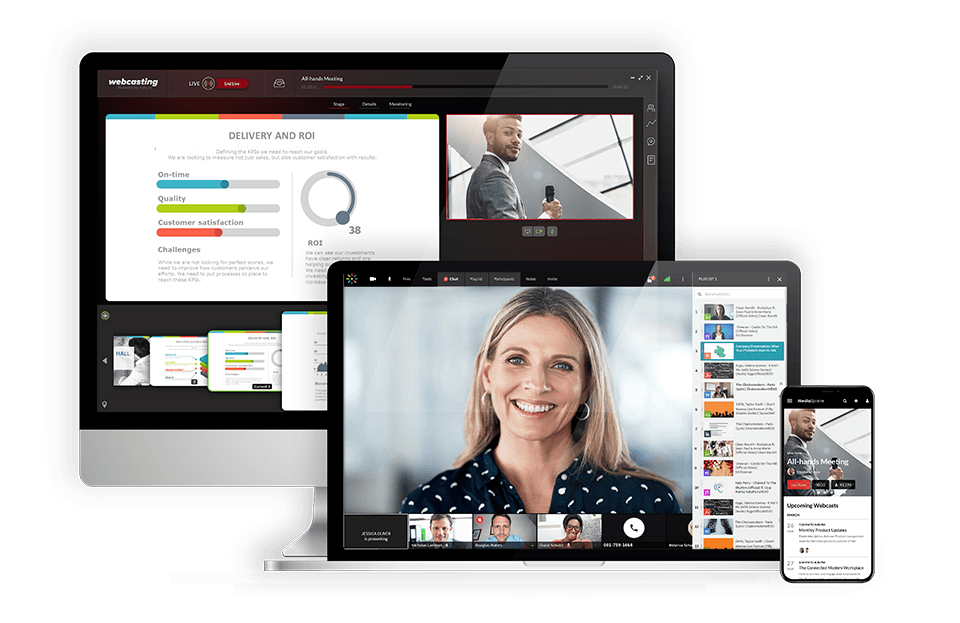 If you are looking for a more customizable solution to help you broadcast online, Kaltura could be an option for you.
Kaltura is a New York-based software agency that was founded in 2006. With a video management foundation in its open-source software, Kaltura offers a unique focus in the OVP market.
While the Kaltura software is free, it requires an infrastructure of servers for hosting and distribution. That said, Kaltura offers cloud-based video hosting and distribution services for both VOD and live streams.
Key Features:
Kaltura shines when it comes to extensibility. The open-source nature of their software means that a community of users creates and shares countless add-ons and integrations.
Kaltura's downside, however, is that the platform can be confusing to use. With so many different features, it can be overwhelming for beginner users.
Detailed Features:
Multi-bitrate and adaptive streaming are included

Global content delivery via a combined multi-CDN approach (with the option to bring your own CDN)

Tech support via a ticket-based system, which is slower than chat or phone

Video API access

Security features, including a range of authentication and encryption options

Monetization, including all major models (subscription, advertising,

PPV streaming

)
Pros:
Many available features

Good monetization options

Robust security
Cons:
No phone or chat support

Highly complex

No China delivery
Upload Guidelines and Specs:
Minimum dimension: 180p (320 x 180)

Maximum dimension: 1080p (1920x 1080)

Aspect ratio: 16:9, 4:3

Max file size: 2GB

Max video length: Not available

Total file storage: 10GB to Unlimited (depends on the plan)

Compatible video formats: MOV, MP4
Pricing:
Kaltura does not publish exact pricing on its website since each plan is flexible. Rather, broadcasters can purchase credits to spend on bandwidth and access to different integrations.
Please contact Kaltura directly for a custom quote.
Best Use Case: 
Kaltura is best suited to showcase your videos and leverage video to teach, learn, communicate, collaborate, and entertain. Historically, this company has worked most extensively with educational institutions.
4. Flowplayer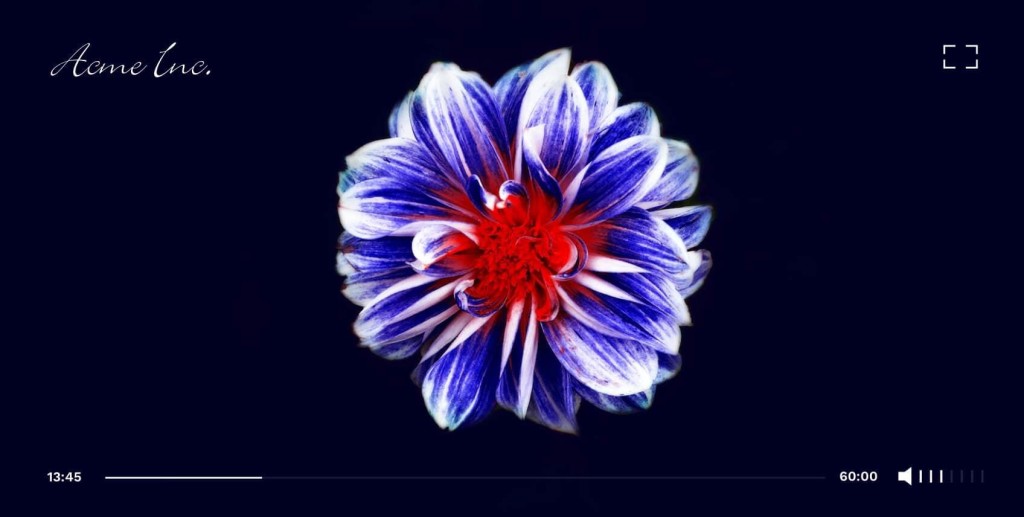 Flowplayer was launched in 2013. The company was originally known for its powerful video player, but it has since developed to offer valuable hosting solutions for online video broadcasts. When it comes to feature offerings, Flowplayer is known for its white-label streaming services and top-of-the-line monetization solutions.
The main purpose of Flowplayer is to provide smaller businesses with the tools they need to host, stream, and monetize videos with a sleek and professional video player.
Key Features:
If you are looking for an online video platform that is simple and straightforward, Flowplayer could be an option for you. It is most widely known for its reliable video player and monetization tools. It has very straightforward pricing as well.
Detailed Features:
High-quality video player

Live streaming capabilities

Award-winning monetization solutions

Powerful video analytics
Pros:
Reliable video player

Sleek interface
Cons:
Upload Guidelines and Specs:
Minimum dimensions: 426 x 240

Maximum dimensions: 3840 x 2160

Supported aspect ratios: 16:9 (default)

Maximum file size: unavailable

Maximum video length: unavailable

Total file storage: 50 GB, 100GB, or custom (depending on the plan)

Accepted video formats: MP4 (recommended)
Pricing:
Flowplayer has two pricing plan plans, including:
Starter: $49/month; 500 GB of bandwidth; includes 50,000 monthly plays, custom player, video management, playlists, and analytics
Enterprise: custom-pricing; custom-built to cater to advanced streaming needs
Best Use Case:
Flowplayer is well suited for broadcasters that are looking for an all-in-one platform to take your video to the next level. This online video platform serves publishers, broadcasters, digital media houses, and small to midsize businesses.
5.  Wistia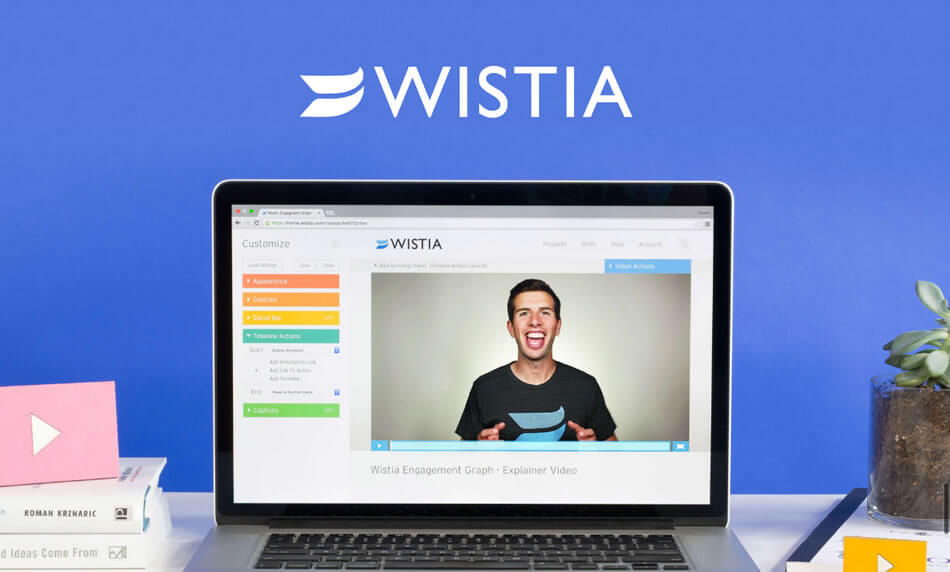 Wistia is another option for hosting online video content. This platform is great for online video hosting, but it does not offer live streaming functionality.
Wistia's video marketing software has a primary goal to engage and grow a business's audience. Their OVP includes recording, hosting, collaboration, and management solutions.
Key Features:
Wistia's key feature is that they provide a television-quality experience for their viewers that helps users grow their audiences. They are known for being the online video platform that puts users in control of their content.
Detailed Features:
Multi-bitrate and adaptive streaming

Global content delivery

Tech support, but premium support is only available on custom-priced plans

Video API access, with six different APIs available

Security features, including password protection, email gating, and domain restriction
Pros:
User-friendly analytics

Mostly unlimited bandwidth

Integrations with various CRMs

Great security features
Cons:
No live streaming

No monetization

Extra videos add to cost

No China delivery
Upload Guidelines and Specs:
Minimum dimensions: None

Maximum dimensions: Maximum of 4K (3840 x 2160)

Supported aspect ratios: Any

Maximum file size: 8 GB

Maximum video length: 2 hours

Total file storage: Up to 10 videos with the pro plan ($99 per month), $0.25 per month for every extra video

Accepted video formats: MP4 (recommended format), .MOV, .AVI, .WMV, .FLV, .MKV, 3GPP
Pricing:
Wistia has three pricing plan tiers, including:
Free: No cost to use; up to 250 subscribers and 3 videos; cannot remove Wistia's branding from the video player

Pro: $99/month; 10 free videos with additional videos for $0.25/each; white-label video player

Advanced: custom pricing; 100 free videos with additional videos for $0.25/each; multiple channels, 250+ subscribers
Best Use Case:
Wistia is best suited for video marketing needs. Companies like Mailchimp and Moz have used Wistia for their marketing capabilities.
Wistia is for a business that is looking to grow its brand through video. This platform offers video SEO and tools to help create ads on search and social for marketing purposes.
Final Thoughts

Live video broadcasting is relatively straightforward, which makes it a great option for businesses that are looking to take their businesses to the next level by connecting with their audience with this engaging type of content. We provided you with all the basics to learn how to broadcast live. 
Once you grasp the idea of how to broadcast live video on the internet, including costs associated with streaming, it comes down to your business to make the content high-quality and memorable. Thankfully there is a wealth of resources available for organizing and directing a live performance for broadcast.
This post is just the beginning of your journey to live broadcasting. As with anything else, mastering the essentials is a good place to start. Once you master the essentials of online broadcasting, you can get more creative with your content. 
If you're ready to try a video streaming platform and start your live broadcasting today, check out Dacast. Dacast includes CDN-delivered live streaming solutions and VOD hosting, video monetization, analytics, and more, all at an affordable price.
We offer a 14-day free trial, with no credit card or commitment required. You can set up an account and start streaming live in a matter of minutes. Create an account and start streaming with Dacast today.