Live Streaming Encoding Software and Top Hardware Encoder Alternatives
Live streaming is a business practice that is on the rise. Businesses, schools, and other organizations live stream conferences, webinars, classes, and events to connect with their audiences.
There is one step in the live streaming process that absolutely cannot be overlooked: video encoding. An encoder is a critical element of any live stream.
This is what the encoder process looks like: (content added and format changed) 
First, a live streaming encoding software or hardware tool takes information from your camera. 

Next, the encoder converts that information into a compatible form that for embedding and streaming. 
Finally, many broadcasters use a professional streaming host like Dacast to embed and stream live video to viewers.
The process of encoding occurs between the video capture and the broadcast. In order to find a tool that can handle these processes in real-time, you'll want to look for special encoding software for live streaming.
Today, we are going to discuss a couple of video streaming encoding software options and features. These include live streaming encoding software from Wirecast, vMix, and OBS Studio, as well as hardware encoders from Teradek and Videon.
There are multiple live streaming encoding software and hardware choices you can use for your live streaming set-up. 
Table of Contents
What is an Encoder?

Top Encoding Software for Live Streaming

Hardware Encoder Alternatives

Conclusion
What is an Encoder?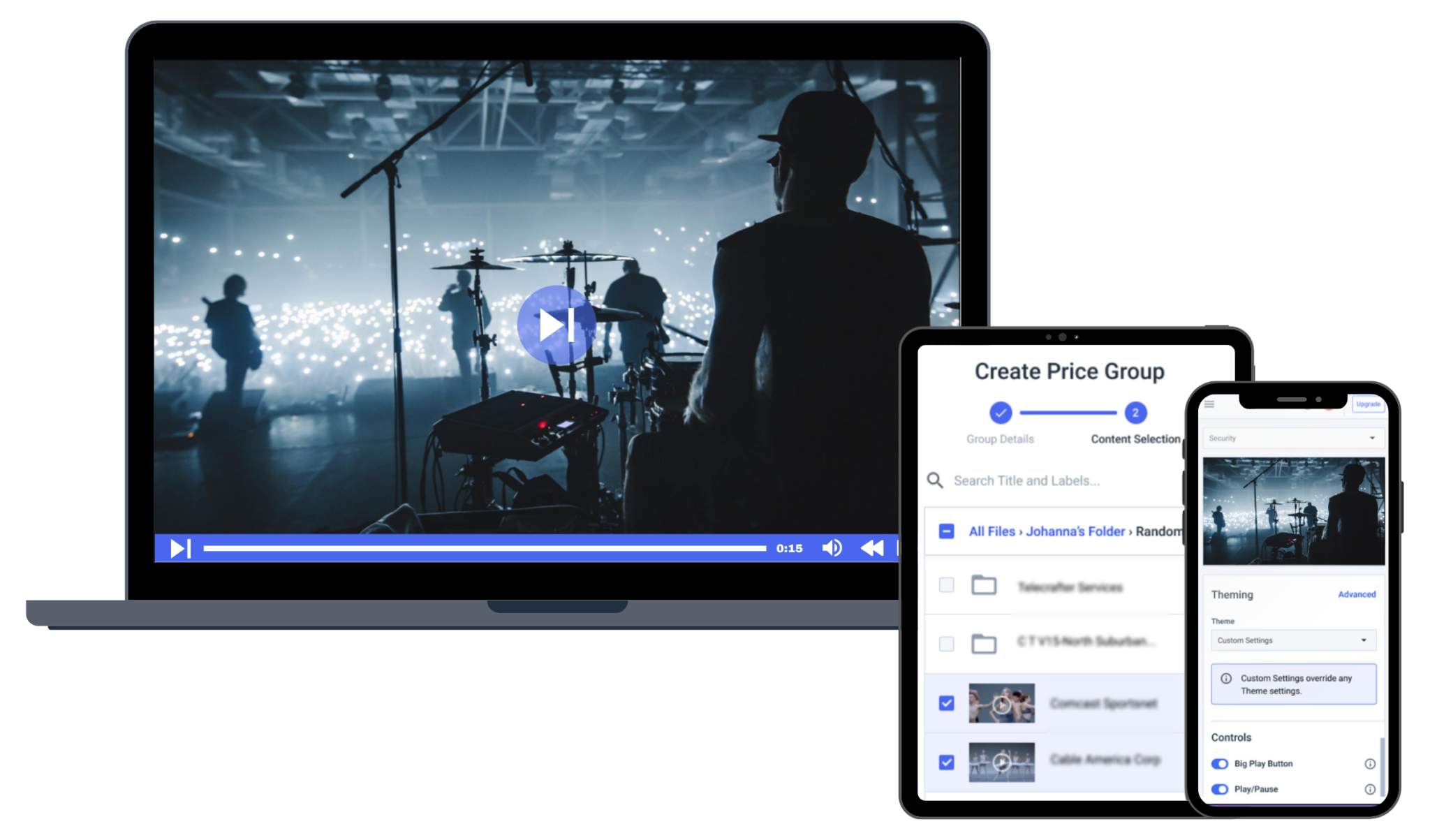 An encoder is a critical element of any live stream. It takes information from your camera and converts that information into a format that is compatible with embedding and streaming. 
Typically, your camera captures footage in the RAW format, but digital files are required for live streaming over the internet. 
Since an encoder is such an essential part of live streaming, you want to make sure to invest in one that is capable of performing with speed and accuracy. 
There are both hardware encoders and software encoders. Hardware encoders are pieces of equipment that connect to your video capturing device, and software encoders run on your computer. Each of these software encoders has a list of minimum system requirements to ensure compatibility with your live streaming setup.
Hardware encoders are a pretty hefty investment, but they provide a more powerful solution. Although the quality of hardware encoders is difficult to match, many software encoders can produce professional streams at a much lower price point. 
The choice between a hardware and software encoder depends upon your budget and streaming needs. 
Top Encoding Software for Live Streaming
There are quite a few software encoders on the market. You should look for an encoding software that fits your budget, suits your needs, and works with your live streaming platform.
Here are three of the best live streaming encoding software options available.
1. Wirecast Live Streaming Encoding Software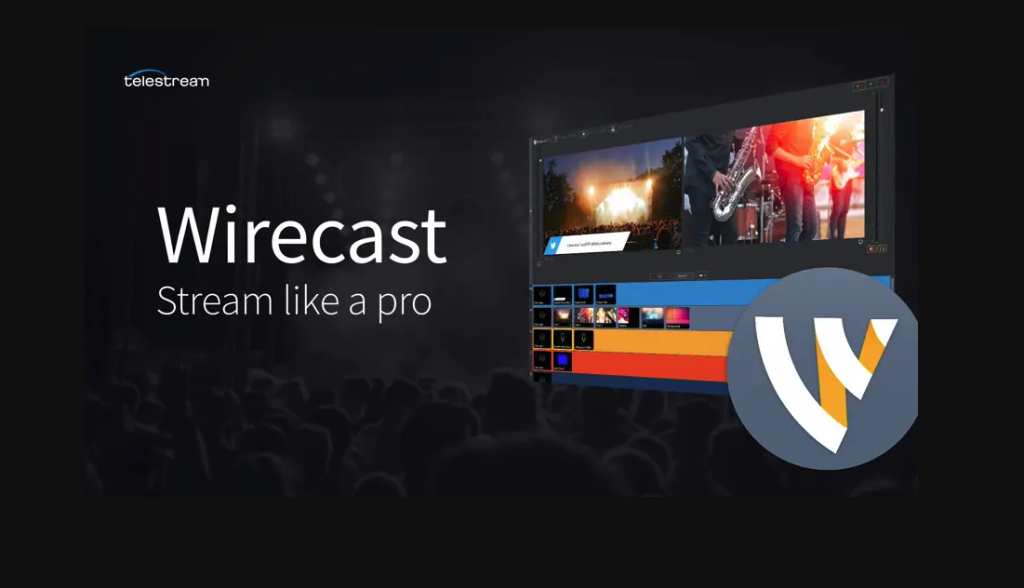 Wirecast is a product of Telestream.
The most recent version is Wirecase 15.0.3, released on June 27th, 2022, with the major update, 15.0, being released on April 14th, 2022. A few of the main features of this update include:
Social media comment moderation

Improved file playback performance

Improved 4K support

New music mode

Improved audio meters

Animated Titles
Telestream released Wirecast 14.3.1 in August 2021. Some of its main features included an that update include: 
In-app video-chat feature

8-track audio mixing

Performance improvements

Support for NDI IP-based workflows.
The encoding software addseda Stock Media Library, Advanced Audio Mixing, QR Code Generator Source, and more. 
Updates and new versions are generally available as a free or paid upgrade, depending on the version you originally purchased.
Wirecast is RTMP compatible. This means it is also compatible with most online video platforms. You can install Wirecast on Mac and Windows computers. 
A free trial is available, but the full version of the software comes in two versions: Wirecast Studio and Wirecast Pro.
You can purchase Wirecast Studio for $599 and Wirecast Pro for $799.
Wirecast Features Recap:
Mix multiple sources, including cameras, microphones, graphics, etc.

Support for capture cards, webcams, IP cameras, and more

Mac and Windows compatible

Stream to social media platforms as well as

OVPs

NDI support

4K streaming
VIDEO:
Check out this video tutorial to see how to set up a live stream with Wirecast

2. vMix Live Streaming Encoding Software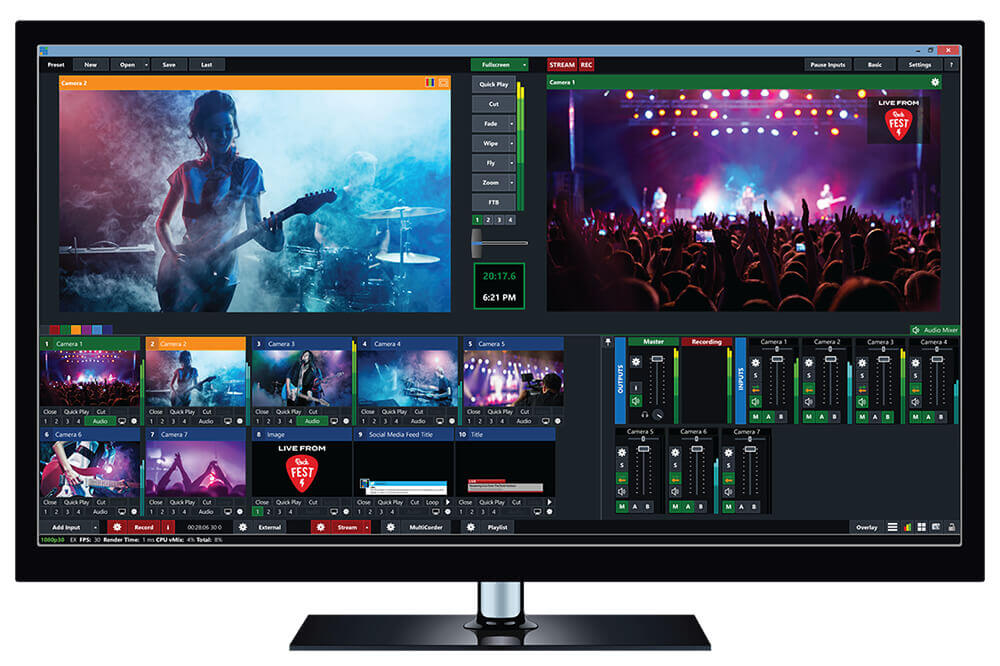 Available for Windows PCs only, vMix provides similar streaming features to Wirecast. For example, vMix supports video sources up to 4K resolution as well as NDI sources. Other sources include video files, DVDs, PowerPoint presentations, and more.
vMix outputs video through RTMP ingest for compatibility with most online video platforms, including live streaming with Dacast. It also supports recording, both locally and via output to professional-grade decks.
Like Wirecast, vMix includes a video call feature for "talk show" style streams. Both include a titling tool for adding graphics, an audio mixer, and more.
vMix also offers a "Social" plugin for pulling content from Facebook, Instagram, and Twitter into your live streams.
vMix is available in four different versions, ranging from Basic HD to Pro, and the software comes with a free 60-day trial. Each version supports a different number of inputs, your purchase never expires, and includes the following versions:
Basic HD ($60), which supports 4 inputs (up to 3 camera/NDI) and video up to Full HD 1920×1080 resolution
HD ($350), which supports 1,000 inputs, adds vMix call functionality, 4 overlay channels, and supports full HD video in 1920×1080 resolution
4K ($700), which supports 1,000 inputs, 4K resolution video (4096 x 2160), PTZ control, 2 recorders, instant replay, 4 SRT outputs, and much more
Pro ($1200), which also supports 1,000 inputs, includes all 4K features and 2 records, plus up to 8 callers, up to 4 cameras for instant replay, and 4 SRT outputs
vMix also offers a 60-day free trial and has all the features of vMix Pro including the ability to use resolutions greater than HD such as 4K, particularly to ensure vMix supports your computer hardware works with it before purchasing. This is a great perk, as most encoding software offers only up to a 30-day free trial.
vMix Features Recap:
Compatible with Windows (but not iOS)

Supports multiple file formats

Simulcasting functions

Uses FMLE encoder

Uses specialized codec to minimize latency 
It is important to note that vMix licenses do not expire, and they include free updates for one year after the purchase. vMix is a solid Wirecast alternative for Windows users. 
3. OBS Studio Software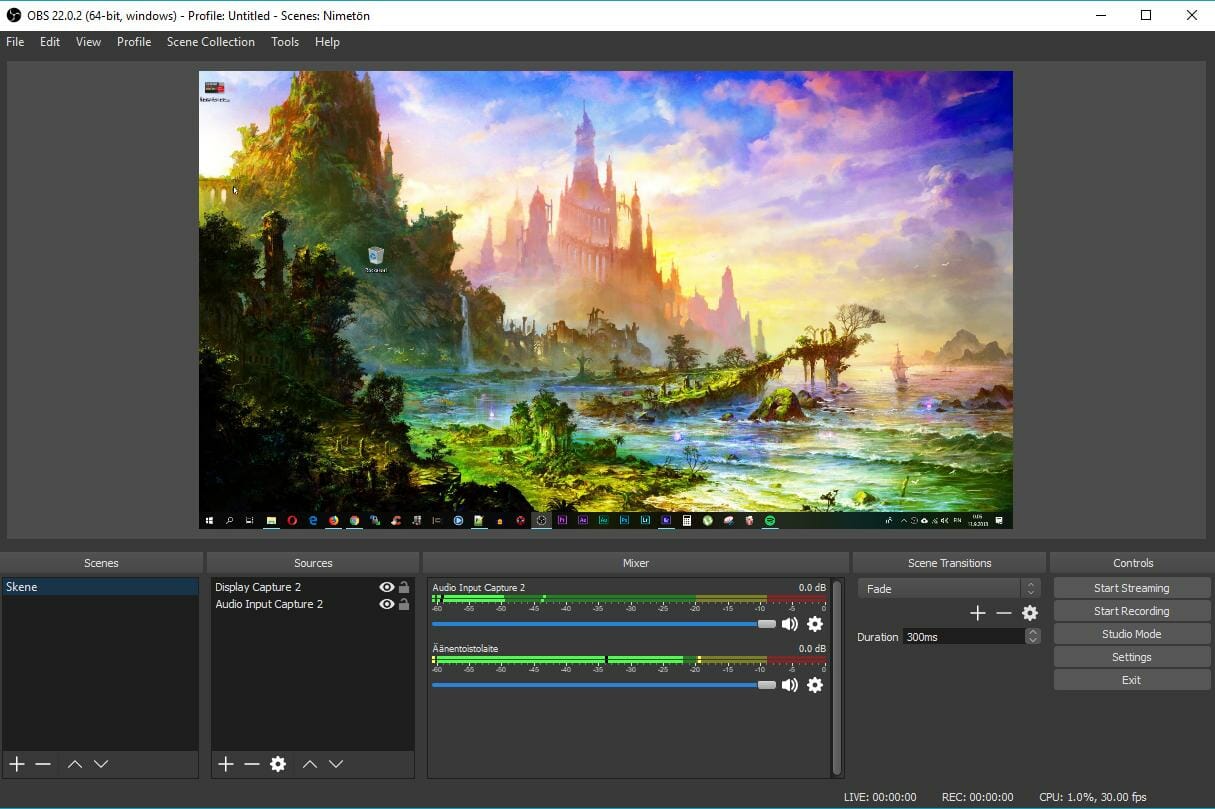 Let's now take a look at another encoding software option, this time a free open source option. OBS Studio is a community-developed, open-source live streaming encoding software application. Version 27.1.0 was released on Sept 28th, 2021, and is available for download here for macOS 10.13 or newer, Windows 8, 8.1, and 10, as well as Ubuntu 18.04 operating systems. For the Linux version,  FFmpeg is required.
Like both of those apps, OBS Studio uses RTMP encoding to stream to the OVP of your choice.
OBS Studio supports multiple camera and audio sources, as well as video, audio, and graphic files. It also includes a mixer, video sources, and support for profiles to quickly save and load a particular streaming setup.
OBS Studio is a great choice for beginner streamers who are learning the ropes. Dacast has developed a customized version of OBS Studio that makes it easy to connect the two platforms.
To access this version, log in to your Dacast account and click the "Encoder Setup" tab. You'll find a download link there.
OBS Studio is a great free Wirecast alternative or vMix alternative for people looking for a free encoding option. 
OBS Studio Features Recap:
Free, open-source, and cross-platform

Community-developed plugins add lots of functionality

Custom version for Dacast users

Does NOT support streaming in multiple bitrates
Check out this video tutorial to see how to set up a live stream with an OBS encoder using a Mac:

Hardware Encoder Alternatives
While encoding software for live streaming is great for beginner to mid-level broadcasters, there is another way to go: hardware encoders. 
Hardware encoders can be a solid alternative to using Wirecast or vMix for your encoding needs. 
The advantage of using a hardware encoder is that they are single-purpose devices dedicated to encoding media streams. This makes them a bit more effective than their software counterparts.
Hardware encoders come in a variety of shapes and sizes. The smallest mounts directly on cameras. These devices allow mobile live streaming by connecting to Wi-Fi and cell networks.
The most robust of these models allow you to "bond" multiple cell networks together. This helps to create a stronger internet connection in congested or remote areas.
You can mount larger hardware encoders on racks in broadcast studios. These units are extremely fast and reliable, with a professional-grade price to match.
Let's take a look at two different hardware encoder options.
1. Teradek Hardware Encoder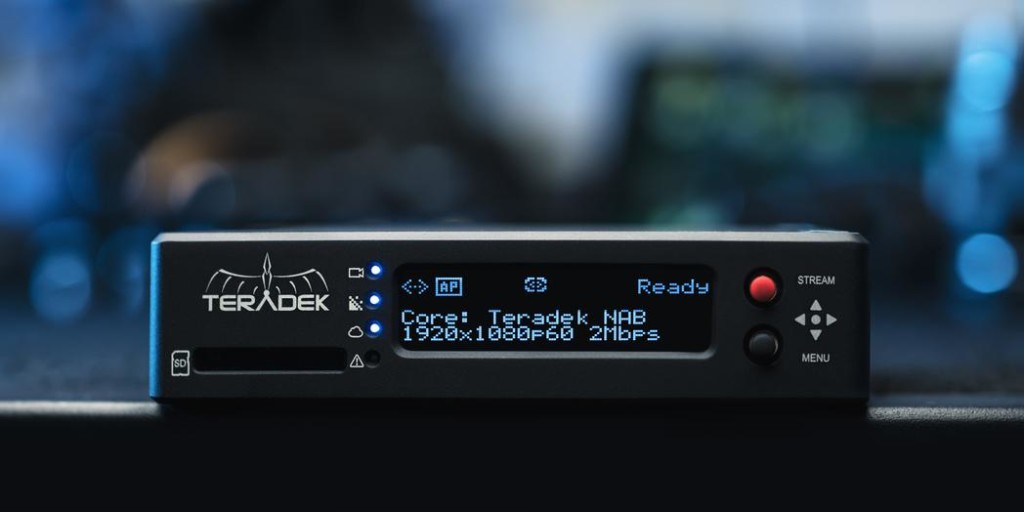 Teradek is a longtime supplier of premium audio-visual equipment. Their lineup includes a number of hardware encoders. The two most popular devices are the Cube and VidiU live stream encoders.
The VidiUGO ($1199) and VidiU Pro ($799) encoders are camera-mounted units designed for mobile live streaming from a single camera. These devices both feature HDMI camera inputs and a built-in battery. They stream in up to 1080p full HD resolution, delivering streams via RTMP.
The VidiUGO battery lasts about 2.5 hours, while the Pro lasts two hours. The Pro also includes an SD card slot for internal recording.
The VidiUGO supports internet connections via Ethernet, Wi-Fi, or a single USB cell network modem. The VidiU Pro adds the ability to merge connections from up to four iPhones or other LTE-connected iOS devices via Teradek's Sharelink cloud service. 
The Cube series of encoders take the Vidiu encoder functionality to the next level. In addition to supporting cellular bonding, the Cube series supports the SDI inputs used on professional video cameras.
In fact, the latest Cube 755 encoder ($1,790) offers even more functionality. It supports the H.265 standard for extra video compression at bit rates up to 30 Megabits per second. This device produces professional broadcast quality from a mobile encoder. 
Teradek Feature2 Recap:
Small, portable hardware encoders

Cellular bonding for true mobile live streaming in HD-quality 

Companion iOS app allows remote configuration and monitoring

Tools to add scoreboard and graphics in real-time
If you want a Wirecast alternative that is robust and can provide you with high-quality streams, Teradek is a good hardware encoder alternative. 
2. Videon Hardware Encoder

Videon is an audiovisual services company that offers a wide range of products and services, which includes a number of hardware encoders.
Their offerings include the Verastreamer and the Edgecaster. These professional-grade encoders accept the HDMI source. They also deliver highly reliable live streams at up to 4k full HD resolution and 60 frames per second. 
Encoders by Videon have great direct integration with Dacast via our API. This makes setting up their encoders incredibly easy when you're using the Dacast online video platform.
Videon Features Recap:
Very expensive

Powerful hardware encoder

Direct integration with Dacast

High resolution
Videon is a solid hardware encoder alternative to Wirecast, as both offer the ability for broadcasting live streams up to 4K resolution. 
Conclusion
Shopping around for encoding software for live streaming can be a daunting task. There are so many great options to choose from with such a wide variety of features. Our best advice for choosing the best encoder is to outline your broadcasting goals and identify which features you need. Determine your budget, and work from there.
Haven't tested your encoder with Dacast yet? You can start now by signing up for our 14-day free trial (no credit card required). Try out our streaming solutions for yourself, by clicking the button below:
We also welcome questions in the chat section, below, and we will get back to you. For regular tips and exclusive offers for live streaming, feel free to join our LinkedIn group. Thanks for reading and happy broadcasting!