How to Choose the Best Camera for Live Streaming Video in 2021
Being able to live stream your video content is essential for anyone who creates content. Giving viewers access to videos as they're being made, from anywhere in the world, is part of a well-rounded, engaging video strategy.
One of the most crucial elements of creating great online content is choosing the right live streaming video camera. While you can just fire up your smartphone and begin live streaming your event online, it doesn't necessarily mean you should. 
To present the most high-quality live streaming video you can, read on to find out how to choose the right camera for your live streaming needs.
Table of Contents
Why You Need Live Streaming Equipment

Essential Live Streaming Equipment Needed

Types of Cameras for Live Streaming

Choosing the Right Camera for Live Streaming Your Content

Conclusion
Why You Need Live Streaming Equipment
Creating video content has never been easier. Most consumers, in fact, have the means to begin streaming anytime they want simply by pulling their phones out of their pockets.
However, just because your business has the ability to make do and create streaming content with easily accessible equipment doesn't mean you should not invest in higher-quality, more professional equipment.
The video content you create should be part of a larger digital content strategy for your business. Regardless of whether you're making videos for internal use or external use, it's important that your content is clear and looks professionally produced. This gives off a polished impression of you as a business, increasing confidence in your business and making customers more likely to buy from you.
Additionally, utilizing higher-quality live streaming equipment such as a camera makes recording and producing your video much easier.
Professional-grade cameras have special features such as image stabilization, decreasing the risk that your shots will be shaky and need to be re-done. Even though you will pay more money upfront for higher-grade live streaming equipment, what you'll save in time and frustration will help make up for the extra expense.
Next, let's look at what type of equipment you will need to get your live streaming set up for success.
Essential Live Streaming Equipment Needed
To get yourself set up to properly live stream your content, here are some of the important pieces of equipment that you should plan to invest in to make your operation as professional as possible.
1. External Microphone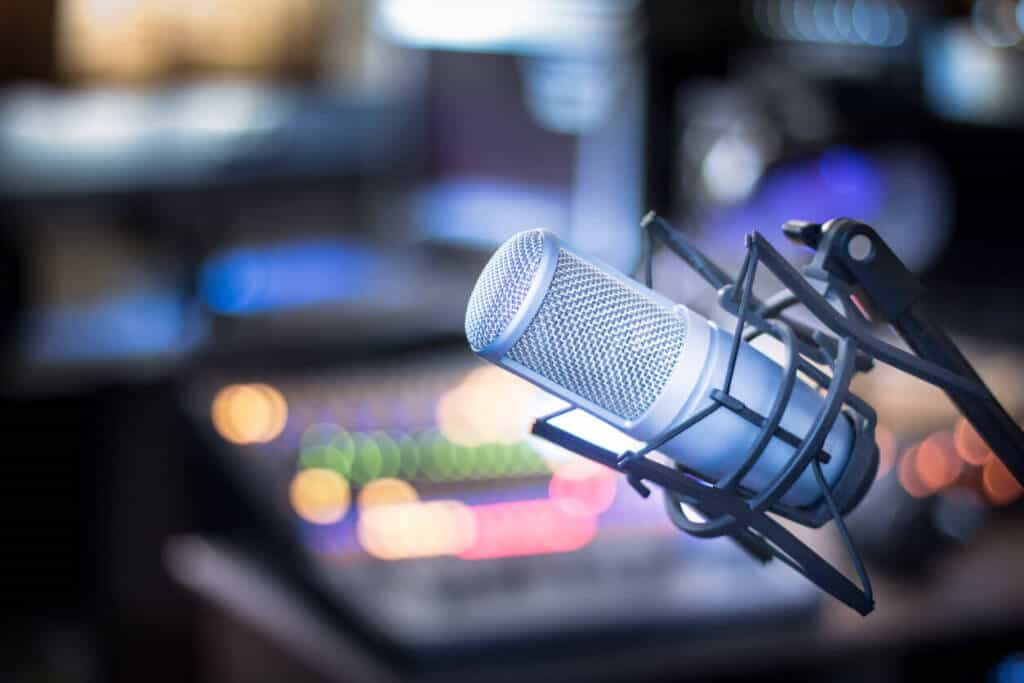 Sound quality is important in your streaming content. Relying on the built-in microphone on your phone or camera isn't going to cut it when producing professional video.
Instead, invest in an external microphone to suit your production needs.
If you're planning largely stationary streamed content, such as podcasts or presentations, a traditional stand microphone will suit your needs. For content that will be more dynamic, such as event coverage, it's probably best to invest in some lavalier microphones to clip onto your participants' clothes or an on-camera microphone that can be mounted to the video camera.
2. Video Encoder
In order to live stream your content directly from your camera, you will need to get a video encoder involved in the process.
Encoders take the RAW files directly from your camera and turn them into a streamable, playable format. If you do not utilize a live streaming platform such as Dacast, which automatically takes care of encoding live streams for you, you will need to purchase a separate encoder to take care of the process.
When shopping for an encoder, look for one that's compatible with as many major live streaming platforms as possible to cause you the least headache when you attempt to share your content.
3. Internet Connection Device
Part of providing high-quality live streaming content is to be able to quickly, reliably stream that content over the internet.
If you're filming video but the internet connection from which you're uploading is spotty, your viewers will get frustrated with slow load times and missed content.
To avoid this, be sure to purchase a top-notch internet connection device. If you're planning to stream in HD, look for at least 3 to 5Mbps; for 4K or UHD video, you will need at least 25Mbps. 
4. Battery Power System
Switching out batteries mid-live stream will interrupt your content, causing you to lose viewers.
In order to maintain consistent battery power without worrying about switching out your packs, purchase a battery system. These devices allow you to power your equipment with either an external battery pack or wall power, giving you constant power and keeping you from draining all your available batteries too quickly.
5. Tripod or Mount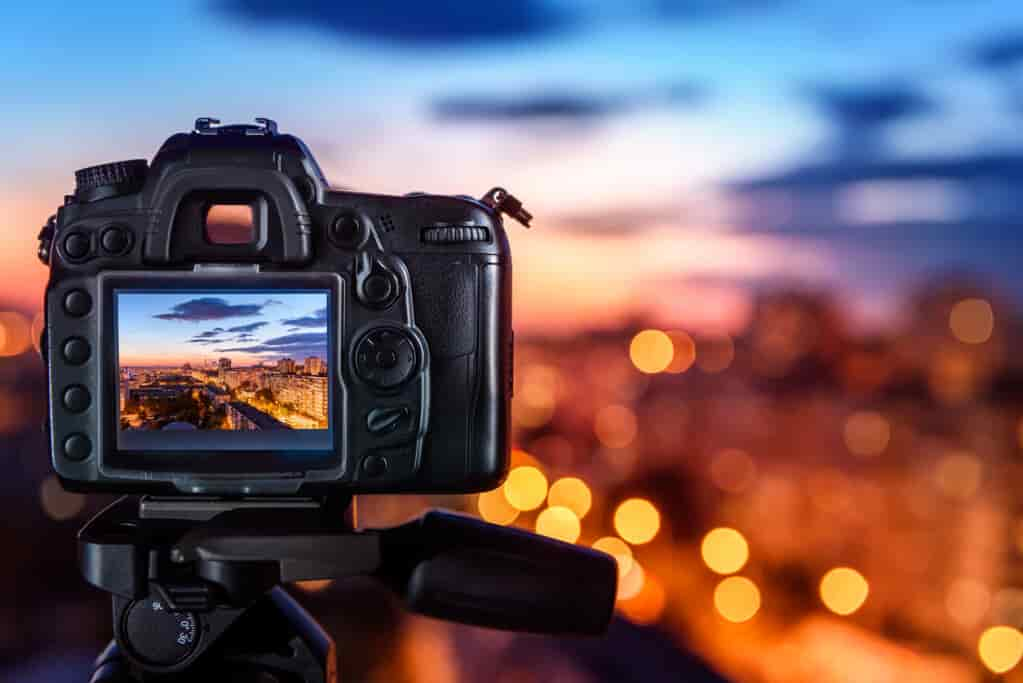 Longer live streams, especially those where your camera will be largely stationary, require a good tripod to save your arms from holding the camera all the time.
Look for something that has smooth-telescoping legs and stable feet, giving you a sturdy base for your camera that won't topple over too easily.
6. High-Quality Video Camera
The most important piece of your live streaming equipment setup is to get a high-quality camera with enough features to support your live streaming needs.
Next, we'll take a look at some of the types of cameras for live streaming available on the market.
Types of Cameras for Live Streaming Video
There are a variety of different types of cameras that are suitable for live streaming content. Each type has its bonuses and its drawbacks.
Let's learn a little more about each type:
Webcam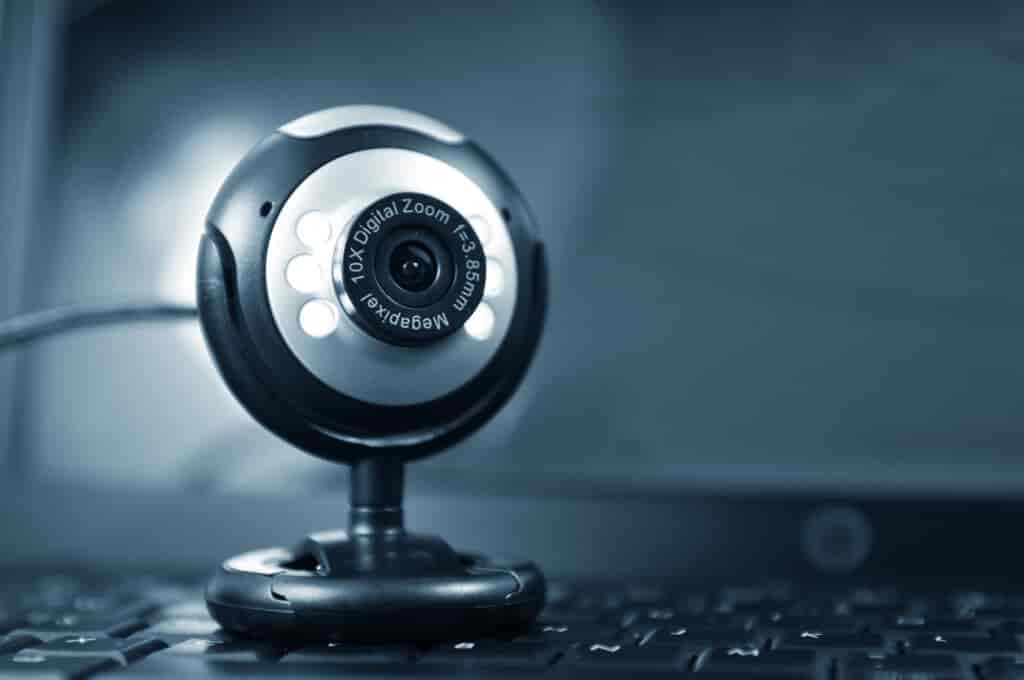 Webcams are popular choices for live streaming, especially those who stream podcasts, video games, or other streams where the camera can be trained on the subjects in one place.
These cameras hook directly into your computer and come with a built-in microphone. Because webcams connect directly to your computer, you won't need a separate video encoder when using this type of camera.
To get better audio quality, however, purchasing a separate microphone is ideal.
DSLR or Mirrorless Camera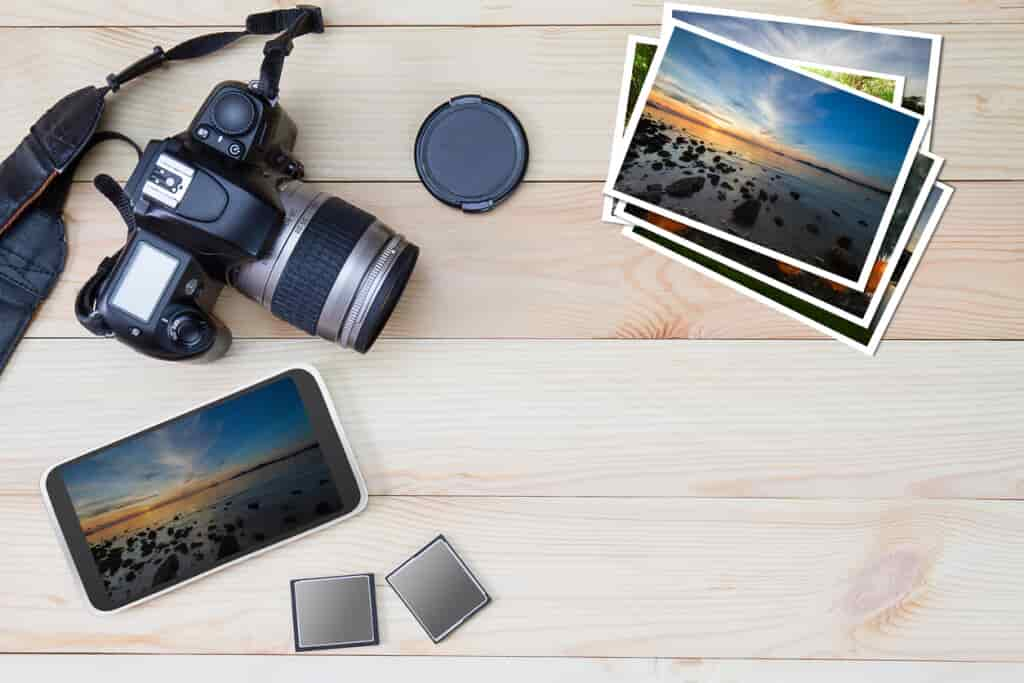 DSLR cameras provide exceptional video quality, high photo resolution, and great low-light performance. If you're planning to film in dynamic situations where the light is changing often or your distance from your subjects will change frequently, a DSLR is probably the best choice.
To get a similar video quality but a more compact camera, such as if you're live streaming sporting events, a mirrorless camera will be necessary.
When selecting a DSLR or mirrorless camera, it's essential to make sure your model can accommodate longer recordings and a clean output that hides the statues and icons of your viewfinder. Depending on your setup, you may also need to connect a DSLR or mirrorless camera to a video encoder.
Camcorder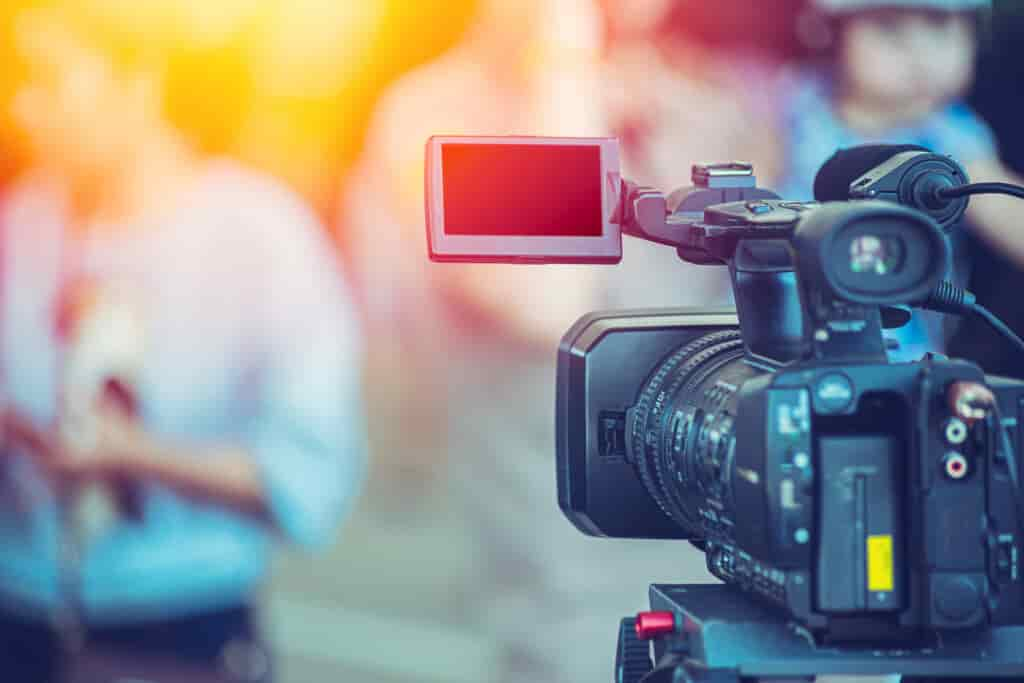 Like their old-school tape-driven cousins, modern camcorders are built specifically for recording videos. 
They're easy to set up and ergonomically designed, making them more comfortable for handheld shooting. They also offer great video resolution and frame rates with clean HDMI outputs.
Action Camera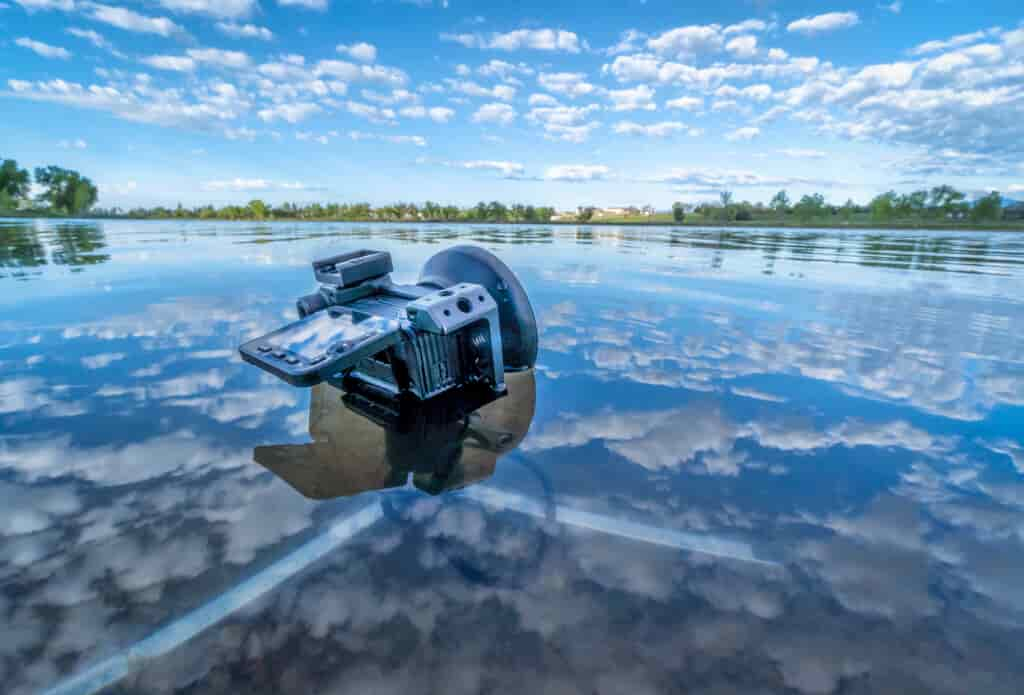 If you're planning to live stream immersive video content, such as travel videos or high-action content, an action camera is a great choice.
These compact pieces produce great footage with wide-angle lenses, giving your viewers exceptional first-person video. They're great for mounting to helmets, bicycles, and other gear for easy streaming while making viewers feel as if they're part of the action.
Choosing the Right Camera for Live Streaming Your Content
Different types of streaming content require different cameras for the best results. Here are the best options for a variety of business niches:
Best Camera for Broadcasting Live Sports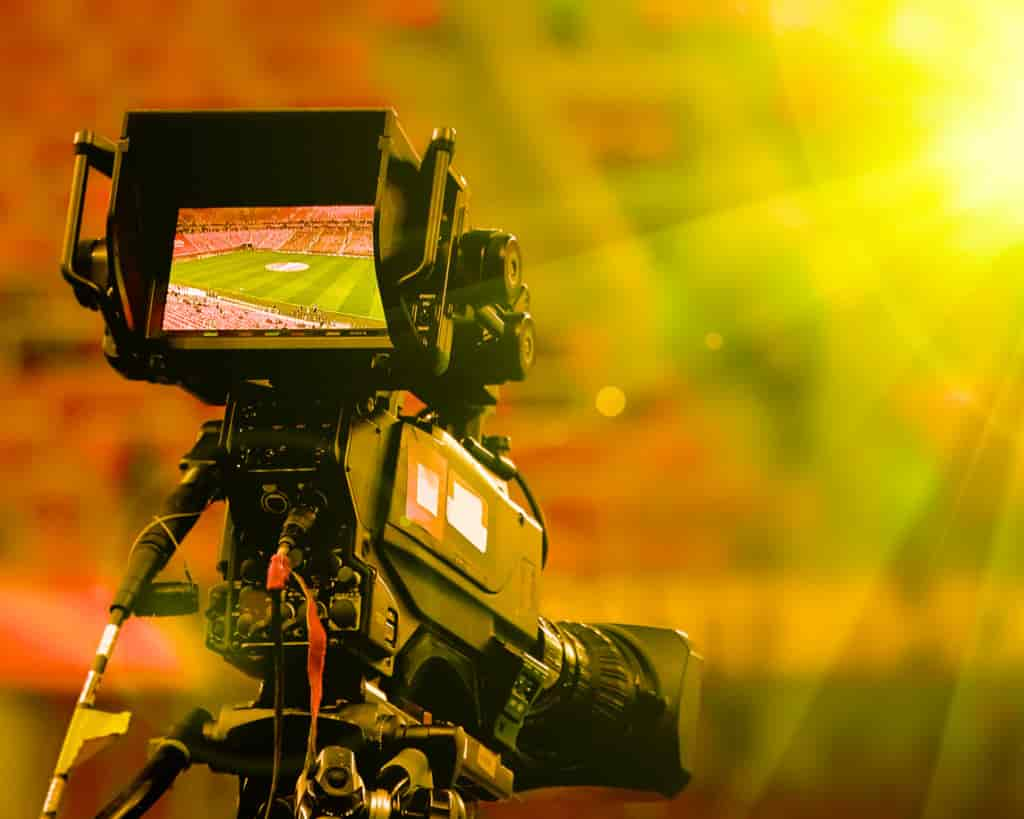 For sports, you need a camera that's lightweight enough to follow the action when it's moving fast but also has enough picture clarity to capture all the movement.
When selecting a camera for live streaming sports, look for compact, ergonomically designed cameras that pack high-resolution quality in a small body.
Best choices: Action cameras (for first-person sporting streams such as mountain biking and skateboarding) or camcorders (for more traditional court sports)
Best Camera for Live Streaming Events
When live streaming an event, look for a camera that offers a long recording time and can produce exceptional picture quality. 
For most events, ergonomic design and compact construction are not going to be as much of a necessity, as the camera will largely be located in one place. 
Best choices: A professional camcorder, a high-quality DSLR, or even a mirrorless camera, along with a sturdy tripod or mount will be suitable for most live event setups.
Best Camera for Mobile Live Streaming Events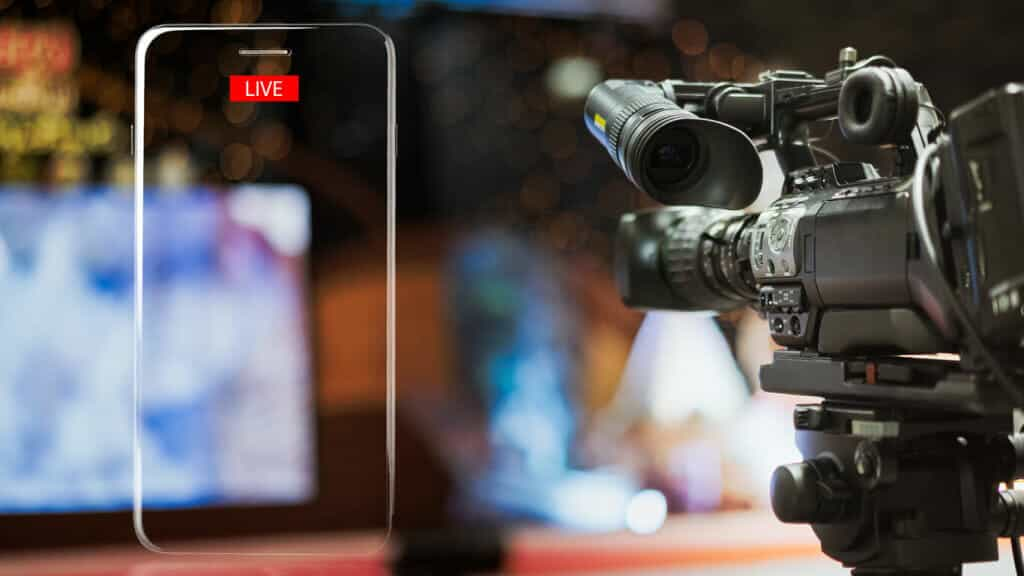 If you're planning to live stream an event for mobile viewers, your choices are very similar to those for a traditional live event. You do want to make sure that you have a solid video encoder, either within the camera setup itself or externally that connects to a computer, so your video is easily playable on all devices.
However, if you're planning to live stream an event where your video will be shot more dynamically and requires the person operating the camera to move around a lot, a compact camera that also offers great video quality is essential.
Best mobile live streaming equipment choices include A smartphone such as Apple's new iPhone 12 Pro, a DSLR mirrorless camera, or a camcorder with a tripod, depending on your setup. 
Best Camera for Live Streaming Church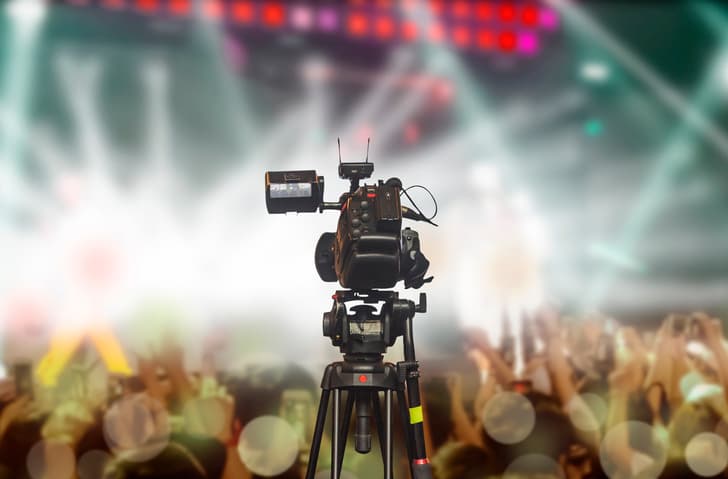 Similar to live streaming a concert or conference, live streaming a church service will only require the camera to be located in one place for the majority of the service.
For this purpose, you want to make sure you have crisp picture quality and something that can capture sound well, such as an external microphone or even lavalier microphones on speakers and singers. A great tripod is also essential to keep the shot steady throughout the service.
Best choices: DSLR, mirrorless camera, or camcorder, or a good-quality webcam for small services and lower budgets.
Conclusion
Live streaming your content is more than just creating great content and putting it out into the world; you need to be sure you've got great picture quality, crisp sound, and fast streaming speeds so that your viewers have a smooth, enjoyable viewing experience. 
By investing in some essential live streaming equipment, especially picking the best camera for live streaming, you will take your live streaming content to the next level and get your viewers engaged and wanting more. 
And, to take your live streaming operation to the next level, invest in a high-quality live streaming platform such as Dacast to help you organize, store, stream, and share your content now and for years to come, so you can make the most of all the hard work you have put into your live stream.
Are you prepared to take your live streaming to the next level with professional live streaming software that's scalable to your needs? Try Dacast free for 14 days. You won't need to sign a contract or pay big start-up fees, and we won't ask you for your credit card number to try it out.
For exclusive offers and regular live streaming tips, you're also welcome to join our LinkedIn group. Also, feel free to contact our team with specific questions – we're here to help!
Subscribe Now
Stay up-to-date with the latest features and product releases. Cool tips, expert advice and more.