The Definitive Streaming Setup Guide – How to Set Up a Live Stream
Live streaming is an important tool for businesses and organizations across many industries. It helps brands to connect with their target audience, schools to facilitate distance learning, organizations to work with remote teams, and more.
Successful streams require the support of a solid streaming setup. However, setup requirements for streaming vary depending on the level of streaming you hope to achieve.
In this post, we are going to cover everything you need to know to create the most effective streaming setups for different scenarios in  2023. We will start by reviewing some of the basics of live streaming before we dive into our in-depth guide on creating the perfect streaming setup for different levels of broadcasting.
In this guide, we'll take a close look at the necessary equipment, software, and support for beginner, intermediate, and advanced broadcasters.
Live Streaming in 

2023

: The Basics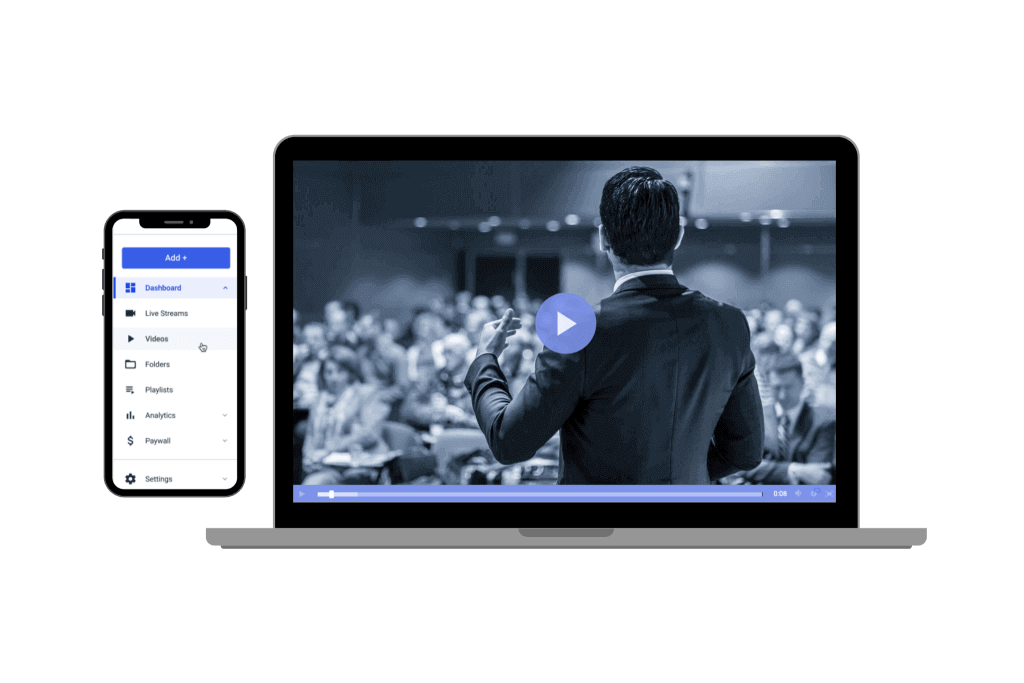 Online audio and video content streaming makes it possible for businesses and organizations to connect with their audiences while bypassing location limitations. Live streaming, in particular, creates a lifelike experience that is truly engaging.
It has also given rise to the creator economy where numerous beginner and experienced streamers go online to connect with their audience and engage them. These include gamers, beauty, and fashion influencers, among others.
Over the past few years, leaps and bounds have been made in the online video streaming industry. Broadcasters with different levels of experience can create high-quality streams thanks to the development of powerful streaming platforms and related equipment.
Several highly technical processes run behind the scenes to power online video streams. However, most professional streaming solutions take care of the technicalities and make it possible for broadcasters to operate their streams with an easy-to-use graphical user interface (GUI).
Luckily, these streaming tools are more affordable and accessible than ever. Broadcasters can create effective streaming setups on any budget. 
Uses for Live Streaming
There are many professional uses for live streaming in  2023. Since this type of style of video distribution is known to be engaging and lifelike, brands harness those perks to connect with their audiences.
Some of the top uses for live streaming include:
The beauty of live streaming is that brands can get creative as they'd like to leverage this type of video content. There are truly no limits on how video streaming can be used.
How to Set Up a Live Stream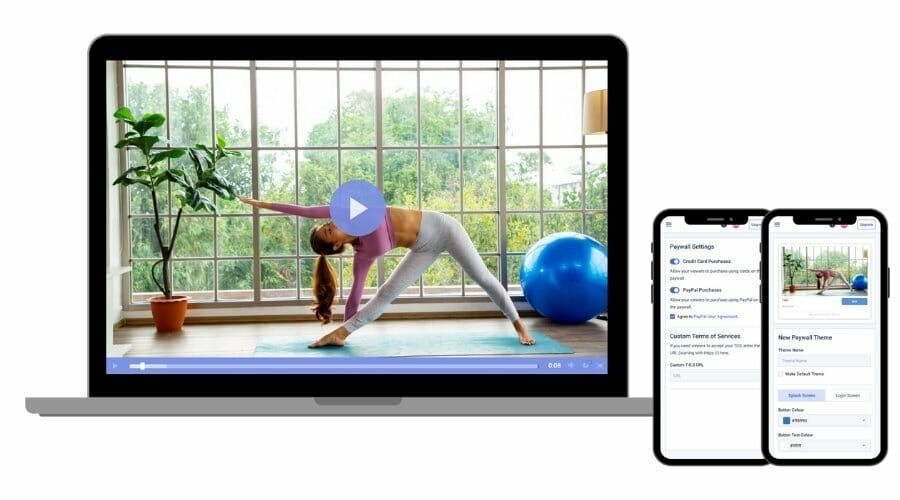 Creating the perfect live streaming setup looks different to every broadcaster. Since live streaming is used for so many different purposes across so many industries, there are different things to consider when creating the best streaming setup for your organization.
Although each streaming setup will look different, there are a few considerations that remain the same: software requirements, necessary equipment, and expert support needs. Let's take a look at how to set up a live stream for streaming at different levels
Basic Streaming Setup 

for Beginners
Some broadcasts can be done with a basic streaming setup and a small budget. A simple streaming setup will suffice for independent creators (beginners) and small businesses. Educators can also usually get by with a basic streaming setup as long as they have a beginner-level streaming software that supports screen sharing and stream recording.
That said, let's look at the components of a basic live streaming setup.
Software
First and foremost, you're going to need the support of a video streaming platform to host your stream.  Dacast is a great option because plans start as low as $39/month.
If you are streaming at a very basic level and play games, you may be able to get by with a free streaming site, like YouTube or Dailymotion. However, if video monetization, white-label streaming, reliable  video privacy and security, and other streaming features are important to you, it's worth investing in a basic plan from a professional solution.
You'll also likely need support from basic encoding software.  OBS Studio is a great option for beginners because it is free and basic, but it gets the job done.
Other streaming software may be necessary for some basic streaming setups, such as a simulcasting tool or simple mixing and production software.
Equipment
There are a few pieces of streaming equipment that are necessary for any broadcasting, including a camera and a laptop or computer to operate the streaming solution on.
A basic streaming setup for beginners requires the support of a webcam or a basic camera. An even simpler setup can make do with just a smartphone or tablet. If you're streaming with a smartphone or tablet, you won't even need a computer.
If you're a beginner streaming with a webcam or mobile device, you might not need to set up an encoder. Your streaming setup could be as simple as a laptop, webcam, and a  professional video hosting platform.
While you can get a decent quality stream with a smartphone or tablet as a beginner, the quality won't be as good as streaming with a basic camera and a laptop. Smartphones are best suited for mobile streaming.
You should also ensure that your smartphone is in a region where the internet speed is high. It'll ensure a superior quality stream and better viewing experience.
Expert Support 
A basic streaming setup for beginners shouldn't require the support of an expert. You may need some help creating a website and embedding your video player, but if you stream with a solution that offers customizable streaming galleries, this isn't necessary. 
Full Streaming Setup
Many live streams need a bit of a more sophisticated setup to achieve a higher-quality end result. A full streaming setup is necessary for situations where more professionalism is required but the extravagance of a TV-grade stream is unnecessary.
Virtual events, product demos, and corporate webinars are examples of streams that benefit from a full streaming setup. With that in mind, let's take a close look at some of the essential elements for this type of streaming setup.
Software
An online video hosting manager is essential for a full streaming setup. A basic to mid-level plan should suffice. You'll also need  encoding software, a switcher, and production software.
Equipment
A full streaming setup typically involves a powerful computer, a high-quality camera, audio capture equipment, and potentially, a hardware encoder.
While a professional camcorder would help you create a higher-quality stream, they are expensive and are not absolutely necessary. A DSLR camera with 4K streaming capabilities should get the job done.
Depending on the scenario, you may also need a green screen, a backdrop, studio lighting, tripods, and other studio equipment.
You'd also need reliable internet connection with a high bandwidth to ensure your stream is transmitted in higher resolution.
Expert Support 
The most complex you make your streaming setup, the more expert support you'll need. A full streaming setup will likely require a small camera crew. It is also beneficial to have somebody in charge of production who knows the ins and outs of switching and mixing. 
Advanced Streaming Setup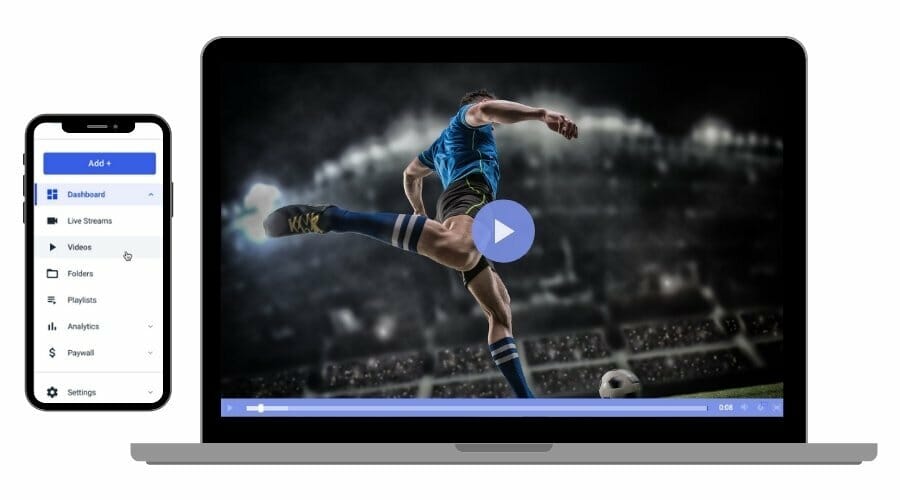 Advance streaming setups are necessary for TV-grade streaming.Now, let's shift gears to advanced streaming. By "advanced" we mean professional or TV-grade streaming. Think of newscasts or sports broadcasts. These types of streams are often broadcasted to large audiences that are depending on your stream to catch a piece of the action.
That creates a lot of expectations and puts pressure on advanced broadcasters, which means the streaming setup must be impeccable and infallible. With that in mind, let's take a look at some of the essential components of a professional streaming setup.
Software
Like the other streaming setups we discussed, a professional stream requires the support of a professional online video platform.
For the other streaming setups, we said that basic or mid-level online video platform plans would suffice. However, with a more professional streaming setup, your needs are much more advanced, so you'll likely need a custom-built enterprise plan. 
Like a full streaming setup, an advanced streaming setup will need the support of encoding software,  switching software, production software, and mixing and editing software.  
In addition, there are now setups and platforms that allow streaming a single feed to multiple destinations simultaneously. Multicasting requires a multistreaming software setup that allows for simulcasting to multiple sources. The main benefit of multistreaming is that it helps broadcasters reach a larger audience. By streaming to multiple sites like  Twitch or  Youtube, it's possible to tap into your existing audience and grow your community.
Equipment
Professional setups require more advanced streaming equipment. You're going to need the studio equipment we mentioned in the full streaming setup, plus some other tools. Depending on your unique streaming needs, you may opt for a  hardware encoder rather than a software encoder.
More advanced cameras, like professional camcorders, are also a must. The number of cameras required will also depend on your unique streaming needs, but you will definitely need multiple cameras.
If you are on-site, like at a game or event, a studio setup will not be necessary. However, you're going to need a powerful streaming setup that is optimized for mobile streaming. Some additional equipment requirements would be gimbals, stabilizers, and advanced audio capture equipment.
Expert Support 
Streaming at an advanced level requires a lot of expert support. TV-grade streaming, for example, requires producers, dedicated camera operators, lighting specialists, and more.
Large events need a team to monitor the streams in the event that the stream needs to be suddenly cut because something "unstreamable" is recorded. Knowledgeable assistants will also likely come in handy to keep everything running smoothly.
More Live Streaming Setup Considerations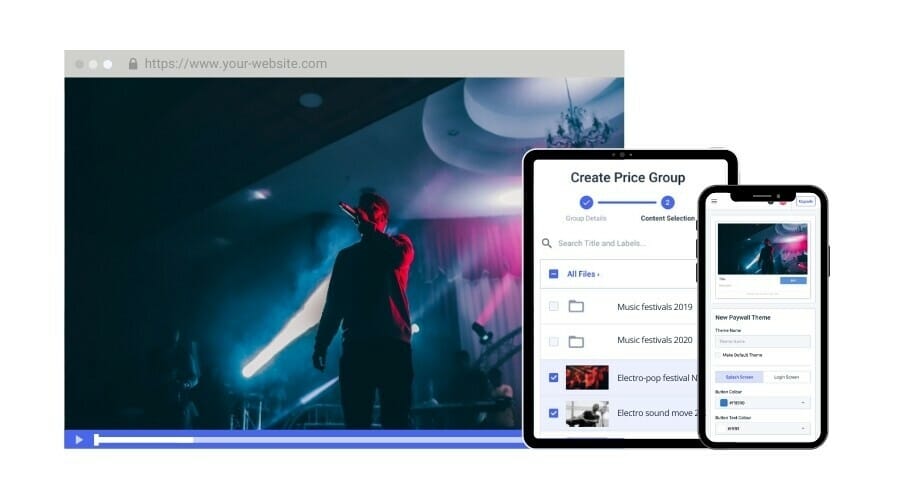 As you map out your streaming setup, there are a few more things to consider. Let's take a look at some considerations that apply to broadcasting at any level.
Plan Ahead
The key to creating a successful streaming setup is to plan ahead. Map out exactly what you want to do and what you want to achieve.
Think about your audience and why you want to reach them. What sort of results are you looking for? Think beyond a specific viewer count. Do you want your viewers to become customers? Are you simply trying to share information, or is there something that you're looking for in return?
Determine what you need to bring your streaming vision to life.
Monetization
Many broadcasters live stream with the intention of generating revenue. The three most popular video monetization models are advertising, subscriptions, and  pay-per-view.
Determine what sort of video monetization strategy you want to use and find an  online video platform that offers the necessary support.  Typically, free platforms like YouTube and Twitch leave you with few options to monetize your streams, but they're great for beginners who don't have a big budget. So consider the pros and cons of each before deciding on your streaming platform. 
Promotion 
In order to maximize your reach, you're going to want to properly promote your stream. The way that you promote your stream will depend on your specific audience.
You can use different digital marketing and advertising techniques to promote your steam. Some approaches you can take include:
Make your stream discoverable and encourage viewers to RSVP so you have some sort of idea of who will show up.
Track Results
It is very important to track the results of your stream. Pay attention to how many viewers you had and how long they engaged with your stream. Make note of where your viewers tuned in from and if your turnout was on par with your expectations.
In order to do this, you're going to need to choose an online video platform with powerful reporting and analytics. If you're  embedding the video player in your website, it is also wise to set up Google Analytics to give you even more insights on your page views.
Internet Connection
Internet connection plays an important role in online video streaming. Ethernet is the most reliable type of internet connection for streaming. WiFi can work, but wireless connections tend to be less consistent and reliable.
Cellular data should only be used as a last resort because it is significantly slower and less reliable.
FAQ
1. What do you need for a streaming setup?
The things that you need for a streaming setup depend on the type of streaming setup you want to build. For a basic one for beginners, all you'd need is a streaming platform, camera, and a decent microphone. But for a more advanced setup, you'd need multiple cameras, a multistreaming software, numerous high-sensitivity microphones, studio environment, and lighting setup.
2. How much do I need for a streaming setup?
For a very basic streaming setup, you won't have to spend a lot. A smartphone with a decent microphone would be good enough for beginners. But if you're looking for a more professional setup with a dedicated camera and microphone, it could cost you above $500. And if you're looking to set up an advanced streaming setup with multiple cameras, your costs could go into thousands of dollars.
3. Do I need 2 PCs to stream?
Not necessarily. A single PC is enough to stream your content. But if you're planning to stream your games, it may help to have a second PC as a single one could get burdened with video streaming and game processing. That said, this is only applicable if you've got a slightly old PC. Newer ones with superior processors and RAMs won't require you to invest in a second one.
4. What equipment is needed to live stream a church service?
To live stream a church service, all you need is a smartphone with good internet connectivity. But if you'd like to have a superior quality stream, you could invest in dedicated cameras and microphones. You can also get a switcher to shift between cameras and a streaming platform to host your streams. 
5. How much can a beginner streamer make?
As a beginner, you will likely make no money when you start off. Once you've got a few followers and attract a decent number of viewers to your streams, you can expect to make anywhere between $50 to $1000 per month. As you grow, your revenue from live streaming will increase too. Your revenue will also depend on your streaming niche and the monetization method you opt for. 
Final Thoughts
How you craft your live streaming setup will depend on your unique streaming goals and needs. Different broadcasters will need different equipment, software, and support to create a live stream that works for their brand. Plan your stream ahead of time and map out your goals so that you can create the best streaming setup to reach your audience.
Are you looking for a powerful streaming solution to complete your streaming setup? Dacast may be the option for you. Our professional live streaming solution is designed to make professional live streaming seamless and efficient.
With plans starting at $39/month, our solution is built to support broadcasters at both the beginner and professional levels. Unlike other online video hosts, our live streaming platform provides access to almost all of our professional features, including white-label streaming,  live and VOD,  video monetization, and 24/7 support, on every single plan.
Try Dacast risk-free for 14 days to test all of our professional features for yourself. Sign up today to start streaming in no time. No credit card is required.
For regular live streaming tips and exclusive offers, we invite you to join our  LinkedIn group.