Why You Should Embed Live Video on Facebook
December 11, 2014
In today's post we'll cover how effectively online video can improve your business and how to embed live video stream content using DaCast. Let's get started!
Love it or hate it, Facebook is here to stay. Communication is no longer just a static exchange of words. We now have the power to tell stories through pictures, sounds, videos and text – almost the full sensory experience. You can include original graphics, embed live video streams, and create blogs or discussions on social media. Out of all the media available, video is the fastest growing content on the internet. People now watch more videos on social media than on any standalone site. Over 190 million Americans watched online video in August 2014 – that's about 61% of the entire population. 
There are over a billion people on Facebook – the most of any social networking website – which means that it is a great form of real-time validation from your customers. It directly connects you to them and makes your product or service much more accessible. It also makes it the best tool for promoting and sharing content. You can use DaCast's live streaming tools to embed live video on Facebook to get the most of out your live video streams and effectively grow your online channel.
Better Statistics Than YouTube
Facebook is fast becoming the go-to website for online video viewing. Here are some statistics to show how Facebook is catching up with YouTube.
This means that Facebook content gets the most engagement out of your customers. DaCast lets you broadcast a live video stream and embed it on Facebook, which is something that you cannot do with only Facebook's video upload feature. You would need DaCast to do a live video stream which allows you to communicate in real-time with your customers and get more engagement from them.
Here are some quick tips on how to use Facebook to grow your DaCast channel.
9 Tips To Increase Your Live Video Stream Audience Using Facebook
1. Find the share code on the Publish Settings page inside your DaCast account.
  Copy and paste the code on your Facebook status. Share it on your Newsfeed.
2. Write an interesting and creative description to your posts to catch people's attention. Keep it short, simple and direct. Always include pictures since people respond to visuals more than text.
3. Use trending yet relevant hashtags to promote your live stream event. Don't overdo it. Use 3 hashtags at most. You can use tools like Hashtagify.me to search for related hashtags. 
4. Make it interactive for fans. Ask questions. Create discussions and connect with them. Ask for your fans' opinion on content ideas. Collaborate with them and respond to comments. After all, they're the ones who will watch your live streams.
5. Post random things and viral photos. It doesn't always have to be relevant. Sometimes fans like to respond to funny posts of cat GIFs. The goal is to interact with fans.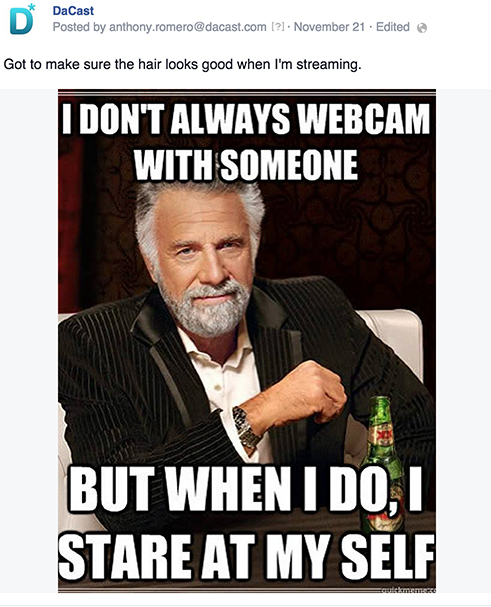 6. Repost some of your most popular streams. This will get fans excited about your content and look forward to the next broadcasts.
7. Provide incentives to fans who respond to your posts. This will encourage more people to respond. You can offer something like "the first 3 people to answer this question gets a mention in the next video!" You can also have a weekly or monthly contest to reward loyal followers. People love giveaways and prizes. It can be as simple as a free pass to a live stream or a piece of merchandise.
8. Use Facebook Insights to track engagement metrics. You can see the demographics of people who engage with you on your page.
9. Invest in your page. You can use Promoted Posts, Offers and ad targeting to reach and connect with the right audience. You can read more about this below.
Check out this post where we embedded our intro video on our DaCast Facebook page:
Getting To Know Your Customers
Before investing in your page, you can use Facebook to have a clearer idea and understanding of who your customers really are. Facebook has a well-curated user base. They require you to register with your real name and verify your account through a phone number or an email address. But on other websites like YouTube and Twitter, you find a lot of random people and spam bots who pollute your page. Facebook has real people and you can expect higher quality engagement from them.
Facebook Insights is a powerful tool to analyze the behavior of your followers. You can track user interaction by seeing which types of content and at what time of day they like, comment on and share the most. It also gives you a thorough report of your fans' demographics. You can use this data to create specific ad campaigns according to age, gender, location or interests. This real-time analytics tool can give you valuable insight on how to craft your online marketing strategy. You can get a deeper understanding of what your customers really want and offer them the best product and service. You can find out if your target market is interested in live streams or pay-per-view, and what kind of content they engage with most.
More Promotional Opportunities
Your Facebook fans can grow your DaCast channel through word of mouth online. People love to like and share videos on the social networking site because it is much simpler. You can tag people on the video and you can even share it on other fan pages. Fans can write their own description on the video when they share it to their network, which makes it more personal and human. Customers these days are smarter about letting marketing techniques get to them. They will respond more to content that sounds like an actual human being wrote it rather than another sales pitch. Facebook makes this possible by letting everyone share their thoughts.
Another cool way to promote content is through hashtags. You just select a word or phrase that relates to your video and put the pound sign (#) before it. People can find it through that hashtag when they search for it. Hashtags group topics into categories. So when people search for #musicfestival2014, they will find all posts that include that hashtag. Hashtags needs to be used properly so you don't get reported for spam. Stick to hashtags that are simple and relevant to your content.
Facebook can be used for ad targeting in which you pay only for your specific target audience. You can target by location, age, gender, interests, broad categories, or connections. You can make sure your videos reach the right people to get more traffic on your channel. You can read more here for more specific advice on how to do this.
Mobile Accessibility
The ability to access content on mobile devices is a key trend to watch out for. Studies have shown that there is already a consumption shift to tablet and mobile devices, especially smartphones. Mobile has taken over desktops as the most used device for web access in 2014. 68% of Facebook videos are watched on mobile devices and 92% of mobile viewers will share videos to their network. DaCast lets you stream with HTML5 which means your followers can still watch your Facebook live streams on their iOS and Android devices. They can follow your DaCast channel anytime, anywhere.
So there you have it. With Facebook's user base equal to China's population of 1.35 billion, you can be sure that your live stream will get noticed and discovered. Your followers can easily watch and then share it to their friends. You might even get a new set of viewers with a profile that you didn't think would be interested in your content. These people might eventually subscribe to your DaCast channel and continue watching your videos. Posting the live stream on your website is not enough, you have to promote and share it on social media channels to attract more people. Over 75% of all videos shared on social media came from Facebook. When you embed live video on Facebook, you can reap all of the benefits that Facebook can give.
In such an interconnected and global world today, it is important to be in constant contact with your audience. Social media makes all that possible, and in combination with DaCast, you can be even more effective in gaining more followers. So what are you waiting for? Get on the social media bandwagon and start getting more traction!
By Philline Managuelod. Follow me on Google+.
.