Simulcasting: The Ultimate Guide to Multi-Destination Streaming [2022 Update]
The purpose of broadcasting is to bring video content to your target audience. But what if you could stretch the reach of your broadcast and bring your video to more people?
With simulcasting, you can reach larger audiences by broadcasting your content on multiple platforms at the same time. Think beyond your video player. Think Facebook, Youtube, and the other platforms where potential viewers are hanging out. With simulcasting, you can reach viewers on numerous platforms at the same time, increasing exposure to your content.
In this post, we're going to talk about what simulcasting is and how you can simulcast your next live stream. We'll cover some of the best practices and helpful software solutions that will help make your first simulcast a hit. Simulcasting might seem overly complicated for the average user, but it's actually more simple than you may think. Here's how it works.

Table of Contents
What is Simulcasting?

How Does Simulcasting Work?

What Is OTT?
How To Simulcast

Tips for Making Your Multi-Destination Stream a Hit

What is Best Simulcast Software for Live Streaming?

How to Stream to Multiple Platforms At Once

Conclusion
What is Simulcasting?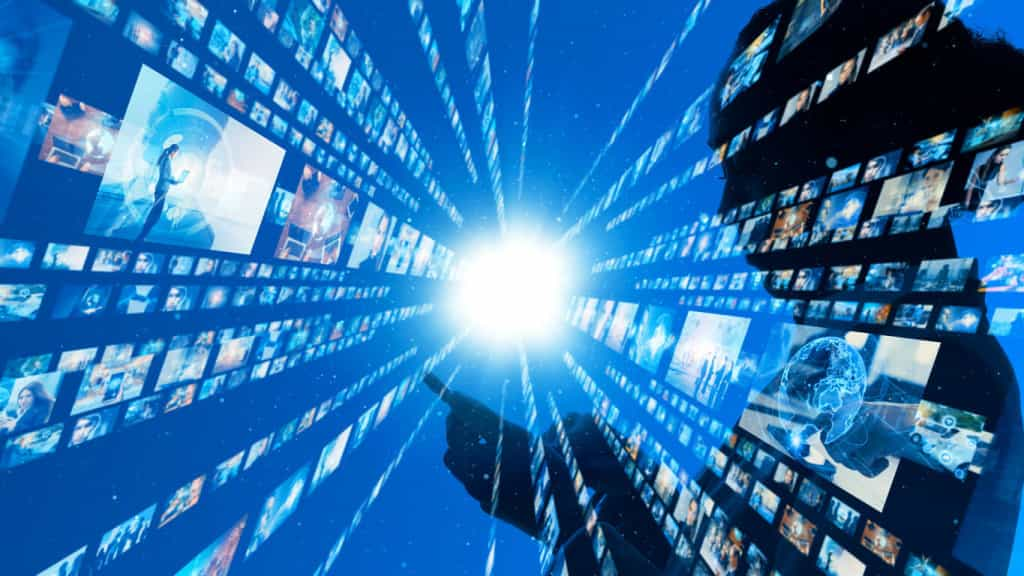 Simultaneous broadcasting—or simulcasting—is broadcasting on multiple channels at once. "Multicasting" or "multi-destination streaming" are two other terms that are used to describe the same concept. "Simulcasting" was originally used in the world of radio to describe radio shows that were simultaneously broadcasted on different stations through syndication.  The term simulcasting has been adapted to more modern applications. 
Today, simulcasting is also used to describe broadcasting a live stream on several platforms at once. You can simulcast virtual events, private events, webinars, speeches, sporting events, or content made for entertainment purposes. Simulcast streaming allows you to share your content with a larger audience.
In order to simulcast, you generally need to use a professional online video streaming solution.
Let's say Dacast is your online video platform of choice. If you simulcast your live stream, you could have it appear on the video player you've added to your site plus your social media platforms.
Steaming with professional-grade streaming solutions, as opposed to on the free social platforms, has a ton of benefits. The video monetization capabilities, total ownership of content, and control over the video player are great. But there are also perks to live streaming on the free platforms, like Facebook Live, Youtube, Instagram, and the like.
Simulcasting is also known in the industry as Multi-destination streaming or "multistreaming" for short. This is a broadcasting technique that involves streaming a single feed to multiple destinations simultaneously. The main benefit of multistreaming is that it helps broadcasters reach a larger audience.
By simultaneously streaming to social media sites like YouTube or Facebook using a multistream platform, you can reach your existing following faster and grow a more "social" community. Your audience may also be more comfortable tuning into your content from the platforms that they are the most familiar and comfortable with.
How Does Simulcasting Work?
There are a few ways to simulcast your live stream. Most often, they involve using a video hosting manager and/or a dedicated simulcasting software or platform.
The technicalities of how simulcasting works vary by which method you choose. In most cases, over-the-top (OTT) technology is used to stream your video over the internet.

What Is OTT?
"Over the top" refers to the practice of delivering video and other media content directly to the end user over the internet, without the need for any intermediate service provider or cable broadcast setup. The origin of the nickname is that the internet bypasses the need of a traditional cable box, which was typically placed on top of a television set.
In most cases, OTT services are delivered through the use of an internet connection, a computer or other device with an internet browser (like a smartphone or other touchscreen device) and a streaming service. Netflix and Hulu are two major OTT providers.
How To Simulcast
There are three ways to stream to multiple platforms at once. These include:
Using a share code
Simulcasting software solutions
Each of these varies a little bit in nature and functionality. Which you use will depend on the social platforms that you'd like to stream on. 
For example, Facebook is the only free streaming platform that gives professional streaming software any real competition. The only way to truly simulcast on your video player hosted by Dacast and Facebook Lives is to use special software like Switchboard. You can post a share code on your Facebook page, but that simply takes viewers back to your custom video player.
Share codes work very similarly to any link that you'd post on social media. Once you add the share code to a blank post on Twitter, LinkedIn or Facebook, a splash screen and title will appear.
The most technical option, which can also be the most complicated, is simulcasting with the help of encoding software. There are numerous options for this, including free, proprietary, and open source tools. Some of these applications focus on professional broadcasting, while others provide general video encoding and transcoding solutions.
Using special software for simulcasting has tons of benefits. This approach gives you the freedom and control that come with your professional streaming solutions. However, this software can be a bit of an investment — in time, money, effort, or all of the above.

Tips for Making Your Multi-Destination Stream a Hit
Just like any livestream broadcast, your first simulcast will require a bit of preparation. Since simulcasts are slightly more complicated than regular live-streams, they require a bit more time and effort.
Here are a few tips that will help you have a successful simulcast.
1. Test Beforehand
Since you're going to be streaming on several platforms, it's a good idea to test each one individually before showtime just to make sure everything runs smoothly.
If one platform works better than others, perhaps direct users to watch there. 
2. Notify Your Audience
In order to get the most viewers, let your audience know where they can find the stream far enough in advance.
One of the perks of simulcasting is that you can tap into existing audiences on social media platforms. Make announcements and countdown posts on these platforms before your stream so that everybody knows that you'll be going live.
It is a good idea to let people know that you'll be live on multiple platforms so they can view the stream on the platform that they prefer. Promoting on the very platforms where you will be broadcasting is one of the advantages of simulcasting; you can pull your audience in.
3. Monitor the Platforms
It's a good idea to have somebody monitoring each of the platforms that you're streaming on, especially if any of the platforms have commenting capabilities. This way you can see what people are saying and see if anything is malfunctioning.
The person who's monitoring the simulcast should be in a different room so that your microphone doesn't pick up the sound of the broadcast and begin to echo or feed back.
Figure out a way for the person who is monitoring to communicate with the person on camera in the event that something goes wrong.
What are the Best Simulcast Platforms for Live Streaming?
Simulcasting is made easy with a powerful streaming platform. It is important to choose a multi-stream platform that either has simulcasting capabilities or integrates with software that is specifically intended for live streaming to multiple platforms.
Let's take a look at a few of the top live streaming platforms that support simulcasting and a few dedicated simulcasting software options.
1. Dacast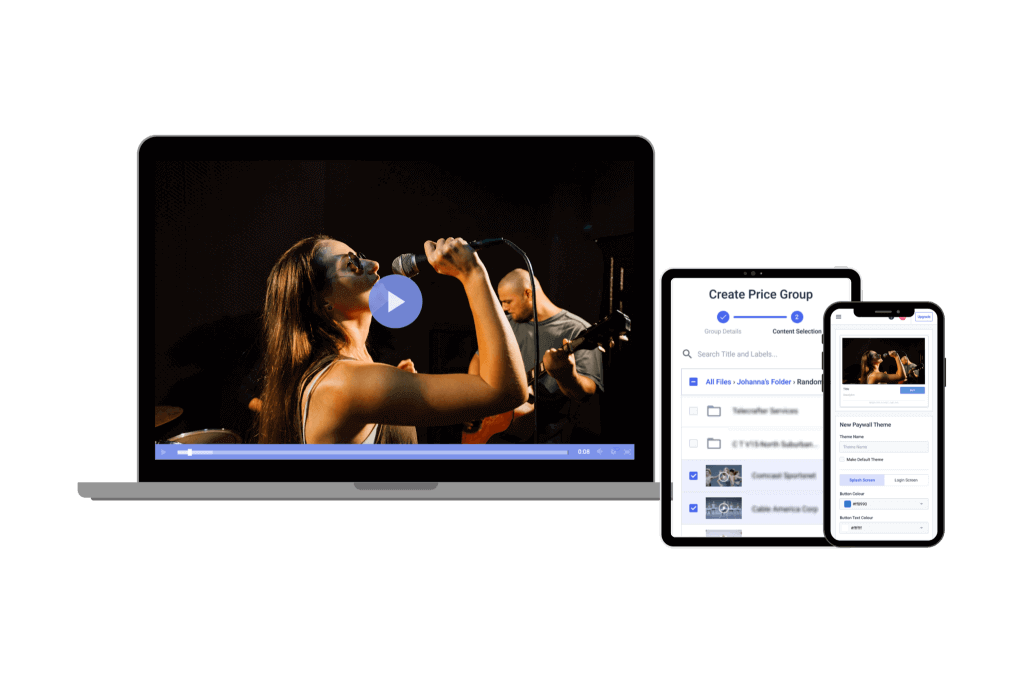 Dacast's live streaming platform has two major integrations that are perfect for simulcasting. You can use the custom OBS platform, or you can use the Switchboard Live integration feature. Either option is great because both of them provide access to the powerful features of Dacast.
Even if you decide against investing in a specialized simulcasting solution, Dacast has other methods for livestreaming to multiple platforms. The simplest method is via share codes, but free encoding software is useful, as well.
Pros:
New!
Cons:
Requires a bit of a learning curve

Not a dedicated simulcasting platform
Pricing:
Streaming plans with Dacast start at $39 per month and come in the following four tiers:
Starter plan: ideal for newcomers with 1.2 TB of bandwidth and 50 GB of storage per year, at just $33 per month billed annually.

Event plan: for organizations that would rather not sign a contract, and want to purchase bandwidth separately to live stream an event. It offers 6 TB of bandwidth upfront, 50 GB of storage, and costs just $56 per month (or $750/year). Additional data and storage can be added as needed.

Scale plan: includes 24 TB of bandwidth per year, with 1 TB of storage for $166 per month billed annually. These Scale pricing plans add phone support, monetization paywall, an

M3U8 online player

for live channels, ad insertion, white-label streaming, and 

video API

access. Additional bandwidth is available upon request for monthly plans. Read more here about Dacast's

live streaming pricing plans

.

Custom plan: if your enterprise business has high-volume streaming needs, you can contact Dacast for a custom plan tailored to your needs.
Dacast allows you to engage in live simulcasting using OBS simultaneous streaming as well as with free share codes. It's also a comprehensive video hosting service that can meet a range of your other broadcasting needs.
2. BoxCast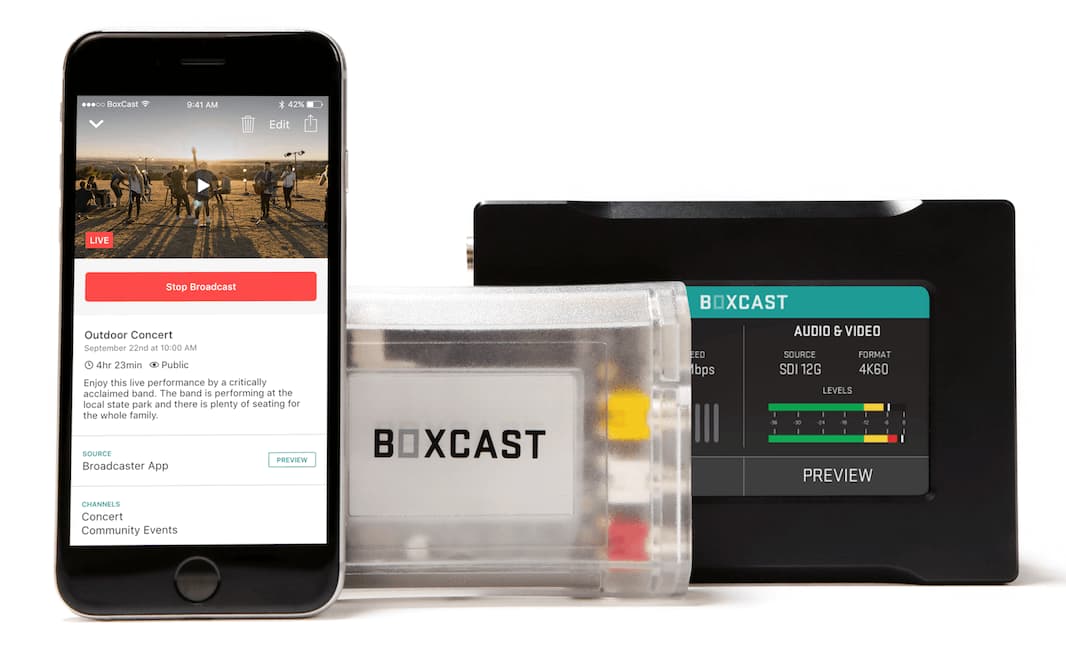 BoxCast is another popular live streaming solution for those who are looking for simulcasting capabilities. Boxcast allows users to stream to Youtube, Facebook Live, and Periscope.
In addition to its simulcasting features, Boxcast offers specific streaming solutions for churches, sports, events, municipalities, and enterprises. 
Pros:
Wide variety of streaming destinations

Event scheduling

Automation for time scheduling

Reliable support
Cons:
Can get expensive

Some limitations on compatibility
Pricing:
BoxCast pricing is based on 3 plan tiers. Each successive plan offers more features and more storage time per broadcast. Custom plans are available at higher price points as well. The main monthly plans include:
Essential: $99 per month; includes 3-month storage per broadcast and live phone support.

Growth: $149 per month; increases per broadcast storage time to 1 year.

Experience: $199 per month; high-quality streaming and access to advanced features

Premium: $999 per month; a scalable solution with access to even more advanced features
If your primary audience is on Facebook, YouTube, and Periscope, this is a good simulcasting tool for your business. 
3. Vimeo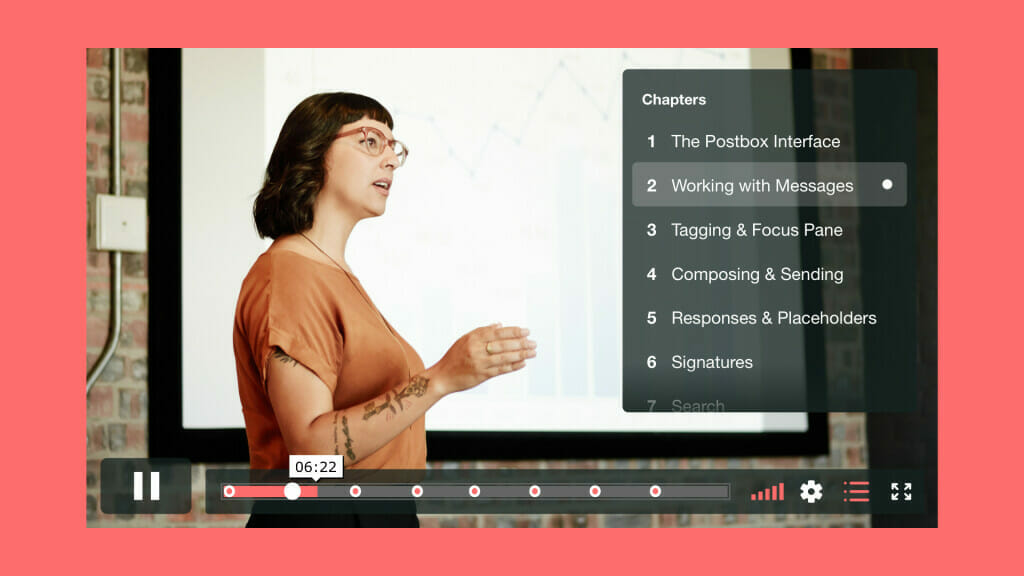 Looking for a basic streaming solution with live-streaming capabilities? Vimeo is a great option. Vimeo started as a consumer-grade platform and has shifted to serve a more professional audience.
Setting up the simulcast tools on Vimeo is very simple. All you have to do is go into the settings, click "Destinations" and connect your LinkedIn, Facebook, and Youtube accounts.
Pros:
Low-budget options

TVOD monetization

Video management service

Privacy options

Widely-adopted video player
Cons:
Limited storage

Heavy Vimeo branding on the more affordable plans.
Live-streaming is only available on Advanced plan ($55/month) and above.

Pricing:
Vimeo pricing plans are available in 5 tiers that are suitable for content creators and startups.
Basic: 30-day free trial

Starter: $12 per month; 5 videos per month, comes with some useful creator tools, like screen recording, creative templates, and marketing widgets.
Standard: $35 per month; 10 videos per month, includes everything in the Starter plan, plus a ton of other marketing features, as well as stock media (photos, videos, and music).
Advanced: $55 per month; 20 videos per month, this is the livestreaming plan, along with all previous plans' features.
Enterprise: This plan includes everything in the Advanced plan but with more custom tailorability, as well as more security and technical support.
All plans are billed annually by default. However, the Enterprise plan has a lot more billing flexibility.
Vimeo offers simulcasting as well as video management services and limited monetization options for content. 
4. Livestream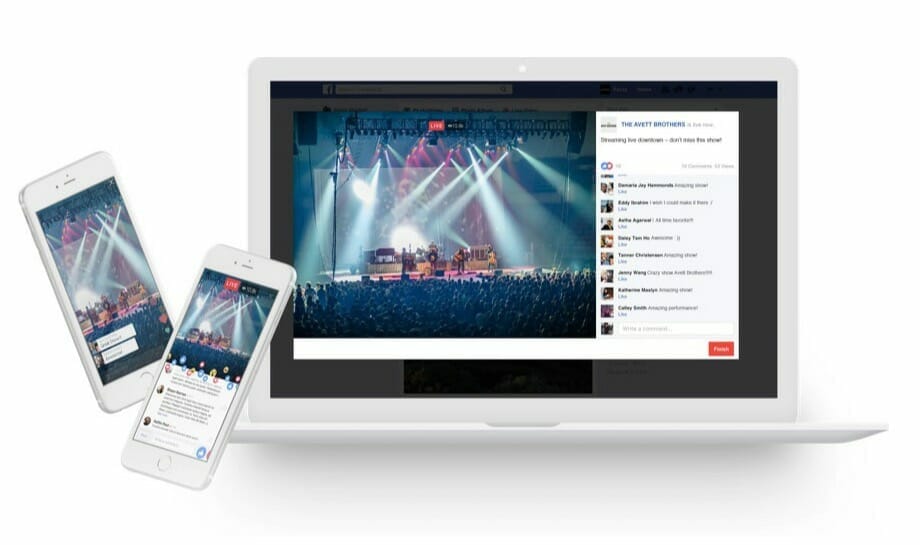 Livestream, which is a premium streaming solution from Vimeo, has settings that allow users to simulcast directly from their platform to Facebook Live, LinkedIn, Twitch, YouTube, and Vimeo.
This platform supports both OTT VOD streaming and live broadcasting.
Pros:
Sleek interface

Thoroughly detailed analytics

Easy to use

Large collection of professional broadcasting tools

Video management service

High-quality videos and streams

Large storage capacity
Cons:
Can get quite expensive

Extremely limited streaming destinations 
Pricing:
Livestream offers three main pricing plans, including:
Vimeo Advanced:
Advanced pricing: $55/month

Their Advanced plan includes both live-streaming and VOD support. This plan is the best option for professional broadcasting on this platform.
Vimeo Enterprise:
Enterprise Pricing: Please contact Vimeo for custom pricing information

The Enterprise plan includes white-label service, monetization, and video API access. It also includes branding control and added security features.
Starter Pricing: $1/subscriber per month

Growth Pricing: starting at $500/month

This OTT-specific pricing package comes with the Vimeo.com relationship. These plans include all the basics for starting your web-based OTT channel, as well as growing your OTT business online.
5. Restream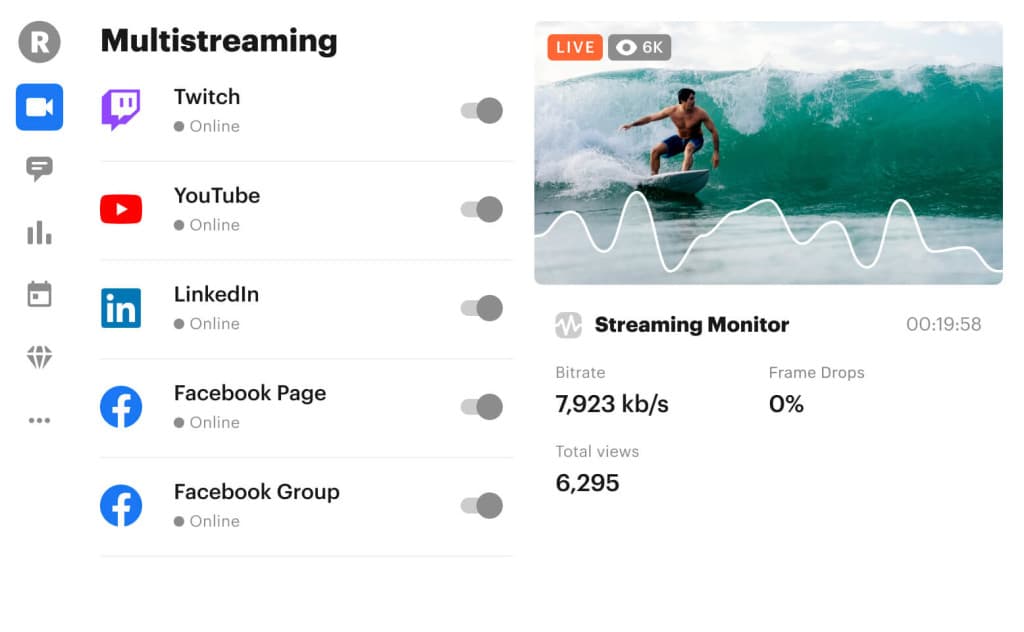 Restream is a dedicated simulcasting software that is quite powerful. The appeal of this platform is that simulcasting is its primary function, and it has solutions for a wide range of budgets.
The primary industries that Restream serves include gaming, tech, government, sports, media, and music.
Pros:
Powerful simulcasting capabilities 

Tools for boosting engagement

Peer-to-peer streaming support

Support for audience interaction
Cons:
No encoding support

Difficult to use on WiFi

Some complaints about video quality
Pricing:
Restream has several pricing plans for both individuals and businesses. These include:
Individuals:
Free: $0/months (for individuals)
Standard: $16/month (for individuals)
Professional: $41/month (for individuals)
Companies:
Premium: $83/month (for businesses)
Business: $249/month (for businesses)
These prices reflect monthly rates when paid monthly, and offer discounts when paid for a full year in advance.
6. Switchboard Live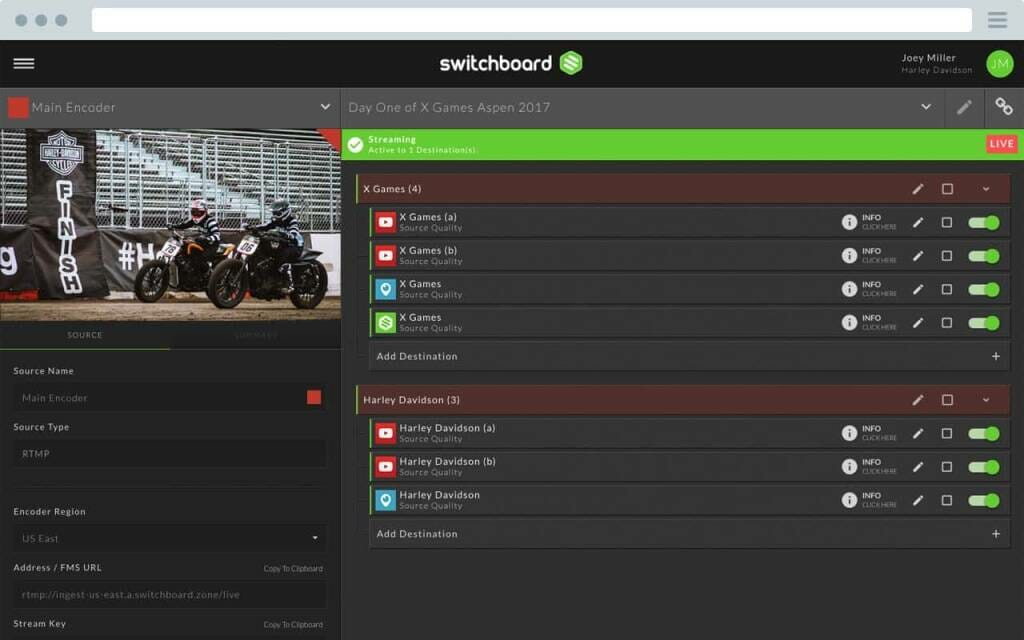 Switchboard Live is another great simulcasting software that is worth noting. This platform is relatively basic and is almost totally dedicated to simulcasting.
There is actually a Switchboard Live integration on Dacast which makes this platform one of the preferred options for our users.
Pros:
Generally easy to use

Integrates seamlessly with some major OVPs

Powerful simulcasting support
Cons:
Some minor "snags" in setup

Some settings require manual configuration (which are automatic on other platforms)
Pricing:
Switchboard Live has three different pricing plans:
Indie Unleashed: $29/month; includes 1,500 streaming minutes per month and it supports streaming to unlimited destinations 

Pro Unleashed: $59/month; includes 4,000 streaming minutes per month and supports streaming to unlimited destinations for unlimited team members 

Business Unleashed: $99/month; includes 10,000 streaming minutes per month and supports unlimited as the other plans but also adds a branded StreamShare page 
Discounts are available for users who pay quarterly or annually.
7. OBS Studio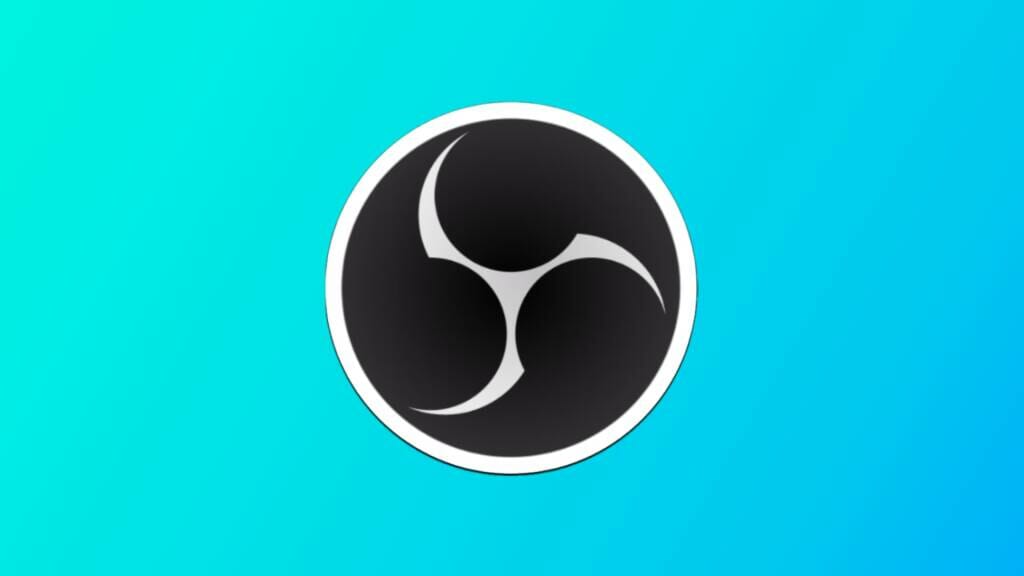 Open Broadcaster Software Studio (or OBS Studio for short) is a live streaming tool that allows you to simulcast your streams. It has additional tools that are used for mixing and editing content as it's recorded. You can even add filters to your videos or automatic correction, which keeps you looking your best as you stream.
Dacast offers a customized version of OBS that lets you stream with Dacast but use the cool features of OBS. There are four OBS settings that you should check out for the best streaming results.
Version 27.2.4 was released on March 29th, 2022, and is available for download here for both macOS and Windows operating systems.
OBS is available for Mac, Windows, and Linux. Windows Vista is no longer supported by OBS Studio.OBS is not compatible with Facebook, but it does work with Youtube.
Pros:
It's free

Easy-to-use (especially for beginners)

Frequent updates to improve the experience

Able to function on lower-quality internet
Cons:
Some inconvenient limitations on features

Limitations on plugins
Pricing:
OBS Studio is open-source and completely free to use. 
If you want to engage in simulcasting without adding to your budget, try multistreaming on OBS. OBS simulcasting, and all its other tools, are completely free to use. 
8. SplitCam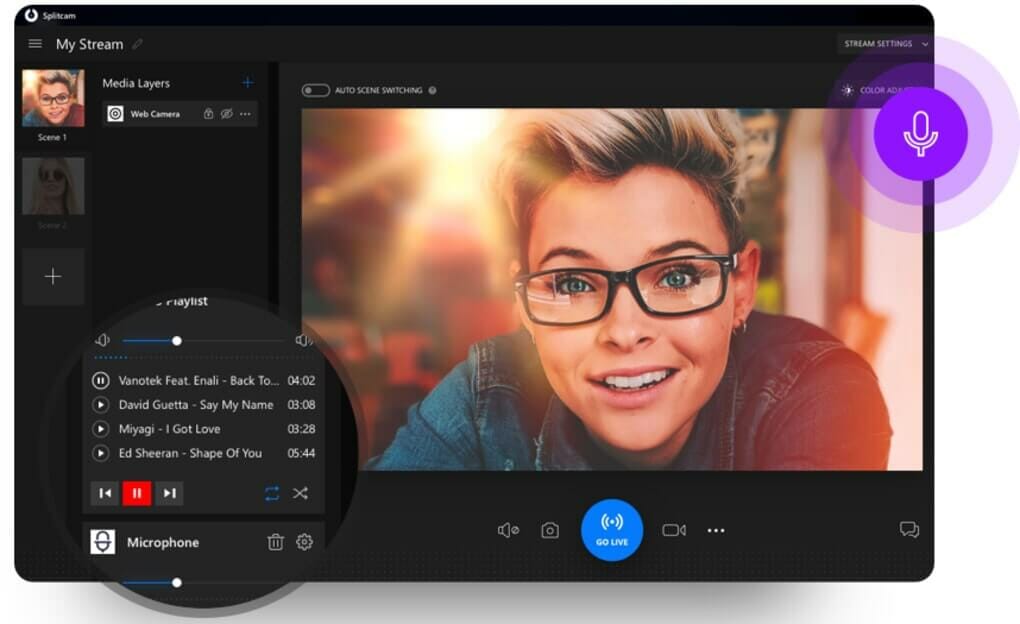 SplitCam is a broadcasting software program that's primarily used for webcam splitting. This comes in handy for use cases in which peer-to-peer streaming is necessary. Some use cases would be live training sessions, webinars, and other virtual streaming events that involve interaction with viewers.
SplitCam is compatible with many major peer-to-peer services and streaming solutions, which makes it useful to broadcasters with many different streaming needs. Users can broadcast their streams to Facebook, LinkedIn, Twitch, YouTube, and a variety of other platforms all at the same time.
One notable feature of SplitCam is that it has a large online community which means that it is easy for users to connect and find support from one another. This is a nice addition, especially for broadcasters who are still learning the ropes.
SplitCam is compatible with both Windows and macOS.
Pros:
It's free

Supports multiple destinations and multiple sources

Tools for video mixing

Supports high-quality streaming
Cons:
Doesn't support encoding

Requires laptop or desktop (no mobile streaming)
Pricing:
SplitCam is absolutely free to download and use.
SplitCam is another free simulcasting solution with a focus on helping you split the screen using webcam streaming that integrates with other video hosting platforms. 
9. Wirecast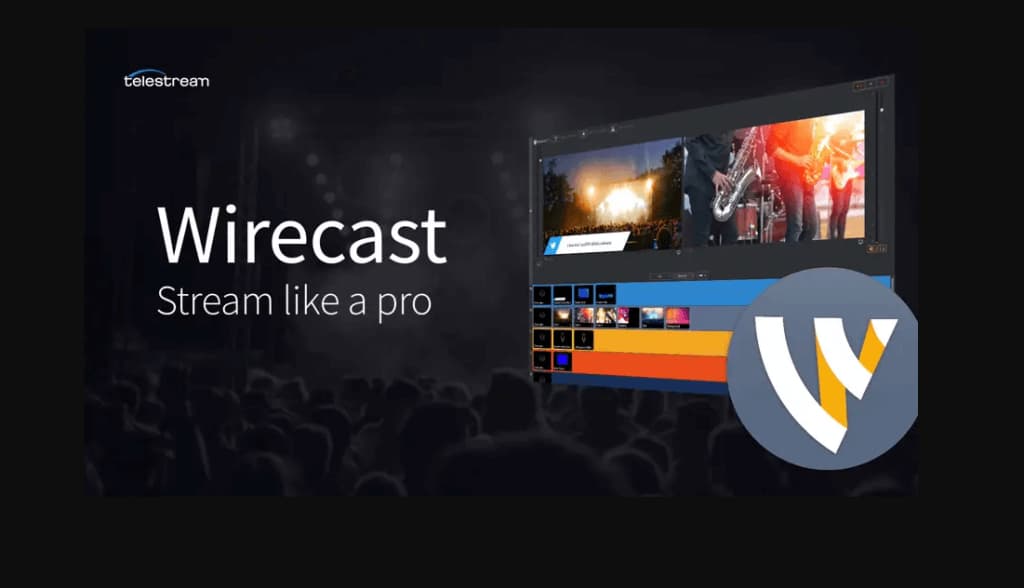 Wirecast is a broadcasting software from Telestream that supports simulcasting and other broadcasting functionality, like encoding.
The latest version of Wirecast is 15.0.3 It is the newest full version and was released on June 27th, 2022. It features several enhancements and fixes, including sync and compatibility issues.
Pros:
Unlimited inputs

Unlimited outputs

Tools for mixing video and audio

Easy-to-use, user-friendly platform

Compatible with most popular operating systems

Fully loaded with valuable features for broadcasters
Cons:
High price point 

Many features locked in the "Studio" version

Strain on computer
Pricing:
The software comes in two versions:
Wirecast Studio

: $599 (one-time purchase); designed for enhanced live production & streaming

Wirecast Pro

: $799 (one-time purchase); designed for advanced live production and streaming

; $35 per month for a Wirecast Pro subscription
Free trials used to be available with both versions of the software, but that has since been discontinued.

10. XSplit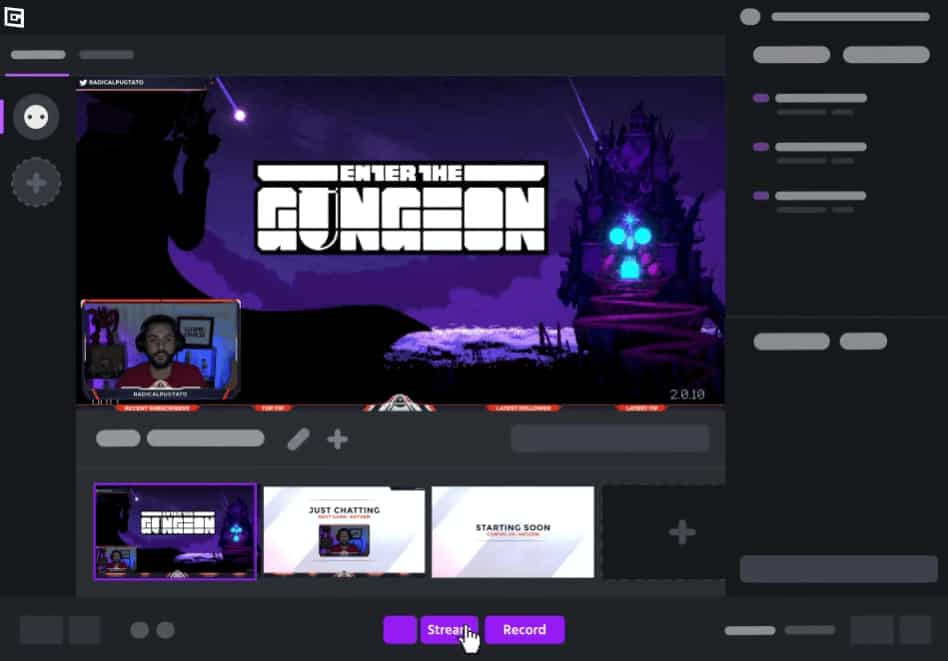 XSplit is a broadcasting software that is used for simulcasting, screen recording, mixing, and more. This company offers many of the tools that broadcasters need to make their streams a success.
XSplit works with the Windows operating system. Although it's not currently compatible with macOS, a dedicated version that works with that operating system should be coming soon.
Pros:
Multi-destination streaming 

Organizational tools (title tags)

Screen recording capabilities

Mixing and editing

Business-grade platform

Flexible pricing

24/7 support
Cons:
The interface can be confusing

Requires a bit of a learning curve

Known to strain some processors
Pricing:
The pricing plans for XSplit Broadcaster are very flexible, including the following:
1-month, 12-month, and lifetime licenses
VCam, Broadcaster, and Premium tiers
Prices as low as $8 per month and $30 for life
How to Stream to Multiple Platforms At Once
Now that we're familiar with the top simulcasting software choices, let's take a look at how to simulcast from Dacast with both OBS Studio and Switchboard Live.
Simulcasting with OBS Studio
You can simulcast with OBS Studio by connecting it to your Dacast account with our encoder setup instructions and properly configuring a few different settings.
The best OBS settings include:
Simple Output Mode: "Simple Output Mode" gives you the default video settings to set you up for your live stream.
Advanced Output Mode: This feature gives you a little more control over the output settings of your broadcast.
Hot Keys: This tool allows you to switch scenes while you're broadcasting.
Video Source: The "Video Source" tool allows you to set up

video source(s)

before you start recording.
We suggest experimenting with each of these tools to learn how you can get the most out of the platform.
Simulcasting with Switchboard Live
Dacast's streaming solution seamlessly integrates with Switchboard Live, which is another one of the platforms that we compared above.
There are two processes that you must go through to simulcast with Switchboard Live. You have to connect your account with Dacast and then connect your account to the other platforms that you'd like to stream on. 
To connect Dacast to Switchboard, you have to first copy your API key from Dacast. Open up Switchboard Live and add "Dacast Channel" as a new destination.
Once you've connected Dacast, it's time to connect to any social platforms that you'd like. You'll add each platform as a new destination, as well. After your preferred destinations are entered, you'll set up the encoder and the RTMP server.
For more detailed instructions, check out our dedicated video tutorial.
Conclusion
Simulcasting comes with many benefits, and with the right tools, it's easy to do. You can reach larger audiences and make your live streams more easily accessible to your existing social media followers.
You can choose to simulcast with the help of a software encoder, a specialized simulcasting software, or a share code from your video hosting platform. You have the power to choose the option that works best for you.
Simulcasting is made easy with Dacast and our powerful integrations. You can try Dacast risk-free for 14 days to see how well it works for your business. No credit card is required. Are you ready to start streaming with Dacast?
For regular tips on live streaming and exclusive offers, we also invite you to join our LinkedIn group.