Best OBS Studio Settings for Broadcasting Live Streams [Updated for 2021]
As live video streaming becomes more popular in our day-to-day lives, many businesses are experimenting with broadcasting. For those who are new to live streaming, this involves learning to deal with the many technicalities involved in streaming live video. 
It's pretty easy to create high-quality live streams today, but successful live broadcasts require a little know-how and technical experience or understanding.
One key technical topic related to broadcasting is live stream encoding software and the encoding process. Encoding is essential to professional live streaming for several reasons.
If you're new to OBS Studio encoding software, this guide walks you through the best OBS studio settings for your Dacast live broadcasts.
To help you get started, we've put together our top 4 tips for optimizing standard and advanced OBS settings for live streaming. First, we'll review what OBS Studio software is and what it does. Once we understand the software basics, we'll outline the ideal encoder settings for your broadcasts.
Please note that this article is based on the latest version of the OBS Studio Version 27.0.1 released on June 11th 2021, for free download. Our tutorial has been updated to reflect the best OBS studio settings for the latest version, as well as new features from Dacast as of July 2021.
Table of Contents
What is Encoding?

What is OBS Studio?

Configuring Your OBS Studio Encoder Settings

Best OBS Settings for Audio and Video

Conclusion
What is Encoding?
Simply put, encoders allow you to convert your video files from RAW to digital in order to prepare them for transmission from your camera to your live streaming platform host. Along with a recording device and reliable internet, a functional encoder is a must for broadcasters.
Encoders come in the form of both software and hardware. Software encoders are typically free or low-cost, but hardware encoders can get quite expensive.
In fact, research shows that 67% of viewers rank quality as the most important factor in a live stream. As a broadcaster, you can ensure high-quality content for your viewers by choosing the best OBS Studio settings before you go live. 
What is OBS Studio?
OBS Studio is a free, open-source RTMP-enabled encoder software that is perfect for new and experienced broadcasters. RTMP stands for "Real-Time Messaging Protocol" and it is part of the technology that makes live streaming possible. RTMP's primary role is to deliver content from an encoder to an online video host. This RTMP function is referred to as "RTMP ingest." For OBS, the RTMP protocol serves as the bridge of the gap between its encoding and streaming functions.
As we mentioned, professional live streaming requires either a software or hardware encoder. This equipment works to encode a live video feed into the correct format for streaming through your OVP (online video platform). 
One popular and free option is OBS Studio. This open-source live streaming software allows users to capture and stream live video from any Mac, Windows, or Linux computer.
OBS Studio offers many great features for new broadcasters who are just getting the hang of live streaming. The software has a set of OBS-specific system requirements to ensure the most optimal live broadcasting experience. These settings include the ability to mix multiple sources with custom transitions, use audio/video filters and correction tools, and more. 
OBS Studio is especially easy to use for Dacast users since Dacast has created a custom OBS Studio portal that is free for our users.
Best OBS Studio Settings to Configure Your OBS Encoder
There is a very specific way to configure the OBS Studio settings for live streaming on a Dacast HTML5 live channel. 
First, open the OBS Studio settings by clicking the "Settings" button in the bottom-right area of the application window.
The first tab, labeled "General," doesn't have anything too critical to review. However, here, you can choose your language and select a light or dark theme.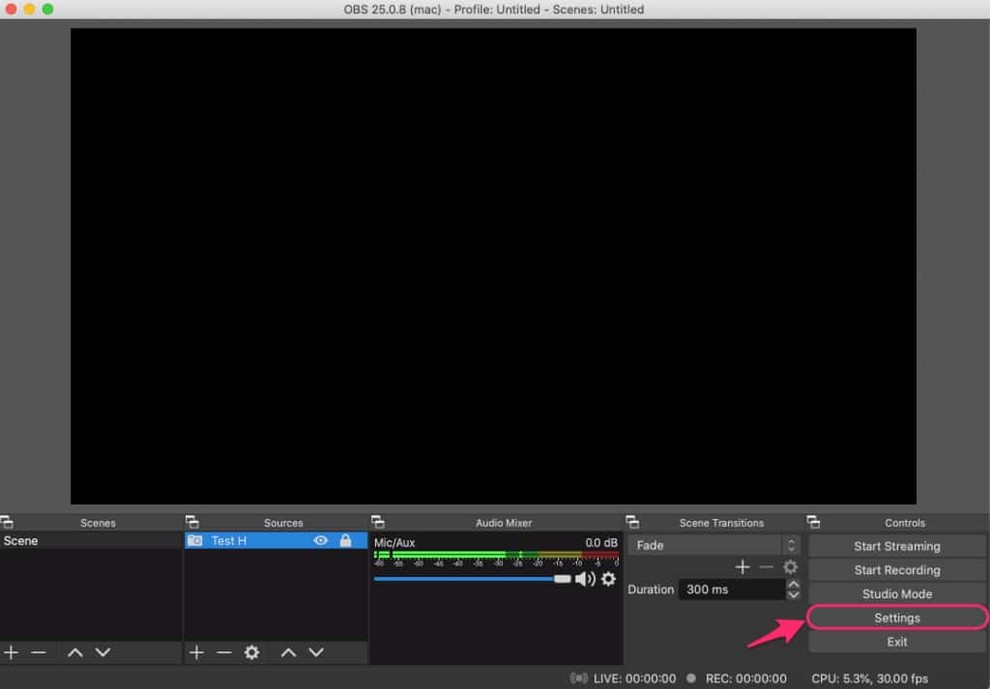 The first tab, labeled "General," doesn't have anything too critical to review. However, here, you can choose your language and select a light or dark theme. 
Keep in mind, however, that the checkboxes may be important. Check both boxes to avoid accidentally starting or stopping your stream before you're ready.
Once you've reviewed these settings, click on the next tab labeled "Stream" in the OBS Studio settings window. 
For "Stream Type," you should see "Custom…" by default. If not, please select it. Next, you need to enter the data provided in your Dacast account.
The next steps are as follows:
Go to your Dacast account, and open or create the channel you want to live stream with OBS. Open your "Encoder Setup."

You will choose "Stream Name," click on copy and go back to OBS to paste the key in the Stream Key field.
Then, you have to do the same for "Server," which is copied in the Stream URL. You will repeat this for the username and password.
If the tutorial above did not cover everything in detail, check out our OBS quickstart tutorial or have a look at the following video on how to choose the best OBS Studio settings:

Option with iFrame Embed Code:
<iframe src="https://iframe.dacast.com/vod/3b67c4a9-3886-4eb1-d0eb-39b23b14bef3/08cebf46-2960-07df-89bf-4479e6b4be0e" width="590″ height="431″ frameborder="0″ scrolling="no" allow="autoplay" allowfullscreen webkitallowfullscreen mozallowfullscreen oallowfullscreen msallowfullscreen></iframe>




Option with JS Embed Code:

<script id="3b67c4a9-3886-4eb1-d0eb-39b23b14bef3-vod-08cebf46-2960-07df-89bf-4479e6b4be0e" width="590″ height="431″ src="https://player.dacast.com/js/player.js?contentId=3b67c4a9-3886-4eb1-d0eb-39b23b14bef3-vod-08cebf46-2960-07df-89bf-4479e6b4be0e"  class="dacast-video"></script>


Or with Share link:
https://iframe.dacast.com/vod/3b67c4a9-3886-4eb1-d0eb-39b23b14bef3/08cebf46-2960-07df-89bf-4479e6b4be0e
Top 4 Best OBS Studio Settings for Audio and Video
Dacast has a few required set OBS settings that apply to this and any other encoding software you may use.
These are the required settings:
| | |
| --- | --- |
| VIDEO CODEC | H.264 (x264 may work) |
| FRAME RATE | 25 or 30 |
| KEYFRAME INTERVAL | 2 secs (or 2x frame rate) |
| SCANNING | Progressive |
| ENCODING BITRATE | Constant (CBR) |
| AUDIO CODEC | AAC |
| AUDIO BITRATE | 128 kbps |
| AUDIO CHANNELS | 2 (Stereo) |
| AUDIO SAMPLE RATE | 48 kHz (48,000 Hz) |
In addition to these required live encoder configuration settings, there are a few other suggested settings to optimize your audio and video streaming.
1. Simple Output Mode
To change the encoding settings, you will have to open the Output settings. By default, the selected output mode is Simple. To ensure your Dacast live stream is stable and fully functional we recommend you follow the configuration settings shared in the "Encoder Setup" window. 

When using this output mode, you only need to focus on the video bitrate and the audio bitrate.
By default, the audio bitrate and the video bitrate will be in low definition. Of course, you can select a higher video quality if you choose.
When doing so, please make sure that your combined audio and video bitrates are less than half your internet upload speed. Otherwise, you'll run into buffering issues.  
For example, if your internet upload speed is 2000 Megabit per second, then your audio and video bitrates should not be higher than 1000 Megabit per second. 
To learn more about our recommended bitrate settings for various resolutions for secure video upload, check out our support site post.
Additionally, you can test your internet connection speed by going to the website testmy.net. 
2. Advanced Output Mode
If you opt to select the "Advanced" output mode, you'll get access to more options for the best OBS Studio setting. To ensure a quality stream, you should review the screenshot below. 
Pay close attention to ensure that your output mode is "Advanced," the rate control is set as CBR and the keyframe interval is equal to 2. 
The other setting found on the Output OBS Studio settings page relates to recording your broadcast. This feature enables you to record the live stream to a local drive as you stream. If you haven't set up an auto-archiving feature with your live streaming platform, we recommend enabling this setting. Use "Same as Stream" or "Indistinguishable Quality" for recording quality, "mp4" for recording format, and "x.264" for the encoder.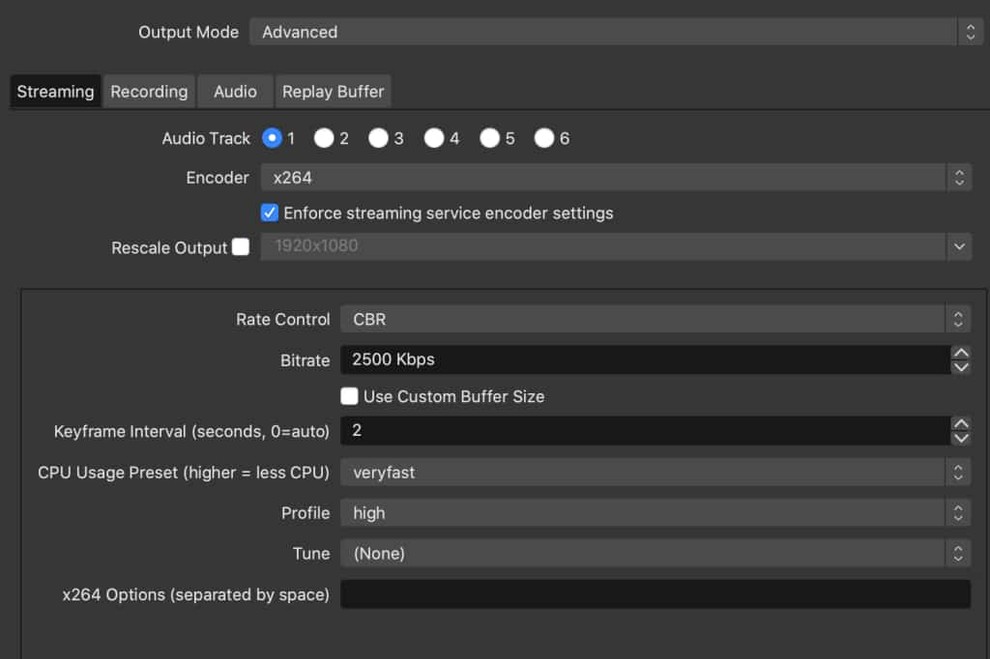 3. Hotkeys
Hotkeys allow you to set up different scenes within your live stream encoding software. That way, you can switch between the scenes during your live broadcast.
4. Video source
To add a video source, click on the "+" button in the "Sources" widget. From there, you can select a display capture, video capture device, image, recorded video, etc. When you're ready to stream live, you can click on "Start Streaming."
Conclusion
Choosing the right encoder settings can be confusing at first. Luckily, OBS Studio is free software that will allow you to test out the features without investing any money.
We believe that you'll have a smooth experience if you follow these recommendations on the best OBS studio settings to get started. After a little experimenting, you'll have no problem navigating the platform.
With these recommended settings as your starting point, getting comfortable doing live streams should be straightforward and enjoyable.
For additional details on streaming with OBS Studio, you can always check out our tutorials on how to stream using Dacast OBS for Mac or using Dacast OBS for Windows.
Not yet using our streaming solutions, and ready to give our platform a try? Our video hosting and live streaming platform are both feature-rich and affordable. 
We encourage you to take advantage of our risk-free trial, and test out all of our features free for 30 days (no credit card required)!
For exclusive offers and live streaming tips, you can also join our LinkedIn group. Do you still have questions, comments, or feedback? Let us know in the comment section below, and we'll get back to you. We love to hear from our readers!
Thanks for reading, and best of luck with your live broadcasts.
Please note that this post was originally written by Max Wilbert. It was revised in 2021 by Emily Krings to include the most up-to-date information. Emily is a strategic content writer and storyteller. She specializes in helping businesses create blog content that connects with their audience.
Subscribe
Stay up to date with our latest features and product releases