How to Set Up a Live Camera Feed and Webcam Stream in 8 Steps
Webcam live feeds are useful in many scenarios. Their "set it and forget it" nature makes them attractive to organizations that want to stream content without much continuous effort.
In this post, we're going to talk about why live camera feeds are useful and how to set up a live webcam feed of your own. We will walk you through everything from choosing a hosting platform to starting your stream.
Let's get started by discussing why you might use a webcam live camera feed.
Table of Contents:
Why Use a Live Camera Feed?

How to Set Up a Live Camera Feed and Webcam

Choose an Online Video Platform

Set up the Webcam

Secure an Internet Connection

Set Up a Live Channel

Embed Your Video Player

Promote Your Live Stream

Test Your Webcam Setup

Start Streaming

Conclusion
Why Use a Live Camera Feed?
A webcam live feed is a continuous live stream that is captured on a webcam. If you're not familiar, a webcam is a digital camera meant to capture photos and videos when connected to a laptop or computer.
The basic purpose of a webcam live feed is to connect with your audience by giving them direct access to your location or exhibit.
There are many uses for a webcam live feed, including animal cams, nature cams, city cams, and more. Sometimes, schools and daycares set up webcam live streams so that parents can take a look at what their little ones are up to throughout the day. 
One perk of streaming with a webcam is that there is usually no need to use an encoder with a webcam because they are digital cameras. That means that it captures "streamable" content, so no conversion is necessary. 
How to Set Up a Live Camera Feed and Webcam
Setting up a webcam live feed is fairly straightforward as long as you have the proper equipment and tools in place.
Let's take a look at the eight steps for setting up a webcam live feed of your own. 
1. Choose an Online Video Platform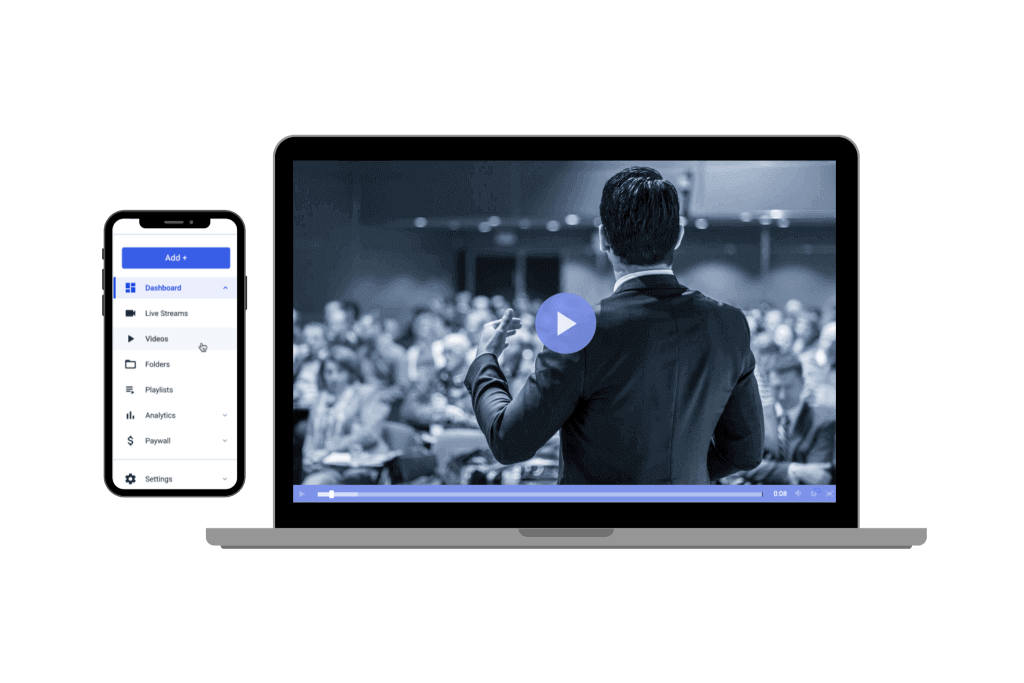 Choosing a reliable online video platform with live streaming capabilities to host your video feed is very important. Not only do you need a platform that supports live streaming, but you need one that supports linear or continuous live streaming. 
Some other features to look for in an online video platform include:
You also want to pick from among streaming solutions that offer a reliable content delivery network (CDN). A CDN ensures that your content will be broadcasted live all over the globe without clogging your servers. Dacast, for example, has partnered with Akamai, Limelight, and other top-tier video CDNs to provide global content delivery.
Check out our online video platform comparison post to learn more about Dacast and how it stacks up to other solutions on the market.
2. Set up the Webcam
You will need a high-quality webcam for streaming. Depending on your strategy, a microphone might also be needed, but not required. In fact, many live feeds are done with no audio at all. 
If you are streaming indoors, then you have a lot of leeway in your camera setup. In fact, just about any webcam will do for your broadcast. You can also use professional cameras as well, although will need a capture card and encoding equipment if you do.
If you are streaming outside, IP cameras, or security/surveillance cameras, are a good option. They offer flexibility and stealth in terms of location. They are a little different to stream to compared to most sources, though. We recommend checking out our IP camera streaming guide if this is the direction you want to go.
As you compare webcam options, make sure that you're looking at IP cameras that are compatible with your online video platform.
Once you've chosen a camera, connect it to your online video platform. You will connect it as a source or an input. This verbiage varies from platform to platform. 
You can either use a cameraman for your live feed or you can set the camera up in a secure place if you want to stream live 24/7. 
Also, ensure your streaming setup is secure from its surroundings, and make sure your streaming equipment can stand the harsh conditions of the outdoors, if applicable. You never know when it might rain or worse.
3. Secure an Internet Connection
It's important to have a reliable internet connection when live video streaming. Blackouts and blank screens are some of the worst things that can happen during a live broadcast. 
Tethered Ethernet is the most reliable internet connection, and Wifi comes in as a close second. No matter which way you go, you're going to want to pay close attention to your upload speed. 
We recommend using an upload speed that is around double what you plan to use to live stream, so you can comfortably use 50% of the speed. You can push this to up to 80% of your internet connection speed if need be. For example, a 1,000 kbps connection would let you stream from 500 kbps all the way to 800kbps
In order to check your internet's upload speed, you can search "speed test" on Google. The first result is a built-in Google tool that can help you test your internet speed.
If you are streaming from a remote location without access to Ethernet or Wifi, we recommend checking out our remote streaming guide that provides information on circumventing these issues.
4. Set Up a Live Channel
After getting your internet and equipment into place, it's time to set up your live channel. This can be done via your online video platform. This process varies from platform to platform, but if you're streaming on Dacast, you can reference our live stream setup guide for a tutorial paired with pictures.
No matter what platform you use, you'll be prompted to configure your live channel with your preferences. You can name your live channel and add a description. You also want to make sure that your live channel is set to "Online."
5. Embed Your Video Player
Once you have a live channel, you'll be able to generate an embed code and share a link. With the embed code, you can embed your video player on your website or app.
First, you're going to have to choose an embed code. There are two types of embed codes available: JS (Javascript) and iframe.
We recommend using the JS embed code because it's more universally compatible with the full-screen feature. The JS embed code is also a requirement for the URL referral restriction feature to work (which restricts content based on the websites allowed to host it). 
Although the JS code is more compatible, there are some specific situations where you should use the iframe embed code. The iframe embed code is more compatible with and/or required for some frameworks, including WordPress and WIX.
Once you have chosen a code, it is as simple as copying and pasting it into the HTML of your website. More instructions on embedding can be found in our video player embedding tutorial.
6. Promote Your Live Stream
The next step is to promote your live feed, Share it on social media to get maximum reach. Facebook is the world's largest networking site and sharing it there will ensure that your live stream will get noticed. Twitter is also a useful social media channel to get real-time updates. With Dacast, you can even embed your live stream directly on Facebook as well as Twitter. 
Real-time social media updates will make any viewer excited. You can also use hashtags to reach an even wider audience. The hashtag will make finding your video easier for interested viewers. Other social media platforms such as TikTok, LinkedIn, and Instagram are also useful to promote your live feed.
7. Test Your Webcam Setup
With everything in place, it is time to do a trial run. Test your entire streaming setup to identify weak links.
If you're doing a live feed that will only last part of the day, make sure your test run is at that same time of the day. That gives you an idea of how the lighting and sound will be. If you plan to do 24/7 streaming, run a 24-hour test run and check in on it periodically.
In the event that you identify weak links, figure out if you're better off having a backup on hand or replacing it altogether.
8. Start Streaming
Now, the hard work is done. Once you've confirmed that everything works as intended, it is time to start streaming. On most live streaming platforms, getting started is as simple as clicking "Start Streaming."
If you are having trouble getting started, go back through and check all of your configurations to make sure that you have everything properly set up.
Conclusion
Setting up a webcam live feed is fairly straightforward. As long as you have a strong internet connection, a high-quality live streaming camera, and a reliable online video platform, you should be good to go.
Ready to give the Dacast online video platform a try? With secure video upload, lots of customizable features, and even private video hosting for VOD, we're here to help.
We invite you to take advantage of our 30-day free trial to test out all our features for yourself. Create a Dacast account to started today. No credit card is required.
Finally, for regular tips and exclusive offers for live streaming, you can join our LinkedIn group. Let us know your comments, questions, and feedback below.
Subscribe
Stay up to date with our latest features and product releases