How Mas Imagen Uses Dacast to Host Virtual and Hybrid Events
Article in spanish here – Articulo en español aquí.
Mas Imagen is a Mexico City-based company that specializes in audiovisual production. This company provides professional FullHD equipment for broadcasting and production.
Mas Imagen offers three audiovisual solutions, including audiovisual equipment, video production, and video distribution (transmission). These solutions are all brought to life by their in-house technical team. Using this setup allows Mas Imagen to offer stability and competitive costs, which helps them provide a stellar experience and maintain long-term relationships.
This company also designs interactive content for their clients' events, including animations, motion graphics, and 3D animations. This content can be customized according to the need that the client requires. Each project is carried out by a dedicated team.
The most typical clients of Mas Imagen are political figures and companies, and they mainly provide services related to internal communication. They also offer audiovisual production at corporate events, product launches, concerts, and sporting events. 
An exciting aspect of this company is that they make an effort to work with non-profit associations. They give them advice to help them better connect and deliver their message to their audiences.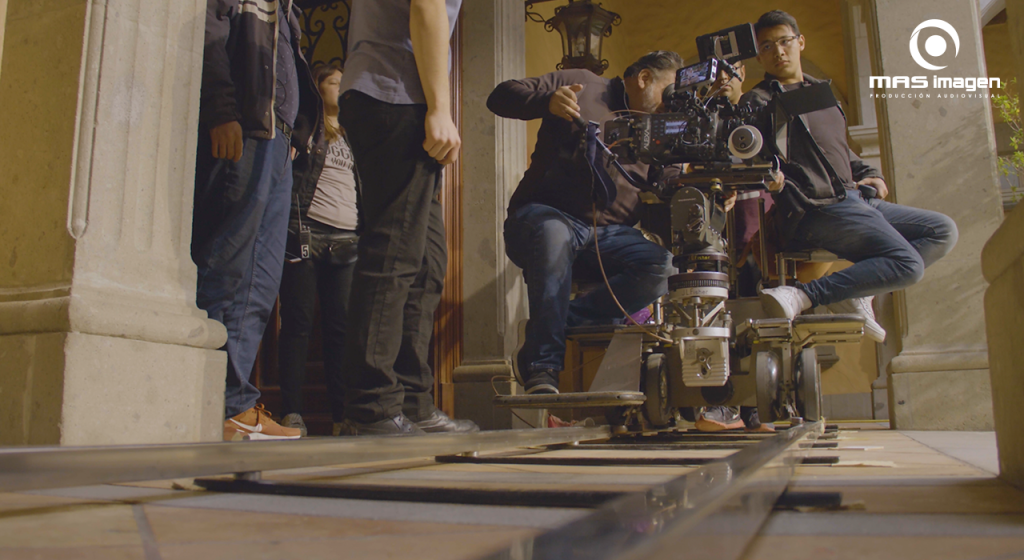 Expanding Amid a Pandemic
Mas Imagen has provided audiovisual production and streaming services to high-profile customers, including Google Mexico, Tupperware LatAm, and Just Mexico, since 2013. Mas Imagen has been able to serve these clients through the support of their partner agencies. In that time, they have worked hard to perfect the streaming and distribution process.
They had to make some adjustments at the start of the pandemic to continue serving their audience to the best of their ability since in-person events were being canceled. They had to shift from focusing purely on in-person events to mainly hosting virtual events, or else they'd run the risk of losing their clients.
Throughout the pandemic, they've hosted many broadcasts, not only for Mexico but for all of Latin America. They've had the chance to work with clients in different countries, such as Columbia, Bolivia, Costa Rica, and Guatemala. 
Everything is coordinated from their headquarters in Mexico and transmitted to their clients' viewers in various geographic regions. This has been made possible with a variety of collaborations. For example, Mas Imagen's partnership with Dacast has made it possible to stream in Bolivia.
Mas Imagen's CEO says, "During the pandemic, borders seemed to be pushed aside, which has offered the possibility of having direct contact with people through digital solutions."
Check out the Interview with Alejandro Mariles, Más Imagen's CEO:
Overcoming Roadblocks and Challenges
Although the Mas Imagen team has seen significant growth in recent years, this has not come without a series of roadblocks and challenges. Like most companies, Mas Imagen faced uncertainties related to the pandemic, but that was simply the tip of the iceberg.
They've battled against the strong idea in Latin America that it's impossible to make money from video content. Because of that, many companies in this region have a hard time understanding why they have to pay for digital resources, such as bandwidth and streaming platforms.
Also, there are very different infrastructures for streaming in each country of Latin America. For example, in Guatemala, the internet works very differently. It works with card recharge and not with internet plans. To address this issue, they had to evaluate how long a recharge would last. They also had to look for new tools to effectively transmit meetings, launches, messages, and other streams.
Budget cuts among their existing clients also posed a major issue. That's why they started looking for an affordable streaming service that could help them face these challenges. 
How Mas Imagen Choose Dacast
As we mentioned, Mas Imagen is no stranger to live streaming. They tested several encoders and other related technology before they got it right. Choosing the perfect streaming solution also took quite a bit of trial and error since their target audience has very specific needs.
They tested several streaming platforms and CDNs, including Castr, Vimeo, Wowza, Amazon AWS, and Akamai. Each of these solutions has proven hard to use and understand. A lack of accessibility in prices and support was an issue they ran into time and time again. 
Mas Imagen continued looking for a video streaming solution that was more accessible and user-friendly. Ultimately, they needed a platform that gave them more control and provided reliable content delivery. As a matter of fact, they were seeking a partner rather than a services provider. They needed an ally that was transparent about pricing, delivery, and support. 
That's where Dacast comes in. Our platform checked all of their boxes. Plus, they were excited about our reliable support team that not only offered support from live representatives but was supplemented by detailed online documentation. They were pleasantly surprised to learn that we offered support from dedicated a Latin America-based team via WhatsApp rather than a bot, like other streaming services.
They started working with Dacast for a 5000-viewer event. The Mas Imagen team felt that the live support from Dacast was key to this event's success. Having a point of contact in their spoken language, Spanish, that was fast and reliable gave them reassurance in their choice of partnering with Dacast. 
Dacast also provided customer testing which helped the Mas Imagen team ensure that their streaming setup was working properly before their event.
After this event, they decided to stick with Dacast since they had an "extremely positive experience" with our platform. They were also happy that Dacast adapts and personalizes the service to meet their customer-specific needs without trying to oversell or push add-ons.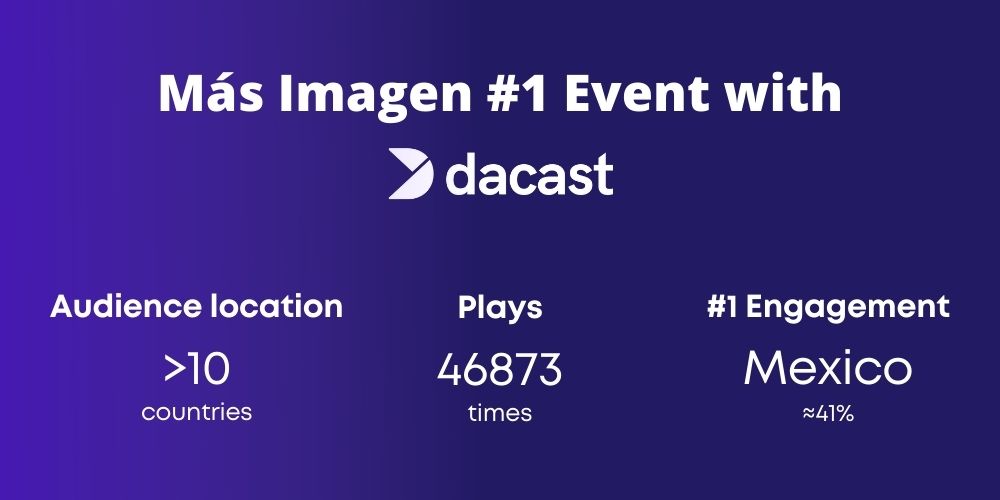 What's Next for Mas Imagen?
Mas Imagen is a very forward-thinking company. Their CEO, Alejandro Mariles, says, "What was valid a year ago is no longer valid; everything changes very quickly and what companies have to do is to be adaptable and listen to their customers".
The company has seen a drastic change between the beginning of the pandemic and today. At the beginning of the pandemic, companies wanted to broadcast without strategizing. Now, preparation and planning are key, especially among companies that aim to be profitable.
Mas Imagen plans to continue to develop partnerships with agencies to help develop their digital strategies and propose an all-in-one service. They want to continue to push the message of how important the digital strategy is to produce a successful event. 
Hybrid events are the new normal, and Alejandro says "streaming and collaboration platforms are here to stay." By streaming events, companies and other professional organizations can reach bigger audiences and generate greater ROI.
When it comes to advice for broadcasters who are new to the scene, the Mas Imagen team says that adaptability, communication, and understanding your market are absolutely key. Being attentive to the new tools and updates to propose fully adapted solutions to their customers will help you go far. Working hand in hand with clients and listening to their specific needs will take you even further.
Are you ready to start streaming with Dacast? Sign up for our 14-day risk-free trial to test all of our powerful features for yourself.