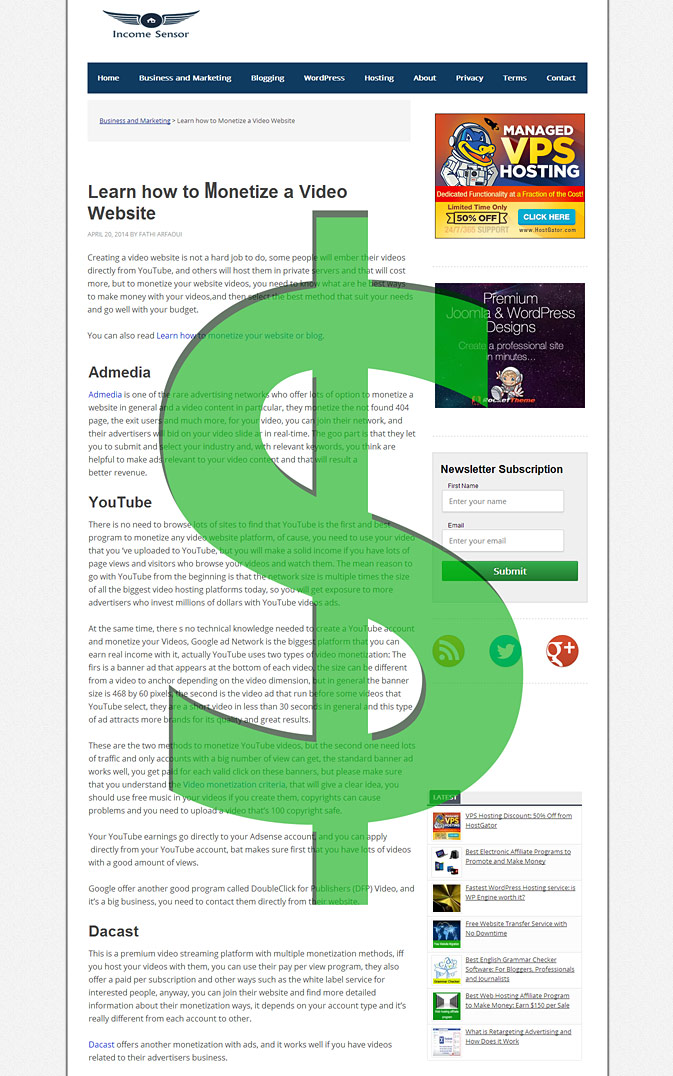 Dacast has been recommended by Income Sensor for providing the simplest way to monetize content for online videos. By using Dacast, it is very easy to start making money by having viewers pay for the content right in the player. One can monetize their content so easily that they can start getting paid for it right away with Pay Per View Monetization. Dacast provides a full monetization interface with all its accounts.
For every plan with Dacast, it's prime focus is monetizing videos through an integrated paywall. All transactions are done within the player itself. This way one doesn't have to worry about getting their viewer off track with another window. There's much flexibility available with different payment options. There is no contract to sign or extra steps to follow.  One can start making money from their videos as soon as he/she set up a paywall. Dacast being a global company, their paywall doesn't have any geographic restrictions either. Dacast accepts both USD and Euros. PayPal being a payment source of Dacast, can convert other currencies too.
Being white label is also one of the prime benefits of using Dacast. A broadcaster can embed the content directly on their page. They can sell content from a professional solution they can adapt to match their own page design. As Income Sense author Fathi Arfaoui suggested, "[Dacast] also offers a paid per subscription and other ways such as the white label service for interested people."
The white label player helps broadcasters give a clean look to their videos. There are no 3rd party logos hovering around their content. The only time Dacast shows up to viewers is in the credit card statements used for payment. Streaming content through Dacast is not only transparent but also highly secure. It let's one buy content with SSL encryption from a secure hosting platform.
As Fathi also states, "Dacast offers another monetization with ads, and it works well if you have videos related to their advertisers business."
The way advertising works with Dacast is by using public APIs. This will allow you to use an alternate player, like JWplayer or Flowplayer. JWPlayer has features for ad network hookups.  They can used with your video streaming content being broadcast over the Dacast network.
Title: Learn how to Monetize a Video Website
Organization: Incomesensor.com
Posted: April 20th, 2014