Flash Media Live Encoder (FMLE) is a free encoding software that allows you to broadcast live video over the internet. It is basic, but also very easy to learn.  FMLE launches quickly and is generally a great tool for trying out your broadcast and testing that everything works. We've put together a step-by-step guide for using the FMLE encoder to live stream with Dacast.
What is an Encoder?
Encoding is a process used to convert the RAW video files captured by a camera into digital files suitable for live streaming over the internet. FMLE is an example of a software encoder that is used for live streaming. This means that the encoder feeds digital video files to the streaming platform in real-time.
Required Encoder Settings
The following settings are required for live streaming with Dacast, regardless of your selected resolution and bitrate:
| | |
| --- | --- |
| VIDEO CODEC | H.264 (x264 may work) |
| FRAME RATE | 25 or 30 |
| KEYFRAME INTERVAL | 2 secs (or 2x frame rate) |
| SCANNING | Progressive |
| ENCODING BITRATE | Constant (CBR) |
| AUDIO CODEC | AAC |
| AUDIO BITRATE | 128 kbps |
| AUDIO CHANNELS | 2 (Stereo) |
| AUDIO SAMPLE RATE | 48 kHz (48,000 Hz) |
Stream with FMLE
To get started streaming with FMLE, sign in to your Dacast account and click on the pencil icon on your live channel:

You will find "Encoder Setup" on the right side under the General tab inside your live channel. Click that:
Take note of the Stream URL, the Stream name, as well as the Login and Password (2 series of 6 digits):
Setting Up Your Connection
On the main interface of Adobe FMLE, enter the Stream Name and Stream URL: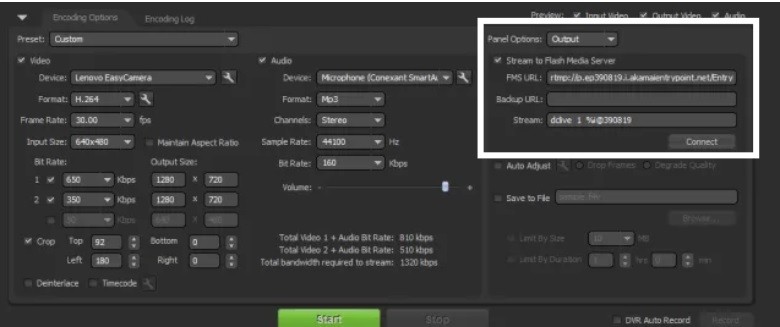 At this point, click on "Connect." This will prompt you to enter the login (username) and password. Click the green "Start" at the bottom to begin your broadcast.
Not yet a Dacast user, and interested in trying Dacast risk-free for 30 days? Sign up today to get started.
Additional Resources
(Note/Ojo: For the Spanish version / Para la versión en español.)