Comparison of the Top 10 Green Screen Software: What You Need to Know in 2021
Green screens are used as part of a cinematic technique called chroma keying. Basically, they allow production teams to swap out the background or other elements of a stream with different media.
In order to effectively use a green screen, broadcasters need the support of dedicated green screen software for streaming.
In this post, we're going to talk about the ins and outs of green screens and related software. We will start by discussing how exactly green screens work and what sort of situation might call for one. From there, we will go over what green screen software is and what sort of features broadcasters should look for in this type of platform.
To wrap things up, we'll review five of the top green screen software options to help you choose the one that makes the most sense for your professional broadcasting needs.
Table of Contents:
Green Screens: What You Need to Know

What is Green Screen Software?

Features to Look for in Green Screen Software

What is the Best Green Screen Software?

How to Use Green Screen Software

Final Thoughts
Green Screens: What You Need to Know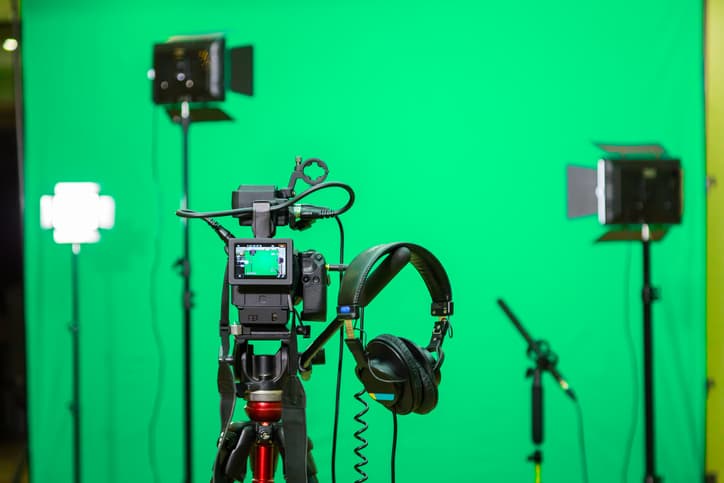 As we mentioned, green screens work with chroma key technology to blend two different media files for a single stream. This is often used to change the background in a video.
How it works is the green screen is placed behind the subject of the stream to create a solid background. The production team uses specialized software that matches the color of the green screen and inputs a different feed where the camera picks up that color.
Technically, green screens could be any color, but they typically green (as the name implies). The reason that green is often used is that it doesn't typically pick up any hues in people's hair or skin. Green clothing is also relatively less popular than other colors.
Some broadcasters use a blue screen in unique situations. One example of a situation where a blue screen might make more sense is when the subject of the stream has blonde hair. Blonde hair contrasts better with blue than it does with green, so the video would likely turn out better.
What is Green Screen Software?
Green screen software, which is also called "chroma key software," is the technology that allows you to swap out one color of your live stream for another media input.
Green screen software is not usually a program that is completely dedicated to green screen streaming. The term is actually used to describe a live streaming software that offers chroma key support. Therefore, chroma keying/green screen streaming is simply one function of the software among many other features.
Features to Look for in Green Screen Software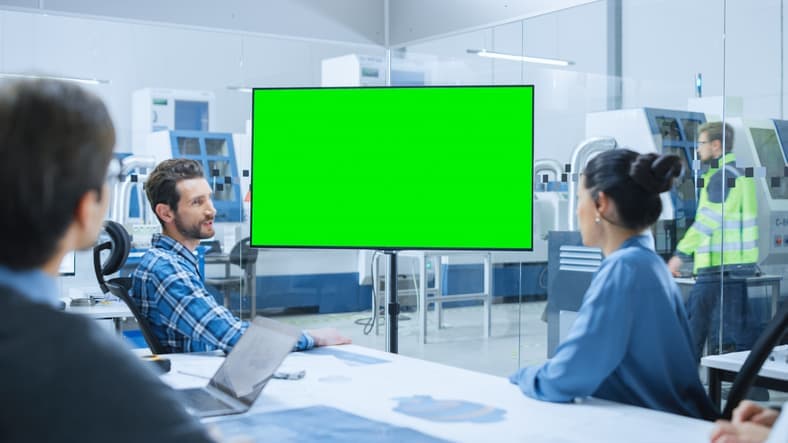 There are a few things to keep in mind as you compare green screen software offerings and search for the perfect platform for your specific needs.
First and foremost, you're going to want to make sure that the platforms you're comparing have chroma key support. Although this may seem like an obvious thing to look out for, it is worth pointing out. You'll be using general live streaming software because the software that only supports green screen streaming isn't available, so you have to make sure that it supports this functionality.
Price is also a huge factor. Green screen tools are available on free, open-source programs, and they are also included on higher-end plans. You'll likely use the software for other broadcasting functionality, including encoding, live stream recording, mixing, editing, graphic overlays, and more, so consider that as you set your budget.
Also, compatibility is very important. Some green screen software works on multiple operating systems, and others only work on one. This is something to look into because you don't want to pay hundreds of dollars for software that doesn't work on your computer.
The complexity of the software is something else to consider. If you are a beginner, you'll want a program that is laid out for beginners. However, if you have more advanced needs and you have the experience and know-how to navigate a more complex platform, then look for something suitable in that regard.
What is the Best Green Screen Software?
When choosing any sort of live streaming software, it is important to consider your unique broadcasting needs. Since each platform is suited for a slightly different use case, it is difficult to determine which is the best.
However, there are a few options that we'd definitely consider the top options on the market. Let's take a look at features, pros and cons, and pricing for each of the top green screen software options.
1. Wirecast
Wirecast is a live streaming software offering from Telestream that enables live streaming to any RTMP destination. In addition to chroma keying with green screens, this software includes live switching, picture-in-picture composition, titles, audio delay, and other similar features.
Wirecast software is compatible with a wide range of capture cards, devices, and camera inputs. If you need to use pre-recorded video within your live broadcast, Wirecast makes this aspect easy, as well.
Features:
Chroma key support

Support for multiple simultaneous inputs

GPU-accelerated encoding

Pro Audio FX Built In

RTMP, RTP multi+unicast

Multi-channel audio ingest

Live stream auto-archiving

Instant replay
Compatibility:
Wirecast is compatible with macOS and Windows.
Pricing:
The software comes in two versions:
Wirecast Studio

for enhanced live production & streaming: pricing is $599 with a free trial

Wirecast Pro

for advanced live production and streaming: pricing is $799 which also comes with a free trial
The latest version of Wirecast is 14.2. It is the newest full version and was released on April 28, 2021. It features several enhancements and fixes, including FBLive polling, re-written WebStream plugin, and Virtual Camera improvements. 
2. vMix
vMix supports chroma keying with a green or blue screen. In addition to chroma key support, this platform includes native support for multi-bitrate streaming which is very useful for professional broadcasters who want to stream high-quality content.
Additionally, this software supports the Network Device Interface (NDI). NDI sends your secure video upload over gigabit ethernet networks and green screens.
vMix also includes a built-in titling tool that includes animation support. Additionally, it offers an instant-replay and slow-motion feature.
Features:
Green screen streaming support

Supports a wide variety of inputs
Pricing:
vMix is available in four different versions, ranging from Basic HD to Pro, and the software comes with a free 60-day trial. Each version supports a different number of inputs, your purchase never expires, and includes the following versions:
Basic HD ($60), which supports 4 inputs (up to 3 camera/NDI) and video up to Full HD 1920×1080 resolution

HD ($350), which supports 1,000 inputs, adds vMix call functionality, 4 overlay channels, and supports full HD video in 1920×1080 resolution

4K ($700), which supports 1,000 inputs, 4K resolution video (4096 x 2160), PTZ control, 2 recorders, instant replay, 4 SRT outputs, and much more

Pro ($1200), which also supports 1,000 inputs, includes all 4K features and 2 records, plus up to 8 callers, up to 4 cameras for instant replay, and 4 SRT outputs
vMix also offers a 60-day free trial and has all the features of vMix Pro including the ability to use resolutions greater than HD such as 4K, particularly to ensure vMix supports your computer hardware works with it before purchasing.
3. VidBlasterX
VidBlasterX is a live broadcasting software that fully supports chroma keying. It comes with quite a few notable broadcasting features, so it is a great choice for broadcasters that are looking to stream with a more advanced setup.
A unique aspect of this platform is that it also supports chroma blurring. That pretty much means that it can be used to blur out the background of a stream. This comes in handy when a presenter doesn't have a great background to record in front of.
VidBlasterX utilizes a unique modular design. For example, broadcasters can add each feature via a "module." You can then add, rearrange and remove these at your discretion.
Check out our tutorial to learn how to set up VidBlasterX with Dacast.
Features:
Green screen streaming support

Chroma blurring

Compatible with Windows

Video routing

Recording streams to local disks

Displaying outputs on a monitor of your choice

Outputting to a Blackmagic DeckLink video card
Compatibility:
VidBlasterX is compatible with Windows. It is not natively compatible with macOS, but Mac users can run Boot Camp to access VidBlasterX.
Pricing:
VidBlasterX is available in three versions. Each of the following options is priced with an annual subscription model.
The Home version ($9/year) supports 7 modules.

The Studio version ($99/year) supports 25 modules.

The Broadcast version ($999/year) supports 100 simultaneous modules. This version also supports multiple recorder & streamer modules in a single profile.
4. OBS Studio
OBS Studio is a free chroma key software for live streaming. This software option is an open-source live stream broadcasting software package. In addition to chroma-keying, OBS Studio supports RTMP broadcasting, switching between multiple sources, and more.
Though it's light on features, it's quite easy to use, even for those new to live broadcasting. OBS Studio does not natively support any plugins. However, community members have developed a wide range of plugins that broadcasters can use to add features.
Check out our post on the best OBS Studio settings for plugins to learn how to use NDI, a feature formerly only found on high-end encoders. Another interesting thing about OBS Studio is that it supports a plugin for pulling Tweets into your streams in real-time.
Please note that OBS does not support multi-bitrate streaming.
OBS Studio actually has a custom version for Dacast users which means that this broadcasting software integrates seamlessly with our platform. 
Features:
Green screen streaming support

A free, open-source platform

Collection of community-generated plugins
Pricing:
OBS Studio is absolutely free to use.
5. XSplit
XSplit offers five different broadcasting products: Broadcaster, Vcam, Connect Webcam, Presenter, and Capture. The XSplit Broadcaster product is the one that supports chroma keying.
XSplit Broadcaster is well-suited for broadcasters that need production support.
Features:
Green screen streaming support

Live stream recording

Streaming to multiple destinations

Split mode for convenience in production
Pricing:
The pricing plans for XSplit Broadcaster Premium are as follows:
1 Month License: $15.00

3 Month License: $30.00

12 Month License: $60.00

Lifetime License: $200.00
XSplit bundle plans are a little more expensive, but the Broadcaster Premium plan is all you need for using chroma keys.
6. Streamlabs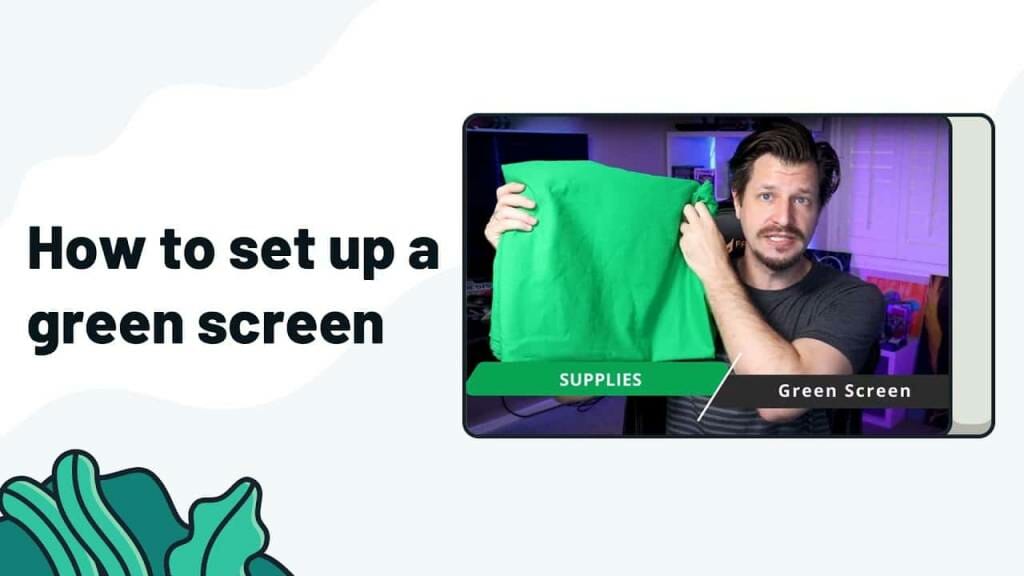 Streamlabs is an open-source broadcasting software that has green screen streaming capabilities. It is free to download, but users must upgrade to the Prime version for access to all of the features.
Streamlabs is the chosen broadcasting software for many professional streamers. One of the most unique aspects of this software is its web-based live streaming studio called MelonApp that is designed for simulcasting.
Users can access the green screen and chroma key tools through the "Filters" section of the Streamlabs platform.
Features:
Green screen streaming support

Open-source

Production tools

Graphic overlays

Large collection of themes to choose from

Logo making
Pricing: 
Streamlabs as two versions, including:
Free: access to basic features

Streamlabs Prime: $19.99/month or $149/year; includes access to more advanced streaming features
Green screen streaming is only available with the Prime plan.
7. VSDC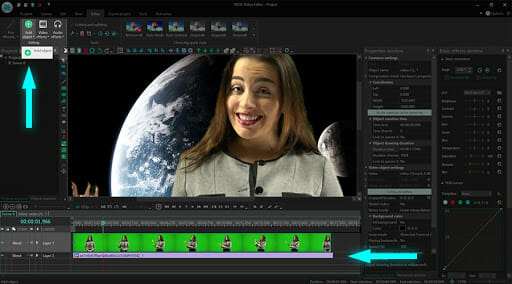 VSDC is a platform with a variety of offerings and functionality. It offers video editing and video converting. The video editing tools are the ones that support green screen streaming.
This platform is relatively cheap for a professional tool at only $19.99 yet it has access to a wide range of professional tools.
Unfortunately, this product only supports non-linear streaming, so it doesn't offer live streaming support.
Features:
Green screen streaming support

Very cheap software

Double speed streaming

Mask tools

Video stabilization

Full video editing suite
Pricing:
VSDC offers a free version, but users must upgrade to "Pro" for green screen streaming support. This software costs $19.99.
8. FXhome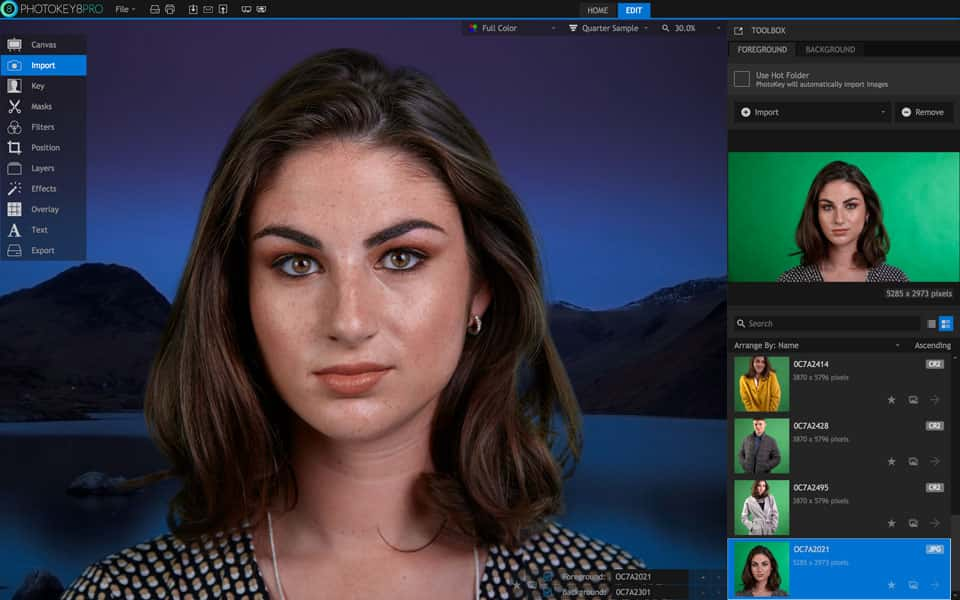 FXhome is a post-production tool that is suitable for broadcasters of every level of expertise. Its relatively high price point makes it more popular among more advanced broadcasters.
One interesting thing about this solution is that it offers support for creating animations. This is a bit different than the typical live streaming platforms that we've discussed, but it is an interesting value add for broadcasters and production teams that are looking to incorporate animated graphics.
Features:
Green screen streaming support

Large collection of production tools

Easy-to-use

Access to training and support

Animations
Pricing:
FXhome offers several plans that offer green screen streaming support. These include:
HitFilm Pro 2021: $349
Ignite Pro 5: $299
Imerge Pro 2021: $199
9. OpenShot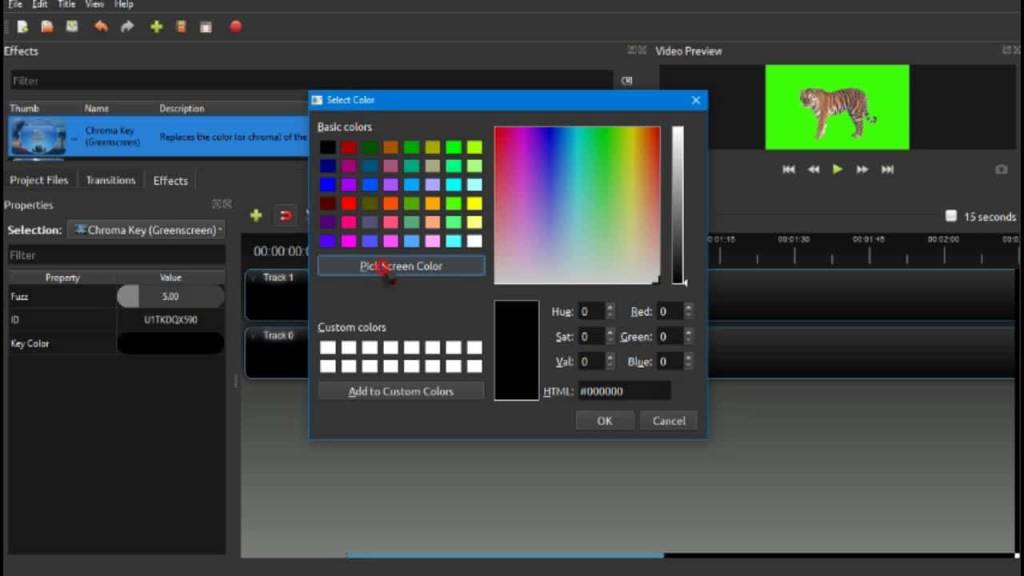 OpenShot is a free video editing software that supports green screen streaming. It is geared towards the aesthetic aspects of videos, so it is a bit different than some of the streaming software we mentioned above.
OpenShot is open source, so it is customizable for different use cases. Since this platform is free to use, it is a great option for broadcasters and production teams that are still learning the ropes and testing the waters.
Features:
Green screen streaming support

Open-source platform

Free to use

Video editing and effects 

3D animation support

Unlimited tracks and layers

Text overlays
Pricing:
OpenShot is free to use.
10. Lightworks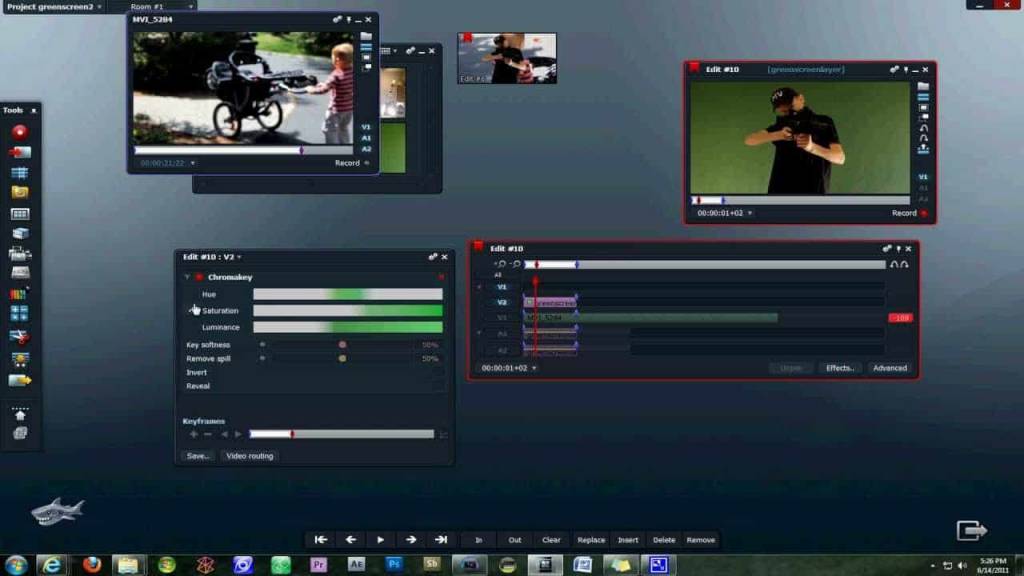 Lightworks brands itself as "the professional editor for everyone." It is easy to use, but it is powerful enough to produce television-grade content. This platform is equipped with a large collection of tutorials to help users make the most of the software.
Like VSDC, this software only supports non-linear streaming and doesn't offer live streaming support.
Features:
Green screen streaming support

Simple interface for ease of use

Professional-grade editing

Bank of tutorials for guided use
Pricing:
Lightworks offers one plan that is geared towards green screen streaming, Lightworks Pro. This can be purchased in three different ways:
Monthly: $24.99/month

Annually: $174.99/year

Forever: $437.99 for lifetime access
How to Use Green Screen Software
Now that you know what sort of green screen streaming software is available, let's quickly run through the process of streaming with this sort of technology.
First, you're going to want to assess your setup. How much room is in your studio? How much area does your camera capture when set up at your desired angle? Knowing how large your background is should give you a good idea of how big of a green screen you need to get.
Basic green screens cost under $100, and you can get them at BestBuy, Amazon, Walmart, or any other store that sells recording equipment. You don't need anything fancy, as long as it doesn't wrinkle or rip while you're using it.
Also, you're going to want to make sure that your studio has even lighting from all directions so that you don't cast shadows and mess up the color perception of the chroma key. It is often advised to not mix natural light and studio lighting so that you can control the brightness from every angle.
Once you get your green screen set up in your studio, it is time to set up your green screen software. The setup process is a bit different on each platform, but basically, you'll have to activate the chroma key and select a color that matches your green screen.
After you've got the chroma key turned on and a color selected, you'll choose a source for your new background. This could be a still image or another video.
With everything in place, you can start streaming as normal.
Final Thoughts
Green screen streaming can help broadcasters elevate their end results and produce a more professional-looking stream. Most green screen streaming software is easy to use as long as you have the proper physical setup.
Green screens and the software required to use them are relatively inexpensive, so they provide a simple way to elevate a stream.
Interested in giving Dacast a try? You can access all of our professional broadcasting features risk-free for 14 days to see how our platform would work in your workflow. 
Sign up for a Dacast account today to activate your free trial. No credit card required.
For exclusive offers and regular live streaming tips and tricks, you're invited to join our LinkedIn group. We love to hear from our readers. If you have any questions or comments, send us a note or an email and we'll be sure to get back to you.
Subscribe Now
Stay up-to-date with the latest features and product releases. Cool tips, expert advice and more.