Dacast Launches Self-Serve Live Video Streaming
Dacast is proud to announce the launch of its self-serve live video streaming platform. The service is "do it yourself", allowing for quick live broadcasting.
After years of work, Dacast is officially out of beta and released to the public. The platform offers self-service live streaming. Through using the do it yourself model, it offers broadcasters a new level of low pricing.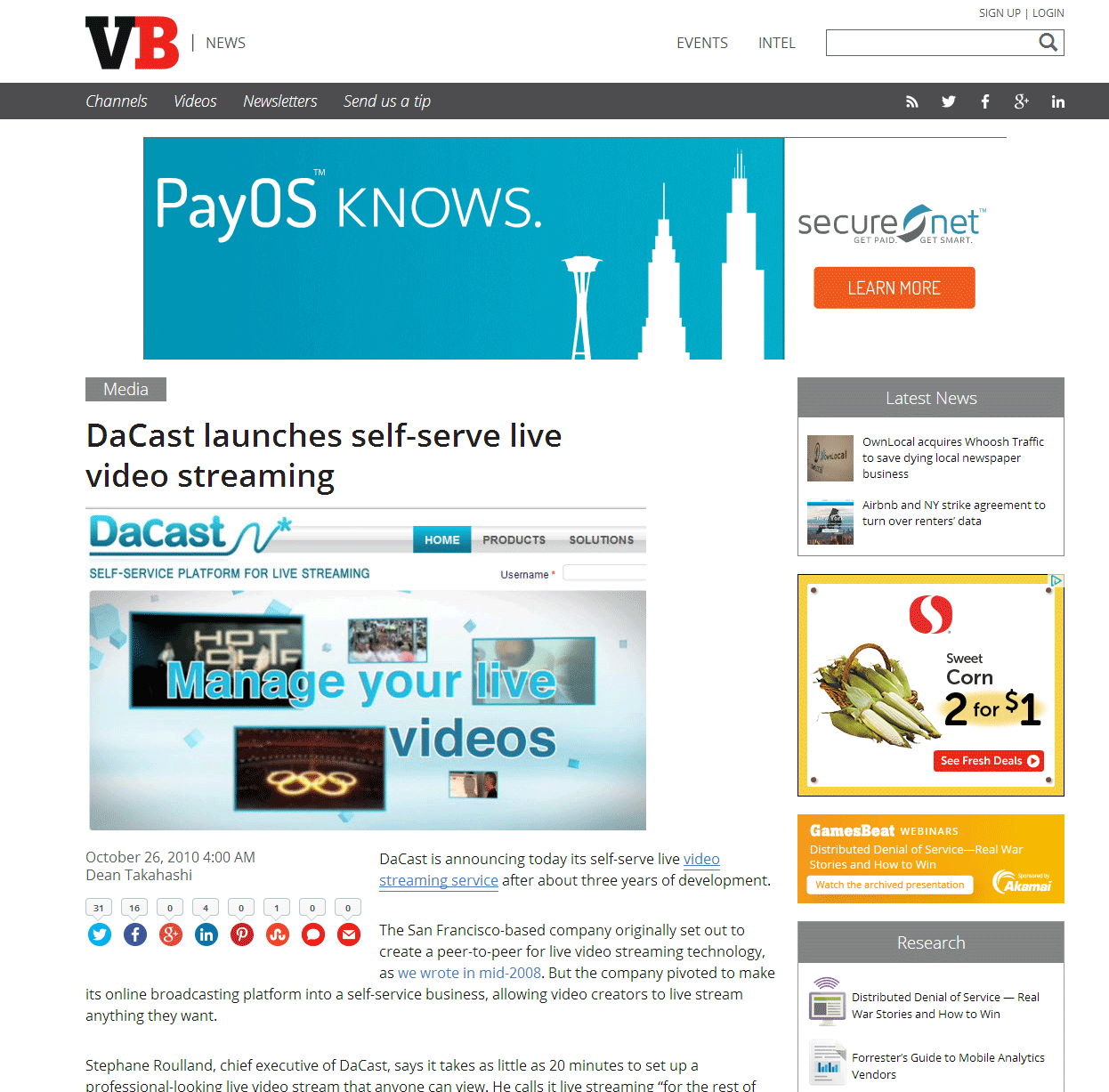 It offers a higher level of service through a white label player. This allows for "themeing", like changing colors or adding your own watermark to the video. Streaming is done through a CDN as well. As noted below, the provider right now is EdgeCast, one of the leading CDN providers. This means broadcasters have access to a worldwide server network without the costs associated with it.
Although Dacast is pushing live streaming as its main component, the service also provides monetization features. These allow broadcasters to earn money through Pay Per View and also ad network solutions. Following the do it yourself approach, the Pay Per View component is self-service. You can select the price and duration that you sell your live streaming content for.
Given this was a formal launch of the platform, there has been a lot of news coverage of the event. Sources include Venturebeat, Ubergizmo, CDN-Advisor.com, Tier1Research, Rapid TV News and Kensfi's Tech Blog.
Title: Dacast launches self-serve live video streaming
"…allowing video creators to live stream anything they want."
Organization: Venturebeat
Posted: October 26, 2010
Title: Internet Broadcasting in 3, 2, 1
"Easy and quick way to do internet broadcasting."
Organization: Tech Blog (Kensfi)
Posted: October 25, 2010
Title: Dacast aims to help video content producers monetize their work
"By identifying clear marketable channels (Politics, Faith, Education, Sports, Music…) and by using a self-service approach, Dacast is setting itself to be something like Blogger and Adsense (at once) for smaller video content producers."
Organization: Ubergizmo
Posted: October 27, 2010
Title: Live streaming from Da(Edge)cast
"Dacast is entering the online video fray with a focus on enabling live broadcasting combined with integrated support for ad or subscription models."
Title: Dacast gives content owners point-and-click online streaming
"Dacast is aiming to engender a whole wave of independent online broadcasters with a new enablement platform for content owners to start live streaming sites with a few clicks of the mouse."
Organization: Rapid TV News
Posted: October 27, 2010