Have you considered taking your education and learning programs online? Are you ready to give live education broadcasting a try, but need some guidance on how to get started?
Together, the internet and live streaming allow the free flow of information and knowledge. In fact, many of our customers come from the online learning and education segment. Broadcasters increasingly use video streaming platforms for online classes and distance learning. Likewise, many educational institutions also use streaming solutions with secure video upload to stream school-related events. And DaCast is one such platform that supports eLearning broadcasts with robust, customizable features and plans. In general, live education broadcasting opportunities include sports matches, graduations, announcements and more.
With the right online video education platform, live streaming for education is more accessible than ever before. Now, let's take a closer look at the setup and tools required to do successful live education broadcasting.
Intro to Live Education Broadcasting
Nowadays, learning is no longer restricted by the physical limitations of a single classroom in a specific location. High-quality video and technology can help develop 21st-century learners in the current digital era.
With the support of a professional streaming platform, broadcasters like you can easily stream live video–on your own website! This includes live education broadcasting like lectures and conferences for students around the world.
Before broadcasting live, you'll want the following tools in place: equipment, encoder, internet connection, live streaming platform, and–last but not least!–great educational content.
1. Equipment
To get started with live education broadcasting, you need a camera and a microphone. Since the live stream is a replacement for real-world classroom learning, the quality should match that of a real classroom. If you broadcast a poor quality stream, students will lose focus even if the content itself is great. For this reason, we recommend that you invest in high-quality equipment if possible.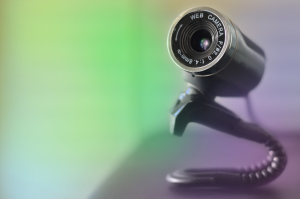 You also need a capture card to convert your educational video into streamable content. If you are using a webcam, then you don't need a capture card. We have a list of recommended compatible cameras for live education broadcasting. These cameras have been tried and confirmed to work well with the Dacast OVP.
Do note, however, that some online courses don't have presenters on screen. Sometimes an online class will only have a PowerPoint presentation on-screen and live audio commentary. If you don't plan to present yourself on camera, then you only need good audio equipment. You can also use Wirecast's Desktop Presenter plug-in. This plug-in facilitates the live audio stream. Additionally, with this tool, you can share your screen to show your presentation slides to viewers.
2. Encoder
You will need an encoder to make your live education broadcasting content compatible with all devices. You can use either live stream encoding software or a hardware encoder. This depends on your budget and computer speed. Hardware encoders are much more expensive. They are independent of your computer and run on their own processor.
There are several free software encoders, including Adobe Flash Media Live Encoder. You can download the Adobe FMLE directly from the Dacast Encoder Setup page. If you want a more professional software encoder, one of the best available is Telestream's Wirecast. You can download a free trial before purchasing. For more information on encoders, you can check out our related article on the best encoding software settings.
3. Internet connection
A stable internet connection is vital for any live stream. Live education broadcasting is no exception. You want to ensure that all of your content reaches your audience–without any glitches or latency issues. Blank screens or sudden interruptions to the stream can cause a lot of problems, for you and your viewers.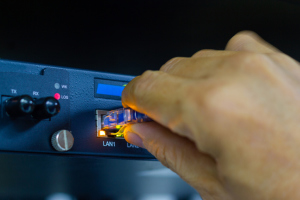 Relatedly, you want to ensure that your students are not distracted from the online lecture. If you're streaming a graduation ceremony, you want to ensure the stream stays active throughout the entire event. You don't want families, who are tuning in from another location, to miss their child's moment on the stage.
In order to stream at a high quality, your internet connection needs to reach certain speeds. We recommend that you reach at least 750Kbps to 2Mbps. We also advise that your internet connection be twice as fast as the speed at which you want to stream.
For example, if you want to stream at 1Mbps, your upload speed should at least be 2Mbps.
4. Live streaming service
With that equipment in place, the most important part of live education broadcasting is selecting the right streaming provider. Another way to describe this component is an online video platform, like Dacast. You want to choose a reliable streaming service with a content delivery network (CDN). A CDN guarantees that your content is distributed all over the globe without clogging your own servers. Dacast partners with the Akamai CDN, one of the best and largest CDNs in the industry. Akamai also works with popular and successful companies like Apple and Facebook.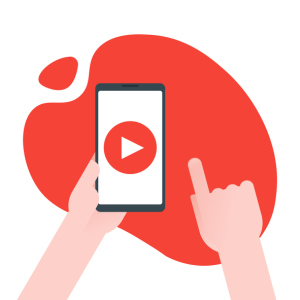 Furthermore, you want to pick a streaming platform that is affordable and easy to use. If you're new to live streaming, choose a provider that doesn't require any technical know-how to use their system. Streaming platforms like Dacast help you do live education broadcasting with just a few clicks. For context, Dacast is one of the most affordable streaming services in the industry. With our platform, you can easily stream live video on your website, while maintaining control of and rights to your content. And that's just one advantage of the Dacast platform!
A good streaming service also provides a monitoring and analytics feature. You need tracking tools to evaluate the outcome of your event. You want to have access to viewer numbers, behaviors and engagement. Especially for an online class, you want to know if your students stayed on the stream the whole time or if they left before the end.
In addition, you want to know if your lesson or material is engaging enough for your students. You can use this information to tailor your lesson plans according to your students' needs and preferences. Dacast comes with an in-system analytics tool that makes it easy for you to track your ROI.
Finally, make sure to consider where you want to host your streaming video content and whether your chosen OVP supports that. Dacast, for example, now supports China's video hosting for VOD content with our advanced platform. This is not the case, however, with many other streaming services on the market.
5. Educational content
So, you now have all the tools you need for live education broadcasting. Now what?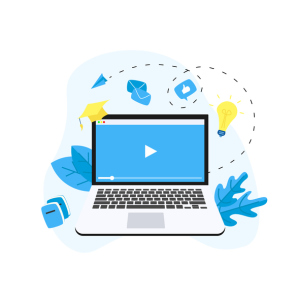 First and foremost, you need great educational content! You can broadcast everything from mathematics to management to French lessons and fitness programs. Video is an effective teaching method across a variety of industries.
For example, video in an educational context can facilitate learning and improve collaboration. It can also increase student engagement and the teacher's effectiveness. According to the American Public Broadcasting Service's (PBS) annual teacher survey on media and technology, the majority of teachers believe that video is an effective great learning tool:
68% believe that video stimulates discussions
66% believe that video increases student motivation, and
41% believe that video increases student achievement.
Among other use cases, we can observe this trend in the increasing popularity of MOOCs (massive online open courses). It is important that traditional educational providers such as colleges and universities keep up with the trend. Companies like edX and Coursera, for example, have offered free online classes from top educational institutions like Stanford, Harvard, and MIT.
Conclusion
As the above examples highlight, the applications of live education broadcasting are broad and diverse. So what are you waiting for? After reading this post, we hope you feel equipped to use the tools outlined above for live education broadcasting to a global viewership. Live streaming services, like the Dacast platform, can help make live education broadcasting an easy and affordable reality.
Do you have questions or ideas for further topics you'd like us to cover? Let us know in the comment section below, and we'll do our best to get back to you promptly. For exclusive offers and live streaming updates, join our LinkedIn group.
Lastly, if you're not yet a Dacast customer, you can sign up for our 30-day free trial (no credit card required) to test out all our features for yourself. Just click the button below to get signed up today.
As always, thanks for reading, and best of luck with your live education broadcasting!
By Philline Managuelod.