10 Best Podcast Software Solutions in 2022
When was the last time you picked up a book to learn about something in detail? Also, when was the last time you listened to a podcast featuring an expert on a subject you're passionate about? Answering the two questions above gives you a clear picture of how we consume content these days.
In the early 2000s, blogging was the hottest medium to share your views with the world. It reined over the internet for a solid few years before giving its crown to vlogging. That trend slowly evolved and branched into a mix of content delivery channels such as live-streaming, pod-casting, and short videos.
Each of these channels has its audience, niches, and advantages. Live streaming, for example, is ideal for attaching a feeling of urgency and time sensitivity to video content such as events or concerts. Similarly, reading blogs or books is great, but with our busy lifestyles, podcasts offer many advantages over these forms of content. 
More than 78% of the US population say they are familiar with a podcast. Podcasts are a great way to take a deeper plunge into a subject. It's versatile and can be used for various topics and niches. 
You can host a podcast alone or call guest speakers to add diversity to the mix of opinions. That helps present a more wholesome perspective about topics you and your viewers are passionate about. With podcasting, you also get to choose between live-streaming your content or recording it and uploading it after it's been edited to your liking.
Podcasts are a crowd favorite in the list of content mediums expected to flourish soon. The podcasting industry is projected to exceed 160 million listeners in the US alone in 2023. The trend has been shifting for some time now, with more and more of us using video and audio to learn about new subjects and the latest news.
73% of US citizens over 12 have spent time listening to podcasts just last month. Whether you're an experienced podcaster or someone looking to start, don't let the complexities of sound engineering discourage you. 
If you have a vision to share with viewers worldwide, now is the time. This post will discuss the best podcast software, video-streaming platform, and the equipment you need to get started.
Table of Contents
What Hardware and Software Do You Need to Launch Your Podcast?

Choosing the B

est Software for Recording Podcasts

10

Best Podcast Software

1. Audacity

2. Garage Band

3. Adobe Audition

4. Riverside

5. Hindenburg 

6. Auphonic

7. Anchor

8. RINGER

9. Zoom

10. Buzzsprout

Final Thoughts on the

Best Podcasting Software
What Hardware and Software Do You Need to Launch Your Podcast?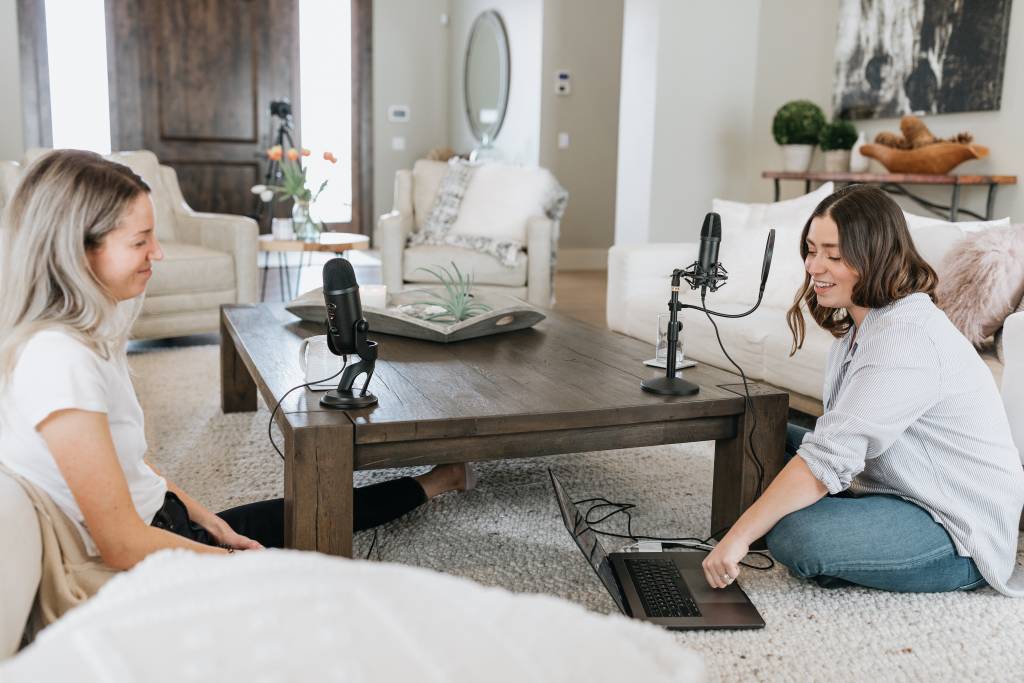 Before we get into the best software for podcasting, let's take a look at the gear you need to get started. Broadcasters no longer need a battery list of heavy (and expensive!) equipment to share their perspectives online and magnetize audiences.
If you're starting, a good-quality microphone, headphones, and basic editing skills are all you need. You can polish your content and skill as you gain experience and learn the ropes of podcasting. Here is the basic software and hardware you need.
Audio Recording
Your podcast's high sound quality should never be compromised. While you can use your phone's mic, it won't be able to catch sound clearly, and you might not even be audible at times. 
Invest in a basic microphone compatible with your phone and computer system. Make sure to pick one that minimizes background noise, especially if you don't have a dedicated recording space.
Video Recording
Most podcasts these days include video. The great news is that you have countless options, from high-end DSLRs to more economical webcams. Make sure your camera type is suitable for your niche and video style.
Editing
Unlike live streams, a podcast's raw footage needs to be edited into a compact episode that keeps the viewer hooked till the end. Multiple software options can help you record high-quality sound and make editing a breeze. But selecting the right tools among all the available choices can seem overwhelming. Read on to check out our top picks of the best video podcast software and the best podcast recording software.
Video Hosting Website
As a broadcaster, we know you work hard to bring fresh content to your audience. You've invested in its recording and editing, but your viewer faces glitches and buffering while streaming your latest podcast episode. 
Sadly, that is a common scenario that can cost you lost views. Make sure you use the right streaming platform to handle the technical side of things for you.
Choosing the Best Software for Recording Podcasts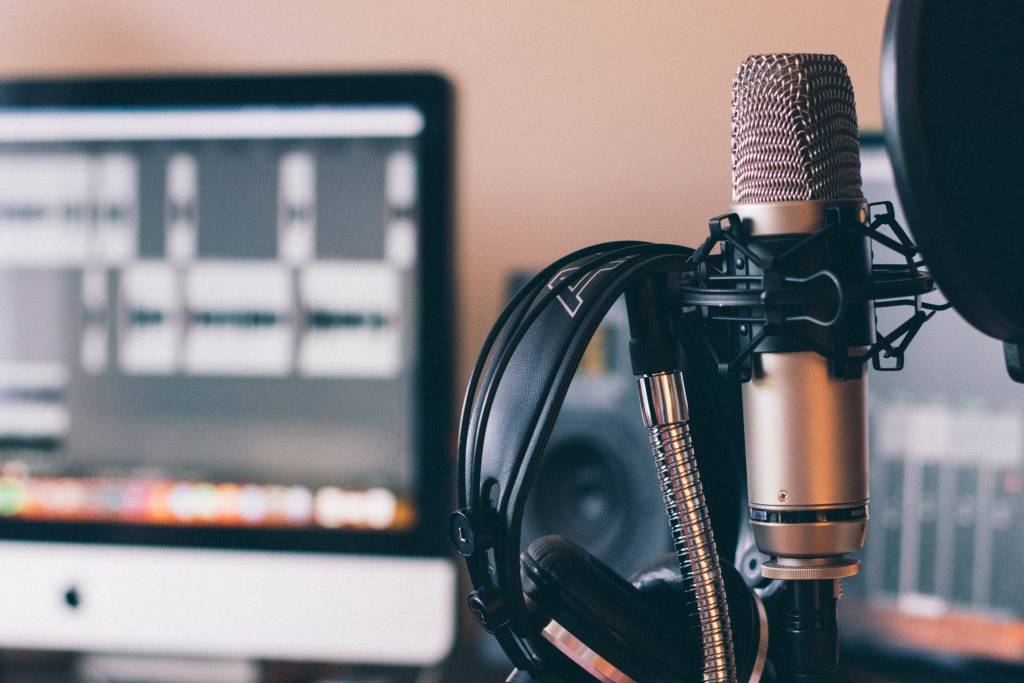 With so many options, how do you pick the best software for podcasts? Here are some factors to consider to help you select the best software to record podcasts.
Your Vision and Niche
Your subject of choice and the podcasting niche you select will impact your choice of recording and editing software. Each software has its strengths and is suited to a different podcast genre. For example, the type of sound effects you want to incorporate and the general vibe you want for your podcast.
Audio and Video Resolution
Different podcast recording and editing software offer different audio and video quality for your finished podcast. Try to work with software that gives high-quality audio, as that's one of the most crucial elements of your podcasts. For most broadcasters, 48 kHz is an ideal audio quality.
Video gives an additional dynamic to your podcast and helps your audience stay engaged. Choose podcasting tools that make recording and editing videos easier for you and your team. Make sure your video hosting site can support your video quality and deliver the best viewing experience to your audience.
Remote Versus In-Person
Inviting expert guests to your podcast to speak about different topics is a great way to add authenticity to your content. You can either set up a small recording studio or completely virtual and take on remote guests.
The ideal podcasting software will differ according to your method of podcasting. Ensure the software you use captures your and your guest's audio and video well. That's even more important for remote recording, as not everyone will have a great internet connection.
Difficulty Level
Are you a pro broadcaster or just venturing out? Regardless, the best software to record a podcast is one that grows with your needs and supports you throughout your podcasting journey.
Even if you are an experienced pod-caster, your guests might not always be. Make sure to choose software easy enough for individuals of all experience levels to navigate successfully.
Don't neglect scalability options in favor of an easy-to-use interface. As your audience grows, will your software of choice be able to keep up with additional guests and a potentially larger team?
Technical Support
Glitches happen; no way around it. The best podcast software is one that lends the right kind of technical support to its users during and after recordings. That's even more important if you plan to live-stream your content, as that has even less room for error.
Price
Your budget will determine the podcasting software you have access to. With the huge influx of podcasting software available, selecting the right ones is a bigger challenge than doing it on a budget.
If you're looking to spend less, prioritize the features you can't compromise on. Using different software for different needs, such as recording, editing, and uploading can also be cost-effective.
Features and Tools
The features offered by each podcasting software are one of the key elements to consider. Here's a list of features that are an absolute must-have for podcasters regardless of their niche:
Autosave

Sound effects

Screen sharing

Easy-to-use interface

Basic editing features

Noise-eliminating tools

Multi-track sound recording

High-quality sound and video recording

Video calling and recording with multiple participants
Device Compatibility
Lastly, the best podcast software is of no use if it's not compatible with your devices. The best podcast software for mac will be different than the one suited to other devices. The great news is that software visions are now for almost all device categories. Make sure you download software that suits your gear and setup.
10 Best Podcast Software
Are more features always better? Is the best podcast software free, or comes at a price? What choices are available to broadcasters, and which software should you steer clear of?
To answer your questions and make selecting podcast software a bit simpler, we have compared ten of the best software for recording podcasts for you:
1. Audacity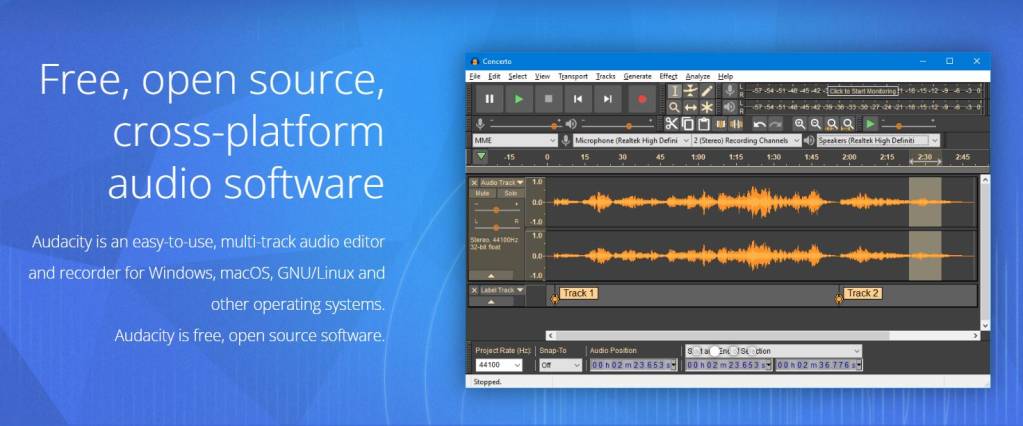 When it comes to the best podcast software that's free, you will be hard-pressed to find one that beats Audacity. This program records podcasts and has many editing tools to make the final results stunning. Audacity for Mac is rated as one of the best podcast software for mac users.
The software lets you play around with audio and video by cutting, copying, or mixing.
One drawback is that the software doesn't support remote recording if you want to take on a guest. Also, some users have reported a slow start-up of the software and a somewhat difficult-to-navigate interface.
Top Features
Generic interface

Multi-track editing

Digital audio converter.

Open-source software

Automatic free updates

Records at up to 32-bit, 44.1 kHz 

Has editing options and special effects for all difficulty levels, such as adjustable fading effects, background Noise reduction, and an amplifier

Spectrogram and Plot Spectrum view for working with and analyzing audio frequencies
Pricing
Audacity is free to use
Specialty/Niche
Audio effects and tools
Our Recommendation
The interface and some of the advanced tools are highly recommended for experienced podcasters.  Audacity is not recommended for broadcasters that need to record remote guest speakers.
2. Garage Band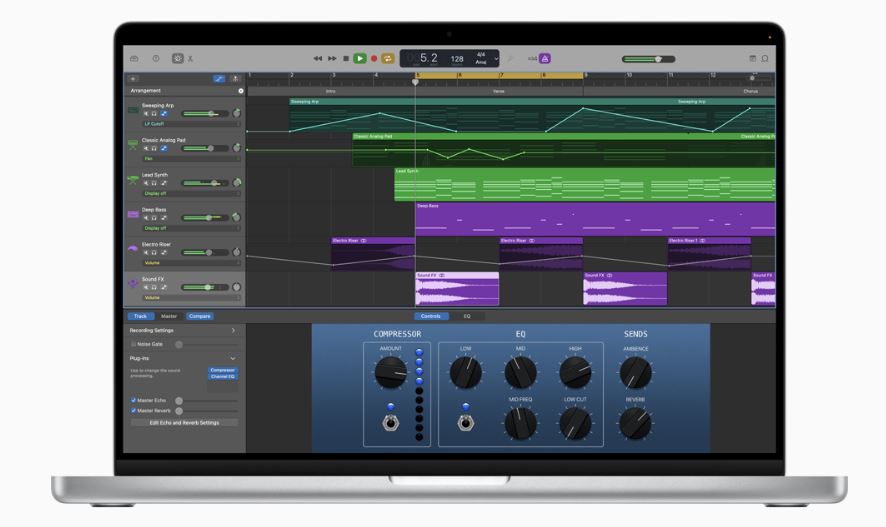 Although not designed exclusively for podcasts, this software comes pre-installed in Mac and Apple systems. The program comes with an impressive array of features and tools. Garage band has a pretty helpful app to make editing and recording on the go easier.
Since this is a generic audio recording and editing program, it focuses mainly on music creation. That can be limiting for podcasters, especially since there's no manual recording system. A good choice if you're starting in podcasting and want to test the waters before making a considerable investment.
Garage Band includes basic audio recording and editing features for your podcasting requirements and is pretty simple. You can quickly equalize and compress your audio recordings or add special effects from the software's sound library. The software supports several plug-ins to enhance your recording experience and add value.
Top Features
Smart controls

Easy-to-use interface

Advanced editing and mixing tools

An extensive array of special sound effects

The app makes on-the-go recording easier

Creates multiple tracks for music, intro, and advertisements

Plug-ins improve the recording, viewing, and listening experience
Pricing
Free for Apple customers
Specialty/Niche
Music, special effects, soundtracks
Our Recommendation
Recommended for beginners. If you are a Mac user, we highly recommend Garage Band for all your podcasting needs.
3. Adobe Audition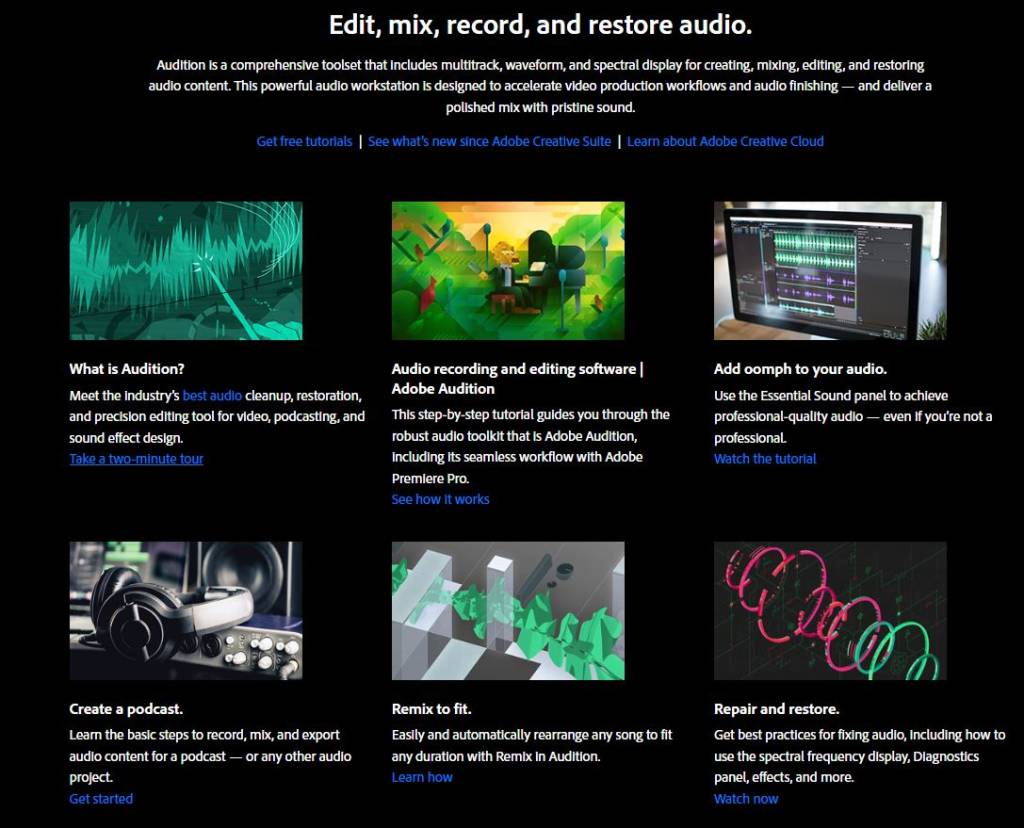 Like all things Adobe, this is one of the best podcast software. An excellent tool for all the creative folks willing to spend a premium price on features. Adobe Audition has multiple features making it the top choice among paid podcast software for veteran and new podcasters.
Top Features
Royalty-free music library

Batch processing option

Supports 11 video file types

Impressive special effects

Live supervision while you record

Regular automatic software updates

Background and white noise remover

Supports more than 30 audio file types

Great templates for recording and editing

Offers multiple presets perfect for new podcasters

Multiple tools for audio and video blending, cutting, and effects
Pricing
$20.99 for a monthly subscription
Specialty/niche
Podcasts with a high-end vibe
Our Recommendation
Highly recommended for those with the technical know-how of the features and tools this software offers. It's the best podcast software if you want pro-level recordings.
4. Riverside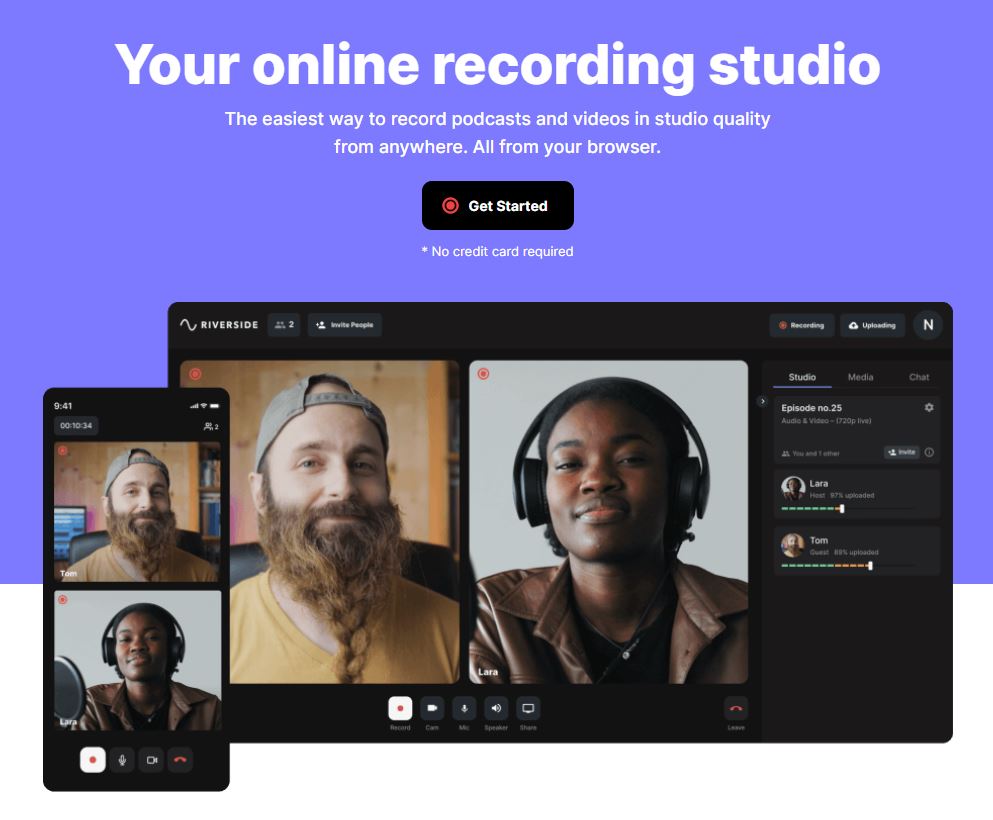 If remote recording is your main jam, Riverside is the best podcast software. The program offers many perks, including podcast transcripts, high video and audio recording quality, and automated editing tools. The platform can host up to eight remote participants simultaneously.
Top Features
Screen sharing

Technical support

Podcast transcripts

Live-streaming capability

Multi-track audio and video recording

Automated editing tools help save time

Suitable for Android and iOS systems

WAV or MP3 audio recordings at up to 16-bit 48 kHz 

MP4 constant frame rate video recordings at up to 4K
Pricing
$15 for the Standard plan

$24 for Pro Plan

The program also has a free basic plan
Specialty/niche
Remote recording
Our Recommendation
If you don't mind the monthly fee, Riverside is a decent option for pro podcasters looking to expand their horizons by taking on more remote guests.
5. Hindenburg

For buttery smooth-sounding top-notch voice quality, Hindenburg is the best software to record podcasts. While the other features, such as editing tools, are nothing to write home about, Hindenburg does audio recordings like no other podcasting software. The program adjusts loudness levels, tempo, and white noise automatically without you having to do much editing. 
Top Features
Supports remote recording

Supports multiple audio file types

Straightforward plug-and-play set-up

Easy publishing to video hosting platforms
Best-in-class audio recording software.
Pricing
Price plans range from $12 a month for single track option to $10 monthly for the PRO multi-track pack
Specialty/niche
Professional level podcasting
Our Recommendation
Recommended for seasoned podcasters looking for the best podcast software for speech-specific recordings.
6. Auphonic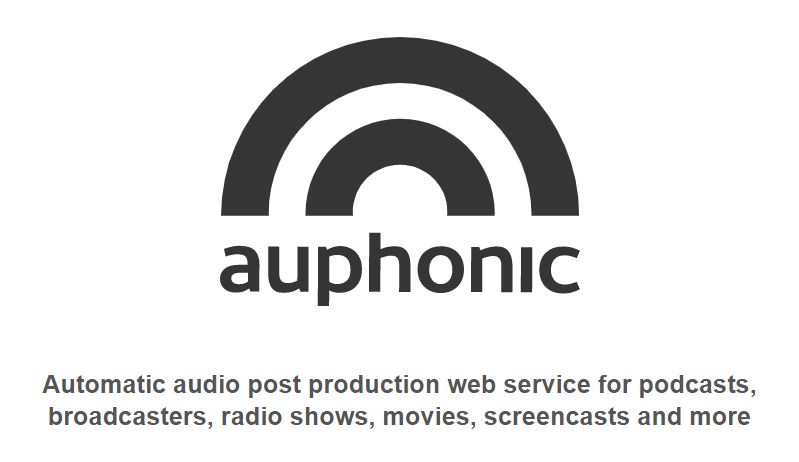 This automated audio editor may not be the best podcasting software out there, but it offers a realistic solution to broadcasters short on time and high-end recording equipment. The software is easy to navigate but lacks some basic features.
The tools from Auphonic can level the tracks, restore loudness, and clear out background noise in the audio samples.
Top Features
High sound quality

Good basic mobile app

Generates automated audio transcript

Artificial Intelligence does the work for you

The free version is good for two hours of content

Compatible with both Android and iOS systems
Pricing
Free for up to 2 hours a month

$11 for Up to 9 hours a month

$24 for up to 21 hours a month

$45 for up to 25 hours a month

$99 for up to 100 hours a month
Specialty/niche
Automated audio editing
Our Recommendation
Good for broadcasters that already have better-rounded podcasting software and want to save time manually editing their audio recordings. Highly recommended for newbies.
7. Anchor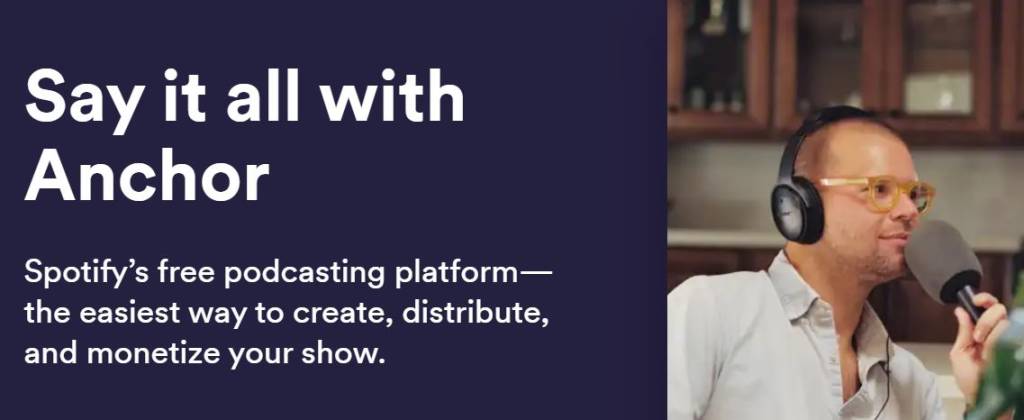 Anchor makes the list of best video podcast software thanks to all the features it offers for free. The program lets you quickly arrange segments and transitions using the built-in uploading, recording, and editing tools.  
Top Features
Video analytics

Easy monetization

User-friendly interface

Simple video distribution system

Audio is encrypted in stereo at 44.1 kHz, 128 kbit/s CBR
Pricing
Anchor is free to use
Specialty/niche
Remote recording and editing
Our Recommendation
Perfect for new and seasoned broadcasters looking for a free all-rounder podcasting software with remote recording.
8. RINGR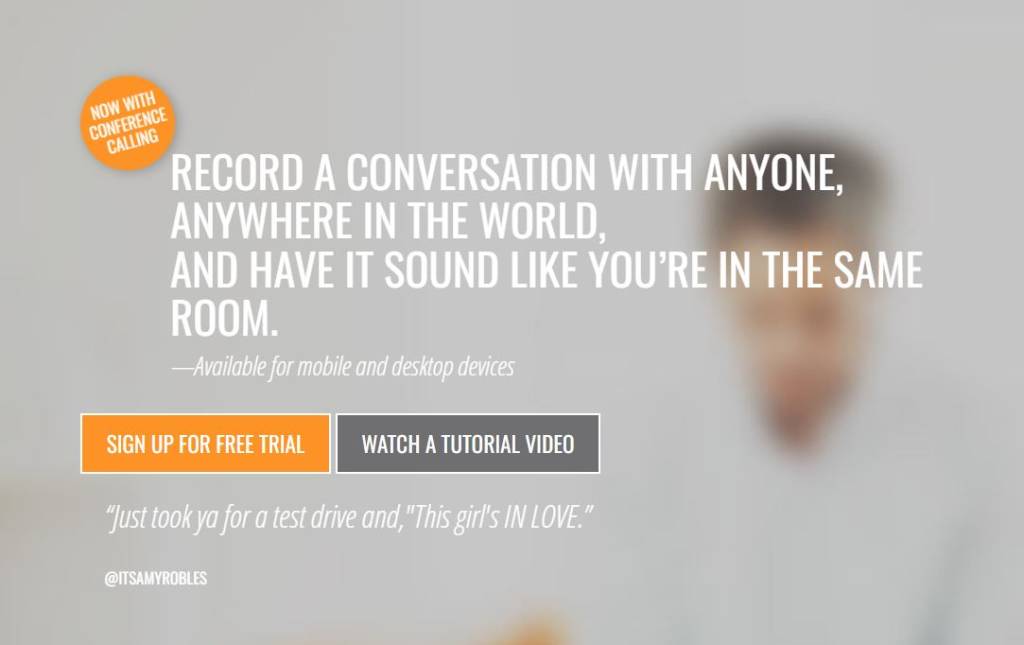 If you want a simple podcasting solution, RINGR can be a good choice. The software has limited features but is easy to navigate and supports remote recording.
Top Features
Simple to use

Multi-track recording

audio recordings quality of 48kHz

Supports remote recording of up to four participants
Pricing
Plans range from $7.99 monthly to $18.99 monthly
Specialty/niche
Remote recording / unlimited storage
Our Recommendation
If you want unlimited file storage and recording, RINGR is a good choice for you.
9. Zoom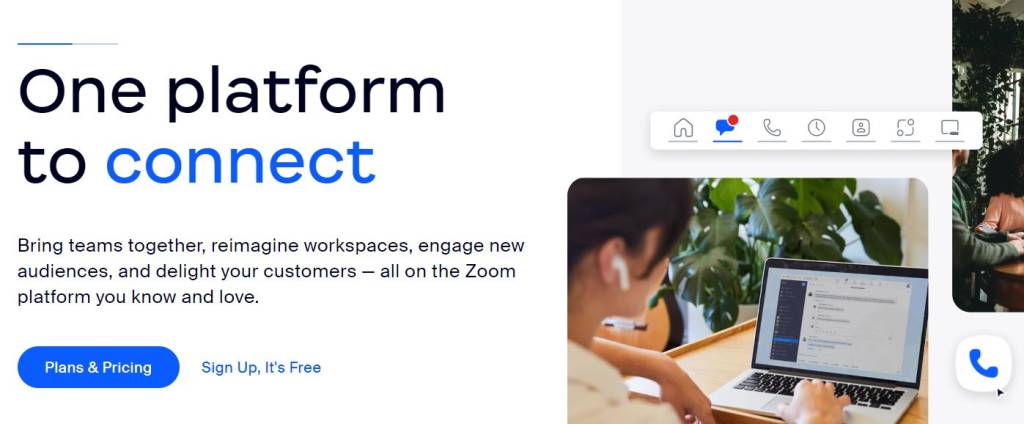 Zoom isn't a podcasting software but does step in to do the job, thanks to its voice recording option. Its familiar layout and free basic plan make it a popular, although unconventional, podcasting tool.
Top Features
Cloud storage

Screen sharing

Technical support

Audio Transcription option

Offers high recording resolution [1080p]

Supports up to 100 participants in one session
Pricing
The basic plan is free but limited. Paid plans range from $149.90 yearly to $240.
Specialty/niche
Caters to a more significant number of participants
Our Recommendation
Great podcasting option if you want a large number of participants onboard.
10. Buzzsprout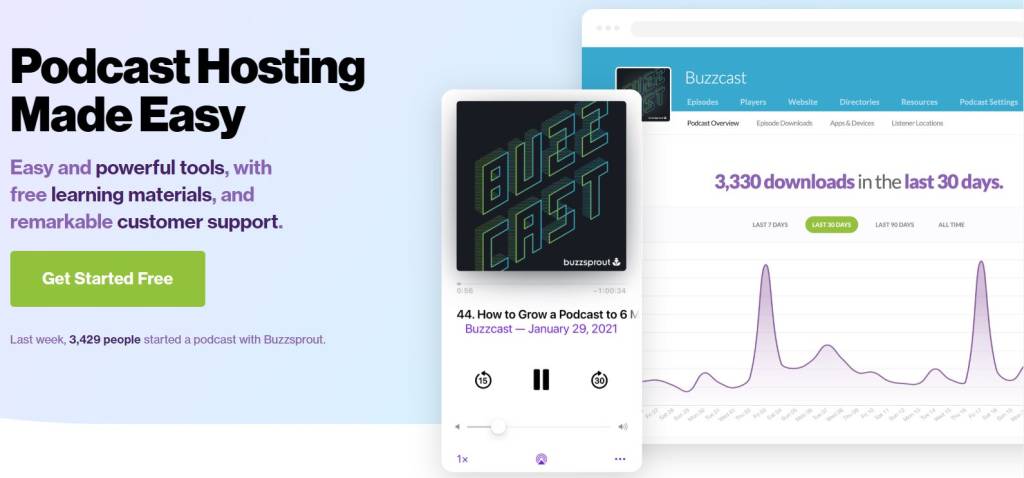 Buzzsprout offers broadcasters a lot in addition to being a podcast hosting platform. This comprehensive software is loaded with essential features at a reasonable price point.
Top Features
Easy social media sharing

Automated optimization

Quick editing and uploading

Automatic voice tune adjustment

Easy to understand video analytics

Supports MP3, M4A, WAV, and AIFF file formats
Pricing
Plans start at $12 monthly
Specialty/niche
All-in-one podcasting software
Our Recommendation
Great one-stop-podcasting solution for newbies on a budget.
Final Thoughts on the Best Podcasting Software
No matter which software you have to make podcasting simpler, you need a reliable video hosting and streaming partner to hit your goals. If you're looking for a reputable way to host and live-stream your podcasts, Dacast is your video platform. 
Both live and on-demand streams can be hosted via its white-label streaming solution since it's a complete video and audio streaming solution.
Dacast offers its users 24/7 technical support and a wide range of high-end features, such as superior streaming security, monetization support, and more. It offers plans at various prices so you can always share your content while staying within budget.
Want to give these features a try without committing? We got you. With our risk-free 30-day trial, you can test out Dacast without any credit card necessary. Register today to try out all of our robust features and perks.