10 Best Video CMS (Content Management Systems) in 2022
Video content has taken over as the primary source of communication, not just in the entertainment industry but also in the corporate world. Almost 80% of daily content consumption by internet users includes videos.
The popularity of platforms like TikTok, Youtube, Netflix, etc., has guided content creators, businesses, and organizations to use videos as a tool for more targeted and engaging marketing campaigns.
The COVID period further emphasized how videos can be used to host virtual conferences, record training tutorials, and even live-stream content for efficient communication and faster-paced educational initiatives.
As your video library grows, you'll need a tool to manage all content before it becomes a chaotic user experience for your audience. That's where the video content management system comes into play.
This guide is all you need if you don't know what a video CMS is, what video CMS software options are available, or how to choose the right one for your online activity. We'll provide you with a deep insight into these topics, so you don't need to spend hours online searching for the right solution.
Without further ado, let's get started!
Table of Contents:
Video CMS – A Brief Overview
Advantages of Video CMS for Businesses
What Features to Look for in the Best Video CMS
Top 10 Best Video CMS in 2022
1. Dacast
2. Microsoft Stream
3. Panopto
4. Brightcove
5. Kaltura
6. IBM Cloud Video
7. Vimeo
8. Zype
9. Wistia
10. CMS Hub
Conclusion
Video CMS – A Brief Overview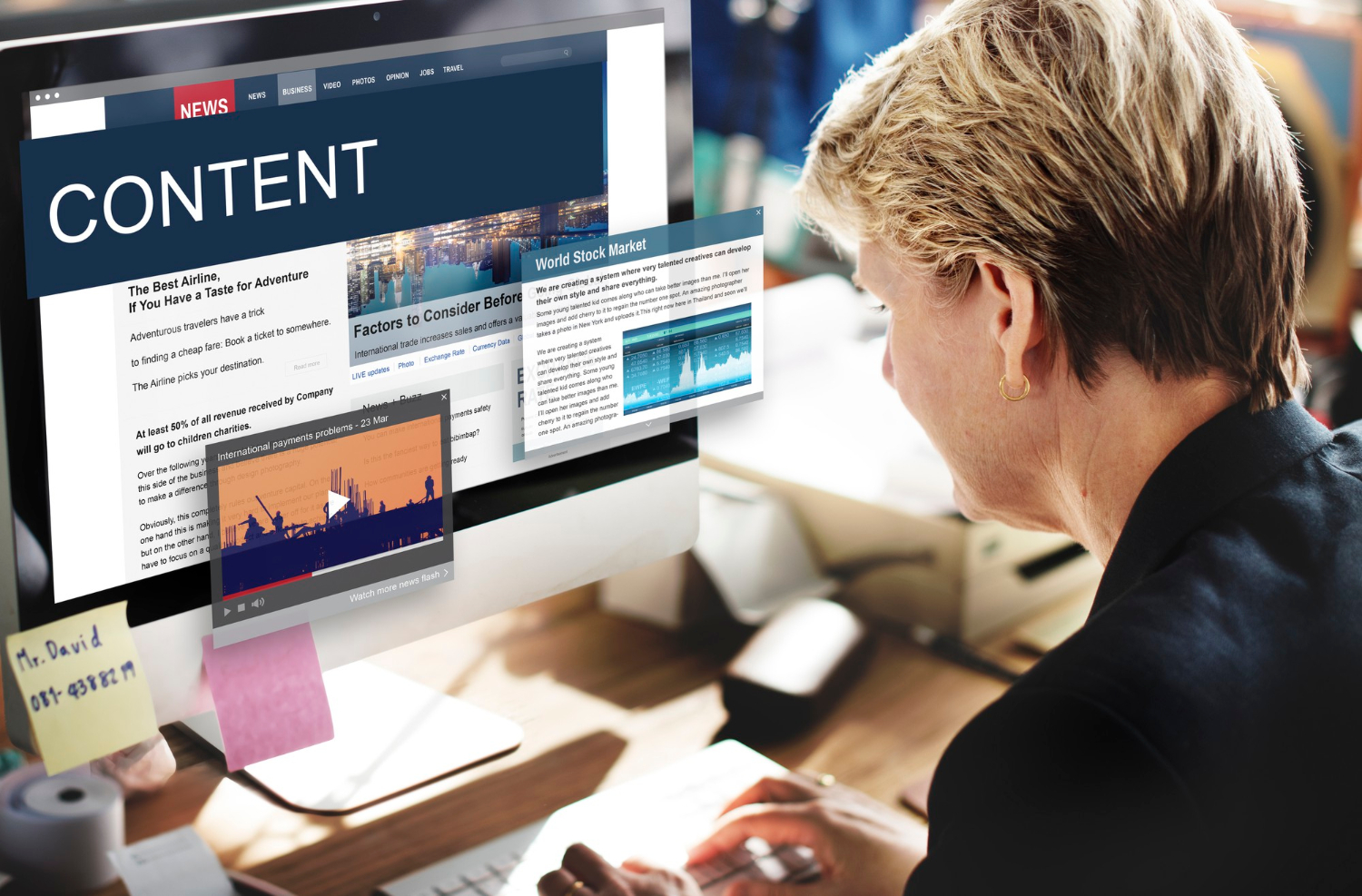 A video content management system (CMS) is an application that enables users to upload, manage, and share video content effortlessly. It allows you to arrange your video content to make it more accessible and presentable. Businesses and organizations can use video CMS software to analyze data, such as the total views on their content.
Video content management is generally of two types, public CMS and private CMS. There are some distinct features that set these two video CMS apart. In short, public CMS are video streaming platforms that are easily accessible to everyone.
People from all over the world can search, view, and comment on video content. Moreover, this type of video hosting CMS provides limited control and security. The best example of a public video CMS is Youtube.
On the other hand, a private video CMS offers more customization, security, and control over the visibility of your content. Netflix and Disney+ are two such platforms that aren't accessible to everyone but rather require monthly subscriptions. Since organizations and businesses tend to look for a secure and user-friendly platform, this type of video CMS is more in demand.
Advantages of Video CMS for Businesses

Without video CMS software, managing video content can be challenging for businesses. That's because videos usually take up more storage space than images, blogs, etc. Moreover, the data generated from these contents require more analysis than other content.
A video CMS can be beneficial to overcome such issues, depending on the organization, requirements, and objectives. Here are some of the main advantages of a video CMS.
Storage of Bulk Video Files
As videos require a large amount of free space for storage, a key feature that a video CMS provides is storing bulk video files. If you're using a non-specific CMS, your videos may exceed the maximum size limit and cause various storage issues.
In such instances, you may want to switch to a video CMS since they're designed with special consideration for the video size. Simply put, video content management allows you to store and manage video content without lagging.
Uploading Multiple Videos
An important feature that a video CMS has is the ability to upload various videos to the platform at the same time. That's done without causing hindrances to the user experience. So instead of uploading video content one by one in other programs, you can upload a bulk quantity of videos by utilizing a video content management system.
Categorisation of Videos
Another excellent feature of a video CMS is managing the uploaded and saved video content. One way to do so is by categorizing the videos to make them easily accessible to users. That way, you can search for a specific title to discover video content related to the same subject.
Other ways to categorize videos include file names, tags, metadata, etc. Furthermore, various video CMS platforms offer a speech recognition feature, allowing you to search within the video. That can be beneficial as it helps to save time in searching for relevant video content.
Transcoding
Transcoding is a process that enables videos to be played in various device formats, such as a phone, laptop, computer, TV, etc. A video CMS needs to accommodate all devices through which video content can be accessed. That's done by video content management software that allows switching from one format to another through transcoding.
Video Analytics
To understand how well your videos are doing, looking at the metrics section is essential. Analytics in various video CMS software gives you a detailed insight into the performance of your videos.
By analyzing the data, you can see which videos are generating the most traffic, what types of content people enjoy viewing, when people stop viewing a video, etc. That can help you create a better strategy to enhance the performance of your video content.
Monetization 
Video content management systems also include various monetization options that allow you to generate revenue from your video content. The options include transactional video on demand (TVOD), subscription video on demand (SVOD), and advertisement-based video on demand (AVOD).
In TVOD, you're charging viewers on a pay-per-view basis, meaning they'll have to pay for every piece of content they watch. In contrast, SVOD provides better and more reasonable packages for consumers. With this model, viewers can watch as much video content as they want with monthly subscription packages. Netflix, HBO Max, and Amazon Prime are examples of such a model.
AVOD is another monetization model which allows you to include advertisements in your content. That's how the revenue is generated with this type of model. Compared to TVOD and SVOD, it's usually free for consumers, and in turn, they'll have to sit through ads in between videos. AVOD is being used on Youtube, DailyMotion, etc.
What Features to Look for in the Best Video CMS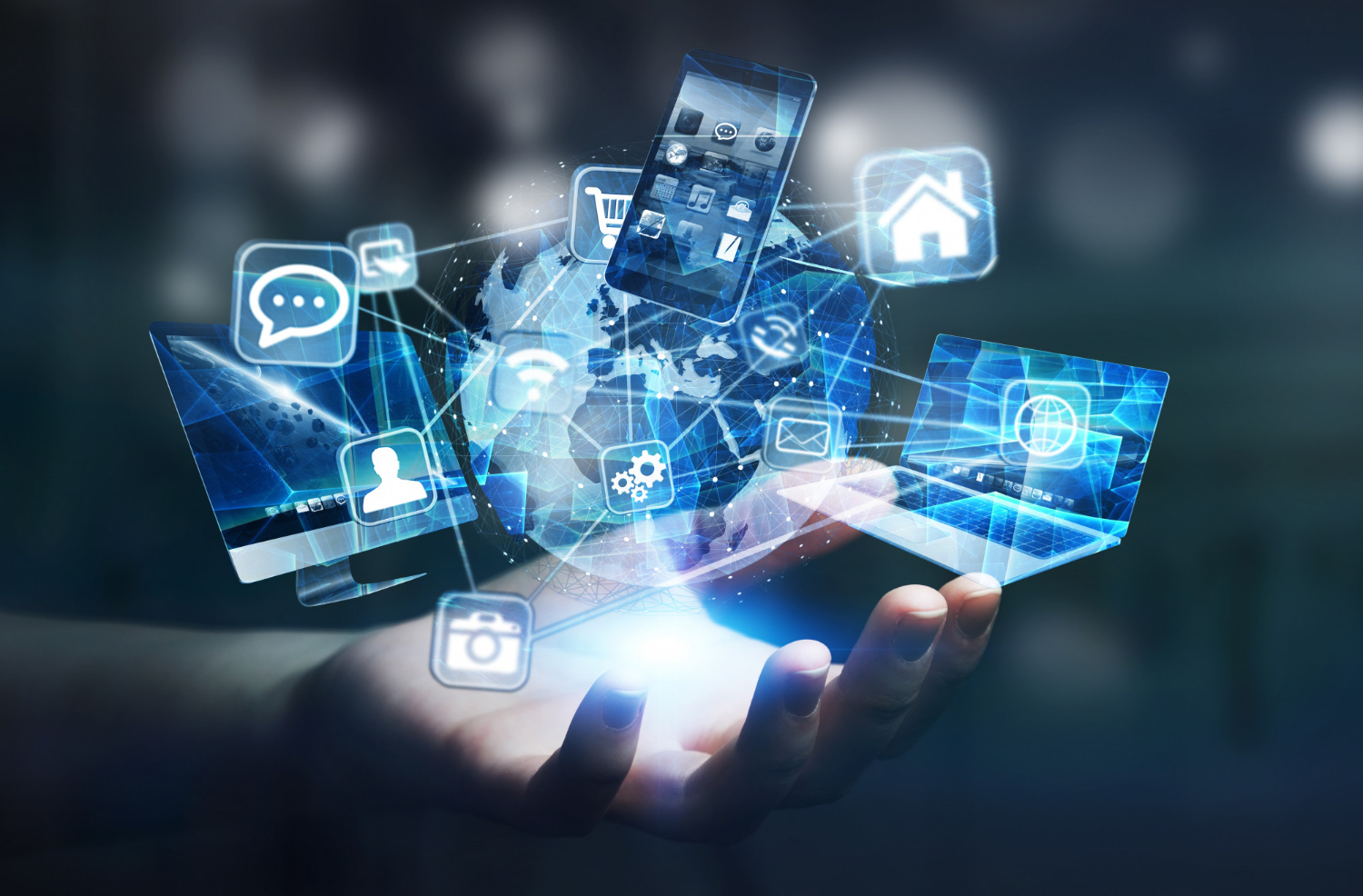 Now that you're aware of the importance of video CMS for different businesses, let's move toward what features to consider when looking for the best video CMS. Since there's a range of video CMS software in the market, you need to be able to pick out the best one for your video streaming business.
Here are the key features that the best video CMS should have.
Enhanced Searchability
Since organizations have a vast video content library, a need for a system arises that can categorize and index this content effectively. So a great video streaming platform will have enhanced search options. That'll benefit the user and the viewers, as relevant content can easily be accessed without hassle.
Privacy and Security
Excellent privacy and security are a must-have for any video CMS. A CMS platform works by ensuring that your private videos are secured by including an authentication process. The video content is encrypted, so there's no breach or leakage of private information.
The best video CMS will also offer a secure connection between the video streaming server and the consumer's browser.
Integration Option
The need for video CMS software can happen anytime. So your potential CMS software should provide an integration option if you're using a non-video or non-specific CMS and want to convert to a video CMS.
This feature lets you link the video CMS platform to your existing setup. That way, you don't have to worry about transferring your content all at once or losing your important data.
Video Syndication and Analytics
Video syndication is another feature you should look for when considering a video CMS. It allows you to share your posted video content from the original site to other platforms. It boosts your videos' traffic and allows consumers to access your content on other platforms.
As mentioned, video analytics is an essential function that should be incorporated into your video CMS. You can use this tool to discover how often your content has been viewed, for how long, etc. You can then use these metrics to find more effective ways to raise those numbers.
Live Streaming
Live streaming is another feature of many video CMS systems. It allows you to broadcast videos in real-time that the audience can stream from their devices. Organizations and businesses can use live streaming to hold meetings, conferences, product launches, etc. You will also get the option to save these videos after the session ends with the best video hosting CMS.
Top 10 Best Video CMS in 2022
Here are our top ten picks for the best video CMS – check out the features of each one.
1. Dacast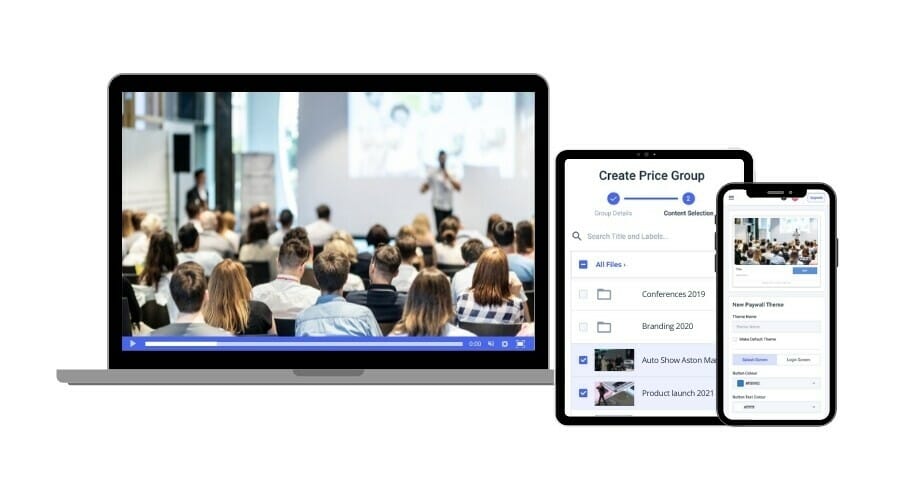 Dacast is among the best CMS for video content options that support live streaming and VOD hosting. As it's capable of embedded in-demand features, it offers package pricing comparable with other broadcasting platforms on the market.
This video streaming platform usually targets entertainment industries, corporate organizations, and sports and fitness campaigns with great monetization opportunities, password-protected hosting, and even Zoom integration.
Features:
Top-tier CDN partnership
Video monetization with pay-per-view, AVOD, and SVOD
Display streams via the expo video gallery
Advanced customization through Player API and Video API
Real-time streaming analytics
Cloud video transcoding
Plans:
Dacast offers three different plans to meet the varied streaming requirements and budgets. You may also create a custom plan by communicating with their support team for a high-volume live streaming solution.
Starter costs $39/month, with 1.2 TB of bandwidth and 50 GB storage/year
Scale costs $188/month, with 24 TB of bandwidth and 1 TB of storage
Event costs $63/month or $750/year, with 6 TB of bandwidth and 50 GB of storage (more can be purchased if needed)
2. Microsoft Stream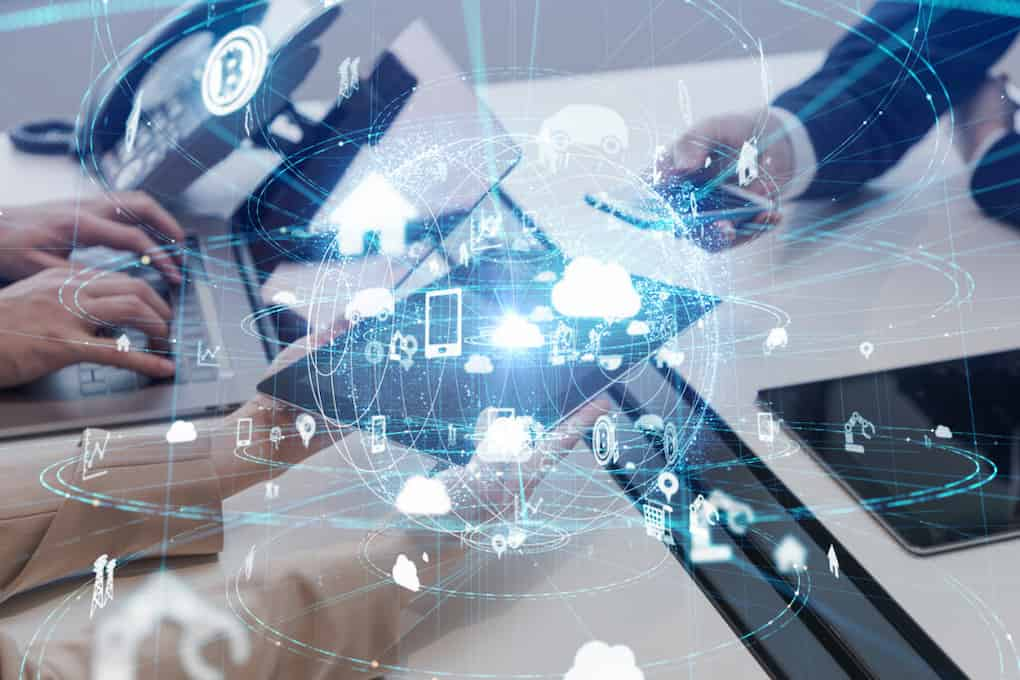 Earlier known as Office 365 Video, Microsoft Stream may be the best video CMS option for you if you intend to handle only internal video distribution. The software is integrated with Microsoft programs, like OneDrive, MS Teams, SharePoint, etc. That accounts for users' ease of moving videos from one platform to another.
Microsoft Stream is a corporate video CMS software that highly focuses on end-to-end encryption for sharing and managing video content with up to 10,000 viewers. However, it lacks features like video playback, AI tech, and encoding.
Features:
Auto-transcription and facial-recognition technology, which enables users to search words or video subjects and jump to their timeframe
Auto-transcribing facility
Asset storage in Microsoft Azure
SSO integration
Bulk control access through various user teams
Plans:
Microsoft Stream is integrated with any Microsoft 365 plan rather than acquired as a standalone product.
Office 365 E1: $10/month with other Microsoft applications.
Office 365 E3: $23/month for device management and basic software.
Office 365 E5: $38/month for low-priced plans in addition to security, voice abilities, and analytics.
3. Panopto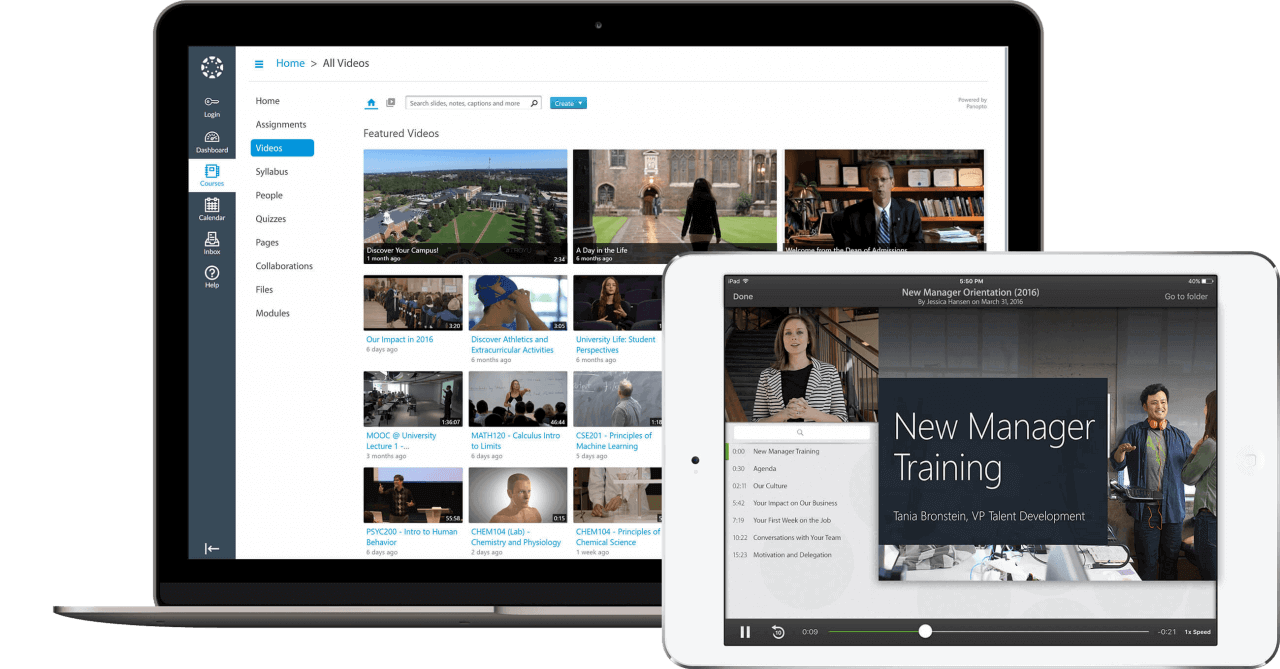 Panopto is an ideal option for businesses and academic institutes. It provides users with an easy interface so that the distribution of videos doesn't become too complex. Also, it has a robust integration system that allows you to link your current CMS to its setup.
Moreover, it features a speech recognition option that automatically detects spoken words within the content. Its transcoding feature allows for the accommodation of various device formats. Not to mention, this broadcasting platform lets you stream live and on-demand video content.
Features:
Video-specific analytics to check the content performance
Secure and private streaming
Efficient integration with Learning Management Systems (LMS)
While label streaming
Plans:
If you're planning to get Panopto, you can pick from the three different plans available:
Panopto Basic: Free
Panopto Pro: $14.99 per month
Panopto Enterprise: Contact Panopto to customize
4. Brightcove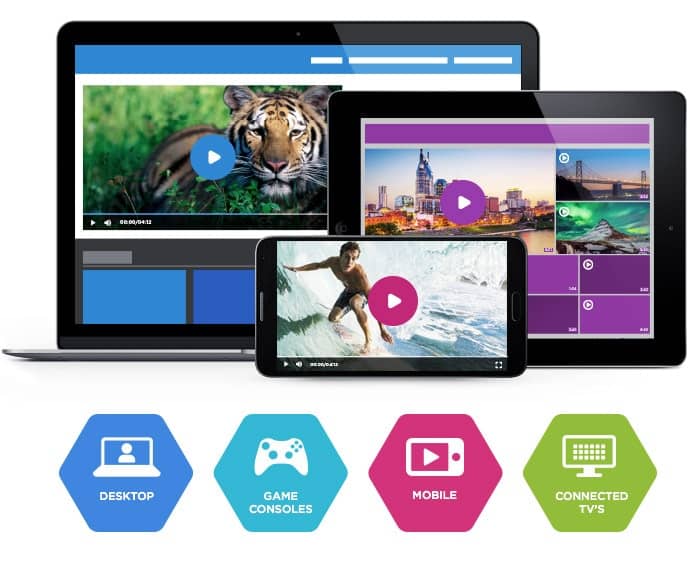 Brightcove provides cloud-based video solutions for digital enterprises and is highly audience-focused. Its video CMS is unique as it supports full HD streaming, video-on-demand hosting, cloud encoding, monetization policies, and more, with a built-in graphical interface that streamlines workflow.
Though their plans are a bit expensive for small businesses, Brightcove is one of the most popular CMS choices, especially in the entertainment, sports, and broadcasting industries. Unfortunately, the platform lacks AI capabilities and thus demands third-party applications to fill some feature gaps.
Features:
Quick publish to get your videos posted anywhere with a simple embed code
Create playlists and video galleries, and add metadata with video tags
Use a paywall or password to protect data and host private content
Range of OTT-focused services
White-label streaming
Store unlimited content
Monetise content with AVOD, TVOD, and SVOD
Plans:
Brightcove offers multiple plans with a 30-day free trial to cater to different client requirements. They are as follows:
Starter includes 50-200 videos, up to 100,000 plays, 2-5 users
Professional includes unlimited videos, 100,000+ plays, 10+ users
Enterprise includes unlimited videos, 100,000+ plays, 10+ users, unlimited uploads, analytics-only users
However, their pricing isn't published online. You'll need to contact their sales department to receive a quote for your selected package. You can even create custom-priced plans for their Enterprise Video Suite plans.
5. Kaltura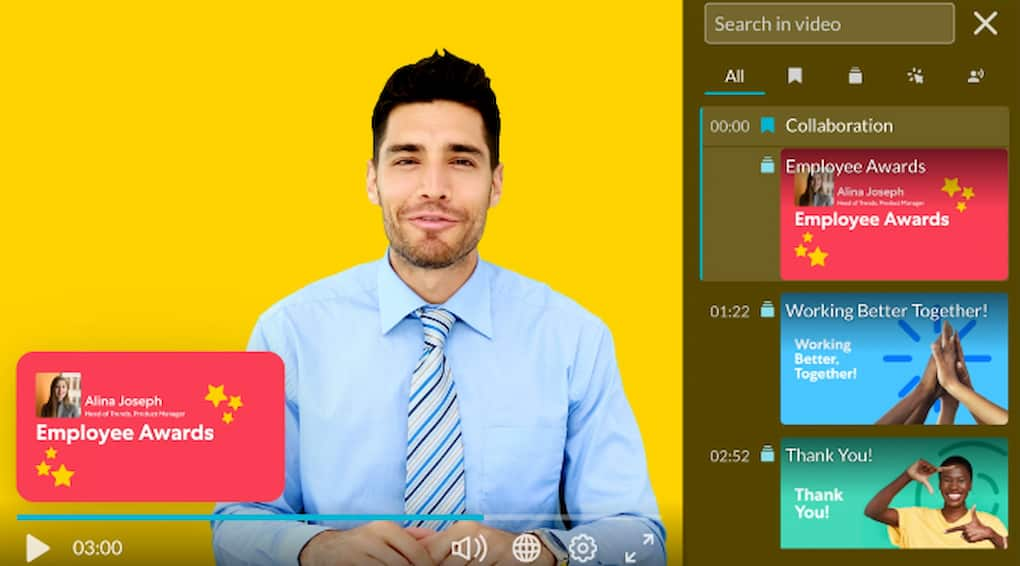 If you're looking for an all-inclusive open-source video hosting CMS, Kaltura is the way to go. It is the first of its kind with complex customizability options. That makes it the best suitable for advanced broadcasters and developers to create custom applications exclusive to their enterprises.
Featuring an interactive collaboration space, on-demand video, and live streaming, and a virtual classroom area, it's very popular among educational institutes and enterprises. In addition, this video streaming server allows you to create, publish, manage, and analyze all your video content from a single space for a seamless viewing experience.
Features:
Advanced video analytics dashboard
Capable of transcoding and bulk upload
Managing privacy permission and entitlements
Open-source nature for building custom applications
Provides literacy aids, including captioning, translation, transcription, audio description, etc.
Video monetization
Video playback
Plans:
Each service offered by Kaltura features different plans, whereas Enterprise plans for all can be made custom by contacting Kaltura experts directly.
Virtual Classroom: Standard is $19 with up to 10 participants per session. Pro is $45, with up to 100 participants per session.
Webinars: Standard is $99 with up to 5 moderators, panelists, and 250 participants per session. Pro is $124 with up to 10 moderators, panelists, and 500 participants per session.
Media Services include VOD, live streaming, etc., which use a credit-based pricing system. You can buy credits, the price of which is reduced when in bulk.
6. IBM Cloud Video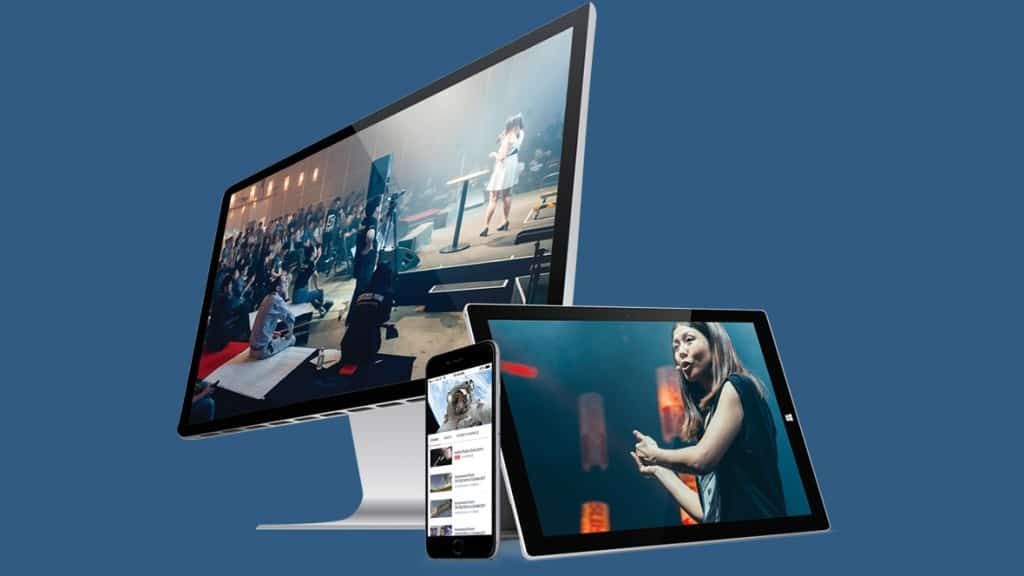 The key feature that sets apart IBM Cloud Video from other video streaming platforms is the built-in service to stream live and pre-recorded videos. It ensures security for your live streams with user authentication and password protection for your content.
Furthermore, this video CMS software provides a real-time analytic track for live videos, which makes it the best choice for large-scale video campaigns. Users can insert ads, build their personal OTT platforms, add metadata, and more.
Features:
Trademark Watson system auto-captioning for recorded and live videos
Embed video content on other sites
Offers video APIs and plugins
Large-scale streaming
Minutes-based storage limit rather than GBs
Content monetization with membership, video rentals, and pay-per-view
Plans:
From a 30-day free trial to custom plans for high volume needs and additional features, IBM Cloud Video offers varied plans to provide you with the best live-streaming solution.
Silver for $99/monthly
Gold for $499/monthly
Platinum for $999/monthly
7. Vimeo
For businesses or broadcasters with minimal needs and/or budget constraints, Vimeo is the best CMS for videos. The software is highly OTT-focused for content delivery and doesn't demand programming experience as it's a ready-made platform.
Features:
White-label streaming player
Content monetization and analytics
Add clickable CTAs at the end of videos
Privacy and security features
Plans:
Basic: 30-day free trial
Plus: $7/month for a single user with 250 GB storage
Pro: $20/month for three users with 1 TB of storage
Business: $50/month for ten users with 5 TB storage
Premium: $75/month with 7 TB storage and unlimited viewers
8. Zype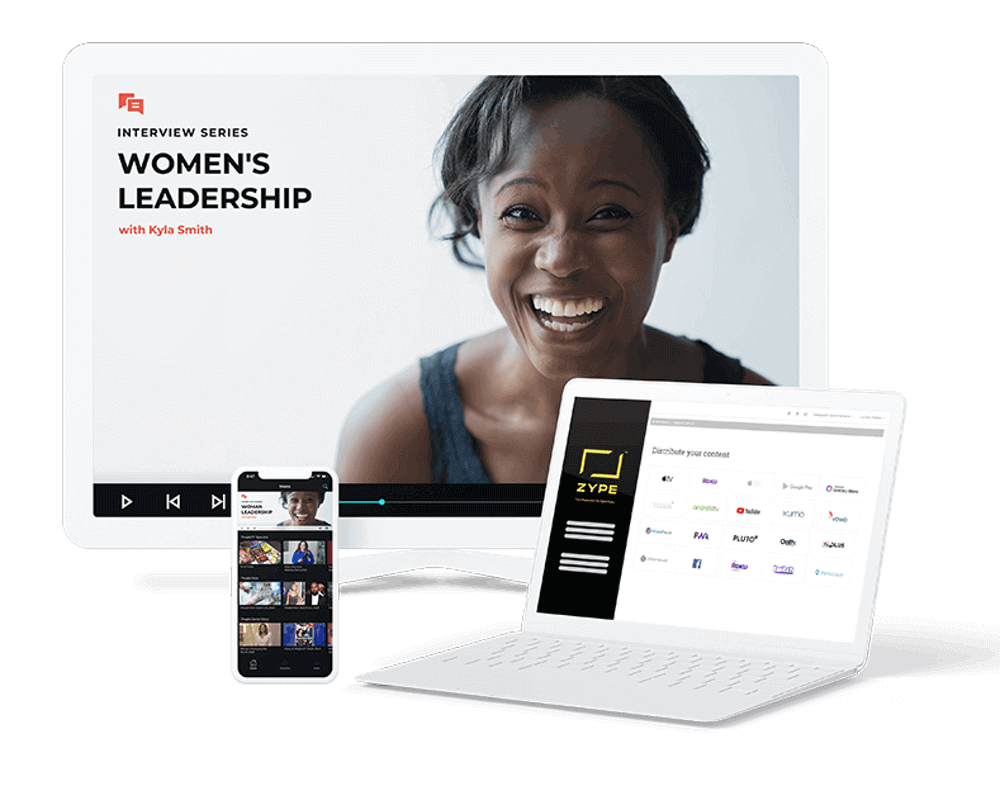 Zype offers a minimal and straightforward interface to keep things easy for its users. It's also popular among enterprises for its cloud-based video CMS and internal and external distribution infrastructure, which helps drive revenue and engagement with video streaming.
Features:
Video monetization
Automation and integration with numerous SaaS applications
Metadata control
Playlist structuring
Plans:
Zype X for $500/month
Zype Enterprise for $2500/month
9. Wistia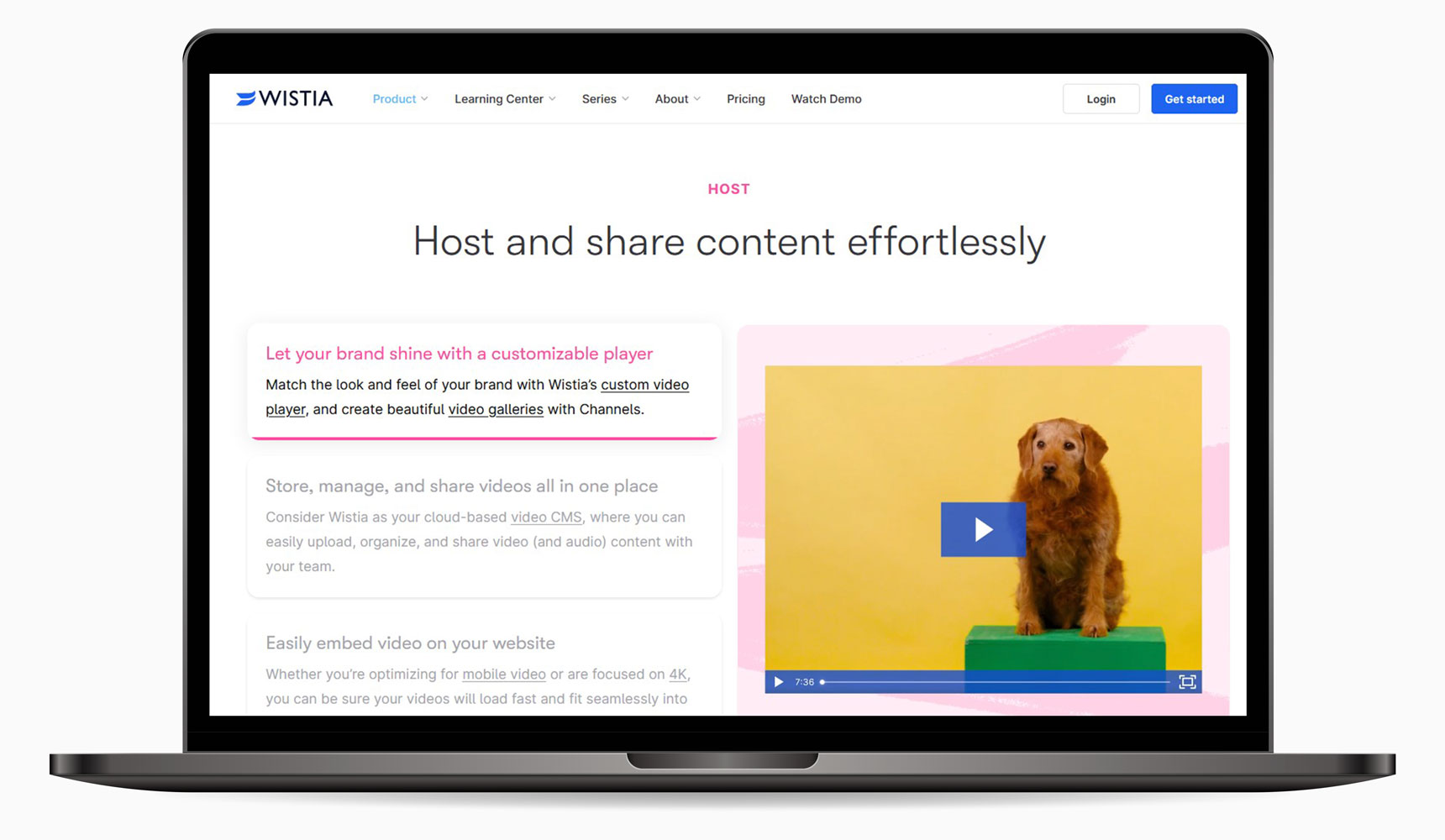 Wistia features a more straightforward side of a video streaming platform. Designed primarily for on-demand external video content, it's a one-of-a-kind, ad-free server that features innovative integrations for marketing and sales purposes. Unfortunately, Wistia does not support live streaming.
Features:
Password-protected VOD hosting
SEO-optimized embedding and clickable CTAs
Third-party tools integration like CRM, analytics tracker, etc.
Plans:
Free for $0/year
Plus for $19/year
Pro for $79/year
Advanced for $319/year
10. CMS Hub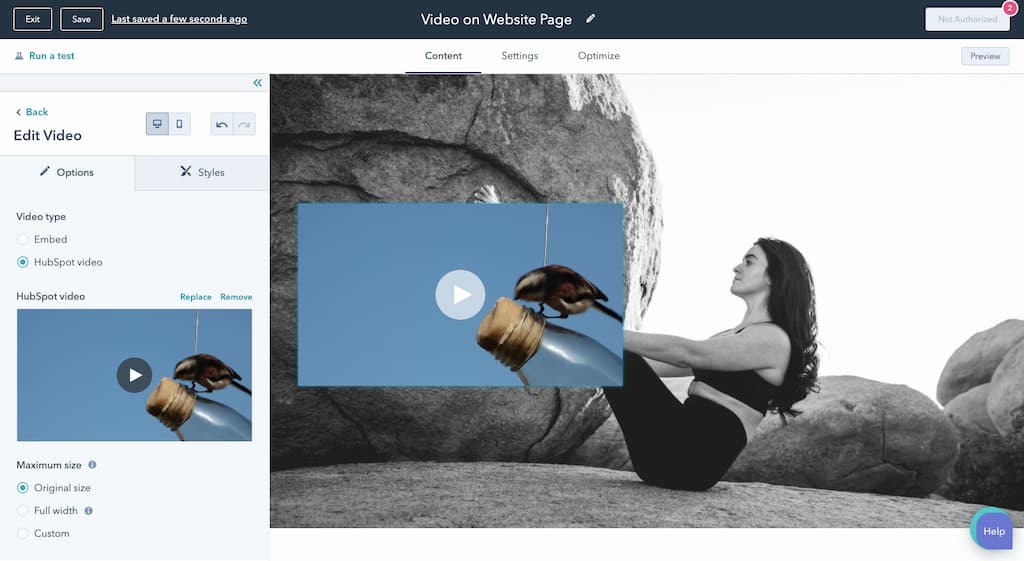 An ideal video CMS for marketers and developers looking for an all-in-one system, CMS Hub lets you first host and manage your video content on the HubSpot infrastructure and then embed it onto the final destination. Not just that, the service allows you to record your screen or create video tutorials that'll help you in the sales and service department.
Features:
User-friendly interface
Incorporate CTAs within videos
Track video analytics
Plans:
Starter: $23/month
Professional: $360/month
Enterprise: $1200/month
Conclusion
That brings us to the end of our detailed guide on the ten best video CMS (Content Management Systems) in 2022.
We've covered in depth what a video content management system is, its advantages, and the features to consider when looking for the best CMS for videos. Finally, we've given our top 10 picks to choose the best CMS for video content.
There are many fantastic video CMS platforms on the market, and finding the right one can be difficult. Hence, this guide will help you narrow your choices to a few best video CMS options. Moreover, if you have any confusion or queries, feel free to use the comments section below. We'll make sure to provide further assistance.
Lastly, Dacast video CMS offers a free trial of 14 days with no credit card required. So check it out and begin free live streaming today!
Join our LinkedIn group for regular streaming tips and exclusive offers. Thanks for reading, and good luck with your live broadcasts!