5 Best Lecture Capture & Streaming Solutions
Online learning is booming like never before with no signs of slowing. The global online learning market is expected to hit $336.98 billion by 2026. From weekend courses to quarterly intensive programs and even use by prestigious universities, online learning has altered traditional ways of learning for good.
As online learning becomes another new norm in our modern world, recording lectures in the right way is paramount for both teachers and students. Lecture capture technology has changed the way we learn for good. It allows for flexibility, convenience, and in many cases, even better methods for learning.
The best kind of lecture is one that captures student engagement while being accessible to everyone studying. They also allow students to rewind and take the notes they missed the first time around. These reasons and more are why more institutions are using lecture capture and streaming solutions for the best learning outcomes.
Table of Contents
What Is Lecture Capture?

Why Record Lectures?

How to Choose the Best Lecture Capture Solution

5 Best Lecture Capture Solutions

Panopto

Kaltura

IRIS Connect

Echo360

YuJa

Host & Stream Your Lecture Recordings With Dacast

Final Thoughts

FAQs on Lecture Recording Software
What Is Lecture Capture?
Lecture capture is the process of recording video lectures that your students can watch later. Capturing lecture recordings as high-quality videos allows them to watch and review them later.
However, 'lecture capture' is a broad term used to describe several video solutions, hardware, and software. This is because there are many different ways of recording video lectures nowadays. Recording audio with a PowerPoint presentation, a computer desktop, and presentations with backdrops are just a few ways people can record lectures with the lecture capture software.
Why Record Lectures?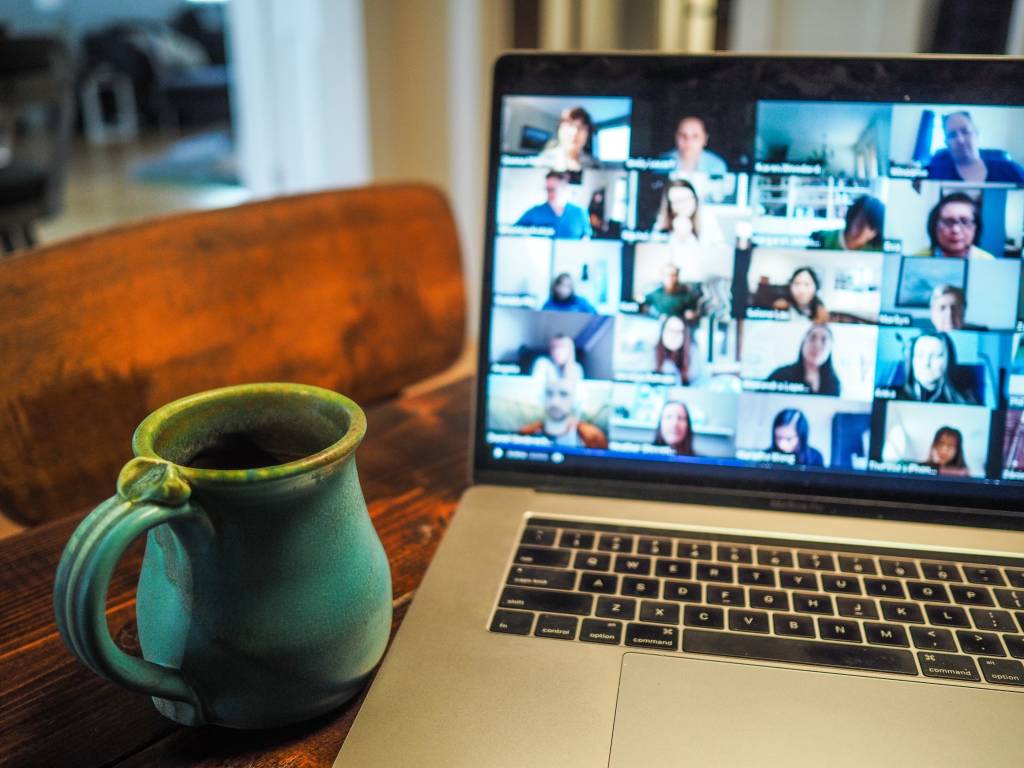 There's a wealth of benefits that come with recording lectures. Traditionally, students had to rely on their wits and ensure they'd had enough caffeine to keep up with note-taking in real-time. But, with lecture recordings, students can review the material and take as many notes as they need, at their own pace.
Many educational institutions are taking advantage of the many great benefits of recording lectures. For example, FutureLearn is a digital education platform that provides 100% online learning. Their fully flexible online learning platform enables students to learn from the best institutions in the world at both the university level and as short courses. FutureLearn provides students with the ability to learn the way they want in their own time remotely using lecture capture technologies.
Provide the Tools Students Want
In a study conducted at the University of Wisconsin—Madison involving 7,500 undergraduate and postgraduate students, 78% of students said they felt that being able to rewatch lectures would help improve class material retention. Furthermore, 76% said it would improve their test scores and an overwhelming 93% said they'd like lessons captured if they had to miss a class.
Keep Students Learning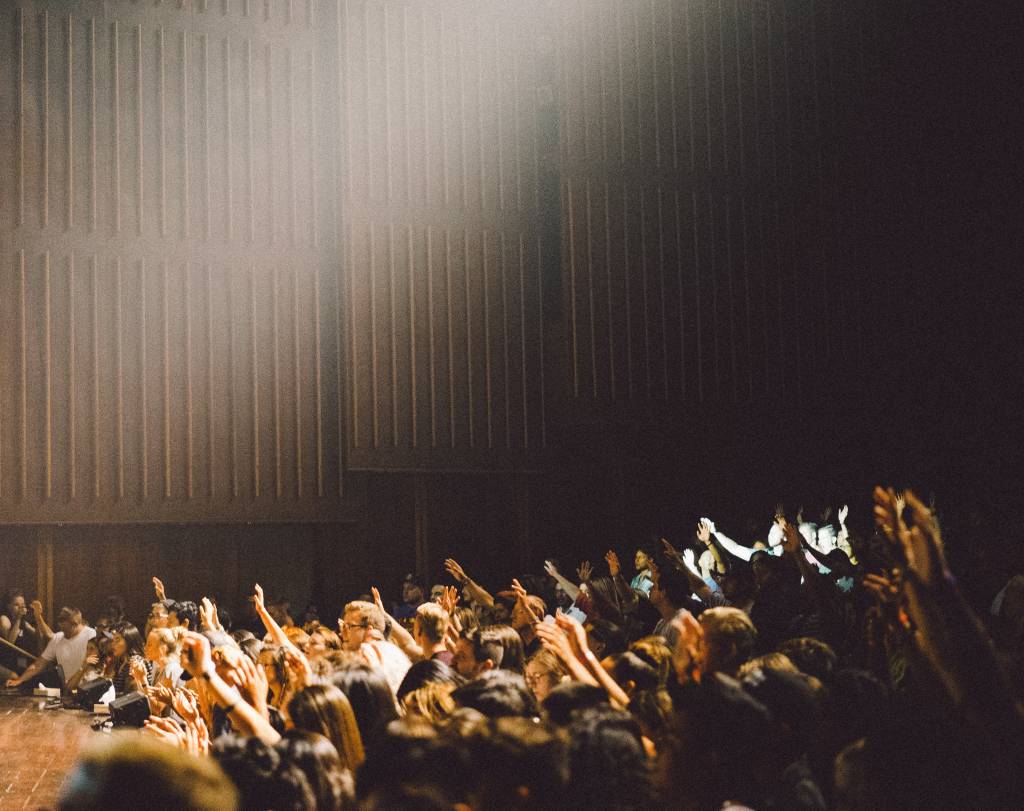 Traditional classroom settings usually become intense working environments. Students have to commute, which costs money and time. They might have to miss lectures due to unforeseen circumstances. And, when they miss important information or don't understand something, they can't go back and recapture it.
One stunning figure showed that even at selective, state flagship universities, only 36% of full-time students complete their bachelor's degree on time. Life simply gets in the way of their ability to follow their courses to completion. But lecture capture technology allows all students to view their lectures no matter what happens.
Lecture capture solutions offer an alternative that makes it easier to keep learning. Students can view lectures they can't attend. In the event of illness or emergencies, lecture capture systems allow students to review their missed lessons at any time. Capturing lessons for students to access at any time is a powerful method that helps prevent students from falling behind.
Enhance Available Lectures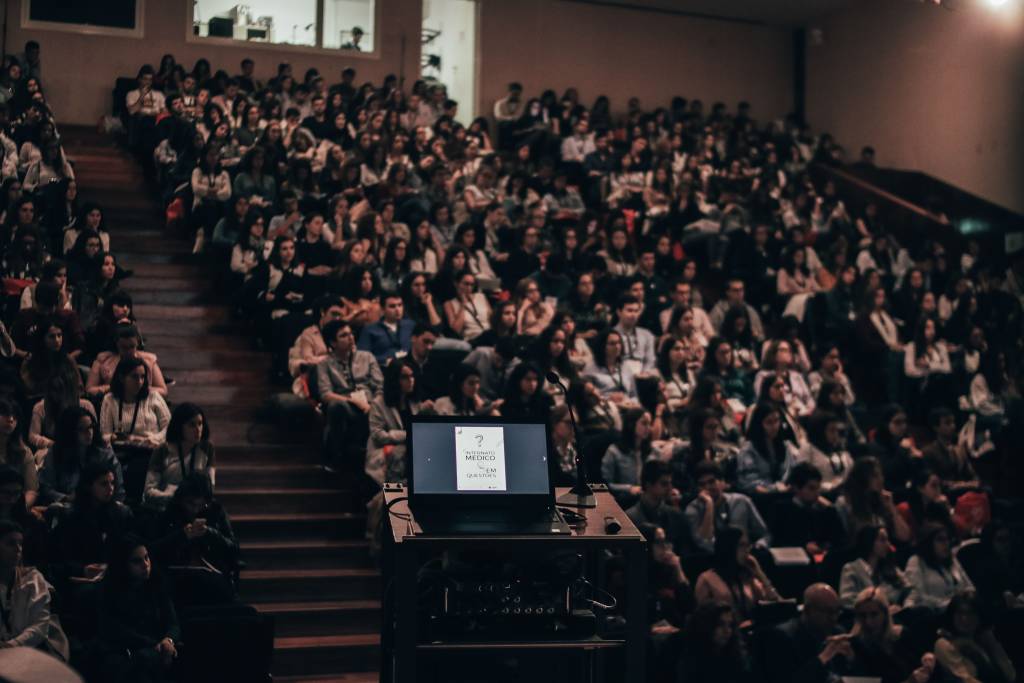 With lecture capture software, institutions can easily implement and enhance courses on the fly. For example, they can enhance courses by providing easy access to recorded prerequisites or supplemented material. This can be conveniently viewed by students, even on mobile devices.
Recording lectures gives educational institutions more tools that empower their students and their institution. With the right lecture capture solutions, past lectures can be kept indefinitely. This means that after retirement, the best lectures from retired professors can still be viewed.
And, with the power of lecture capture solutions, additions to lectures can be implemented at any time. These additions can be viewed by anyone, at any time, anywhere in the world.
How to Choose The Best Lecture Capture Solution
The best lecture capture solution is the one that's going to check off the right boxes for a learning institution's requirements. Each institution and its students are going to have different needs. Thankfully, with the lecture capture solutions market continuing to boom, there's a plethora of great options available.
But how do you choose the right one? First, consider use cases. Do you need to record lectures through screen capture on a computer? What about a more complex presentation such as in front of a classroom requiring hardware-based lecture capture solutions with solid audio and video source? Will recording lectures be used for live streaming or be hosted on a site later?
Knowing in advance what your uses will be and how you'll use it makes choosing the right lecture recording software easier. Each solution on the market comes with different features, integrations, and abilities. But with so many lecture capture solutions available it can be overwhelming and difficult to choose.
What You Should Look for in Lecture Capture Solutions
Here are some important topics to consider when comparing the different lecture capture solutions available:
Playback options available:

Can viewers watch videos from a variety of devices such as from a desktop computer, tablet, or mobile device?

Caption writing:

Does the solution allow for auto-generated captions or can you write them yourself?

Remote scheduling:

Can users schedule lectures in advance?

Cloud storage:

Does the lecture capture solution include cloud storage for easy, convenient and safe storage of lectures?

Real-time data:

Can you quickly and easily view important data such as the number of current viewers to your lectures?

Scalability and integration:

Does it allow for easy adaption to updates and can it seamlessly integrate your content and lecture capture software with the rest of your technology?
5 Best Lecture Capture Solutions
The right lecture capture solution for you could be a hardware-based lecture capture system or a software solution. Perhaps even a hybrid of both. Each comes with its own pros and cons, which we'll get into below.
With your specific needs in mind, below you will find 5 of the best lecture capture solutions to help you decide. Our list comprises each solution's best uses, features, and pricing. We'll make it easy for you to identify the best lecture capture system for your requirements and choose the one that's right for you.
1. Panopto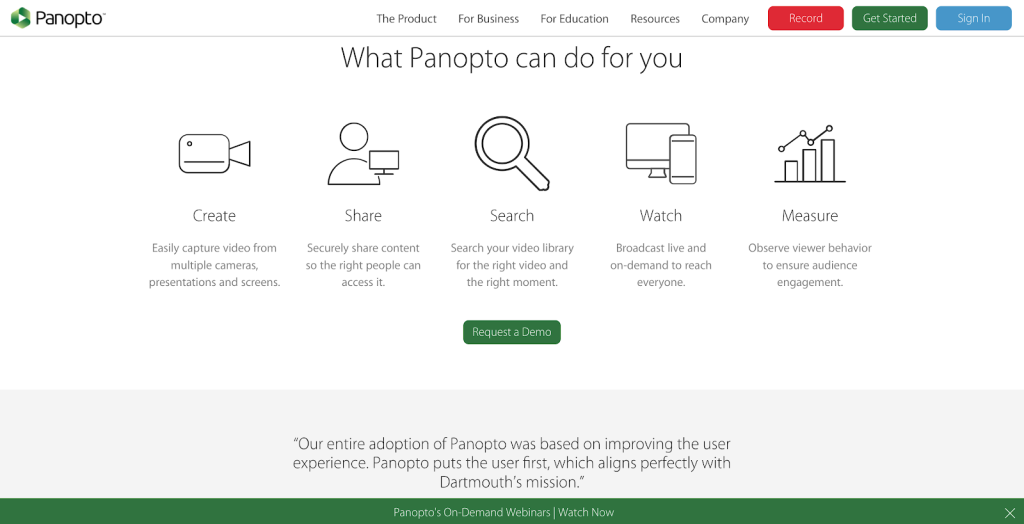 Panopto is a cloud-based platform which means you'll have easy access anywhere, any place, any time. The interface is user-friendly and intuitive. The platform can be used as an educational tool for corporate training and employee onboarding. It also comes integrated with a plethora of innovative features which include the ability for live-streaming lecture capture for individuals and groups.
Panopto is best used for businesses and universities that want to get started quickly. It allows for easily recording lectures that can be shared and streamed live. The software allows for lecture capture, video training, virtual classroom and more.
Key Features
Webcasting.

Content library.

Video search.

Video editing tools.

Seamless integration.

Digital asset management system.
Pricing
Pricing comes in three flavors.
Panopto Basic

: free.

Panopto Pro

: $14.99/month.

Panopto Enterprise

: Free trial offered. Contact Panopto for detailed pricing.
2. Kaltura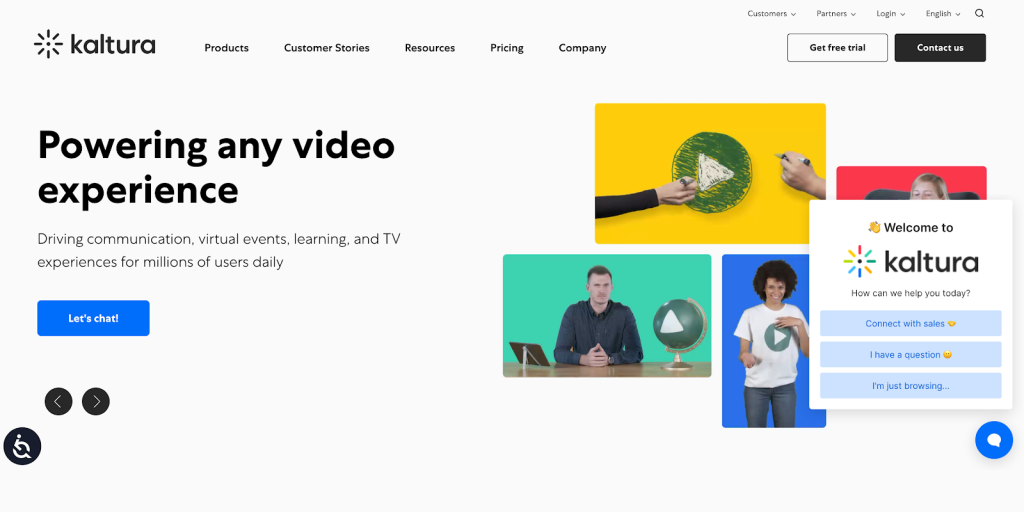 3. IRIS Connect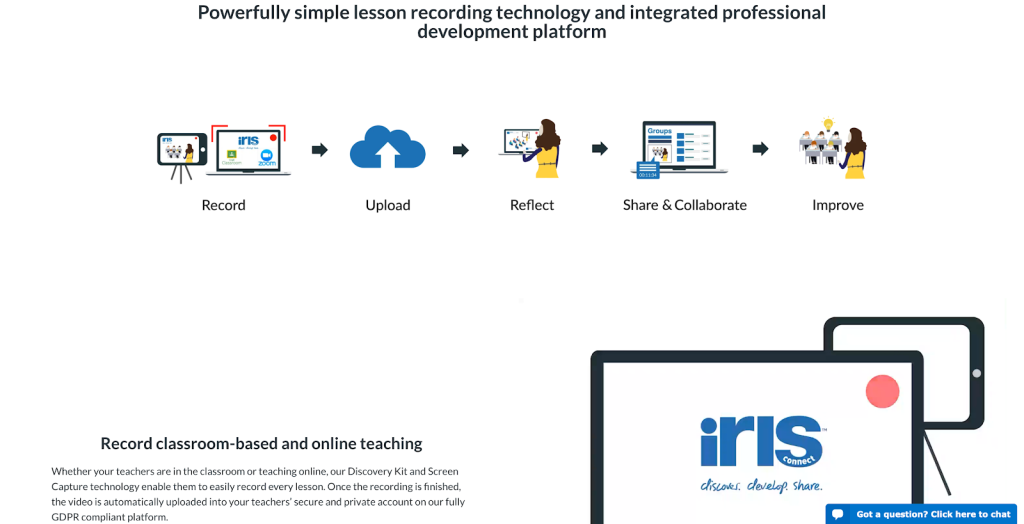 IRIS' hardware and software solutions provide blended learning capabilities for classroom interactive video content. With their innovative hardware solutions, education can be recorded in real-time both classroom-based and for online teaching.
The standout feature of IRIS's solution is that it provides a platform for professional development. This enables classroom teaching that can be continuously improved through collaborative sharing. Teachers can develop strategies based on past lectures and provide constructive advice on how to further improve lessons.
Their CPD video hardware and software technology are best for professional educators in school settings who want simple hardware and software solutions that provide CPD features.
Key Features
Classroom-based and online learning.

Blended teaching and learning models.

Allows teachers to reflect and improve upon past lectures.

Rich share and collaborate features.

Strong security that follows GDPR regulations.
Pricing
There are three pricing options that depend on the school environment.
Elementary schools

: From $1,504/month.

High schools

: From $2,741/month.

Academies

: Bespoke pricing depending on size and organization.
4. Echo360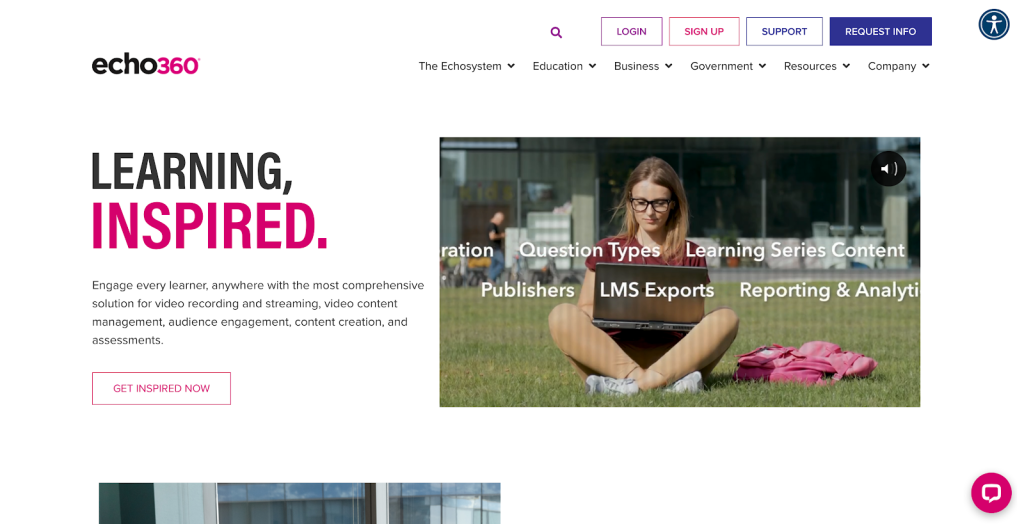 This all-inclusive video recording and management system provides end-to-end solutions for the education sector. Echo360 aims to inspire and engage students and professors alike with a comprehensive set of solutions.
Echo360 is used by some of the most prestigious universities. It enables teachers to create, edit and record high-quality videos. Screen recording, live lectures, and video editors come part and parcel. With active learning technology, teachers can transform the learning environment with all the bells and whistles at hand.
Key Features
Video streaming.

Active student portal.

Comprehensive video capture and editing tools.

curriculum management.

High-quality customer service and support.

Seamless integration with the likes of Zoom, PowerPoint and more.
Pricing
Pricing for Echo360 is based on and subject to the type of package and features required. They also factor in particular events and its requirements. For example, the size of the venue and the number of attendants. Prices aren't billed monthly but are instead paid upfront. Users will have to contact the company for a price quote.
5. YuJa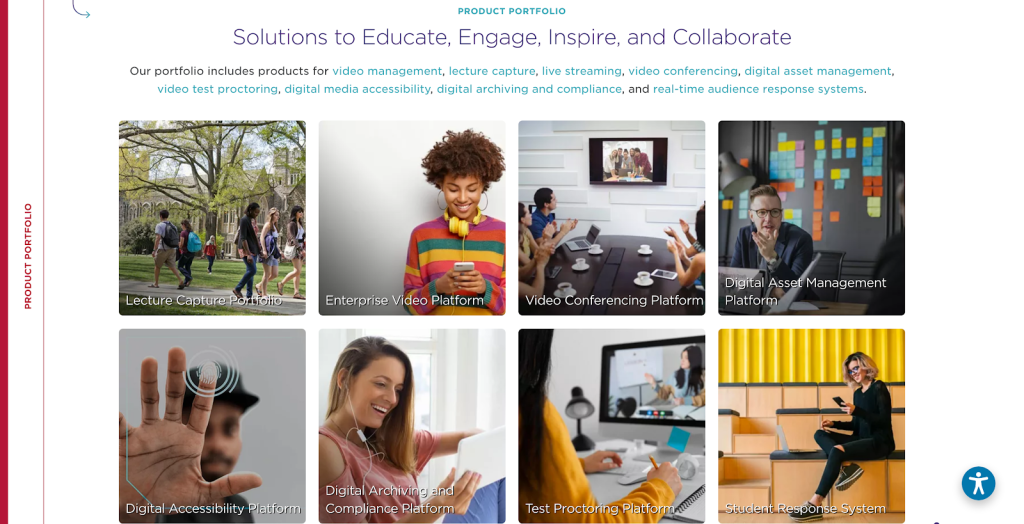 YuJa covers a large range of lecture capture solutions, which is why they're used by some of the biggest educational institutions in the world.
As a SaaS-based platform, YuJa helps educational institutions and corporate enterprises with streamlined video content management. YuJa seamlessly integrates with existing LMS platforms and includes a user-friendly interface. It facilitates some of the best live streaming with real-time audience response systems.
Key Benefits
Multi-screen recording.

Digital asset management system.

Real-time broadcasting.

Presentation tools.

Virtual classes.

Interactive whiteboard.

Video conferencing.

Digital archiving.
Pricing
YuJa is upfront about its pricing. Their pricing is offered on an individual basis. They align pricing based on each enterprise's individual needs and budget. Their tailored licensing plan is preferred by many companies, meaning they have a high retention rate. Users will have to contact the company for a price quote.
Host & Stream Your Lecture Recordings With Dacast
Video continues to prove to be an incredibly valuable tool for education. With recent events and the world becoming more interconnected through digital means, video learning is here to stay. Lecture capture solutions will continue to enhance remote learning for students around the world.
With Dacast, you can reach your students using an accessible and professional lecture capture system. Dacast enables educators to capture and record live lessons, stream and build a VOD (video on demand) library and engage with access to comprehensive video CMS (content management system) tools.
Dacast allows you to stream classes and training sessions remotely from anywhere. The unified streaming platform is equipped with the tools you need to make education super accessible. Lecture recording and live-streaming sessions can be safely and easily stored in a library of your own creation. This allows students to rewatch any time, anywhere. What's more, Dacast's leading streaming platform comes secure and reliable with low latency live video solutions running on top-tier CDNs (content delivery networks) and comes with 24/7 online and phone support.
And Dacast provides HTML5 video delivery. This ensures the greatest level of compatibility with students' devices. Whether these use a computer, tablet, or mobile device, Dacast provides full access to your lectures for all your students.
Final Thoughts
Education is becoming increasingly remote, so you need the best lecture capture technology possible. Accessibility, flexibility, and the tools to create the highest quality video lectures and engage students are of top priority. 
With the right tools at your disposal, you'll be able to record lessons and create a treasure trove of material that can be stored and rewatched at any time. With the right lecture capture and streaming solutions, your students get the best education possible from anywhere in their own time which helps them succeed.
Contact us today if you are ready to host and stream your lecture content. Dacast offers a free 14-day trial and doesn't require long-term contracts or charge hefty setup fees. No credit card is required.
Do you have questions or comments about video monetization solutions, paywalls, advertising, Dacast, or anything else? We'd love to hear from you in the chat section below.
For regular live streaming tips and exclusive offers, you can also join our LinkedIn group.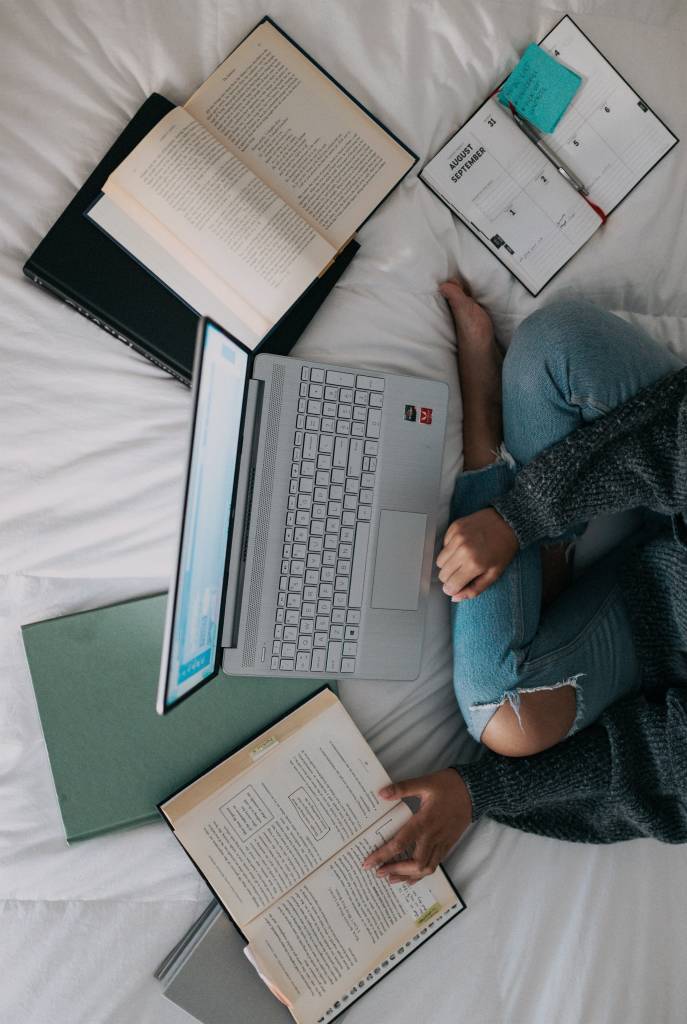 FAQs on Lecture Recording Software
What Is a Lecture Recording System?
A lecture recording system is hardware or software that enables users to record lectures, video presentations, manage video content and stream to different devices.
What Are Pre-Recorded Lectures Called?
Pre-recorded lectures are known as asynchronous learning. They enable students to study in their own time when they can most learn, and they can take breaks when they need to.
How Do I Make a Lecture Recording?
You should test your audio and video quality first, and record a test video to ensure everything is working. Then, when you're ready, you can press play to start recording lectures.