A video content management system is an integral part of doing business nowadays. With more people telecommuting or working off-site, online video has become a primary means to communicate, collaborate, and conduct business. However, as much of a blessing as live video streaming and video on demand are for broadcasters, they also create unique challenges in regard to storage, security, and asset management. 
The mainstream adoption of video content has generated enormous amounts of data that must be securely organized and shared across both public and private networks. Studies show that by 2022, online video will comprise more than 80% of consumer internet traffic. A number that represents a fifteen-fold increase over just a six-year period. 
Sifting through mountains of unorganized video can prove difficult for both audiences and broadcasters alike. So how can video practitioners overcome these hurdles? Simple – by adding a video management platform (or video CMS) to their offerings.  
Implementing a video content management system (CMS) is an ideal method to reduce administrative overhead, better serve audiences, and generate reliable income.  
Here is everything you need to know. 
Table of Contents:
Introduction to video management platforms

What is content management?

What is a video CMS

How does a content management system work

Examples of content management systems

Popular video management platforms

What to look for in an enterprise video management platform
Introduction to Video Management Platforms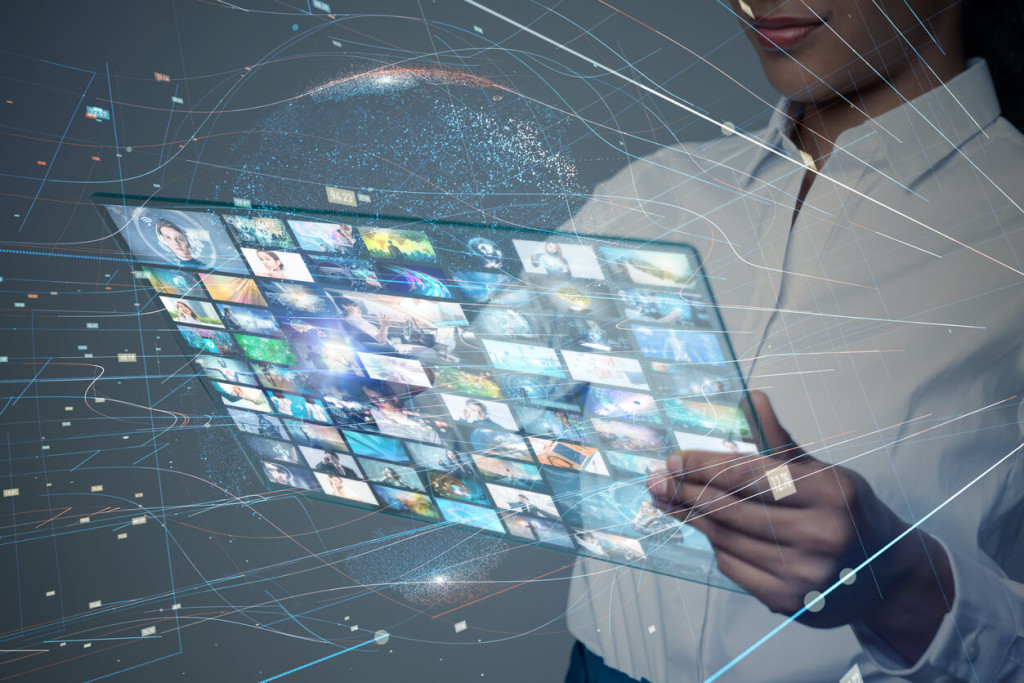 Many organizations assume they can use their existing network servers and storage devices to house online video (alongside operational data). However, this strategy can cause a host of problems. In part, because even relatively small video files can exceed the limitations of common file-sharing systems. 
On the odd chance, these videos make the grade, transferring too much data simultaneously can lead to bandwidth issues and cause severe network bottlenecks. 
Not to mention that standard naming conventions are virtually non-existent in most business settings. Over time, as additional videos are added to storage folders, it gets harder to search for files and nearly impossible to locate specific content within each video. 
To address this problem, some brands turn to social platforms like YouTube or Vimeo to host their video libraries. While this seems logical enough, these consumer-grade platforms are not designed for serious broadcasters or enterprise brands. 
Not only do they pose massive security risks, but they severely limit your overall content distribution and monetization options. Especially when compared to enterprise-grade video management platforms built from the ground up with these scenarios in mind. 
Yet, before we dive into the details, let's talk about how content management works.   
What is Content Management?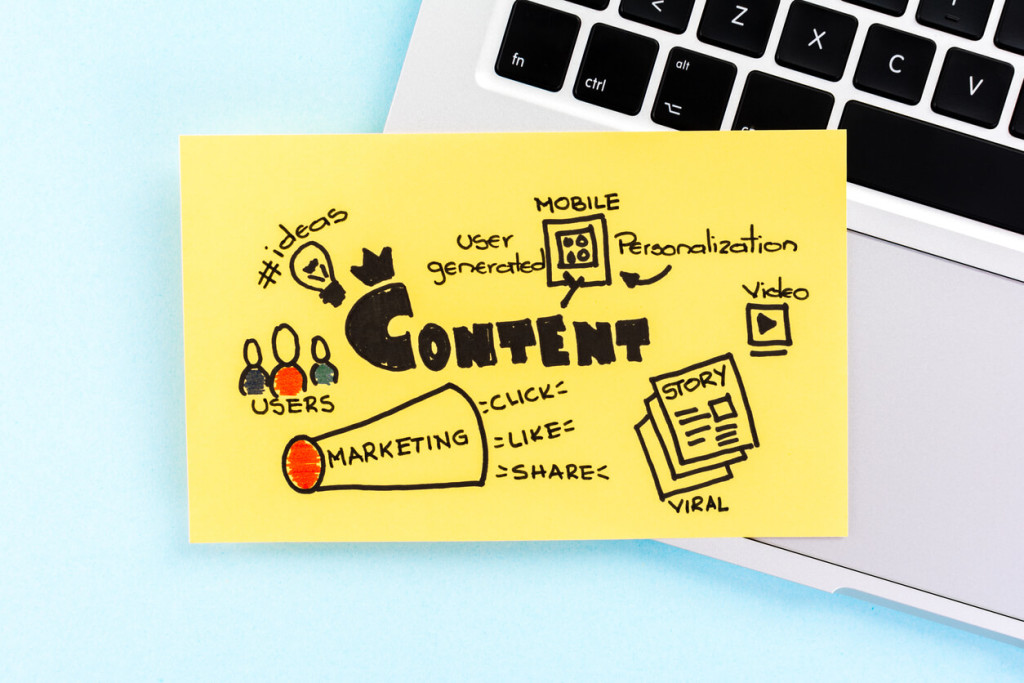 In the context of live streaming or video on demand, content management describes the technologies or processes used to collect, manage, and publish an online video. 
As organizations grow (and their content assets expand), having a system in place to manage your video library becomes critical. Not only to catalog and index these files but to manage the entire content creation and video distribution process. 
A good content management approach includes designating specific roles for creators, editors, publishers, administrators, and viewers and assigning the proper access rights to each. This kind of production hierarchy incorporates review standards for each stage of the process and ensures any videos released meet the same quality and consistency standards of the organization they represent. 
Most people think of content management in terms of text or images, but properly managing video content is equally as important. Think about enterprise organizations creating video presentations for shareholders or training materials for employees. Or education or e-learning brands designing content for their learners. 
Even worship centers and sports teams can benefit from a solid content management plan for their video outreach efforts. 
What is A Video CMS?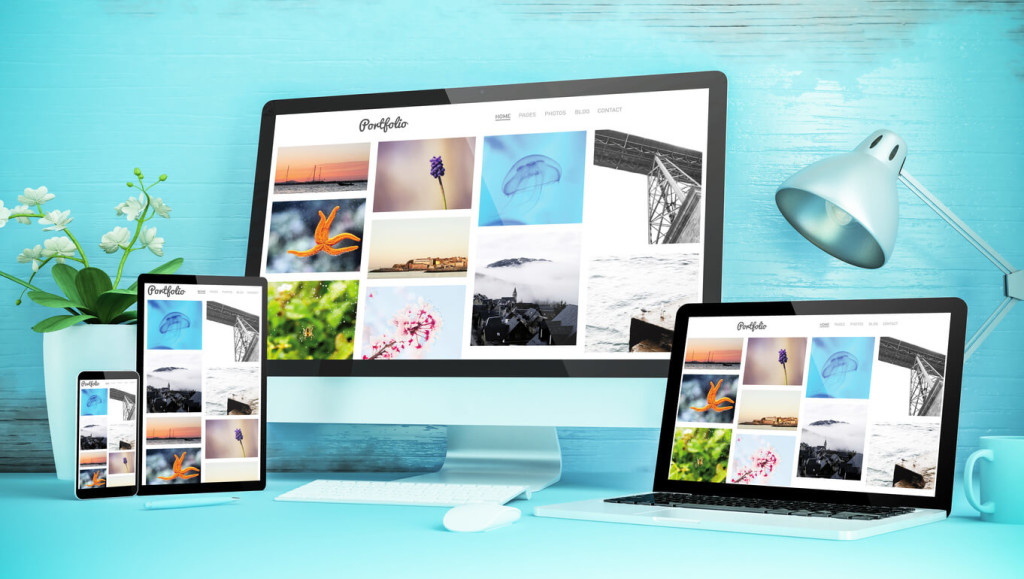 A video content management system (CMS) is designed to help organizations better manage, store, and distribute their video assets. CMS systems streamline video processing by incorporating a central repository that includes specialized features to schedule, publish, and in some cases, monetize content. 
Smaller organizations (or solo broadcasters) with fewer video assets may think a video content management system is not necessary. However, even in the early stages of business, it is best to adopt a video CMS framework as soon as possible. 
Doing so allows broadcasters to organize content – and develop their video management processes –  long before brand growth increases the complexity. 
Content management systems can be integrated with online video streaming platforms to streamline operations and merged with CDNs (content distribution networks) to extend reach. A professional-grade CMS makes sorting, tagging, and organizing entire content libraries easy – whether that means a few short clips or thousands of full-length videos. 
When paired with an OTT CMS solution, management platforms serve optimized video profiles to each connected device. Thus, ensuring the best viewing experience for every audience member. Older devices on slower connections might receive an SD feed, while faster machines (or high-bandwidth links) can gain access to multiple HD streams at once. 
Combining a robust video CMS with a full-featured OTT video platform is the equivalent of an enterprise version of YouTube or Vimeo. Yet, with exponentially better security, management, distribution, and video monetization capabilities. 
How Does a Content Management System Work?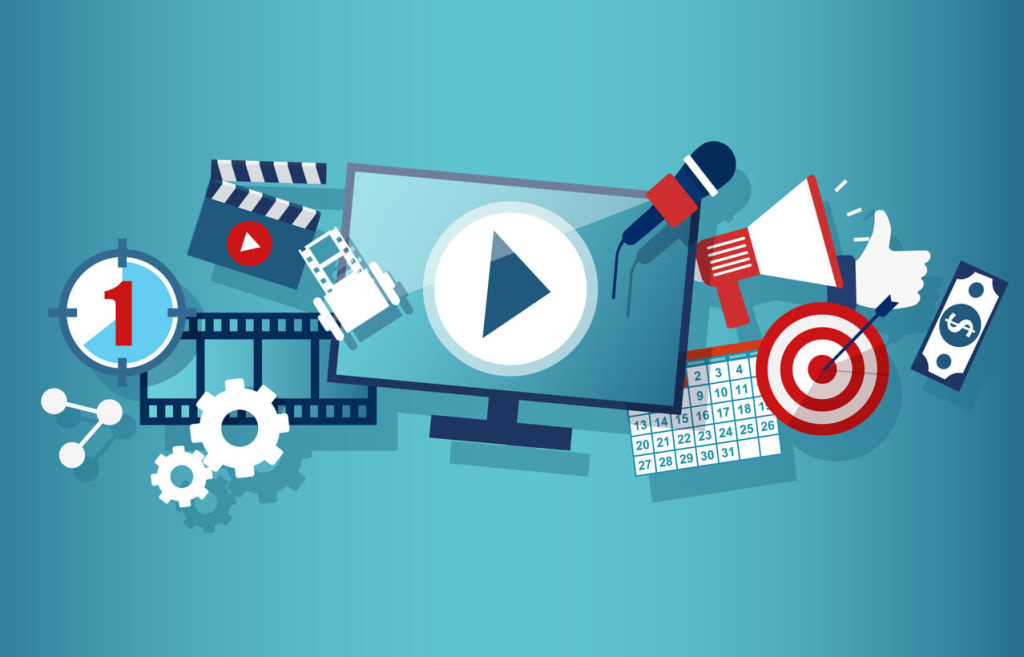 A content management system (CMS) is a specialized application that allows multiple contributors to create, edit, manage, and publish online content. In the case of broadcasters, the content could be live streaming video, video-on-demand assets, or other OTT CMS video applications. Using a content management system, authorized users can format and store content in central repositories that can be easily indexed and shared online.  
Platform managers can also assign privileges based on the roles of groups or individuals (system admins, operators, subscribers, etc.). This allows granular control of who can access specific content and what they can do once connected. Content management systems also include automated publishing capabilities to schedule and push content for subscribers and site visitors. 
A major appeal of implementing a CMS is the highly collaborative nature of these systems. Multiple team members can be logged on at the same time creating, editing, and publishing video content without creating bottlenecks or downtime for others. 
Furthermore, most CMS systems are cloud-based and can be accessed directly via internet browsers. Thus, team members and audiences can connect from anywhere using a wide range of compatible devices.  
Content management systems make organizing video (and other media files) easy as their intuitive front-end designs allow non-technical people to create high-quality deliverables. This ease-of-use reduces the amount of IT personnel required for systems operations and support. 
Examples of Content Management Systems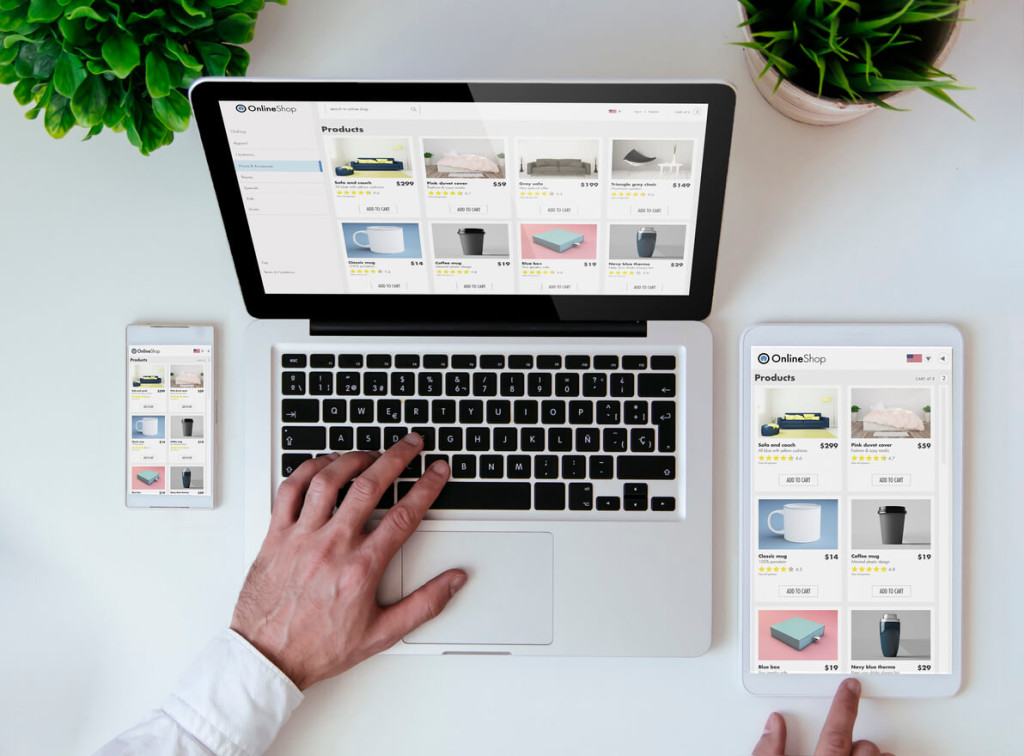 You may not realize it, but most of us interact with multiple content management systems on a daily basis. Take this article for example. Once written and edited, the content was loaded into a CMS like WordPress, Drupal, or Joomla. 
These programs allow text, images, and video to be added to website blogs without the back-end coding required to generate valid HTML. After being added to the CMS, blog content can be organized and tagged (to improve search results) and scheduled for posting. 
Although these examples focus on distributing blog content to subscribers, there are also specialized content management systems designed for other critical business functions. CMS platforms like Squarespace, Wix, or Weebly are used to build and modify websites while others such as Shopify or Magento facilitate e-commerce or point of sale transactions. 
Even brands like Microsoft have implemented their own CMS solutions to support workplace content management. Enterprise-based products like SharePoint and Microsoft Teams allow organizations to create, share, and store content with ease. 
These business solutions also include communication extras like native chat, video calling, and screen sharing capabilities to further enhance workplace productivity.  
Clearly, as the amount of both on and offline content grows, so will the demand for efficient solutions to organize, manage, and distribute it. With an expected growth rate of 18.3% annually, online video is one market where having a CMS is no longer optional, but a critical element of doing business. 
Popular Video Management Platforms
Just like with CMS products and providers, there are a ton of different video management platforms to choose from. While all serve the same basic functions of video management and distribution, each has distinct strengths and weaknesses depending on how they will be used.  
It is worth noting that a video management platform – and a video hosting platform –  are NOT the same thing. Video hosting platforms focus merely on hosting live streaming and video on demand content and do little (if anything) in regard to managing content. 
Video management platforms are the opposite. Not only do they host and distribute video, but they also include robust private video sharing and management capabilities for live streaming and VOD content. Most include native CMS features for organizing video libraries as well as expanded security and monetization options for access control and revenue generation. 
A few of today's most popular video management platforms include:
1. Brightcove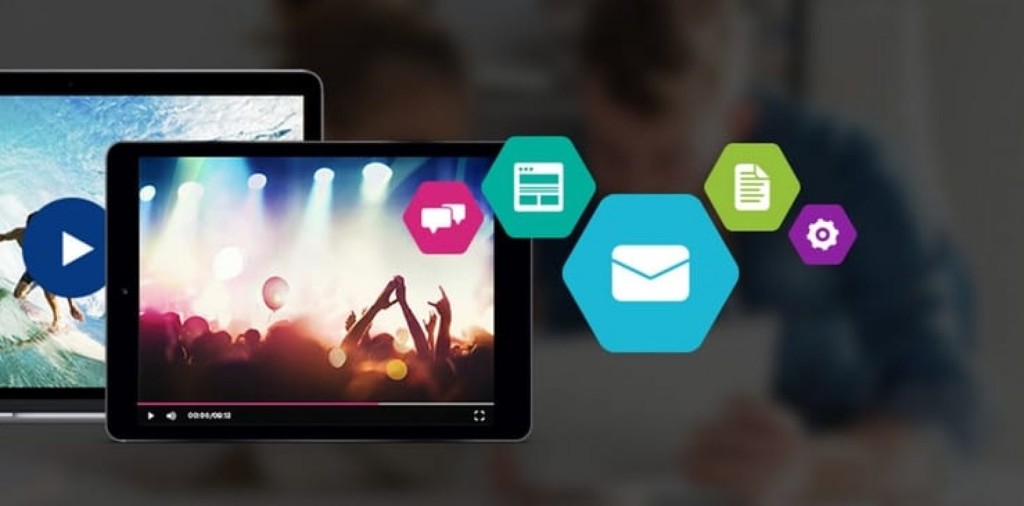 Company Overview and Background
An online video provider targeting large businesses and enterprise brands, Brightcove includes their own native video player, video marketing suite, and several different monetization options. Brightcove claims their unique ad-insertion technology can bypass most ad-blockers and their marketing tools are effective for many online broadcasters.
Basic Functionality
Overall, the Brightcove platform includes plenty of video management features (video API access, enhanced security, and monetization options) but utilization comes with a hefty price tag. Packages start at $499 per month for basic service and go up from there.
Key Features
Brightcove offers advanced analytics and marketing tools that differentiate the platform from many other solutions.
Global video content delivery

Multi-bitrate and adaptive streaming

Video API access with custom-priced plans

Tech support, but only at a basic level with slow ticket-based responses (unless you upgrade to a paid support plan)

Advanced security features

Monetization options with custom-priced plans
Pros
Includes custom video portals

CRM integration available

Fully-loaded with reliable professional features
Cons
High pricing

No China video delivery
Upload Guidelines and Specs
Minimum dimension

: Determined by user

Maximum dimension

: Determined by user 

Aspect ratio

: No restrictions (since Brightcove uses a responsive player)

Max file size

: No limits on files size

Max video length

: No published limits

Total file storage

: Varies by plan

Compatible video formats

: MP4, MOV, FLV, AVI, WMV, MKV, 3GPP
Pricing
Since Brightcove mainly targets enterprise-level clients, they offer several custom-priced streaming plans at high price points. The three pricing tiers include:
Starter: includes 50 to 200 videos, up to 100,000 plays, and 2-5 users
Professional: unlimited videos, 100,000+ plays, and no overages plays, with +10 users
Enterprise: unlimited videos, 100,000+ plays, and no overages plays, with 10+ users, unlimited upload, and analytics-only users
Interested broadcasters can contact their sales department to receive a quote or sign up for a 30-day free trial. 
2. IBM Cloud Video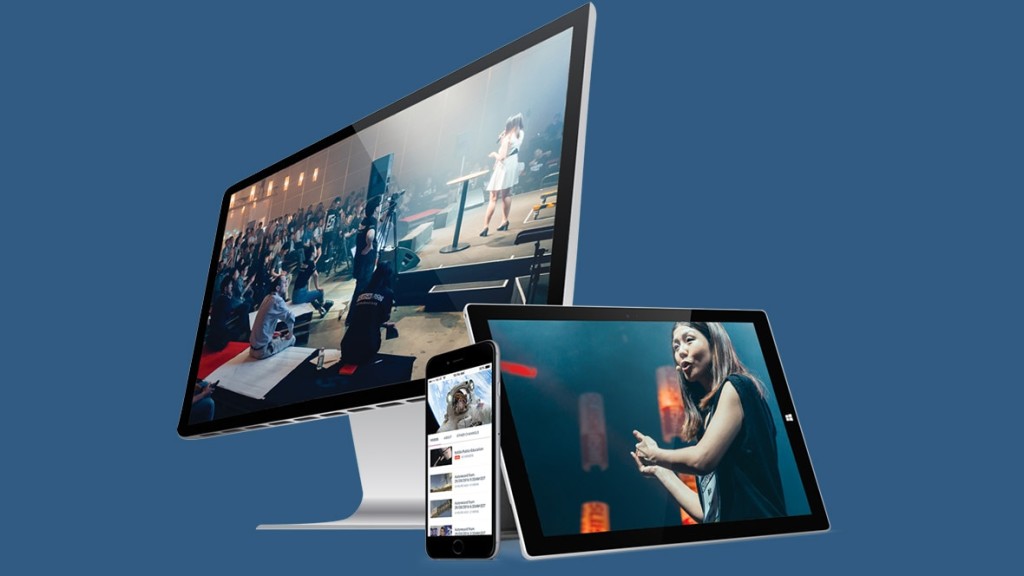 Company Overview and Background
Formerly known as UStream, IBM Cloud Video includes both consumer-grade and enterprise-tier live streaming and video on demand solutions. Their product offers a good balance of streaming, monetization, and customization options. However, access to advanced features (such as full HD streaming) requires upgrading to higher-priced packages.
Basic Functionality
A unique feature of IBM Cloud Video is its integrated CDN (running on the Akamai content delivery system). Pricing varies but ranges between $99 to $999 per month depending on the options you choose. 
Key Features
IBM Video Cloud provides a unique Enterprise CDN and a multitude of features for business.
Advanced video analytics

Live polling tools

Live video recording and auto-archiving

Top-tier content delivery 

Multiple monetization options
Pros
Business-centric tools

Reliable customer support

Suitable for enterprise broadcasters

Hong Kong (China) video hosting
Cons
Streaming above 720p resolution costs extra

Limited closed captioning support
Upload Guidelines and Specs
Minimum dimension

: 480p (480 x 270)

Maximum dimension

:  4K (3840 x 2160)

Aspect ratio

: No published aspect ratio

Max file size

:

4 GB

Max video length

: No published limits

Total file storage

: 1TB – 5TB (depends on plan)

Compatible video formats

: MKV, MP4, MOV, FLV, AVI, WMV, MPEG2, H264, H263, MPEG4, VP6, VP8, THEORA, WMV, MP3, AAC-LC, NELLYMOSER, PCM, SPEEX, VORBIS, WMA
Pricing
The pricing plans for the IBM Video Cloud include:
Silver

– $99/month

Gold

– $499/month

Platinum

– $999/month

Custom

–

Please contact IBM Cloud video for custom plan pricing.
3. Vimeo Livestream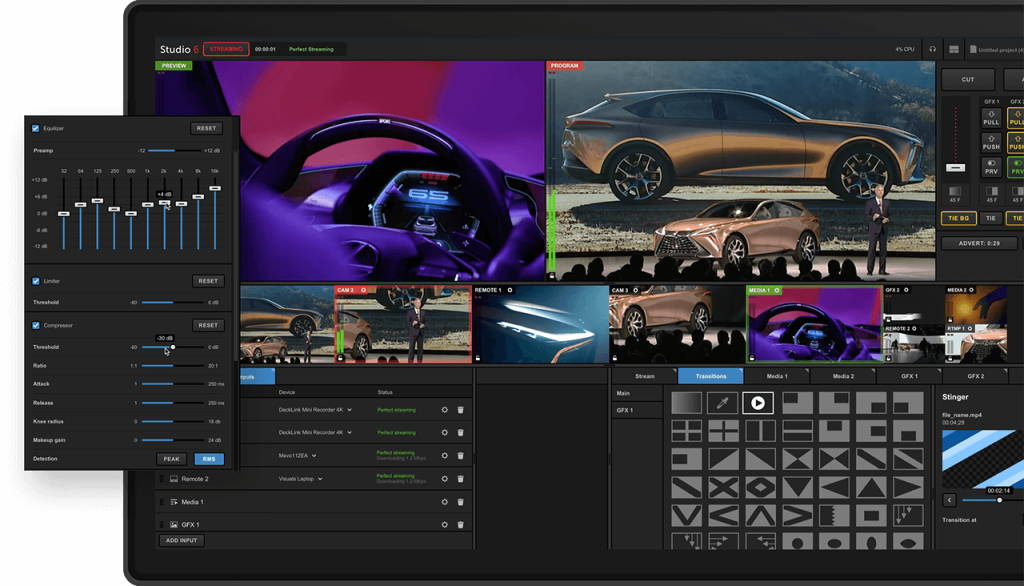 Company Overview and Background
Another acquisition instance, Vimeo Live was created after the company purchased the Livestream brand. Vimeo offers both live streaming and video on demand services as well as options for pay-per-view and OTT CMS video distribution. 
Basic Functionality
The main selling point of Vimeo Live is the inclusion of proprietary hardware and software for live streaming. Although more restrictive than other platforms, this design minimizes technical issues and allows broadcasters to start streaming quickly. 
Key Features
Tools for simulcasting

Live polling and chat feature

Wide range of security features

Custom video gallery pages

Built-in CDN
Pros
Global content delivery

Brand customization

Secure streaming

Tools for promoting interaction and engagement
Cons
Need professional support for some feature
Upload Guidelines and Specs
Recommended dimension

: 720p (1280 x 720)

Aspect ratio

: 16:9, 4:3

Max file size

: 3GB

Max video length

: Information not available 

Total file storage

: Information not available

Compatible video formats

: MP4 (recommended)
Pricing
Vimeo Livestream offers three main pricing plans, including:
1) Vimeo Premium:
Premium pricing:

 $75/month

Their Premium plan includes both live streaming and VOD support. This plan is the best option for professional OTT broadcasting on this platform.
2) Vimeo Enterprise:
Enterprise Pricing:

 

Please contact Vimeo for custom pricing information

The Enterprise plan includes white-label service, monetization, and video API access. It also includes branding control and added security features.
3) Vimeo OTT:
Starter Pricing:

 $1/subscriber per month

Growth Pricing:

 starting at $500/month

This OTT specific pricing package comes with the Vimeo.com relationship. These plans include all the basics for starting your web-based OTT channel, as well as growing your OTT business online.
4. Kaltura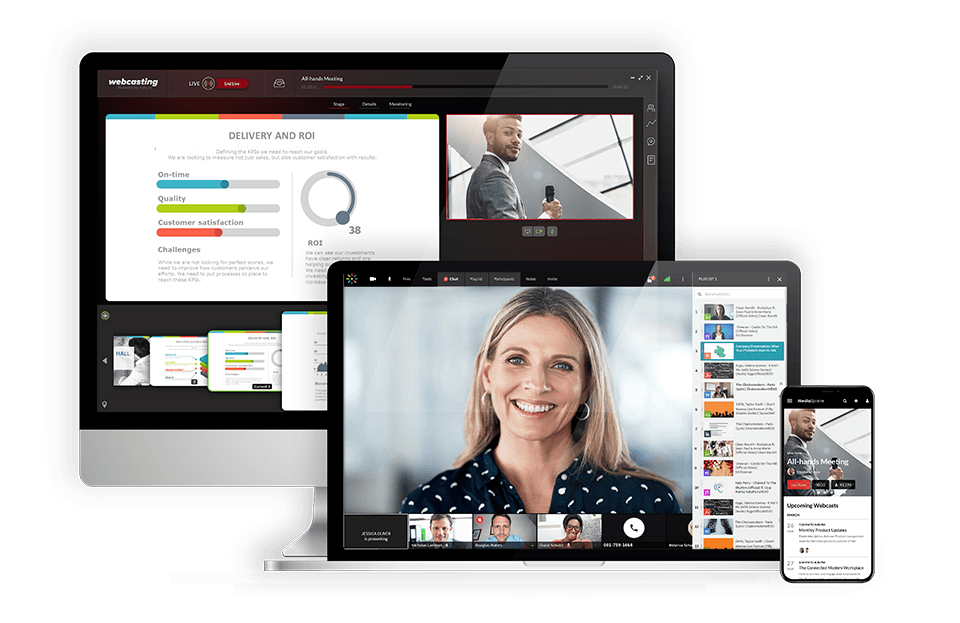 Company Overview and Background
One of the few open-source video management platforms in existence, Kaltura has carved a unique niche for itself in the online video marketplace. Although the Kaltura software is free, it does require organizations to use their own servers and network infrastructure for distribution (as opposed to self-hosted providers like Dacast). 
Their service accommodates both live streaming and video on demand and includes API access along with most monetization options (AVOD, SVOD, and TVOD).
Basic Functionality
Kaltura's open-source design means users around the world continue to develop and support countless add-ons and new integrations. Kaltura's pricing is based on bandwidth and service usage (rather than features) and varies according to each category.
Key Features
With its open-source foundation, Kaltura is highly customizable and extensible. Companies can build their own integrations and add-ons to meet specific needs.
Multi-bitrate and adaptive video streaming

Content delivery via a combined CDN approach

Monetization options (SVOD, AVOD, and TVOD)

Advanced security features, including several authentications and encryption options

Video API access
Pros
Totally customizable 

Flexibility on features due to support for integrations

Well-suited for enterprise-level broadcasting 
Cons
The "pay-as-you-go" structure can get pricey

Complex structure

Not well-suited for businesses and

broadcasters new to streaming

Tech support uses a ticket-based system, which is slower than chat or phone
Upload Guidelines and Specs
Minimum dimension

: 180p (320 x 180)

Maximum dimension

: 1080p (1920x 1080)

Aspect ratio

: 16:9, 4:3

Max file size

: 2GB

Max video length

: Not available

Total file storage

: 10GB to Unlimited (depends on the plan)

Compatible video formats

: MOV, MP4
Pricing
Kaltura does not publish their pricing on its website since each plan is flexible. Please contact them directly for a custom quote.
5. Dacast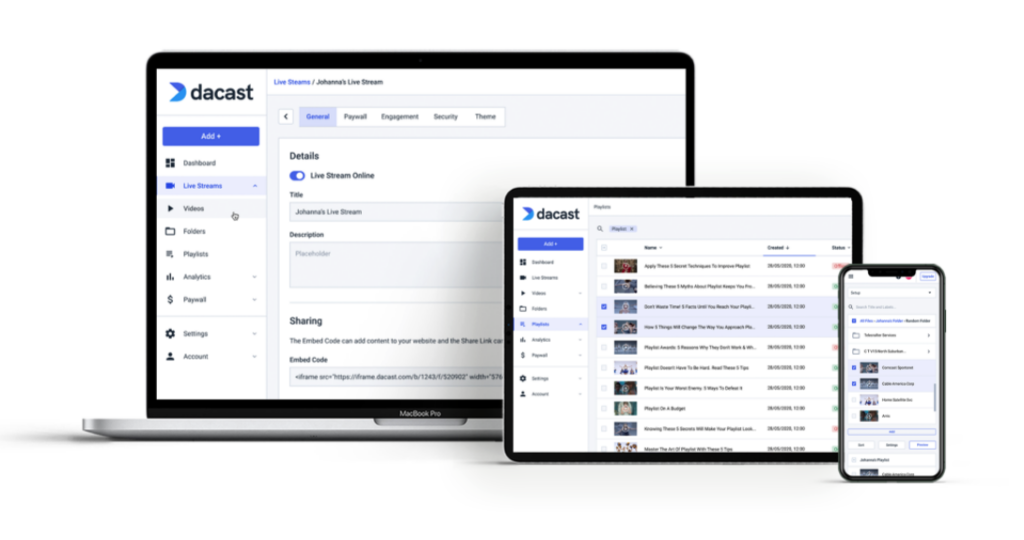 Company Overview and Background
Finally, we have a comprehensive hosting and video management solution from Dacast. Offering live streaming, VOD hosting, and OTT content management (CMS), Dacast was voted the best SMB video platform of 2019 and runner up for educational content delivery.
Basic Functionality
Dacast allows OTT broadcasters to host videos on their existing websites while maintaining full control over content distribution and monetization options. The Dacast platform includes an integrated paywall, analytics, and user account management along with white-label branding for an integrated HTML5 video player. Both video and player API access are included along with generous bandwidth limits and 24/7 support.
Key Features
Dacast offers enterprise-grade features at affordable price points. Key features include ad-free live streaming, a completely white-label video player, and delivery using a top-tier CDN.
Pros
Cons
A slight learning curve for new users
Upload Guidelines and Specs
Minimum dimension

: none (but 240p is the recommended minimum)

Maximum dimension

: 1080p or 4K (depends on the user's hardware and internet)

Aspect ratio

: no restrictions (but 16:9 is the default)

Max file size

: none

Max video length

: none

Total file storage

: 10-1000GB (depends on plan)

Compatible video formats

: MP4 (preferred), MOV, M4V, M2V, AVI, MPG, FLV, WMV, MKV, WEBM, OGV, MXF, ASF, VOB, MTS
Pricing
Dacast's pricing plans come in 4 different packages suitable and customizable to any organizations needs:
Starter

– $39month, billed annually for 1,000 GB of bandwidth and 50 GB of storage monthly

Event

– $63/month, billed annually for 6 TB of bandwidth upfront and 50 GB of storage upfront

Scale

– $188/month, billed annually for 24 TB of bandwidth per year and 1 TB of storage

Custom

–

Please contact us for custom pricing information.
All from a secure platform consistently rated 4.5 stars (or better) by broadcasters. 
What to Look for In an Enterprise Video Management Platform
Once you start exploring video management platforms, you likely find claims and features all over the map. While some solutions are designed for entry-level broadcasters, others focus exclusively on large businesses and enterprise organizations. 
The key is to look for the right blend of functionality and security to go along with competitive pricing and product support. Here are a few of the most important features to consider.
1. Video API Access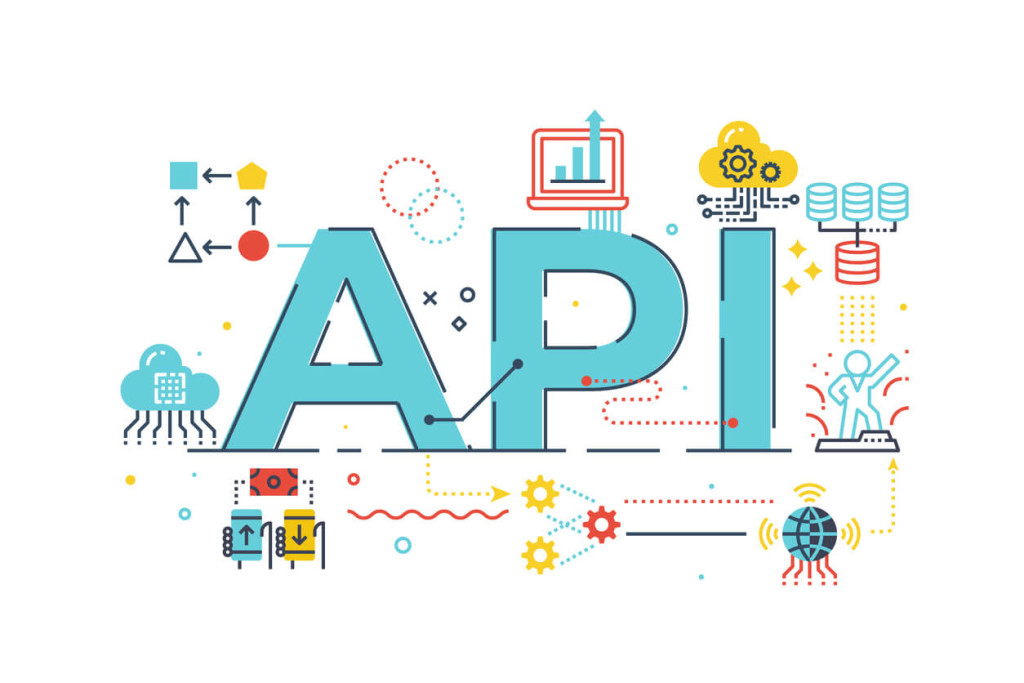 Video management solutions that include video API access allow organizations to easily integrate platform features into a wide range of cloud video applications. Dacast's implementation includes a JSON Restful API which can be accessed from any programming language on a wide range of compatible server devices. 
Documentation is provided for both our video content management and video player APIs which allows developers to enhance mobile apps, add new capabilities to existing networks, or build their own custom video CMS systems.  
Clients have the choice of using Dacast's native video player or switching to one all their own. SDKs are included to make building custom mobile video apps simple.
2. Bulk Uploading
Bulk uploads can be a huge time saver as many video CMS platforms only support uploading a single file at a time. Dacast's uploader includes both FTP and Dropbox integrations as well as auto-pause and resumes functionality. This means you never have to worry about dropped wi-fi, bad cell connections, or other signal interruptions affecting the uploading process. 
As soon as service is restored, your video transfers automatically restart.  
3. Video Library Organization
Having a large video content library is meaningless if you do not have a way to organize it. The key here is to look for providers who offer categories and sub-categories for cataloging, tags for indexing, and smart playlists, and video embedding to better organize content. 
Dacast includes all of the above features as well as the 3rd level of sub-categories and even delivery options to mainland China. Features many others simply cannot touch. 
4. Video Encoding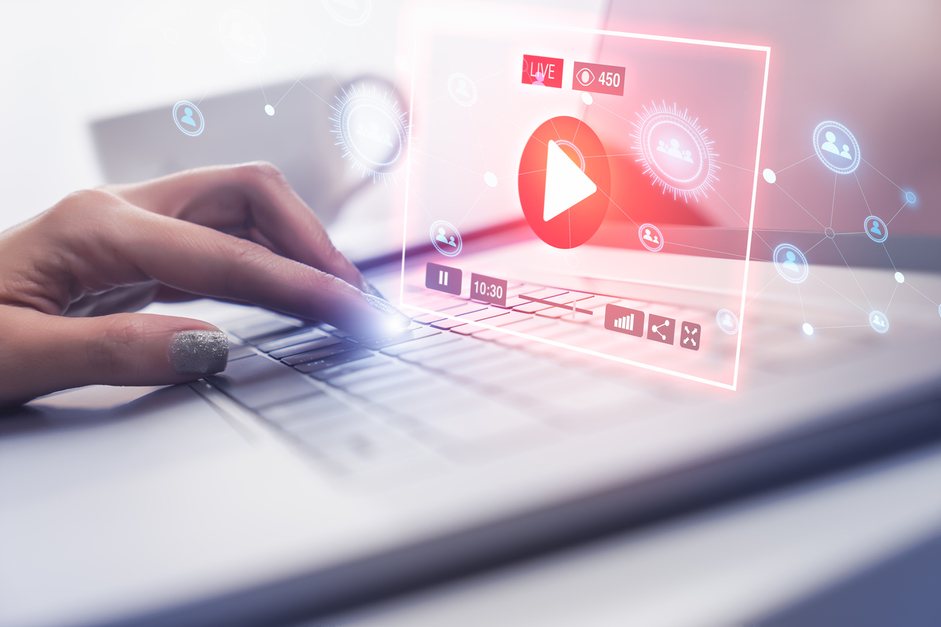 When hosting video content for audiences around the globe, it is important to include multi-bitrate encoding and transcoding options for video distribution. This means creating multiple copies of each uploaded video in a variety of different streaming formats (and quality levels). 
Doing so ensures the best quality and performance available for each viewer – regardless of bandwidth, location, or device type. 
5. Video Privacy and Security
Although organizing your live streaming or video on demand library is important, so is maintaining the security and privacy of your content. This is where it pays to choose an online video platform that takes safeguarding your video content seriously. Dacast includes a number of must-have features including DRM (Digital Rights Management) to maintain security at the highest level. 
We also offer secure file uploads via our Dropbox integration, IP, domain, and referrer restrictions to lock down content, and password protection for live streaming events. 
Not to mention secure HTTPs delivery of all HTML5 video content for maximum browser compatibility. 
6. Full Support for Video Monetization
Advanced features are important, but for an OTT video technology business to succeed they need to make money. Dacast has you covered here as well with a full complement of tools and features to support your video monetization goals.
Our secure online platform supports all popular monetization formats including native advertising (AVOD), subscription-based (SVOD) services, and transactional or pay-per-view (TVOD) events and activities. Dacast's SSL integrated paywall includes support for more than 135 different currencies and 10 different languages.  
Along with value-added extras like coupon codes and bundled content packages for maximum monetization flexibility.  
Conclusion
Online video is the future of content delivery and business collaboration. Broadcasters who invest in enterprise video management platforms now are positioning themselves to capitalize on these unfolding opportunities. With the right video CMS, organizations can securely manage their content libraries, scale distribution, and boost video monetization efforts. All while reducing administrative overhead and improving audience experiences. 
Dacast makes managing online video assets simple. Our OTT CMS platform supports both live streaming and video on demand, includes video and developer APIs, and a wide range of monetization options. Coupled with access to top-tier CDNs, ad-free, white-label branding, and the most competitive pricing in the industry. 
Switching your existing content over is easy – no matter what platform you are currently using. Just let us know and Dacast will take care of the rest. To get started, click the link below to sign up for our FREE 30-day trial (no credit card required) and you will be up and running in minutes. 
If you have any questions or comments, leave a message below and one of our team members will get back to you shortly. For more tips on live streaming and exclusive offers, be sure to join our LinkedIn group as well.