Flash Media Live Encoder Archiving Documentation
This guide details how to archive live content over DaCast, which is a manual process, utilizing Adobe Flash Media Live Encoder. First, launch Adobe Flash Media Live Encoder.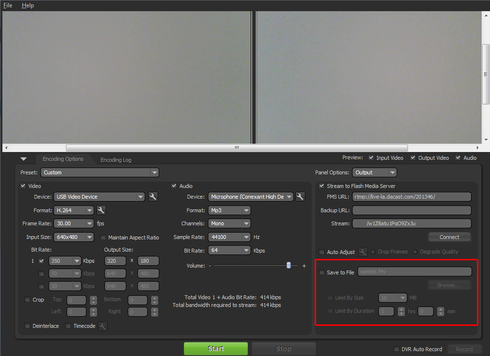 Next, after uploading your XML profile for your stream, click the checkbox for Save to File (see the red highlighted portion in the image to see where its located). What this will do is save a local copy to your hard drive that you can then upload to the DaCast system as a video-on-demand. After clicking the Save to File checkbox there, it will give you the ability to name what you want the file to be saved as on your computer.

Please note, if you are going to be streaming a lot or are doing multi-bitrates, please make sure the name ends in %i.f4v. This will allow for multiple files to be saved in the same directory. For example, the name could be archive%i.f4v. What this does is handle duplicate entries. So the first time you stream the file will be archive1.f4v, while the second will be archive2.f4v. Similarly, it will number the streams for multi-bitrate as well. Additional options are available to limit the recorded file by size or duration, if either appeals to how you plan to use the stream after recording and you dont want to edit the content.
Changing Save Directory
While the program will give a default location to save the archives, this can always be changed in the program. To do this click

and locate the folder you want it to save in. Following this, the archives will be saved in the new location.
Adding the Archive to DaCast
Once you have the files you wish to use as an archive, you will need to upload them to DaCast as VODs. Please look over the guide or walkthroughs dedicated to placing video files on DaCast found under Help after you login.