Multi-User Access allows Account Owners and Admins to add users to their accounts so that multiple people can share the same billing account and, in some cases, content.  
This feature is available on Scale plans and Above; please reach out  to your sales executive if you wish to have this feature.
The goal of this new management system is to allow you, as a partner account, to directly manage your sub-account from your own Dacast account. This guide will help you through the new features available in your partner account:
Adding users

Editing users

Buying additional seats
Roles for Additional Users
You can assign three roles to additional users you add to your Dacast account. 
Owner

– Has full control over the account, and can add, edit, and send user invites depending on the available number of seats.

Admin

– Can do anything except billing and paywall withdrawals.

Creator

– Can create, edit and delete their own content but cannot access content owned by other users.
How to Add Users
1  Log in to your account and go to Account > Users and click the "Add User" button on the right side of the screen.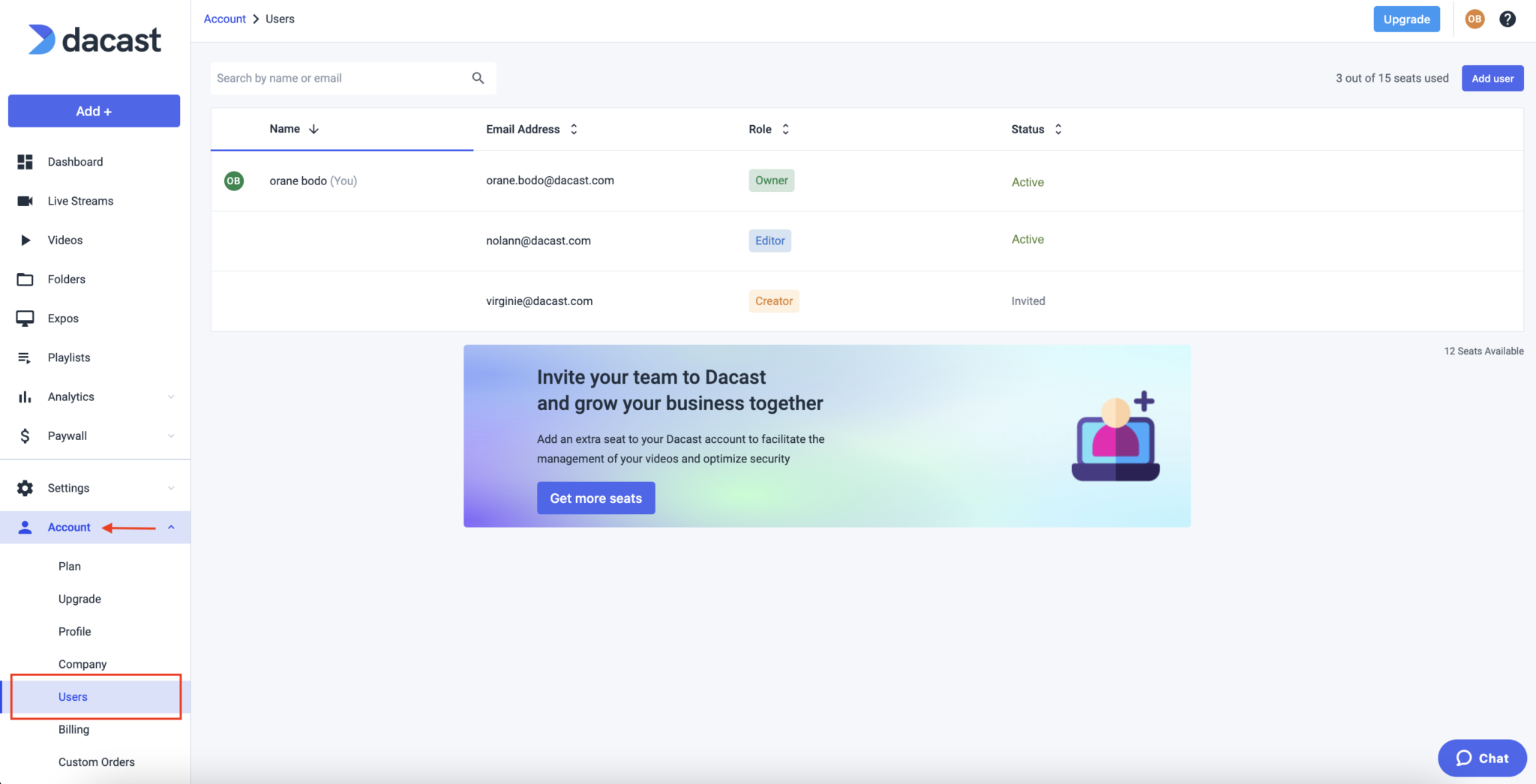 2. A dialogue will pop up where you type in the email address of the sub-user that you want to invite and grant account access to. 
Under "Role," you can also assign that new sub-user a specific role as discussed above, such as admin, creator, owner, or editor.  The role you select will determine the level of access the new sub-user will have to your account.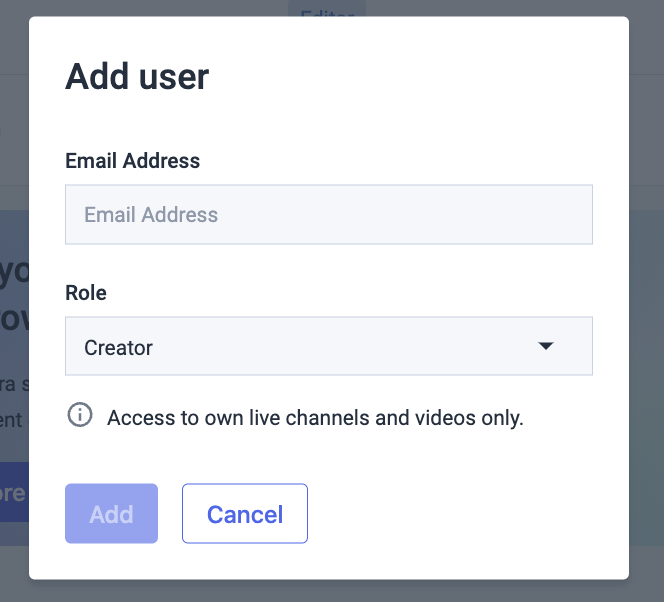 Once done, click

Add

. An invite will be sent to the user's email address which they need to accept for the feature to be enabled.
Note: If the user did not accept the email confirmation, the status of the sub-user will remain pending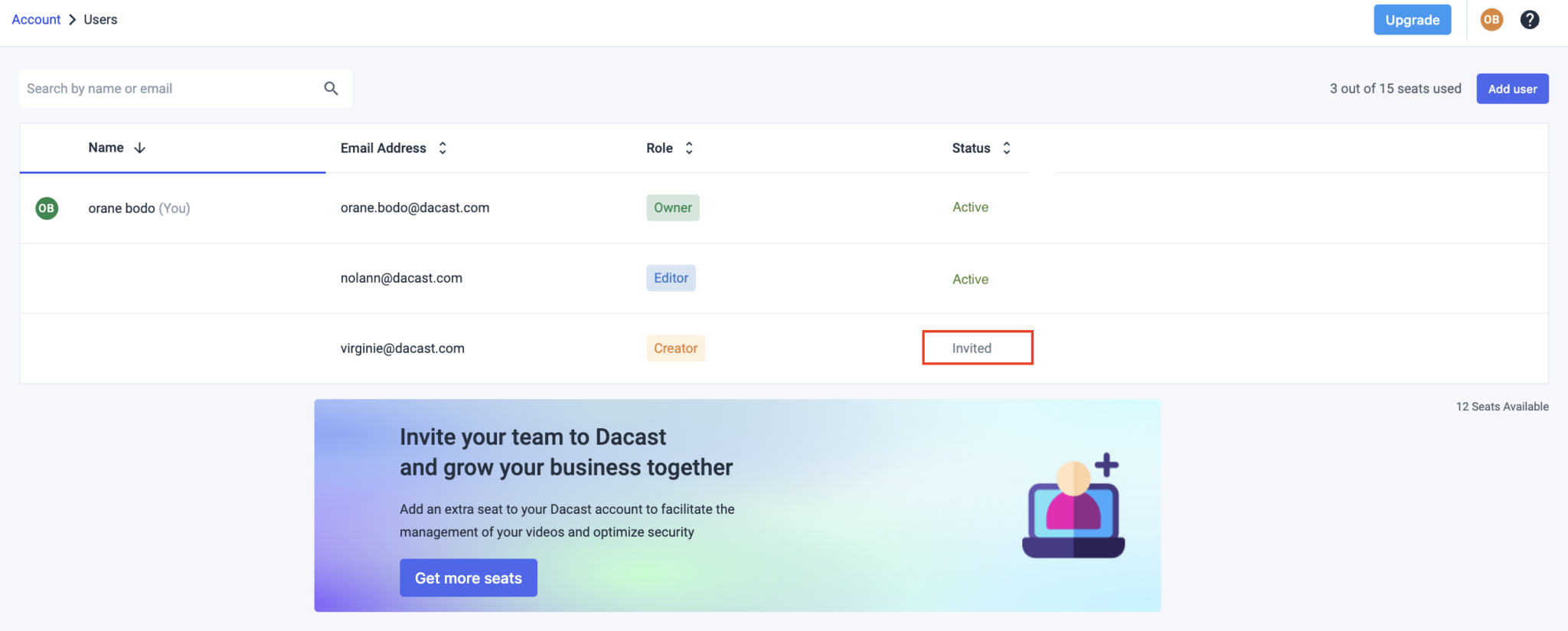 You can also delete a sub-user by clicking the trashcan icon when you hover over the ride side of the user/seat.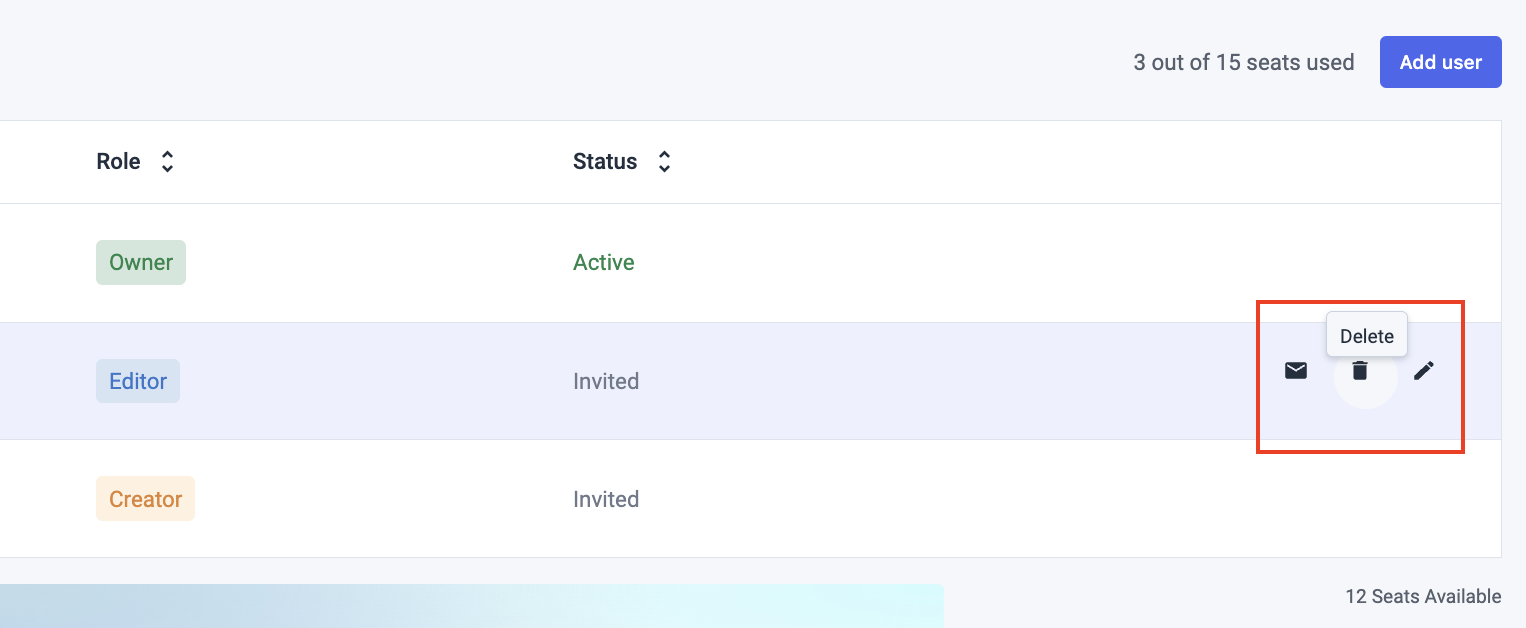 Buying additional seats
Each plan has a limit on how many seats can be added. You may contact your account executive if you wish to add another seat. Or you can also purchase another seat directly from your account following the directions below: 
Here's how:
Click the Buy more seats link at the top right of your account backend.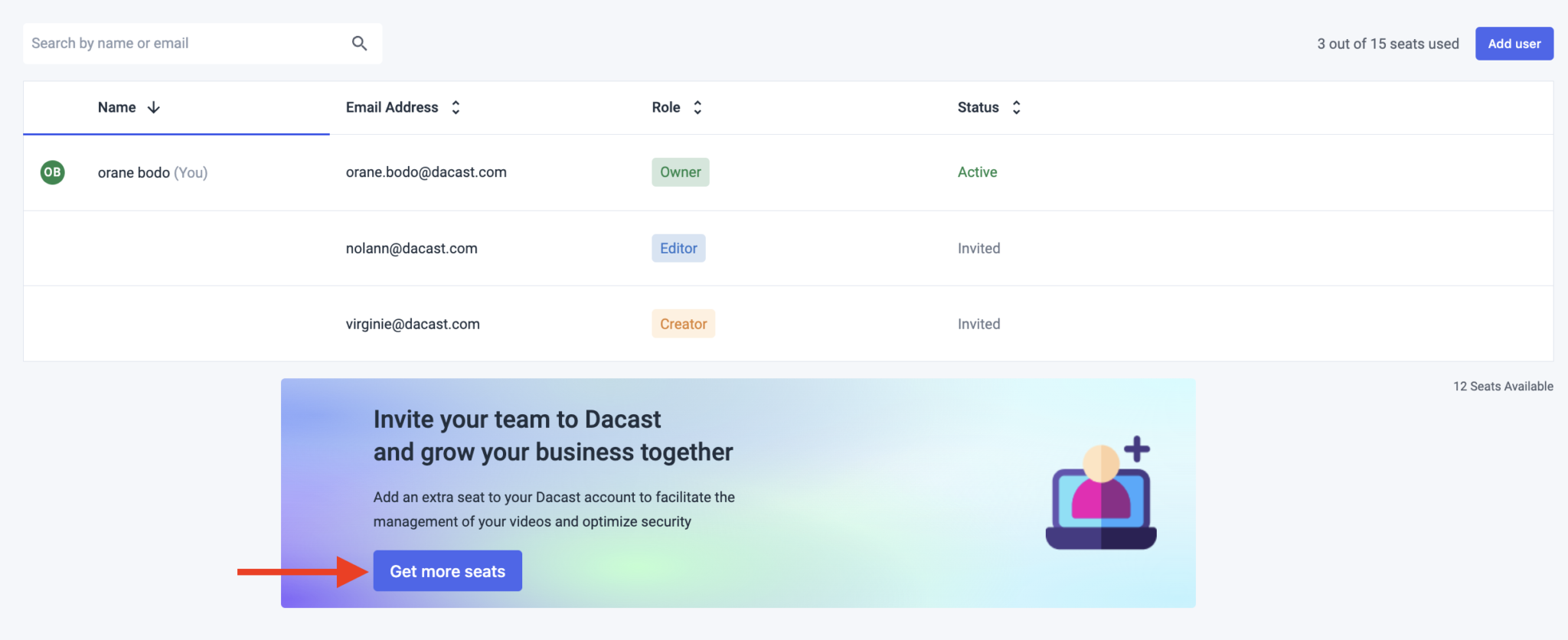 Note: You can also see the number of seats available on your account, which you can add as additional user/s.

2. Choose the number of seats you wish to add, then click Next.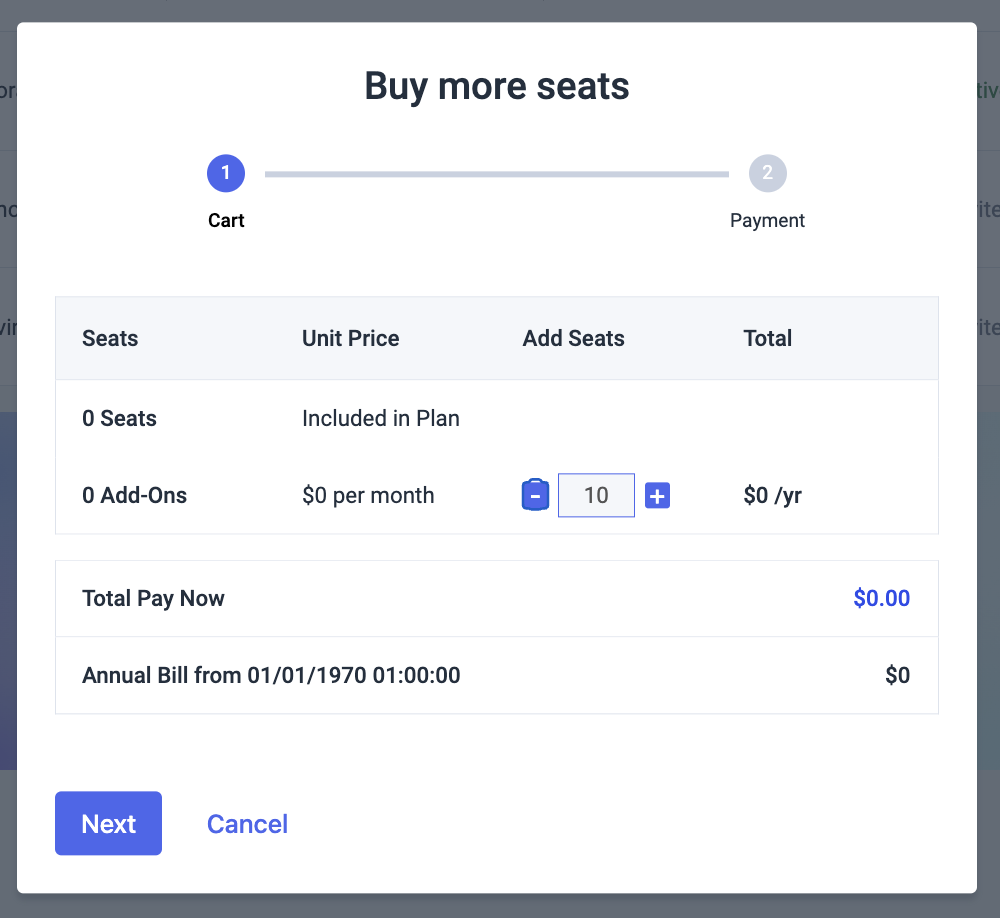 Then choose the payment method, click the terms and condition box, and hit

Purchase

.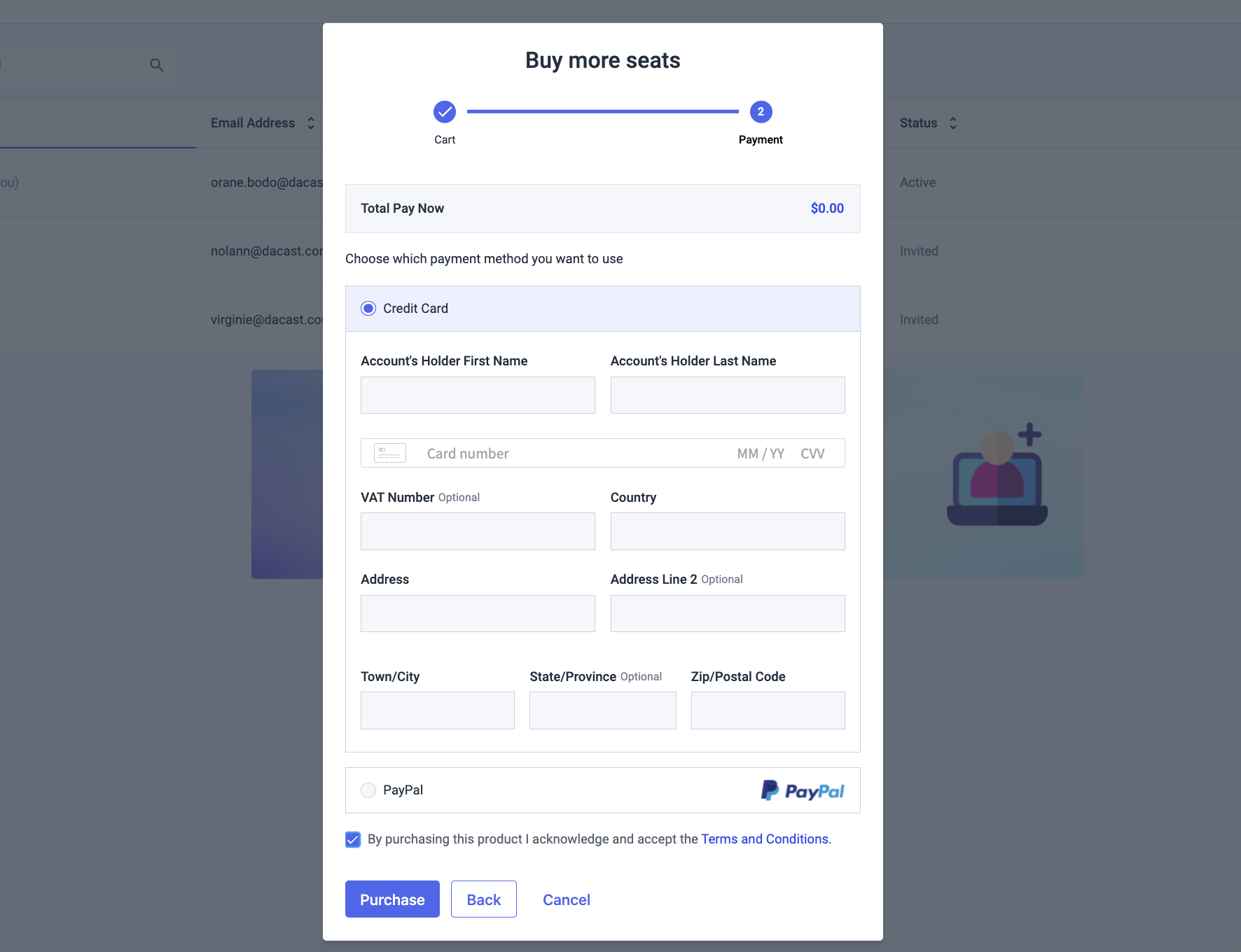 Additional note:
The bandwidth and storage remaining will display the same for all sub-users, including the owner's seat.
Any questions or need help/access to this feature? Please contact us.
Are you not yet a Dacast user interested in trying Dacast risk-free for 14 days? Sign up today to get started.