Are you wondering how to upload videos to your Dacast account? We've got you covered.
In this article, we will review how to upload a video file or videos in your Dacast account and the different upload methods available.
Where to find the uploader?
There are two options to find your videos uploader. 
Option 1
By clicking on the "Add +" button at the top of your left menu:
And selecting the "video" option in the dropdown as shown below: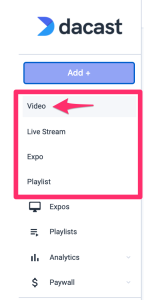 Option 2
Or you can also click on "Videos" on the left-hand menu: 
Upload Your Files from Google Drive
We understand how tedious it is to individually upload dozens of files one at a time.  Let our Google Drive bulk upload tool save that hassle for you. 
This feature allows customers who have plans with this feature to upload a large number of files or one or more single large-sized video files hosted on Google Drive. 
Go to Upload Video and select Google Drive. 
     4. If you want to upload multiple videos within a file, double click the file name, hold the Command button and click the files you would like to upload.  Then click select.