How to Start Selling Video Content, Streaming Videos, and Charge Viewers in 2023
Live video streaming is booming like never before. The market continues to grow, creating business opportunities for broadcasters in many industries. And there are more monetization options than ever — for those who know how to use them.
Table of Contents
Why Selling Video Content Makes Sense
3 Video Monetization Models
How Do I Sell My Videos Online?
Different Types of Online Streaming
Video Monetization by Industry
The Importance of Using a Secure Paywall
Tips for Success in Selling Streaming Videos Online
Final Thoughts
While most broadcasters will have the equipment for their video projects, to edit videos, to upload music and engaging videos and more in just a few clicks, many are lost when it comes to figuring out which monetization methods to use specific to their industry and circumstances.
In this article, we'll cover the whys and hows of video monetization. We'll run through three great methods for selling video content. Furthermore, we'll provide useful examples of situations for which to use each method. Finally, we'll briefly discuss the importance of using a secure paywall and provide you with some invaluable tips for creating a winning monetization strategy.
Why Selling Video Content Makes Sense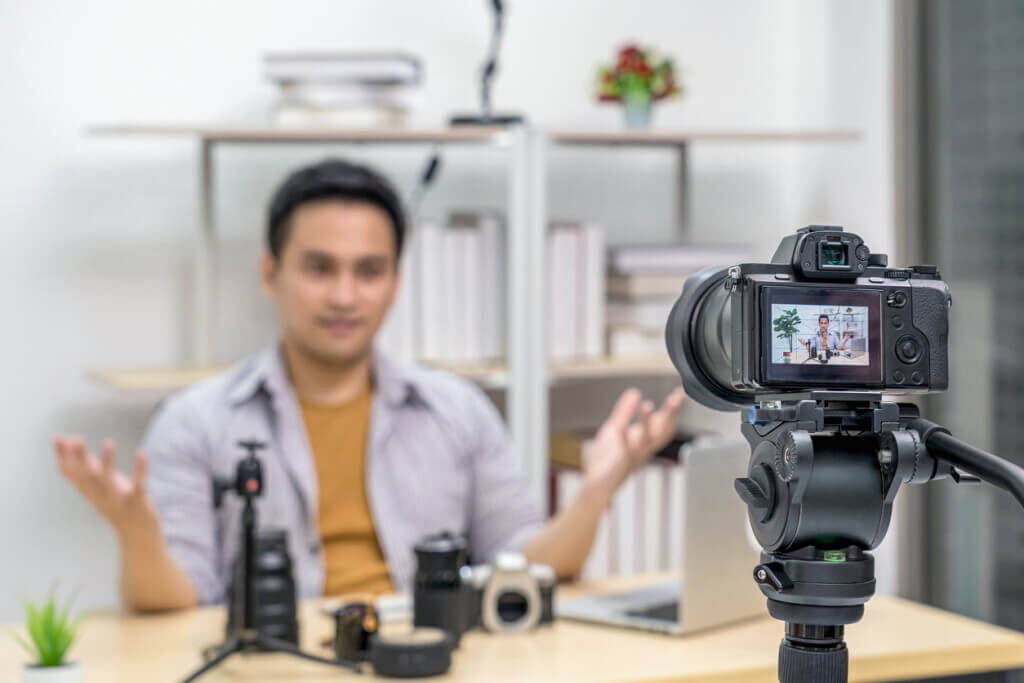 Many studies confirm the growth and projection of the online video industry in the coming years.
Selling videos have come a long way in the last ten years. Over the past decade, we've moved away from DVDs dominating the market and have transitioned to streaming media online almost exclusively.
Vides selling makes sense because the industry is slated to be valued at $184.27 billion by 2027.
To give you an idea of the profitable possibilities in the online video space, here's a snapshot of some live streaming stats* that demonstrates the growth of the industry in recent years:
Online live streaming has seen a growth of 99% between April 2019 and April 2020
More than a third of professional broadcasters use a subscription model to monetize their content
Almost 25% of households in the US will cancel their cable subscriptions by 2022
90% of people watch online video content
45% of viewers would pay for a live video of a special event
The key to jumping on these trends and making money selling video content is choosing a niche, creating high-quality content using strong video editing for that specific audience and staying consistent.
Now is the time for broadcasters established on Youtube and other consumer-grade platforms to migrate over to a professional video-selling software platform, like Dacast, to take charge of their video monetization possibilities.
Realistically, anybody who has the talent and ability to create video content that is either entertaining or provides valuable information can take this same approach to sell content online. New broadcasters need to build an audience through streaming services.
*For sources on these statistics, please check out our 114 Must Know Live Streaming Statistics post.
3 Video Monetization Models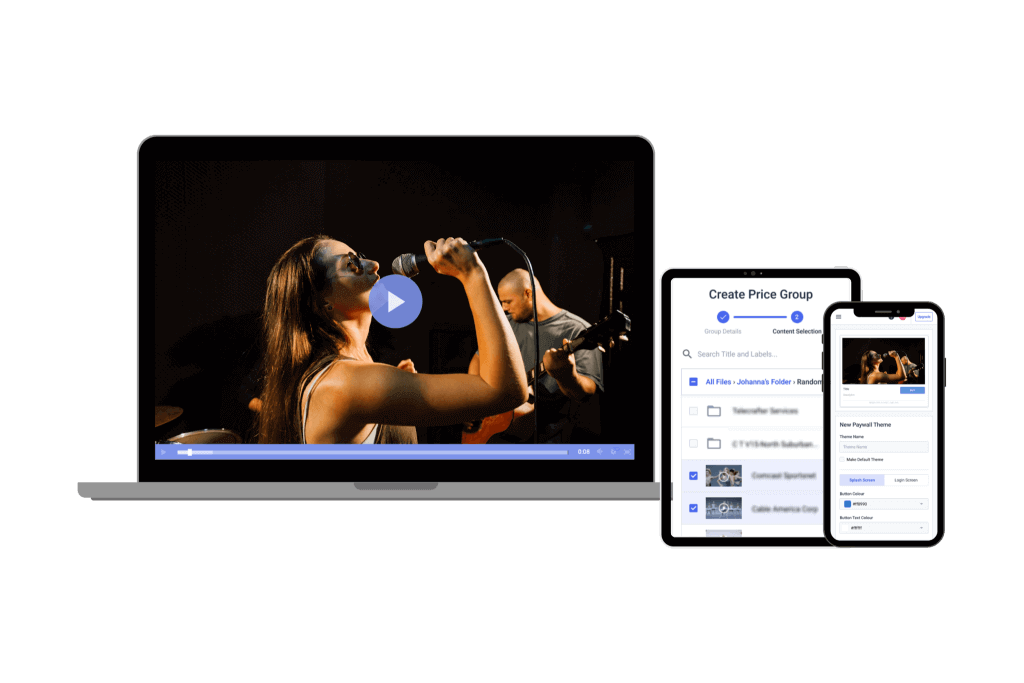 TVOD, SVOD, and AVOD are the three major video monetizations available to broadcasters.
Broadcasters set up monetization on their video to generate revenue from streams. That could mean putting content behind a paywall or streaming sponsored content.
The three main monetization methods are pay-per-view, subscriptions, and advertisements. Let's see how each of these works for selling online video content.
1. Pay-Per-View Model
Do you remember the days of cable when you'd flip through the guide and channels would show that a movie was playing, only to click and realize that you had to call a number to buy access to the film?
This early form of pay-per-view streaming has since evolved to a quicker and seamless process that happens all with the click of a button. As the name implies, this monetization method allows viewers to purchase access to video content for a set window of time.
Pay-per-view streaming is also called "transactional video on demand," which is typically shortened to TVOD
The standard access period is between 24 and 48 hours from the time the viewer hits play, but you can structure your pay-per-view setup however you see fit.
2. Subscription Model
Subscription-based video monetization models, or SVOD for short, involve charging viewers for unlimited access to your video platform. Subscriptions can be charged weekly, monthly, quarterly, or even annually.
That's a good way to go if you have a large library of content that your audience will find valuable or entertaining. Better still, they can access your video projects in just a few seconds.
3. Advertisement Model
Ad-based monetization, referred to as AVOD in the professional broadcasting space, is a model that uses short video clips on a streaming service from sponsors to pay for the video content.
In this scenario, there is no monetary transaction between you and the viewer. Instead, they devote a few minutes of their time throughout the stream to view the ad from your sponsor.
The monetization method is valuable for content that can be readily available on other platforms. Some examples would be short informational videos or crash courses that cover a complex topic in an accessible way.
Ad-based monetization is also common, mainly among vloggers who may still need to gain more loyalty from their fanbase to ask them to pay for access directly.
How Do I Sell My Videos Online?
Yes, there are many ways to monetize your content. But now, everyone and their mother are YouTubers, so the market is over-saturated. Can you still make money off of YouTube? The answer is yes; there's still more than enough room for new content creators.
For example, YouTube has reported a 30% revenue growth for the past four years. Despite the site being around for over a decade, it continues to grow at an alarming rate. And YouTube is far from being the only video monetization platform on the Internet.
So how do you make money off of YouTube videos? Let's look at ten strategies that will help you get started.
1. Choose a Niche
Finding a niche is the first step to any successful online venture. When making money off streaming content, you'll have an easier time if you choose a specific niche.
There are millions of gaming channels on the internet, but only a handful make it big. The same goes for beauty, art, fashion, and lifestyle channels. There are just too many of them. However, if you can find a specific niche within these broad categories, you'll have a much better chance of succeeding.
Now, this doesn't mean that you should avoid popular niches. Some of the most lucrative video niches have thousands of content creators:
Money management – $13.52 CPM
Digital marketing -$12.52 CPM
Personal finance – $12.00 CPM
And there are many more. The key is to find a specific niche within these broad categories. For example, instead of starting a money management channel, you could start a channel about money management for millennials.
That's just one example, but you get the idea.
2. Create a Content Plan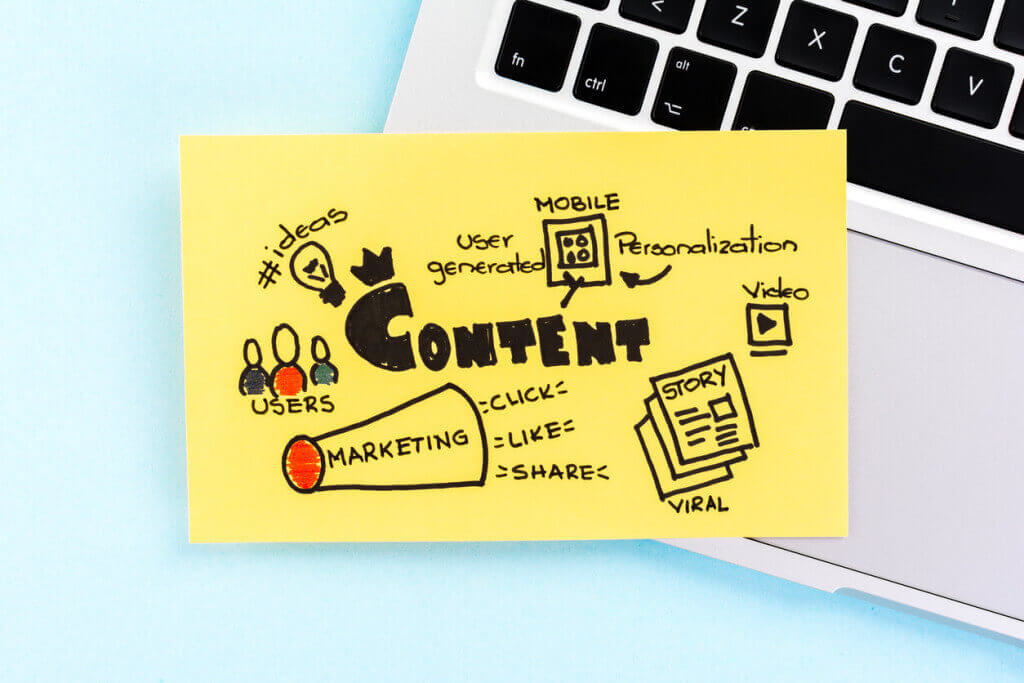 Live streaming helps create a video content strategy for online sales that can be repurposed in multiple ways.
When you have a topic and an idea of who you want to create content for, you should list all the general topics you could create content around. From there, narrow the topics into a series of more specific videos.
To understand your audience better, it would be wise to answer some questions, such as:
What type of content will they be interested in?
How long should the videos be?
When and where will they be watching the videos?
Who are some of the influencers in this space?
You should also decide on a content format. There are all sorts of different types of videos you could create:
Tutorials
Product reviews
Interviews
How-tos
Courses
The length of your videos will also be niche-specific. For instance, an online course requires your videos to be between 15 and 20 minutes. On the other hand, a product review could be two minutes or less.
You also need to consider the type of equipment you'll need to produce the videos. Your smartphone might be enough to get started if you're on a tight budget.
3. Strategize for Monetization
You can monetize your video with SVOD, AVOD, TVOD, or a combination of any of these methods.
Plan out which you'll use and how much you will charge. Be realistic regarding the value you are providing and what your target audience would be willing and able to pay.
Remember that your paywall and/or online video platform may take a commission or charge a transaction fee as you create your prices.However, this won't be a big deal if you plan well ahead and tack that small percentage onto your price.
4. Choose a Streaming Platform for Your Videos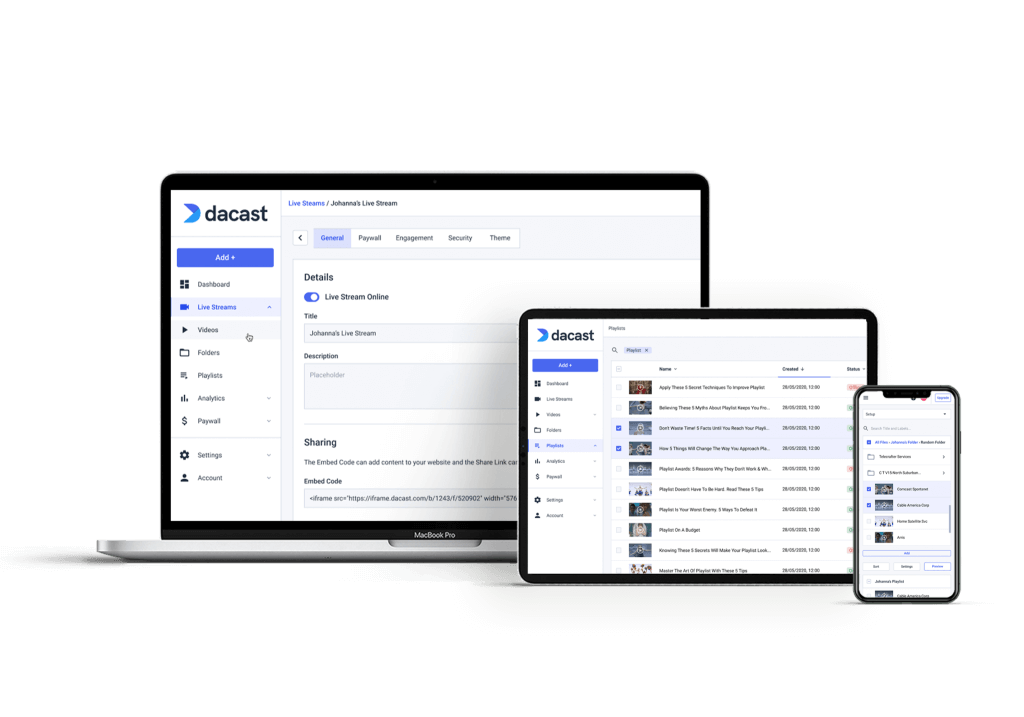 Leverage a professional live streaming platform when monetizing your online videos.
Now that you know how to monetize your videos, you must pick a proper live-streaming platform. You need one with the tools to host and deliver your content directly to your audience.
Choosing a platform that includes a secure paywall is important if you are going with a subscription or pay-per-view method.
5. Determine the Best Method of Distribution
You know who your audience will be and what kind of content you create for them, but how are you going to get it to them?
If you are creating an on-demand video platform, you'll want to figure out how to bring people to your site. If you're monetizing with ads, standard content distribution methods, like SEO, social media marketing, email newsletters, etc., should do the trick.
It is important to keep distribution and promotion at the back of your mind as you produce your content because it will be easier for you if you create promo materials as you go.
6. Create Your Videos
If you are live streaming, this is pretty straightforward. You set up your equipment and click "Start Streaming." However, if you want to create pre-recorded material, you'll need to put in some effort.
How much effort? Well, probably more than you think. Research shows that a 5-minute-long video takes roughly 7 hours of production. So, don't be frustrated if you spend way more time than you initially thought. In any case, we recommend using professional video editors to enhance the process on all fronts.
Our recommendation would be to start work on a small project first. That way, you can get a feel for how much time and effort goes into video production.
For example, you could create a 3-minute-long product review. Once you see how long that took, you can scale up accordingly.
Of course, you can hire a skilled team to do this, but if it is your project, you'll want to have some idea of the process.
7. Upload to Your Video Platform
Once your videos are edited to your content, upload them to your OVP. Again, this should be very straightforward on most platforms. And if you're on social media, don't forget to upload clips to your social media platforms.
8. Create Playlists and Channels
You can likely create playlists, channels, or packages depending on your online video platform. That allows you to group similar content.
Now is particularly useful when selling video content like courses or training sessions. It makes it easy for viewers to access related content in the sequence that makes the most sense.
9. Create Your Website
Part of selling video online requires an on-brand platform for users to access your content. So how to sell videos on your website? To start, an easy-to-navigate website should do the trick. Next, make sure the design is clean and professional.
Netflix is a good platform to use as inspiration for this step. It is well-designed and very user-friendly. Take a look at Hulu for an example of what not to do. Many argue that their platform was not designed with the user in mind.
Depending on which OVP you use, embedding videos on your platform should be as easy as copying and pasting a small code snippet.
10. Promote Your Platform
Earlier, we mentioned figuring out a distribution method for your content so that you'd have a good idea of how to promote it when the time came. Establishing that early on allows you to create appropriate promo materials as you produce your content.
Once your website is ready to go with your first batch of content published, it is time to promote your platform. Then, after you've launched your campaign, you can sit back and watch the sales roll in.
11. Plan for the Future
A fully-functional website is plenty to start, but if you're looking to scale this platform in the future, developing apps for mobile streaming on smartphones and tablets is a good idea. Smart TV apps are also a plus here.
The goal should be to make your content as accessible to your target audience as possible.
Different Types of Online Streaming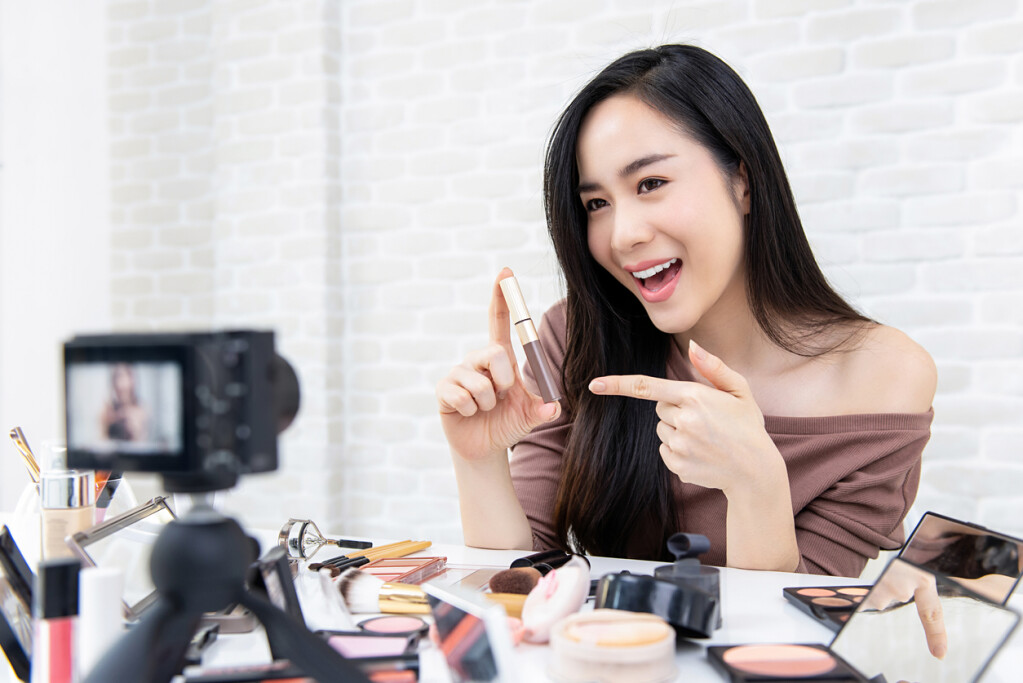 Selling video content online is more than uploading videos and calling it a day. Marketing and promotion are a must.
You can apply these three monetization methods to various types of online streaming. The two main types of content are live videos and on-demand videos.
The on-demand video refers to the online video you can find on YouTube or Netflix, where a library of content is available. There, video is fed through streaming data through a viewer's internet connection. Viewers choose what they want to watch, and then they play it back in their own time.
You can monetize on-demand video content with SVOD, AVOD, and TVOD. In addition, Netflix uses SVOD exclusively, but Hulu combines AVOD and SVOD. iTunes and Prime video both offer TVOD options for on-demand content.
Monetizing in real-time
Live streaming, on the other hand, is the act of broadcasting content in real time over the internet. Unlike video-on-demand (VOD) content, live streaming is ideal for sports, concerts, church services, conferences, and similar gatherings. 
You can also use any of the three monetization methods with Live streaming. Which you choose will depend on the nature of your content. For example, sports broadcasters typically offer "season passes," where fans pay one fee to watch all of the live sporting events throughout the season, which could be considered a subscription or pay-per-view.
However, special events are often exclusively pay-per-view. In recent years, celebrity MMA fights have become some of the top-earning pay-per-view live streams.
While we're discussing the different types of live video streaming on the internet, it is important to point out that any online video content is made accessible largely in part by the HTML5 video player technology.
The all-device HTML5 video player has played a huge role in making mobile streaming a possibility. Mobile devices make up many of the devices used to access online video content.
Whether you go the route of live streaming or on-demand, you'll need a video hosting service. Such streaming solutions, like the Dacast online video platform, are equipped to serve your video to viewers worldwide. The most familiar video host is YouTube, but it could provide better features for selling content.
Video Monetization by Industry
As we mentioned, choosing a niche is crucial in selling videos online since it helps you narrow down your audience and create highly targeted content.
Here are some tips and ideas for monetizing content in different industries.
1. Fitness and Health
The ability to work out from home with the support of your favorite trainer is a win for busy people and fitness coaches alike.
Many fitness coaches are creating and monetizing virtual fitness classes. Many fitness instructors are allowing students to work out with them live than making the video of the session available for on-demand playback after the class has ended.
That's particularly popular with no-to-low equipment classes, such as yoga, pilates, step aerobics, boot camps, Insanity, etc.
2. Sports Broadcasting
Online sports broadcasting is also currently a profitable trend. As a result, sports fans are turning to online streaming platforms for easy access to their favorite sports teams.
Online streaming comes with many benefits as opposed to the traditional television alternative. For starters, online streaming allows catching games and matches on the go.
Also, many sports teams only have local coverage, even if the team is part of a national league or association. Online broadcasting means sports fans can watch their favorite teams in real-time, no matter where they are tuning in from.
As a sports broadcaster, there are several ways you can go with monetization. You can use one or all of the three popular monetization methods.
Pay-per-view is typically an excellent way to go for one-time events like notable MMA fights. However, for team sports, "season passes" billed in a subscription style are a good way to go.
Advertisements are often mixed in with both models unless subscribers pay extra for ad-free streaming.
3. Online Education
Independent educators in all subjects are digging into the online learning space. They offer non-accredited courses for a fee that is less than what colleges and other post-secondary institutions charge.
Sometimes, this content is supplemental for college classes, and other times it is designed to teach skills to people who are avoiding college altogether.
There are a lot of platforms with classes on cryptocurrency, online entrepreneurship, stocks, investing, and personal finance. Some more niche courses teach people how to get better at networking, sports coaching, teaching music lessons, and more. The sky is truly the limit here.
These educators use a mix of all three monetization methods. Some charge for access to one course at a time with pay-per-view. Others only monetize with ads if their viewers have a lower or unquantifiable return on investment. Subscription-based monetization is also popular for instructors with large libraries of related content.
That type of content is particularly trendy right now since people see the value in e-learning online aside from institutions with potentially biased curriculums.
4. Entertainment
Another great way to make money selling video content is to build an entertainment-based platform like Netflix or Hulu.
These platforms use a subscription-based approach and provide access to large content libraries. Hulu, for example, actually uses a model that is a blend of ads and subscriptions, which is another viable approach.
Although it is less popular, Prime Video has an equivalent bank of content, but they use pay-per-view streaming to allow users to buy access to specific episodes, seasons, or movies.
The key to success here is getting contracts with a few major television series or films. Exclusive deals will force viewers to come to your streaming platform for that one film or series, and if you do it right, they will stick around for the other content on your platform.
You can also produce binge-worthy content of your own. That may be more successful as you build your brand, but creating original entertainment content is typically the long-term goal of businesses that use this model.
5. Live Events Streaming
Live event streaming is a major cash cow right now since people are trying to find ways to stay connected while staying physically distant. That's why businesses charge admission to virtual events like concerts, motivational speaking events, and webinars.
Pay-per-view is typically the best way to monetize special event live streaming.
The Importance of Using a Secure Paywall
If you are using SVOD or TVOD, transactions between you and the viewer are part of the process. You'll use a video paywall to facilitate this exchange.
Since money and sensitive information are involved, security must be a priority. Make sure that the paywall on your video hosting platform uses high-level security encryption. If a secure paywall is not built-in, make sure one can be integrated.
Ensuring an unbeatable level of security is important to protect your viewers' financial information and maintain a trusting relationship. A security breach could destroy your viewers' trust in your platform, forcing them to go elsewhere for video content.
Tips for Success in Selling Streaming Videos Online
Content creators assume that having great content is enough and that good videos will sell themselves. That may be true in certain industries, but it's only sometimes the case with selling video content. So you may ask yourself: "how do I charge viewers to watch my video online?
The answer is that in this market, video sales require marketing. To succeed, you must actively promote your videos to your target audience. With that in mind, here are some key tips on how to sell videos online:
Choose the right price. Too high can decrease sales but increases the revenue per sale. Too low means lots of sales don't add up to much. Find the sweet spot.
Start promotion early. Target your audience well before your event begins, and consider some "early bird special" or presale price to reward early buyers.
Recruit partners. Your sales will be much better if other established businesses, bloggers, or prominent individuals in your market are helping you spread the word. This could be done in the style of influencer marketing.
Have the technical aspects prepared ahead of time. Nothing is worse than technology issues in the middle of a broadcast, especially if you've got paying customers who are now missing what they've paid for.
The final element is up to you: make great videos. As they say, content is king.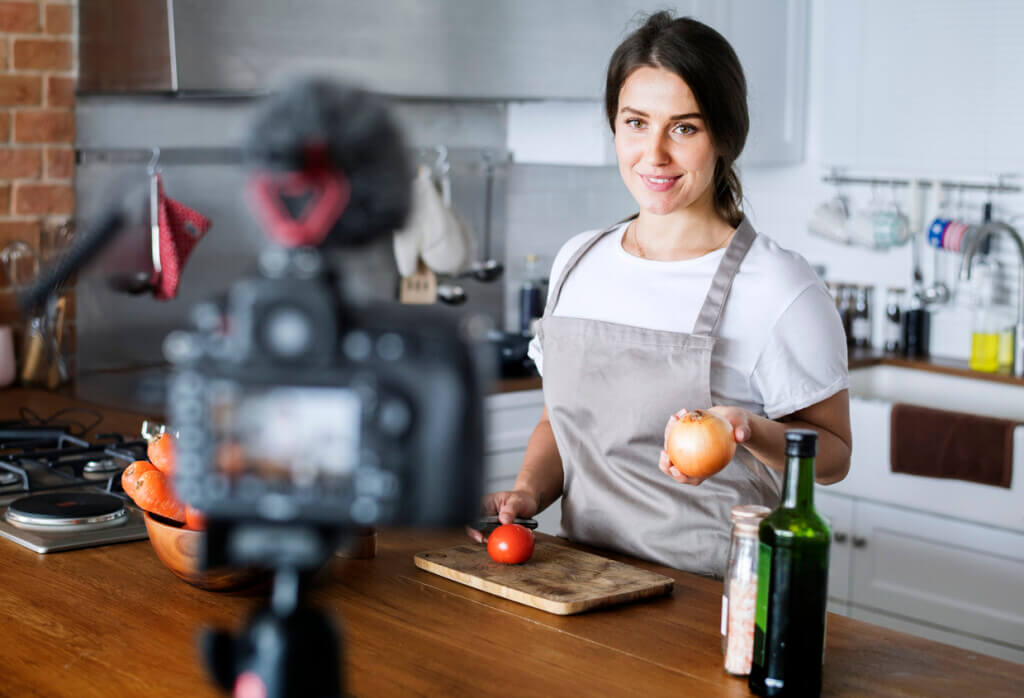 Are you ready to monetize your passions and start selling your streaming videos online?
Final Thoughts
As we've outlined, selling content online isn't as difficult as it seems. While it can be challenging, there are clear methodologies and solid practices to increasing your sales online.
No matter the industry you're in, you're now equipped with foundational knowledge for strategizing and selling videos online. Remember, SVOD, AVOD and TVOD are the most popular video monetization options, but you can use any combination of these methods. And using an online video editor, you can create high-quality videos that are more likely to sell. Using the strategies, methods and practises we've outlined, you can carve your own path to successfully selling your video content online.
Did you know that Dacast is a professional video platform with state-of-the-art monetization features?
Simply sign up for a free Dacast account to begin live streaming in minutes. Enjoy all the features for free for 14-days. It's risk free and no credit card is required.
We always enjoy hearing from our readers. Let us know your thoughts, how this article has helped you and any questions you have in the comment section below. And for regular live streaming tips and exclusive offers, join the community on our LinkedIn Group.