Note to our readers: We've updated this tutorial with information that is current as of 2018.
This ROKU Walkthrough will walk through how to set up a live ROKU channel and begin streaming using Dacast. Need help with the basics of live streaming (i.e., setting up cameras and encoders)? Check out this guide instead.
In this tutorial, we will show you how to create your own private channel on ROKU, step-by-step.
In order to start, you will need the following:
Your Dacast account
An InstantTVChannel account (create one for free here.)
A ROKU account (create one for free here.)
STEP 1: Create your channel on InstantTVChannel
First, log in to the account you just created on www.instanttvchannel.com. The main page should look like this: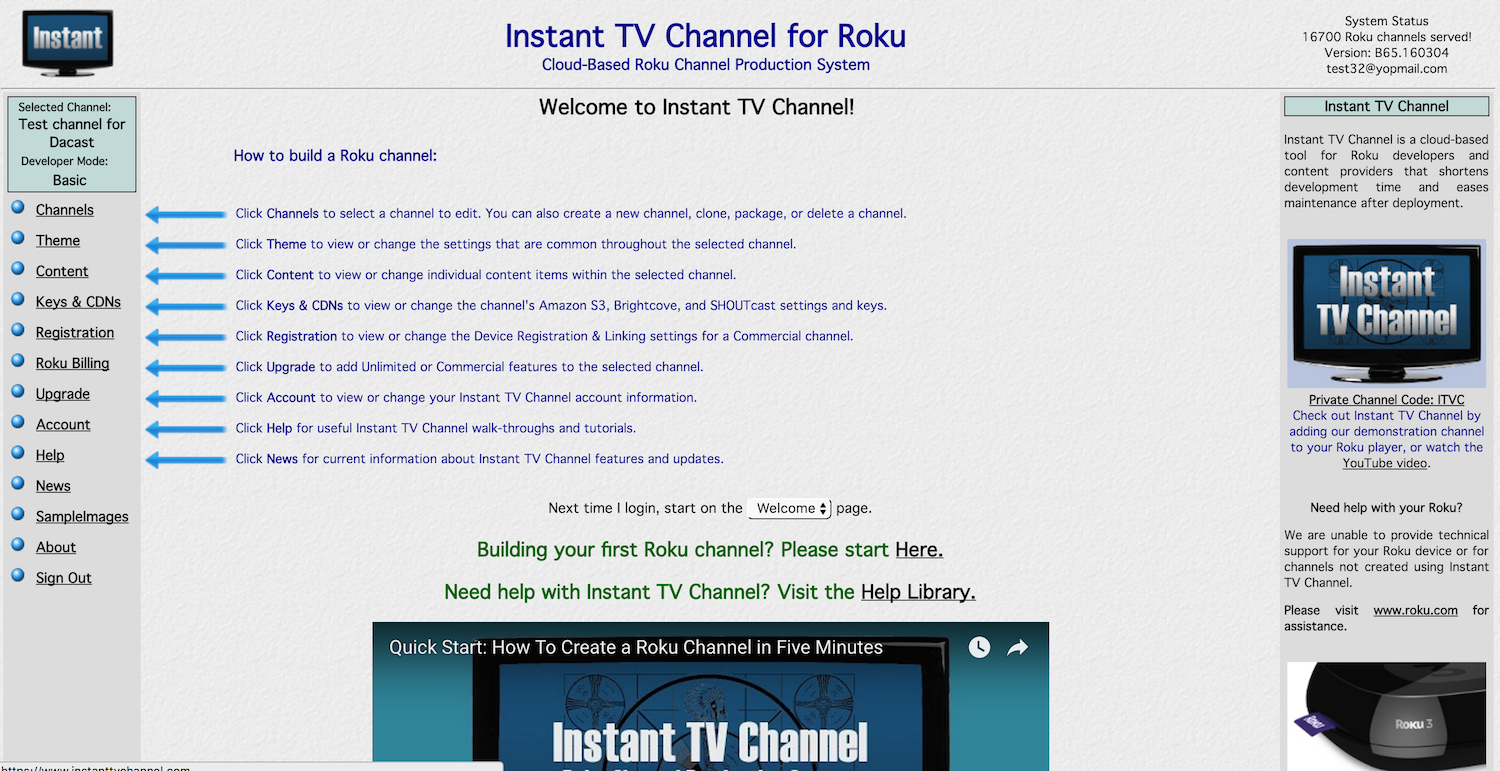 Click on "Channels" on the top-left part of the screen and then on "Create New channel". An Information BOX will appear on the Top-Center of the page. Be sure to select "Classic" for the Channel Type and hit the "Confirm button".
STEP 2: Choose and Edit your Theme
You can now click on "Theme" on the Top-Left part of the screen. In this section, you will be able to choose a Title and a Subtitle for your content, various Icons (in order to fit all the screen types, you can upload both SD and HD picture. The image shown for your users will depend on the hardware they have at home).
The Theme Settings look like this: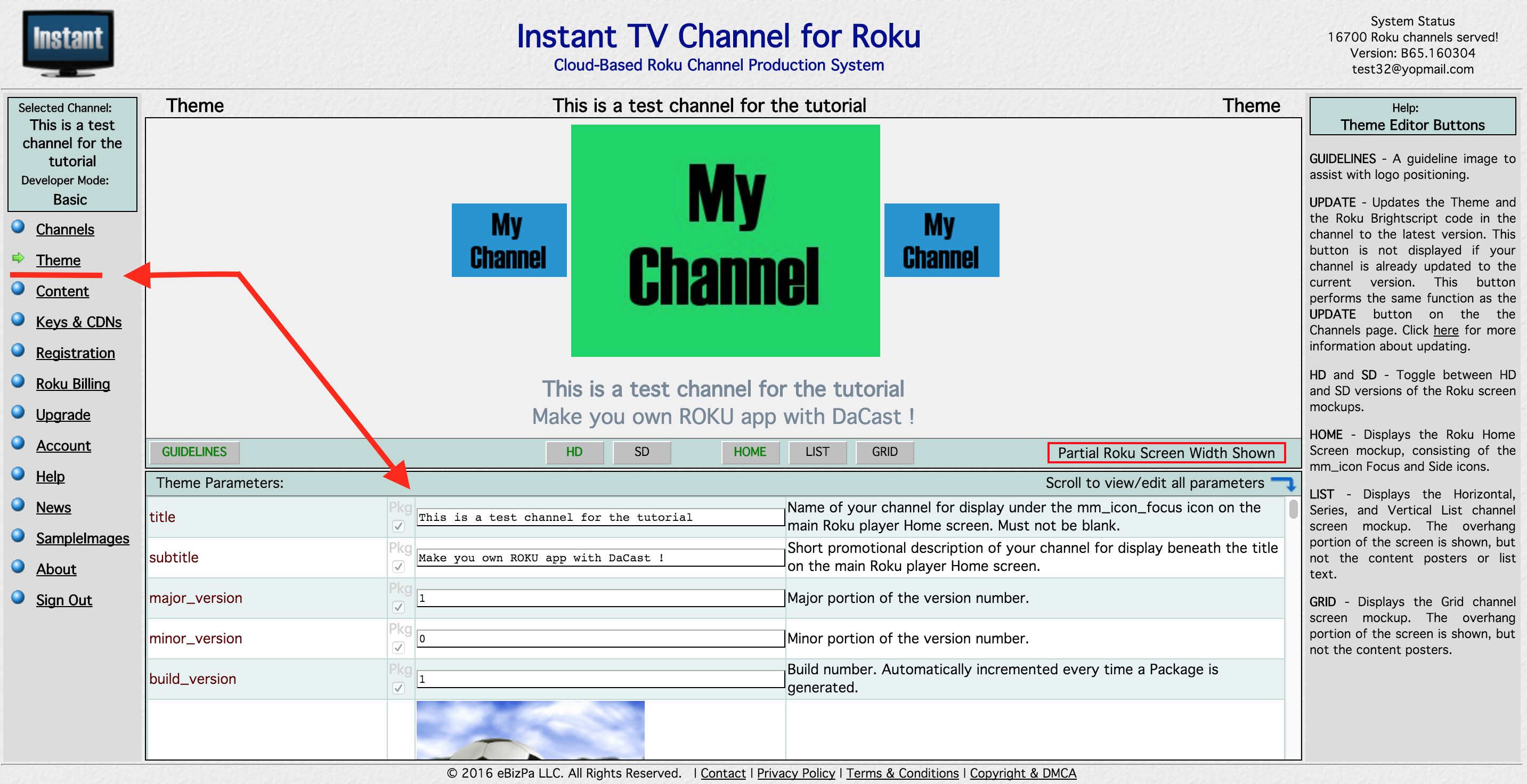 And the Picture/Icons Settings looks like this. Use the Image Ratio requested every time if you want the picture to be shown:
You also have the possibility to tailor your Text and Style by setting all the details.

For each parameter, a small description of what it does is given on the Right. You can also report to the "Help" window on the very Right part of your screen for more information.
STEP 3: Enter the Content information for your channel
Now that we have created our channel and set its description, icons, and style, it is time to select the content that you will be broadcasting on your ROKU App (ROKU calls this an App). Click on "Content" on the Left part of your screen: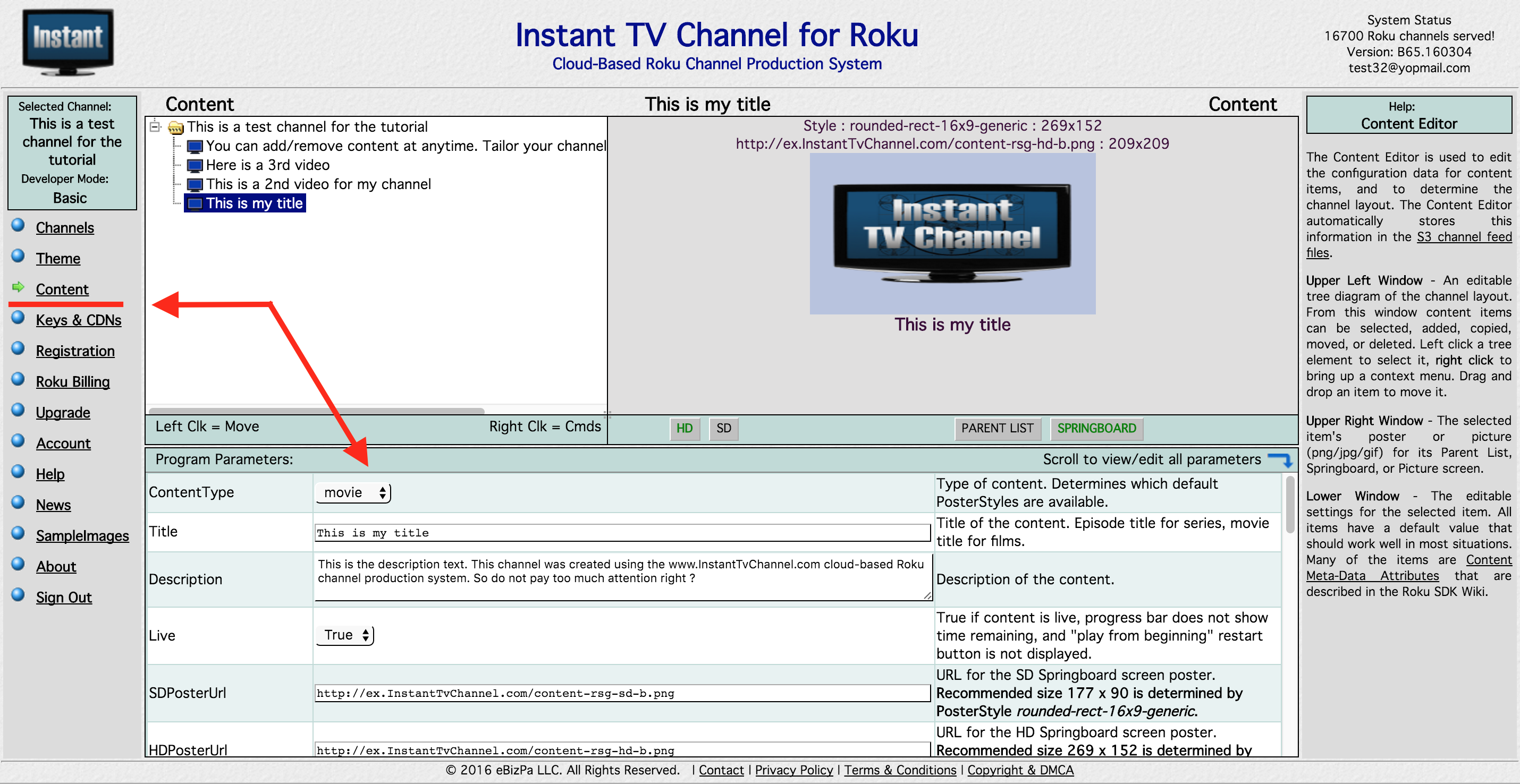 In this section, you will choose what content you will broadcast on your ROKU Channel. By default, only 1 video is already showing. You can "Right Click" on the name of your Channel (Top-Left part of the screen) and click on "New Video or Audio" to add more.
Once you have done that, you can now parameter each video by setting its Title, Description, Poster, Length, Feature Actors and Director, etc. (You can even protect you content with a Password we won't use this feature on this tutorial in order to make it simple).
In the section "Stream 1" => URL, you must provide the M3U8 link to your content and set the StreamFormat to "hls":

STEP 4: Create your PKG file and get ready to broadcast
Now that we are done setting up your channel, click back on "Channels" (Top-Left of the screen), then click on the "Package" icon designated by the red arrow on the picture below and finally click on "Confirm Pkg" on the Top-Center on the screen. Save the file somewhere on your computer that you can easily access.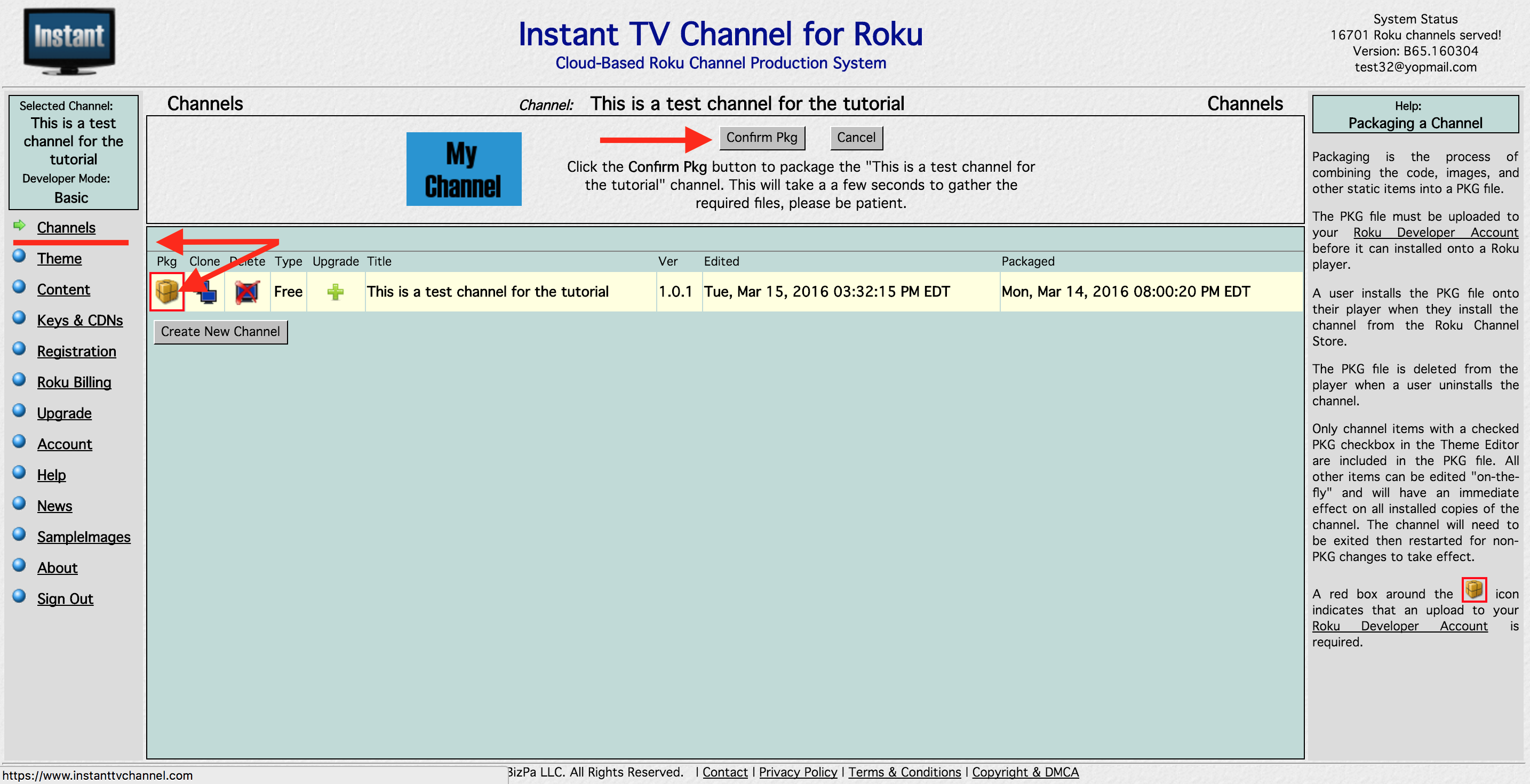 STEP 5: Go to your Dev account on ROKU
Login to your dev account at https://developer.roku.com/home. Then, display the different sections of your account by clicking on the arrow next to your name and select "Developer Site". It will redirect you to the page below. Click on "Manage My Channels".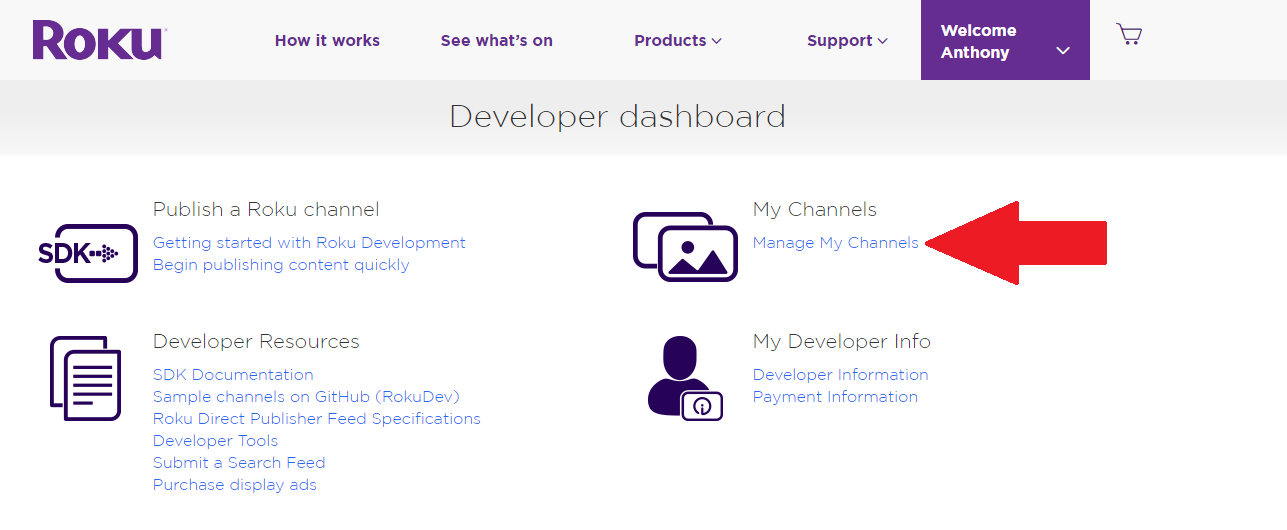 Then click on "Add Channel".
Select "Developer SDK" and "Non certified" as shown below: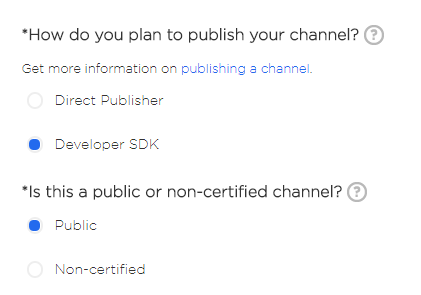 You can now select the desired features for your channel and select the Language: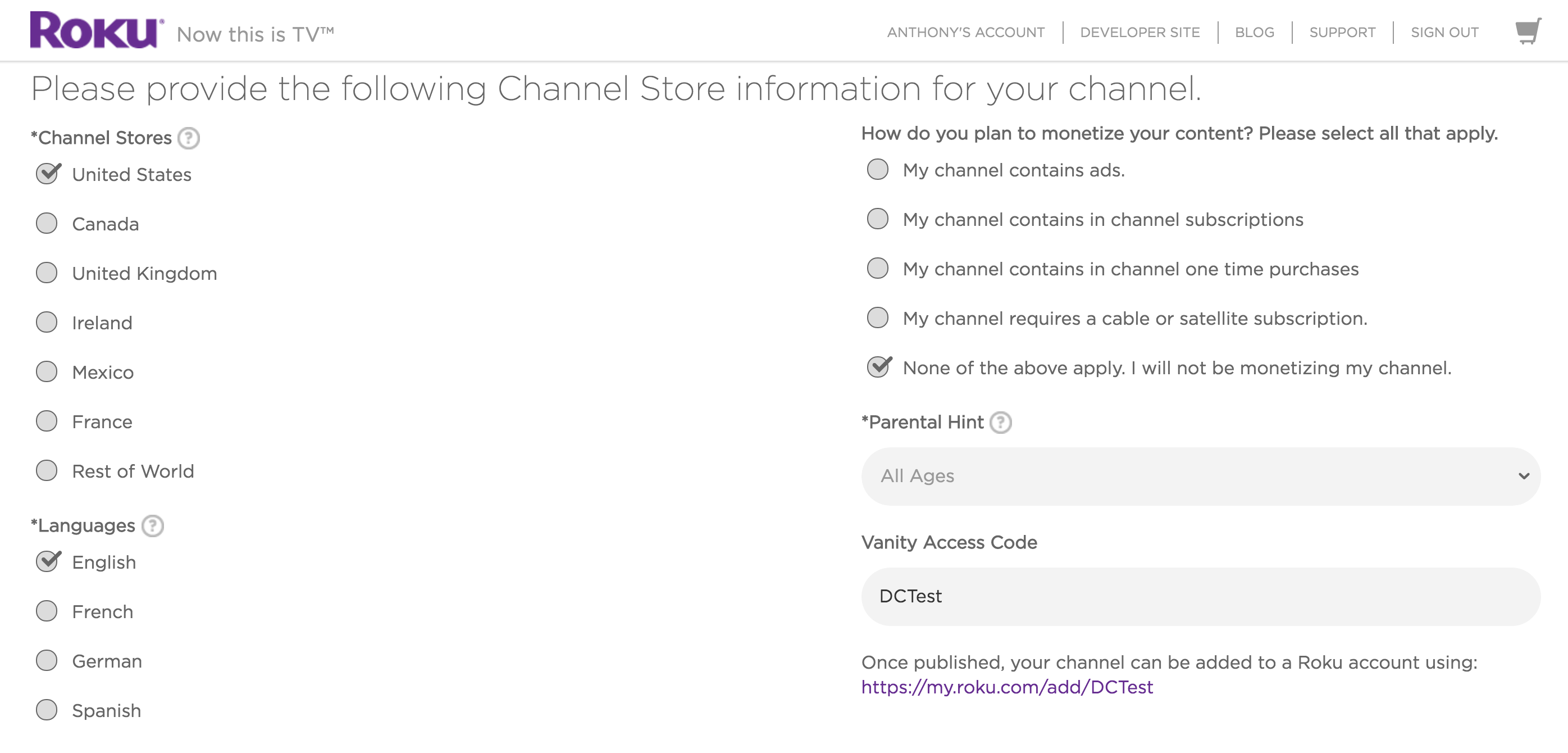 And you can also Name your channel, provide a short description of its content and add a poster that will be displayed in the Roku Channel Store: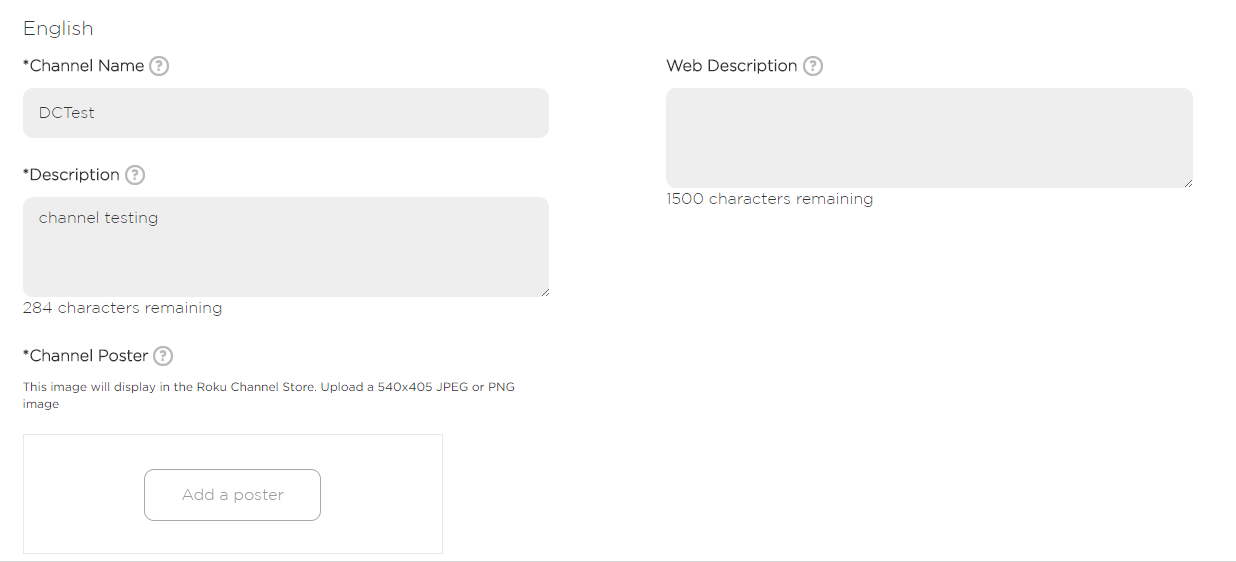 You will also have to enter some contact information in case there is an issue with your Roku TV Channel.
Once you've entered all the necessary information, the final step before submitting your channel is to upload the PKG file that you created earlier on InstantTVChannel.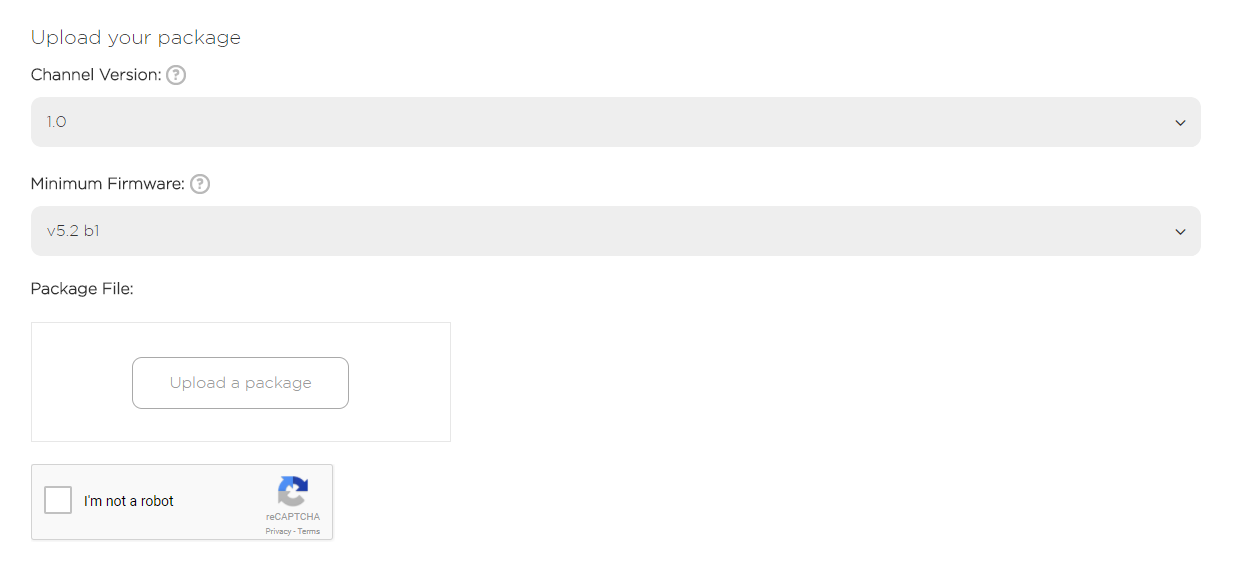 Once you've uploaded your package, you will get the following window with a preview of your channel information so you can review and submit your channel for publication. Please take note of the "Access Code" highlighted below: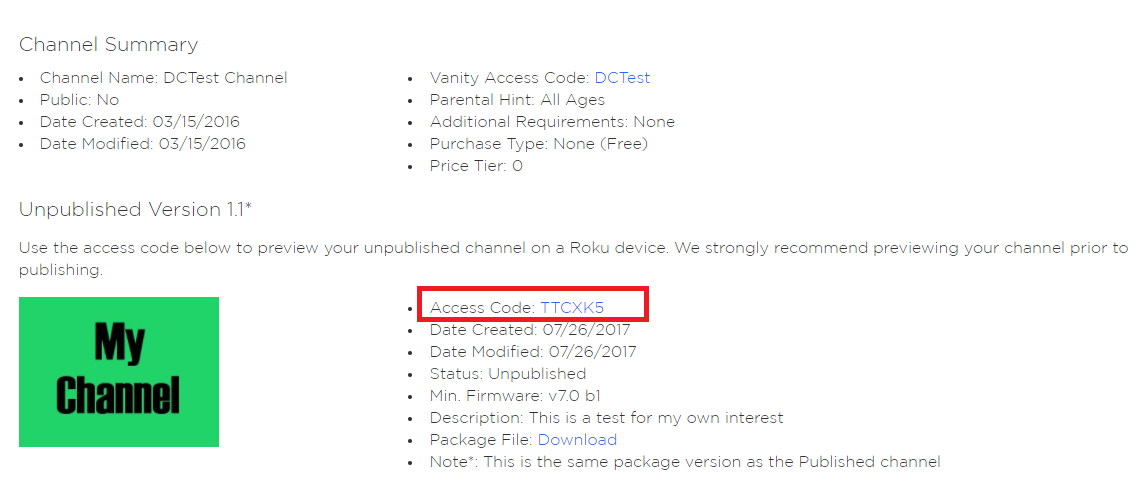 The final step is to go under "My Account" and click on "Add a channel" as shown below: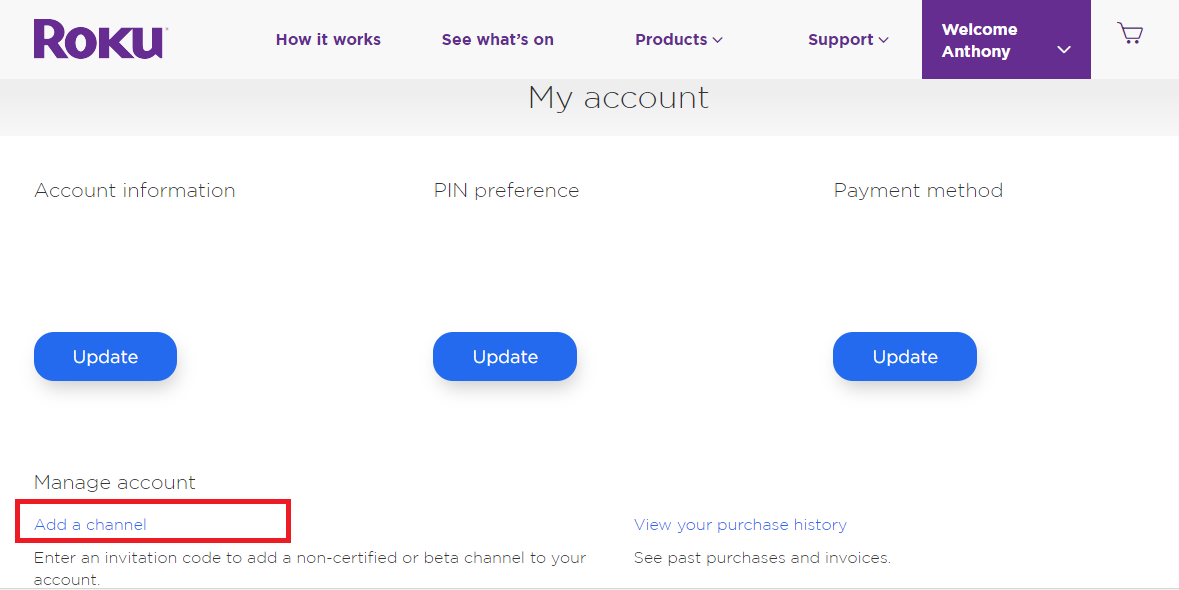 And enter the code you noted earlier:
A message will confirm that you successfully added you Channel:
STEP 6: Access your content on your ROKU device and verify that it works well
We are now almost done setting up a ROKU channel. We created the App and parameterized the Channel. It is now time to test it.
Go to your ROKU device and turn it ON. Then go to "Settings" => "System" => "System Update":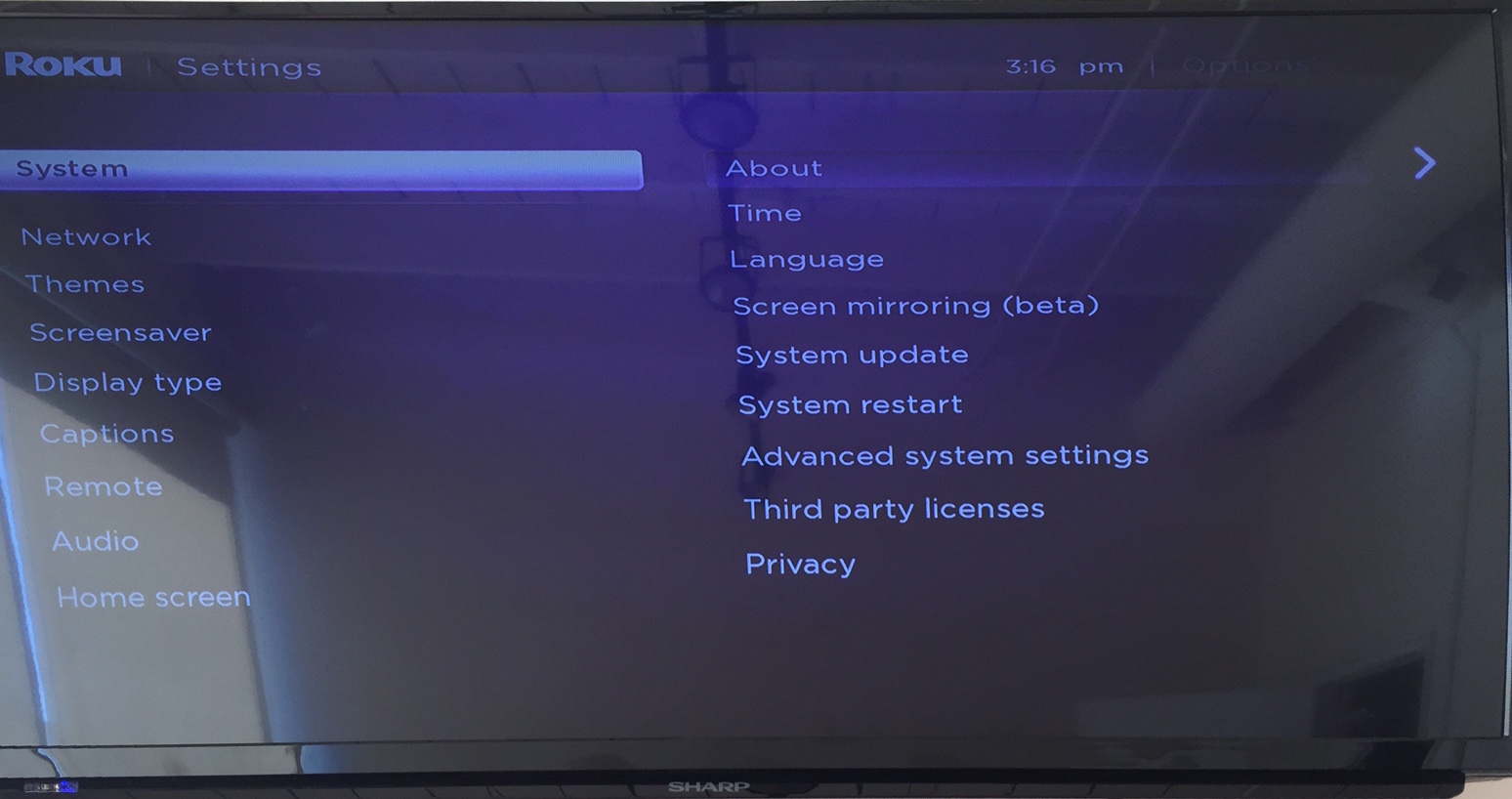 This will allow your ROKU box to upload the App on its system.
You can now access your Channel. It is located in the "Home" section, at the very bottom of your Channels list: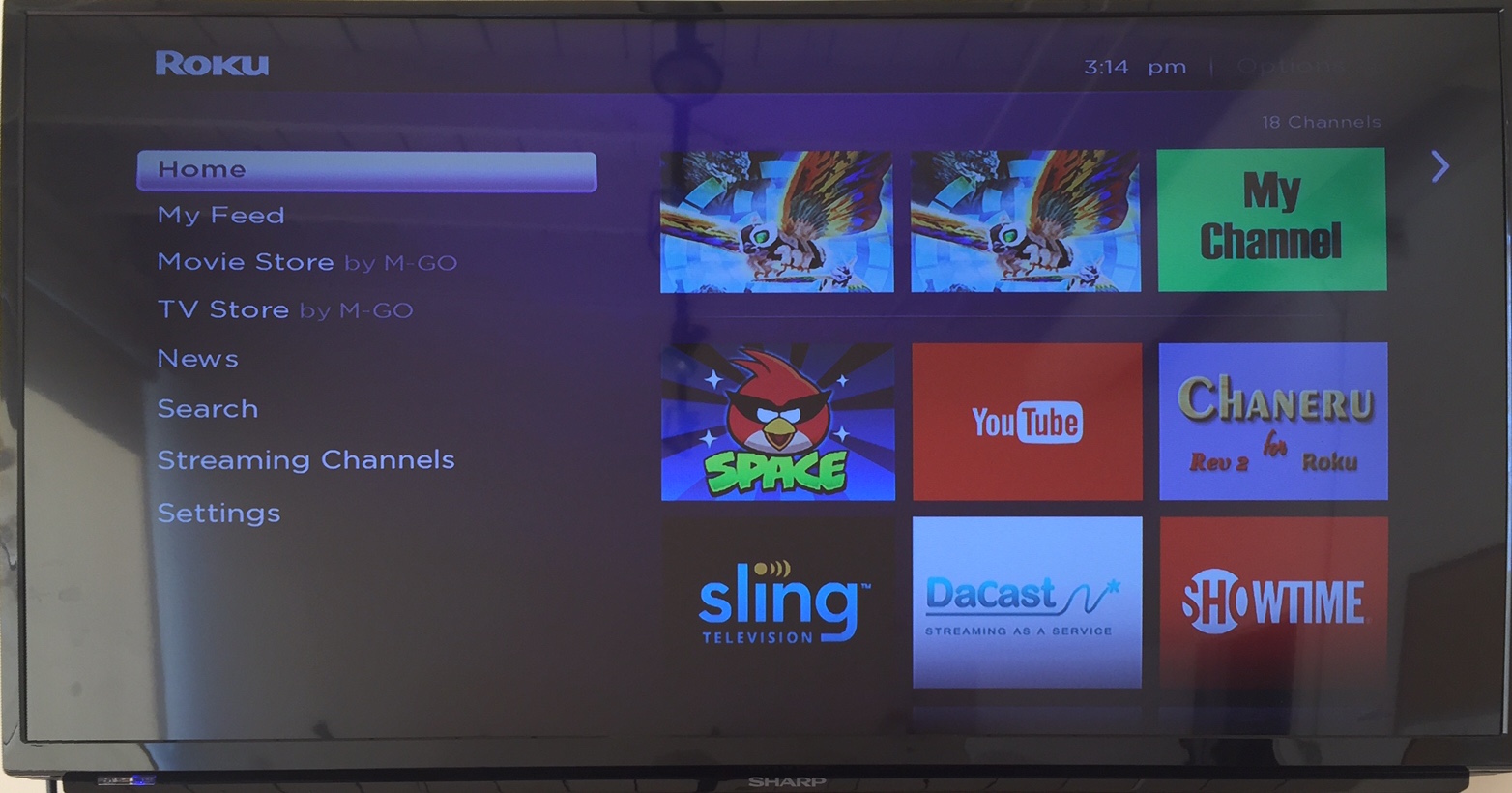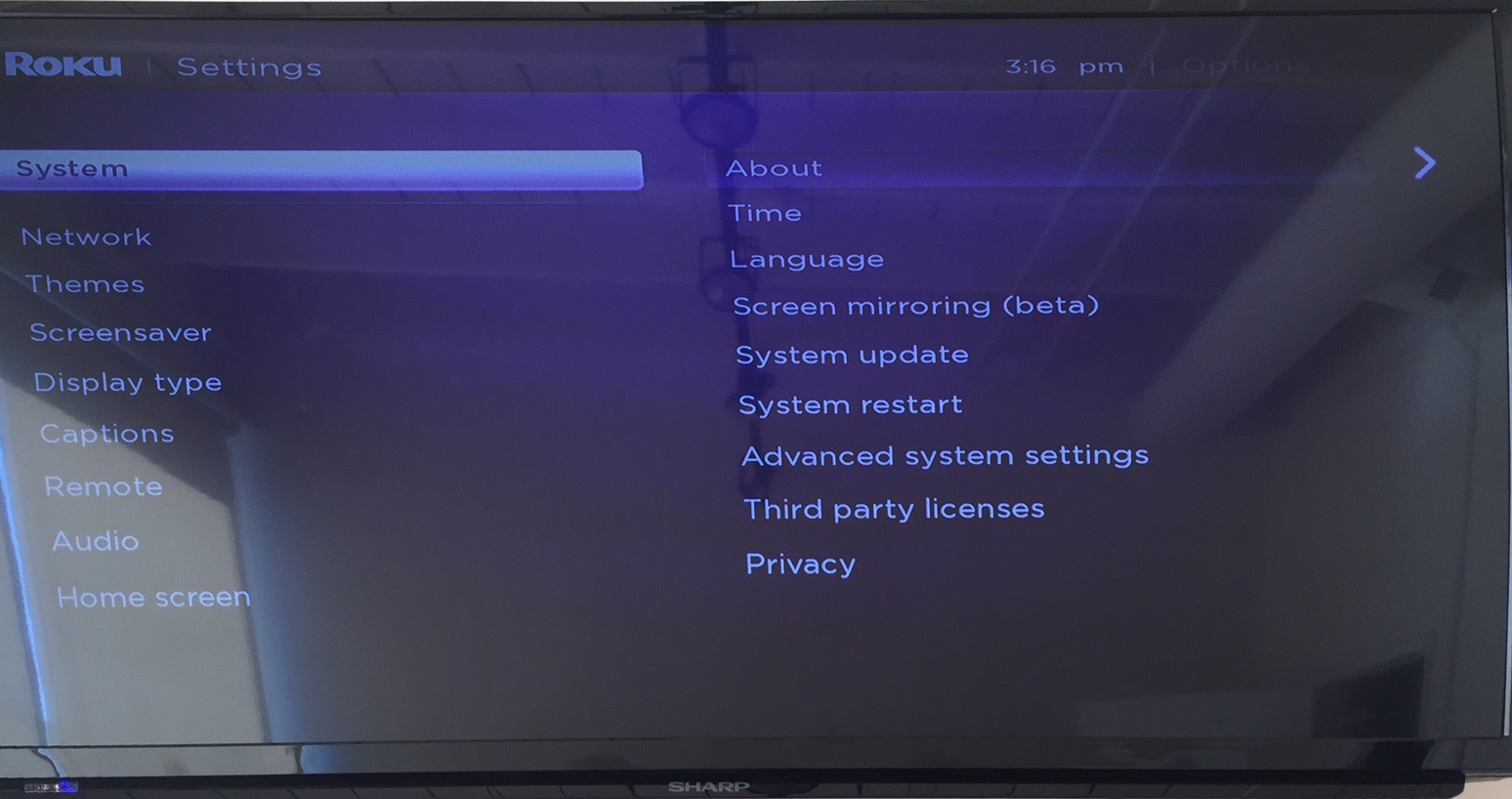 You are now all set. We hope you enjoyed this ROKU Walkthrough. For more tutorials about Streaming and VOD, please come visit our dedicated page.
New to Dacast and ready to give our platform a try? Click the button below to sign up for our 14-day free trial (no credit card required) and test out all our features for yourself. And for regular tips and exclusive offers, you can also join our LinkedIn group.
Happy streaming!