Graphics Hardware Compatibility Issues:
When using the vMix encoder, do you see the following screen appear? Specifically, do you see a message that says that "DirectX9 compatible hardware" is required?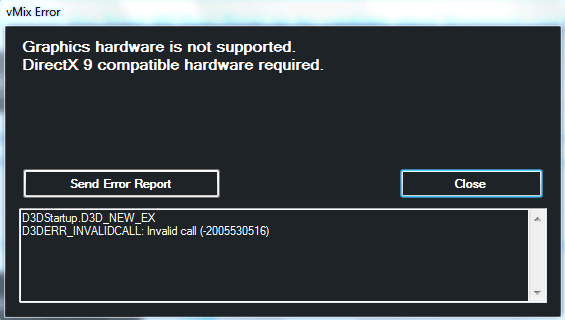 Full Error Message:
See below for the text of the error message that appears on the screen above:
"Graphics hardware not supported.
DirectX9 compatible hardware required.
D3DStartup.D3D_NEW_EX
D3DERR_INVALIDCALL: Invalid call (-2005530516)"
Resolution:
Unfortunately, this message means that your Graphics Card is actually not Direct X10 compatible, even though the message itself references "DirectX9 compatible hardware."
In order to resolve this issue, you can purchase a Dedicated Graphics Card that supports Direct X10 or above. When using vMix, we recommend in particular a Nvidia card with at least 1 GB RAM recommended. Check out this DaCast article on video streaming software and corresponding system requirements:
/blog/streaming-video-software/.
Further Issues:
If you're still not able to resolve the issue yourself, don't hesitate to get in touch so that DaCast can provide further support!