When using the vMix encoder, do you see a message that says the following message:
DirectX9 compatible hardware required.

D3DStartup.D3D_NEW_EX

D3DERR_INVALIDCALL: Invalid call (-2005530516)"
If the following window appears with that message, you must get to the root of the problem before you start streaming: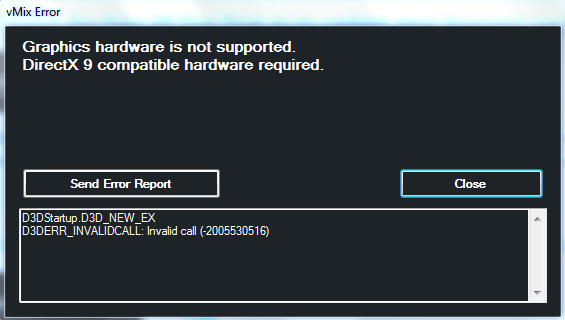 Solution:
Unfortunately, this message means that your Graphics Card is actually not DirectX 10 compatible, even though the message itself references "DirectX 9 compatible hardware."
In order to resolve this issue, you can purchase a Dedicated Graphics Card that supports Directx X10 or above. When using vMix, we recommend in particular a Nvidia card with at least 1 GB RAM recommended.
vMix System Requirements:
There are a few system requirements that you should follow when using vMix to avoid further issues.
The minimum system requirements for vMix include:
A Windows PC running Windows 7 or newer (Windows 10 recommended)

A 2 GHz dual-core processor or better (Intel Core i7 at 3 GHz or higher recommended)

1 GB or DDR2 or faster RAM (8 GB recommended)

A 7200 RPM hard drive (SSD recommended)

DirectX 10 compatible graphics card (Nvidia card with at least 1 GB RAM recommended)
For additional information regarding software requirements, you may go directly to the vMix website.
Further Issues:
If you're still not able to resolve the issue yourself, please check out our knowledge base, or don't hesitate to get in touch with our 24/7 support team so that we can provide further support.
Not yet a Dacast user, and interested in trying Dacast risk-free for 14 days? Sign up today to get started.