Video piracy is a huge issue in today's world that grows more and more digital by the day. With Dacast's platform, you can implement restrictions on embedded video players that give you more control over your content and greater protection against piracy.  There are two types of restrictions you can apply when you embed live video stream content on a website: geographic and referrer restrictions.
Setting geo-restrictions allow broadcasters to restrict access to their content based on location. The main reason for doing this is copyright and licensing agreements in those countries. It is also popular to use this security measure for internal content.
Domain control, which is sometimes called "referrer restriction," is used to protect your content from being pirated or wrongly used on any site other than your own website. These controls prevent people from taking your embed code without permission and attempt to rebroadcast it from another website. 
Geo-Restrictions
When it comes to geo-restrictions, Dacast's default setting is to allow access to "All Countries." However, you can create a new list of countries to grant access to.
To create a new list, click "Settings" then "Security" and scroll down to geo-restriction: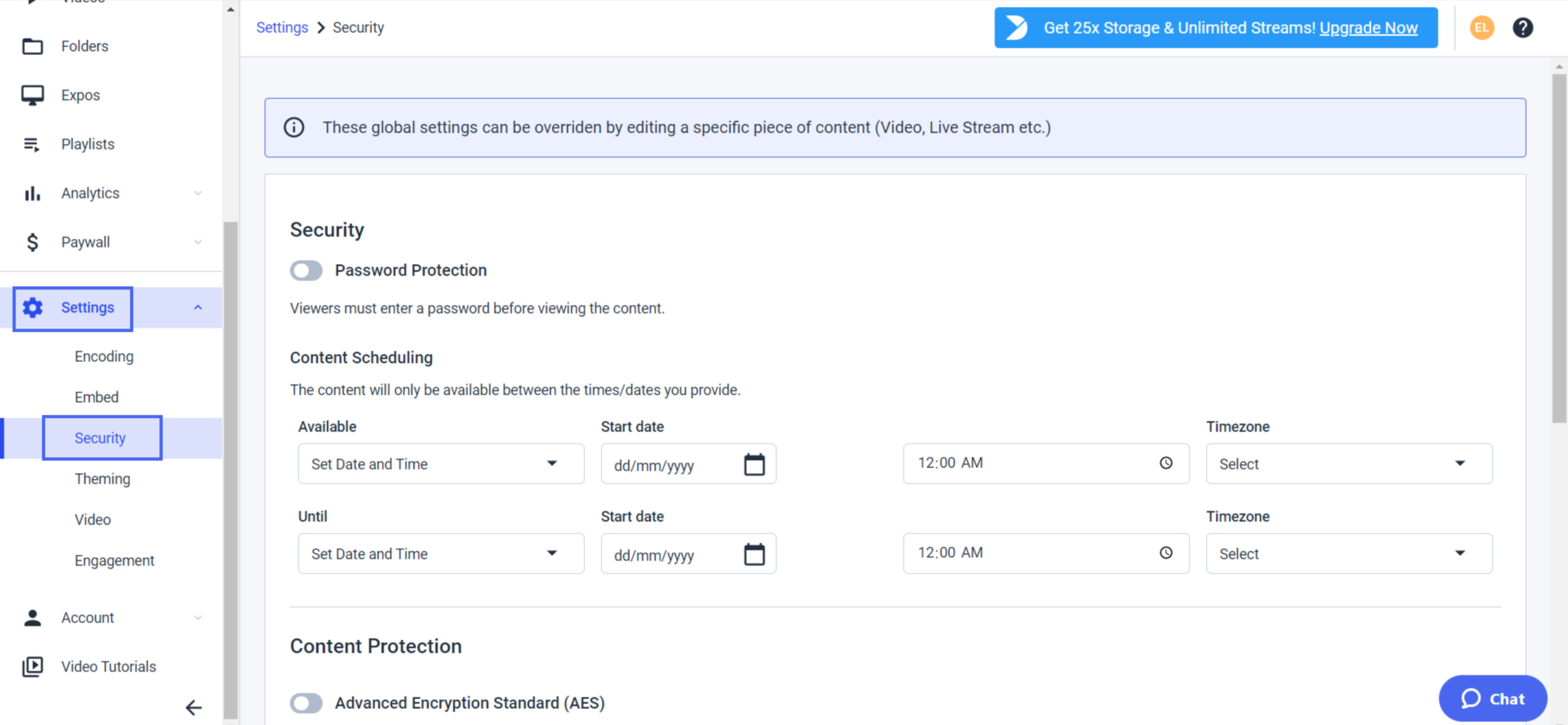 Click on "Add Group":

The first box will ask for you to name the group.  The second box will bring up a drop-down menu with a complete list of all countries. The list is displayed in alphabetical order, but you can search for any country by typing in the box. You can add up to 60 countries to your lists of allowed countries. We'd like to reiterate that only the countries that you add to your list will have access to your content: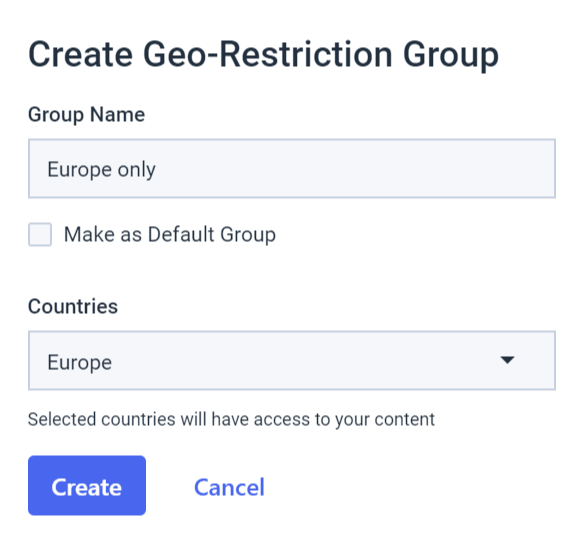 If you want to apply this setting to all your videos, check the "Make as Default Group" box, and it will automatically become your default geo-restriction setting. If you only want to apply this setting to a particular video, go to the video and click on "Edit." Go to the "Security" tab, and you will be able to select a geo-restriction group: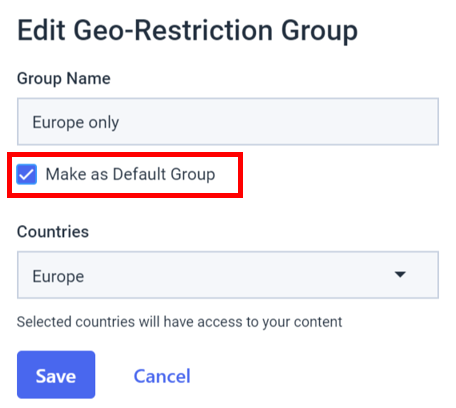 Domain Control
Domain control can be set up under Dacast's "Publish Options" menu. You can create a list of websites that are permitted to play your content.  The process to create a list of domains controlled is very similar to the restrictions process above. Navigate to "Settings," then "Security." Scroll down to the "Domain Control" section. Click on "Add a Group," and add the URLs that you want to allow to play the video:

If you want to apply these restrictions to all of your videos, check the box beside "Make as Default." You can save these groups to save for future use.
Please note that domain control does not work when you embed your video player with the iframe embed code. It only works with the Javascript embed code. Luckily, Dacast offers iFrame protection.
This means that if at any time you find your content being shared without permission from an iFrame, Dacast will disable the code and your video can no longer be played through iFrame embed codes. We also block potential content thieves looking to steal content by pulling out the direct URL from your Dacast embed code and sharing videos privately by embedding it in other places.
Any questions about Dacast or do you need help/advice with this feature?
Please contact us. Not yet a Dacast user, and interested in trying Dacast risk-free for 14 days? Sign up today to get started.
Additional Resources