You add a password to your live streams, VOD files and playlists on Dacast. With the help of the global settings feature on Dacast, you can apply the same password to all of your content.
Please keep in mind that if you have some content that you would like to apply a different password or if you would like to remove it altogether, you can do that on the individual video, livestream or playlist setting.
Global Settings on Dacast
Settings that you configure on your global settings will apply the password throughout all your content on Dacast.
To apply a global password, navigate to Security under the settings icon on the left side of your Dacast dashboard. Toggle the Password Protection to ON, and type your password. Click Save at the bottom of the page when finished.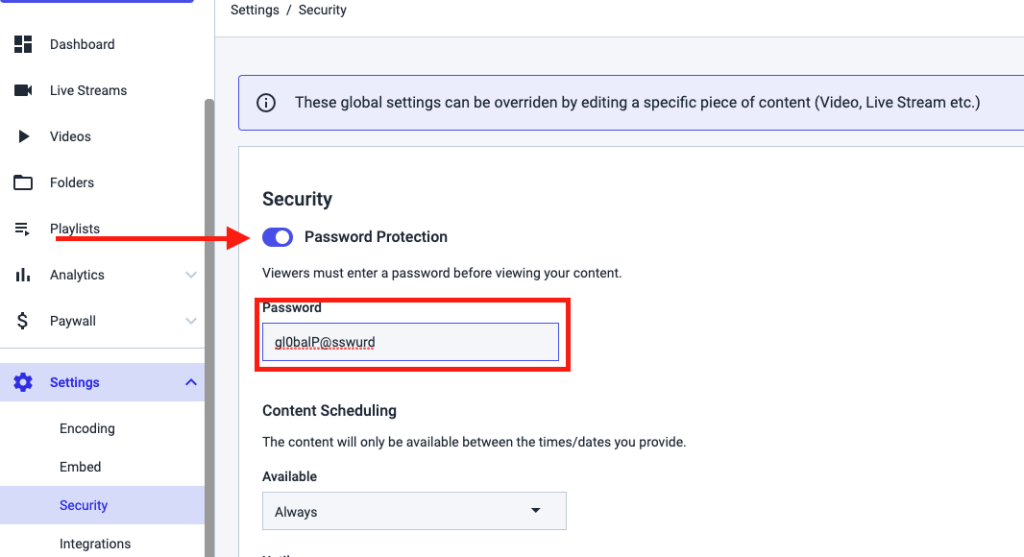 This password will be applied to all of your content. If you would like to remove this global password from a specific file, navigate to the Security tab of the content you would like to remove the password from.
Click on the padlock icon. This will remove the content from the global settings and give you the ability to change the password or disable password protection. When finished, click Save.

If you would like the content to revert to the global settings, simply lock the padlock on the Settings tab. Refresh the page and you will see the password settings are now restored to the global settings.
Additional Resources