How to Buy Video Bandwidth and Storage for Streaming on Dacast
Streaming and hosting videos on Dacast uses both video bandwidth and storage. In order to generate an estimate of how much bandwidth youll need, we suggest checking out our bandwidth calculator.
In this post, were going to walk you through the process of buying extra bandwidth so that you never run out when youre in need.
Before we get started, feel free to check your remaining video bandwidth to see where your account stands.
How to Buy Bandwidth
On the left sidebar of your Dacast account, click Account > Plan > Additional Data. You will see the pricing indicated on a chart. The higher the bandwidth, the lower the price.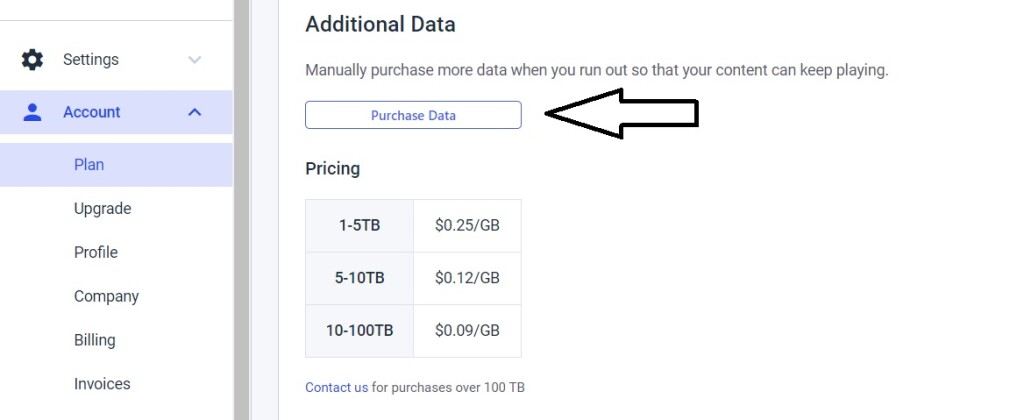 When you click on the Purchase Data button, you will be redirected to the next window. Simply indicate the amount of bandwidth you wish to purchase.
In this example, based on the pricing, 1 to 5TB cost $0.25 per GB, so in order to purchase 1TB, you put 1000 (1TB=1000GB). The price will then cost for this purchase at $250 (1000GB x $0.25).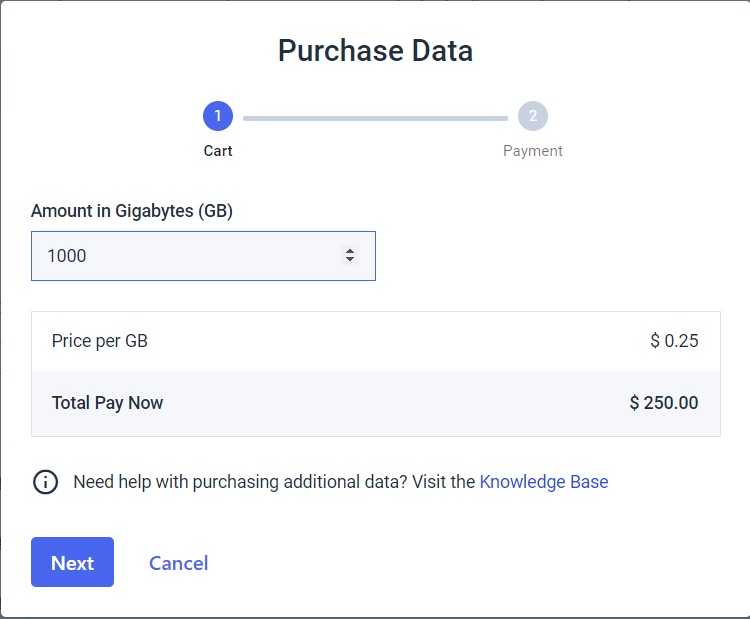 When you click the Next button, you will need to input the mode of payment. You can choose one that is already saved on your Dacast account or use a new one.
How to Purchase Extra Storage
If you are over your storage limit, the extra storage will then be billed to you monthly. Pricing would vary depending on the plan.
For example, Developer Plans and Event Plans are charged $0.15 a month for each GB of storage they go over their limit.
If you want to purchase extra storage on your Dacast account beforehand, you can get in touch with your account manager directly or our 24/7 support team, who will then push your request directly to the account manager.
Another option is to increase your included storage by upgrading to a higher plan.
If you have any questions about video bandwidth or need help with this Dacast feature, feel free to contact us directly.
Not yet a Dacast user, and interested in trying Dacast risk-free for 14 days? Sign up today to get started.
Additional Resources:
Subscribe Now
Stay up-to-date with the latest features and product releases. Cool tips, expert advice and more.