Video Management Software: How Businesses Optimize Delivery of Online Video
Businesses are increasingly investing in online video. And it's no surprise why that's the case. The global video streaming market is estimated to be worth $184.30 billion by 2027. That market includes an exploding OTT and media industry, eLearning, live sports, and the online video for events and training. One key part of business success in this market is Video Management Software (VMS).
In this post, we'll discuss Dacast's Video Management Software capabilities and benefits. We'll also review specific use cases as to how our customers are using the software today. But first, let's get started with a brief introduction to Video Management Software and how it works.
What is Video Management Software (VMS)?
Video Management Software, or VMS, is a platform that helps professionals to manage libraries of online video content. In the past, online video was a small operation. Even the biggest providers may have had, at most, only a few hundred videos. Today, however, the game has completely changed. A modern library of online videos can easily include hundreds or thousands of individual files. And the largest collections of video may extend even further than that.
Let's say your business has created some quality video content for internal onboarding, external marketing, or both. How do you organize, search, and manage this sort of sprawling data? The solution is to use Video Management Software. VMS provides tools to organize and manage modern libraries of video content.
How to Use a Video Management System to Organize and Manage Video Libraries, Large and Small
Next, let's dive in with some detail and examine how the VMS process works. We'll use the Dacast platform in our examples to demonstrate how a video management system works in practice. Let's jump in with the first step: organizing your video content.
(1) Organize Your Video Library with Categories
The first step when using a VMS platform such as Dacast is to organize your video into categories. First, note that categories are the broadest level of organization for your content. The categories you choose will depend on your specific industry and how you choose to organize. Also, note that categories are listed publicly and used as metadata for your video. Therefore, choosing the right category can help with SEO results as well.
Now, let's review how to set up categories for your videos. In this first screenshot, we're looking at the Dacast backend and a small library of VOD content.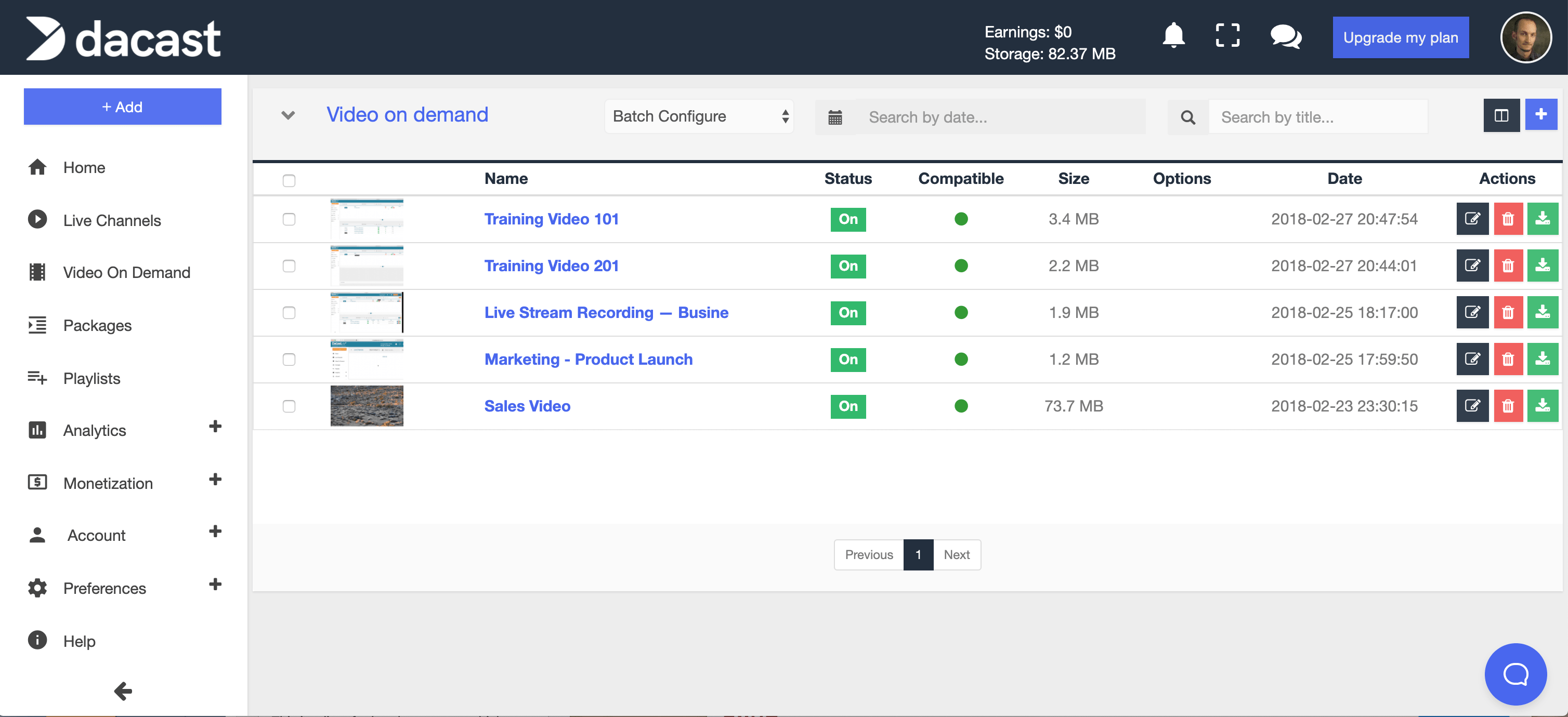 Your Dacast account comes pre-set with a variety of categories. To edit the category of a video, we'll click the black edit button and then select the correct category in the dropdown menu. Next, simply click save and your video will appear in the correct category. Categories can also be assigned at upload, or specified via the video API.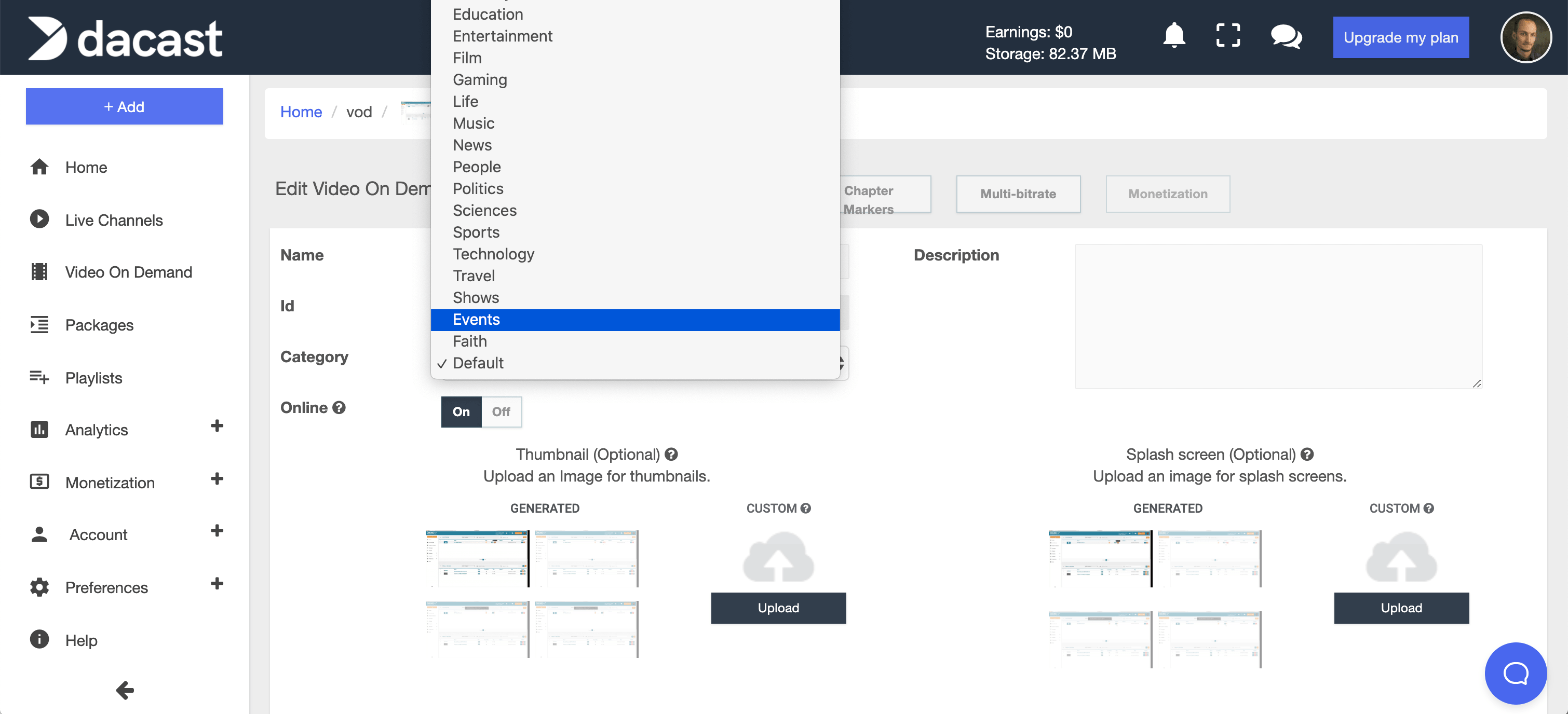 (2) Organize Your Video Library with Groups
As you can see from the screenshots below, the videos in this library are different. As your library of content expands, organizing that content can become a challenge. Therefore, we can use groups to help keep things organized. We'll start by creating two groups, as depicted below. You can create Groups in the Dacast backend by clicking the black button on the upper right, which I've circled in red. This button opens the Groups panel on the left. Once it's open, you can click the + button (also circled) to create a new group.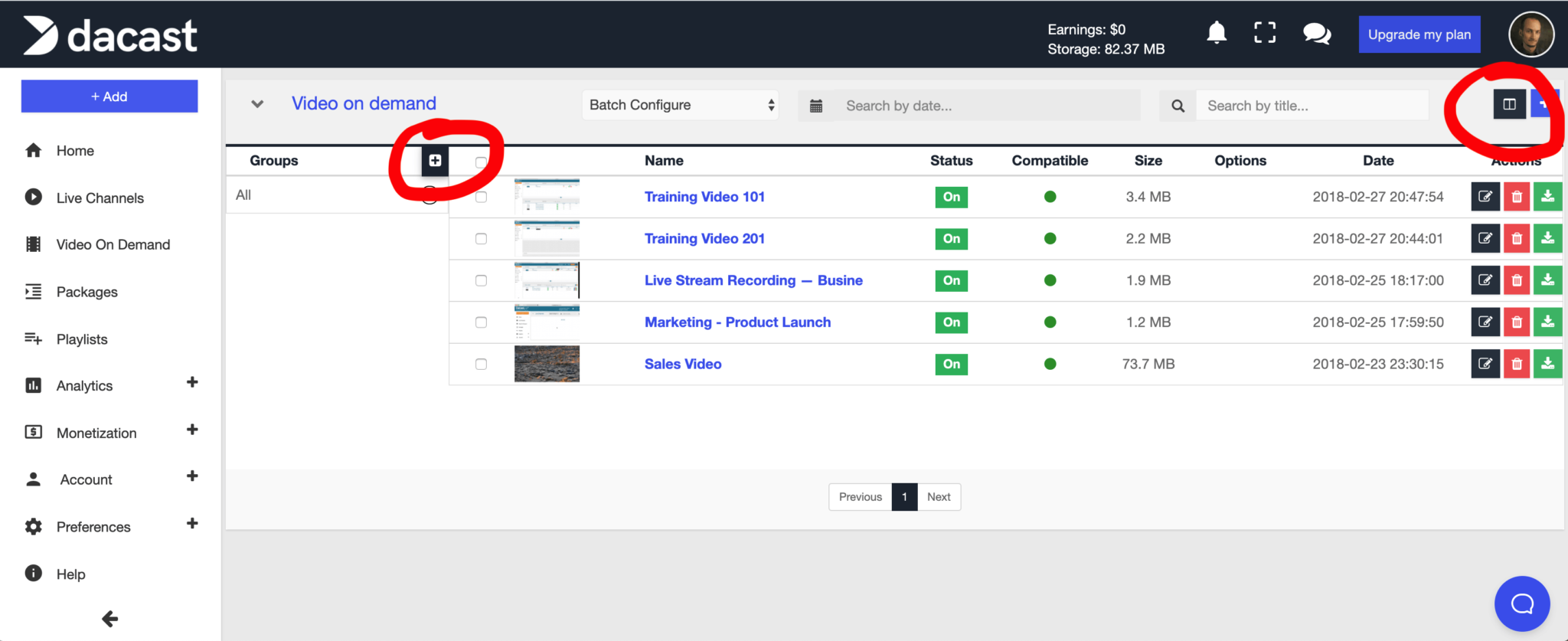 Now we can create a new group. You can use any custom title you want. In our case, I'll create two groups: onboarding (for our training videos), and marketing. Adding videos to these two groups is simple. I'll simply check the box for the videos I want to add and then click and drag them over to the new group I've created. The next screenshot shows how to do just that.
Once you've organized your videos into groups, it's easy to navigate a large video library quickly. First, open the Groups Panel. Next, click the group you want to narrow down to display only those videos.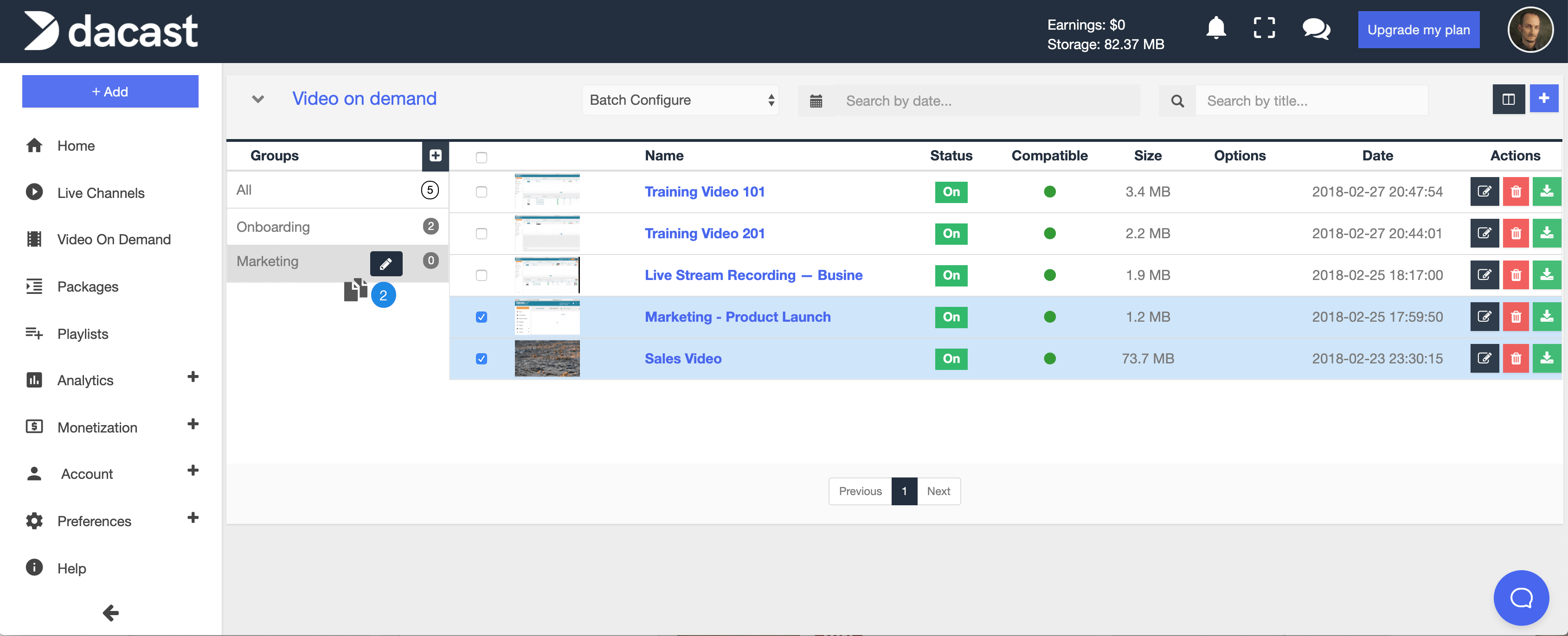 (3) Organize Your Business Video Content into Packages
Another useful way to leverage a video management system is to use packages. A package allows you to collect a series of videos into a single list. The package can be embedded on a website or sold for a single price. Viewers then watch them in series. This is ideal for educational content or anything else that runs in a series.
As our example library contains two training videos, let's put them in the same package. We'll start by creating a new package. To do so, click 'package' on the left side of the management dashboard. Then click the large + sign, and enter the name of your package. Here, I've entered "Training Videos." Click Save, and your package has been created.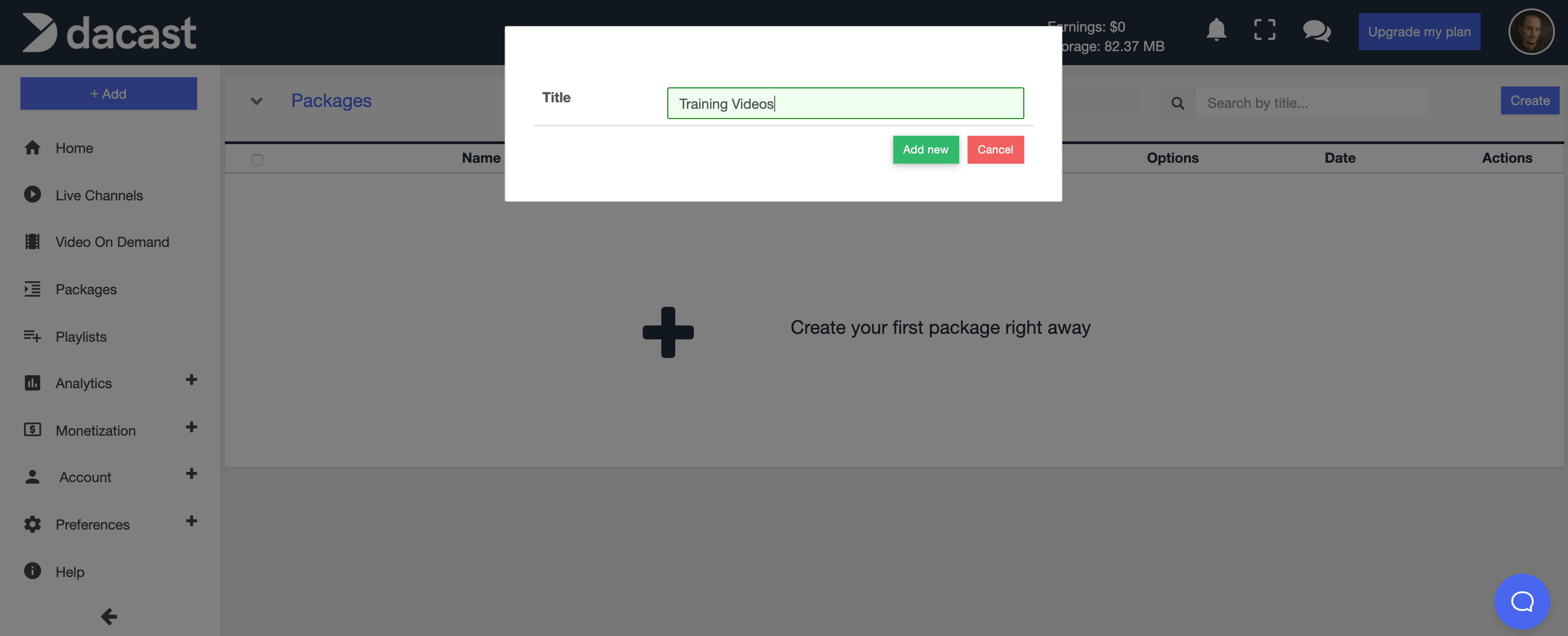 At this stage, it's time to add videos to your package. To do so, we'll click the edit button next to the name of the package we just created. The edit screen that pops up allows us to configure the settings for this package via a series of tabs. The first tab allows us to change basic settings like name, description, and splash screen. It also allows us to take the package on/offline as needed.
The second tab, "publish settings," is where we find information for publishing your package. This includes a code for embedding video on your website and options for configuring the video player.
However, we're most interested in the third tab for now: Setup. This tab allows us to add videos to the package. Click the setup tab, and make sure you select VOD. Then, simply use the plus sign buttons to add the training videos to our package. Once we've made any other final settings, we can now embed our video on our website.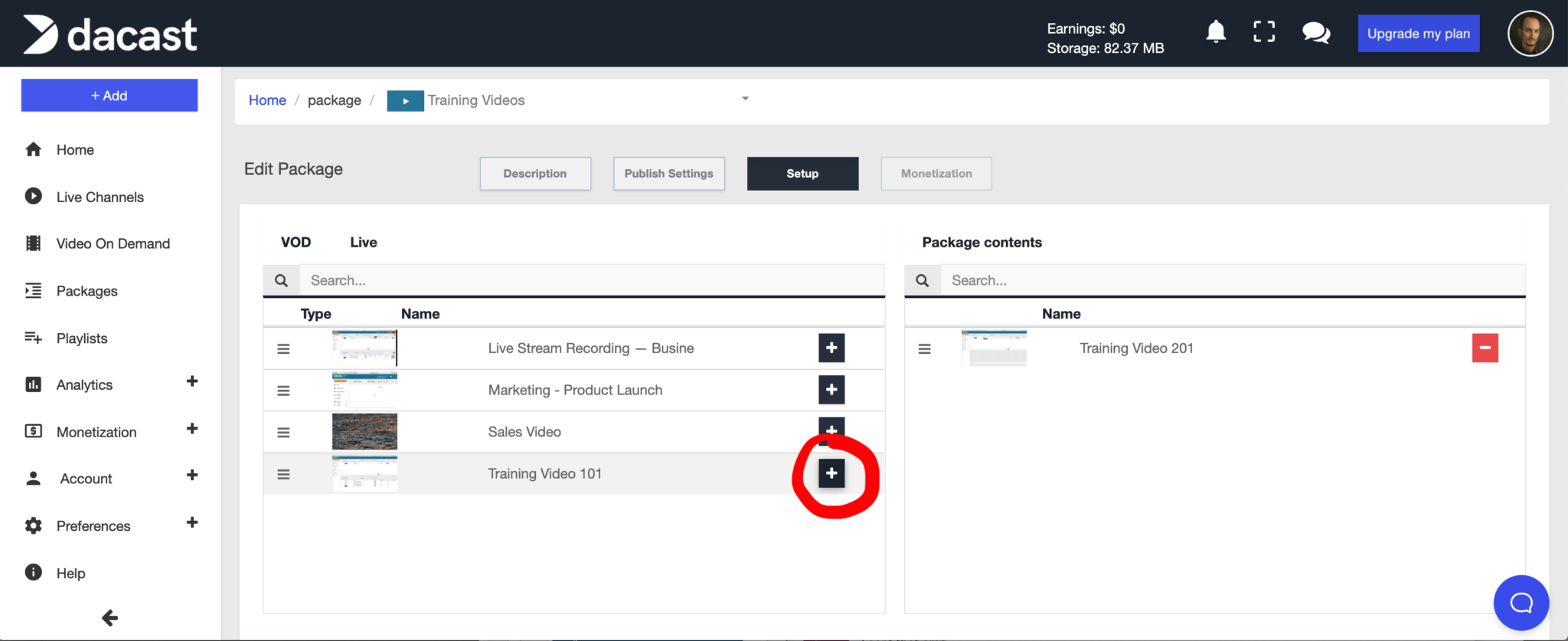 What Else Can You Do With a Video Management System?
And there you have it. This has been a brief introduction to VMS systems. Of course, a lot more is possible with a video management system. For example, a video API allows you to organize your content programmatically. That way, you can accomplish much of this work automatically and program it seamlessly into your workflow.
Dacast also offers an advanced video-on-demand platform that includes some additional video management system tools. You can purchase this as an add-on for your account, and it includes extras like AES video encryption and in-China video delivery.
Together, these tools make it easier for businesses to organize and manage large libraries of online video. And here's a sneak preview: our engineers are hard at work integrating these two platforms. Our broadcasters can expect a new unified experience that seamlessly combines the best of Dacast's live streaming platform with our advanced video hosting VOD platform soon. Stay tuned!
Conclusion
If you need a video content management system (video CMS) for hosting and publishing online videos, you should consider Dacast. Dacast offers all of the video organization features discussed in this article, and much more. We also include 24/7 technical support on all plans. And if you need assistance, Dacast offers professional services to help you with a custom integration, web development, migrations, and other tasks.
Not yet streaming with Dacast and ready to give our streaming solutions a try? It's impossible to cover all the features of Dacast in such a short article, so we've made it easy for you to test the platform yourself. We offer a 14-day free trial, no credit card required. We'll have you up and streaming live in a matter of minutes. Alternately, if you want to discuss your specific needs with us, reach out to our team and contact us today.
Whatever your goals, we hope this article has updated you on the top online video players available today. And if you have further questions or thoughts, feel free to leave us a comment below.
Finally, are you looking for more live streaming tips, industry networking opportunities, and exclusive offers? If so, you can also join our LinkedIn group regardless of your other goals.
Thanks for reading, and happy broadcasting!