Encoding your video files before upload is definitely an option with Dacast. If your file sizes are larger than 1GB, we actually recommend encoding with a dedicated software before uploading.  There are a number of free services out there that will aid you in doing this. We recommend you try either Handbrake and Zamzar. No matter which encoding software you choose, be sure to select an output format that we currently support.
What is Encoding?
Before we get into pre-uploading encoding, let's take a moment to discuss what encoding is and which encoder settings are required for Dacast.  Encoding is a process used to convert the RAW video files captured by a camera into digital files suitable for live streaming over the internet.
Required Encoder Settings
The following encoder settings are required for live streaming with Dacast, regardless of your selected resolution and bitrate:
| | |
| --- | --- |
| VIDEO CODEC | H.264 (x264 may work) |
| FRAME RATE | 25 or 30 |
| KEYFRAME INTERVAL | 3 secs (or 3x frame rate) |
| SCANNING | Progressive |
| ENCODING BITRATE | Constant (CBR) |
| AUDIO CODEC | AAC |
| AUDIO BITRATE | 128 kbps |
| AUDIO CHANNELS | 2 (Stereo) |
| AUDIO SAMPLE RATE | 48 kHz (48,000 Hz) |
How to Encode Video Files Before Upload
There is something very important to note before we dive in. To ensure that your videos are not encoded a second time after uploading, you will need to select "Do Not Encode" in your encoding settings.  Once you've made sure this setting is correct, it's time to get started.
Go to Settings > Encoding (as highlighted in red on the left side of the screen.

Select "Create Recipe" on the right.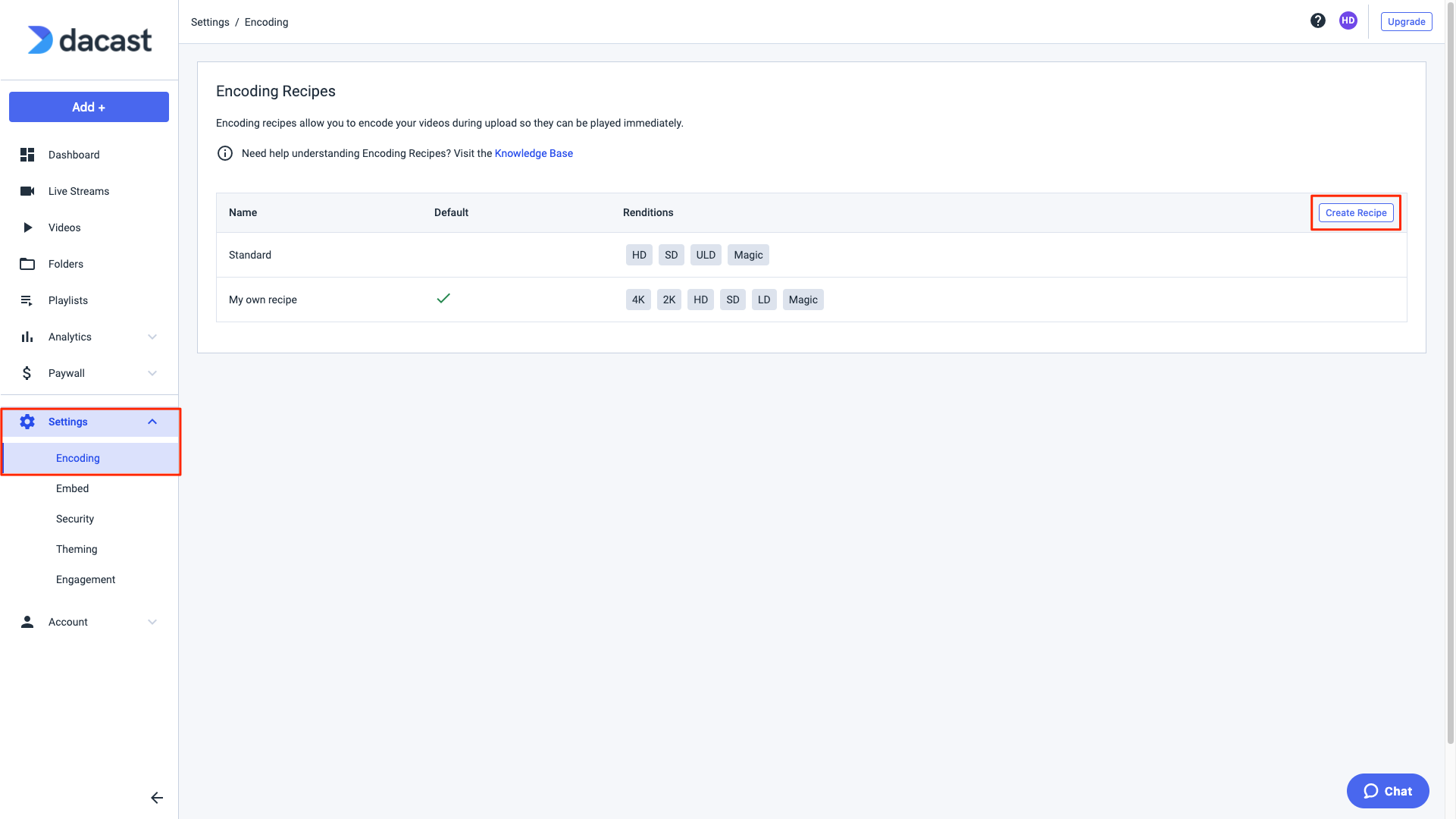 3. In the space provided, add the "Recipe Name" of your choosing, then select "Next" below.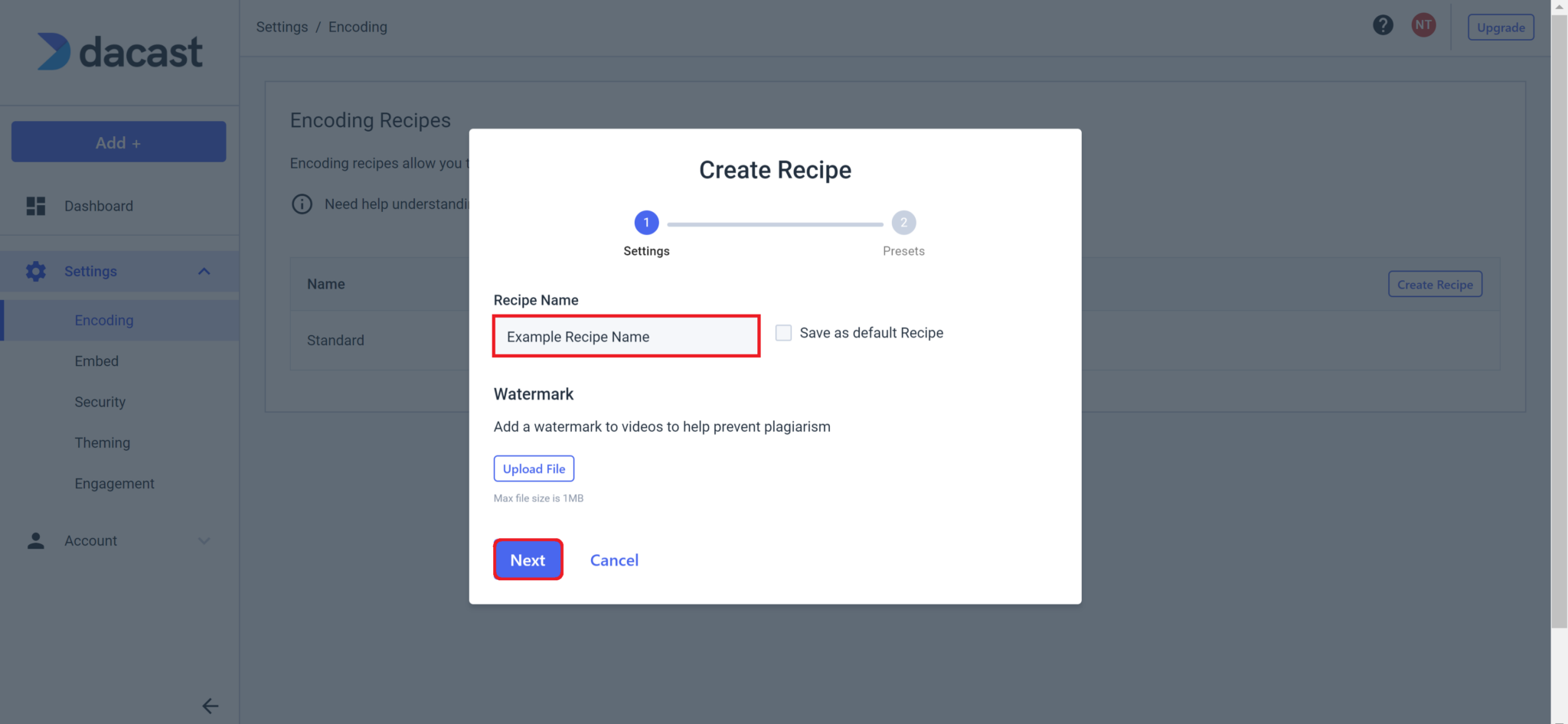 After clicking "Next" you will automatically be brought to the "Presets" step.       
     4. Scroll to the bottom of the page menu and select the "Do Not Encode" option.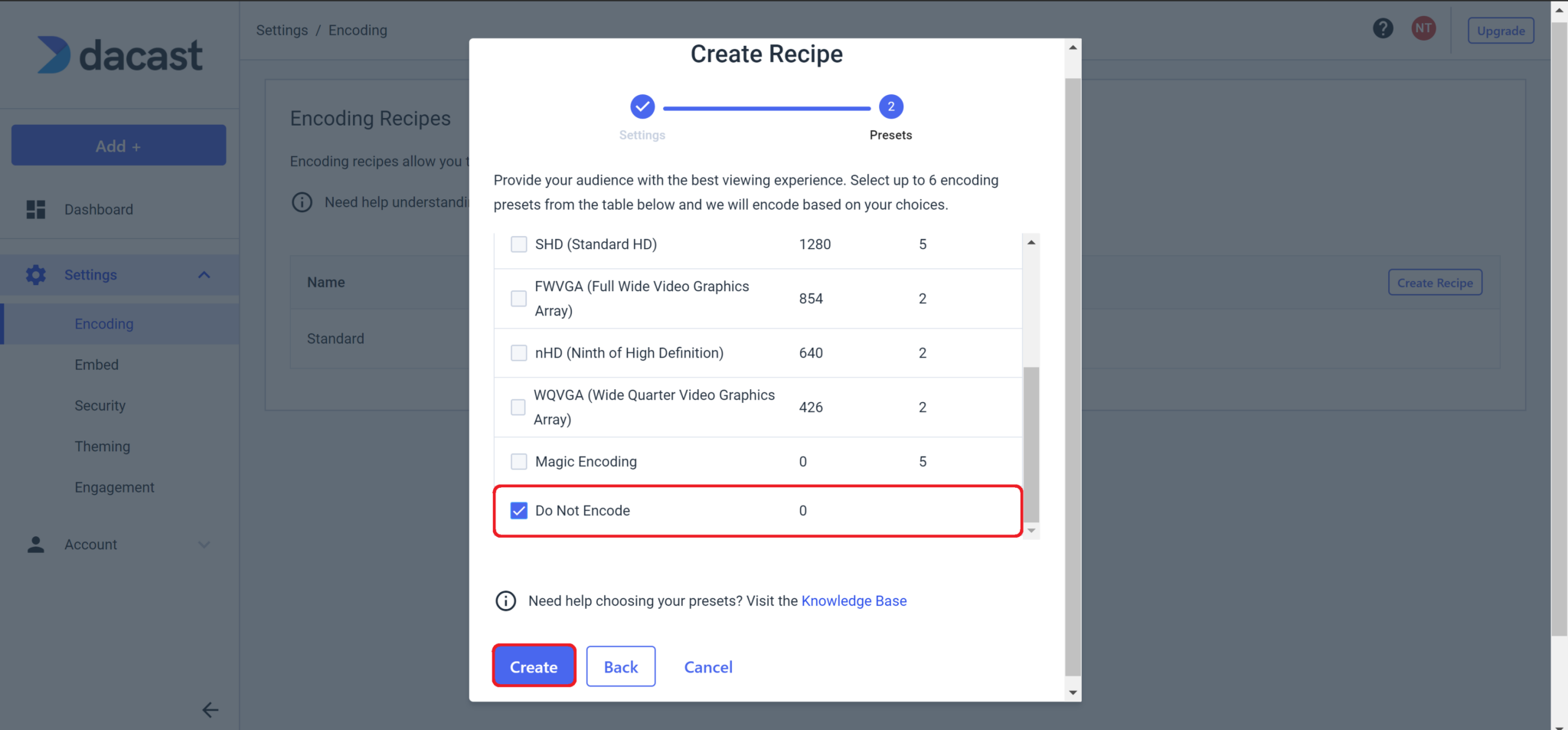 5. Click "Create" once you have selected your desired preset options. Using the "Do Not Encode" preset means we avoid encoding the video again and preserve the original source. This also means a quicker upload time. Please note that the source file must be in the MP4 (H.264 encoded) format if you decide not to encode the file again.  Disabling the encoding feature means that the source video file will then be played in your video player, and this will be the default setting for all your future video uploads. We recommend that you encode the video with a constant frame-rate. We use a constant 30fps internally. Finally, ensure that the MPEG Moov Atom is at the beginning of your file. For more, please see Understanding the MPEG-4 movie atom. The software you use to render your .mp4 will probably have a setting to do this. It may be called "Web Optimization" or something similar.
Additional Resources