Video Transcoding: Technology You Need to Improve Your User's Experience
In a late 2017 study, 63 percent of streaming video viewers cited buffering issues as the most serious problem they encounter. That number represented an increase from the 2016 figures, and the same findings are true today. 
Overall, they point to a very serious challenge with online video. How can you provide a good quality video streaming experience to all of your users? Broadcasters have found that the best way to mitigate this potential problem is through video transcoding.
What is video transcoding? Today, we are going to review several topics related to live video transcoding and answer that question for you. 
We will cover how video transcoding works, how to maximize the quality of experience for viewers, the differences between video transcoding locally versus in the cloud, and streaming solutions for multi-bitrate video. These topics are woven together to prepare you to broadcast the best-quality video for all of your viewers.
By the end of this article, you will be able to answer the question, "What is video transcoding?" yourself! 
Table of Contents
What is Video Transcoding?

Codecs, Bitrate, Resolution, and File Size

What are the Standard Transcoding Settings?

Maximizing Quality of Experience for Viewers

Adaptive Video Player for Multi-Bitrate Streaming

Live Streaming vs. Video-on-Demand in Multiple Bitrates

Video Transcoding Locally vs. Cloud Transcoding

Conclusion
What is Video Transcoding?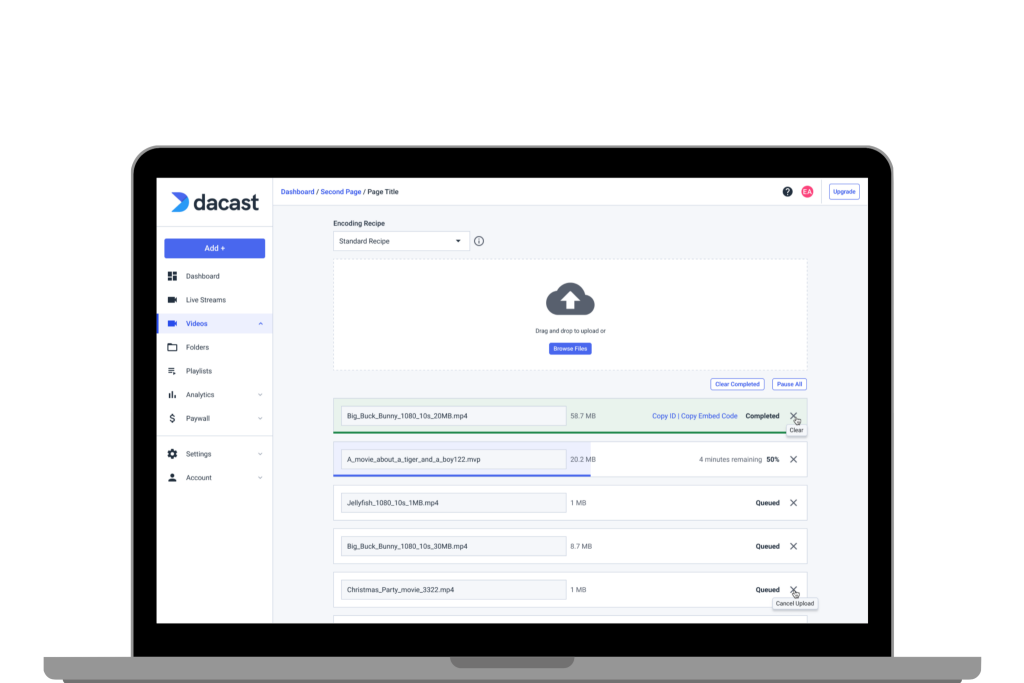 What is video transcoding? Simply put, video transcoding is the process of creating multiple versions of the same video in different sizes. Each discrete version has an optimization that's ideal for users with different internet speeds. 
In other words, video transcoding allows you to deliver high-quality videos to users with fast internet speeds while simultaneously delivering lower-resolution videos to viewers with slower internet. 
Video transcoding allows you to provide all of your viewers with the best possible experience.
The end result, ideally, is decreased buffering and latency for all your viewers. Video transcoding improves the video viewing experience for your viewers. 
The reason that transcoding is necessary, to begin with, is that video files are very large. In other words, video files consume a lot of bandwidth and device memory during transmission over the internet.
To address the large file sizes of video, broadcasters use a technology called "codecs" to compress them. 
The most common video codec today is called H.264, but there are many other codecs as well. Overall, all codecs work in a similar way. Namely, they remove extraneous data from the video feed to reduce file size while maintaining as high-quality video as possible.
Technically speaking, video transcoding refers to the process of taking an existing video file (or ongoing stream) and re-encoding it with a different codec or different settings. Generally, when someone makes a video recording, we call the resulting file a "master" file.
This master file is the best quality recording that exists. Any subsequent versions usually encode down the quality—that is, video transcoding renders a lower resolution and/or lower bitrate copy. 
Note that "up-encoding," or video transcoding to a higher bitrate, is impossible. However, limited up-rezzing (increasing resolution) is possible, but this comes with a loss of quality.
Video transcoding most commonly refers to taking the master file and encoding down the quality. 
Codecs, Bitrate, Resolution, and File Size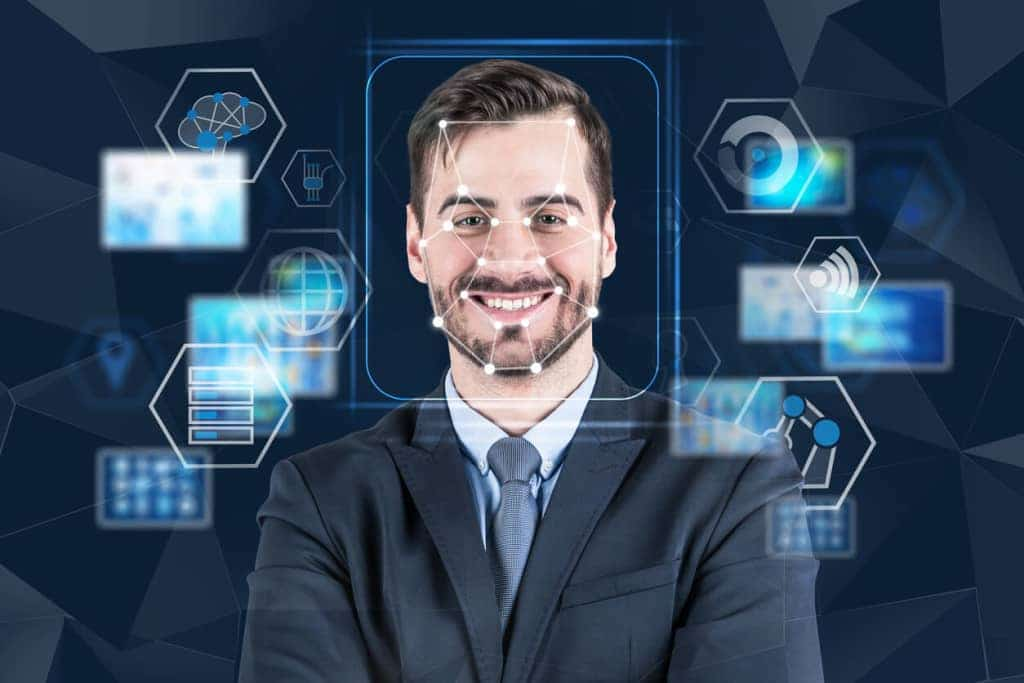 Choosing the right Codecs, bitrate, resolution, and file size settings is important to ensure your viewers have the best possible quality allowed by their bandwidth and devices.
As we've stated above, video transcoding can help to provide smaller versions of the original file. As an example, let's imagine that you encode your master file using the following settings:
Codec: H.264
Resolution: 1920 x 1080 (full HD)
Bitrate: 6 Mbps
Audio: AAC, 44.1 kHz, 164 kbps
From this original file/stream, we would typically recommend that broadcasters create a few different lower-bitrate, lower-resolution versions. These alternatives can provide a better viewing experience by allowing viewers with slower internet speeds to watch your stream.
For example, these alternative versions might include:
720p version at 4 Mbps
480p version at 1.5 Mbps
360p version at 1000 kbps
While the standard encoding settings will work for most, you have the flexibility to adjust them so that they make the most sense for your streaming goals.
Using video transcoding settings that allow for multiple versions will allow you to provide your viewers with the best possible experience. 
What are the Standard Transcoding Settings?
Dacast uses the most common file formats for video transcoding. These standard settings include the following:
Video codec: H.264

Audio codec: AAC

Video file format: MP4

Resolutions supported: 1080p, 720p, 576p, 480p, 240p
Any video files that you transcode with Dacast will automatically use those settings.
You don't have to input these settings; these video transcoding settings are already established for you with Dacast. 
Maximizing QoE (Quality of Experience) for Viewers
Quality of experience is highest when a viewer is delivered the sharpest possible video, continuously, with no interruptions.
When viewers watch a poor-quality stream, they often become frustrated or upset. After a negative streaming experience, a viewer is much more likely to leave the stream and to view your brand negatively.
One survey found that 62 percent of viewers view a brand negatively if they publish a poor-quality video. This points to the importance of quality for video streaming. As we mentioned, video transcoding offers a solution to this issue. 
Transcoding opens doors to multi-bitrate streaming with an adaptive video player.
Why transcode a video? So you can give your viewers the best possible experience, and create a positive image of your brand. 
Adaptive Video Player for Multi-Bitrate Streaming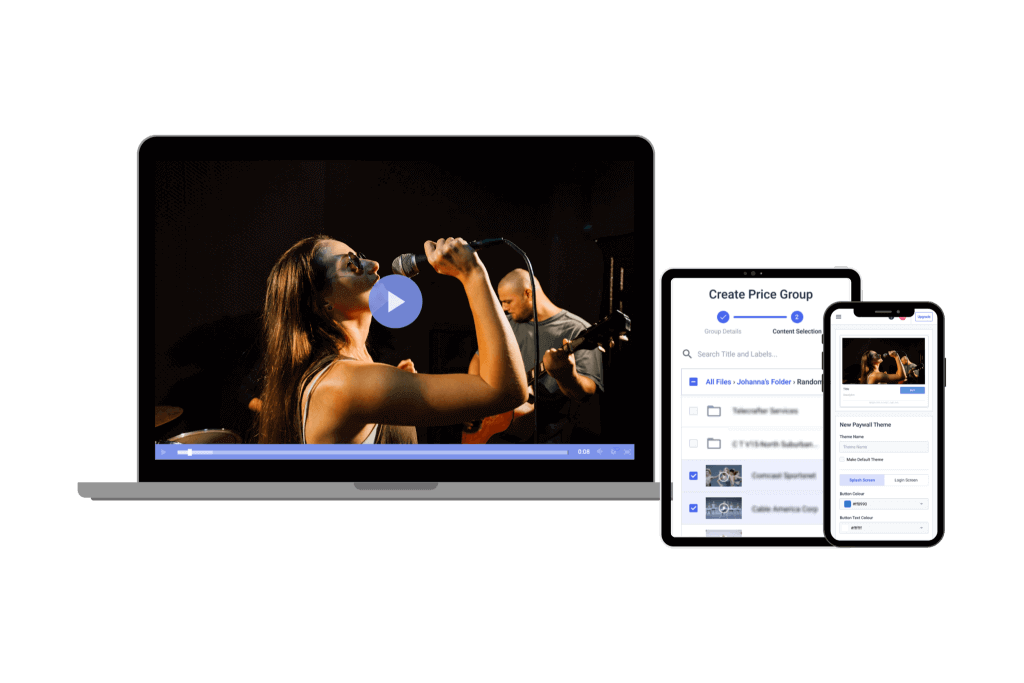 Multi-bitrate streaming (MBR) allows your viewers to access the best possible video quality at any given time. In some cases, they can manually select the best resolution, and in others, the best resolution for their internet speed is automatically selected.
The technology that delivers a multi-bitrate stream is called an "adaptive video player."
An adaptive video player automatically detects the internet speed of any given viewer. Then, the player attempts to deliver the appropriate-quality video from the available options. 
Adaptive video players also allow viewers to manually select the video quality from a menu within the player window. Today, most of these video players are native HTML5 players.
Research has found that online videos with a start-up time exceeding even two seconds have significantly higher streaming video abandonment rates. In fact, each incremental second of start-up time propels another 6% of viewers to tune out. 
Given these findings, an adaptive video player with transcoded videos is essential for today's broadcasters.
Live Streaming vs. Video-on-Demand in Multiple Bitrates
Video transcoding is easy for video-on-demand files. For live streaming, however, the process is a bit more complex. You can achieve the same effect via multi-bitrate live streaming.
To make this a success, you must set up multiple different outputs in your live stream encoding software or hardware. Each output should correspond to a given bitrate/resolution that you wish to stream live. 
The encoder will create versions of the stream that correspond to each setting then send each of the versions to your online video platform simultaneously.
The only drawback to this method is that it requires more processing power and more upload bandwidth. Despite the minor drawback, we do recommend that everyone take advantage of multi-bitrate live streaming to reach as many viewers as possible.
Multi-bitrate streaming is the live streaming alternative to video transcoding VOD content. 
Video Transcoding Locally vs. Cloud Transcoding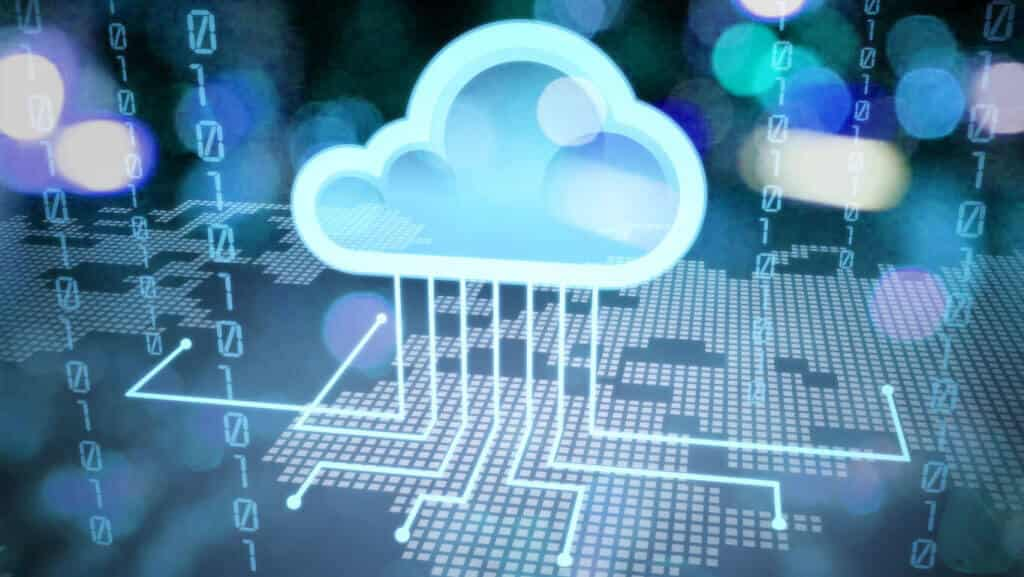 Generally speaking, there are two ways to transcode your video: locally or in the cloud. There are benefits and drawbacks to each approach. 
In most cases, local video transcoding is a bit slower. It also results in multiple files that you must upload and manage separately. However, it's an affordable approach to video transcoding. 
Local transcoding usually involves using video editing or compression software (like Avid, Final Cut X, Compressor, or Adobe Premiere). This software allows you to transcode a video file on your computer.
You will have to manually transcode and save multiple versions of the video. 
Cloud transcoding, on the other hand, may entail specific pricing plans. In some cases, limited cloud transcoding capabilities may come with an online video platform.
If you're using a cloud video hosting solution, such as the Dacast platform, you first upload your "master file" to the Dacast platform. Then, you can click through to the "multi-bitrate" options for that file. Once there, you can select various resolutions and transcode your file into those versions.
With a professional OVP like Dacast, you can also select "auto-encoding" when uploading a video. This option automatically transcodes your VOD into several different renditions and makes them available to your viewers.
Conclusion
We hope this article has clearly introduced you to key concepts around video transcoding for both online video and live streaming. As these topics determine QoE, we think it's an important subject for any broadcaster to understand.
Do you already have a video streaming solution? If not, we hope you'll consider the Dacast platform. It's a powerful, versatile live streaming and video-on-demand hosting platform with analytics, video monetization, security, and privacy settings, and much more!
In fact, why not take advantage of our free 14-day trial (no credit card required)? Sign up for Dacast to explore our transcoding, multi-bitrate streaming, and adaptive video player features. You can test the platform risk-free for the first thirty days if you create an account today.
For exclusive offers and regular live streaming tips, you're also invited to join our LinkedIn group. Still, have further questions or feedback on this article? We'd love to hear from you in the comments below!