Comparing The 5 Best Chinese Video Platforms for Hosting [2021 Update]
Online learning has become more important than ever. It gives students the opportunity to attend their dream school, even if the physical location makes it difficult for them to attend classes on-campus.
This is especially true for students in China who want to attend schools far from home in countries like the United States, Canada, and even European countries. 
Unfortunately, the majority of online video platforms are unable to stream content to China reliably which makes it difficult to deliver video lectures and virtual classes without perfect planning.
In this post, we'll talk about the value of delivering online courses to China. Then, we will take a look at what affects the video playback quality when streaming to an audience in a foreign country before comparing 5 Chinese video platforms that support China video hosting.  
Table of Contents
Why Deliver Online Courses to China?

Roadblocks to High-Quality China Video Delivery

How to Deliver Content via China Video Hosting

Comparison of the Top 5 Chinese Video Platforms for Hosting

Platforms without China Delivery Support

Conclusion
Why Deliver Online Courses to China?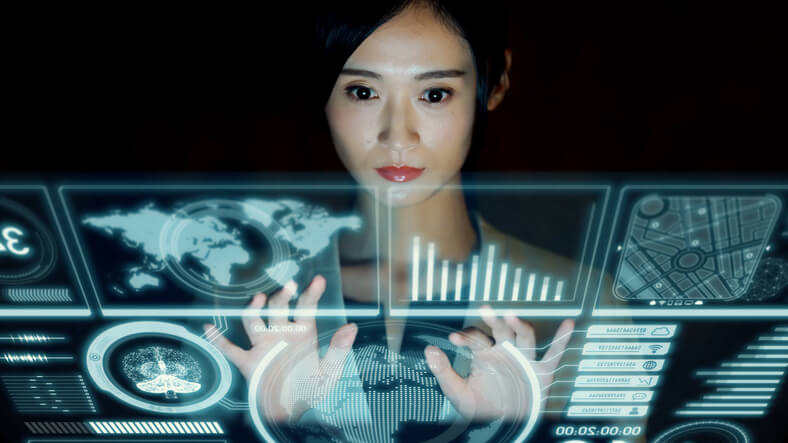 Globally, the number of students enrolled in higher education has more than doubled since the year 2000. Not surprisingly, much of that growth has come in China.
With the online courses market set to grow by 20% annually, China is poised to become one of the world's most vibrant online education markets. Growing household spending power, an under-supply of education resources and the introduction of the two-child policy are all contributing factors.
As a result, the opportunities for eLearning institutes in China are significant.
According to Education Technology Insights, there are several benefits of using videos in eLearning and remote education including:
Facilitating thinking and problem-solving

Demonstrating procedures to assist in learning

Ideal for visual learners

Easy communication of abstract concepts

Accessible on multiple devices

Reduce training cost and time
Online learning also makes specific programs more accessible to students around the world. For example, if a university in the US has the top marketing program in the world, making the classes available online brings the curriculum, lectures, and related resources to students on every continent.
Ensuring that your online education platform can be accessed in China simply opens up opportunities to millions of additional students.
Roadblocks to High-Quality China Video Delivery
Most US or European-based online video hosting platforms struggle to deliver a reliable viewing experience to China because of several different elements. Even if the video content is able to get through the government's censorship tools, it often does not load or buffers regularly resulting in a very poor viewing experience. 
Let's take a quick look at the three core issues that affect video playback speeds in China.
The Great Firewall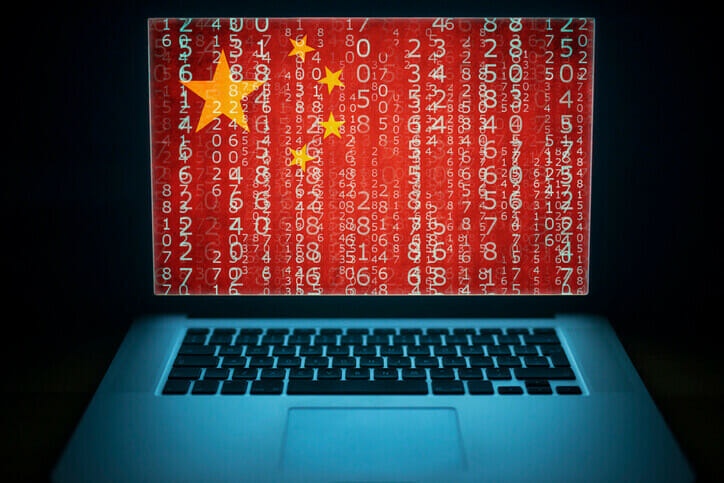 The Great Firewall of China is part of the Chinese government's control of the internet. First implemented over a decade ago, the Great Firewall is a sophisticated filtering system. Regular checks on external videos sent into China results in extremely slow loading times—particularly on first viewing.
Also, many Western websites that get a lot of traffic elsewhere are not accessible in China. Some prime examples include Twitter, Facebook, YouTube, and Vimeo. Overall, most video streaming solutions simply don't work in China.
This is because the government tries to guarantee that certain types of content—political, religious, economic, cultural, etc.—will not reach its citizens. 
In 2017, an online video service for three popular Chinese media streaming sites shut down. At the same time, the government removed foreign TV shows from online video platforms, including online video education platforms.
The most effective way to get around the Great Firewall is to go through it. This requires an ICP License, which is a special certification from the Chinese government.
Server Distance
Beyond the Great Firewall, China video hosting is extremely challenging for other reasons. In particular, it requires the content delivery network to establish a Chinese presence and acquire government licenses for server placement. 
Consequently, the majority of video providers do not serve content using China-based servers. Instead, the video most often streams from the US.
The further away the viewer is from the server, the more intermediary points the video has to go through. As a result, this can yield much longer response times. In short, the overall experience with a data-hungry format like video will be very poor in China.
Slow Broadband Speeds
The internet in China is slow with average speeds of 2.4 Mbps, roughly ten times slower than the average North American or European network. 
Video delivery demands a lot more data, so it is the first to suffer at the hands of a slow connection.
How to Deliver Content via China Video Hosting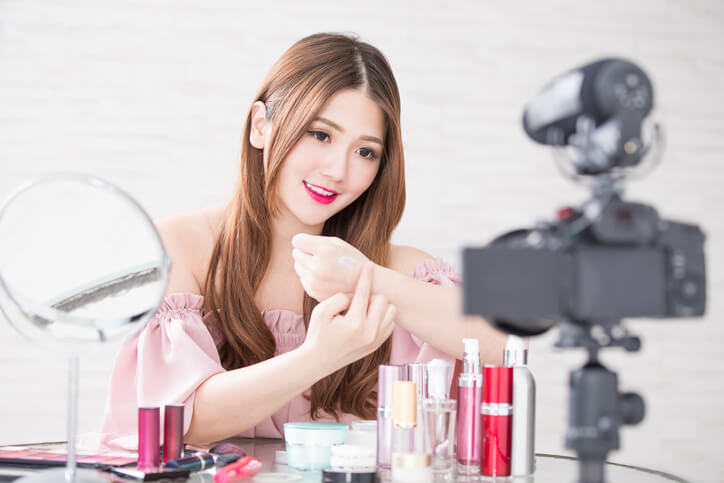 If your education institution is looking to grow your audience in China, you may be put off by the Chinese government's stranglehold on the internet. 
However, China is the second-largest economy in the world and the adoption of video is exploding. Despite the technical challenges of China's video hosting, there are many business opportunities.
Let's review the two most reliable options for bypassing the Great Firewall and streaming video content in China reliably.
Direct Connection to a China CDN
To deliver video content into Mainland China, a specialist content delivery network with servers in China is necessary. Therefore, one option for making your videos accessible by viewers beyond the Great Firewall is to manually connect to a China CDN with Points of Presence (POPs) in Mainland China. 
Some CDN providers try to reach China from Hong Kong. However, Hong Kong's network is separate from the rest of the mainland and outside the Great Firewall. This makes the overall performance about 50% slower.
Businesses choosing this route will need to acquire an ICP license. This is an extremely important step as getting the registration right is crucial. If you get it wrong, you run the risk of being blacklisted with no way to appeal.
Be aware that the process of establishing a relationship with a China CDN and acquiring an ICP license is a very long and challenging one. Overall, prepare for a lot of back and forth with the Chinese authorities. Additionally, you'll need to set up a local legal entity or representation by counsel and make a few costly trips to China, as some paperwork must be signed in person.
From a technology perspective, connecting directly to a China CDN requires substantial in-house video hosting expertise. This is because the CDN provider will not offer any additional video hosting or content management tools.
Chinese Video Hosting Platform
Going with a video streaming platform provider is an easier, more cost-effective solution to delivering video content into China.
However, not all video platforms are equal when it comes to in-China playback and China video hosting. Many online video platforms do not have the proper clearance for delivering content to China. 
The takeaway: don't assume the video strategy that works with the rest of the world also works within China.
When choosing an online video platform for higher education, you need to make sure the provider is licensed to deliver content in China and has the necessary infrastructure on the Mainland.
The number of POPs the provider's CDN has in Mainland China and where they are located is important to know. You'll want to check if they are dispersed throughout the country, or only concentrated in large areas as this will influence your video strategy.
Something else to consider is the cost of bandwidth. Bandwidth is as much as 50 times more expensive in China than in Western countries. However, there is a bit of variety in how different providers charge for in-China playback. With economies of scale, some vendors can offer cost-effective deals.
Comparison of the Top 5 Chinese Video Platforms for Hosting
There are very few video hosting platforms that offer China delivery, but we've rounded up some of the best ones for you to consider for delivering your eLearning content to China.
Dacast, Panopto, Wowza, IBM Cloud Video, and JW Player are the top 5 platforms capable of video hosting for higher education in China.
1. Dacast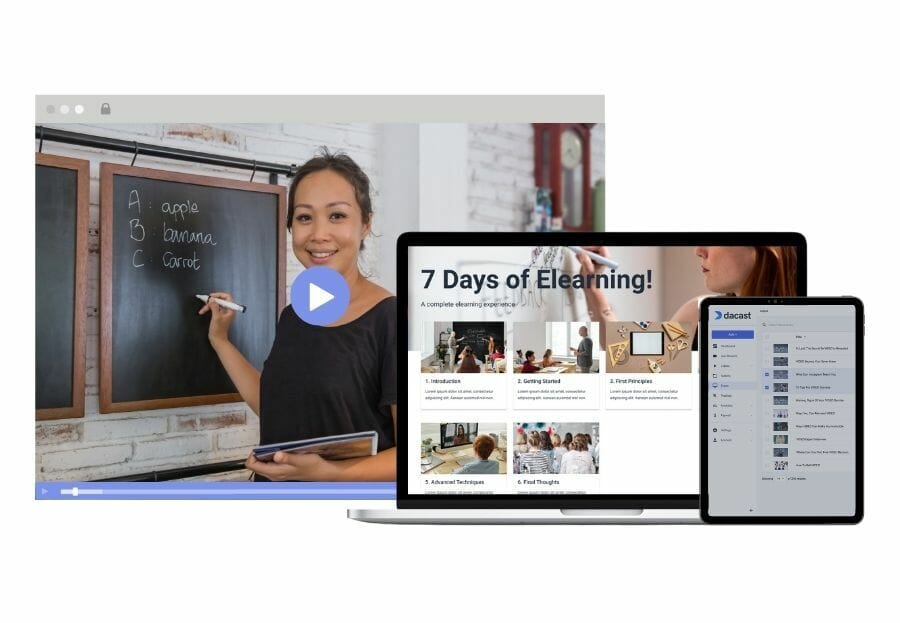 Dacast's unified streaming solution is a great option for hosting virtual classes because it is equipped with the tools that educators need to produce a professional-grade broadcast.
Although it is rich in advanced features, Dacast is very easy to navigate, especially since users can rely on us for 24/7 support.
Our platform has an ICP License and the proper clearance for China video delivery, so broadcasters can truly reach students all around the world.
CDN
Dacast uses Akamai, Limelight, and other top-tier CDNs.
ICP License
Dacast's ICP License number is 京ICP备19031887号.
Features for Education
Dacast offers an education streaming solution that includes useful features like live and on-demand video hosting, mobile broadcasting, ad-free streaming, auto-archiving, video content management, top-notch security, and advanced video analytics.
Upload Guidelines and Specs
Minimum dimension: None (but 240p is the recommended minimum)
Maximum dimension: 1080p or 4K (depends on the user's hardware and internet)
Aspect ratio: No restrictions (but 16:9 is the default)
Max file size: None
Max video length: None
Total file storage: 10-1000GB (depends on plan)
Compatible video formats: MP4 (preferred), MOV, M4V, M2V, AVI, MPG, FLV, WMV, MKV, WEBM, OGV, MXF, ASF, VOB, MTS
Pricing
Streaming platform pricing plans with Dacast start at $39 per month and includes four levels:
Starter plan: ideal for newcomers with 1.2 TB of bandwidth and 50 GB of storage per year, at just $39 per month billed annually.
Scale plan: includes 24 TB of bandwidth per year, with 1 TB of storage for $188 per month billed annually. These Scale pricing plans add phone support, monetization paywall, an M3U8 online player for live channels, ad insertion, white-label Cnames, and video API access. Additional bandwidth is available upon request for monthly plans. Read more here about Dacast's live streaming pricing plans.
Event plan: for organizations that would rather not sign a contract, and want to purchase bandwidth separately to live stream an event. It offers 6 TB of bandwidth upfront, 50 GB of storage, and costs just $63 per month (or $750/year). Additional data and storage can be added as needed.
Custom plan: if your enterprise business has high-volume streaming needs, you can contact Dacast for a custom plan tailored to your needs.
2. Panopto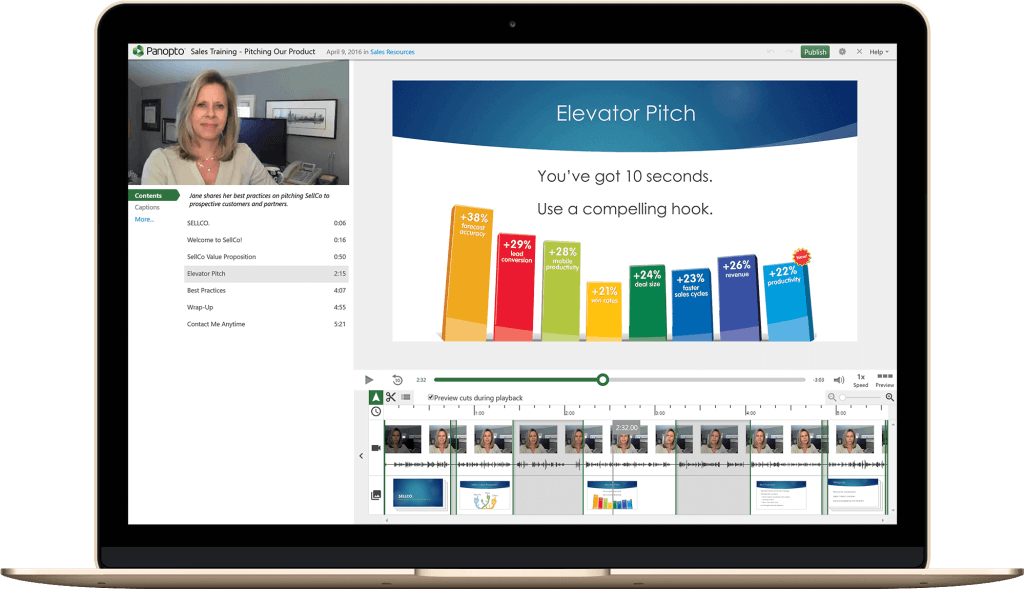 Panopto was developed by scholars at Pittsburgh's Carnegie Melon University, and it is regarded as one of the most trusted online video platforms for eLearning. 
It was designed with both the student and teacher in mind, so it is equipped with the features that you need for hosting a virtual lecture.
CDN
Panopto uses Amazon's CloudFront Content Delivery Network.
ICP License
Panopto's ICP License information is not listed on their site.
Features for Education
Panopto has a solution dedicated to education video hosting. This platform is equipped with video content management, closed captioning, auto-archiving, and multi-source streaming.
Upload Guidelines and Specs
Compatible video formats: AVI, MP4, MPG, WMV, MOV, QT, ASF, 3GP, WMA, MP3, M4V
All other upload guidelines and specs are only available to paying customers. 
Pricing
Panopto recently simplified its pricing packages and includes the following three options:
Basic: Free
Pro: $14.99/month
Enterprise: Please contact Panopto for custom pricing.
After establishing a contract, you have access to unlimited streaming and storage. However, this aspect may represent a potential downside for some streamers as Panopto does not handle any external-facing video content.
3. Wowza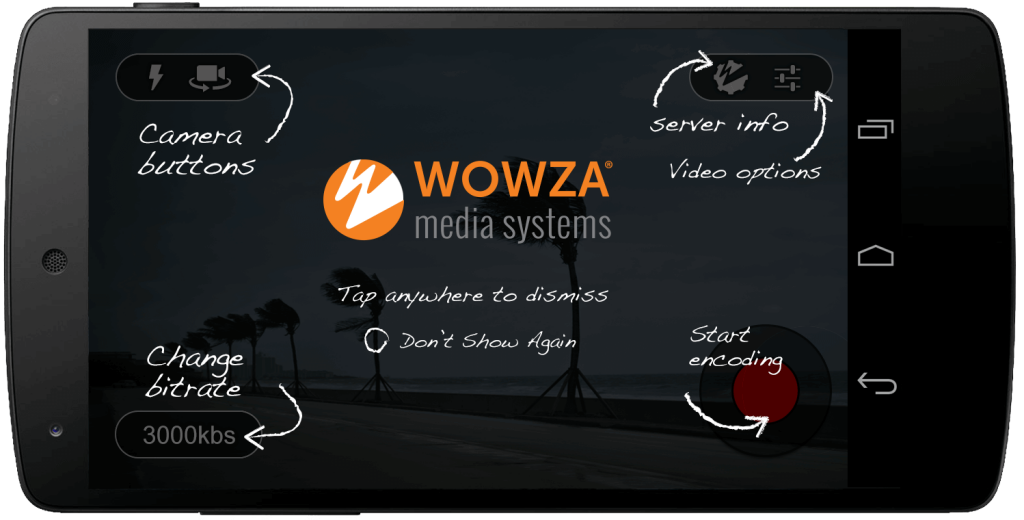 Wowza is another great option for post-secondary education institutions. They use a reliable Chinese CDN, which eliminates any uncertainty surrounding China's video delivery.
Another thing to note about Wowza is that its pricing is very straightforward, which makes it attractive to broadcasters without much flexibility in their budget for add-ons and additional fees.
CDN
Wowza uses Alibaba Cloud as a CDN for China delivery.
ICP Licence
Wowza is exempt from licensing since they use Alibaba Cloud (a Chinese company) to deliver their content.
Features for Education
Wowza offers an interactive live broadcasting solution that makes it great for hosting virtual class sessions. They also offer VOD hosting, which can come in handy when you have students in different time zones. This makes it possible for them to watch the lecture at a later time, if necessary.
Upload Guidelines and Specs
Minimum dimension: 240p (320 x 240)
Maximum dimension: 4K (3840 x 2160)
Video aspect ratio: 16:9, 4:3
Max file size: Not available
Max video length: Not available
Total file storage: 250 GB (depends on the plan)
Compatible video formats: MP4, FLV, MP3, SMIL, AMLST, ID3, NGRP
Pricing
Wowza recently overhauled its pricing plans and added several options. These are split into 2 main tiers: Streaming Cloud and Streaming Engine.
The Wowza Streaming Cloud offers 3 distinct pricing plans and services. Live Event Pricing, monthly plans include:
Basic: $99/month; includes 20 hours of live streaming and 1000 viewing hours based on video resolution of 720p
One Month Event: $149 one-time purchase; includes 20 hours of live streaming and 1000 viewing hours also at 720p
Plus: $499/month; includes 150 hours of live streaming and 7000 viewing hours based on video resolution of 720p
Pay As You Go:

$29/month, with a 3-month minimum; flexible streaming with low startup costs
All of these Live Event plans include full brand control, multi-bitrate streaming, and HD and UHD streaming.
The Wowza Streaming Engine has its own pricing plans. These professional-grade streaming plans are billed annually and include:
Basic:

$175/month + $195/month

for each additional instance and $125/month for each additional prepaid instance
One Month Event:

$295/month + $295month

for each additional instance and $95/month for each additional prepaid instance
Enterprise: Please contact Wowza directly for access to their custom-tailored high volume enterprise solutions
4. IBM Cloud Video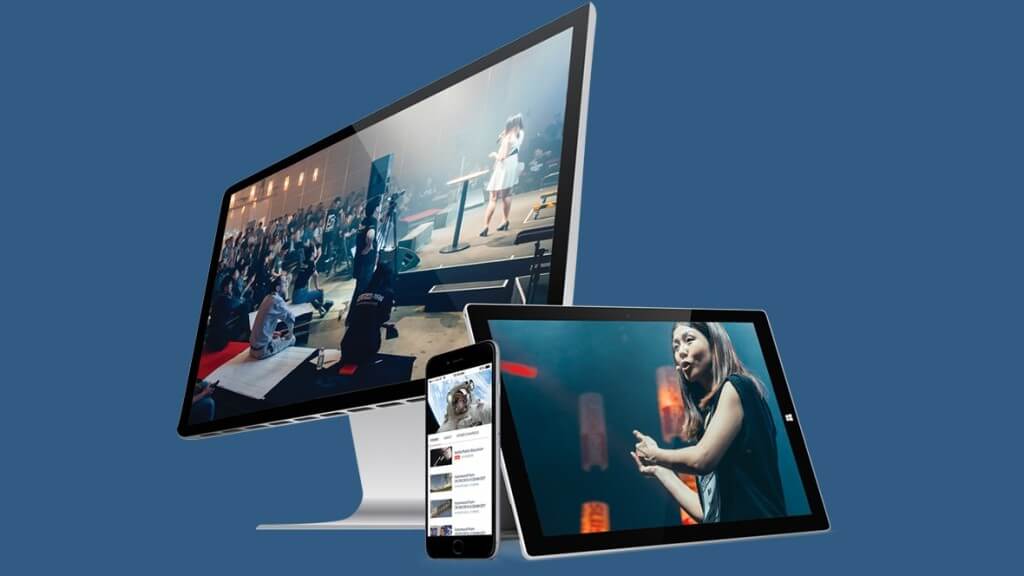 IBM Cloud Video is a solution from a major tech company that is known to be reliable and effective. It is equipped with all of the standard broadcasting tools you need to make your virtual classes a success.
CDN
IBM Cloud Video uses the IBM® Content Delivery Network that works with the Akamai CDN.
ICP License
IBM Cloud Video does not list its ICP license information on its website.
Features for Education
In addition, to live broadcasting, auto-archiving, and mobile streaming, IBM Cloud Video's live Q&A feature is very useful for educators who want to promote interaction during their virtual classes.
Upload Guidelines and Specs
Minimum dimension: 480p (480 x 270)
Maximum dimension:  4K (3840 x 2160)
Video aspect ratio: No published aspect ratio
Max file size: 4 GB
Max video length: No published limits
Total file storage: 1TB – 5TB (depends on plan)
Compatible video formats: MKV, MP4, MOV, FLV, AVI, WMV, MPEG2, H264, H263, MPEG4, VP6, VP8, THEORA, WMV, MP3, AAC-LC, NELLYMOSER, PCM, SPEEX, VORBIS, WMA
Pricing
IBM pricing plans range from $99 to $999 per month and include the following:
Silver: $99/month
Gold: $499/month
Platinum: $999/month
Custom: Please contact IBM Cloud video for custom plan pricing.
5. JW Player
JW Player contributed to the early developments of the code that would become the basis of the YouTube video player that revolutionized online streaming. Today, the platform offers a full suite of tools required for professional broadcasting
CDN
JW Player integrates with several CDNs, including CDNsun and KeyCDN.
ICP License
There is no information regarding JW Player's ICP License published on its website.
Features for Education
JW Player is equipped with both live and on-demand video hosting, which are two important characteristics of a platform for education video hosting.
They also have tools for audience engagement, which come in handy for educators who are trying to create a more lifelike classroom setting.
Upload Guidelines and Specs
Minimum dimension: 360p (640 x 360)
Maximum dimension: 1080p (1920 x 1080)
Video aspect ratio: 16:9, 4:3, 2.39:1
Max file size: 25GB
Max video length: Not available
Total file storage: 25GB to 500GB (depends on the plan)
Compatible video formats: MP4, WMV, AVI, MOV, 3GP, FLV
Pricing
With JW Player, live streaming support begins at a free trial level. There are 3 pricing plan tiers:
30-day free trial subscription which includes full API and SDK access, and a non-commercial license, with 25 GB hosting bandwidth and 75 GB streaming.
Starter pricing plan for $10 per month, which includes an HTML5 Video Player and video gallery, with 150 GB hosting bandwidth and 500 GB streaming (50,000 plays) per month billed annually.
Enterprise plans are available with custom pricing for high-volume storage and streaming. Enterprise plans support live streaming, while lower-tier plans only support VOD.
Publishers and broadcasters should contact JW Player directly for pricing and features.
Platforms without China Delivery Support
There are some other great online video platforms on the market with plenty of strengths and useful features. However, many do not support China's delivery.
Here is a quick list of video hosting platforms that do not support China delivery:
Brightcove
Muvi
Vimeo
Streamshark
Kaltura
These platforms may gain the proper clearance for China delivery in the future, but as of October 2020, these OVPs cannot deliver video content to China.
Conclusion
If your goal is to reach students in China, it is important to make sure that you choose a video hosting service that works in China. The five platforms that we compared have this capability, so that list is a good place to start on your journey of choosing the one that will work best for you.
We recommend taking advantage of free trials when available so you can make sure the features being offered on your platform of choice will help you reach your streaming goals.
Dacast offers a 14-day risk-free trial that gives users access to all of our professional broadcasting tools. Sign up for a Dacast account today to start your trial. No credit card is required.
For regular tips and exclusive offers, you can join our LinkedIn group.